Book info
Sample
Audiobook
Media
Author updates
Lists
Synopsis
Harper and Knox are back and better than ever...Discover the unmissable fourth book in Suzanne Wright's globally bestselling The Dark in You series
The final horseman awaits...and the stakes have never been higher.
With the birth of their son, Asher, Harper and Knox are both more powerful and more vulnerable than they've ever been before. Asher's charm has seduced even the devil himself, but Harper knows that the real villain is still out there, and as desperate as ever to see the Primes fall. They're laying low, and there's no way to tell which one of their circle is really a deadly foe....
When the final horseman makes their move, Harper and Knox will have to use all the considerable power at their disposal—and that may even include Asher's mysterious abilities. One thing's for sure—this is a baby who's more than a match for any demon coming after him.
It's time for the world's most formidable family to take the fight to the enemy....
If you love Embers, make sure you check out the rest of The Dark In You series—find out how the sizzling story of Harper and Knox began....
The Dark in You Series
Burn
Blaze
Ashes
Embers
Release date: July 3, 2018
Publisher: Little, Brown Book Group
Print pages: 368
* BingeBooks earns revenue from qualifying purchases as an Amazon Associate as well as from other retail partners.
Listen to a sample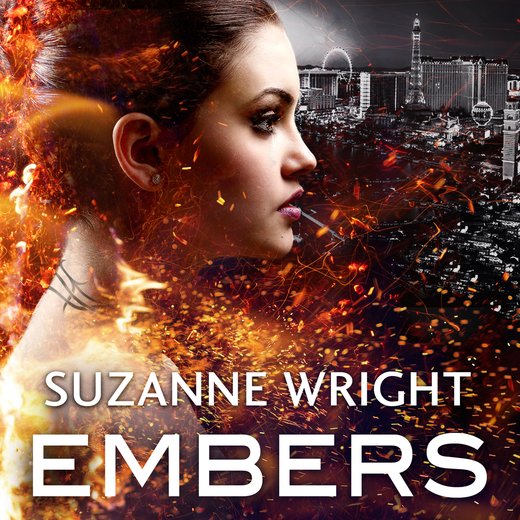 12:37:03
346.56 MB
July 3, 2018
Little, Brown
2018
Embers
Suzanne Wright
There was really nothing quite like having a stare-out with one of the most formidable beings in all existence. But as Harper's mate was also exceedingly powerful and she was used to this sort of thing, she wasn't quite as daunted as she probably should have been. "I'm not changing my mind, Lou."

The devil threw up his hands. "Why do you have to be so stubborn?"

"Why do you have to be so psychotic? You know what, don't answer that."

"You claim to love your son, yet you frequently expose him to one of the cruelest demons I've ever had the displeasure to come across."

Exasperated, Harper let her head fall back against the half-moon sofa. "My grandmother is not cruel. She is, however, an imp. So it baffles me that you expect her to do anything other than drive you insane. That's kind of what imps do."

Lou was easy to irritate because of his OCD streak. Simple things like giving him an odd number of cookies, slicing his bread at an unsymmetrical angle, or adjusting the strings on his sleeveless hoodie so that one was longer than the other could send his blood pressure soaring—and Jolene Wallis did such things regularly.

To look at him in a ratty-assed Black Sabbath tee, washed-out jeans, a baseball cap, and old sneakers, no one would suspect he was so particular about, well, anything.

Despite that the mercurial male was the most antisocial being Harper had ever met, he loved spending time with her son, Asher. Then again, Lou was childlike in his own way—especially with his bratty sense of entitlement. Asher seemed to think of him as a playmate, which didn't say a lot for Lou's IQ really.

Looking down at Asher, who was sitting on the blue Persian rug playing with toy bricks, Harper had to smile. Honestly, the little sphinx was the most adorable thing ever. With his deep-set ebony eyes that were like dark velvet and his coal-black wisps of silky-smooth hair, he was essentially a mini version of Knox. The only features he seemed to have inherited from Harper were her long lashes and the reflective catlike quality to her eyes.

Demonic babies developed fast and were much stronger than human babies, so the six-month-old looked more like a ten-month-old. Asher could sit up, crawl, stand, say several words, and even walk if someone was holding his little hand.

As a rule, demons didn't need much sleep and could even go days without it. Thankfully, demonic babies slept as much as human babies or she'd be permanently on her feet and absolutely drained, because her boy was a handful. Obviously, as his mother, she was extremely biased and considered him to be the most perfect child that had ever graced the Earth. But he truly was bright and loveable. He had so many people wrapped around his little finger, it wasn't even funny. Seriously, one dimply smile and you were done for. He could win over anyone—even the devil himself.

"Come on, Harper," Lou whined, flinging himself on the sofa opposite hers. "Exposing the poor kid to Jolene borders on child abuse. Am I right, Tanner?" Lou asked her bodyguard, who was sprawled on the rug in his hellhound-form.

Large and fierce, the hound was heavily muscled with thick black fur. Not even the blood-red eyes or scent of burning brimstone could ruin its inherent majestic air. In response to Lou's question, it merely chuffed out an impatient breath.

"She's Asher's great-grandmother, Lou," said Harper. "She loves him, and he adores her right back."

Lou snorted. "Oh, please. Nobody 'adores' Jolene Wallis. Asher laughs at her, not with her."

Harper's inner demon rolled its eyes. The entity that lived within each demon was, to put it bluntly, a pitiless and somewhat psychopathic predator that possessed zero patience.

Rubbing her temple, Harper telepathically reached out to Knox and said, Wish you were here.

As Knox's mind brushed against hers, his psychic "taste" flooded her brain—almonds, red wine, and dark chocolate. What's wrong, baby? he asked in that rumbly, velvety voice that danced over her skin, making it prickle in sexual awareness.

One word—Lou. The vibe of male amusement that touched her mind wasn't unexpected. How's the meeting going?

So far, productive.

Roughly translated, he was getting his own way with his human associates. Knox blended in effortlessly with humans, hiding in plain sight just like the rest of their kind. The billionaire also owned a chain of restaurants, hotels, casinos, bars, and security firms.

Demons often held high positions that provided them with the power and control that they instinctively craved. CEOs, politicians, bankers, celebrities, lawyers, surgeons, journalists, police officers—the list went on.

Looks like the meeting will run late, he added, so I'll have to meet you at Jolene's house in a few hours.

You don't need to come; it's not like it's anyone's birthday. Imps didn't need an excuse to throw a party.

Nonetheless, I'll be there. On another note, how's your ass?

She almost flushed at the memory of him spanking it earlier as he'd fucked her from behind. A little tingly. Sensing his smugness, she felt her lips thin. You shouldn't like the idea.

I'm just remembering what a pretty shade of pink your ass turned.

To describe Knox as "highly sexual" would be an understatement. Dominant and demanding with psychic hands that could deliver phenomenal orgasms, he was a total rock star in the bedroom. He was also as sensually lethal as he was physically lethal.

"You go to the party," said Lou. "I'll babysit Asher."

Harper held up her finger. "Okay, first of all, you will never babysit Asher; we've gone over this before—"

"How can you not trust me with him?"

"Was that a trick question?"

"It's not like I'm stoned today or—" He jerked as flames engulfed his cap, which then abruptly disappeared. A millisecond later, fire erupted out of Asher's hand … and there was Lou's cap, completely intact.

Giggling, Asher dropped the hat and clapped his little hands as his mind touched hers, buzzing with mischief and pride. His giggle was the purest, infectious, heart-melting sound, and she couldn't help but laugh along with him.

Although she'd yet to see him pyroport like Knox, she'd often seen objects pyroport to Asher—mostly her knickknacks that lined the mantel of the fireplace. Since he was so young, the ability didn't always "answer" him. Plenty of times she'd seen him glaring at his hand, as if annoyed that it was empty.

Lou grinned at him. "Such a clever boy! Ah, did it bug you that I wasn't paying you any attention? You know your Uncle Lou is your biggest fan." Standing, Lou crossed to him. "Time to hand over the cap."

A shower of ashes, embers, and sparks surrounded Asher—a tough-as-shit shield he'd first raised when in her womb. He'd also released a blast of disabling energy whilst in her womb, but he hadn't done it again since being born.

Lou laughed. "Damn, Harper, I totally dig this kid." With a mock sigh of reprimand at Asher, he placed his hands on his hips. "Don't you smirk at me. I want that cap."

Inside the shield, Asher instead dumped a brick in the cap.

"It's not a toy, mister."

But Asher apparently thought differently, because he plopped another brick in it.

Lou tried pushing his hand through the shield. Sparks buzzed, hissed, and popped. Lou jerked back with a harsh curse, blowing on his blistered palm.

"Why do you do that every time?" Harper asked him, sighing. "You know you can't get through the shield." The only person she'd seen do it was Knox's demon when it was in its full, body-of-flames glory. There were far worse things in hell than Lucifer, including archdemons—cold and brutal creatures that were born from the flames. And, unknown to most, Knox just happened to be one.

"I'm trying to work out what it's made of," said Lou. "It's hard as steel and burns worse than hellfire. I've never come across anything like it." And that seemed to excite him.

"I thought you'd lose your fascination with Asher once you saw that he isn't some soulless being that was born with the sole purpose of obliterating the universe."

"I never thought he'd be soulless."

"Pure evil, then."

"He may not be evil, but he could still decimate life as you know it. Don't give me that look, is it my fault you can't handle the truth? I think not." Lou grimaced as his cap returned to his head in a small spurt of fire … which wouldn't have hurt him if the cap wasn't bulging with bricks. Lou emptied them onto the rug. "He might be a Thorne, but there's a lot of Wallis in him."

Lowering his shield, Asher clapped again. "Ma!"

Harper smiled. "I saw you, little man. Very good." He didn't call her Mama, as if too lazy to finish the word. Similarly, he called Knox "Da".

A familiar mind touched hers as a voice said, I'm here. You ready? It was Keenan, Asher's personal bodyguard who, like Tanner, was also one of Knox's sentinels.

We'll be two minutes, Harper told him. "Tanner, time to go. I just need to quickly pack Asher's bag." She headed into the kitchen to find Meg, the housekeeper, sticking a bottle of formula in Asher's bag.

Meg put the bag into Harper's hands. "Diapers, formula, wet wipes, his blanket—it's all there."

Honestly, Harper didn't know what she'd do without the woman. "Thanks, Meg, you're a star."

Meg flushed, pleased. "Have a good time at the party!"

"Will do," said Harper. Honestly, though, taking Asher off the estate always made her nervous. For the first four months of his life, they'd kept him there for his own protection. Awful as it was, there were people who would use him for their own ends. After all, anyone who had him in their possession could effectively control Knox, who'd do anything to keep his son safe. And since Knox was believed to be the most powerful demon in existence and was also rumored to have the ability to call on the flames of hell, their kind feared him in a major way.

When Harper was heavily pregnant, a she-demon had kidnapped her with the intent of taking Asher, hence why the bitch had died an excruciating death. Nora was part of a group, the Four Horsemen, who wanted rid of Knox. They viewed him as an obstacle to their goal of causing the US Primes to fall. So far, three of the Horsemen had been eradicated, but the fourth was still out there. And no one seemed to know who it was.

Walking back into the living area, Harper saw Tanner in his human form, gently bopping Asher's nose with the plush hellhound he'd bought him—Asher took it everywhere, even to bed.

Just as Tanner handed him the soft toy, Harper took Asher into her arms. "We gotta go see Grams now. Say bye to Lou."

Dimples flashing, Asher waved at him. "Bye."

"Bye, little guy." Lou slipped on his jacket. "And good luck with Jolene. You're going to need it." In a blink, he was gone.

Letting Tanner carry the bag, she followed the broad shouldered, dark-haired male along the wide hallway, through the marble foyer, and then out into the warm air.

Keenan's tall, defined form was leaning against Tanner's Audi. The incubus flashed his boyish grin at Asher and said, "Hey, little mister." Asher babbled at him, making the incubus chuckle. "You got everything you need, Harper?"

"Yep, thanks to Meg." Once she'd strapped Asher into his car seat, she slid into the Audi. The tires crunched as Tanner then began a slow drive along the lengthy driveway.

At one time, Harper had been intimidated by the estate with its heavy metal gates, long manicured lawn, neatly-trimmed hedges, and the high-brick walls. Then there was the house itself. Well, "house" wasn't the right word. Not for such an expansive,
magnificent piece of custom-built architecture. It was way ahead of its time and possessed the same allure and charm as its owner.

Before Knox, she'd lived in a dingy apartment in North Las Vegas. She'd never known this kind of luxury. Never thought she'd be able to feel that she "fit" amongst high vaulted ceilings, winding staircases, upscale furnishings, and walk-in cedar closets. But the estate had become her private little oasis.

Riding shotgun, Keenan glanced over his shoulder. "Is Knox meeting you at Jolene's house?"

"Yes. I don't think he's disappointed that he's running late. An afternoon with my family is never relaxing." Wild and rowdy, Wallis imps would test even a nun's patience, especially with their penchant for lying, stealing, and cheating, amongst many other things.

"It's a kids' tea party," said Keenan, facing forward. "How bad can it be?"

When they pulled up outside Jolene's house a short while later, "I Don't Fuck With You" by Big Sean filtered out of the open windows. The front of the house was virtually covered in balloons and paper lanterns. Yard cards were strewn across the lawn—some were clocks, some were tea pots, others were playing cards. All of them surrounded a huge cardboard cutout of the Mad Hatter.

As Harper carried Asher up the path and to the porch, he pointed at the decorations, oohing and awing. She rang the doorbell, rubbing her cheek against his plump, petal-soft one. His hands gently slapped her cheeks, squishing her face.

"Ow," she mumbled. He just giggled.

Just then, the door swung open. Jolene Wallis didn't look like a grandmother. Not with her chic blouse, sleek skirt, high heels, perfectly coiled hair, and veneer of sheer elegance. She also didn't look bat-shit crazy, but she totally was.

"Finally, you're here." Jolene stepped back and gestured for them to enter. "Harper, I've missed you." She gave her a one-armed hug. "And where's my little guy?" Jolene plucked Asher out of her arms. "Come to Grams. I love this little outfit you're rocking."

"You should, since you bought it," said Harper. Well, Jolene bought the jeans and checked shirt. The boots came from Raini, Harper's friend and business partner.

Jolene kissed his cheek. "Come see what's in the backyard."

Harper and the sentinels followed her down the hallway. Passing the living room, Harper peeked inside. Male imps were crowded on the couches, chairs, and floor, drinking beer and eating chips while watching a basketball game on TV. She was pretty sure the one curled around the beer keg, clinging to the funnel, had passed out. Typical.

She heard laughter, squealing, and the whir of an air compressor before she even stepped into the backyard, so the bouncy castle came as no surprise.

People waved and shouted out welcomes. Some sat on lawn furniture and floor pillows while others stood around the long patio table, filling paper plates with snack foods. A bunch of female relatives swarmed Jolene to fuss over Asher, who giggled at the kids that were jumping in the bouncy castle like demented kangaroos.

Frilly three-tiered cake stands sat on kid-sized tables among plastic teacups, saucers, and spoons. There were dozens upon dozens of cupcakes—all were covered in different colored swirly frosting topped with either edible sprinkles, pearls, glitter, flowers, or chocolate chips. Harper would nab a few when she got a chance.

Her aunt, Martina, left the outdoor bar and approached with a tray of Jell-O shots. "Drink, anyone? We also have iced tea, lemonade, mojitos, margaritas, and beer."

Keenan's brow furrowed. "This is a kids' tea party, right?"

"Uh-huh." Martina downed a shot like a pro. "No Knox?"

"He's meeting me here later," Harper told her. Hearing the snap of flip-flops, she looked to see Raini approaching. "Hey, how are you?"

"Good, thanks," replied the succubus, flicking her white-blonde, pink-streaked hair over her shoulder. "Ooh, I'll have one of those." Raini grabbed a neon-blue shot and chugged it down. Even in her casual clothing, she exuded sex with her wicked curves, flawless skin, and sharp amber eyes. "Where's my honorary nephew?"

"With Grams." Harper frowned when she saw Jolene coming toward them, empty handed. "Or, at least, I thought he was. Where's Asher, Grams?"

"On the bouncy castle. Khloë has him," Jolene replied.

Keenan's frown deepened. "Khloë's in there?" He sighed, adding dryly, "Well of course she is. Where else would she be?"

Yeah, Harper's cousin wasn't exactly the most mature person in the world, so it often surprised people that she was incredibly well-organized. It was that very quality that made Harper and Raini hire her as the receptionist at their tattoo studio in the Underground—a subterranean demonic paradise owned by Knox.

Chuckling, Harper watched as Khloë gently bounced Asher, who tried stomping his little feet on the inflatable castle.

Tanner's own chuckle cut off as he looked over Harper's shoulder and grinned, golden eyes lighting up. "Here kitty, kitty."

Devon, an apprentice at their studio, glared at the hellhound. "Eat shit, pooch."

Tanner put a hand to his chest. "Is that any way to speak to someone who bought you a present?"

Devon snarled. "If it's more cat litter, I'm going to punch you right in the muzzle." The hellcat turned to Harper. "Where's my gorgeous little dude?"

Harper snickered. "Well, hello to you, too. I'm great, thanks."

Devon rolled her eyes. "Look who I brought with me."

Harper felt her brows rise at the sight of the lean, tattooed male heading their way. "Drew. I had no idea you were in Vegas." It shouldn't have been awkward. She'd known him since they were kids, he was Devon's older brother, and Harper hadn't seen him in three years. Maybe if their last meeting hadn't ended in a drunken make-out session, she wouldn't have found herself fighting a blush.

Like his sister, he had cat-green eyes and dark ultraviolet hair. Whereas Devon's hair fell in ringlets down her back, his was short and tousled. He was indeed incredibly hot and had a powerful magnetic energy about him. Like most females of Jolene's lair, Harper once had a mad crush on Drew—he'd broken many hearts when he moved to Cuba six years ago, only paying their lair the occasional visit.

If there was one person she might have broken her no-dating-demons rule for back before Knox came into her life, it was Drew. But he'd shown no interest in her. As an adrenalin junkie who lived for finding the next high, he focused all his energy into his own life. Their make-out session had been nothing more than a farewell kiss that went too far. He'd returned to Cuba the next day, and she hadn't heard from him since.

"Only got here last night." Grinning, he pulled her into a hug. "It's good to see you."

As a menacing growl rumbled out of Tanner, Harper stepped back to see that both sentinels were glaring at Drew. She forced a smile. "Guys, this is Devon's brother, Drew." But the glaring continued. Not that it seemed to bother Drew. But then, he lived for the thrill of danger and wasn't easily intimidated.

Having gratefully accepted a beer from Jolene, Drew gestured at Harper with his bottle. "I heard you're mated," he said, tone strangely flat. "That was … a surprise. And then I heard you're a mom, too. That was even more surprising."

"That's my little guy right there with Khloë."

Drew's mouth curled. "He's cute. Like his mom." Ignoring Tanner's growl, Drew asked, "What's it like to be a Prime? You always said you didn't want to be one."

That was true. It had never been her dream to rule a lair, but she'd become a co-Prime on mating with Knox. Running a lair that spanned most of Nevada and much of California was no easy thing, but … "It's not as bad as I'd expected it would be, since I have Knox to share the burden."

"I'll bet the Primes are mortified that he claimed a Wallis."

"They've gone from 'mortified' to 'disapproving'. They've accepted I'm a permanent fixture, though. It's surprising what a difference it made that I've taken Knox's surname."

Drew's brows lifted and he swallowed. "You've taken his surname?"

"And she's wearing his rings," Keenan interrupted, still glaring at Drew. "One of which is a black diamond," he added meaningfully. As it was a sign of the ultimate commitment, demons only gave a black diamond to the person they intended to take permanently as their mate.

Drew gave her a wan smile. "Congratulations. But I gotta wonder what happened to your 'no-dating-demons' rule."

Harper shrugged. "I guess I broke it." A hard weight slammed into her leg. She looked down to see her younger cousin. "Hey, Heidi-ho." Harper stroked a hand over the little girl's bright blonde hair. "What you up to?"

"Helping Ciaran set up the dining room for the clown," she said.

"There's a clown?" Harper turned to see Ciaran, Khloë's twin, heading their way … with the freakiest-looking clown she'd ever seen in her life.

Raini gasped. "Oh, my God. He'll terrify the kids."

He skipped past them and planted himself in front of the bouncy castle. "Hey little people, ready for your magic show?"

"Yeah!" they shouted in delight. They then followed the creepy clown into the house like he was the damn Pied Piper.

Ciaran was at the back of the line with Asher in his arms, who was chewing his thumb. "I'll take him inside, so he can watch the show."

Tanner's brows drew together. "You don't find that clown even the slightest bit creepy?"

Ciaran blinked. "In what sense?"

Tanner shook his head. "Never mind."

Mouth twitching, Harper followed Ciaran into the house, who then headed into the dining room and sat on the floor with Asher between his legs. Standing just outside the doorway, Harper spoke quietly to Jolene. "About Heidi … Any news on who hired the demon to snatch her?" It had happened when Harper was pregnant, but they'd had no luck tracking the culprit.

Jolene's lips tightened. "No. If anyone knows anything, they're not talking."

"Devon told me what happened," began Drew, face sober. "Do you think the person behind it will send someone else after Heidi?"

"I'd like to think that if that was their intention, they would have tried it by now," said Jolene.

"Nora could have been lying when she said that it wasn't her," said Harper.

Keenan nodded. "I agree. Nora hired the hunters who went after you, Harper. She contacted them anonymously using an encrypted, self-deleting email. Heidi's kidnapper was contacted in the exact same way. It seems too much of a coincidence that two different people would use the same technique to hire demons in such a short space of time."

"Unless this person is somehow linked to Nora," said Raini. "I doubt I'm alone in thinking it was the fourth Horseman."

"But Nora said that they weren't working together at the time because he/she wanted to keep a low profile for a while," Harper pointed out. "Sending someone after Heidi isn't maintaining a low profile."

"So maybe it wasn't that they cared about keeping a low profile; maybe it was that they simply didn't want to work with Nora anymore," Drew suggested.

There was a distinct pop followed by the hiss of air. Harper popped her head into the dining room and glanced out of the window that overlooked the backyard. "Oh, shit, the bouncy castle's deflating." And Khloë and Martina were struggling to get off it.

They all hurried outside. Keenan grabbed Khloë's wrist and literally hauled her out of the collapsing castle while Tanner did the same to Martina.

Jolene sighed. "Khloë, what did you do?"

"It wasn't me!" the small, olive-skinned imp insisted. "We were just lying there, relaxing."

Martina nodded. "It was weird, the thing just … popped. Then it was caving in, and we were scrambling like idiots to get—"

The air compressor spluttered loudly, and then there was an ominous rattle. The guys all moved to switch it off, but they didn't appear to be having much luck with it at all.

"Everything all right out here?"

Hearing Ciaran's voice, Harper twisted to see him peeking out of the back door. "Not really," she replied. "It burst, and now the air compressor's having a nervous breakdown."

Jolene threw up her arms. "I can't understand what's wrong with it."

Feeling Asher's mind touch hers to get her attention, Harper said, "I'll just be a sec." As she headed back into the house, Ciaran went out into the yard to help.

She walked into the dining room. And skidded to a halt, heart jumping into her throat. The kids were still watching the clown, rapt, aside from Asher. He was surrounded by his shield of embers, sparks, and ashes … staring curiously up at the woman a few feet away from him, who was cooing and telling him it was time to go home—a woman who was a carbon copy of Harper.

"What the fuck?" Harper burst out.

Her replica stilled. A surge of glacial energy abruptly whipped across the space, freezing everything and everyone that it touched. Except for Harper. The biting chill only slid over her skin, leaving goosebumps in its wake.

Snarling, she charged at the bitch, but a bitterly cold wind swept up Harper and flung her out of the room like she was no more than a ragdoll. The breath gusted out of her lungs in a heavy rush as she hit the hallway wall, slamming her head hard.

Coughing and grimacing at the ringing sound in her ears, Harper righted herself. With a grating, crackly sound, the sheet of frost that was spreading along the living room walls began to form a barrier across the doorway. Her heart leaped with horror. Fuck, no.

She quickly squeezed through the slight gap before it could close, scraping her skin along the sharp ice as it tore through her shirt and side. She ignored the pain. Ignored the taste of her fear. Ignored the arctic chill in the room. She only cared about getting to the bitch who was currently probing Asher's shield, trying to get to him.

Harper was on her in a flash. Fury ripping through her bloodstream, she gripped the other demon by the throat and slammed her into the wall. The protective power that lived inside Harper sprang to her hands and sent soul-deep agony blasting through the bitch—burning every nerve ending, severing every organ, axing every bone, and flaying her soul. The she-demon's back arched and her mouth opened in a silent scream.

It wasn't enough for Harper. Not even close. Tightening her hold on the bitch's throat, Harper slammed her head into the wall over and over and over, relishing the crack of her skull, the look of sheer agony on her face, and the way she struggled for breath as Harper squeezed her throat hard.

There was no mercy in Harper. No reason. No rationality. Only a blinding rage. It had engulfed Harper just the same as soul-deep pain had engulfed the motherfucking bitch in front of her.

Harper's vision was a haze of red. Her heartbeat thrashed in her ears. Her inner demon roared and hissed, livid and murderous. The agony in the bitch's expression didn't appease the entity any more than watching awareness dim from her eyes. No, Harper's demon wanted to watch the life leave her eyes.

Needing no urging from the entity, Harper whipped her stiletto blade out of her boot, infused hellfire into it, and rammed it into the she-demon's heart. The bitch sucked in a sharp breath, eyes wide and swirling with pain. But then the throat in Harper's grip suddenly started to slim. Fade. Grew faint until it became totally insubstantial.

With her vaporous face set into a mask of rage, the she-demon exploded into particles and then disappeared in a whirl of icy smoke.

Panting, Harper stood there, staring at the empty space in front of her. "Fuck."

Hearing a distinct pounding, she turned to see that Tanner was charging at the frosted sheet blocking the doorway while others hurled balls of hellfire at it. But Harper didn't spare a thought for the people struggling to enter the room, or even for the kids around her who were heart-wrenchingly still frozen in place. Her only thought was for her son.

Unable to still the tremors of rage running through her, Harper crossed to Asher, who instantly lowered his shield. "Hey, my gorgeous boy," she said, voice shaky, fighting to sound gentle when it was the last thing she felt. Picking him up, she pressed a long kiss to his temple. Remarkably, he wasn't crying. Didn't even seem the slightest bit distressed. "I'm sorry, baby, I shouldn't have left you."

Ciaran abruptly appeared in front of her, teleporting into the room. "Finally it worked. I didn't think I'd ever get through, it's like the ice is some kind of energy shield—" He cut off as his gaze skimmed over the frozen children. "Fuck me. Is Asher okay?"

Harper nodded. "Ciaran, you need to get us out of here now." They needed to be home, where Asher was safe and no one could reach him. Home, where it was safe for Knox to lose his everloving mind … because that was exactly what he was going to do.



Arriving in the living area of the mansion with Asher still in her arms, Harper turned to Ciaran. "Did she enter the room while you were still in there, fooling you into thinking she was me? No, of course she didn't, or you'd have been shocked to see me in the yard," Harper reasoned. It was hard to think cl
We hope you are enjoying the book so far. To continue reading...
Embers
Suzanne Wright
Copyright © 2023 All Rights Reserved
Also in this series
Also by this author