Murder at the Mansions
South Regent Mansions has all the modern conveniences . . . including murder
Book info
Sample
Audiobook
Media
Author updates
Lists
Synopsis
South Regent Mansions has all the modern conveniences . . . including murder
London, February, 1924. Discreet sleuth for the high society set, Olive Belgrave is delighted with her new flat at South Regent Mansions where she's made several friends, including the modern career woman, Minerva, who draws a popular cartoon about a flapper for a London newspaper.
But then Minerva comes to Olive for help after catching a glimpse of a disturbing sight—a dead body. At least, that's what Minerva thought she saw, but there's not a dead body anywhere in the posh building, and the residents are continuing with their lives as they normally do. Is Minerva seeing things? Is she barmy? Or is there a more sinister explanation?
To help restore Minerva's peace of mind, Olive investigates her neighbors. They include: society's "it" girl of the moment, an accountant with a fondness for gadgets, a snooty society matron, and a school teacher turned bridge instructor. Olive uncovers rivalries, clandestine affairs, and hidden jealousies. With dashing Jasper at her side, Olive must discover whose secret is worth killing for.
If you like sophisticated whodunits, charming characters, and novels with a lighthearted tone, you'll enjoy the seventh installment of the High Society Lady Detective series, Murder at the Mansions, from USA Today bestselling author, Sara Rosett.
Release date: January 11, 2022
Publisher: Sara Rosett
Print pages: 280
* BingeBooks earns revenue from qualifying purchases as an Amazon Associate as well as from other retail partners.
Listen to a sample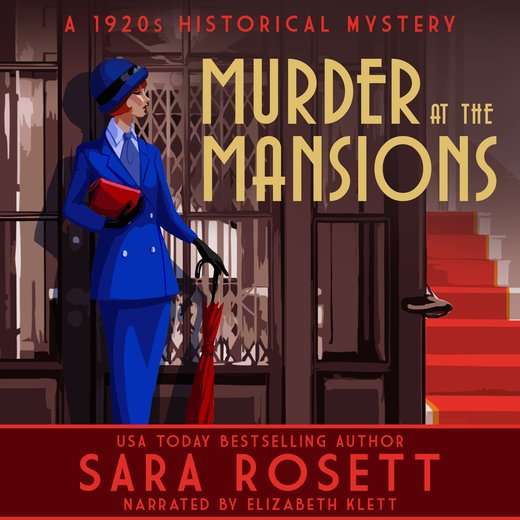 06:37:55
182.16 MB
9781950054411
January 11, 2022
Sara Rosett
Murder at the Mansions
Sara Rosett
CHAPTER ONE
February 1924
I hurried through the foggy gloom toward the faint golden rectangle that was the entrance to the South Regent Mansions. A burst of chilly drizzle hit the nape of my neck and made me momentarily regret my fashionable bob. I pushed through the glass doors and entered the warmth of the lobby, which felt as if I'd moved from the dark wings of a theater into a spotlight at center stage. A crystal chandelier glittered overhead, its sparkling facets reflected in the Carrara marble flooring and in the mirrors that lined the white wainscoted walls. Workmen had been in earlier in the day to paint the back stairs, and the potent smell of fresh paint permeated the air.
I was a few steps behind a delivery boy who announced to the porter in piping tones, "Delivery for the Darkwaiths."

I slowed my steps at the mention of the name. Everyone was curious about the Darkwaiths, who supposedly resided in flat 228.
The head porter for South Regent Mansions, Evans, loomed behind the counter, his walrus-like physique filling the alcove as he spoke to Mrs. Attenborough. She glanced over her shoulder and down her long nose at the delivery boy, giving him a look that was as cold as the icy rain outside. "In my day, children knew better than to interrupt."
The delivery boy, whose flat cap was so large that it covered the tips of his ears, halted, his thin arms braced around a box that was wider than his chest.
Mrs. Attenborough turned back to the porter. "As I was saying, my rubbish bin wasn't returned until noon. According to the schedule, the bins are to be placed in the rubbish lift by eight o'clock, and they will be emptied and returned no later than eleven each morning."
Evans smoothed his mustache, which curved down on each side of his mouth and only emphasized his likeness to a walrus, then nodded the boy in the direction of the lift as he reached for a pen. "I'll note it down, Mrs. Attenborough."
The delivery boy spun away from the porter's alcove, his short legs scissoring along the stretch of scarlet carpet that ran from the building's front door to the lift, which was waiting on the ground floor.
I nodded to Evans and Mrs. Attenborough as I skirted around them and increased my pace, scooting along the plush carpet so I could ride up in the lift with the delivery boy. I didn't want to miss an opportunity to quiz him about the mysterious Darkwaiths.
He was lowering the box to the ground so he could close the lift's accordion-like gate. I stepped on and gripped the metal. "Allow me. Your hands are quite full." The crisscross metal slats shifted as I stretched the gate across the opening. I latched it and turned to the lift panel. "Second floor, I believe?"
He nodded, hefted the box higher in his arms, and receded into the back corner.
"That's my floor as well." The lift was slow and creaky, but I only had a few moments before we reached our destination.
At my words, the delivery boy's eyes widened as he focused on me for a moment, then he adjusted his grip on the box and dropped his gaze.
It wasn't surprising he didn't speak. A few encounters with the Mrs. Attenboroughs of the world had probably taught him he was better off remaining silent in the pres‐ ence of adults. I tried again. "Do you bring deliveries often for the Darkwaiths?"
He nodded.
"How often?"
He lifted his chin so he could look up at me from under
the brim of his cap. "Twice a month."
"That's interesting. Does someone take the deliveries
from you?"
As my conversational tone continued, his shoulders
relaxed an inch. "No, miss. I leave it outside the door." "Really?" I infused the word with as much warmth as I
could.
"I put the box on the mat outside the door and knock before I leave."
The lift trudged to a stop with a little bounce, which was
unusual. The repairman had been in today to work on the lift, which had been rather unreliable, often refusing to budge from the ground floor when the call button was pushed on one of the upper floors. "They don't want you to carry the box in? It looks quite heavy," I said over the metal clangs as I slid back the gate.
He shrugged one skinny shoulder. "No, miss. Them's the instructions."
The items in the box were staples—tins of tea, packets of crackers, and a jar of fish paste, plus a few other tins turned so the labels weren't visible. "It doesn't look like much food."
He looked at the box as if he'd never considered what was in it. "They must like it. It's always the same thing, every fortnight. Must be somebody old. Old folks don't eat much." He politely waited for me to exit the lift first. I said goodbye as I stepped out into the corridor, which had the same decor as the lobby, pristine white walls and a scarlet runner. The odor of paint was stronger here too. The door that led to the back stairs at the far end of the hall was propped open, and the workmen had left a sawhorse in front of it with an unnecessary note tacked to it that read, Wet Paint.
I paused at my door and called after the boy, "What shop do you deliver for?"
He turned back as he shifted the box against his chest. "Belmont's."
I took pity on him and stopped asking questions. The box did look quite heavy. I took my time with my key so I could watch him out of the corner of my eye. He did indeed put the box down on the mat in front of 228, then he knocked and returned to the lift, doffing his cap at me as he went by.
I smiled back at him as I slipped into my flat but lingered at the door, leaving it open an inch so I could watch the door to 228. The gate clanked as the boy closed it, then there was a mechanical whoosh as it rattled downward. Silence settled along the corridor as thick as the layer of fog outside. I waited, feeling a bit silly, but I'd lived in the flat for several months and I'd never seen any of the Darkwaiths —and neither had anyone else, as far as Minerva and I could make out.
Minerva's flat was across the hall from me. She was the one who had piqued my curiosity about the Darkwaiths. I'd managed to meet everyone else on the second floor. I had to admit that it was rather odd to have never seen the occu‐ pants of a flat on the same floor as mine. Minerva and I had speculated about the possible residents of 228. My bet was that there was only one resident, a recluse. Minerva, who lived next door to the Darkwaiths in 226, reported that she had never heard any noise through the walls and favored the theory that an invalid lived there.
The peal of the telephone rang out from my sitting room, but I ignored it and stayed where I was, my gaze fixed on the door to 228. The box sat on the mat as my telephone continued to jangle. Perhaps it was Minerva, calling about dinner tonight to say she wanted me to come early. Thesharp clangor of the telephone cut off in the midst of the seventh ring. I continued to watch 228.
After a few moments, the telephone bell went again. I let out a little huff of irritation. Clearly the caller didn't intend to give up. I lingered another moment or two, but the door to 228 remain closed. I shut my door and went down the short hallway, passing the tiny kitchen on the way to the sitting room.
I set my handbag down on the desk and answered. "Hello, old bean. How are you?"
"Jasper!" I settled on the corner of my desk. "How
marvelous to hear from you. Is anything wrong?" "No. Why?"
"I thought we wouldn't speak until you returned to London."
"I decided to make use of this handy new-fangled inven‐ tion, the telephone, so I could hear your voice. I find Edin‐ burgh strangely flat. The Royal Mile would be much more enchanting with you by my side."
"So your book auction hasn't begun yet," I said, and Jasper's laugh came through the line over the static. "When it kicks off tomorrow, I'm sure you'll have plenty to keep you busy. And, although it would be lovely to be there with you, I'm in the middle of a case."
"How is your inquiry going?"
"Quite well. Everything seems completely aboveboard. Rather boring, actually."
"Don't worry. I'm sure you'll find something intriguing before long. You usually do, old bean."
"I don't see how looking into some of the most respected charities in London could possibly be surprising, but at this point I'd welcome it. Financial records are rather tedious, you know. Thank goodness I did Father's accounts at the vicarage for years. Otherwise, I'd be hopelessly lost." I slipped off the desk and moved around to my chair. "What do you have your eye on for the auction tomorrow?"
"There's a lovely copy of a Mercedes Quero. First edition."
"Do get it if you can."
"I intend to. I'm quite fond of lady detectives, both fictional and corporeal."
"Delighted to hear that."
Silence flowed over the line for a few seconds. Things had shifted for Jasper and me at Christmas. He'd been rather secretive in the past, but that was over. I had no doubt that his only reason for traveling to Edinburgh was to go on a book-buying expedition. However, now that the barrier of his reticence had come down, everything had changed between us. I felt as if before Christmas, we'd been moving around in a shrubbery maze, catching only glimpses of each other. Now it was as if we were standing on a wide plane with the horizon stretching out all around us. We were feeling our way through this new phase, and I don't think either of us was sure of the course we should take.
I swiveled in my desk chair as I cast around for some‐ thing else to say, but my elbow bumped my new Remington portable typewriter and knocked off a notepad I'd propped on top with a reminder scribbled on the first page. "Oh botheration!" I picked up the notepad from the floor. "I must go out again. Minerva's asked me to dinner this evening, and I promised to bring a bottle of wine. I'd better go now. I'm supposed to be at Minerva's in half an hour, and I must unearth my umbrella."
"I'll ring off then, so you can brave the elements." His voice lost some of its usual jaunty tone and softened. "See you the day after tomorrow, old thing."
"I look forward to it."
"As do I."
I put the receiver down slowly. Despite the dreary day,
inside I felt sunny and warm. I didn't even mind the thought of going out again. I extracted my umbrella and a scarf from the closet in my bedroom, picked up my handbag, then stepped out into the hallway. The mat in front of 228 was empty. The box was gone, and I'd missed it, which was thoroughly annoying. I'd had a chance to get a definite answer about who lived there, and I'd failed.
I punched the button to recall the lift. At least now I knew that someone in 228 received a delivery every two weeks. Surely I could catch a glimpse of one of the inhabitants now that I knew the schedule. All I had to do was watch for the delivery boy and make sure my telephone was not in its cradle next time.
Mrs. Attenborough still stood in the porter's alcove, tapping the porter's logbook with a finger as she emphasized her point. I gave them a quick nod as I passed but didn't slow.
I didn't think it was possible that the fog could have become denser, but it did seem to have thickened in the short amount of time I'd been indoors.
The February weather had settled on the most miserable combination—a heavy fog mixed with sudden spurts of frigid drizzle. The mist had descended on London at noon, cloaking the city and blurring the outlines of buildings, motor cars, and passersby, who splashed along the pavement, huddled under black umbrellas. The taut panels of the umbrellas emerged from the whitish murkiness drip‐ ping moisture and bobbed toward me like sea creatures breaking the surface of the ocean. Thankfully, I only had to walk one block to make my purchase, and I was back at South Regent Mansions in less than a quarter hour.
Evans had disengaged himself from Mrs. Attenborough by the time I'd returned. Through the haze of the mist, I could make out his rotund shape as he opened the door of a taxi that had pulled up to the twin yellow rectangles of the glass doors leading to the lobby. He held a large umbrella high to shelter one of the residents while the doorman opened the door of another motor that stood in front of the cab.
I recognized one of my second-floor neighbors, Dolores Mallory—or Lola, as she'd insisted I call her—as she stamped through the puddles to the taxi. She wore her mint-green coat and matching cloche. A white feather curled from the brim and swayed near her cheekbone.
I did a quick survey of the area to make sure no other residents were in sight, then quickened my pace. "Hello, Lola," I called.
She paused, poised to climb into the taxi.
Tiny freezing drops of icy water beat against my umbrella as I closed the distance. "Would you like to meet for tea tomorrow?"
She glanced over her shoulder, her alligator handbag swinging on her arm as she swiveled. "Yes, of course."
"Perhaps you'd like to come around to my flat?" Lola was my client, and she'd been quite clear that if I had news to share, I should make sure she was alone before I said anything.
"No, do come by our flat. Sorry, but I'm in quite a rush." "Then I'll see you tomorrow."
The porter closed the door of the motor, and it splashed
away. I dashed up the steps and into South Regent Mansions, shaking the droplets from my umbrella. I pulled the gate of the lift into place, all the while mentally filling in my calendar for tomorrow as the lift chugged upward. I had one more inquiry to make for Lola. I'd be able to complete it in the morning and return to the flat, where I could type out my brief report for her. I was in the process of learning to touch-type. It was slow going, but several hours should be sufficient.
The lift rattled to a stop with another springy bounce, and I checked my watch. I had just enough time to change my dress and freshen up before dinner.
A few minutes later, I crossed the hall to Minerva's flat. A spicy aroma wafted out when she opened the door. "Hello, Olive." She must have just returned from the news‐ paper office because she wore her rather severe jacket and skirt in a shade of gray that reminded me of the fog. Minerva had deep-set, hooded eyes with fashionably thin eyebrows and a long nose. Tonight her red cupid-bow lips parted in a quick, automatic smile, which was unlike her usual genuine greeting. "Come in. I'm glad you could make it. Our dinner party has dwindled to just us."
I handed her the wine. "That's disappointing."
"I'm glad, actually. Something happened today—some‐ thing extremely disturbing that I must talk over with you."
We hope you are enjoying the book so far. To continue reading...
Murder at the Mansions
Sara Rosett
Copyright © 2022 All Rights Reserved