Book info
Sample
Audiobook
Media
Author updates
Lists
Synopsis
A secret baby brings a second chance for love.

Carlene Varner's homecoming isn't exactly going according to plan. She thought she'd have some time to adjust before introducing her daughter to Jace Dawson, the father her little girl has never known. Instead, within days of her arrival, her house burns down and she and Tilly have no choice but to move in with the sexy cowboy himself at the Prairie Rose ranch. Now the whole Dawson clan-heck, the whole town of Happy-is all up in their business.

Jace has dealt with stubborn bulls and bucking broncos-but being a dad? He is so not ready for this... Yet the more time he spends with Carlene and little Tilly, the harder it is to imagine life without them. Now he just has to convince Carlene that he's the real deal-and hope that this time she's here to stay.

Hometown Cowboy by Sara Richardson

Outrageously handsome Lance Cortez is practically a living legend in Colorado, as famous for riding bulls as he is for breaking hearts. What would a big-time cowboy star like him see in a small-town veterinarian who wears glasses, rescues animals, and cries when watching rom-coms? Turns out, plenty.

For fans of Debbie Macomber or Lori Wilde, these cowboy romances deliver a heartwarming read full of feels.
Release date: January 30, 2018
Publisher: Grand Central Publishing
Print pages: 752
* BingeBooks earns revenue from qualifying purchases as an Amazon Associate as well as from other retail partners.
Listen to a sample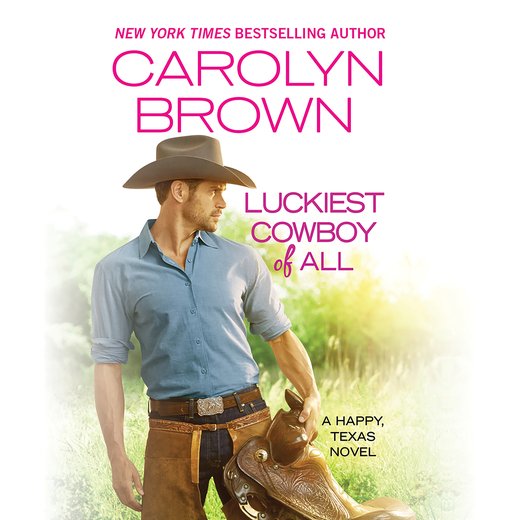 09:04:29
249.16 MB
9781478988144
January 30, 2018
Hachette Audio
Luckiest Cowboy of All
Carolyn Brown
Chapter One

Sometimes it's too late to do what you should've done years ago. Aunt Rosalie had said that so many times that it should have been in a book of famous quotes.

"I get the message loud and clear," Carlene whispered around a lump the size of an orange in her throat.

"You okay, Mama?" Her daughter, Tilly, ran from the porch out to the minivan. "Here, let me take that box. I can carry it inside."

Carlene shifted the box of stuffed toys into Tilly's hands and picked up a heavier one to carry inside the little two-bedroom frame house. With its peeling paint and hanging rain gutters, it looked like the last wilted rose of summer right now, but come spring she'd put a coat of fresh white paint on it, maybe plant some bright-colored flowers around the porch, and it would look better then.

As she headed from her bright red minivan to the porch, a bitter cold north wind whipped her long blond hair into her face, reminding her that spring was a long way off. Tilly opened the door for her and then closed it behind her.

"I made you a cup of tea."

"Thanks, baby girl." Carlene smiled. "Did you make one for yourself?"

"I made me some hot chocolate," Tilly said. "I liked our house in Florida better than this one."

"Why?" Carlene pulled a wooden rocking chair closer to the coffee table and picked up the mug of steaming chamomile tea. It was too hot to drink, but it warmed her hands. Tomorrow, when she and Tilly made a grocery store run to Amarillo, she'd have to remember to buy gloves for both of them.

"This place smells funny," Tilly said.

"We'll light some candles this afternoon and air it out on the first day we get some nice weather. When we're settled, we'll start giving it a face-lift. You'll be surprised what new paint and a little fixin' up will do."

"And we'll get rid of that dead Christmas tree." Tilly glanced at the brown pine tree in the corner. "That's disgusting."

Carlene's eyes went to the sad tree in the corner of the living room. Aunt Rosalie loved her live tree and always put it up the day after Thanksgiving, so by now it had been there almost six weeks. There was no telling how long it had been without water—no wonder it was brown and brittle.

"Of course," Carlene said. "If you want, you could start to unpack what's in your room and I'll get those last three boxes out of the van while my tea cools."

"Okay." Tilly carried her cup of hot chocolate to the bedroom.

With five moves in her eight years, Tilly was a pro at moving. Carlene had no doubt she was back there in her room organizing her stuffed animals and books everywhere there was a flat surface. But Tilly was in the third grade and it was time for them both to put down roots. So when Aunt Rosalie passed away and Carlene inherited the house and then immediately got a job offer to teach, she saw it as a sign that could not be ignored and came back to the town that she should never have left.

Carlene leaned her head back on the rocking chair. It had been ten years since she'd been in the house. In those days Aunt Rosalie bragged that she'd never met a speck of dust she couldn't conquer. There were now cobwebs in the corners and dust on everything. It would take days, possibly weeks, to get the house whipped into shape.

"That's tomorrow's work. Today's is getting Aunt Rosalie's stuff sorted through to make room for ours. Happy New Year to us." She raised her cup of tea and then set it on the table.

Carlene drew her jacket closer around her chest and headed back out for the rest of the boxes. "Thank you, Aunt Rosalie, for leaving me everything in your will. At least I have a place to live and don't have to pay rent."

As she stepped off the porch, she heard tires on the gravel road. Since this house was the only one on a short dead-end road, she was pretty sure the visitor would be pulling into her driveway any second. She tucked her hair behind her ears and shivered.

Shading her eyes against the bright winter sun, she watched a big black crew cab truck come to a stop right beside her minivan. Cowboy boots were the first thing that appeared when the door opened and then a very familiar figure followed.

Jace Dawson tipped back his hat and waved. In a few long strides he was close enough that she caught a whiff of Stetson aftershave—a scent that still created a stir in her hormones every time she smelled it.

Happy, Texas, had a population of less than seven hundred, so it was a given that she'd run into Jace someday, probably sooner rather than later, but the first day she was there, before she could even get unpacked, meant that the gossip vines had not died in the past decade.

"Carlene, I heard you were coming back to town. Here, let me help you get those into the house." He picked up all three of the remaining boxes and headed off toward the porch. "So you're going to be the new fifth-grade teacher, Mama tells me."

"That's right."

He filled out those Wranglers even better than he had in high school and had maybe even grown another inch or two.

"I'm real sorry about Miz Rosalie. She was a pillar in this town and the church. It's hard to believe that she's gone," he said.

"Thank you. It came as a shock to us too." She was amazed that her voice sounded normal, considering the way her pulse had shot up at the sight of him.

"Been a long time," he said. "Where you been all these years?"

She opened the door for him and he set the boxes in the middle of the living room floor. "Here and there. Moved around a lot. California, then Georgia and Oklahoma, back to Florida and then here."

"You plannin' on livin' here? Mind if I sit down?"

"When did we get to be so formal? Of course you can sit." She kicked off her shoes, padded barefoot across the cold hardwood floor, and sat on the sofa with her knees drawn up to her chin and her arms wrapped around them.

Avoiding the sofa, Jace sat on a wooden rocking chair. He removed his black cowboy hat and laid it on the coffee table between him and Carlene, then raked his fingers through his dark brown hair. Carlene remembered that gesture well. Along with tapping his foot, it was what he did when he was nervous. She checked and sure enough, his cowboy boot was doing double time on the floor.

"So you went to college?" he asked. "Where?"

"California." She could hear Tilly humming in her room and hoped she stayed there until he was gone.

"And you're comin' from Florida, right?"

"That's right," she said. "Can I get you something to drink? I've got root beer and apple juice. Haven't been to the store."

"No, I'm good." His hand went toward his hair again. "I missed you when you left."

"We were just kids, right out of high school, Jace." She let her eyes drift from his chin upward, determined not to look at his eyes, but she failed.

His gray eyes locked with hers across the room and he took a deep breath. "You promised you'd stay in touch. We dated our whole senior year. What happened?"

"Life happened. Time and distance takes its toll."

Tilly had stopped humming and was talking to her stuffed toys, asking them if they liked the new house. Then her voice dropped to a whisper and Carlene couldn't hear her anymore.

"Come on, Carlene. Give me a little more than that. We were in love. You were going to text or call every night, and then you were gone and I never heard from you again," Jace said.

"Were we in love, Jace? Or were we just hormonal teenagers?"

"I thought we were in love," he said.

She shrugged. The lump in her throat kept her from answering.

"Okay, then." He inhaled and let it out slowly. "Look, I don't know how to tell you this…I'm real sorry to have to say it, but I bought this place from Rosalie last year. She was planning to move into a nursing home and said she needed the money." He removed his hat and laid it on the coffee table.

"No!" Carlene sank down onto the other end of the sofa and felt the color drain from her face. "She didn't…she wouldn't…she said…"

"I can bring the deed to show you. You goin' to be all right? I'm so sorry about this misunderstanding." His eyes were filled with true remorse.

"Sell it back to me." Carlene met his eyes across the short distance separating them. "I have enough savings for a down payment, and we can get a loan at the bank for the rest."

Jace inhaled deeply and let it out very slowly. "You can see for yourself, it's not real fit for livin'. Even so, I'd sell it to you and help remodel if I could, but it's all been deeded over to the rodeo association." Another deep breath. "Demolition is scheduled for February fifteenth. The contractors are starting the new buildings right after that."

"Dammit!" Carlene stretched her legs out, dropped her head into her hands, and covered her eyes. Surely this was a mistake. Aunt Rosalie would have told her if she'd sold the house. The lawyer who handled her affairs didn't say a word about it when he called to tell them that she'd passed away.

Jace had always had one of those faces that couldn't hide what he was thinking and it was plain that he was not lying to her. Still, surely to God if Aunt Rosalie had sold the property, she would have told Carlene. They talked every single Sunday evening from eight to eight-thirty and she always said that her greatest wish was to die in the same house where she'd been born. That her roots were in the place and it would make her life come full circle.

"The papers and the letter the lawyer sent are in that box. I'm going to dig them out right now. She must've gotten senile at ninety-five because she would've told me," Carlene whispered, still finding it hard to believe.

She left the sofa and ripped the tape from the top of the box marked IMPORTANT PAPERS. She pulled a big brown accordion file from the box and flipped through the tabs until she found the one she wanted. Removing a manila envelope from it, she shook out the letter from the lawyer saying that she'd inherited Rosalie's personal belongings and had even sent a key to the house so she could "get what she wanted out of it."

"I have the deed, the papers that the rodeo folks signed, and everything in a folder at home. I'll be glad to bring them over to you," Jace said.

"See, here's her handwritten will, dated two years ago, giving me everything that she owns." Carlene held it up.

"I bought the place a year ago," Jace said. "And I turned it over to the rodeo the next day with the understanding that we couldn't start to build until Rosalie had passed or she went to a nursing home."

She turned up the envelope and shook it but nothing else fell out. She opened it wide and for the first time saw another little folded piece of paper at the bottom. Another fierce shake didn't bring it out, so she ripped the side away and carefully removed the letter. With dread in her heart, she read it out loud:

My dear Carlene,

The lawyer says I don't need to redo my will. It does leave all my possessions to you, but I should tell you that I've sold the house to Jace Dawson. Do what you want with the money. I just didn't want you to be burdened with selling this place. It needs lots of work and should be torn down, but I was born here and it's my wish to die here. My memories are all tied up in this place. Jace donated the land to the rodeo association. That's a good thing and it makes me happy.

Love, Aunt Rosalie

"Well, now what?" She laid the letter aside and threw her hands up in defeat.

"Now, you can live here until the wreckers come if you want. There's not much rental property in town that's fit for you to live in but there are a couple of places for sale if you're plannin' to stay."

"I'd thought this would be my last move," she said. "I'm ready to put down roots and I always liked this small town."

"We'll find you a place, I promise." He reached out as if to touch her but dropped his hand in his lap. "You've got my word on it. I should be going unless you've got more boxes to carry in."

"No, that's all of them. My house and land are going to be part of the rodeo grounds. I can't wrap my mind around that." She had decided to move to Happy so that Tilly could grow up in Aunt Rosalie's house.

"Upside is that it gets real noisy around this area when there's a rodeo or bull riding going on," he said.

"You still ride?"

"Sometimes. Bulls. But saddle broncs are my specialty. I never was any good at bareback broncs," he answered.

"Dammit, Jace."

"What?"

"Nothing."

"Hey, I remember that look in those pretty brown eyes and you're mad as a wet hen after a wild Texas tornado," he said. "Spit it out."

"I'm mad about this house," she said through clenched teeth. It wasn't a lie. She was furious that she couldn't even buy it back from Jace. Understanding the whys and wherefores didn't make it a bit easier to accept. "I thought the place was mine. I was already figuring out ways to remodel it."

"Honey, it'd take more than paint and new curtains to make this place livable. The plumbing and wiring would all have to be replaced and the worst thing is that the foundation is termite infested and barely hanging on by the rusted nails. If it don't fall down around your ears in six weeks, you'll be lucky."

She got up and stomped around the boxes, out into the kitchen and back to the living room to the window, where she stared out at the two vehicles sitting side by side. "There's no way you can ask the rodeo people to sell it back to me?"

"Sorry." He shook his head as he stood. "I should be going now, Carlene. But like I said, it's no problem for you to stay here until the day before the wreckin' crew arrives. And if I can help you move or help find a place or anything, call me."

"Thank you," she said.

His heart was still as big and kind as it had been in high school. He'd been witty and charming as a friend and had been an amazing boyfriend. Once they'd discovered sex together, they could barely keep their hands to themselves. But it had been that sweetness about his heart that had drawn her to him from the beginning and made her long for him years afterward.

She turned around and stepped on a few bits of dead needles from the dried up Christmas tree in the corner. "Ouch!"

"Let me help you." He knelt beside her and gently removed the dried debris from her foot.

His touch sent delicious shivers all the way to her scalp, just like it had when they'd dated in high school. If he reached up and traced her jawline with his forefinger like he did in those days, she'd be ready to drag him off to the hayloft.

"There now." He rose to his feet. "Want me to help you get rid of this thing? I can haul it out of here as it stands."

"No thanks. I'll want to keep several of her ornaments, so I'll take care of it later."

He headed for the door and stopped in the middle of the floor. "Mama says you still go by Varner. You ever get married?"

She shook her head. "You?"

"I'm still holding on as the most eligible bachelor in the panhandle."

"With that much power, surely you could sweet-talk the rodeo folks into selling me this house," she said.

"Can't do it, Carlene," he said.

"Hey, look what I found." Tilly burst into the living room, but stopped short at the sight of Jace. "Who are you?"

Her hair was all tucked up under a stocking cap with the Florida Gators logo on the front, and big green sunglasses covered half her face.

"I'm Jace Dawson. And you are?" He stuck out his hand.

She shook his hand. "I'm Tilly Rose Varner. Look what else I found." She turned around to face Carlene and held out an official stuffed alligator from the Florida football team. "I haven't seen him in a whole year. I guess Aunt Bee packed him for me."

"She probably found him under your bed," Carlene said. "Surely you aren't finished unpacking all those boxes."

"Nope, but I'm hungry. I'm going to make a peanut butter and jelly sandwich. You want one?" She laid the stuffed animal on the sofa and started toward the kitchen.

"Your little sister or niece?" Jace asked Carlene.

"No, I'm her daughter," Tilly giggled as she whipped off the stocking hat and a cascade of curly red hair fell to her shoulders.

An icy chill chased up Jace's backbone. "How old are you, Tilly Rose Varner?"

"I'll be nine on February twenty-fourth." She removed the oversized sunglasses and looked up at him with gray eyes sprinkled with gold flecks. Eyes that were exactly like his.

Suddenly, there was not a single doubt in his mind that Jace Dawson was staring at his daughter.

Chapter Two

Jace had trouble looking away from Tilly but when he did, Carlene was shaking her head. He was totally speechless as his gaze shifted from the petite blond girl he'd known in high school to the red-haired little girl not five feet in front of him. When he found his voice, the only word that came out was Carlene's name and that was barely a raspy whisper.

"Later," she mouthed.

He barely nodded. "Well, I really have to go now. If you need me to help with anything"—Jace put a lot of emphasis on anything—"my number is still the same, and if you've forgotten it or anything else…" He picked a pen out of a cup on an end table and grabbed her hand. Touching her skin for the second time that morning jacked up his pulse a few beats. He wrote his number on the palm of her hand and then blew on it to dry the ink. "I'll be expecting your call real soon."

"Sure thing," she said.

Jace stepped out onto the porch and pulled his jacket tightly around his broad chest on his way back to the truck. When he got inside, he slammed the door and slapped the steering wheel. He'd known since Christmas that Carlene was coming back to Happy to teach fifth grade. His mother, Valerie Dawson, was on the school board and everyone in town knew she'd been hired.

Despite her windblown hair, dark circles under her eyes, and looking like a bag lady in baggy sweats, Carlene was still the most beautiful woman he'd ever seen. She was a little curvier than she'd been in high school but that would come with having a baby—his baby—that she didn't bother to tell him about. Full, kissable lips were still the same as well as that thick blond hair that floated on her shoulders in big waves even if it did look like it did after a night in the bed of his truck.

A vision of her the morning after their graduation materialized as he started the truck engine and backed out of the driveway. He'd awakened in the hayloft to find her wearing his shirt and looking out across the fields toward the sunrise. That night had been the only time they had taken a chance on sex with no protection. It was crazy but they both wanted to see what it was like with no barriers and he'd planned to pull out before that final moment. Just one time of complete and utter abandonment because they were so much in love—or he thought they were at the time. He shook his head and replaced the visual with the one of that little girl looking up at him with those stunning gray eyes and long lashes.

His big hands shook as he started the truck engine and drove back toward town. He pulled over in front of the bank and parked because he couldn't focus on anything, not even the yellow line in the middle of the road. Using his fingers and counting at least eight times to be sure he was right, he knew beyond even a faint shadow of a doubt that Tilly Rose was born exactly, to the day, nine months after that night he and Carlene had laughed at the idea that one time could never get them into trouble.

"And she didn't even tell me." His hands clenched into fists. "I've got a daughter and she never let me know? Does that little girl even know?"

He pulled out his phone and dialed Rosalie's landline. Carlene answered on the fifth ring.

"She belongs to me, doesn't she?" he asked bluntly.

"She's mine and always has been."

"Does she know about me?"

"She knows that we dated in high school. That's what I told her when she asked after you left," Carlene said.

Jace threw his hat into the backseat and nervously raked his hands through his hair. "We need to talk about this, Carlene."

"I suppose we do," she sighed. "I knew when I came back here to live that we'd have to address it, but can I at least get unpacked and settled first?"

"No, I want to talk about it today," he said.

There's one thing about an old landline with a corded phone—when a person hangs up, it's with a bang. With ears still ringing and his mind going in circles, he tossed his cell phone onto the passenger seat and drove home to Prairie Rose, where he found his brother Brody in the kitchen making a fresh pot of coffee.

"I hear that you didn't waste any time going over to Rosalie's to see Carlene. It's gettin' colder and colder out there. Wouldn't be surprised if we get another snow or two before spring." He turned around to face Jace. "Good Lord, brother. What's happened?"

Jace slumped down in a kitchen chair and laid his head on the table. "Carlene didn't know that I bought that place. She had all these dreams of fixing it up and living there."

Brody poured two cups of coffee and joined his brother at the table. "So what are you going to do? That land has been promised to the rodeo association for over a year."

Jace ignored the coffee and went to the liquor cabinet in the dining room, poured a double shot of Jack Daniel's, and carried it to the table. Rather than sipping it, he threw it back like a cowboy who'd bellied up to the bar in an old Western movie.

"I told her that she could live there until the wreckers came and that I'd help her find another place. I was thinking about that cute little brick house about two blocks from the school, but property is the least of my concerns right now."

"What in the devil happened over there? It must be bad to have you drinkin' at this time of the day," Brody said.

"Bad or good is a matter of opinion," Jace said.

"Spit it out," Brody said. "Did you just figure out that you still have feelin's for her and she's married or something?"

"Sayin' it out loud ain't easy." Jace rubbed his chin and shook his head.

"I remember Carlene being a smart girl in high school. Is she still as pretty as she was back then?" Brody asked.

"She's beautiful," Jace said hoarsely. "Even in baggy gray sweats and her hair all windblown and no makeup, she's still gorgeous."

"But? I think I hear a but," Brody said. "Stop dancin' around it, Jace. Did your little cowboy heart skip a beat when you saw her?"

He took a sip of his coffee. "Yep."

"Maybe you'll get a second chance like I did with Lila."

Jace sighed. "She lied to me. I guess it was a lie, anyway. Do sins of omission count the same as a lie?"

"About what?" Brody asked. "Just tell me what in the hell is going on."

Jace hardly knew where to start or how to say the words. "You know we stayed in touch for a week or so after she left, and then she cut me completely out of everything. No phone calls or emails—nothing." There was a long pause before he went on. "I tried. Honest to God, I tried. I really liked her a lot. I even asked her aunt Rosalie about her. It was the week before I went to college. I remember it because you and Granny had a little party for me at the church fellowship hall and I asked Rosalie if she had Carlene's new number."

"And?" Brody asked.

"She told me that sometimes it's too late to do what you should have been doin' all along. Never did figure it out until today," Jace said.

"And what did you figure out today?" Brody asked.

"I have a daughter."

Brody set the coffee mug down with a thud and stared at Jace as if he'd grown a third eye right in the middle of his forehead. "You have a what?"

Although Brody was a little taller than Jace, there was no doubt that they were brothers. They had the same chiseled jawline, the same dark hair and swagger. The only difference was that Brody had inherited the clear blue Dawson eyes and Jace's were gray with little yellow flecks like the gold in peppermint schnapps. Just exactly like the eyes of a little girl who'd looked up at him when she whipped off that hat and sunglasses.

"Wait until you see her," Jace whispered. "She has my eyes. It don't take a genius to know, Brody. She didn't even tell me."

"Are you sure? Maybe Carlene has a red-haired ancestor," Brody whispered.

"There's no doubt. Her age matches up exactly to that one night…" Jace trailed off, heat rising in his cheeks. "We didn't use protection that one night and with that red hair, she's got the same Dawson genes as Kasey and little Emma."

"What the hell are you goin' to do?" Brody asked.

"The first thing is talk to Carlene as soon as possible. I didn't want to bring it up right there in front of the little girl. After that, I don't know," he answered. "What would you do? How on earth does a man start to be a father to an eight-year-old girl?"

Brody chuckled.

Jace pushed back the chair and began to pace around the room. "This isn't funny in any sense of the word."

"You been moanin' ever since Kasey moved back here with her kids that you wished you had children. Looks like you got your wish," Brody said. "I can't wait to get home and tell Lila."

Jace groaned. "What am I going to do, Brody?"

"You'll figure it out. I sure enough did."

"This is different. You were always in love with Lila."

"You sure enough moped around after she left and have brought her name up enough that I kind of thought you were in love with her," Brody said.

"I got over it," Jace replied. "You never did get over Lila."

"Nope, I didn't and I don't really think that you completely got closure when it comes to Carlene, either. This will make you start up things again or end it for good."

Jace put his hands on the back of a kitchen chair. "Sharing a child means it will never be completely over, now, doesn't it?"

"You can both be good parents without being together. Folks do that all the time in this day and age," Brody said as he pulled his phone from his hip pocket. "Got a text from Lila. The news is out that Carlene is at Rosalie's place, so she's on her way over there to welcome her back to town. If what you say is true, I won't have to tell her anything."

"I swear it gave me chills to look at that little girl and I'm still trying to process the whole thing."

"Talk to Carlene in person, not on the phone," Brody said.

"No worry about that," Jace said with a jerky nod. "My ear is still ringing from when she hung up on me last time."

  

Carlene was still in shock and stunned practically speechless for several minutes after she'd slammed the phone down in Jace's ear. He had no right to demand that she talk to him that very day. Hell's bells. She'd just gotten into town and found out that the house she thought she'd owned was about to be demolished. She had to be on the job on Wednesday and she had to find another place to live, get banking done, and all kinds of things—and he wanted to talk.

Hey, back up. If you were in his shoes, how would you be reacting right now? There was Aunt Rosalie in her head and it wasn't a bit difficult to imagine her with her hands on her hips and her eyes drawn into mere slits.

"I'd give him time to catch his breath first if the roles were reversed," Carlene argued, and then whipped around to make sure Tilly hadn't heard her. She eased down into an old wooden chair with rockers worn so smooth that the chair would hardly even move back and forth. She shivered when the north wind rattled the glass in the window behind her.

Maybe it was because she was sitting in Aunt Rosalie's favorite chair, but there was that sassy voice loud and clear in her head again. Catch his breath, nothin'. You're lucky he didn't drop dead of a heart attack.

"I thought I was over it, but I'm still angry, and I've got a right to be. I'm angry at you because you didn't even have a funeral so we could have closure and because you didn't tell me you were selling the house. And I'm mad at Jace because he still affects me the same way he did when we were in high school and I thought I was over him," she confessed.

She stood up and moved through the living room and kitchen. The house would be gone soon and memories would be all she had of the little place. She'd stayed with Aunt Rosalie more than she'd stayed home those two years they'd lived in Happy—the best years of her life. She ran a hand over the chrome kitchen table set where she'd gotten her homework done and ate many meals. There were always cookies or brownies or something for an after-school snack and the sounds of Aunt Rosalie bustling around with her dust rag making sure everything was shiny.

Tears flooded her eyes and ran down her cheeks. Aunt Rosalie had been her stability those years. Her mother was in Amarillo working every single day and her dad—well, he was gone all the time with his military po
We hope you are enjoying the book so far. To continue reading...
Luckiest Cowboy of All
Carolyn Brown
Copyright © 2021 All Rights Reserved