Book info
Sample
Audiobook
Media
Author updates
Lists
Synopsis
Serving up mouthwatering shellfish, the Snowden Family Clambake has become a beloved institution in Busman's Harbor, Maine. But when new clues rise to the surface five years after the disappearance of Julia Snowden's mother's friend, the family business shifts to sleuthing . . .



Julia and her mother, Jacqueline, have come to the exclusive summer colony of Chipmunk Island to attend a memorial service for Jacqueline's old friend Ginny, who's been officially declared dead half a decade after she went out for her daily swim in the harbor and was never seen again. But something seems fishy at the service—especially with the ladies of the Wednesday Club. As Julia and Jacqueline begin looking into Ginny's cold case, a present-day murder stirs the pot, and mother and daughter must dive into the deep end to get to the bottom of both mysteries . . .
Release date: June 27, 2023
Publisher: Kensington Books
Print pages: 288
Reader says this book is...: entertaining story (1)
* BingeBooks earns revenue from qualifying purchases as an Amazon Associate as well as from other retail partners.
Listen to a sample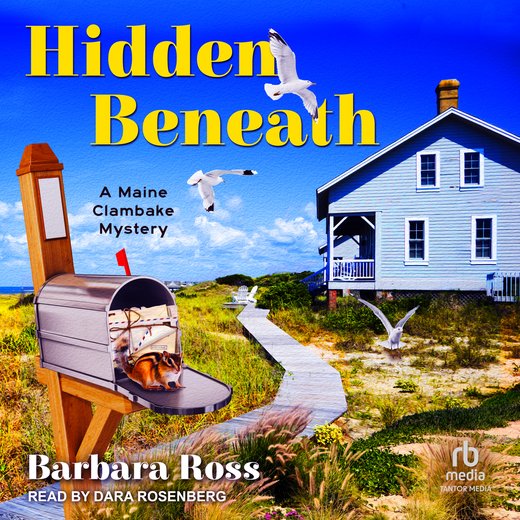 06:17:32
172.83 MB
June 27, 2023
Tantor Audio
2023
Hidden Beneath
Barbara Ross
Present day

I steered our Boston Whaler around Westclaw Point and through the mouth of Busman's Harbor, glancing back at Mom to see how she was doing. She sat on the bench near the stern, her dark sunglasses pushed up slightly by the pinch in her nose as she frowned. We wouldn't normally have chatted in the boat. The motor, sea, and wind all competed with the sound of our voices, requiring us to shout. But she'd been acting strangely all day, strangely ever since news of Ginny Merrill's memorial service had reached us. "You okay?" I bellowed, though I knew what she would answer.

"Fine." A pleasant smile appeared and disappeared just as quickly.

Along the east side of the harbor, I spotted our tour boat, the Jacquie II, bringing guests out to Morrow Island for the luncheon seating at the Snowden Family Clambake. On board, Captain George pointed out the sights and sounds of the harbor over the boat's sound system. Mom heard him, too, and turned her head toward the sound. My late father had named the boat, and its predecessor, Jacquie, for her. It was an inside joke. No one who knew my mother would ever call her by any nickname. She was Jacqueline to one and all.

Dad had been gone for eleven years, claimed by cancer in a long, wasting death, a battle to the end, as was his way. Lately, Mom had been "keeping company" with Captain George. I grinned at the old-fashioned expression, though I couldn't think of a better one to describe their relationship.

Before the start of the Snowden Family Clambake's season this spring, Mom and I had moved into Windsholme, the newly renovated mansion on Morrow Island that had been in my mother's family for a hundred and forty years. The move had deprived George and Mom of the time they'd spent together in past tourist seasons, when she'd commuted daily on the boat from her house in Busman's Harbor to her job at the clambake. Now, during the hours when he waited to return the tourists to the harbor, I often found the captain hanging around the clambake gift shop, where Mom worked. They were like a couple of teenagers standing for hours by their lockers, never running out of things to say. I had teased them once or twice, but it hadn't gone well, so I'd given it up.

The Jacquie II slipped by on our port side, a hundred feet away, headed in the other direction. I turned my attention to Chipmunk Island, growing ever larger straight ahead.

The island was called Chipmunk not because the little mammals were abundant there, but because it had a chipmunk's shape when viewed from the air. The small marina where we'd leave the Whaler was around the other side, facing Busman's Harbor. As we came up on the island, I steered around the chipmunk's tail, giving it a wide berth, careful of the rocks.

In the marina, a helpful resident in colorful Bermuda shorts indicated where we should tie up when I told him our business. He lent a hand to Mom and then to me as we climbed out of the boat. Mom was in a simple, black linen dress. I wore a navy pencil skirt and a sleeveless blouse in a lighter blue. Not exactly the best clothes for climbing out of a boat at low tide, but we were headed to a memorial service, after all.

I started to ask the man for directions, but Mom interrupted. "I know where we're going. Thanks." Mom set off confidently. I followed her up a short track from the dock to the start of a wooden boardwalk.

I wasn't sure why we were here. I couldn't remember having met Ginny Merrill once, even during my childhood. We were at the start of our short, brutally busy season at the Snowden Family Clambake, fully booked for lunch and dinner. Mom and I had to find substitutes to fill our clambake jobs, something not easy to do this early in the summer, when we weren't yet fully staffed. But Mom had insisted she must go, and she had asked me to accompany her. My mother was generous with my sister and me, asking for little in return. I'd felt I had to say yes. Now that I was on the island, I was growing more intrigued.

Mom charged ahead, up the steep track that led from the dock onto a boardwalk, which was also on an incline. She hurried on, as if we were late, which we were not.

"You know the way?" I asked. I'd never heard my mother speak of visiting Chipmunk Island, ever.

Mom nodded, not slowing. "Like the back of my hand. I visited Ginny's house all the time when I was a teenager."

Really? Mom's pace made conversation difficult even as I managed to remain at her side. Maybe that was the point.

There were no roads on Chipmunk, no cars. A hundred houses ringed the island, each with a water view. The boardwalk meandered along the edge, providing access to each house. At one point as we walked, the trees and houses left a gap, and I glimpsed a large central green. I stopped to look and spotted two baseball fields, a basketball court, a playground, two busy tennis courts, and lots of open lawn. Along the side of the green across from my vantage point were two commercial buildings. I made out signs for a general store and a community center.

When I looked up, Mom was fifty feet ahead me. I hurried to catch up. The boardwalk rose steeply and ran along the top of a bluff. I'm not usually bothered by heights, but I had the distinct feeling there should be a guardrail or something on the outside of this stretch of wide, wooden planks. Though Chipmunk Island was technically part of the town of Busman's Harbor, it was tightly managed by an association of homeowners. I doubted anyone came out from the town to make demands for safety improvements. Thirty feet onward, starting downhill, we plunged back into the trees. I breathed a sigh of relief.

The boardwalk wound downward until we were almost at the level of the shore and then curled toward a curve. A large, gray house was visible ahead. Mom stepped off the boardwalk at the next set of stairs and started toward the house. I followed.

Mom ignored the front door, following a flagstone path past a woodpile toward a narrow set of wooden steps in the back of the house. Through the wavy glass of the big windows, people were visible inside. Mom opened the door without knocking and we entered directly into the kitchen.

There were several women there, all busy as bees in a hive. One of them looked up. "Jacqueline, you're here. Just in time."

The woman's greeting attracted the attention of the others, who stopped whatever they were doing to stare at us. Then the smallest one, who'd been mixing some kind of bright red punch, cried out. "Jacqueline!" and came around the kitchen peninsula. "You haven't changed a bit." She wrapped my mother in a hug. The others began to dry their hands on tea towels or aprons and came forward to hug and greet Mom, too.

There were five of them, all somewhere in age within a few years of my mother's sixty-six. When the greetings quieted, Mom took my hand. "This is my older daughter, Julia." I dipped my head and smiled, hoping that would suffice and another round of hugging wouldn't break out.

The woman who'd spotted Mom first spoke up. "Jacqueline, you'll remember everyone, of course. Julia, this is Laura, Marian, Amy, and Dianne. I'm Kitty."

Each woman smiled in turn as she'd said her name, but Kitty spoke so quickly, there was no possibility I'd remember. I groped for a mnemonic: LMAD. Ladies of Maine Are Determined. That would never do. And besides, even if I had the names, I wouldn't be able to match them to the faces.

"You're the only person coming from off-island," Kitty informed my mother. She looked pointedly at me, the uninvited guest.

"Really." Mom was surprised. "I thought maybe friends or colleagues from Portland, or . . ."

"It's not a funeral," Amy or Laura said quickly, dismissing the idea of outsiders.

"Rather like a cold cup of coffee," Dianne or Marian muttered.

My mother's good manners never failed her. "Indeed," she said in a neutral tone. "But other people . . ." She let that hang.

"From the island will be coming certainly," Kitty assured her. "The memorial will be held in the backyard. We were just about to carry all this out." Her right hand swept above the countertop, encompassing the punch, along with platters of finger sandwiches, deviled eggs, vegetables and dip, and several plates of fresh-baked cookies, smelling of vanilla and cinnamon and other spices.

Mom nodded, her eyes traveling around the room. It was a spacious kitchen with large, uncurtained windows framing views of the sea on one side and the yard and woods beyond on the other. The walls were white. The counters and countertops, which had been upgraded sometime in the current century, were white as well. My impression was of a pleasant, sunlit place, though austere.

The skin wrinkled over my mother's nose. Something was bothering her. She strolled casually out of the kitchen into the next room. I didn't follow but moved to the doorway, where I could observe her. A long, oak table sat at the center of the room with eight chairs around it. There was an oak china cabinet, strangely empty. The room had a deserted feel, like the resident had gone long since, and I supposed she had. But Virginia Merrill had left this house one sunny afternoon five years before, presumably with every intention of returning. Why was it stripped of everything that might have made it her own?

Mom returned to the kitchen, saying nothing, though clearly chewing something over. We were both put to work immediately, ferrying platters, pitchers, plates, and glasses to the backyard. Kitty was in charge, telling us where to put each item on the bright, red-checked cloths of the two picnic tables and straightening items or moving them if we got it wrong.

By the time we were done, a crowd had gathered. They came in twos and fours, walking down the steps from the boardwalk or coming along a path that led to the yard through the little wood that surrounded the houses at the southern end of the island. The Chipmunk Islanders were dressed casually. Two even carried tennis rackets. They milled about, greeting one another comfortably. Everyone knew everyone else. They were older, all retirement age or nearing it, but they were healthy and robust. The wellderly, not the illderly, as my friend Gus would have said. An island is not a good place for the chronically sick. Occasionally, someone glanced at Mom or me, the strangers, but no one approached us.

Kitty took a spot where the lawn ended and the little wood began again. She motioned the other five women to stand with her at the front. The crowd quieted, sensing something was happening and turning toward the women.

"Come stand with us, Jacqueline," Kitty said. "You should be here, too."

Mom hesitated for a second, then appeared to judge that refusing would call more attention and take more time than complying. Again, I wondered about Mom's relationship with Ginny Merrill.

Kitty cleared her throat. "We're here today to remember Ginny," she said. "Though it may feel like it's five years too late. Those of us who lived with her every day, every summer, all our lives have missed her and grieved her long since, but now the State of Maine has declared her dead. Since there never was a funeral, or a body, or an explanation, we, the members of the Wednesday Club, thought it was time to mark her passing publicly." She paused, scanning the crowd. "Each of us has prepared something to say, and I urge any of you who wish to speak to do so once we are done."

Kitty stepped forward from the group, still commanding the crowd, as if it was her natural right to speak first. Her hair was white and fine but thick, pinned up in a casual bun. She wore a black polo shirt and skirt, perhaps to mark the sad occasion. Her skin was tanned. I wondered where she spent the rest of the year.

"It's hard to believe it's been five years since our Ginny went for a swim on a Thursday afternoon and didn't come back." Kitty's voice was strong and without obvious emotion. The people standing in the back row could hear her for sure. "We warned her again and again, begged her to stop. But even knowing the danger, somehow the mind doesn't admit the possible consequence of that danger. The probable consequence." She corrected. "The actual consequence. Now the State of Maine has acknowledged what we've all known right along. Our dear Ginny is dead." Kitty paused until every eye was on her. "But let's not remember Ginny's horrific death. Today, let's remember her life, her friendship, the gatherings at her home. The love we all had for one another."

Kitty stepped back and gestured with her elbow for one of the other women to step forward. The crowd was completely silent, looking at the semicircle of women, paying attention. "Marian," Kitty said when no one spoke.

Marian wore a sleeveless summer dress and had removed the apron that had covered it when she'd worked in the kitchen. Her chest was large, her legs and arms well-muscled, her hair improbably dark brown for a woman her age. Her voice was big, and she projected easily through the yard. "My life has been shaped by these women." She gestured to the line behind her. "Including Ginny. Every spring, Mom would begin packing. I could hardly wait for the school year to end. On the mailboat coming over to the island, my heart would be beating so fast, I couldn't keep still. My mom would scold me for dancing. All for this." Her hand swept around the yard. "All to be here. I loved every moment of it—softball league, vicious croquet games, Sunday chapel, meetings of the Wednesday Club. And you all know me, tennis, tennis, tennis." The crowd chuckled, low and appreciative. They did know her. "But most of all, I loved my friends. Kitty, Laura, Amy, Dianne." Her chin quivered and her voice grew thick. "And Ginny. Wonderful Ginny. Generous Ginny, her final resting place hidden, unmarked, unacknowledged. We'll miss her always."

Marian stepped back quickly. Two women holding hands took her place. They were undoubtedly sisters. They had the same dark, blond hair shot through with salon highlights, the same deep-set gray eyes, and the same angular planes to their faces. They were both lean, though one was taller. Both stood with one hip higher than the other, though it was impossible to tell if it was due to a physical defect, legs of differing lengths, or merely a habit of posture.

The shorter one spoke. She felt no need to introduce herself. Everyone in the yard knew who she was. Everyone but me. "Some people thought Ginny's life must be lonely. They felt sorry she never married or had children. That she was an only child, her parents long gone. But Ginny had a rich life. She loved her work as a teacher in Portland. And she loved, more than anything, her life here on the island. She was a great cultivator of friends, a person who brought others together. Once you were in her life, she never let you drift out of it completely. The people of Chipmunk Island loved her. The Wednesday Club loved her. Our children loved her. We were all her family, and we all feel her loss."

When the woman finished speaking, her taller sister hugged her around the shoulders and bowed slightly to the crowd, as if to say, "She speaks for us both." Then they stepped back, still one unit, joined together.

The last woman stepped forward. She was tall and stylish, though she wore nothing more formal than a tailored, sleeveless blouse and a pair of perfectly fitting fern-green shorts. Her thick, gray hair swept below her shoulders, beautifully cut. "Ginny was my best friend." She stopped, waving her hand in front of her eyes, as if to dispel threatening tears. She swallowed hard, looked at the grass beneath her feet, and looked up again. "You'd think after five years I could get through this." She paused again, then resumed, voice quivering. "I loved her. That is all."

Kitty looked at my mother, who shook her head slightly. "I loved her" seemed like a fitting end to the remembrances. But Kitty said, "Jacqueline," in a tone that was a command, not a request, and put a hand on Mom's elbow, not pushing exactly, but patting and propelling her forward.

Mom stood in front of the group, clearly not at ease. She was a reluctant public speaker in the best of times, but her well-honed sense of duty prevailed.

"Most of you will not know me," she said. "I'm Jacqueline Snowden. I live in Busman's Harbor. Ginny and I . . ." Mom cleared her throat and continued, "were best friends in high school. We met early in our freshman year, and I was thrilled to discover she spent her summers close by. I lived on Morrow Island in those da. . .
We hope you are enjoying the book so far. To continue reading...
Hidden Beneath
Barbara Ross
Copyright © 2023 All Rights Reserved
Also in this series
Also by this author