Dragonfly
But is everything as it seems, or is this one more elaborate act of spycraft?
Available in:
eBook
Paperback
Audiobook
Hardcover
Book info
Sample
Audiobook
Media
Author updates
Lists
Synopsis
At the height of WWII, five idealistic young Americans receive a mysterious letter from the OSS, asking them if they are willing to fight for their country. The men and women from very different backgrounds — a Texan athlete with German roots, an upper-crust son of a French mother and a wealthy businessman, a dirt-poor Midwestern fly fisherman, an orphaned fashion designer, and a ravishingly beautiful female fencer — all answer the call of duty, but each for a secret reason of his or her own. They bond immediately, in a group code-named Dragonfly.
Soon after their training, they are dropped behind enemy lines and take up their false identities, isolated from one another except for a secret drop-box, but in close contact with the powerful Nazi elite who have Paris under siege.
Thus begins a dramatic and riveting cat-and-mouse game, as the young Americans seek to stay under the radar until a fatal misstep leads to the capture and the firing-squad execution of one of their team. But...is everything as it seems, or is this one more elaborate act of spycraft?
Release date: July 9, 2019
Publisher: Grand Central Publishing
Print pages: 577
* BingeBooks earns revenue from qualifying purchases as an Amazon Associate as well as from other retail partners.
Listen to a sample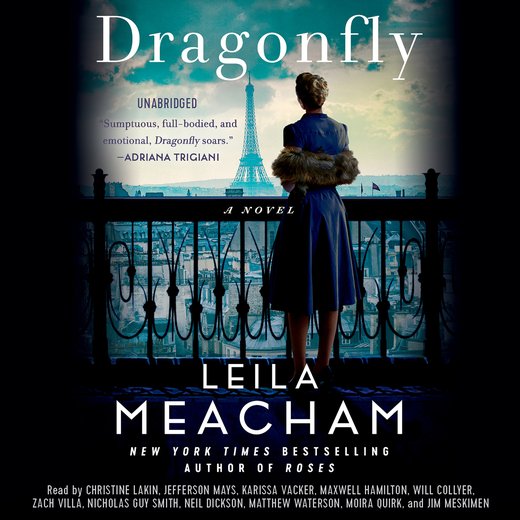 18:16:19
501.89 MB
9781549121838
July 9, 2019
Blackstone HBG
Dragonfly
Leila Meacham
CHAPTER ONE

September 1962

Cambridge, Maryland

The man in brown snapped shut the book he'd been reading and looked up with a stare of disbelief. There was no doubt about it, absolutely none. The five-member team the author described in this obscure little book about clandestine operations in German-occupied France during WWII was the same group he'd sent into Paris in the fall of 1942. Four had made it home, one barely, the last left behind dead, buried in an unmarked grave on French soil. Or so they'd all believed…

Alistair Renault sat very still. Eerily coincidental that he should have read that chapter in The Greatest Ruses of World War II today, almost twenty years after he'd watched the most amazing team of covert operatives he'd ever trained take off in the predawn darkness from England into enemy territory. In three weeks the team was to have met in Paris for a twenty-year reunion. The date, long canceled, had been suggested, insisted upon, by the team's missing member. Alistair wondered if September 23, 1962, was as stuck in the others' minds as it was in his.

He turned to the author page to read again, but with more interest, the credentials of John Peterson that qualified him to write The Greatest Ruses of World War II, a subject on which few had greater knowledge and none more experience than the man in brown. Mr. Peterson's sparse qualifications, the lack of footnotes and a bibliography, and the so-so writing, plus its publication by a little-known university press in 1952, would not have enticed a serious reader of WWII literature to give his war chronicles a try, but the title of the book, set on a low shelf in the local library, had caught Alistair's eye. All through his reading, he had wondered about the validity of the man's research. The acknowledgments page made no mention of persons from whom John Peterson had received assistance or the sources he had consulted. For all the reader knew, the author could have made up the dramatic content and labeled it nonfiction. Alistair did not recognize the names in the book's cast of characters, but he knew that the chapter detailing the clandestine activities of a five-agent team code-named Dragonfly that had operated in Paris during the city's darkest years was factual—at least up until the claim in the shocking climax. He should know: He was the man who'd run the operation. Whether the ruse the author had described at the chapter's conclusion was bogus, he didn't know. He suspected it was, against a flickering hope that it wasn't. He intended to find out.

John Peterson, bald, bespectacled, lackluster, appeared from his photo to have been in his late fifties in 1952. He'd be pushing seventy today and, if still living, was probably retired. Madison, New Jersey, was a little over a four-hour drive away. Before requesting John Peterson's telephone number in New Jersey, of which there must be a slew, he'd try Madison High School, where Peterson had been an American history teacher. Perhaps a talkative school clerk would give him all the information required for Alistair to locate him in Madison, and he would take a little motor trip to the Rose City to introduce himself to John Peterson.

He was indeed fortunate to be referred to a loquacious clerk who had handled student registration for the school since its founding in 1920. "Forty-two years I've been here," she said proudly, and to Alistair's questions replied, "Oh, Mr. Peterson's been gone from Madison for a long time. He and his wife divorced…No, I don't know where he relocated or even if he continued teaching. My guess is that he took off to travel around Europe. He was a big one for Europe."

"Europe…" Alistair mused. "Any special country?"

"He liked France."

Would she know if Mr. Peterson was still alive? Alistair asked.

"We haven't heard of his death, and I believe we would have," the registrar said.

What about his ex-wife? Maybe he could locate Mr. Peterson through her?

A snort. "That hussy disappeared with her paramour right after she took Mr. Peterson for everything he had, poor man."

Alistair thanked her, hung up, and then asked the long distance operator for the number of the book's publisher in Trenton, New Jersey. No such listing was available. The publishing house had probably gone defunct years ago. Alistair was not disheartened, for he was still in touch with an organization that could locate the most elusive persons of interest. He'd place a call to a buddy at the CIA with whom he'd served in the OSS, the Office of Strategic Services, and put him on to John Peterson's tracks. Meanwhile, he'd telephone the surviving members of Dragonfly to ask them to find and read the last chapter of The Greatest Ruses of World War II.

Surprisingly, he found them all at their places of work on this late Friday afternoon. They were still young and active at forty-two and, though scattered all over the country, had remained in his life and one another's since their first reunion in New York City on the twenty-third of September in 1945, forever bound by ties that transcended blood, lifelong friendships, and career attachments. Initially, it had been their doing, the remaining in touch, unusual in a business where war-weary operatives were only too glad to shake themselves free of their case officers as soon as their missions were over. At first he had resisted continuing the association—the idea of it was so foreign to him—but the team had held fast, and after a while he had responded with pleasure to their phone calls, visits, and invitations to weddings, christenings, holidays, and milestone celebrations. The four who had returned, along with their spouses and children, had become the closest to family he'd ever had.

He telephoned Labrador first. He had never stopped thinking of the members of Dragonfly by their OSS field names, just as they had never dropped his military rank when addressing him. It was always Major, never Alistair.

Labrador met his summary of the last chapter of John Peterson's book with a shocked silence that lasted a long five seconds. Alistair waited as his listener gnawed at the possibility that there might be a grain of truth to the author's preposterous claim, but then protested, "I don't believe it. The others all say they watched the execution from their cell windows. Peterson just made up that cock-and-bull ending to fit his 'ruse' scheme."

"I'm inclined to think the same," Alistair said, "but I want you kids to read it for yourselves and get back to me with your analysis. Meanwhile, I am going to try to track down John Peterson."

"If he's not living, we'll never know."

"There are ways to find out. I'll begin working on it."

"Good grief, Major, what if…his conclusion is correct?"

"Then we'll go from there and follow the path to wherever it leads." (No one said Good grief anymore, a throwback to the '40s, Alistair thought, amused.) "The book is out of print, I'd think. If you and the others can't locate a copy, I'll xerox the chapter and mail it to you."

The others received Alistair's news with the same degree of shocked silence, for the last chapter of The Greatest Ruses of World War II maintained that the missing member of Dragonfly had survived the firing squad that three of the group had witnessed. The execution had been carefully planned to fool the Nazi SS. Comments ranged from an explosive "Nonsense!" to expletives prompted by rage at the cruelty of the author's claim. None of the team members had ever discussed their exploits with anyone nor had they been approached for an interview by a man named John Peterson.

After the last call, Alistair pushed back from the telephone. What if the chapter's conclusion was correct? What if the missing member of Dragonfly was alive and well and living in Europe as the chapter claimed? The execution had occurred on June 11, 1944. It had been eighteen years since three members of the team had witnessed the brutal death of one they had loved and still mourned. What if Dragonfly was not missing one of its wings after all?

There might be one quick and easy way to find out.

The man in brown drew open a desk drawer and pulled from it a thick set of files, each labeled with the names of the candidates who eventually became Dragonfly. He'd absconded with the files after President Harry Truman terminated the OSS in October 1945, putting him out of the job he was born to do until the CIA had snapped him up. If he had left them, the dossiers would only have gathered dust in locked-away, classified government files, their names and missions forever forgotten along with those of other courageous men and women who had risked their lives for their country. In the back of his mind, Alistair had a notion that someday he might write his own book, telling of the bravery and selflessness of five young people who had volunteered for infiltration into the city of light gone dark.

Unable to find a current phone listing for the missing dragonfly's parents, Alistair then dialed the private number of his friend at the Central Intelligence Agency in Langley, Virginia, and after speaking with him, took the weighty collection of files to his easy chair, attempting to ignore a pack of Lucky Strikes in the drawer of his armchair table. But the urge to smoke overpowered his doctor's warning that his lungs were a puff away from emphysema. This situation called for a nicotine fix. He settled the bundle on the table, lit up, took off his shoes, placed his socked feet on the chair's ottoman, and reached for the first file.

Along with his other epithets, Alistair had been known as "the ferret" when it came to searching out information on a subject. Flipping through the candidates' intimate details and mental and physical qualifications, he mused on how these collections showed the kids' mettle even then. Prodded by John Peterson's specious, poorly written version of Dragonfly's years in Paris, Alistair thought that he just might decide to write that book after all, tell the derring-do tales of five young Americans code-named Labrador, Liverwort, Lodestar, Limpet, and Lapwing. He would begin in May 1942.

CHAPTER TWO

May 1942

Washington, D.C.

The members of the choir of Saint Luke's Episcopal Church on Fifteenth Street in Washington, D.C., referred to him as "the man in brown." Even after two years of singing with them the Sundays he was in town, few knew his full name of Alistair Renault, and no member could claim to know him at all. Dressed in his drab brown attire, he appeared on Wednesday evenings for choir rehearsal just as the body of thirty gathered in the church chancel and did not linger for coffee and cookies and fellowship afterward. The choir director considered Alistair's the most magnificent singing voice ever to come under his baton and would have appointed Alistair lead tenor if only he could have relied upon him to be present every Sunday, but he understood that the man had a government position of a hush-hush nature that precluded his regular attendance.

On this particular day, this same man of mystery slid a sheet of paper listing names, addresses, and personal details of each across a large mahogany desk. The recipient was Colonel William J. Donovan, known as Wild Bill Donovan to friends and foes. The desk belonged to the director of the Office of Strategic Services, better known as the OSS, the country's first national spy agency, whose conception had been discussed in the White House in 1940. The office had become official the following year, before Japan's surprise attack on Pearl Harbor in December 1941 and Germany's subsequent declaration of war against the United States. The paralyzing global uncertainties of that spring had confirmed America's need for a centralized intelligence system set up to collect and analyze timely and accurate information as a means to plan military strategy against the enemy should the U.S. be drawn into a worldwide conflict. This aim was to be achieved primarily by the insertion of agents trained for covert operations into hostile territory. President Franklin D. Roosevelt signed it into existence by executive order and chose as its head Wild Bill Donovan, the most decorated officer of World War I, in civilian life a prominent Wall Street lawyer before being recalled to active military duty in 1942 with the rank of colonel.

The organization had since grown to become a full-fledged agency and had moved from its crowded temporary quarters to a more spacious home atop historical Navy Hill in northwest Washington. Colonel Bill Donovan now directed his bustling and burgeoning outfit from a high-ceilinged corner office on the first floor of an establishment that, because of its secrecy, had come to be nicknamed "the Kremlin." His deputy and second-in-command waited for his boss's reaction to the list while he enjoyed the cool mid-May breeze flowing through the tall, open window with its bird's-eye view of the Potomac River.

"I see you've circled five names," Donovan said to the man in brown. "Why these five?"

"Brad Hudson and Christoph Brandt speak fluent German with an understanding of French learned in high school. If they come onboard, they'll be given a refresher course. Samuel Barton speaks French like a native with a college minor in German. Bridgette Loring is fluent in French and German, as is Victoria Grayson. Besides their understanding of the languages, their personal skills and fields of study make them the most qualified for the assignments I have in mind. Also, none is married." Alistair's level gaze conveyed what did not need to be stated between the two men: They were therefore dispensable. "Only one comes with serious family responsibilities—Brad Hudson, so he may not be a player," he continued. "Samuel Barton, the graduating civil engineer, actually sent in a request for an application form, and I've an appointment to meet with him in Oklahoma City, his hometown, on Monday. Victoria Grayson of Williamsburg, Virginia, you know about. She's the fencer of foil who came to my attention in 1940."

"Ah, yes, of the Virginia Graysons. Family's richer than God," Donovan said. "Let's hope she goes for it."

"Our Paris asset is in place and expecting her."

Bill Donovan laid down the list and eyed his deputy appreciatively. "It was a stroke of genius how you got these names, my friend."

Alistair accepted the compliment with a slight nod. His boss's trust was what he liked most about working for Wild Bill Donovan. He allowed Alistair to do his job without requiring him to trot every idea or plan by him for interminable study or—God save them!—from the quagmire of a committee. Investigation and recruitment of a special few for certain missions was the purview of the man in brown. Early last year he had hit upon the idea of contacting college professors of particular disciplines to obtain the names of students fluent in German and French the agency could approach "to serve in a special capacity for the security of the United States." The letter, written on OSS stationery, asked for any known details of their personal lives. These were listed by category: family, friends, interests, hobbies, social affiliations, religious preference, proclivities, temperament, political views, and the like. The psychology of the letterhead of a highly secret government agency had worked, and he'd heard from an amazing number of professors from whose replies he had compiled the list in his boss's hands.

Wild Bill said, "Tell me about these boys and girls. Where are they now? I mean, where are they in life?"

Alistair warmed to the subject. "All of them were born in 1920 and have turned twenty-two or will shortly. By all accounts, Samuel Barton, nicknamed Bucky, is eligible for the draft, but his name has not yet been drawn. Bridgette Loring is graduating Stephens College with a degree in fashion design and illustration. Apparently, she's the next Coco Chanel and has been offered a job with the J. L. Hudson Company in Detroit, but she is holding out for a designer's position in a house of high fashion."

"The fashion district in Paris should be a tasty inducement," Wild Bill commented.

"Victoria Grayson and Christoph Brandt have graduated and are employed, Victoria as a French translator for G. P. Putnam's Sons in New York, and Christoph as a high school teacher and track-and-field coach in Austin, Texas. He goes by Chris and resents the use of his German given name."

"A good sign," the colonel said, "but why hasn't Brandt volunteered? He's been out of school two years."

"He failed his physical. He was born absent a thumb. He tried to argue his way in, but the medics wouldn't have it. According to his professor friend, who volunteered all the information you're reading there, Christoph did everything he could to show the docs his missing thumb wasn't a handicap, but they didn't buy it. He's quite an athlete."

The colonel grunted and consulted the list again. "And Brad Hudson?"

"Brad Hudson is the only non–college graduate. He lives in Meeker, Colorado, and works for a lumber company. He's the one deferred from the draft because of family obligations. His father died in a lumberyard accident, and his mother and sister and the two kids they've taken in off the street, a brother and sister, now depend on him for putting food on the table."

The piercing blue eyes of Wild Bill Donovan rested upon him. "What's he doing on the list?"

"He's fluent in German."

"So?"

"He's also a very proficient fly-fisherman."

"And how does that help us?"

"So is Major General Konrad March."

Wild Bill Donovan rolled his chair back from his desk and settled deeper into its worn leather with a pensive steepling of his fingers over his lips. "I see. What makes you think you can entice Brad away from his family?"

"I don't. Fact is, I doubt it, but he's worth checking out. He has all the qualifications essential for the job—the only candidate I've uncovered so far. I have some days coming, so I thought I might pop down to Colorado and get in a little fly-fishing when the rainbows start running."

Colonel Donovan nodded his assent. "How about the others? How amenable do you think they will be?"

"I don't know, Bill. It depends on the degree to which they hate the Nazis. Bridgette Loring's grandmother was tortured and her grandfather murdered by the Germans in the last war. The sister of Brad Hudson's mother married a rabbi, and they were caught up in one of Hitler's first pogroms to rid Germany of Jews. Victoria Grayson's grandparents live in London, and her brother and fiancé are flying Spitfires for the RAF in the American Eagle Squadron. Samuel Barton's mother has close affiliations to antifascist groups in Paris."

"What about Christoph Brandt's allegiance? I see here his parents are the descendants of the founders of their German community in Texas. New Braunfels, is it?"

"Can't answer your question until I interview him, but from his professor's comments, the kid chafes at being associated with his heritage, especially now."

"What about romantic entanglements? These kids are of the age to be involved with somebody, and from their physical descriptions they are all extraordinarily attractive. Won't that be a detriment?"

Alistair shook his head. "For the assignments I have in mind for them, their looks will be an asset. As for romantic attachments that have occurred since I compiled my reports on them, again I won't know until I interview them."

"So what's the next step?"

"The three that I won't be contacting personally will be receiving letters that will include a telephone number to call. If they respond, I'll have their calls flagged to be put through to me immediately."

"And if you don't hear?"

"Then I'll pay them a visit if the budget allows it."

"It allows it. When will these letters go out?"

"Tonight." From a folder marked TOP SECRET the man in brown removed three letters slipped under the flaps of their addressed envelopes and placed them before the OSS chief. "All I need is your signature to make the invitations official."

Wild Bill Donovan barely glanced at the first letter before affixing his signature to the rest of the lot. "I hope to God that I'm not signing their death warrants," he murmured.

CHAPTER THREE

Bucky / Lodestar

Norman, Oklahoma

Make a wish, Sam!" Penny Parker, Samuel Barton's girlfriend, giggled into his ear.

"But don't tell us what it is, Bucky," his college roommate admonished, "or it won't come true."

Bucky leaned toward a chocolate cake ablaze with twenty-two candles. He imagined that everyone at the long restaurant table believed they could guess his wish, but they'd be wrong. They were all as well lit as his birthday cake but for his mother, who sat sober and unsmiling across from him. He felt her tension and could easily read her wish, her prayer, for him in her eyes: Please God. Let my son survive the war. The same wish for themselves sobered the faces of his University of Oklahoma fraternity brothers. Of the four, two were already in military uniform, their draft numbers called before they could complete their diplomas, and were home on brief leaves before their deployment overseas.

They had cause to be worried. The war was going badly for American forces and their allies in both the European and Pacific Theaters. Europe lay under the Third Reich's domination after an almost unbroken chain of battlefield successes, and now the German Army was effectively advancing into Russia. In southeast Asia, U.S. forces had surrendered at Bataan and Corregidor, and the Imperial Japanese Army had occupied most of the islands in the South Pacific. His other Phi Delta Theta buddies would be joining up to serve their country immediately after graduation in a few weeks. Only Bucky remained uncommitted, a situation everybody expected to change with the next drawing of the military draft numbers, but Bucky had other plans.

The honoree puckered his lips and drew in a full lung of air to annihilate the candles with one blow. All twenty-two flickered out. "Atta boy, Bucky," his father said across the table, joining in the guests' riotous applause. So far, his pudgy face, flushed from food and drink and high spirits, had managed to deflect the concerns on his wife's.

One of his fraternity brothers sang out, "Tell us how you got the name Bucky, Sam!"

"Yes, son," urged his father, eyes alight with devilish amusement. "Tell your friends how you happen to be called Bucky."

Bucky, who preferred to be called Sam since leaving high school, batted away the request with his hand and with forced good humor called down to his friend who'd made it, "Another time, jerk face, when you're sober enough to remember."

"I'll tell 'em!" Horace Barton boomed out. "Nothing to be ashamed of." He turned expansively to the group, ignoring the warning Monique pressed on his arm and Bucky's embarrassed look. "When my son was born, he was very sickly. Colicky. Cried all the time. Threw up a lot. Couldn't keep food down. That went on for a while until I told him, 'Buck up, boy! Buck up!' That was before he could talk. When he finally did, he'd heard 'Buck up!' so often that when he was asked his name, he'd say 'Bucky'! And that's how he got the handle he goes by." Horace beamed his pride around the table for his hand in making his son the man he was today.

"Did," Bucky corrected his father. "I go by Sam now, Dad."

"Because he's no longer that sickly kid, I can assure you," Penny purred knowingly and snuggled closer, warming his ear with her breath.

Bucky subtly wiggled his shoulders as a hint to Penny to undrape herself from his arm. It was warm in the private room of the restaurant, and her perfume and the waft of the blown-out candles were stifling. He was mad at her anyway for smuggling in a case of champagne and beer and bribing the waitress to keep quiet about it. Oklahoma was a dry state with strict laws against the sale and imbibing of alcohol in public. He felt suffocated from the heavy food and beer in his belly, the cigarette smoke, and the revelry that had begun to have a desperate edge to it, as if his friends' loud jests and tipsy laughter could drown out the voices of gloom and uncertainty hanging over their futures. Tomorrow when their heads cleared, the voices would resound louder than ever. He supposed it would be impolite to have the waitress box the cake to take home, but he didn't think he could endure the long ritual of having it cut and served and eaten at the tail end of his party. He'd had enough of his birthday celebration. He wanted to get his mother out of here. He wanted to go home.

This birthday bash had been his father's idea and thrown at his insistence. "It'll do your mother good to get her mind off her worry over you and the war news in France. Besides, this is the last one you'll have before you're drafted, and you know that I like to show off what I can do for my family," he'd argued. But Bucky suspected a big part of his father's reason for the party was his own fear that this birthday might be his son's last.

The girlfriend of one of his fraternity brothers leaned forward and slurred, "So, Bucky, wha…branch of the service are you…gonna sign up for if your draft number isn't called this next go-round?"

At a signal from his mother, the waitress approached the table and, in chagrin, Bucky watched her whisk away the cake to be taken to the kitchen and sliced. They wouldn't be skipping dessert after all, and he wouldn't be able to escape the question he'd known was bound to pop up.

"I won't be sure until I finish investigating my options," he replied. "I want to sign up with whatever organization will let me put my engineering degree to good use."

"Oh, I see," she said, but, clearly, irritatingly, she did not. Ever since the war began, his friends, classmates, parents, and his father's close business associates had noticed that the usually decisive Bucky seemed mysteriously disinclined to discuss his military service "options" after graduation, which made them wonder if he was holding out for a noncombatant but essential government job stateside. Was Sam Barton, model of young manhood, pride of his parents, star athlete, class leader, school hero, taking the safe and cowardly way out?

The girl flopped a hand carelessly. "Oh, well, who can blame you if you want to play it safe? Those Nazis are horrible people, and the Japanese are worse. The atrocities they're committing make your blood curdle."

Penny shot her a scathing look. "Good God, Babs! What gave you the idea that Sam wants to play it safe? He wants to use his professional skills in the most effective way for the war effort. And I doubt you can see anything given the amount you've had to drink."

Penny's reprimand signaled the end of the fun. The cake was served in near silence and hardly touched during strained conversation. Penny refused a serving, saying, "I'm watching my figure so Sam will." After the first round of coffee, everyone folded their napkins and pushed back from their plates. It was Saturday evening, and most had to be in their rooms on the university campus by twelve. Bucky would be driving his parents home to Oklahoma City and staying for the rest of the weekend. Anticipating that his father would drink more than usual at the party, Bucky had insisted on being the one to drive their car, but he really wanted an excuse to keep an appointment at seven on Monday morning. He had arranged to meet a man at a coffee shop before catching the bus back to Norman for his midmorning finals.

Behind the wheel of his parents' Cadillac, Bucky noticed that his father's expansive mood, encouraged by the beer, had vanished. Horace Barton had purchased the car in anticipation of the nation going to war. Automobile manufacturers would be converting their plants to military production of arms, munitions, trucks, tanks, and planes, he predicted, "and the home front will not see another new civilian car roll off assembly lines until the end of the war, whenever the hell that will be."

His assessment had been right and in line with most of his astute commercial and business decisions, as evidenced by the success of his trucking company and its notable survival of the Depression. That he adored Monique Barton, Bucky had no doubt. After almost twenty-three years of marriage, the feeling his rough, bombastic father had for his lovely, refined French mother still bordered on adulation. "Imagine the luck of an old high school dropout country boy like me winning the hand of a beautiful, educated woman like your mom," he'd say to Bucky. "Never let me hear you say a cross word to her, son, you hear me? The belt if you do."

"Yessir," Bucky would dutifully reply, as if he could ever disrespect his mother, but he had learned that Horace Barton's idea of parenting was to instruct by empty threat, for Horace Barton would never lay a hand on his son, even if Bucky had been the sort of child to test his concept of good conduct. His father loved him without bounds. Of that, Bucky had no doubt, either, and he was happy to make him proud.

Looking into his rearview mirror, he sa
We hope you are enjoying the book so far. To continue reading...
Dragonfly
Leila Meacham
Copyright © 2022 All Rights Reserved