Crowning Design
Available in:
eBook
Paperback
Audiobook
Hardcover
Book info
Sample
Audiobook
Media
Author updates
Lists
Synopsis
A tender, classic love story about the secrets that linger in our hearts and the choices that set us free.
Some people aren't meant for happily ever after. And Deborah Standridge is one of them. When she called off her wedding to the perfect man to pursue her passion as an architect, she didn't mean to hurt anyone. But Deborah saw her chance to finally make her own dreams come true, and she took it, setting in motion a tragedy that has haunted her ever since.
Now, as one of Denver's most successful architects, Deborah has avoided love at all costs...until Daniel Parker walks into her life. He commissions her to design his company's headquarters and soon makes her want to believe in love again. But Dan is keeping a shocking secret that could rip apart everything they've built - and break Deborah's heart once and for all. Will Deborah find the strength to put the past behind her to fight for a love that could last for all time?
Release date: January 3, 2017
Publisher: Grand Central Publishing
Print pages: 256
* BingeBooks earns revenue from qualifying purchases as an Amazon Associate as well as from other retail partners.
Listen to a sample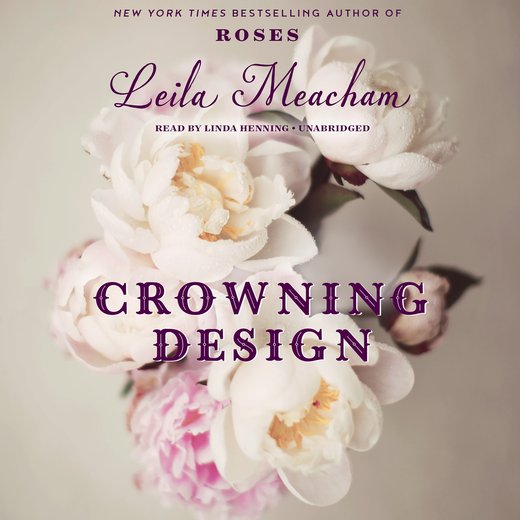 06:39:28
182.87 MB
9781478941514
January 3, 2017
Blackstone HBG
Crowning Design
Leila Meacham
Chapter One

Roger Lawson might have known his mother would get the better of him. She usually did. Why couldn't she have kept his engagement party small and simple, as he had asked—no, ordered—when he left for his stock-buying trip to Australia? He should have expected that in his absence she would orchestrate a bash like this and invite the entire Virginia gentry, not one of whom, by the looks of it, had declined.

Only Estelle Lawson could come up with this rose-tinted monstrosity, he fumed, looking up at the chandeliers swathed in pink net. Their twinkling lights, pink for good measure, cast a blush over everything, as if anything else was needed to give guests the illusion that they had walked into a rosy dream world. In addition to the fountain of pink champagne and musicians in pink dinner jackets, lavish arrangements of azaleas, in shades from palest blush to deepest fuchsia, were everywhere. They adorned the pink linen-draped tables, hung in heavy garlands from the balustrades, twined profusely around every column in the colonial ballroom. "To honor our Georgia beauty," Estelle explained ebulliently, wafting among her guests in a swirl of frothy chiffon the color of strawberry ice cream.

Only his mother could have pulled this off, Roger was thinking. Only she would have wanted to. Sheer extravagance guaranteed that the Lawsonville Country Club would never again see the likes of such a party. Too much wasn't enough for her. Well, it was more than enough for him.

"It's suffocating in here," he moaned. "I feel like I'm being buried alive in cotton candy."

Deborah glanced with humor at her fiancé, a stockily built man of unexpected grace on the dance floor, and suggested, "Then let's go out to the terrace, Roger."

"With pleasure," he agreed, adroitly waltzing her to the French doors that offered escape from the flower-bedecked ballroom. "Dammit!" he said when the doors were closed behind them. "If anyone but my mother were responsible for this…but what can you do to your own mother?"

"Nothing," Deborah answered, understanding his frustration well. "No more than I can do to mine."

"Sorry you've gotten involved in all of this?"

Her laughter was the loveliest sound he'd ever heard, allaying, somewhat, his fear that she would change her mind about marrying him. "You may be the one who's sorry," she had teased.

"Never," he vowed, drawing her close. God, she was beautiful. He had never seen anyone as exquisite, as exciting, as this women he had just announced he was to marry. For once his mother and her infernal meddling in his life had paid off. That trip to Georgia last Christmas she had finagled him into taking her on…"I want to see Isabelle, Roger, and I cannot go alone. The girls are busy with their husbands' families for Christmas. It will be just the two of us this year, and why stay home when we can bask in the land of peaches and sunshine for the holidays? I want to see Isabelle. Something tells me I should. After all, I'm seventy now and there aren't many of us Kappas left from the class of '35. Look here," she had said, wagging a letter in front of him at which he barely glanced.

It had been a letter from her old sorority chum inviting them to spend Christmas in Georgia. He didn't like Georgia. It was humid and sultry even in winter, especially on the coast where the Standridges lived. He remembered the humidity from the one childhood visit he had paid with his widowed mother to the Standridges. Mr. and Mrs. Standridge had seemed old to him then, and he had thought it peculiar that they should have a five-year-old daughter. He had been fourteen then and aware that his mother was not as young as those of his friends.

The child had been a bewitching little girl, very proper and polite. She didn't whine and pull at him like pesky younger sisters of his friends. He had felt rather sorry for her, for even then he had sensed that as an only child of parents already in their fifties—a very beautiful, doll-like child—she was not being permitted a normal childhood. This perception had been verified when, bored and waiting to go into Savannah with his mother and the Standridges for dinner, he had wandered into the kitchen in search of an apple. There in the center of the room had sat the little girl on a stool as if glued to it, her eyes fixed on him when he swung open the door from the dining room.

"What are you doing?" he had demanded.

"I am to sit here after I am dressed so that I won't get mussed."

"Oh," he had said, taking in the fine lace dress with its satin sash, the black patent shoes and spotless white socks.

"How long do you have to sit there?"

"Until my parents are dressed and ready to leave."

"Is that very long?"

She had shrugged delicate shoulders, her amber eyes large and liquid in the fine-boned face.

"Do you want an apple?"

There was a basket of them, large and enticingly red. He had refused one earlier, asking if he might save it for later.

"Thank you, no. I would just get juice all over me."

"I can't imagine you ever getting anything on you."

"But I would, you see, so I can't have one."

Roger had taken an apple. It would be hours before they actually had dinner. He took it outside to eat, not caring if the succulent juice dribbled on his navy blue blazer. He sat on the stoop and thought about the little girl sitting on the stool alone in the kitchen so that she would be picture perfect when time came to show her off.

They're cruel to do that to her, he thought with disgust, thinking of his two rambunctious older sisters who had always come and gone as they pleased. They would never have allowed themselves to be planted on a kitchen stool.

That had been sixteen years ago, and now here she was, as picture perfect at twenty-one as she had been then. The body of the little girl was gone. He held the figure of a desirable woman in his arms, but the naivete and innocence were still there. In many ways, she was still the little girl sitting on the kitchen stool.

"Would you like an apple?" Roger asked.

"What?"

"An apple. Would you like to go to my place and have an apple?"

She didn't remember. He could tell by the way the amber eyes searched his face. "Ah, kitten," he said, swept by a great tenderness for the woman in his arms, "have you never done anything on the spur of the moment, disobeyed your parents, let your hair down, told the devil to take the hindmost?"

"Not very often," Deborah admitted with a small smile. "Not ever, actually. Are you asking to leave the party? Is that what the apple is all about? But what will our parents say?"

"Plenty, but what the hell?" He shrugged. "They're happy. They've got us engaged. This pony show is really for them anyway. Besides, I want to see as much of my girl as I can before she has to go back to college. What do you say?"

A faint crease disturbed the porcelain-smooth brow. "Shouldn't we at least say something to them before we leave?" she worried. His arms were very strong, she realized, and he had the kind of swarthy beard growth that required a shave twice a day. Deborah supposed she would become accustomed to the bristly feel of it next to her skin, just as she would to being the wife of a famous horse breeder and the mistress of the family estate, Lawson Downs.

The idea of both still seemed farfetched to her. Each morning now she awoke thinking that the last four months since Christmas had been a dream. As she had come down the stairs to greet Roger and his mother in the hall, she would never have had the faintest inkling that their visit would lead to this pre-nuptial extravaganza tonight.

Roger kissed the sweetly curving mouth. "If you say so, kitten. But the rest of the night is mine, and I don't intend to share it with that champagne-sipping crowd in there."

They found the elderly trio—Estelle Lawson, Benjamin and Isabelle Standridge—at the fountain of champagne, engaged in a private toast of their own. "Oh, there you are, my dears!" trilled Estelle, greeting them with what Roger recognized as gloating triumph. "Cheer up, Roger. I know you wanted a smaller party, but I may not have the opportunity to enjoy many more occasions like this. I was right to indulge myself, wasn't I, Deborah?"

Estelle's eyes were like those of a bird, Deborah thought. They were perfectly round with the yellow irises dominated by hard, black pupils. "It's a lovely party, Mrs. Lawson. Everyone seems to be having a splendid time."

"You have your mother's diplomacy, my dear. But Mrs. Lawson seems so formal. It won't be long before you'll be calling me Mother Lawson. You wouldn't object to that, would you, Isabelle?—Deborah calling me Mother?" She fastened the birdlike gaze on the woman she had known for half a century.

"Of course not," Isabelle replied, still an amazingly pretty woman, although wide swaths of silver now concealed much of the rich auburn hair Deborah had inherited. "Deborah's name for me has always been Mummy."

"Oh, not always, dear," Ben hastened to contradict. "I believe she has called you Mother for the past several years. It sounds a little more grown-up, you know," he explained to Roger. "Mom might be a nice choice for you, Estelle."

"Mom Lawson sounds like the name of a woman running a gang of outlaws," Estelle protested. "I much prefer Mother."

"Well, then," Isabelle sighed, "I guess she can still call me Mummy."

Two embarrassed spots of color had appeared on Deborah's cheeks. She turned to her fiancé decisively. "Roger, did you say something about an apple?"

Roger grinned. "That I did. If you folks will excuse us, we're going to the kitchen for an apple. Don't wait up." Seeing his mother about to protest, he gripped Deborah's elbow and steered her toward the ballroom doors before the trio could organize their objections.

"They've finally gotten to you, haven't they?" Roger commented as he drove out of the club parking lot in the direction of his condominium overlooking the Potomac River.

Deborah pressed her throbbing temples. The headache had been with her for the entire round of exhausting prenuptial activities. "I am so weary of that kind of discussion. Would it ever occur to either of our mothers to ask me what I might like to call your mother?"

Roger found that observation amusing. "When we're married," he chuckled, "you'll have your say in everything. I guarantee it."

Deborah did not respond. How grand it would be, she sighed inwardly, if Roger did not have to shield her from the domination of his mother. She'd had enough of that from her own parents. Now she wondered if she weren't, by marrying into Roger's formidable family, just adding another thumb to the two she'd lived under all her short life. Estelle Lawson was one of those matriarchs who had reared two daughters and a son to knuckle under to no one, not even to her, and Deborah instinctively knew that had they done so, offspring or not, Estelle would have ground them under her heel. Deborah had never bucked anyone or any decision made for her in her life. What chance would she have to lead her own life in a house with such a woman? For it was understood that while Deborah would assume the title and duties of mistress of Lawson Downs, her mother-in-law would continue to occupy a wing of the mansion.

"You're thinking mighty hard over there, kitten. What's going on in that lovely head of yours? Not reconsidering marrying me, are you?" It was a fear that he could not lay to rest. He knew that the decision to marry him had not been hers. Accustomed from infancy to accepting what her parents thought best for her, Deborah had yet to realize that she could make decisions for herself. The little show of assertiveness awhile ago had delighted him, but she must not be encouraged to try her wings too often—not until they were married. Once discovered, she just might fly away from them all.

"Tell me you're happy," he said.

"Roger, of course I'm happy. How could I not be? You're the catch of every girl's dream. Just ask my sorority sisters!" She laughed and described how her roommates had been green with envy after one of his visits to Georgia Tech.

"But am I the catch of your dreams, Deborah?" he asked, reaching for her hand while he steered the Mercedes through the Saturday evening traffic.

The question caught Deborah off guard. She did not allow herself dreams. They too often conflicted with those of her parents. Once she had secretly hoped to become a famous building designer, maybe even the leader in a new concept of architectural design. But she had always known that the architectural degree she was working so diligently to earn was only a pastime until marriage. Her parents were getting on in years. They had made it clear that they must have the peace of knowing that responsibility for their only child's security had been transferred to a loving husband. Hope had been voiced that there might even be a grandchild or two to sweeten the ravages of age.

Glancing at the swarthy figure behind the wheel, Deborah answered honestly, "Not only of mine, Roger, but of my parents. You are as ideal a husband as they could wish for me."

Roger longed to ask the next question but contented himself with her affectionate squeeze of his thumb.

At his condominium, a bachelor retreat he maintained as a haven from the all-seeing eyes of his mother, Roger picked up an envelope from several that lay on the carpet beneath the mail slot. Opening it quickly, he scanned the contents and hooted delightedly. "Good ol' Bear! I knew he wouldn't let me down!"

"Bear?"

"My best man. We grew up together. We're like brothers. He's in South America now, constructing buildings for an oil company. I didn't know until now if he would be able to make it to the wedding. Make yourself at home, kitten, while I read this. You don't mind, do you? It's been awhile since I've heard from him."

"No, go ahead. I'll just get acquainted with your friends here," Deborah said, indicating the stuffed animal heads arranged around the walls. Bear. The name suggested something huge and hairy, like the heads of these hapless creatures. She hoped that Roger, by evidence an avid hunter, did not expect her to take up the sport. She adored animals. The idea of shooting one was abhorrent to her.

Roger finished the letter, smiling to himself, and shed the white dinner jacket and black tie. "You'll like Bear," he said, going to the bar built into the wall. "He says he won't believe you until he sees you, that no girl could be the paragon I've described."

Deborah, watching him work with seltzer bottle and ice, was not listening. She was watching his small hands, realizing that they were disproportionate to the rest of his strong, stocky body. Black, wiry hair sprang from the backs of them, and the nails were rather long. Soon they would have access to her body. The thought of that eventuality compressed the air from her lungs in a seizure of panic. What was she doing sitting in this oppressively masculine room beneath the sightless eyes of animals killed to decorate the walls? Deborah's head throbbed. She had to stifle an hysterical impulse to flee the room and the swarthy stranger coming forward with a tray of drinks.

"Here we are, a couple of fine apples," Roger said, setting down the tray of drinks. Handing Deborah a glass, his rib cage contracted at the look on her face. "Deborah—kitten! What is it?"

With a strained smile, Deborah asked testily, "Roger, would you mind not calling me kitten? It makes me sound so—so insubstantial. And I'm not, you know. Everybody seems to have forgotten that I am about to graduate cum laude with a degree in architectural design. I can assure you that I wouldn't be if I were in the least…kitten-like."

Roger regarded her without speaking, still feeling the spasm in his midsection. After a moment, he said in tender understanding, "You're scared, aren't you?"

Deborah dropped her gaze. "I just can't understand why you would want to marry me. I know you say you love me, but I don't understand that either. You're older and sophisticated and worldly. I know nothing about horses or hunting or running a home like Lawson Downs. I don't know anything about—about—" She blushed as her tongue wrapped around the word.

"About sex?" Roger asked. "Don't you think I know that, Deborah? That is one of the reasons I find you so appealing. Don't worry about being inexperienced—in anything. I'm a patient man, and I will never rush you into anything you don't want—after we're married," he added smoothly, hoping she hadn't noticed the correction. "I promise you that. You'll enjoy being my wife. You'll enjoy the estate and the little town of Lawsonville. The community will love you. You'll blossom, Deborah. You'll be free. No more kitchen stools for you!"

Deborah lifted her eyes in wonder, slowly recollecting the time, long ago in Savannah, when Roger had found her on a stool in the kitchen. He had come looking for an apple. "Roger!" she crie. . .
We hope you are enjoying the book so far. To continue reading...
Crowning Design
Leila Meacham
Copyright © 2022 All Rights Reserved