Death of a Diva at Honeychurch Hall
Book info
Sample
Audiobook
Media
Author updates
Lists
Synopsis
'Just the thing to chase the blues away' M. C. Beaton Spring is in the air ... and so, too, is the sound of music as the residents of Honeychurch Hall are stunned to learn that the Dowager Countess Lady Edith Honeychurch has agreed to the staging of a production of The Merry Widow in the dilapidated grand ballroom. Fears that the fiercely private octogenarian must be going senile are soon dismissed when our heroine, Kat Stanford, learns that the favour is a result of a desperate request from Countess Olga Golodkin. As one of Edith's oldest friends Olga is the director of the amateur Devon Operatic Dramatic Organization. Just a week before, D.O.D.O's original venue was destroyed in a mysterious fire but since tickets have been sold, costumes made and lucrative local sponsorships secured, Olga is determined that the show must go on. After decades at the helm of D.O.D.O., The Merry Widow will be Olga's swansong and she wants to go out with a bang . . . Praise for Hannah Dennison: 'The perfect classic English village mystery but with the addition of charm, wit and a thoroughly modern touch' Rhys Bowen ' Downton Abbey was yesterday. Murder at Honeychurch Hall lifts the lid on today's grand country estate in all its tarnished, scheming, inbred, deranged glory' Catriona McPherson 'Will delight fans and new readers alike' People's Friend 'A fun read ' Carola Dunn 'Sparkles like a glass of Devon cider on a summer afternoon' Elizabeth Duncan
Release date: November 5, 2020
Publisher: Little, Brown Book Group
Print pages: 320
* BingeBooks earns revenue from qualifying purchases as an Amazon Associate as well as from other retail partners.
Listen to a sample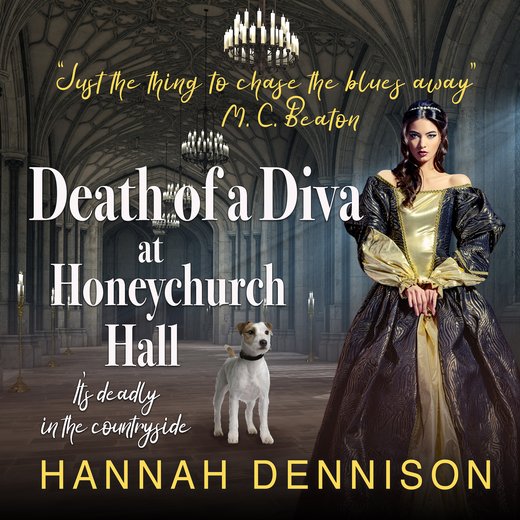 07:07:40
195.78 MB
9781664994928
July 1, 2021
JournalStone Publishing
Death of a Diva at Honeychurch Hall
Hannah Dennison
'You're alive!' I finally heard the bolts draw back and the door of the Carriage House slowly opened. My mother's pale face peered out.

She did not look happy.

'You're not answering your phone,' I said. 'I've been standing in the carriageway yodelling for hours.' I expected a smile at the last comment but Mum seemed uncharacteristically out of sorts. Pointing to the arch-braced roof with a central skylight that ran the length of the carriageway, I added, 'The acoustics are really good in here—Gosh, are you okay?'

Mum produced a Kleenex and snuffled into it. As I looked more closely I noticed her nose was red and her face blotchy.

I was immediately concerned. 'I wondered why you weren't in your writing house. Are you not feeling well?'

A horrible flu bug had swept through the village of Little Dipperton. So far Mum and I had escaped it, but now I wasn't so sure.

'You haven't caught that flu bug, have you?' I demanded. 'Lavinia has been in bed for days.'

In fact, Lady Lavinia Honeychurch's illness was the reason why I was dressed in jodhpurs on a sunny Wednesday morning in early May instead of manning my antique business, Kat's Collectibles & Mobile Valuation Services.

With Lavinia out of commission, I'd volunteered to help her mother-in-law, the formidable octogenarian dowager countess, Lady Edith Honeychurch, exercise their six horses. I didn't mind: I loved riding. But the extra work meant that I hadn't seen my mother for nearly a week.

In fairness to me, I knew that she'd been working to a deadline with her latest romantic masterpiece, and would have hated to be disturbed. Even so, I felt guilty and had picked some wild daffodils as a peace offering.

'I really don't feel up to visitors,' Mum said quietly. 'I just want to be left alone.'

'I'm not a visitor,' I said. 'I'm your daughter.' I handed her the bunch of bright yellow flowers. 'For you. Aren't they cheerful?'

Mum uttered a heavy sigh and dabbed at her nose again. 'If you say so.'

'I think you should be in bed,' I said briskly. 'Let me in and I'll make you a hot toddy. Have you got a headache? Sore throat?'

Mum's reply was inaudible. She stepped aside to allow me to pass, then made a point of locking the door once I was safely inside, which was highly unusual. Something definitely wasn't right and, taking in her unkempt appearance, my concern deepened.

I followed Mum down the narrow corridor to the kitchen.

It was after eleven in the morning but my mother was still in a baby-pink hooded dressing gown from Marks & Spencer. She was make-up free and her unbrushed hair was showing the beginnings of a grey stripe at the roots. In short, she looked a mess.

Mum prided herself on her appearance, claiming that should she ever have a heart attack and end up in hospital, no one could ever accuse her of being a slattern.

Whatever was going on must be serious.

'Go and sit down.' I took the daffodils back from her and headed for the sink. 'I'll just put these in a glass of water for now. You can arrange them later. Okay?'

Mum dragged out a chair and sat down heavily at the large Victorian pine table where copies of the local weekly newspaper, the Dipperton Deal, lay scattered amongst used Kleenex tissues. She didn't say a word. She just sat there, staring into space.

As I waited for the kettle to boil I couldn't help but notice the state of the kitchen. The washing-up hadn't been done for days. Dirty cups, bowls, plates and a crystal tumbler sat on the countertop along with crumbs of toast and the odd cornflake. There were two empty bottles of Honeychurch Gin, with the distinctive sheep's head on a blue label – my mother's own brand – and crumpled cans of Fever Tree tonic water. Maybe she didn't have a cold. Maybe it was a hangover. Had my mother become an alcoholic?

I touched her forehead for signs of a temperature. It didn't feel clammy. I also noted that although the used-up tissues indicated otherwise, Mum wasn't sneezing.

'Let me see,' I said as I headed for the oak dresser. 'Who will you be this morning?'

As a diehard monarchist, my mother collected royal commemorative plates and reproduction Buckingham Palace bone-china cups and mugs. Today I spotted a new addition to her collection of framed photographs of the royal family – the Duke and Duchess of Sussex.

'I see that Prince Harry and Meghan Markle have made your dresser of fame.'

'That won't last either,' said Mum gloomily. 'Nothing ever does.'

Considering Mum's mood, I selected a mug bearing a picture of the unfortunate Princess Caroline of Brunswick, whose marriage to George IV was notoriously so unhappy that she was forbidden to attend his coronation and missed being crowned Queen.

I picked Princess Margaret for myself and marvelled at the power of the subconscious. Her love life hadn't been smooth either. Just like mine was turning out to be.

I set down a pot of tea and the two mugs and joined Mum at the table. 'Princess Caroline is especially for you today.'

At last Mum gave a very small smile. 'Did you know that after Caroline was banned from her husband's coronation she fell ill that very night and died three weeks later?'

'Well, hopefully that's not going to happen to you.'

Mum regarded her cup of tea with disdain. 'I thought you were making me a hot toddy.'

'I changed my mind because there is nothing wrong with you. Physically, that is.' I reached across the table and took her hand. 'What's really going on, Mum? Did the publisher reject your manuscript?'

I knew that she had been working feverishly on another steamy Star-Crossed Lovers novel. Writing secretly under the pseudonym of Krystalle Storm, Mum's productivity was staggering and showed no sign of slowing down, despite the fact that she'd recently turned seventy.

'He can't reject it yet because I haven't sent it,' Mum said with a hint of defiance.

'What?' I was horrified. 'I thought the manuscript was due back last week.'

Mum shrugged. 'I don't care. It's done when it's done.'

'You must care!' I scolded. 'You've spent decades building up your writing career. You have to stick to deadlines. Isn't this book supposed to be published in October? That's less than five months away!'

'I can't please everyone,' she retorted.

And then I guessed. Dr Reynard Smeaton – he of the 'wonderful hands' – and my mother had been enjoying a torrid relationship since Christmas. At first I'd been delighted, but as time went on, I observed her ride a roller-coaster of emotions. One moment she was euphoric and madly in love, and the next she was feeling crowded and needed her own space. Of course, keeping her writing a secret didn't help. Mum had had to resort to the old excuses she'd made during my childhood, namely feigning a migraine, so she could escape to her writing house in the converted piggery.

'I hope all is well in paradise,' I said.

At this comment, my mother burst into tears.

'Oh, Mum!' I said. 'Has something happened?'

To my astonishment, she produced an iPhone from her dressing-gown pocket.

'You've got a mobile!' I was stunned and, to be honest, a little hurt. I'd been trying to persuade her to get one for months.

She nodded. 'And an iPad.'

I was flabbergasted. 'Since when?'

'Reynard gave them to me for Christmas so we could keep in touch around the clock.'

'Why on earth didn't you tell me?'

'Because you would gloat about me entering the twenty-first century,' said Mum. 'That's why.'

She made a good point. I would have done just that.

My mother frowned. 'I'm on WhatsApp as well. It says Reynard's online but he still hasn't responded to my text.'

'It doesn't mean he's actually looking at his phone,' I said. 'He's just available.'

'Oh, really?' She frowned again. 'I feel like a stalker. Before technology, if a man didn't call, we didn't think the worse of it – although, deep down, we knew that if he didn't call, he wasn't interested.'

'Is this what's upsetting you?' I said. 'The fact that he hasn't been in touch?'

'I keep checking his Facebook page,' said Mum. 'But he's not posting anything.'

I couldn't believe it. 'You're on Facebook? If you're on Facebook then why on earth don't you—'

'No! Stop right there,' Mum exclaimed. 'The answer is no. I do not want a computer. I only want to type on Dad's Olivetti. It's my lucky typewriter.'

'I'm sure that Reynard's just busy,' I said. 'He does have a job, you know. This flu thing is awful. Maybe he even has flu!'

'I hope he has.' Mum took a sip of tea and hesitated. 'He told me that he needs some space.'

'Space?' I was dismayed. 'Oh. Well. That's different.'

'He says he's confused.'

My heart sank. Call me a cynic, but I knew full well that when a man asked for space and said he was confused, it usually meant that another woman had caught his eye.

I didn't know what to say. Having had my fair share of heartache, I found it hard to understand that my mother's attachment to the silver fox – her nickname for him, not mine – could have developed so quickly.

Mum had been married to my father for forty-nine years and widowed for nearly two. I had been genuinely happy when she found a companion and friend, but this behaviour was alarming. She was acting like a lovesick teenager. If my mother was in this state of turmoil at the age of seventy, what hope did the rest of us have?

'I've been reading Men Are From Mars, Women Are From Venus by John Gray,' Mum went on. 'You should read it. It might help you.'

'I have read it and it didn't.'

'Usually Reynard calls in here every day or we meet somewhere for coffee,' Mum mused. 'And then at night—'

'Spare me the details, please.'

'I have to say it's put me horribly behind with my writing,' Mum continued. 'I think about him all the time. It's like I'm obsessed.' Tears filled her eyes. She grabbed a used tissue and angrily wiped them away. 'I know I write about yearning passion and all-consuming love, but, to be honest, I've never felt it up until now.'

'What about Dad?' I protested.

'Your father was like wearing a comfortable pair of old slippers. Don't get me wrong, I adored him, but Reynard is so exciting. And his hands—'

'No hands!' I felt nauseated at the vision of them together but made a supreme effort to be kind. 'When was the last time you spoke to Reynard?'

'Five days ago. But he's been acting very distant for the last few weeks. And then I read that,' she gestured to the copies of the Dipperton Deal and tears filled her eyes again, 'and I just knew.'

The newspaper was turned to the Dear Amanda problem page. The identity of Dear Amanda was a mystery. Her brutal advice was usually the topic of derision every Saturday morning when Mum and I would sit down over a coffee and try to guess which of the villagers in Little Dipperton had written in with a personal problem. We'd had to skip the last two Saturday mornings so this was all new to me.

'Read it,' she commanded. So I did.

I read aloud: 'Dear Amanda, Do long-distance relationships ever work?'

Signed: Hopeful.

Amanda says: No.

'Long distance?' I said. 'He only lives in Totnes.'

'Not that one,' Mum said. 'The second one down.'

'Dear Amanda,' I read aloud again. 'I have received startling news that an old flame has come back to the area. Although I have not seen her for nearly forty years, I have never forgotten her. The problem is that I am dating a real sweetie and I don't want to lose her.'

Signed: Confused.

Amanda says: Dump the sweetie.

I winced. 'Has Reynard mentioned an old flame to you?'

'No,' Mum said, 'but he calls me sweetie all the time. There's more …' She withdrew another page from under the pile of newspapers. 'From this Saturday's edition.'

I read aloud yet again. 'Dear Amanda, although I have not seen my old flame yet we have been in touch on Facebook and the sparks are flying. I will dump the sweetie.'

Signed: Grateful.

Amanda says: Don't burn out!

I regarded my mother's mournful expression. 'How do you know these are from Reynard?'

'I noticed a new friend pop up on his Facebook page weeks ago. Reynard keeps "liking" her comments.'

'That doesn't mean anything. And this is exactly why I don't do Facebook, Mum.'

'It's a long-distance relationship because she lives in Italy,' said Mum. 'Her name is Lucia Lombardi and she's single.'

'Ah. But remember what Amanda said? Long-distance relationships don't last.'

'They've probably been direct messaging each other,' said Mum gloomily. 'I can't tell but she must be in England by now.'

My heart sank again. 'Wait … the Lucia Lombardi? One of the greatest sopranos of all time?'

Mum blanched. 'Have you heard of her?'

'Of course I have. She's been all over the news! How can you not have heard of her?'

I hunted through the scattered newspaper pages on the table until I found the page I was looking for. The headline read: Local Girl Made Good. Julie Jones is Back! Below it was a grainy photograph of a young woman with a Vidal Sassoon wedge-style haircut holding a giant cheque for fifty thousand pounds. The small print said Julie Jones had been the Winner of the Torquay Talent Contest 1978 and that she now went by the stage name of Lucia Lombardi. The column went on to say that Lucia was one of the few singers who could actually hit the world's highest note, the elusive High G10.

Unfortunately Lucia's triumphant return to the South West had been plagued with problems that put the fate of the amateur production of The Merry Widow, in which she would be headlining, in jeopardy.

Last week a terrible fire had all but destroyed the iconic Nightingales Theatre on the outskirts of Dartmouth. Worse still, Victor Mullins, our tax accountant and Lucia's co-star, had died in a car crash on the very same day.

'She's famous,' Mum said flatly.

'So are you,' I reminded her.

'But no one knows I'm famous. Everyone knows she's famous.' Mum thought for a moment. 'What on earth is a professional opera singer doing coming all this way to sing with a bunch of amateurs?'

'I have no idea,' I said. 'But these amateurs take it very seriously.'

'I mean … Victor Mullins as her co-star?' Mum said with scorn. 'He's about as exciting as a wet rag. I can't imagine him roaming around the stage in tights … yodelling.'

'Don't speak ill of the dead, Mum,' I said. 'Victor was all right and you've got to admit, he took everything you said at face value when he filed your taxes last year. If I recall, you even got a huge tax refund.'

'Well … if Lucia doesn't have a co-star or a venue, the show won't go on and she can go back to Italy.'

This made what I was about to tell her very awkward.

'What's wrong?' Mum said. 'Why have you got that weird look on your face?'

'I don't want you to freak out, but …' I took a deep breath. 'The show will go on. It's going to go on in the old ballroom at Honeychurch Hall.'

Mum's jaw dropped. 'Lucia Lombardi, one of the greatest sopranos of all time, is coming here?'

'I'm afraid so,' I said. 'Honeychurch Hall is going to be the new Glyndebourne.'

'I just don't understand why the dowager countess would agree to something like that.' Mum sounded bewildered. I had thought the exact same thing and said so.

Mum frowned. 'Do you think she's going senile?'

Although occasional events had been held in the grounds – the re-enactment of the English Civil War to name just one – Lady Edith Honeychurch rarely opened the Hall to the public. Following the disastrous Museum Room open house last December, her decision seemed all the more out of character.

'At least it will give Delia something to do,' Mum said with a tinge of malice. Ever since Reynard had come on the scene, Mum's on-off friendship with the Hall's housekeeper had been strained. 'All those divas wandering the corridors … yodelling.'

'I'm glad you've recovered your sense of humour,' I said. 'But no, it's just one diva and Countess Olga Golodkin.'

'If that name should mean something to me, it doesn't,' said Mum.

'She's D.O.D.O.'s director.'

'Dodo?' Mum said with a snigger. 'Isn't that an extinct flightless bird?'

'It's the acronym for the Devon Operatic Dramatic Organisation.'

Mum burst out laughing. 'Perhaps it's an omen.'

'Well …' I tried to keep a straight face. 'Edith told me it's going to be Olga's swansong.'

'If Reynard's not careful it will certainly be his,' said Mum. 'What else did her ladyship tell you?'

'Apparently the Countess is a bit of a legend in operatic circles and managed to persuade Lucia to come out of retirement for this one last production. Tickets have been sold out for months. Edith told me that Olga is a distant cousin of Tsar Nicholas II. Maybe you can add her to your dresser collection.'

'I still don't understand why her ladyship would agree to it.' Mum shook her head. 'The upheaval will be enormous.'

'Olga was a family friend and it's a favour,' I said. 'Supposedly, the ballroom has perfect acoustics.'

'Ah yes, it does. I remember those days,' Mum said wistfully. 'Did I tell you that when I was a child, Bushman Travelling Fair and Boxing Emporium used to camp in the park?'

I regarded her with amazement. 'Yes you have, a gazillion times. Are you sure you're not going senile?'

'Wait – did you say the ballroom? Not the Great Hall?'

'Edith said the ballroom,' I said. 'Why? Is there a difference?'

'Of course there's a difference,' said Mum. 'It makes sense. The ballroom is in the east wing with its own entrance. That means the general public won't need to tramp through the main house.'

'It is an upheaval,' I agreed. 'The ballroom will have to be transformed into a theatre.'

'What about the sets and costumes?' Mum asked.

'Some of the sets have to be rebuilt, but luckily the costumes were saved because they were kept in a Portakabin in the Nightingales Theatre car park.'

'And who will be paying for it all?' Mum asked. 'Nothing comes for free.'

'Sir Montgomery Stubbs-Thomas,' I said. 'I really do know everything.'

'You certainly do.'

'Edith was very chatty,' I went on. 'Sir Monty and his wife Suzanne – actually, she died a couple of weeks ago – are opera buffs. They've been sponsoring D.O.D.O. for years.'

Sir Monty was also someone I occasionally bumped into on the antique circuit. In fact, I didn't like him very much, but I wasn't going to open that proverbial can of worms. My mother would want to know why.

'Wait a minute,' Mum said, 'what about the bats? Isn't their summer roost in the roof above the ballroom? They won't like all that noise.'

'Edith told me they've not been seen so far this year.' I was well aware that the future of the endangered greater horseshoe bat was a heated topic in the village; according to Edith, there had been plenty of opposition to staging the o. . .
We hope you are enjoying the book so far. To continue reading...
Death of a Diva at Honeychurch Hall
Hannah Dennison
Copyright © 2022 All Rights Reserved
Also in this series
Also by this author