Dangerous Deception at Honeychurch Hall
Book info
Sample
Audiobook
Media
Author updates
Lists
Synopsis
All's fair in love . . . and antiques wars!
Things are going well for Kat Stanford; not only is her antiques business thriving, she's also got a new date: Piers Carew, Viscount Chawley, who owns the estate next to Honeychurch Hall.
Unfortunately, Kate has a rival. Impossibly beautiful Cassandra Bowden-Forbes is also in town, conducting valuations at the same fairs as Kat - and she makes no secret of the fact she's got her eye on Piers . . .
And then things start to go wrong: Kat finds herself at the scene of not one but two mysterious deaths, and local tongues are wagging - is it coincidence, or murder? As Kat's fortunes nosedive it becomes clear that unless she can solve these unexplained deaths then she may just be the victim of the next accident . . .
Release date: November 1, 2018
Publisher: Little, Brown Book Group
Print pages: 304
* BingeBooks earns revenue from qualifying purchases as an Amazon Associate as well as from other retail partners.
Listen to a sample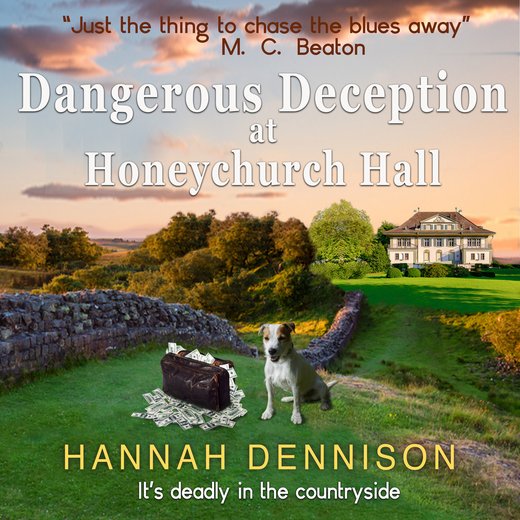 07:34:02
207.86 MB
9781094248370
January 1, 2019
JournalStone Publishing
2018
Dangerous Deception at Honeychurch Hall
Hannah Dennison
Edith Honeychurch abruptly stopped her chestnut mare in the middle of the bridleway. With a snort of protest, Tinkerbell shied, nearly unseating the eighty-six-year-old dowager countess, who still insisted on riding side-saddle.

'Edith! Are you OK?' I called out, only just managing to avoid barging into her mount with my own. She gave a wave of acknowledgement but did not ride on.

I'd been daydreaming – astonished at how life could change so drastically. Just last August I was living and working in London as the host of a television show called Fakes and Treasures. Just over a year later, here I was riding Jupiter, a beautiful horse, in the wilds of the Devonshire countryside.

'Kat! Come and look.' Edith gestured for me to join her alongside. 'This is outrageous! Why would someone do that?'

I immediately saw the reason for her dismay. A bulging black bin liner had split open, spewing household waste, sodden paper and broken glass across the bridleway.

Mr Chips, Edith's little Jack Russell terrier, bounded forward and dragged out a grubby blue-and-white-striped sock that for some reason looked familiar.

'Leave it!' Edith commanded, but the dog kept his prize and bolted through a gap in the hedge.

'Fly-tipping,' she said with disgust. 'First Bridge Cottage and now up here on Barton's Ridge. It's getting worse and it seems that there is nothing we can do about it.'

She was right, of course. Illegal dumping of domestic and industrial rubbish, particularly on private property, was on the rise despite the promise of crippling fines and prison sentences for repeat offenders. To add insult to injury, the landowners had to pay to clear the rubbish away, otherwise they would be fined too. It seemed most unfair.

'Rupert should just get a shotgun and shoot the scoundrels on sight,' Edith went on. 'That would be a real deterrent.'

I regarded her with horror. She seemed perfectly serious.

'We'll have to retrace our steps,' she said. 'I'm not risking injuring these horses with all that broken glass.'

Our morning ride had been fraught with problems from the start. Jupiter had cast a shoe, but luckily hadn't gone lame. Then she'd tripped and I'd fallen off into a muddy puddle. I'd been riding in wet jodhpurs for the past hour and it wasn't very pleasant.

Shortly after that fiasco, Tinkerbell refused to pass a giant bale of hay covered in a black tarpaulin that snapped and crackled loudly, and we were forced to take a different path. It was the first time I'd ever seen Edith give in to a horse and it reminded me that although her mind was as sharp as a tack, she wasn't as physically strong as she used to be.

Fifteen minutes later, we rejoined Barton's Ridge higher up the hill. From this vantage point, the view of the sprawling Honeychurch Hall estate – and now my home – was not as attractive as the one seen from Hopton's Crest on the opposite side of the valley.

A tangle of scaffolding encased the east wing, which was awaiting repairs to the roof that would probably never be done. There was a bird's-eye view of the kitchens and servants' quarters, which were in dire need of a coat of paint, and the line of ramshackle potting sheds, broken glasshouses and abandoned hothouse furnaces in the Victorian walled garden gave the property a sad and neglected air. Only one of the three adjoining estate cottages seemed to be cared for, with its window boxes filled with red geraniums – a nice touch by the new housekeeper, who had recently arrived at the Hall and who I had not yet met.

It was then that I noticed the stranger in a gateway just a few yards further down the hill.

Standing alongside a dirty black Citroën CX was a man in jeans and a black leather jacket, looking through a pair of binoculars across the valley. A camera with a telephoto lens hung about his neck.

He must have heard us coming because he quickly jumped down, wrenched open the car door, turned the ignition and sped away. I got a glimpse of a European Union sticker – gold stars on a blue background – but the number plate was too dirty to make out.

There had been something odd about the car, and then I realised what it was. 'Did you notice that Citroën was left-hand drive?' I said to Edith.

'I believe it was,' she said. 'Someone knows you have come out of retirement. What do they call those frightful newspaper photographers? The paparazzi?'

'I hope not.'

'Or perhaps someone has discovered Iris's true identity.' Edith cracked a smile. 'Although he doesn't look the type to read racy bodice-rippers.'

It was possible – but unlikely.

Just before my father died, he had made me promise to keep an eye on my mother, Iris. Little did I realise that this promise would change every aspect of my own life.

Mum's new-found freedom had led her to recklessly buy a dilapidated carriage house hundreds of miles away without so much as a whisper of her intentions to me. Even more shocking was the discovery that she had been writing romance novels under the pseudonym Krystalle Storm for decades. And all the time Dad and I had thought she was suffering from bad migraines! He passed away before he knew the truth, and even now, her identity was a closely guarded secret.

So now we both lived on the estate – although fortunately not together – where the closest village boasted just one general store, a post office, a church and the Hare & Hounds pub.

I had to admit that like Mum, I too had enjoyed my newfound freedom, and seeing a man with binoculars and a camera brought my old life rushing back – the constant public scrutiny, the criticism of what I said, and of course, the countless wardrobe malfunctions that I was famous for.

'I can't imagine my appearance at tomorrow's BearFest would generate international appeal,' I said.

'Why ever not?' Edith replied. 'These past few weeks your shining star has been very difficult to ignore.'

This would be the first year that the Dartmouth Antique Emporium would be holding a one-day festival dedicated to the teddy bear. It had been given masses of publicity. Advertisements had been taken out in all the trade magazines, as well as national and local newspapers. There had been continuous plugs on a mind-boggling number of radio stations, and naturally, giant posters of my face – perfectly airbrushed, thank God – had been dotted around the country announcing my role as valuation expert, auctioneer and keynote speaker.

'Or perhaps he was doing a spot of twitching,' said Edith thoughtfully. 'Hmm. We do have a fine pair of peregrine falcons. We should alert the police just in case.'

'About the cameraman? No need. I can handle it.'

'Not him, dear,' said Edith. 'The police work closely with the RSPB to stay aware of potential thieves who are out to steal our protected birds' eggs.'

'I had no idea,' I said.

'That's because you're a city girl,' Edith teased.

'Not any more! I could never live in London again. The Devon countryside has spoiled me for life.'

'I'm glad to hear it. Of course, the nesting season is over now, but even so, we should tell them,' she said. 'As for the BearFest, I'm sorry to say I have a prior engagement.'

I laughed. 'I didn't think it would be your cup of tea.'

'Nonsense. I have some Pony Club business to attend to. Perhaps your participation might generate some new business for you. I know it's been a struggle.'

'Yes. It takes a while to get established.' It was thoughtful of Edith to acknowledge this. I had launched Kat's Collectibles & Mobile Valuation Services at the beginning of the summer, but business had been slower than I had expected, and since I was still paying the mortgage on my flat in London, money was tight.

All thoughts of the BearFest and the possible egg thief vanished when we both became aware of raised angry voices close by.

'Oh dear,' said Edith. 'The earls are quarrelling again.'

Rounding the corner, we saw a black Range Rover that belonged to Rupert, Edith's son, the 15th Earl of Grenville, and a battered grey Volvo owned by Aubrey Carew, the 12th Earl of Denby and Rupert's father-in-law.

Their vehicles were parked on the gravel drive of Bridge Cottage, which was now a blackened shell. Last October a terrible fire had gutted it – one from which my mother and I had barely escaped with our lives.

In the past few weeks, the ruined site had become a major spot for fly-tipping. Hardcore rubble, a mess of electrical cables and nondescript steel poles jostled with boxes of old clothes and photographs, mounds of tyres and abandoned kitchen appliances. Muddy tracks criss-crossed the old garden, flanked by mattresses and an assortment of broken furniture.

The place gave me the creeps.

We caught snatches of the argument: 'This is your responsibility' coming from Aubrey, and 'I refuse to spend another penny for something that is not my fault' from Rupert.

'Oh dear,' said Edith again.

'Have you any idea how much I've already paid to get this removed?' Rupert raged. 'I'm damned if I am going to build a … a … what do you call it? A bund? Anyway, I fail to understand why this is my responsibility.'

'It's duty of care, you imbecile!' Aubrey exclaimed. 'Bridge Cottage is on your land!'

'Good morning, gentlemen!' Edith called out cheerfully. 'Lovely day for a ride.'

Both men spun around to face us.

They were dressed in the traditional garb of upper-class landowners: namely corduroys, tweed jackets and Woodstock boots – although Aubrey was wearing a particularly garish orange tweed flat cap this morning. He was also sporting a fluorescent green badge that said EcoChamp, the name of his latest environmental campaign to clean up the countryside.

Aubrey was a local legend and lived on the neighbouring Carew Court estate. As well as being a fierce conservationist, he was a renowned expert on antique weapons and armoury, and a ruthless magistrate with a notorious reputation for enforcing the maximum penalty regardless of how petty the crime.

The earls' dislike for each other was tangible and came off them in waves, but good breeding seemed to prevent them from arguing in front of the fairer sex, so they both forced smiles and uttered courteous greetings.

'Edith, my dear,' said Aubrey smoothly. 'Can you talk some sense into your son, who clearly does not understand the law?'

'I am fully aware of the law,' Rupert spat.

'He may be lackadaisical in other areas of his life – notably his marriage vows – but it is the landowner's responsibility to remove fly-tipped waste and dispose of it legally.'

'Oh for heaven's sake,' said Edith. 'Stop pontificating, Aubrey!'

'Really, Edith? You surprise me,' Aubrey declared. 'Rupert faces a five-thousand-pound fine and a further five hundred pounds a day until this waste is removed, and I shall be only too happy to enforce it!'

'Really, Aubrey. You surprise me,' said Edith drily. 'Don't you have real criminals to put away?'

Rupert bristled. 'Stay out of this, Mother.'

'I'm not asking him to get his hands dirty,' Aubrey went on. 'There are many reputable companies that dispose of waste. All one needs to do is make a phone call—'

'And open a chequebook,' Rupert fumed. 'Damned expensive they are. What's more, I have cleared this area three times in the past two months. Good God, man, do you think we're made of money?'

'You could start by erecting a CCTV surveillance system … and …' Aubrey made a grand sweep of the area. 'Where is your caution sign?'

Rupert was getting redder in the face by the minute. 'The sign was stolen!'

'If there is no caution sign, it's an open invitation for fly-tipping,' Aubrey went on. 'Surely you must be aware of that.'

'Don't patronise me!'

'I am merely informing you of your legal duties.'

'And I am informing you that if you don't back off—'

'Rupert! Aubrey!' Edith said wearily. 'Is this really necessary?'

'No, let Rupert finish, Edith,' Aubrey exclaimed. 'Are you threatening an officer of Her Majesty's government?'

Rupert muttered something incoherent, threw up his hands and stalked back to his Range Rover.

'You'll receive a summons!' Aubrey shouted after him. 'I'll look forward to seeing you in court!'

There was a hollow clunk as Rupert viciously reversed the Range Rover into Aubrey's Volvo and sped away. Unfortunately, the damage would have been worse for Rupert's car than Aubrey's, Volvos tending to have bodywork as thick as a Sherman tank.

'Really, Aubrey,' Edith scolded. 'I do think you are being unreasonable.'

And I totally agreed with her. My dealings with Aubrey in the past had been based on a shared interest in antiquities, and this was a side of him that I had never witnessed before.

Aubrey drew closer, chest puffed up with indignation. 'I see you aren't wearing your EcoChamp badges.' He pointed to his own. 'It's critical that the general public are made aware of the deterioration of our countryside.'

'I'm afraid it didn't quite go with my habit,' said Edith mildly. 'Good day to you. Come along, Kat.' And with that, she urged Tinkerbell into a brisk trot.

As we rode home side by side, Edith mused, 'I wouldn't be surprised if one of these days Aubrey's heavy-handedness is going to be the death of him.'

Edith seemed lost in her thoughts for the remainder of the ride, and mine were filled with the busy afternoon ahead.

We reached the main entrance to the estate, marked by a pair of towering granite pillars topped with stone hawks with their wings extended. The words Honeychurch Hall were engraved on one, lending a grandiose air that was echoed by the pair of eighteenth-century gatehouses. It was from here that I ran my antique business. I used the West Gatehouse as a showroom and the East as a workshop and for storage.

Each arched front doorway bore the family crest and motto carved in stone: Ad perseverate est ad triumphum – To endure is to triumph. In the Honeychurch clan's six hundred years of existence, they had certainly endured: plagues, wars, tragedies and all manner of titillating scandals. I suspected that the trials and tribulations of twenty-first-century fly-tipping would seem rather tame to their ancestors.

Even though Edith was renting the properties to me for a nominal amount, I'd spent a fair bit on repairing gutters and broken windows. I'd also redecorated the interior, put in blinds, installed display shelving and updated the little kitchenette and loo in the West Gatehouse. They looked lovely. All I needed now was customers!

As we continued up the mile-long drive, we passed a wrought-iron archway that straddled a pair of wrought-iron gates, topped by a metal cast of a galloping horse. This was the equine cemetery, filled with beloved horses from both distant and recent past. Just last week, Willow had died in her sleep at the astonishing age of thirty-seven. Her death had hit Edith hard.

Ahead were the soaring chimneys and mullioned windows of the old house peeping through the trees. Another break in the shrubs on my left revealed glorious parkland and an ornamental lake. The drive forked in front of a horse chestnut tree, and we took the right fork, riding uphill, past the post-and-rail paddocks. One side harboured a small outdoor sand dressage arena; the other was laid out with cavaletti jump poles. Ahead was a range of red-brick buildings with neat white trim and green roofs. An impressive archway with a dovecote and a clock tower registering the right time in Roman numerals – 11.45 – marked the entrance to the stable yard. Parked against an outside wall was a large silver horse lorry with living accommodation over the cab, and a hunter-green Land Rover.

Compared to the rest of the estate, the stables were luxurious.

Built around a stone courtyard, three sides of the quadrangle housed four loose boxes each, with the fourth being divided by a second archway that linked up to the service road behind. Horses peered over green-painted half-doors.

Alfred Bushman, the stable manager and Mum's stepbrother, greeted us and took Tinkerbell's reins. He led her over to the stone mounting block. Edith gracefully lifted her right leg over the front pommel and slid on to the top step, adjusting her habit as she did so. She had taught me to ride side-saddle, but I never felt completely safe.

'Good ride, your ladyship?' Alfred asked politely.

'Yes, thank you,' Edith said. 'Other than Jupiter casting a shoe.'

'I'll call the blacksmith. Do you want to turn Tinkerbell out?'

'I'll do it,' said Edith. 'I like to do these things whilst I still can.'

As I dismounted, Alfred turned his attention to Jupiter. 'Which foot is it?'

'Off fore.'

I held her bridle and Alfred gently ran his hand down her foreleg and lifted her hoof to inspect it. 'No damage done,' he said. 'That's good.'

It had taken me a while to get to like this mysterious, wiry character with his thatch of white hair, wire-rimmed spectacles and mouth with very few teeth. With his heavy jaw, he always reminded me of a bulldog. Over these past few months, however, I'd grown to admire his gift with horses as well as his uncanny intuition, which he attributed to his Romany blood.

Even though over a year had passed since my mother had told me the real story of her life, and how she had come to regard Alfred as family – namely, that she'd been adopted by a travelling fair and boxing emporium – I still found it hard to reconcile her prim and proper persona from my childhood with the irrational and somewhat wild romance writer. Her novels were steamy to say the least.

As I took off Jupiter's tack in her stable, I felt a wave of affection and gratitude for Edith. She had told me to regard the bay mare as if she was my own – something that thrilled me beyond measure.

I had ridden a lot as a child, but we had never been able to afford a horse, let alone keep one in the middle of London. Being given Jupiter was like a dream come true for a townie like me, and another reason why I could never imagine returning to live in the city.

Hearing the sound of voices, I looked over the half-door and saw eight-year-old Harry Honeychurch, sole heir to the earldom, hurrying into the yard. As always, he was dressed as his World War I aviation hero, Squadron Leader James Bigglesworth, complete with flying helmet, goggles and a white scarf. He was chattering to a girl of his own age who I did not recognise. Dressed in a coat that was far too large for her, she wore her blonde plaits under a beret, and was sporting sunglasses, despite the leaden sky and bouts of rain that had plagued us all morning.

'Don't run!' chided Alfred. 'Walk around the horses!'

'Sorry!' Harry yelled. 'We're looking for Stanford.'

'In here, sir!' I called out.

'Excellent, excellent!' Harry grabbed the young girl's hand and they advanced. 'Allow me to introduce the newest member . . .
We hope you are enjoying the book so far. To continue reading...
Dangerous Deception at Honeychurch Hall
Hannah Dennison
Copyright © 2022 All Rights Reserved
Also in this series
Also by this author