Book info
Sample
Audiobook
Media
Author updates
Lists
Synopsis
Horror has a new name: Daphne. A brutal, enigmatic woman stalks a girls high school basketball team in a reimagining of the slasher genre by the New York Times bestselling author of Bird Box.

It's the last summer for Kit Lamb: the last summer before college. The last summer with her high school basketball team, and with Dana, her best friend. The last summer before her life begins.

But the night before the big game, one of Kit's players tells a ghost story about Daphne, a girl who went to their school many years ago and died under mysterious circumstances. Some say she was murdered, others that she died by her own hand. And some say that Daphne is a murderer herself. They also say that Daphne is still out there, obsessed with revenge, and will appear anytime someone thinks about her to kill again.

After Kit hears the story, her teammates vanish, one by one, and Kit begins to suspect that the stories about Daphne are real...and to fear that her own mind is conjuring the killer. Now it's a race against time as Kit searches for the truth behind the legend and learns to face her own fears. Or else the summer of her lifetime will become the last summer of her life.

Mixing a nostalgic coming-of-age story and an instantly iconic female villain with an innovative new vision of classic horror, this is an unforgettable thriller as only Josh Malerman could imagine it.
Release date: September 20, 2022
Publisher: Del Rey
Print pages: 272
* BingeBooks earns revenue from qualifying purchases as an Amazon Associate as well as from other retail partners.
Listen to a sample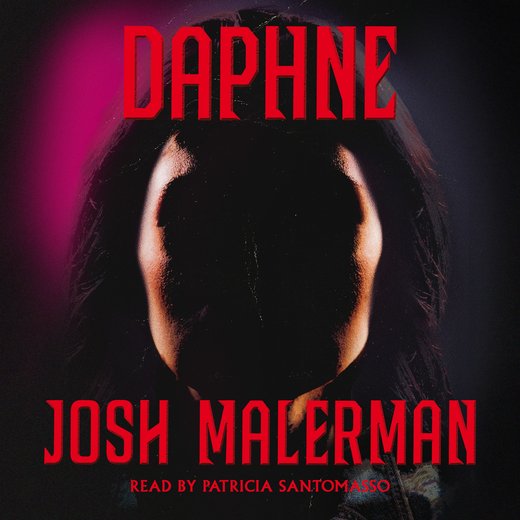 08:37:11
236.76 MB
9781409193258
September 20, 2022
Hachette UK
Daphne
Josh Malerman
A tie game with summer-league rivals, friends and family in the bleachers, the ball in your hand at the free-throw line, is no time to ask the rim a question. Yet that's what Kit Lamb does. Even as she lifts the ball, elbow in, left hand supporting, even as it seems like nothing could chop her focus, and nothing has yet, not in this game, not even when she made the and-one that led to this moment. A question for the rim:
Will Daphne kill me?
Kit almost laughs as she releases the ball. There's a hitch in the shot to be sure. She's embarrassed of her own question, even if nobody else could've heard.
The ball leaves her fingertips, the gym is haunted-house quiet. But the question remains suspended in her head. And with it, the image of the woman Daphne, Kit's own idea of her, the horrid centerpiece of Natasha Manska's Samhattan myth; Daphne in denim, Daphne with patches, Daphne the madwoman who smells of smoke and whiskey.
The ball goes through the net.
So, that's a yes. An answer Kit doesn't have time to think about right now.
Chaps inbounds quick from the baseline, but one second is not enough for their star forward to get off a full-court shot.
Samhattan wins.
By one.
Kit is mobbed by her teammates. So many howling voices, so much love. None louder than Dana, who is as sweaty as Kit; Dana, who shot a meager one for eleven but got the steal that led to Kit's game-winning three-point play.
"Legend!" Dana yells. "Legend!"
Kit can't stop smiling. As they lift her up, as friends and schoolmates rush the floor. As music explodes through the gymnasium PA.
Even as she worries too.
Not about the answer the rim gave her. Not about that yes. Not yet.
For Kit Lamb, success never feels entirely true. In moments when she's supposed to be the winner, it's more like she's in a theatrical reproduction of someone else's victory.
"LE-GEND!" the other ballers shout.
She can see the players from Chaps on their knees, yes, heads hanging, yes. But did this really happen? Did she hit the game-winning free throw with one second to play?
"Holy shit," she says, rising up now on the shoulders of her teammates, her best friends. "Holy shit!"
It's all becoming real now. The inviolability of this moment. It's replaying behind her eyes. Or, rather, before them, as if she's home, watching the triumphant sequence on SportsCenter. Who cares if there's less than forty people in the gym?
Who cares about absolutely anything else in the entire world?
"Legend!" Dana shouts again. Her visage: ardent mirth. Other girls pick up the shout. Even the parents holler. Kit's own looked happily stunned. They even look a little younger. Coach Wanda steps before them and nods Kit's way just as she's interrupted: she's gotta shake the hand of Chaps's head coach. Wanda stresses this all the time: sportsmanship. No matter how much it hurts. But Kit is impressed her coach acknowledged decorum when it feels this good.
Who can think of anything else?
The lights look particularly bright in the rafters. The gym feels like a mecca. A heaven. Nirvana. Kit has arrived somewhere. No, she doesn't think this means she'll be playing in the WNBA (though the vision does cross her mind; Betnijah Laney seeing this shot, Sue Bird winking); rather, she's fantasized about this exact scenario a hundred thousand times, as Coach Wanda made the girls shoot free throws after every practice, at their most tired, at their worst, like they would be in a game. The place Kit has arrived is not a location but a goal: she is living a fantasy, and the fantasy is no longer that.
This is true. Every bit of it.
But…
…is the answer the rim gave her also true?
Will Daphne kill me?
Yes.
And so maybe it's not so improbable, after all, thinking of something else.
"LEGEND!"
Everybody is saying it, in rhythm, a chant. Le-gend. As if Kit Lamb at the free-throw line will one day be immortalized in stained glass high up the brick walls of the Samhattan High School gymnasium. The communal word echoes off the ceiling, curls out those open windows, circles Kit's head like cartoon birds in a dream.
LE-GEND
LE-GEND
Like the legend of Daphne, told to the ballers last night, in the dark of Dana's living room. Almost the entire team slept there to ensure nobody would stay up too late before the big game, yet wasn't it Natasha's story of the Woman Who Could Not Be Killed, the lumbering seven-foot colossus in denim, wasn't it that very story that kept Kit up all night, eyeing the darkness, thinking the very question she would eventually ask the rim at the free-throw line tonight?
Will Daphne kill me?
Like she killed so many others…
"Fuck this," she says, still held aloft.
Because this is not the time to feel bad. Now is not the time to punish herself for feeling good.
Smiling (tempered now, though, and do her best friends notice?), she tries to remember a phrase she saw online, wrote down in her journal. Strong words that, she's long hoped, might deter the next all-out panic attack.
"Why are you thinking about that?" she asks herself.
No, this is not the time to be thinking about panic. Anxiety. Fear.
But she's asked it. And, despite the cacophony in here, she heard herself ask it.
And the tremble she heard in her voice reminds her of the first she ever heard there:
The night she called 911 on herself.
Hello? I think I'm dying…
She looks to the gym doors. Sees they're closed. Okay. She breathes a little better. Why? She doesn't know. A feeling. Security. Nobody can get in without opening a door first. She looks to her friends below. Glad for the people she sees. Checks for another. One she might not know.
She wears makeup, Natasha said last night. To hide her blue face.
"Aren't you so happy right now?" Natasha asks. She's holding up Kit's right leg. Natasha hasn't made a basket all year. Natasha is one of the funniest people Kit knows. That's why hearing her tell that story last night was so unsettling.
Nothing funny about that one.
"Kit," Natasha says, "they're gonna hang your fuckin' jersey from the rafters."
"Easy," Coach Wanda says, stepping into the crush of players (and friends now, right? Yes, Kit recognizes their faces, all of them; good). Coach extends a hand up to Kit. "Heck of a shot, Lamb."
Kit shakes the hand. Doesn't want to think of the question she asked the rim but thinks of the question she asked the rim.
The rim has never lied to Kit. Not once.
And here the rim said yes.
Stop it now, she tells herself. You fucking won. Then, to all: "We fucking won!"
Coach Wanda is trying to get the girls to stop swearing, but it's no use. Kit Lamb just hit the fucking game-winning free throw with a second to go on the holy-shit clock.
Let the ballers howl. Let them shout legend till they're blue in the face.
Kit thinks of that, blue in the face, as the world continues to blur with excitement. She thinks of Natasha's story, the seven-footer named Daphne dying in her car, parked in her own garage, her bare hands gripping the wheel long after she died.
They say Samhattan's paramedics pried those fingers loose with wrenches.
They say Samhattan's bogeywoman was blue in the face.
"Kit!" someone shouts. Should sound like unbridled joy. Sounds more like warning.
Kit looks to the doors. One is open.
Is she going to have a panic attack…right now?
"Kit Lamb for the win!"
She might. She knows this amplification well. It comes unannounced, of course. Nobody hears a panic attack coming. Not until it's too close to dodge.
"Kit!" Dana shouts. "We love you!"
Kit smiles. Tempered, though.
"You stole the ball!" she calls back. And Dana makes a muscle with one arm. It's funny. Kit should remember it forever. Will she? Or will her memory of this night always be centered on the anxiety she feels, held high in the sky on the shoulders of soulmates?
She wants to cry. So much triumph. So much love.
"KI-IT! KI-IT!"
It's the nature of panic that it is believed by the sufferer. Kit's never read about somebody avoiding an attack by telling themselves they'd gotten through the last one.
"Okay, let me down," Kit says. Not loud enough for her friends to hear. There's heat at the base of her neck. Always the place it begins.
She looks to Dana. To Natasha. To Coach Wanda. To the doors. To those windows high up the brick walls.
Will Daphne kill me?
No. She refuses to let this question continue.
"Daphne is a fucking myth," she says.
But she's thinking about her. Thinking about Daphne.
"A myth," she repeats. Her voice tiny on the spectrum of sound in the gym. There's Mom and Dad. There's Emily Holt. Beck Nelson. Kennedy Lichtenstein. Tammy Jones.
Friends.
Family.
"Myth…"
Something incredible, something unexpected, something rare happens: Kit talks the heat away.
"And this?" she says. "This is real, Kit. This is your life."
The anxiety ebbs. Pride in the shot she made exists alone, untouched, untethered.
As it should.
Now isn't the time for myth.
Now is the time for legend.
She raises her arms and howls, and everybody in the gym are wolves with her.
And soon they lower her back down to the gym floor. The floor on which she just shot the shot of her life.
"Pizza," Natasha says.
"Yes," Kit says.
But first, Kit finds Coach Wanda.
"Thanks for believing in me," she says.
Coach imitates shooting a free throw with perfect form, the same way she'd been teaching the girls to shoot them for years.
"Go eat," she says. "Go be happy."
Kit smiles, but Coach's words feel large.
Go be happy…
Is she? Can she be?
No heat at the base of her neck. But a long battle seems to stretch out before her. She sees it extending through the walls of the far side of the gym: all of life, linear, ahead. And anxiety, panic, somewhere in the shadows off to either side of the path. Whatever path she and her best friends take from here.
The question returns, yes:
Will Daphne kill me?
But the question is lost, for now, in the blind bliss of friends unaware of how close they stand to that path. And lost, too, in the sudden mob of teammates pulling Kit across the floor, toward the locker room, toward the rest of the night, what should be the best night of her life.
Just before getting there, she looks to the closest rim, the one she saw the ball, her ball, sail through.
"Yo, cheeseball," Natasha says. "You gonna kiss it? Come on, already. Let's go."
The rim's never lied to Kit Lamb before.
"Coming," she says.
And she follows Natasha and the others into the locker room, where rapid voices discuss big things, even if some of them are disguised as small. And as she approaches the celebration, Kit thinks no, the rim's never lied to her before.
Then, more celebratory howling. Including Kit herself.
And everybody in the locker room are wolves with her.
Kit Lamb's Jolly Journal—The Day Before the Big Game
People say you can't leave a paper trail when you're committing a crime, and so this feels like I'm committing a crime. I'm doing it this way, freehand, to hide it (these WORDS, yo) from ever getting out online or anywhere close to that. THAT'S WHY (and this feels big): I'm writing it on actual…paper. Amazing, yeah? Yeah. Mom and Dad, if you ever read this, please recognize how backwards the world is: it's now NOT a paper trail when you use paper because nobody reads this shit. Ha. In FACT, if someone were to find my Jolly Journal (oh, how I love that ironic name), they would probably throw it out, thinking it had fallen out of the pocket of the year 1990. So, like I said: hello Journal, I am here to tell you secrets, to hide things, big things, like:
How I really feel about the world.
Okay. Everybody is different and everybody has their own take, their own feelings, their own worldview, but some of us like to keep ours safe. It's not that I don't want anybody to know the real me, it's just…
There are parts of me I like and parts I do not and anyway I would like them all kept behind glass before I know exactly what I want to do with them.
Capiche?
What's that, Jolly? What are the parts I like?
HA. We'll get to that. But I can say a couple easy ones for now: I'm a good friend. This is true. And I'm brave. Sort of. Brave insomuch as I'm scared all the time but I keep plugging away and so I must be brave. This is mostly true. I do not hide from my biggest enemy. I face it. Mostly. HELLO, enemy of mine, THY NAME IS:
ANXIETY
Was that supposed to feel good? Writing it down? I think it was. I know it was. That's what I read online. All over the place people tell you it's better to talk about it. They say you'll go mad if you keep it bottled up inside. But here's the thing: if you're not freaking out, the last thing you wanna talk about is freaking out. And if you ARE freaking out, well, ha, then the LAST thing you wanna talk about is freaking out.
You see my problem, Jolly?
Yes. You do.
And it didn't feel good. Writing it down. It felt huge and now I wanna cross it out. Maybe that's because I wrote it in all caps. But hey, that's how I do. If I'm gonna do, I do. That's how I do. That's how we all do. Still, let's try it again, but smaller:
Okay. Wow. That looks more like it. Feels more like it too. It's small and lowercase and sneaks up on you and takes you DOWN. Holy shit, does it take you down. And there's no explanation for it, is there? I saw a ton of that online too. A ton of good stuff about how there is no rational reason and so, Kit? STOP LOOKING FOR ONE. And oh boy, I can relate to that. I've looked for the reason all over my room, all over the house. All over my head. Because how can you expect someone to just…take it…without knowing why? Hey, look at me, I'm nervous! Why? Well…I don't know why. And guess what? What? That makes me…
…more nervous.
Here's a word that comes up a lot: COMPOUNDS
People love using that word because…it's true. It's like cycles, right? One bad feeling comes (anxiety) and then a second bad feeling (shame for feeling anxiety) and then a third round (anger for feeling shame) and a fourth and it feels like you're getting punched in the stomach when all you're really doing is sitting at a table during lunch and listening to your friends and, OH NO, all the bad feelings arrive, they're all here.
In town.
In YOU.
It's infuriating, isn't it? You're not allowed to think about it (anxiety) or else it comes but if you don't think about it…it comes.
Not real fair.
Listen, Jolly, tomorrow is a big game. Playing Chaps in the Summer League finale. I can only guess Diana Taurasi doesn't write down how scared she is before the WNBA finals. But I could be wrong. Maybe that's exactly what she does. And maybe that's why she's fearless?
She doesn't let things compound. She gives it all a head fake and all that bad shit goes flying by and she's got an open lane and—
Oh, what do I know about her in real life? She's extraordinary. What do I know about extraordinary?
SECRET: I want to be extraordinary too.
What do I need to do? Sign me up.
Tonight, we're all sleeping at Dana's to "make sure we all get some rest," but really we all just want to hang out and I think maybe it's because we're all actually scared. I like to think I'm not alone on that front. I'm not the only one who lies in bed in the dark and worries that anxiety is gonna come squishing up the stairs like a worm, crawl under my door, crawl up my bed frame, into my bed, into my ear, into my head, into my mind, where it'll lay eggs and then there won't just be this one thought but a thousand of this one thought, like a planet with tons of moons, all in my head, these worms crawling around in the dark while I lie in the dark and the only thing I can do is to wait for them all to die.
That's it, Jolly. The only real cure I've discovered at least.
You just gotta wait for the anxiety to die.
Oy.
Okay. Gonna get ready for Dana's and for the game tomorrow.
Think we'll win?
I wanna say yes.
And so, you know what?
Yes.
But if you say a thing, does that make it so? Or does that make it not so? Does it support it? Or does it jinx it?
Sorry, Jolly. I'm a handful.
But at least I'm trying. And by the next time I talk to you, the game will have been played.
Who knows? Maybe I'll walk out of the gym a hero, my mind empty of all this clutter. Maybe I'll play so freakin' good my enemy will leave me alone, noble in defeat, aware that even someone as ordinary (but potentially extraordinary) as Kit Lamb deserves a break from too much thinking.
We shall see, Jolly. We shall seeeee­eeeee­
---
The girls ask the rim questions all the time. It's their thing. One of their things. They get together in Garland Park and they saunter over to the crappy, netless rim (bowed, no less), and they ask a question, shoot the ball, and receive answers.
But there are rules.
"You can't ask it the same thing twice," Dana once said, the day they laid down the rules. "Whatever it tells you the first time is the final answer. Any make or miss after that doesn't matter. Not with the same question."
The girls were scared that day; Melanie went white. She'd just asked if her parents would die before she graduated from high school, uncharacteristically morbid. And now…maybe true?
Over time, many of the answers have proven true. But like visits to a psychic, it's not difficult, later, to read the answers as if they came true, whether or not they did. Except in the case of Kit. Kit, it seems, is special. Her questions have more detail. She does not ask, Will I find love? She asks, Will I be let down by a lover one day?
The details make it harder to dismiss as coincidence when they come true.
"And you can't ask it about something that's already happened," Natasha said that day, her dark-blond hair not quite yet to its signature shoulder length. "The rim doesn't stoop to proving itself by verifying historical facts. It sees the future and it believes that should be enough."
The future. There seems to be a lot of the future these days. Colleges, yes, love lives, sure, but these friends wonder more about what kind of people they will be, ...
We hope you are enjoying the book so far. To continue reading...
Daphne
Josh Malerman
Copyright © 2022 All Rights Reserved