Briarheart
Available in:
eBook
Paperback
Audiobook
Hardcover
Book info
Sample
Audiobook
Media
Author updates
Lists
Synopsis
From beloved fantasy author Mercedes Lackey comes a fresh and feminist reinterpretation of Sleeping Beauty. 

Miriam may be the daughter of Queen Alethia of Tirendell, but she's not a princess. She's the child of Alethia and her previous husband, the King's Champion, who died fighting for the king, and she has no ambitions to rule. When her new baby sister Aurora, heir to the throne, is born, she's ecstatic. She adores the baby, who seems perfect in every way. But on the day of Aurora's christening, an uninvited Dark Fae arrives, prepared to curse her, and Miriam discovers she possesses impossible power.

Soon, Miriam is charged with being trained in both magic and combat to act as chief protector to her sister. But shadowy threats are moving closer and closer to their kingdom, and Miriam's dark power may not be enough to save everyone she loves, let alone herself.
Release date: October 5, 2021
Publisher: Little, Brown Books for Young Readers
Print pages: 336
* BingeBooks earns revenue from qualifying purchases as an Amazon Associate as well as from other retail partners.
Listen to a sample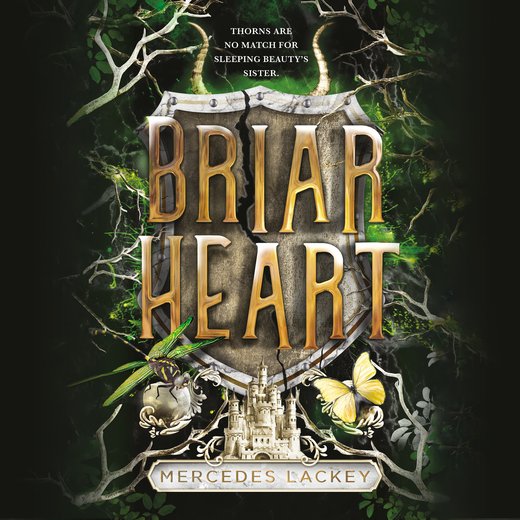 12:09:41
334.03 MB
9781549139819
October 5, 2021
Hachette Audio
Briarheart
Mercedes Lackey
I HAD JUST STOLEN A MOMENT AWAY FROM THE DRESSMAKERS and my fitting to check on my sister. With sun streaming in through the window of the Royal Nursery, I stared down into the cradle at the face of my baby sister and fell in love all over again. It happened every single time I saw her, just as it had the moment she was born. Little Aurora was the most beautiful, perfect rosebud of a baby princess ever.

Of course, I might have been just a little bit prejudiced because we're sisters, but on the other hand, most babies seem to be—how do I put this nicely?—creatures only a mother could love. Some of them look like disagreeable old men even when they're little girls. Some of them look like unbaked bread loaves. Or wizened little Goblin changelings. Most of them are blotchy, red-faced things that emit noise at one end and terrible substances at the other.

But Aurora wasn't like any of those babies. She stared up at me with enormous blue eyes under a head full of delicate golden curls exactly like her papa's; her skin was identical in color and texture to a pink rose petal, her little flower bud of a mouth pursed in an O of surprise. And then, without any warning, her eyes got bigger, and she gurgled with laughter and held up two miniature chubby hands to me, begging to be picked up. She'd just started recognizing people a few days before, and having her realize the big person looming over her cradle was me made me warm all over every time.

I wasn't supposed to do anything to muss my christening dress, but what choice did I have? Her Highness commanded, and I must obey. I reached down past the dawn-colored silk curtains into the nest of creamy lambswool-and-linen bedding and took her into my arms.

I hoisted her up onto my shoulder, breathing in that sweet baby scent, part her and part the lavender that all her bedding and clothing were scented with, and jounced her as she cooed and giggled.

"Who's the fairest in the land, then?" I asked her, gazing into her beautiful eyes. "You are! Yes, yes, yes! Yes, you are!"

And of course, at just that moment, my governess and Aurora's nurse, Melalee, came bursting into the nursery, spoiling the moment. "Lady Miriam!" Belinda exclaimed in that fussy tone of voice that made me want to do something hoydenish, like climbing the tower—on the outside. "Your gown!"

And Melalee bustled up to me and took Aurora away from me with a suspicious look and a tsk that I'd have deserved if I'd been letting her suck on the pommel of a dagger or been caught feeding her honey water but certainly wasn't warranted by a little bouncing and cooing.

Belinda, of course, was concerned about the very expensive gown—which I suppose was her job since she is my governess, but did she have to act as if Aurora were covered in filth? It wasn't as if Aurora was going to do anything to it that couldn't be undone. And Melalee didn't like anyone touching Aurora who wasn't her, Mama, or Papa.

"My gown is going to withstand a few minutes of baby cuddling, Belinda," I said as Melalee put the little darling back in her nest. And it would; it might be the best gown I'd ever owned, but Mama is very practical about what she has the seamstresses make for us. In fact, we were going to be wearing matching gowns of a green twilled silk that didn't show wrinkles like satin would, that was stronger than gauze, and that was dark enough it wouldn't get dirty by merely looking at it the way a lot of the pale gowns worn by Mama's ladies did. The trim of wide gold braid and our matching belts of the same material were practically as strong as armor, and that trim would probably outlast me and be handed down to some great-great descendant.

But the way Belinda fussed, you'd think Aurora was about to spew poisonous yellow ichor all over me like some demon-possessed thing, and this time it was just easier to let her hustle me out. No point in getting her knickers in a twist this close to the christening. I wanted to enjoy it, not be forced to sit in the solar, the room where Mama and her ladies did their fancywork in winter when they couldn't go out. And that's not me being rude; the moment Mama married Papa, I got a whole new set of lessons and duties, and none of them involved sitting in the solar and sewing for hours on end the way Belinda wanted me to do. I was supposed to be learning other languages, dancing, the lute, and history, and I was supposed to be tending the business of my new lands. I'm neither noble enough to be one of Mama's ladies nor old enough to just go and do what I want—like spend half my time exploring on my pony and the other half in the library and maybe getting to know the couple of girls who come there regularly. Belinda's idea of how I should fill the hours involved nothing useful.

The dressmakers had left me unattended for a moment while they looked for the three sets of oversleeves they'd made up so they could decide which set was most appropriate for a christening. Oversleeves, of course, are separate from the gown, and you can have as many of those as you have matching material to make. More practicality on Mama's part; by changing the oversleeves, which were the fanciest part of the gowns, and maybe the belts, we'd have what looked like three entirely different gowns for little more than the price of one. She might be Queen, but Mama still thought about how much things cost as if she were just a lady. She may not have to weigh the cost of roasts against the costs of new gowns, but she said it was up to us to provide good examples of not being extravagant.

The dressmakers were waiting for me in my room, wearing identical expressions of anxiety because I wasn't where they'd left me, as if they were afraid I'd run off to the woods or had done something else inappropriate in my gown.

They were probably so worried about the gown, they'd forgotten I wasn't as flibbertigibbet as Belinda seemed to think I was. They should have known that if I'd decided impulsively to do something really inappropriate (as opposed to baby cuddling), I wouldn't be doing it in a silk gown. I'd change into something a whole lot sturdier first. I'd been five or six when Father caught me ruining a new gown by playing mud pies in the garden in it, and I'd never forgotten the gentle but stern lecture he'd given me. And right after that, he'd made sure that I had some clothing suitable for doing the kinds of things I wanted to do—things like climbing trees and walls or learning to muck out a horse stall. My "hoyden" clothing wouldn't leave Mama wondering how to get a second dress out of the rags of the first and the remains of the one she'd cut down to fit me.

Besides, I didn't run off impulsively anymore. At least not much.

It wasn't an ordeal to stand quietly in my bedroom while the two women tried on sleeves and twittered at each other. They had the highest voices of any women I had ever heard. I couldn't make up my mind if those were their natural voices or some kind of affectation.

When Papa wed Mama, he surprised me with a bedroom of my own that so answered every one of my wishes, I suspected him of being able to read my thoughts. The ceiling was covered in a painting of the moon and stars. I had an entire bookshelf of books—and books are expensive! Every single one of them cost more than Mama's coronation gown, and the only other people who had ever considered a book to be a suitable present for me had been Father and Mama. People who had wanted to curry favor with the King had been giving me silk scarves, small pieces of jewelry, and enough candy to make me sick for weeks. There was a little desk of my own under the bookshelf and a huge bed with a wooden canopy and embroidered green velvet curtains to keep out the cold drafts in the winter. The walls were covered with precious tapestries of forest scenes and the Fae—those were expensive too and made a huge difference in keeping the room warm in cold weather. So while the seamstresses whispered about gussets and tucks and things that evidently made sense to them but not to me, I could stare at the tapestries and find new things I hadn't noticed before.

It wasn't a big room. There was just enough room for several essential pieces of furniture such as a bed and a wardrobe, along with a bookshelf and a dressing table. There wasn't even enough room in here for a bed for Belinda, and I refused to let her sleep with me the way she used to when I was younger. And I know it's not kind… but I never liked sleeping with someone else in my room. When I had finally gotten old enough to insist that she not sleep with me, she got the taller bed and I had to sleep on the truckle bed that slid under it during the daytime, which was nothing near as comfortable. But in this room, there wasn't space for a truckle bed, which suited me very well. Now Belinda had to sleep with Mama's ladies and I had the room all to myself.

My room was at a corner, so I had two windows too—and that meant no one else had to go through my room to get to theirs. The palace had been built so long ago that it didn't actually have corridors; people back then thought that they had to use every single inch of space within four walls for a purpose rather than waste it on corridors. And I had my own small fireplace, a great luxury. Since I hadn't seen it until Mama married the King and we moved here, it was hard to tell what the room had been used for before Papa had it made over for me; there were no clues on the walls behind the tapestries. A mystery. I liked to think that it had been for someone like me, someone not a princess but who was clearly loved, someone who had care taken for her comfort.

The seamstresses made up their minds that I was going to have the tightly laced two-part oversleeves that would let the silk chemise show through the lacings. Mama would probably have the big dagged oversleeves that looked like angel wings; they wouldn't want us to look too much alike. They finally decided that the fitting was over and let me slip out of the gown into something a lot more robust because today was my day to work in the kitchen. As the seamstresses sped away with drifts of fabric over their arms, I pulled my tough canvas skirt on over my linen chemise, tied my fustian apron over both, and slipped my feet into wooden clogs. Then I ran out through the solar and down the servants' stair to the bottom floor, where all the things that kept the palace going got done. The first room off the stairs was the laundry—which was lovely because when the big outer doors were closed in winter, the steam came up the stairs, carrying with it the scents of clean linen, lavender, and rose water. Then came the drying room, then the ironing room, and then the first of the kitchen rooms, the scullery, where all the pots and pans and dishes were washed. The next room was my goal, the bakery.

"About time, girl!" the chief baker shouted at me. "You're doing manchet bread today! Hop to it!" When I was in the kitchen, I (mostly) got treated like everyone else down here. This was on Papa's orders so I would get used to how servants were treated. Papa had very strong beliefs about how those who ruled should know exactly how those who served were treated and felt.

You might think it strange that here I was, the Queen's daughter, learning to work in a kitchen. You see, we are a very small kingdom. You can stand on the top of Mount Snowdown on the northern border and see all the way to the southern border, and if there had been a mountain on the eastern border, you could have seen all the way to the west. We're at peace with everyone around us now, but my father died in the last war only a couple of years ago, so the possibility that war could come again is always on everyone's mind. And though the last war was just between human armies, there was always the chance for something or someone magical and big and powerful to decide that little Tirendell would be a good morsel to gobble up. There is magic of all kinds in this world, and even little Tirendell has its very own wizard. So Papa insisted that I choose something useful to learn in case the kingdom was ever defeated and I might have to hide among the people. "A boy can always make his way as a common fighter," he'd said, and put a finger under my chin to tilt up my face so I could see that he was serious. "I want to be sure my darling Miriam will never go hungry—or find herself exposed and at the mercy of our enemies. No one will look for you up to your arms in flour or tending a stable."

So I decided to learn baking. And the chief baker—Odo—was told to treat me like any other apprentice.

I ran over to my station, where everything was ready, right next to my good friend Giles, who was doing trencher bread today. Trencher bread is a loaf that's sliced in half from end to end and given to servants to eat off of instead of plates. That saves on plate washing. Then, if they're really hungry, they can take it away to eat later, although I never saw any of Papa's servants doing that because Papa makes sure every single person in the palace down to the lowest scullion has plenty to eat. And even if it's not eaten, it's not wasted; the monks come every night and collect everything that isn't eaten and isn't being saved for the next day to give to the poor.

"You're late," Giles said, vigorously kneading his dough. Trencher bread is made of coarser flour than manchet bread, part barley or rye flour or both, as well as unsifted wheat flour. Manchet bread is made only of wheat flour that's been sifted through three sets of cloths. Only the flour used for cake is finer and whiter.

The bakery is a wonderful place to be except in hot weather. If there's anything better than the heavenly smell of baking bread, I don't know what it is, except maybe the smell of baking cakes. And today the air was full of both. There were a lot of conversations going on all over the bakery—the chief baker is strict but fair, and as long as the work is done, he doesn't shout about chattering. And with the christening coming, there certainly was a lot to chatter about.

I rolled up my sleeves, not just because I needed to get them out of the way but because it was good and warm down here. I picked up where the last person at my station had left off, peeking under the cloths over the bowls of second-rise dough first. Sure enough, they were ready, great mounds of creamy-white dough with a tight skin on them, so I carried them over to the bakers. Then I tilted out the bowls of dough on their first rise, punched them back, and covered them with the second-rise cloths. Then I set about making more dough.

I'd already mastered flatbreads, quick breads, and trencher bread. Now I was being given manchet to do, the "king" of the breads. Next I would learn pies, then cakes. But probably not the decorating of the presentation pieces and fancy subtleties; that took years to learn. Odo's brother had a bakery in the town, and if anything terrible happened, I was to run for my life to one of the secret doors out of the palace and go straight to that bakery. There were five of those doors, all hidden in places that were very hard to get into, all built so they couldn't be opened from the outside, and all guarded by Wizard Gerrold's magic so only a few people could use them.

We were making a lot of manchet bread; the christening was going to be in three days, and not only was every important person in the kingdom invited, so were a lot of eminent people from the kingdoms on our borders. There would still be cooking going on the days of the christening and celebration, but everything that could be prepared in advance would be. We had a special pantry with a spell on it that ensured whatever was stored in it wouldn't go stale or get moldy, and we intended to stuff it full.

Giles plopped his dough into a bowl and covered it, then measured out flour onto his board and began a new round of dough. I did the same, although my bread got milk instead of water and my dough was going to end up a little stickier than his was. But it would be easier to knead.

"You're soon going to have enough muscle to join the squires," I said, teasing him.

He grinned back. Giles wasn't exactly handsome, but he had dark brown eyes that generally danced with mischief and a mouth made for smiling, and he could always manage to make us laugh. "What makes you think I don't now?" he countered.

"Mostly because you're here in the kitchen instead of out in the yard rolling the barrels to shine the knights' chain mail," I replied.

"Pish. This is a better job," he retorted with a toss of his head. "Half of what a squire does is wait on some arrogant, empty-pated bully who swaggers around because someone tapped him on the shoulders with a sword. I'd rather do honest work."

"Not all knights are arrogant, empty-pated bullies," I said, and then, unexpectedly, I choked a little as a vision of my father suddenly sprang up in my mind and I was ambushed out of nowhere by how much I missed him.

I must have sniffed or something, because Giles stopped his mixing and shoved a clean square of cloth at me that he'd taken from the piles of bleached linen rags we used to cover the bread bowls. "Hey now," he said, patting my back. "I didn't mean—I mean, I'm sorry. Sir Geniver was… amazing. Nobody would ever have called him arrogant or empty-pated or… Miri, I'm sorry!"

"It's all right," I said, wiping my eyes, blowing my nose, and looking up into his concerned face with a watery smile. "I know you didn't." I choked up again, and he held my head against his shoulder and patted my back until I got control of myself, and Odo left us alone without yelling at us until I did. This wasn't the first time I'd fallen apart in the bakery because something had reminded me of Father, after all; and Odo was probably one of the nicest people you could ever have in charge of you if you were working in a kitchen. When Liss, the girl in charge of cleaning vegetables, got her heart broken by a flirtatious stone carver's apprentice, Odo had someone leave a big pile of clean rags next to her so she could stop and cry whenever she needed to, and he wouldn't let anyone tease her, either.

When I stopped feeling like my throat was too tight to breathe through, I pulled away from Giles, and he let me go with a last pat, and we got back to work.

When Odo dismissed me for the day, my arms were good and tired, but my day wasn't nearly done yet. There was still christening business to attend to, and as one of the people who could read and write, I was needed to help with that. If there hadn't been christening business to do, I'd have been going over the accounts from my manor with Papa's seneschal. One of the things Papa had done for me when he married Mama was to give me an estate of my own, which would give me my own income. Which was lovely, but that meant I also had to learn how to take charge of it, which involved… well, an awful lot of work. Things like finalizing orders for the work on my property (even though all I was doing was signing off on them, it was important to keep track of what was being done). If I were living there instead of here, I'd be doing even more work—keeping track of the household by taking reports from my chamberlain, my gardener, and my stable master, as well as taking care of the business of the manor properties with my steward or reeve. I'd have to know when the food budget didn't match the food accounted for and be able to inspect stock and crops to know they were healthy and prospering and what to suggest if they were not. For now, Papa had assigned a trusted man as bailiff to tend to all that for me, but if I ever went there to live, I had to know how to do all of that for myself.

But christening business took precedence over everything else right now. Today, it was checking off replies to the invitations on the master list. I was just one of a small army of people doing that, an army that included some of Mama's ladies and several borrowed secretaries, while Mama and the rest of her ladies greeted the incoming guests, saw that they were settled, made sure that they had everything they needed, and oversaw the rest of the arrangements. Of course, not everyone who was invited and intended to come would send a reply, but most would. And there was another reason for sending out invitations.

The Dark Fae.

Every kingdom has Fae, Light and Dark. The Light ones are said to live on human joy, the Dark on human sorrow. Obviously, the more of that sorrow there is, the happier the Dark ones are—which is why they seldom actually kill humans. They do things to make us as miserable as possible when we are alive. Fortunately, all the Fae have to obey the Rules, and one of the big ones is that they cannot act against humans unless the humans have harmed or offended them or are experiencing certain very specific times of vulnerability, times that usually correspond either to their ages or to rites of passage like—say—getting married. It's as if there is some sort of protection around us humans for most of our lives, but during those moments, those protections get weaker. For most people, those times don't matter. It's not as if the Dark Fae are keeping track of every single farmer's birthday. But for anyone with rank—people whose misery could impact the lives of dozens to thousands—you have to be mindful of those vulnerable dates because that is when the Dark Fae will jump at the chance to do some harm. Birth, christening, thirteenth birthday, sixteenth birthday, and wedding. And although it is rare for them to go that far, your entire first year of life can be a vulnerable time, as can your third and twenty-first birthdays. The more important you are, the more likely it is that you'll have a lot of vulnerable periods. Wizard Gerrold has a theory that this is because the expectations around you thin out whatever protection you have. The seneschals have a theory that it has to do with prime numbers. They often get into long congenial arguments about it during state dinners, enlisting whichever guest is nearest if they can.

And there are the Rules. We know that a long time ago, there were no Rules, that the Dark and Light Fae fought with one another indiscriminately and that the Dark Fae could pretty much do what they wanted to humans. That is, until the Light Fae allied with humans, and together we fought the Dark Fae into a corner. And for a while, it seemed that they were perfectly willing to destroy everything rather than surrender, but they finally agreed to a permanent truce. That was the Fae Compact. It was bound in place on all of us by the most powerful of magic, and it laid out a lot of Rules about interactions between Light and Dark Fae and humans. Some of them are simple: Dark Fae can't attack humans or Light Fae unless they have been attacked or offended. Light Fae can't attack Dark Fae (or their human allies, because there are some) unless attacked first. There are more Rules: Unless also attacked, a Light Fae cannot directly aid a human against the Dark Fae, but indirect help is allowed. Those are the main Rules that affect us. There are more, because the Light Fae wanted to give the Dark Fae no loopholes (they find loopholes anyway), but humans don't know most of those Rules and aren't directly affected by them. Breaking the Rules destroys the offender's magic. All of it. Which means that if a Fae breaks the Rules, he or she can end up with their home turned into dust and with every curse and spell they have ever cast broken—and there will be a long list of people and Fae they've hurt who will now find them fair game. That's the force of the Fae Compact.

Obviously, you would offend one of the Dark Fae terribly if you were inviting all the important people in the kingdom to a celebration and didn't invite her. Or him, though the worst Dark Fae, insofar as holding grudges goes, seem to be female. The female Dark Fae tends to attack individuals—the male tends to ally himself with really terrible humans and get involved in tyrannies and warfare. No one knows why that is, although Wizard Gerrold once told me that it's because men don't like to hunt alone.

But, of course, they are Fae, which means that the next day they could decide to do the opposite. Or both—back up a tyrant and act as his personal assassin, taking out his enemies one by one.

So before you held some great celebration or event, you first had to scour the kingdom for all the Dark Fae and be sure to invite them. Since Dark Fae can't resist announcing themselves by erecting lightning-shrouded towers and gloomy castles, it's not that hard to find them if you go looking for them.

But you could still offend them by only inviting them by themselves. So if you were smart, you invited the "Fae Sinistressa and guest(s)." That almost always guaranteed they wouldn't come because the Dark Fae were generally quarreling with one another as well as preying on humanity. You really did not want to live anywhere near one of the Dark Fae, given that they were prone to sending storms and plagues of insects and poisonous miasmas at one another—or calling one another out in mage duels, and you definitely did not want to be within a mile of one of those.

And even if the Dark Fae did come, partly because each of them would be very busy looking for any possible chink in the armor of his or her rival and partly because the Rules had been obeyed, there would be nothing they could do unless they were somehow offended by someone doing something they could take as an insult or a challenge. But the odds were that they'd be too busy glaring at one another, making brief alliances, or finding a new nemesis to take any notice of the humans around them.

It would make for a somewhat uneasy event… but that was better than the alternative, which would be for every Dark Fae in the kingdom to take offense. Which they would no matter what you did, because if you thought to escape retribution by simply not having the event in the first place, they'd take offense at that.

I ran up to my room and changed for a third time, back into my everyday gown, a lovely soft thing the color of bark. I sat on a stool for a few minutes and let Belinda take down the braids I had wound around my head to work in the bakery and wrap them in matching bark-colored cloth and embroidered ribbons. Then before I went to the library, where the replies to the invitations were sent as they arrived, I ducked into the nursery, gave my baby sister a kiss under Melalee's disapproving glare, and hurried off.

The library, which was where virtually all of the kingdom's paperwork was done, was the brightest room in the palace, with floor-to-ceiling windows and additional lanterns in case of bad weather. I got a fat handful of envelopes; joined the group of ladies-in-waiting, clerks, secretaries, and a couple of novices at the big table; and began my work. And even with all of us, if there were others who could have been spared, they'd have been crowded in here too.

It was pretty boring except when I got a reply from one of the Fae. They had this habit of embellishing their replies. When you opened the envelope from one of the Light Fae, illusory birds might fly out and sing, or vines covered in flowers would grow out of it and vanish, or miniature fireworks could shoot all the way to the ceiling. And as you might imagine, the replies from the Dark Fae needed someone who wasn't easily frightened—spiders would pop out and run over your hands, or the envelope would drip blood on the table, or you'd. . .
We hope you are enjoying the book so far. To continue reading...
Briarheart
Mercedes Lackey
Copyright © 2022 All Rights Reserved