Book info
Sample
Audiobook
Media
Author updates
Lists
Synopsis
She was an all-American girl who became a legend of unparalleled stature. She inspired the adoration of millions, and her life has beguiled generations of fans and fellow artists. The story of Norma Jeane Baker, better known by her studio name, Marilyn Monroe, has been dissected for more than three decades, but never has it been captured in a narrative as breathtaking and transforming as Blonde.
In her most ambitious work to date, Joyce Carol Oates, one of America's most distinguished writers, re-imagines the inner, poetic, and spiritual life of Norma Jeane Baker, the child, the woman, the fated celebrity, and tells the story in Norma Jeane's own voice: startling, rich, and shattering.
Drawing on biographical and historical sources, Joyce Carol Oates evokes the distinct consciousness of the woman and the unsparing reflection of the myth, writing as she has never written before, ecstatic, completely absorbed, inhabited as if by the spirit of her extraordinary subject. Rich with psychological insight and disturbing irony, this mesmerizing narrative illumines Norma Jeane's lonely childhood, wrenching adolescence, and the creation of Marilyn Monroe.
With fresh insights into the heart of a celebrity culture hypnotized by its own myths, Blonde is a sweeping novel about the elusive magic of a woman, the lasting legacy of a star, and the heartbreak behind the creation of the most evocative icon of the 20th century.
A HarperAudio production.
Release date: April 14, 2020
Publisher: Ecco
Print pages: 752
* BingeBooks earns revenue from qualifying purchases as an Amazon Associate as well as from other retail partners.
Listen to a sample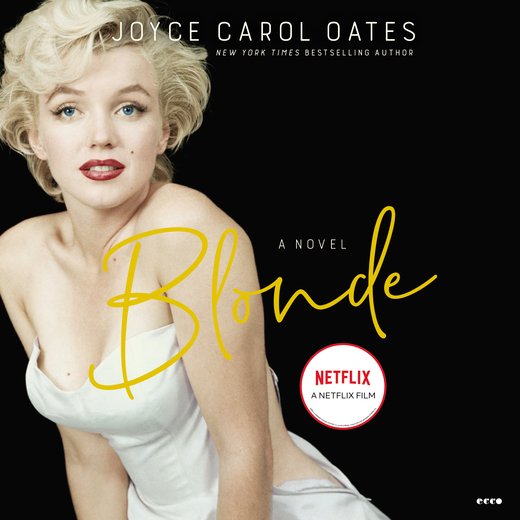 08:23:51
230.65 MB
9780060794002
September 21, 2004
HarperCollins
Blonde
Joyce Carol Oates
It is in early childhood that the born actor emerges, for it is in early childhood that the world is first perceived as Mystery. The origin of all acting is improvisation in the face of Mystery.
—T. Navarro,
The Paradox of Acting
1
"See? That man is your father."
There was a day, it was Norma Jeane's sixth birthday, the first day of June 1932, and a magical morning it was, blinding breathless whitely dazzling, in Venice Beach, California. The wind off the Pacific Ocean fresh and cool and astringent, smelling only faintly of the usual briny rot and beach debris. And borne, it seemed, by that very wind came Mother. Gaunt-faced Mother with her luscious red lips and plucked and penciled brows who came for Norma Jeane where she was living with her grandparents in a pockmarked old ruin of a beige stucco building on Venice Boulevard—"Norma Jeane, come!" And Norma Jeane ran, ran to Mother! Her pudgy little hand caught in Mother's slender hand, that feel of the black-net glove strange to her and wonderful. For Grandma's hands were chafed old-woman's hands, as Grandma's smell was an old-woman smell, but Mother's smell was so sweet it made you dizzy, like a taste of hot sugary lemon. "Norma Jeane, my love—come." For Mother was "Gladys," and "Gladys" was the child's true mother. When she chose to be. When she was strong enough. When the demands of The Studio allowed. For Gladys's life was "three dimensions verging into four" and not "flat as a Parcheesi board" like most lives. And in the face of Grandma Della's flustered disapproval, Mother led Norma Jeane in triumph out of the third-floor apartment reeking with onions, lye soap, and bunion ointment, and Grandpa's pipe tobacco, ignoring the older woman's outrage like a frantic-comic radio voice—"Gladys, whose car are you driving this time?"—"Look at me, girl: Are you hopped up? Are you drunk?"—"When will you be bringing my granddaughter back?"—"Damn you, wait for me, wait till I get my shoes on, I'm coming downstairs too! Gladys!" And Mother called out in her calmly maddening soprano voice, "'Qué sera, sera.'" And giggling like naughty pursued children, Mother and Daughter hurried down flights of stairs as down a mountainside, breathless and gripping hands, and so out! outside! to Venice Boulevard and the excitement of Gladys's car, never a predictable car, parked at the curb; and on this bright-dazzling morning of the first of June 1932 the magical car was, as Norma Jeane stared, smiling, a humpbacked Nash the hue of dishwater when the soap has gone flat, the passenger's window cracked like a spiderweb and mended with tape. Yet what a wonderful car, and how young and excited Gladys was, she who rarely touched Norma Jeane now lifting her with both net-gloved hands into the passenger's seat—"Whoops, baby-love!"—as if lifting her into the seat of the Ferris wheel at Santa Monica pier to bear her, wide-eyed and thrilled, into the sky. And slammed the door beside her, hard. And made certain it was locked. (For there was an old fear, a fear of Mother for Daughter, that during such flights, a car door might open, as a trapdoor might open in a silent film, and Daughter would be lost!) And climbing into the driver's seat behind the wheel like Lindbergh into the cockpit of the Spirit of St. Louis. And revved the motor, and shifted gears, and pulled out into traffic even as poor Grandma Della, a mottled-faced fattish woman in a faded cotton housecoat and rolled cotton "support" stockings and old-woman shoes, burst out onto the front stoop of the building like Charlie Chaplin the Little Tramp in frantic-comic distress.
"Wait! Oh, you wait! Crazy woman! Hophead! I forbid you! I'll call the po-lice!"
But there was no waiting, oh, no.
Hardly time to breathe!
"Ignore your grandmother, dear. She is silent film and we are talkies."
For Gladys, who was this child's true mother, would not be cheated of Mother Love on this special day. Feeling "stronger, at last" and with a few bucks saved, so Gladys had come for Norma Jeane on the child's birthday (her sixth? already? oh, Jesus, depressing) as she'd vowed she would. "Rain or shine, sickness or health, till death do us part. I vow." Not even a seizure of the San Andreas Fault could dissuade Gladys in such a mood. "You're mine. You look like me. No one is going to steal you from me, Norma Jeane, like my other daughters."
These triumphant, terrible words Norma Jeane did not hear, did not hear, did not, blown away by the rushing wind.
This day, this birthday, would be the first that Norma Jeane would remember clearly. This wonderful day with Gladys who was sometimes Mother, or Mother who was sometimes Gladys. A slender darting bird of a woman with sharp prowling eyes and a self-described "raptor's smile" and elbows that jabbed you in the ribs if you got too close. Exhaling luminous smoke from her nostrils like curving elephant tusks so you dared not call her by any name, above all not "Mama" or "Mommy"—those "pukey-cute titles" that Gladys had long ago forbidden—or even look at her too intensely—"Don't squint at me, you! No close-ups. Unless I'm prepared." At such times Gladys's edgy brittle laugh was the sound an ice pick makes stabbing into blocks of ice. This day of revelation Norma Jeane would recall through her life of thirty-six years, sixty-three days, which was to be a life outlived by Gladys as a doll baby might be fitted snug inside a larger doll ingeniously hollowed out for that purpose. Did I want any other happiness? No, just to be with her. Maybe to cuddle a little and sleep in her bed with her if she'd let me. I loved her so. In fact, there was evidence that Norma Jeane had been with her mother on other birthdays of hers, at least Norma Jeane's first birthday, though Norma Jeane could not recall except by way of snapshots—HAPPY1ST BIRTHDAY BABY NORMA JEANE!—a hand-lettered paper banner draped like a bathing beauty's sash around the blinking damp-eyed infant with the chubby-cute moon face, dimpled cheeks, curly dark-blond hair, and satin ribbons drooping in the hair; like old dreams these snapshots were blurred and creased, taken evidently by a man friend; there was a very young very pretty though feverish-looking Gladys in bobbed hair, kiss curls, and bee-stung lips like Clara Bow gripping her twelve-month infant "Norma Jeane" stiff on her lap as you might grip an object breakable and precious, with awe if not with visible pleasure, with steely pride if not with love, the date scrawled on the backs of these several snapshots June 1, 1927. But six-year-old Norma Jeane possessed no more memory of that occasion than she had of being born—wanting to ask Gladys or Grandma, How do you be born, was that something you did yourself?—to her mother in a charity lying-in ward at the Los Angeles County General Hospital after twenty-two hours of "unremitting hell" (as Gladys spoke of the ordeal) or carried in Gladys's "special pouch" beneath her heart for eight months, eleven days. She could not remember! Yet, thrilled to be staring at these snapshots whenever Gladys was in a mood to display them tumbled across whatever bedspread atop whatever bed of Gladys's in whatever rental "residence," she never doubted that the infant in the snapshot was her as all through my life I would know of myself through the witnessing and naming of others. As Jesus in the Gospels is only seen and spoken of and recorded by others. I would know my existence and the value of that existence through others' eyes, which I believed I could trust as I could not trust my own.
Gladys was glancing at her daughter, whom she hadn't seen in—well, months. Saying sharply, "Don't be so nervous. Don't squint as if I'm going to crash this car in the next minute, you'll make yourself need glasses and that's the end for you. And try not to squirm like a little snake needing to pee. Inever taught you such bad habits. I don't intend to crash this car, if that's what you're worried about, like your ridiculous old grandma. I promise." Gladys cast a sidelong glance at the child, chiding yet seductive, for that was Gladys's way: she pushed you off, she drew you in; now saying in a husky lowered voice, "Say: Mo-ther has a birthday surprise for you. Waiting up ahead."
"A s-surprise?"
Gladys sucked in her cheeks, smiling as she drove.
"W-where are we going, M-mother?"
Happiness so acute it was broken glass in Norma Jeane's mouth.
Even in warm humid weather, Gladys wore stylish black-net gloves to protect her sensitive skin. Gaily she thumped both gloved hands against the steering wheel. "Where are we going? Listen to you. As if you've never been in your mother's Hollywood residence before."
Norma Jeane smiled in confusion. Trying to think. Had she? The implication seemed to be that Norma Jeane had forgotten something essential, that this was a betrayal of a kind, a disappointment. Yet it seemed Gladys moved frequently. Sometimes she informed Della and sometimes not. Her life was complicated and mysterious. There were problems with landlords and fellow tenants; there were "money" problems and "maintenance" problems. The previous winter, a brief violent earthquake in an area of Hollywood in which Gladys lived had left her homeless for two weeks, forced to live with friends and out of touch completely with Della. Always, however, Gladys lived in Hollywood. Or West Hollywood. Her work at The Studio demanded it. Because she was a "contract employee" at The Studio (The Studio was the largest movie production company in Hollywood, therefore in the world, boasting more stars under contract "than there are stars in the constellations"), her life didn't belong to her—"The way Catholic nuns are 'brides of Christ.'" Gladys had had to board out her daughter since Norma Jeane was an infant of only twelve days, mostly with the child's grandmother, for five dollars a week plus expenses, it was a damned hard life, it was grueling, it was sad, but what choice had she, working such long hours at The Studio, sometimes a double shift, at her boss's "beckon-call"—how could she possibly take on the care and burden of a young child?
"I dare anyone to judge me. Unless he's in my shoes. Or she. Yes, she!"
Gladys spoke with mysterious vehemence. It may have been her own mother, Della, with whom she was feuding.
When they quarreled, Della spoke of Gladys as a "hot-head"—or was it "hop-head"?—and Gladys protested this was a downright lie, a slander; why, she'd never even smelled marijuana being smoked, let alone smoked it herself—"And that goes double for opium. Never!" Della had heard too many wild and unsubstantiated tales of movie people. True, Gladys sometimes got excited. Fire burning inside me! Beautiful. True, at other times she was susceptible to "the blues," "down in the dumps," "the pit." Like my soul is molten lead, leaked out and hardened. Still, Gladys was a good-looking young woman, and Gladys had lots of friends. Men friends. Who complicated her emotional life. "If the fellows would let me alone, 'Gladys' would be fine." But they didn't, so Gladys had to medicate herself regularly. Prescription drugs or maybe drugs provided by the fellows. Admittedly she lived on Bayer aspirin and had developed a high tolerance for it, dissolving pills in black coffee like tiny sugar cubes—"Can't taste a thing!"
This morning, Norma Jeane saw at once that Gladys was in an "up" mood: distracted, flamey, funny, unpredictable as a candle flame flickering in agitated air. Her waxy-pale skin gave off waves of heat like pavement in summer sun and her eyes!—flirty, slip-sliding and dilated. Those eyes I loved. Couldn't bear to look at. Gladys was driving distractedly, and fast. In a car with Gladys was like being in a bumper car at the carnival, you hung on tight. They were driving inland, away from Venice Beach and the ocean. North on the Boulevard to La Cienega, and at last to Sunset Boulevard, which Norma Jeane recognized from other drives with her mother. How the humpbacked Nash rattled as it sped along, prodded by Gladys's restless foot on the gas pedal. They clattered over trolley tracks, braked at the last second for red lights, causing Norma Jeane's teeth to rattle even as she giggled nervously. Sometimes, Gladys's car skidded into the midst of an intersection like a movie scene of honking horns, shouts, and fists waved by other drivers; unless the drivers were men, alone in their automobiles, when the signals were friendlier. More than once, Gladys ignored a traffic policeman's whistle and escaped—"See, I didn't do anything wrong! I refuse to be intimidated by bullies."
Della liked to complain in her jokey-angry way that Gladys had "lost" her driver's license, which meant—what? She'd lost it, the way people lost things? Misplaced it? Or had one of the policemen taken it from her, to punish her, when Norma Jeane hadn't been around?
One thing Norma Jeane knew: She didn't dare ask Gladys.
Off Sunset they turned onto a side street, and then another, and finally onto La Mesa, a narrow, disappointing street of small businesses, diners, "cocktail" lounges, and apartment buildings; Gladys said this was her "new neighborhood I'm only just discovering, and feeling so welcome in." Gladys explained that The Studio was "only a six-minute drive away." There were "personal reasons" she was living here, too complicated to explain. But Norma Jeane would see—"It's part of your surprise." Gladys parked the car in front of a cheap Spanish-style stucco building with decaying green awnings and disfiguring fire escapes, THE HACIENDA. ROOMS & EFFICENCY APTS WEEKLY MONTHLY RENTAL INQUIRE WITHIN. The street number was 387. Norma Jeane stared, memorizing what she saw; she was a camera taking snapshots; one day she might be lost and have to find her way back to this place she'd never seen before until this moment, but with Gladys such moments were urgent, highly charged and mysterious, to make your pulse beat hard as with a drug. Like amphetamine it was, that charge. As through my life I would seek it. Making my way like a sleepwalker out of my life back to La Mesa to the Hacienda as to the place on Highland Avenue where I was a child again, in her charge again, under her spell again, and the nightmare had not yet happened.
Gladys saw the look on Norma Jeane's face that Norma Jeane herself could not see, and laughed. "Birthday girl! You're only six once. You might not even live to be seven, silly. Let's go."
Norma Jeane's hand was sweaty so Gladys declined to take it, instead prodding the child to move with her gloved fist, lightly, of course, playfully directing her up the slightly crumbling outside steps of the Hacienda and inside into an oven-hot interior, a flight of gritty linoleum-covered stairs—"There's someone waiting for us, and I'm afraid he may be getting impatient. Come on." They hurried. They ran. Galloping upward. Gladys in her glamorous high heels, suddenly panicked—or was she playing at being panicked? was this one of her scenes? Upstairs, both mother and daughter were panting. Gladys unlocked the door of her "residence," which turned out to be not very different from the former residence Norma Jeane vaguely recalled. There were three cramped rooms with stained wallpaper and stained ceilings, narrow windows, sheets of loose linoleum on bare floorboards, a couple of Mexican rag rugs, a leaky-smelly icebox and a double-burner hot plate and dishes in the sink and shiny black roaches like watermelon seeds scuttling away noisily at their approach. Tacked to the kitchen walls were posters of films with which Gladys had been involved and of which she was proud—Kiki with Mary Pickford, All Quiet on the Western Front with Lew Ayres, City Lights with Charlie Chaplin, at whose soulful eyes Norma Jeane could stare and stare, convinced Chaplin was seeing her. It wasn't clear what Gladys had had to do with these famous films, but Norma Jeane was mesmerized by the actors' faces. This is home! This place I remember.Familiar, too, was the airless heat of the apartment, for Gladys didn't believe in leaving windows open even a crack while she was away, the pungent odor of food smells, coffee grounds, cigarette ashes, scorch, perfume, and that mysterious acrid chemical odor Gladys could never entirely wash away even if she scrubbed, scrubbed, scrubbed at her hands with medicinal soap and made them raw and bleeding. Yet these smells were comforting to Norma Jeane for they meant home. Where Mother was.
But this new apartment! It was more crowded and disordered and strange to her than the others. Or was Norma Jeane older now, and able better to see? As soon as you stepped inside there was that suspended terrible moment between the first tremor of the earth and the next more powerful tremor that would be unmistakable and undeniable. You waited, not daring to breathe. Here were many opened but unpacked boxes stamped PROPERTY OF STUDIO.There were piles of clothes on the kitchen counter and clothes on wire hangers on a makeshift clothesline stretching across the kitchen, so it looked at first as if there were people crowded into the kitchen, women in "costumes"—Norma Jeane knew what "costumes" were, that they differed from "clothes," though she could not have explained the distinction. Some of these costumes were glitzy and glamorous, flimsy "flapper" dresses with tiny skirts and string straps. Some were more somber, with long trailing sleeves. There were panties and bras and stockings washed and neatly placed over the clothesline to dry. Gladys was watching Norma Jeane, as she stared open-mouthed at these clothes dangling overhead, and laughed at the child's confused expression. "What's wrong? Do you disapprove? Does Della? Has she sent you to spy? Go on—in here. Through here. Go on."
She prodded Norma Jeane with her sharp elbow into the next room, a bedroom. It was small, with a badly water-stained ceiling and walls, and a single window, and a partly drawn, cracked, and stained shade over the window. And there was the familiar bed with its gleaming if slightly tarnished brass headboard and goose-down pillows, a pine bureau, a bedside table piled with pill bottles, magazines, and paperback books, an overflowing ashtray perched atop a copy of Hollywood Tatler; more clothes strewn about, and on the floor more opened but unpacked boxes; and a large garish movie still of The Hollywood Revue of 1929 with Marie Dressler in a diaphanous white gown on a wall beside the bed. Gladys was excited, breathing quickly and watching as Norma Jeane glanced anxiously around—for where was the "surprise" person? Hiding? Beneath the bed? Inside a closet? (But there wasn't a closet, just a beaverboard wardrobe leaning against a wall.) A lone fly buzzed. Through the room's single window there was visible only the blank smudged wall of the adjacent building. Norma Jeane was wondering Where? Who is it? even as Gladys nudged her lightly between the shoulder blades, chiding, "Norma Jeane, I swear you're half blind sometimes as well as—well, half dumb. Can't you see? Open your eyes and see? That man is your father."
Now Norma Jeane saw where Gladys was pointing.
It was not a man. It was a picture of a man, hanging on the wall beside the bureau mirror.
2
On my sixth birthday seeing his face for the first time.
And not having known before that day—I had a father! A father like other children.
Always thinking the absence had to do with me. Something wrong, something bad, in me.
Had no one told me before? Not my mother, not my grandmother or grandfather. No one.
Yet never to look upon his actual face, in life. And I would die before him.
3
"Isn't he handsome, Norma Jeane? Your father."
Gladys's voice, which was sometimes flat, toneless, subtly mocking, was thrilled as a girl's.
Norma Jeane stared speechless at the man said to be her father. The man in the photograph. The man on the wall beside the bureau mirror. Father? Her body was hot and tremulous as a cut thumb.
"Here. But, no—mustn't touch with sticky fingers."
With a flourish, Gladys removed the framed photo from the wall. It was a real photo, Norma Jeane could see, glossy, not something printed like publicity posters or a page torn from a magazine.
Gladys cradled the photo in her glamorously gloved hands, at about Norma Jeane's eye level yet far enough from the child that she couldn't have touched it without effort. As if at such a time Norma Jeane would have wished to touch this!—knowing from past experience, too, not to touch Gladys's special things.
"He—he's my f-father?"
"He certainly is. You have his sexy blue eyes."
"But—where is—"
"Shh! Look."
It was a movie scene. Almost, Norma Jeane could hear the excited skittering music.
How long, then, mother and daughter stared! In reverent silence contemplating the man-in-the-picture-frame, the man-in-the-photograph, the man-who-was-Norma-Jeane's-father, the man who was darkly handsome, the man with sleek oiled wings of smooth thick hair, the man with a pencil-thin mustache on his upper lip, the man with pale shrewd just-perceptibly drooping eyelids. The man with fleshy almost-smiling lips, the man whose gaze coyly refused to lock with theirs, the man with a fist of a chin and a proud hawk nose and an indentation in his left cheek that might have been a dimple, like Norma Jeane's. Or a scar.
He was older than Gladys, but not much. In his mid-thirties. He had an actor's face, a certain posed assurance. He wore a fedora tilted at a jaunty angle on his proudly held head, and he wore a white shirt with a soft flaring collar, like a movie costume from some other time. The man who seemed to Norma Jeane about to speak—yet didn't. Listening so hard. It was like I'd gone deaf.
Norma Jeane's heartbeat was so fluttery, a hummingbird's wings. And noisy, filling the room. But Gladys didn't notice and didn't scold. In her exaltation staring greedily at the man-in-the-photograph. Saying, in a voice rushing and ecstatic as a singer's, "Your father. His name is a beautiful name and an important name but it's a name I can't utter. Not even Della knows. Della may think she knows—but she doesn't. And Della must not know. Not even that you've seen this. There are complications in both our lives, you see. When you were born, your father was away; he's at a great distance even now, and I worry for his safety. He's a man of wanderlust who in another era would have been a warrior. In fact, he has risked his life in the cause of democracy. In our hearts, he and I are wed—we are husband and wife. Though we scorn convention and would not wish to acquiesce to it. 'I love you and our daughter and one day I will return to Los Angeles to claim you'—so your father has promised, Norma Jeane. Promised us both." Gladys paused, wetting her lips.
Though she was speaking to Norma Jeane she seemed scarcely aware of the child, staring at the photograph from which, it almost seemed, a splintery light was reflected. Her skin was clammy-hot and her lips appeared swollen, as if bruised, beneath bright red lipstick; her net-gloved hands trembled slightly. Norma Jeane would recall trying to concentrate on her mother's words despite a roaring in her ears and a sick, excited sensation deep in her belly, as if she had to go to the bathroom badly but dared not speak or even move. "Your father was under contract to The Studio when we first met—eight years ago on the day following Palm Sunday; I will always remember!—and he was one of the most promising young actors but—well, for all his natural talent and his screen presence—a 'second Valentino' Mr. Thalberg himself called him—he was too undisciplined, too impatient and devil-may-care to be a film actor. It isn't just looks, style, and personality, Norma Jeane, you must be obedient too. You must be humble. You must swallow your pride and work like a dog. It comes more easily for a woman. I was under contract too—for a while. As a young actress. I transferred to another department—voluntarily! For I saw that it was not to be. He was rebellious, of course. He was a stand-in for Chester Morris and Donald Reed for a while. Eventually he walked away. 'Between my soul and my career I choose—my soul,' he said."
In her excitement Gladys began to cough. Coughing, she seemed to give off a stronger scent of perfume, mingled with that faint sour-lemon chemical odor that seemed absorbed in her skin.
Norma Jeane asked where her father was.
Gladys said irritably, "Away, silly. I told you."
Gladys's mood had shifted. It was often this way. The movie music, too, shifted abruptly. It was saw-notched now, as were the rough, hurtful waves thrown onto the beach, where Della, short of breath from "blood pressure" and scolding, walked with Norma Jeane on the hard-packed sand for the sake of "exercise."
Never would I have asked why. Why I hadn't been told until then.
Why I was being told now.
Gladys rehung the photo on the wall. But now the nail sunk into the plasterboard wasn't so secure as it had been. The lone fly continued to buzz, striking itself repeatedly and yet hopefully against a windowpane. "There's the damn fly 'buzzed when I died,'" Gladys remarked mysteriously. It was Gladys's way often to speak mysteriously in Norma Jeane's presence, though not necessarily to Norma Jeane. Rather, Norma Jeane was a witness, a privileged observer like the eye of the movie watcher of which the principals, in the movie, pretend to be unaware—or are in fact unaware. When the nail was in, and seemed not about to fall out, it took some fussing to ascertain that the frame was straight. In such household matters Gladys was a perfectionist, scolding Norma Jeane if the child left towels hanging crooked or books unevenly aligned on shelves. When the man-in-the-photograph was safely back up on the wall beside the bureau mirror, Gladys stepped back, relaxing just a little. Norma Jeane continued to stare up at the photo, transfixed. "So, your father. But it's our secret, Norma Jeane. Enough for you to know that he's away—for now. But he'll return to Los Angeles one day soon. He has promised."
4
It would be said of me that I was unhappy as a child, that my childhood was a desperate one, but let me tell you I was never unhappy. So long as I had my mother I was never unhappy and one day there was my father, too, to love.
And there was Grandma Della! Norma Jeane's mother's mother.
A sturdy olive-skinned woman with eyebrows thick as brushes and a sly glimmering of a mustache on her upper lip. Della had a way of standing in a doorway or on the front stoop of her building, hands on her hips like a double-handled jug. Shopkeepers feared her sharp eye and sarcastic tongue. She was a fan of William S. Hart, the straight-shooter cowboy, and she was a fan of Charlie Chaplin, the genius of mimicry, and she boasted of being of "good American pioneer stock," born in Kansas, moved to Nevada, then to southern California and met and married her husband, who was Gladys's father, gassed, as Della said reproachfully, in the Argonne in 1918—"At least, he's alive. That's something to be grateful for to the U.S. government, eh?"
Yes, there was a Grandpa Monroe, Della's husband. He lived with them in the apartment and Norma Jeane was given to know he didn't like her, but somehow Grandpa wasn't there. When asked about him, Della's response was a shrug and the comment, "At least, he's alive."
Grandma Della! A neighborhood "character."
Grandma Della was the source of all Norma Jeane knew, or imagined she knew, of Gladys.
The primary fact of Gladys was the primary mystery of Gladys: She could not be a true mother to Norma Jeane. Not at the present time.
Why not?
"Just don't blame me, any of you," Gladys said, agitatedly lighting a cigarette. "God has punished me enough."
Punished? How?
If Norma Jeane dared to ask such a question, Gladys would blink at her with beautiful slate-blue bloodshot eyes, in which a scrim of moisture continually shone. "Just don't you. After what God has done. Understand?"
Norma Jeane smiled. Smiling meant not that you understood but you were happy not-understanding.
Though: it seemed to be known that Gladys had had "other little girls"—"two little girls"—before Norma Jeane. But where had these sisters disappeared to?
"Just don't blame me, any of you, God damn you."
It seemed to be a fact that Gladys, though very young-looking at thirty-one, had already been the wife of two husbands.
It was a fact, which Gladys herself cheerfully acknowledged, in the way of a movie character with a comical habit or tic, that her last name was often changing.
Della told the story, it was one of Della's aggrieved-mother stories, of how Gladys had been born and baptized Gladys Pearl Monroe in Hawthorne, Los Angeles County, in 1902. At seventeen she'd married (against Della's wishes) a man named Baker so she'd become Mrs. Gladys Baker, but (of course!) that hadn't worked out for even a year and they'd divorced and she'd married the "meterman, Mortensen" (the father of the two vanished older sisters?), but that hadn't worked out (of course!) and Mortensen was gone from Gladys's life, and good riddance. Except: Gladys's name was still Mortensen on certain documents she hadn't changed, and would not change, since anything to do with records, legal matters, frightened her. Mortensen was not Norma Jeane's father, of course, but Mortensen had been Gladys's name at the time of Norma Jeane's birth. Yet—and this was a fact that infuriated Della, it was so perverse—Norma Jeane's last name was officially Baker, not Mortensen.
"Know why?" Della might inquire of the neighborhood, of whomever might be listening to such folly. "Because Baker was the one my crazy daughter 'hated less.'" Della went on, working herself up into genuine upset. "I lie awake nights grieving for this poor child, all mixed up who she's supposed to be. I should adopt the child and give her my own name that's a good decent uncontaminated name—'Monroe.'"
"Nobody is adopting my little girl," Gladys said vehemently, "while I'm alive to prevent it."
Alive. Norma Jeane knew how important it was, to remain alive.
So it happened that Norma Jeane Baker was Norma Jeane's legal name. At the age of seven months she'd been baptized by the renowned evangelist preacher Aimee Semple McPherson in her Angelus Temple of the International Church of the Foursquare Gospel (to which, at the time, Della belonged), and this would remain her name until such time as her name would be changed by a man, a man acquiring Norma Jeane as his "wife," as eventually her full name would be changed by a decision of men. I did what was required. What was required of me was that I remain alive.
In a rare moment of maternal intimacy, Gladys informed Norma Jeane that her name was a special name: "'Norma' is for the great Norma Talmadge, and 'Jeane' is—who else?—Harlow." These names meant nothing to the child, but she saw how Gladys shivered at their very sound. "You, Norma Jeane, will combine the two, d'you see? In your own special destiny."
5
"So, Norma Jeane! Now you know."
It was wisdom blinding as the sun. Profound as the back of a whipping hand. Gladys's red-lipsticked mouth, which so rarely smiled, smiled now. Her breath came short as if she'd been running.
"You've looked upon his face. Your true father, who isn't named Baker. But you must never tell anyone, d'you hear? Not even Della."
"Y-yes, Mother."
Between Gladys's fine-penciled brows the sharp crease appeared.
"Norma Jeane, what?"
"Yes, Mother."
"That's more like it!"
The stammer was still inside Norma Jeane. But it had shifted from her tongue to her hummingbird heart, where it would be undetected.
In the kitchen Gladys removed one of her glamorous black-net gloves, and this she drew against Norma Jeane's neck, as a tickling caress.
That day! A haze of happiness like warm damp fog drifting over the flatlands of the city. Happiness in every breath. Gladys murmured, "Happy birthday, Norma Jeane!" and, "Didn't I tell you, Norma Jeane, this is your special day?"
The telephone rang. But Gladys, smiling to herself, didn't answer.
The blinds at the windows were carefully drawn to the sills. Gladys spoke of "inquisitive" neighbors.
Gladys had removed her left glove but not the right. She seemed to have forgotten her right glove. Norma Jeane noted how the slightly reddened skin of her bare left hand was stippled with small diamond shapes imprinted from the tight-fitting net glove. Gladys wore a maroon crepe dress with a tightly cinched waist, a high collar, and a full skirt that made a breathless swishing sound when she moved. It was a dress Norma Jeane had not seen before.
Each moment invested with such significance. Each moment, like each heartbeat, a warning signal.
At the table in the kitchen alcove, Gladys poured grape juice for Norma Jeane and a strong-smelling "medicated water" for herself into chipped coffee cups. The surprise was an angel-food birthday cake for Norma Jeane! Whipped vanilla icing, six little pink wax candles, syrupy crimson frosting that spelled out—
HAPPY BIRTDAY
NORMAJEAN
The sight of the cake, its wonderful smell, made Norma Jeane's mouth water. Though Gladys was fuming. "The hophead bastard of a baker, spelling 'birthday' wrong, and your name—I told him."
With a little difficulty, her hands shaking, though maybe the room was vibrating, or the earth strata far beneath (in California you never know what is "real" or what is "just yourself"), Gladys managed to light the six little candles. It was Norma Jeane's task to blow out the pale, nervously flickering flames. "And now you must make a wish, Norma Jeane," Gladys said eagerly, leaning forward so that she nearly touched the child's warm face. "A wish for you-know-who to return to us soon. Come on!" So Norma Jeane, shutting her eyes, made this wish and blew out all but one of the little candles in a single breath. Gladys blew out the remaining candle. "There you are. Good as a prayer." It took awhile for Gladys to locate an adequate knife with which to cut the cake, rummaging through a drawer; finally she found a "butcher knife—don't be scared!" and the blade of this long sharply glinting knife shone like sunshine on the surf at Venice Beach, hurting the eyes, yet you couldn't not look, but Gladys did nothing with the knife except to sink it into the cake, frowning in concentration, steadying her gloved right hand with her gloveless left hand as she cut large pieces of cake for each of them; the cake was slightly damp and sticky at the center, and the pieces spilled over the edges of the saucers Gladys was using as plates. So good! That cake tasted so good. Let me tell you there was never a cake in my life that tasted so good. Mother and daughter both ate hungrily; for each this was breakfast, and already the day had careened beyond noon.
"And now, Norma Jeane: your presents."
Another time the telephone began to ring. And Gladys, brightly smiling, didn't seem to hear. She was explaining that she hadn't had time to wrap Norma Jeane's presents properly. The first was a pretty pink crotcheted sweater in light cotton wool, tiny embroidered rosebuds for buttons, a sweater for a younger child maybe since it was tight on Norma Jeane who was small for her age, but Gladys, exclaiming over the sweater, didn't seem to notice—"Isn't that charming! You're a little princess." Next were smaller items of clothing, white cotton socks, underwear (price tags from the dime store still attached). It had been many months since Gladys had provided her daughter with such necessities; also, Gladys was several weeks behind on payments to Della, so Norma Jeane was excited to think that Della would be pleased about this. Norma Jeane thanked her mother, and Gladys said, with a snap of her fingers, "Oh, this is just preliminary. Come." With a dramatic flair Gladys led Norma Jeane back into the bedroom, where the handsome man-in-the-photograph hung prominently on the wall, and teasingly tugged open the top bureau drawer—"Presto, Norma Jeane! Something for you."
A doll?
Norma Jeane stood on tiptoe, eagerly, clumsily lifting out a doll, a golden-haired doll, a doll with round blue glass eyes and a rosebud mouth, as Gladys said, "D'you remember, Norma Jeane, who used to sleep in here—in this drawer?" Norma Jeane shook her head, no. "Not in this apartment but in this drawer. This very drawer. Don't you remember who used to sleep in here?" Again, Norma Jeane shook her head. She was becoming uneasy. Gladys stared at her so, with widened eyes as if in mimicry of the doll, except Gladys's eyes were a pale washed-out blue and her lips were bright red. Gladys said, laughing, "You. You, Norma Jeane. You used to sleep in this very drawer! I was so poor then I couldn't afford a crib. But this drawer was your crib when you were a tiny infant; it was good enough for us, wasn't it?" There was a shrill edge to Gladys's voice. If there was music in this scene it would be a quick staccato music. Norma Jeane shook her head, no, a sullen look settled over her face, her eyes clouded with not-remembering, will-not-remember, as she didn't remember wearing diapers or how hard it had been for Della and Gladys to "potty-train" her. If she'd had time to examine the topmost drawer in the pine bureau and the way the drawer could be shoved shut she would have felt sickish, that sickish-scared sensation in her belly she felt at the top of a flight of stairs or looking out a high window or running too close to the edge of the surf when a tall wave broke, for how could she, a big girl of six, have ever fitted into so small a space?—and had someone shoved the drawer shut, to muffle her crying?—but Norma Jeane hadn't time to think such thoughts for here was her birthday doll in her arms, the most beautiful doll she'd ever seen close up, as beautiful as Sleeping Beauty in a picture book, wavy golden hair to her shoulders, silky-soft as real hair, more beautiful than Norma Jeane's wavy fair-brown hair and wholly unlike the synthetic hair of most dolls. The doll wore a little lace nightcap and a flannel nightgown in a floral print, and her skin was rubbery-smooth, soft, perfect skin, and her tiny fingers were perfectly shaped! And the small feet in white cotton booties tied with pink ribbons! Norma Jeane squealed with excitement and would have hugged her mother to thank her, but Gladys stiffened just perceptibly so the child knew not to touch her. Gladys lit a cigarette and exhaled the smoke luxuriously; her brand was Chesterfields, which was Della's brand (though Della believed smoking was a dirty, weak habit she was determined to overcome), saying, in a teasing voice, "I went to a lot of trouble to get that doll for you, Norma Jeane. Now I hope you'll accept the responsibility of the doll." The responsibility of the doll hung strangely in the air.
How Norma Jeane would love her blond baby doll! One of the great loves of her childhood.
Except: it made her uneasy that the doll's arms and legs were so clearly boneless, and loose, and could be made to flop about oddly. If you laid the doll down on her back, her feet just flopped.
Norma Jeane stammered, "W-what is her name, Mother?"
Gladys located a bottle of aspirin, shook several out onto her palm, and swallowed them dry. Calling out in her swaggering Harlow voice, and with a droll movement of her plucked eyebrows, "That's up to you, kiddo. She's yours."
How hard Norma Jeane tried to think of the doll's name. She tried and tried; but it was like stammering, in her thoughts: she couldn't think of any name at all. She began to worry, sucking at her thumb. Names are so important!—you must have a name for someone or you couldn't think of that person, and they must have a name for you, or—where would you be?
Norma Jeane cried, "Mother, what is the d-doll's name? Please."
More amused than annoyed, or seeming so, Gladys shouted from the other room, "Hell, call the thing Norma Jeane—it's about as bright as you,sometimes. I swear."
So much excitement, the child was exhausted.
Time for Norma Jeane's nap.
Yet: the phone rang. As the afternoon waned into early evening. And the child thought, anxiously, Why doesn't Mother answer the phone? What if it's Father? Or does she know it isn't Father and how does she know this, if this is what she knows?
In the Grimms' fairy tales that Grandma Della read to Norma Jeane, things happened that might be dreams, that were strange and scary as dreams, but were not. You would like to wake from such things but you could not.
How sleepy Norma Jeane was! She'd been so hungry and eaten so much cake, a piggy-piggy eating so much birthday cake for breakfast, leaving her sickish now and her teeth aching and maybe Gladys had poured a bit of her special colorless drink into Norma Jeane's grape juice—"Just a thimbleful, for fun"—so her eyes wouldn't stay open, her head lolled on her shoulders like a wooden head, and Gladys had to walk her into the hot, airless bedroom and lay her on the sagging bed, where Gladys didn't much like her to sleep, on the chenille spread, so Gladys tugged off her shoes and, ever fastidious about such things, placed a towel beneath Norma Jeane's head, "So you won't drool onto my pillow." The pumpkin-colored chenille spread was one that Norma Jeane recognized, from previous visits to other residences of her mother's, but its color had faded; it was stippled with cigarette burns and mysterious smears and smudges, of the hue of rust or of old faded bloodstains.
On the wall beside the bureau, there Norma Jeane's father looked down upon her. She watched him through half-closed eyes. She whispered, "Dad-dy."
The first time! On her sixth birthday.
The first time to have uttered the word: "Dad-dy!"
Gladys had drawn the blind down over the window, to the top of the sill, but it was an aged, cracked blind, inadequate to keep out the fierce afternoon sun. The blazing eye of God. The wrath of God. Grandma Della had been bitterly disappointed in Aimee Semple McPherson and the Church of the Foursquare Gospel, yet she believed, still, in what she called God's Word, the Holy Bible—"It's a hard teaching, and we are mostly deaf to its wisdom, but it is all we have." (But was this so? Gladys had her own books, and Gladys never mentioned the Bible. What Gladys spoke of with a look of passion and awe was The Movies.)
The sun had shifted downward in the sky when Norma Jeane was half wakened by the telephone ringing in the next room. That jarring sound, that sound of mockery, that angry-adult sound, that sound of male reproach. I know you're there, Gladys, I know you're listening; you can't hide from me.Until at last Gladys snatched up the receiver in the next room and spoke in a high, slurred voice, half pleading. No! I can't, not tonight I told you, I told you it's my little girl's birthday, I want to spend it with her alone—and a pause and then more urgently in half cries and screams like a wounded animal—Yes I did, I did tell you, I have a little girl, I don't care what you believe, I'm a normal person, I'm a real mother I told you, I've had babies, I'm a normal woman and I don't want your filthy money, no I said I can't see you tonight, I will not see you, tonight or tomorrow night, leave me alone or you'll regret it, if you walk in here using that key I'll call the police you bastard!
6
When I was born, on June 1, 1926, in the charity ward of the Los Angeles County Hospital, my mother wasn't there.
Where my mother was, no one knew!
Later they found her hiding and they were shocked and disapproving, saying You have a beautiful baby, Mrs. Mortensen, don't you want to hold your beautiful baby? It's a girl baby, it's time to nurse. But my mother turned her face to the wall. Her breasts leaked milk like pus, but not for me.
It was a stranger, a nurse, who taught my mother how to pick me up and hold me. How to cup the tender back of the infant's head with one hand and support the spine with the other.
What if I drop it.
You won't drop her!
It's so heavy, and hot. It's . . . kicking.
She's a normal healthy baby. A beauty. Look at those eyes!
At The Studio where Gladys Mortensen had been an employee since the age of nineteen there was the world-you-see-with-your-eyes and the world-through-the-camera. The one was nothing, the other was everything. So in time Mother learned to perceive me through the mirror. Even to smile at me. (Not eye-to-eye! Never.) In the mirror it's like a camera eye, almost you can love.
The baby's father, I adored. The name he told me, there is no such name. He gave me $225 and a telephone number to GET RID OF IT. Am I really the mother? Sometimes I don't believe I am.
We learned mirror-looking.
There was my Friend-in-the-Mirror. As soon as I was big enough to see.
My Magic Friend.
There was a purity in this. Never did I experience my face and body from the inside (where there was numbness like sleep), only through the mirror, where there was sharpness and clarity. In that way I could see myself.
Gladys laughed. Hell, this kid isn't half bad-looking, is she? Guess I'll keep her.
It was a daily decision. It was not permanent.
In the blue smoke haze I was being passed about. Three weeks old, in a blanket. A woman cried drunkenly Oh, her head! Careful, put your hand beneath her head. Another woman said Jesus, it's smoky in here, where's Gladys? Men peeked and grinned. She's a little girl, eh? Like a silk purse down there. Smooooth.
Another, later time one of them helped Mother bathe me. And then herself and him! Squeals and laughter, white-tile walls. Puddles of water on the floor. Perfumy bath salts. Mr. Eddy was rich! Owned three "hot spots" in L.A., where the stars dined and danced. Mr. Eddy on the radio. Mr. Eddy a practical joker leaving $20 bills in joke places: on a block of ice in the icebox, rolled up inside a window shade, in the mutilated pages of The Little Treasury of American Verse, taped to the inside of the lowered filth-splattered toilet seat.
Mother's laughter was shrill and piercing like breaking glass.
7
"But first you must be bathed."
The word bathed was slowly, sensuously drawn out.
Gladys was drinking her medicated water, unable to sit still. On the turntable, "Mood Indigo." Norma Jeane's hands and face were sticky from birthday cake. It was almost night, on Norma Jeane's sixth birthday. Then it was night. Water from both faucets splashed noisily into the rust-stained old claw-footed tub in the tiny bathroom.
Atop the icebox the beautiful blond doll stared. Glassy blue eyes opened wide and rosebud mouth always about to smile. If you shook her, the eyes opened even wider. The rosebud mouth never changed. Tiny feet in soiled white booties were turned outward at such a strange angle!
Mother taught Norma Jeane the words. Humming and swaying.
You ain't been blue
No no no
You ain't been blue
Till you got that Mood Indigo
Then Mother was bored with music, searching now for one of her books. So many books still unpacked. Gladys had had elocution lessons at The Studio. Norma Jeane loved being read to by Gladys because it meant more calm. Not sudden outbursts of laughter, or cursing, or tears. Music could do that. But there was Gladys with a reverent look searching through The Little Treasury of American Verse, which was her favorite book. With her thin shoulders lifted and head raised like a screen actress holding the book above her.
Because I could not stop for Death,
He kindly stopped for me;
The Carriage held but just Ourselves
And Immortality.
Norma Jeane listened anxiously. When Gladys finished the poem she would turn to Norma Jeane with bright glistening eyes. "What's that about, Norma Jeane?" Norma Jeane didn't know. Gladys said, "One day when your mother isn't around to save you, you will know." Pouring more of the clear strong liquid into a cup and drinking.
Norma Jeane was hoping for more poems, poems with rhymes, poems she could understand, but Gladys seemed to be through with poetry for the night. Nor would she be reading from The Time Machine or The War of the Worlds,which were "prophetic books"—"books that would soon come true"—as she sometimes did in an intense, tremulous voice.
"Time for Baby's baaath."
It was a movie scene. Water splashing from the faucets was mixed with music you could almost hear.
Gladys stooped over Norma Jeane to undress her. But Norma Jeane could undress herself! She was six. Gladys was in a hurry, pushing Norma Jeane's hands away. "For shame. Cake all over you." Waiting for the tub to fill, and it was a long wait. Such a big tub. Gladys removed her crepe dress, pulling it over her head so her hair lifted in snaky tufts. Her pale skin slick with sweat. Mustn't stare at Mother's body, which was so secret: pale freckled skin, the bones beneath pushing out, small hard breasts like clenched fists straining at the lacy slip. Almost, Norma Jeane could see fire in Gladys's charged hair. In her moist staring lemony eyes.
The wind in the palm trees outside the window. Voices of the dead, Gladys called them. Wanting always to get in.
"Inside us," Gladys explained. "Because there aren't enough bodies. At any given time in history there is never enough life. And since the War—you don't remember the War because you weren't born yet, but I remember, I'm your mother, and I came into this world before you—since the War where so many men and women, too, and children died, there's a scarcity of bodies, let me tell you. All those poor dead souls wanting to push in."
Norma Jeane was frightened. Push in where?
Gladys paced, waiting for the tub to fill. She wasn't drunk, nor was she high. She'd removed the glove on her right hand and now both slender hands were bare and reddened in patches, the skin scaling; she didn't want to admit it was her work at The Studio, sixty hours a week sometimes, chemicals absorbed into her skin even through her latex gloves, yes, and into her hair, the very follicles of her hair, and her lungs, oh, she was dying! America was killing her! Once she began coughing she couldn't stop. Yes, but why then did she smoke? Well, everyone in Hollywood smoked, everyone in the movies smoked, a cigarette calmed the nerves, yes, but Gladys drew the line at marijuana, what the papers called reefer; God damn, she wanted Della to know she was no hophead, and she was no junkie; she was no round-heelsGod damn it and she'd never done it for money, or almost never.
And that only when she'd been laid off for eight weeks from The Studio. After the Crash of October 1929.
"Know what that was? The Crash?"
Norma Jeane shook her head in wonder. No. What?
"You were three years old at the time, baby. I was desperate. All that I did, Norma Jeane, I did to spare you."
Lifting Norma Jeane then in her arms, her thin sinewy-muscled arms, lifting her with a grunt, lowering the startled child, kicking and thrashing, into the steaming water. Norma Jeane whimpered, Norma Jeane didn't dare to scream, the water was so hot! burning hot! scalding hot, rushing from the faucet Gladys had forgotten to shut off, she'd forgotten to shut both faucets off, as she'd forgotten to test the temperature of the water. Norma Jeane tried to climb back out of the tub but Gladys pushed her back. "Sit still. This has to be done. I'm coming in too. Where's the soap? Dir-ty." Gladys turned her back to the sniveling Norma Jeane and quickly stripped off the rest of her clothes, slip, brassiere, panties, flinging them down onto the floor gaily, like a dancer. Naked then, boldly she climbed into the big old claw-footed tub, slipped and regained her balance, and lowered her lean hips into the water, which smelled sharply of wintergreen bath salts, seating herself facing the frightened child, knees opened as if to embrace, or to secure, the child to whom six years before she'd given birth in an agony of despair and recrimination—Where are you? Why have you forsaken me?—addressed to the man who was her lover, whose name she would not reveal even in the throes of labor. How clumsy, mother and daughter in this tub, with water surging in choppy waves overflowing the rim; Norma Jeane, nudged by her mother's knee, sank in water past her mouth, began to choke and cough, and Gladys quickly yanked her up by the hair, scolding—"Now stop that, Norma Jeane! Just stop." Gladys groped for the bar of soap and began to lather vigorously between her hands. Strange for her who shrank from being touched by her daughter to be naked now, crowded in a tub with her daughter; and strange the rapt, ecstatic expression on her face, which was flushed and rosy with the heat. Again Norma Jeane whimpered that the water was too hot, please Mother the water was too hot, so hot almost her skin couldn't feel it, and Gladys said severely, "Yes, it has to be hot, there's so much dirt. Outside us, and in."
Far away in another room, muffled by splashing water and Gladys's chiding voice, there came the sound of a key turning in a lock.
This was not the first time. It would not be the last time.
We hope you are enjoying the book so far. To continue reading...
Blonde
Joyce Carol Oates
Copyright © 2023 All Rights Reserved