Book info
Sample
Audiobook
Media
Author updates
Lists
Synopsis
Sparks fly in Louisiana's Butterfly Bayou when a Hollywood starlet falls for a local deputy in a new small-town contemporary romance from New York Times bestselling author Lexi Blake.
After leaving the military, Major Blanchard moved to Papillon, Louisiana, to be with his aging father, where he's taken a deputy position with the sheriff's department. Now that he's settling into life on the bayou, he's trying out the dating scene. Every single woman in town seems to be pining after the handsome newcomer. But so far, nothing's worked out, and he's had some spectacularly bad dates. Major's getting ready to give up on love when a new lady roars into town to film a movie and turns his world upside down.
Actress Brynn Pearson is trying to make a successful transition from child star to leading lady. Now that she's landed her first lead in a major film, nothing can stop her. She is committed to focusing solely on her work, so romance is the last thing she needs. Too bad she can't get her mind off the dreamy deputy she keeps running into. He's gorgeous, and something about him makes her feel safe. As Brynn's feelings for Major deepen, she starts to wonder if maybe there's more to life than her career.
When a family crisis throws Major's life into a tailspin, he turns to Brynn for support and hopes the relationship growing between them will shine brighter than Hollywood lights.
* BingeBooks earns revenue from qualifying purchases as an Amazon Associate as well as from other retail partners.
Listen to a sample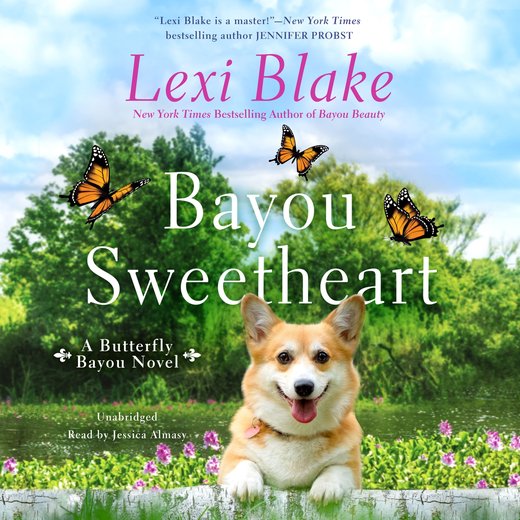 10:16:50
282.37 MB
9798200899654
July 26, 2022
Blackstone Audio
Bayou Sweetheart
Lexi Blake
Brynn Pearson took a deep breath and soaked in the morning light. The world seemed softer here, the green of the trees above in stunning contrast with the blue sky and puffy clouds. Their trunks seemed to come straight out of the water, their limbs bending and twisting.
But what she really loved about Papillon, Louisiana, was the quiet.
She sat on the back porch of the small cabin and stared out over the water, her corgi resting contently on her lap. She absently ran her hand along Duke's fur and felt him yawn. Even her dog was at peace.
She could think here. How long had it been since she was still? She'd forgotten how good it felt to know she had a whole day with nothing planned. No agenda items. No meetings. No rehearsals or interviews. She'd been staying in the cabin on the grounds of the Butterfly Bayou Bed-and-Breakfast, owned and operated by the cutest family she'd ever seen. From what she could tell, no one even recognized her here. If the owners of the B and B did, they gave her absolutely no clue. Maybe it was the new hair and the lack of makeup.
Or maybe not everyone had watched her grow up on TV, and wasn't that the coolest thing?
Duke's head came up and swiveled.
"Hey, I've got your lunch along with some water and a couple of snacks."
She glanced up. One of the proprietors stood there with a big German shepherd, and the little boy who'd been introduced as Luc. Harry Jefferys was a handsome man with a ready smile. He was one of those guys whose obvious goodness shined through.
He could have killed in Hollywood, had every casting director in the world at his feet. But she got the feeling the man was happy right where he was.
Duke jumped down and greeted the newcomers.
Brynn stood and offered to take the backpack from him. "Thanks. I can't tell you how much I appreciate your wife's cooking."
If she didn't watch it, she would be in trouble when production started up in a couple of weeks. Papillon was playing hell on her diet. When she'd decided to come out early to prep for her role, she'd banished her personal chef/sadistic purveyor of all things kale. Her character wouldn't have a chef. Or an assistant. Or a chick who walked behind her with a compact to make sure her skin didn't shine.
"She's the best, but if you want to try some real gumbo, you might want to go to her brother's place on the bay. It's called Guidry's," Harry offered.
"And bread pudding." Luc wore a Spider-Man T-shirt and jeans, his dark hair adorably messy. He knelt down to pet Duke. "Uncle Remy makes the best. And French fries."
"I'll have to give it a try," she promised. It all sounded good, and really, how much damage could a week off her ridiculous diet do?
Harry nodded. "There's a chicken salad sandwich in there, along with potato salad and some brownies. I also snuck some of last night's porkchop leftovers in a baggie for Duke."
The B and B was a pet-friendly place. Besides the big German shepherd named Shep, there was a pretty tabby cat who wandered the grounds. There were all kinds of what Harry called "critters." She was pretty sure last night she'd seen a group of raccoons running around. Or maybe it had been possums. "Thank you. He will love it."
"I also packed some supplies you might need. Be careful out there. It's been raining the last week and the mud can be dangerous. All kinds of animals get stuck and can't get out. The trail you're going down takes you around the water. That little thing right there could get sucked right in."
Luc frowned up at his dad, a hand still on the corgi. "Brynn won't let her doggie get hurt."
"I'll stay on the trail. Promise." She looked back at Harry. "You said the light was good on the dock, right?" She wanted to spend the day sitting on that dock, sketching and soaking in her surroundings. She would take pictures so she could remember the details when she went to paint.
Harry frowned. "Well, the light is pretty much the same everywhere, ma'am."
Ah, the non-artist. They thought light was merely around so they could see and be warm. She knew light played all around her. Light illuminated far more than the way. "It's pretty?"
"Oh, yes, it's gorgeous, and you should be alone at this time of day," Harry agreed. He held out the keys. "All you have to do is go back down the drive, hang a right, and you'll see the turnoff about a mile down the road. The trail will take you right to the dock."
"And I will be sure to avoid the mud."
Harry grinned. "You should. That mud is serious. Suck a man right down. We'll be back later this evening. You sure you don't want Sera to leave some dinner for you?"
"That's okay. I can pick up dinner. Maybe I'll go to Guidry's." She wanted to hang around the town, soak it in. If Harry and Sera were any indication, no one would bother her. She might even be able to blend in.
Maybe she would get to feel normal for half a second.
"Be careful out there." Harry put a hand on Luc's shoulder. "Come on, son. Let's go find Momma and Ella."
Luc gave her a heart-stoppingly sweet smile. "Bye, Brynn. See you tomorrow. Momma's making pancakes."
She'd had breakfast with the family this morning because she was their only guest for a couple of days. The production crew had bought the place out for three months. She'd sat down in the dining room all alone and thought about taking the food back to her room, when Seraphina asked if she wouldn't mind eating in the family kitchen since it would be easier for her to serve there.
"I will be there, buddy." She'd loved it, loved the camaraderie and the way Harry and Sera worked together to take care of their kiddos. She'd enjoyed hanging with Luc and watching baby Ella laugh.
Breakfast at home usually consisted of making sure she didn't get a single extra gram of fat while her mom was on the phone with her agent or the studio or whoever had gained her ire overnight and her sister prepared for yet another audition.
All in all, she liked pancakes and baby spit-up and a big German shepherd who waited patiently for one of the kids to drop food.
She waved good-bye, picked up her pup, and then headed into one of the three cozy cabins located around the grounds of the gorgeous B and B. She and Duke were in the one closest to the water, and she'd gone to sleep the last couple of nights to the sounds of the bayou. The noises of the bayou were for the most part charming and lulling. They only once made her wake up in fear that there was some kind of wolf outside her door. But that was crazy. It had probably been a dog. Maybe Shep liked to howl at the moon.
She gathered up what she needed and headed for Harry's truck. Brynn had been thrilled when he'd offered her his truck for the day. The car she was owed by contract wouldn't be delivered until the actual film production started, though honestly, her mother and Ally would likely drive her to the set each day and then use the car as their own.
Freedom. That was what that banged-up Ford represented. She had a few weeks of freedom before the production team landed and she had to be Bria Knight again. For now, she could be Brynn.
She settled Duke into his safety seat, got into the truck, her lunch and sketchpad tucked away in the backpack Harry had given her, and started down the road.
It wasn't their first adventure. Since she'd gotten Duke as a puppy four years ago, he'd been her constant companion. He'd traveled with her to Europe when the show filmed there. She remembered a time when she hadn't had a dog and she'd been lonely on set. Duke had changed that and she viewed being able to have him with her as a new stage in her life, a better stage.
Now she was on the cusp of another change. This new project was supposed to catapult her past her childhood stardom and into full-fledged adult movie star.
The trouble was, she wasn't sure she wanted it.
Brynn took a deep breath and turned where Harry had told her to. The truth of the matter was she didn't have much of a choice. This had been her path for a very long time, and her family depended on her. Unless she found a way to make her paintings sell for what she made per movie, she was out of luck.
Her cell trilled and Brynn barely bit back a groan as she pulled over to the side of the dirt road. Harry had suggested parking here and hiking the rest of the way. This had to be the place since there was already a big SUV parked on the other side. It was black and white with police lights on top. Emblazoned on the side were the words Papillon Parish Sheriff. She hoped there wasn't trouble.
She glanced down and realized she couldn't avoid this call. If she did, the person on the other end of the line would call the governor of Louisiana and send in the guard to find her. So she answered. "Hey, Mom."
"Did you look at the scripts I sent you?" Her mother rarely wasted time.
"Not yet." She unclipped Duke from the safety harness, exchanging it for his leash. He was a wanderer, and that could be dangerous here. He wasn't used to the terrain, and apparently there were gators who would think her sweet baby was a light snack.
She put her mom on speaker. If she didn't get moving, she would miss the good light because her mother could talk forever.
An impatient huff came over the line. "Why? I thought you were going to read them on the plane."
She'd meant to but then she'd started a book and the hours had flown by, and when she'd gotten here she'd realized she simply needed a break. Not that she could tell her mom that. There were no breaks in her mother's world. "I got caught up replying to some emails. You know what a time suck that can be."
She felt only a little guilty about lying. If she didn't, she would get a long lecture on how she should never stop hustling. She grabbed the backpack and Duke hopped out of the truck, eager to get going.
"Yes, I do, but I need an answer on those scripts or they'll send them to someone else," her mother insisted. "We need to lock down projects for next year or it will look like no one wants to hire you. I don't want anyone to think that the big directors are waiting to see how you pull off this project. It could set you back months."
That didn't sound so bad. Would it be wrong to take a couple of months off? She'd been working almost nonstop since the age of five. A couple of months to enjoy the fruits of her labor didn't seem like a crime. But again, she was trying to avoid the hustle lecture that would inevitably lead to some story of how her mom had to work twenty-two-plus hours a day while wearing hot designer clothes and six-inch heels right before walking a runway for some dastardly designer. "I will have an answer for you tomorrow."
She could read the scripts tonight. After she got in some sketching time.
"I think you should consider the romantic comedy. They're talking about casting Stephen." Her mom's voice had gone low, coaxing. Like the idea of working with Stephen would change everything.
Stephen Cane was a dear friend. She'd worked with him many times, but the love connection her mom had always hoped for had never panned out. "I'll think about it. If the script's good, I'll say yes."
"It's adequate, and that's all that matters. You know it's likely to change five times before you actually film the damn thing. The important part is that they want you for the lead, and working with Stephen would make a good story."
Her mother was very concerned with a good story, and not the kind that was in a script. She wanted the press to pay more attention to her daughter. She wanted Brynn to be this generation's Julia Roberts or Reese Witherspoon. America's new sweetheart. She wanted the next decade to be about banking as much money, power, and influence as possible.
She wanted to ensure her daughters would never, ever find themselves in the position she'd been in after their dad died.
"Mom, it's not happening between me and Stephen, but I promise I'll pick between these two projects." Her mom had been forced to go from pampered trophy wife to drowning in debt with two children and no husband. They'd gone from living in a mansion to homeless almost overnight, and her mother had hauled them out of poverty, and for that Brynn would always respect her.
"Honey, you know you don't have to actually care about him," her mom said, voice softening. "Just give the press something to write about. If you don't, they'll start questioning why you're not dating."
Harry had been right. The trail was easy to find. Someone had cleared a walkway through the trees and brush. She could hear the sound of water gurgling nearby and for a moment she was in the shade, the trees above forming a canopy. "I'm not dating because I have no time to date. I've gone from project to project for years."
"Another reason to have someone like Stephen around," her mom replied. "He's attractive, talented, and he already escorts you to the red-carpet events. All you need to do is have a meal with him every now and then and those lesbian rumors will be gone."
She rolled her eyes. "I told you I don't care about those. I have lesbian friends. They're awesome. If someone wants to confuse my sexuality, they should go for it. I don't owe anyone an explanation." A thought hit. "Hey, by your reckoning, I could fake date one of them."
A low growl came over the line. "You're impossible, Brynn. Pick a project. I'll see you soon."
The line went blissfully dead, and Brynn slid her phone into her back pocket.
She hadn't seen any evidence of a sheriff being out here.
She hoped he wasn't fishing.
Correction. She hoped he or she wasn't fishing. It was awfully sexist of her to think whoever had driven that SUV could only be a dude. It could totally be a woman.
Duke trotted beside her, and she was glad she'd put him on his leash because the trail did get close to the water. She couldn't see the mud Harry was talking about, but she believed him.
In the distance, she heard the sound of a dog barking.
Duke stopped, his whole body tensing up before he barked back.
The barking in the distance became desperate, and Brynn started to jog toward it because that dog sounded scared. She'd grown up around dogs. Two of the series she'd been on had "family" dogs, and she'd learned how to work with them. Hanging out with the dogs and their handlers had been one of the best parts of her job. She knew what a fearful bark sounded like, and this dog was scared.
She would also bet the dog was big.
"Hey, calm down, girl." That was a human voice. A deep, masculine voice.
She rounded the curve on the trail and stopped because a big, gorgeous man was standing thigh-deep in the water, and he wasn't alone. He had a terrified pit bull mix around his shoulders, clinging to him. The dog had obviously spent some time in that water because she was wet, covered in mud to her hindquarters.
"Sweetie, if you don't stop moving, I'll drop you, and I really don't want to drop you," the man said. He was in sweats and a soaking-wet T-shirt that clung to his very muscular chest. He'd obviously not gotten Harry's memo about staying away from the water.
Duke barked and his stubby legs moved, stretching the leash to the max, because despite the fact that he was a little dog, he firmly believed he could handle anything. She was sure his doggie brain had plans to save everyone.
The man's head came around at the sound of the bark and his eyes flared. "Hey. Wow. Hello. I could use some help here if you don't mind."
He was stunning, and she'd been around a lot of attractive men. But there was something about this one. Maybe it was the fact that he was trying his hardest to comfort a frightened dog. Or it could be the chiseled jaw and that bit of scruff that made an almost-too-pretty face rugged.
He was in trouble, and she was practically drooling. This was not who she was. She was practical and tactical, as one of her old directors liked to put it. She got the job done.
"Of course. Let me take off my shoes and roll up my jeans and I'll help you with her." She would have to secure Duke, too, or he would go right in that water.
"Absolutely not." He nearly shouted the words. "I'm sorry. I don't want you to join me. I'm stuck."
"Stuck?"
He nodded. "Yeah. We were on our daily jog and Dolly here decided to try to play with the fish. She got stuck in the mud. I got her out and, well, I'm worried I live here now. And it's not a good place after dark, if you know what I mean. The neighbors have lots of teeth."
"I can call 911."
"Please, don't. I'm a deputy for the local sheriff's department and honestly, I would rather die here than listen to the crap I will have to take for the next . . . well, forever. It'll become a whole urban legend." The gorgeous man sighed. "How about you save Dolly and if anyone asks, a gator got me."
So, he was a very dramatic man. She'd dealt with the type. She also got the whole saving-face thing. "All right, then I will have to fashion something to get you out of there. I have this guy's truck, and there was some lumber in the back."
"Wait. Are you staying at the B and B? You're one of the production crew?"
He asked the question like her saying yes would give him some hope. "I am."
"Yes," he said under his breath. "You've got Harry Jefferys's truck. Drive the truck down here. He's got a winch."
She wanted to make a joke about winch versus wench, but she actually knew what he meant. She'd grown up around a whole bunch of production crew who'd adored a little girl who'd wanted to learn what they did. "All right. Hold on. I'll be back soon."
It looked like her sketch time would have to wait.
Major Blanchard was having a rough day.
It had started with his father forgetting who he was and arguing that they were actually living through the 1950s again. And now it looked like it would end with a slow death by mud.
Oh, and he'd lost his damn cell phone, and he was pretty sure he hadn't paid that sucker off yet.
He'd managed to rescue his rescue dog. He'd had her for two months, and she was a never-ending ball of energy. Zep Guidry had brought her into the station house and loudly told his wife, Roxie, that he feared the poor puppy would have to be put down because her breed was misunderstood and feared, and wasn't that sad because she was such a sweetie.
Yeah, he'd taken the dog home because she'd looked at him with big puppy eyes and basically begged him to save her from death.
It was only later that he discovered Papillon's animal services had a no-kill shelter.
Of course, by then he was half in love with the pit bull mix. He was fairly certain that Dolly was half sunshine, because she always made him smile. Though he was not smiling today. Nope. Today she'd chased butterflies, and butterflies had led her to the water, and then she'd obviously decided that it would be fun to catch a fish, but oops, the mud was bad news.
He knew better than to get in the bog. Intellectually, he knew it was a terrible idea. He'd been out on calls to this very spot and had to help dumbass mudders get their vehicles out of the sludge, or the occasional deer who wandered in and couldn't escape. He was fairly certain lots of animals got stuck and became an easy meal for the gators.
He hoped the cute blonde hurried before he became one of those meals.
Dolly whimpered and seemed to try to wrap her body more closely around his neck and shoulders.
"You know you're supposed to be a badass dog who everyone fears, right?" She'd obviously not gotten that note. Dolly was the sweetest dog he'd ever had.
His dad thought she was Rufus, the dog he'd had while growing up. She didn't look anything like Rufus, who'd been a smaller hound, but that didn't stop his dad. Major didn't look much like his long-dead uncle, but his father had no problems calling him Henry and talking like they were brothers. Like they were brothers and it was 1954.
His father was losing his grip on reality, and Major was doing everything he could to keep him in the here and now. If that rope came completely loose, his father would be lost to a sea of memory. The doctors didn't hold out much hope. He'd sat down with them the day before and gotten the hard talk about what was likely to come in the near future. After the fifth time his dad had wandered off and nearly been killed, Major had to accept the fact that he couldn't take care of his dad the way he needed to. His stepmother had fled the minute the diagnosis had come down, and now he had to be the asshole who'd put his father in an assisted living home.
He was pulled from those dark thoughts by the sound of a vehicle moving slowly and carefully down the trail. Normally he would tell anyone that driving down here was a bad idea, but he desperately needed that truck, or he could be in this horrific position for hours.
Was that a snake?
Dolly barked and bounced. He definitely would not need to work on his shoulders and arms this week. Maybe ever again.
Thank god the blonde seemed competent. She was driving that truck with a careful hand as she turned the front of the vehicle toward the water. He could see the winch and the chain that would pull him from his folly.
Hopefully he'd be able to keep all his limbs intact, though he'd consider giving up a few to get on dry land again.
She put the truck in park and climbed out. "There's a large piece of what looks like siding in the back. I think Harry was planning on a trip to the dump later on this week. I thought we could use it to get your dog on dry land. I think it's long enough that she should be able to walk to the shore."
"I promise she won't bite."
A brilliant smile lit the woman's face. "She doesn't look like she bites. You're a sweet girl, aren't you, Dolly?"
Dolly's tail thudded right against his face. "Yep, she's a sweetie. And she's heavy. Really heavy."
The woman nodded and disappeared behind the truck.
He probably shouldn't notice that her backside was as pretty as the rest of her. He should have his brain firmly focused on being rescued and not on how hot his rescuer was.
But it had been a long time since he'd thought about how hot anyone was. Despite the fact that he'd been on twenty-two blind dates in six months, he had not clicked with a single eligible woman. Some had been pretty or funny or kind. Some were all three, but he hadn't connected with any of them. He'd gone on more than one date with four of the women, but each relationship had fizzled out before they ever got to a place where he might have thought about sex.
He hadn't thought about sex—really thought about sex—in months. But given the way that pretty woman's backside swayed, he was thinking about it now.
He didn't even know her name.
"I'm Major, by the way," he called out. He was so dumb. He should only be thinking about getting his ass out of this situation. She was a pretty tourist, and he didn't do brief affairs.
Also, she probably wouldn't want an encounter with a dude she had to pull from the earth.
"Well, I didn't think you were minor."
She came around the corner of the truck, hauling the big piece of what used to be Remy's awful siding. Major recognized it from the apartment located over Guidry's.
Her little bit of a dog was standing in the cab, his paws on the dashboard. He looked out as though checking on her, his head swinging between where Major and Dolly stood and her.
It was not the first time someone had pointed out how weird his name was. He'd had to get through years in the Army with the name Major.
"Major Blanchard," he corrected. "It's an actual name."
"Interesting." She tentatively came to the edge of the mud and started to ease the siding down. "I've never met a Major before."
Almost no one had. "And you're?"
She flashed him a smile. "I'm Brynn Pearson. I will be your rescuer today. My partner is Duke. He's the beauty and I'm obviously the brawn of this operation. Okay. I think this will hold her weight if you want to ease her down. Is that your SUV back there?"
"Yes. I bring Dolly down here a couple of times a week. There's a trail that's usually a nice jog." The siding was slightly short, but it would have to do. He twisted slightly, leaning over so Dolly could ease down onto the board and then make her way to dry land.
Except she wouldn't. She dug in, whimpering and trying to wrap herself harder around his neck.
"Dolly, come on, sweetie." He couldn't dump her. She would slide off and they would be right back where they started.
"Hold on." Brynn moved to the truck and pulled out a backpack, her hand disappearing briefly before she came back, kneeling at the other end of the siding and offering the one thing that might make Dolly overcome her fear. "Want a treat, baby?"
Dolly practically jumped onto the board, trading her fear of death for what looked like dehydrated beef. Before Major could take another breath, she was over the siding and on dry land, that treat halfway down her throat.
So at least the dog was all right.
He tried to move and managed roughly half an inch before he felt the mud try to suck him in deeper. Damn it.
He caught something moving out of the corner of his eye and barely managed to not scream like he was the prettiest girl at prom and there was a serial killer coming. That had definitely been a snake.
He was going to die here, and beyond being a cautionary tale for all future Papillon Sherriff's Department recruits, no one would really care. It was depressing. Dolly would find someone new to love her and give her treats. The house he'd worked so hard on would be sold, any profits given straight to the assisted living facility, and his father would probably forget he'd ever been born.
He was not in a good mood.
"You're a sweet baby, aren't you? Such a good girl." Brynn ran a hand over Dolly, offering the dog comfort.
He was the one who needed comfort because he was the one who was about to die. "Hey, uhm, I don't know if you've ever been caught in a coastal bog, but it's pretty gross, so if we could get this rescue going, I would appreciate it."
She looked up, her eyes widening. "I'm so sorry. Of course. Should I leash her so she can't get back in the mud?"
He sighed because he didn't think that would be a problem. "She's no longer interested in me."
He nodded toward her truck. Dolly had already inhaled the treat and now had her big paws on the driver's side door. She was staring in at the corgi like he was something magical. Naturally, the corgi was barking.
Chaos. He seemed to be surrounded by chaos lately.
Brynn worked the winch, drawing the chain down to where the siding still sat. She started to gingerly walk toward him.
His breath nearly caught because one wrong step and she could end up in here with him. "If you fall, try to get your body as flat as possible. Keep your feet up."
She stopped and one hand went to her hip. "You are not a very positive person, Deputy Major. You can't get through life with a frown on your face."
He got through life just fine, and he frowned a lot. He was a cop. They did not teach smiling in cop school. "I do not see much to be positive about in this exact moment."
"This exact moment is about to be over and then things will get better. And you could have been out here alone for way more moments," she pointed out as she moved closer to him. She spread her slight weight out over the board, competently moving toward him. She reached out and offered him the end of the chain. "I could have chosen to stick close to the B and B. Harry could have sent me to another place to sketch. You're actually lucky."
She was annoying. Cute but annoyingly peppy. It wasn't like he was all gloom and doom, but he was absolutely allowed to see the dark lining in this particular cloud. He took the end of the chain. "Thanks."
He'd said it in a deep tone, but her smile amped up. "You're welcome. I'll go slow."
She thought he needed her to turn the winch on? "Don't. I needed something to balance against. If you turn that thing on and it goes too fast, I could break a leg or two."
She moved back to land, and Dolly came to sit beside her. Both woman and dog stared at him like he'd said something dumb. "I wasn't planning on cranking it up. But by all means, use those muscles of yours. You look like you're very strong. Again, something you should be grateful for. Not everyone could do that."
Not everyone suffered through military training and had to be ready to take down any number of threats.
He had to be able to pick up his father when he fell. Once, that would have been a mighty feat of strength, but now the man was so frail Major barely noticed his weight.
He forced himself to focus. He wasn't about to put himself in a position where he had to risk life and limb because he couldn't pull himself out. He worked, arms straining. The instinct to pull as hard as he could was discarded because, like in all things, patience would win this war.
"You're doing so well," Brynn said, and he could hear the smile in her voice. Like he was a toddler learning to walk. "That's at least an inch."
"Are you usually this peppy?" He eased his grip up the chain. She was right. He was moving, albeit very slowly. He felt his sneakers go. That was only to be expected, but damn, he'd only bought them a month ago. At least that meant he was moving.
"You say that like it's a bad thing," she replied.
It wasn't bad, necessarily. Just a little annoying.
When had he become the king grump of the world? He grunted and continued his long slog to freedom. He used to be the happy one, the smiling one. In his unit in the Army, he'd been the one who made everyone laugh, who always kept their spirits up.
He was about to be alone in the world. His father was slipping away, and no one was going to throw him a lifeline, because there wasn't one for what he had.
He banished the thoughts and tried to concentrate on the task at hand. His muscles strained but he kept moving. He would go home, take a shower, and wash Dolly off, and he might make his shift in time. Might because he would have to clean his vehicle. There was zero chance he was driving home in his underwear, because he was fairly certain Mrs. Dury across the street had her doorbell camera facing out so she could keep tabs on whoever came and went from his place. So the parish vehicle would need a detailing, and that would teach him never to drive it when he was off duty.
He managed to make it to the sad piece of siding. It was the safest place he'd been for hours and hours. He dragged his torso up and felt his feet come free and took a long breath.
Maybe pretty blond Brynn was right and he was lucky. Dolly was fine. He was alive. It had been pure luck that Brynn had shown up with everything he needed to get free.
"Wow. That mud was incredibly sticky."
He managed to look up, and Brynn was standing there all pretty and perfect. He probably looked . . . well, like a dumbass who'd gotten stuck in the mud for hours. "Yeah, I'm pretty dirty, but I am no longer your problem. Thank you for helping and . . ."
He had started to get to his knees when he froze.
"I don't think Harry has an extra pair of pants in the truck." Brynn's lips had kicked up in a grin.
His sweats were gone. They'd slid off while he'd pulled himself up. He was wearing nothing but his University of Houston T-shirt, his underwear, and a pair . . . nope, one sock. And naturally because he hadn't done laundry he was wearing one of the three pairs of tighty-whities he owned. The universe hadn't even left him the dignity of boxers.
A warm tongue licked the side of his face.
"Hey, we should get you off there before it slides in. Come on, Dolly. Let your dad get up. We need to get him back to his car." Brynn's voice was sweet and soothing.
"The car is a no-go because my keys were in my pants. I don't suppose they're floating." He knew better than to turn around. He forced himself to crawl up the plank Brynn had made and get to his feet.
"Oh, no." She shook her head, obviously trying not to crack another smile. "They are definitely gone."
"Then I am going to need a ride into town."
She stared at him for a moment and then a light seemed to go off over her head. "From me. Of course." She grabbed the siding and hauled it up, then stopped. "Should I leave it here for the next guy?"
Major knew he should help her reload the siding, but he just wanted the whole thing to be over. He strode to Harry's truck and found a towel in the back. Harry was a deep believer in being prepared. "Nope. No one else would be that dumb. You leave that out here and it will be Otis's loading zone."
"Who is Otis?" She easily hefted the siding back into the bed of the truck.
"He's a gator. And he can be real lazy if you let him." Now that he was standing close to her he realized she was even prettier than she'd seemed. There was a glow about the woman that would normally call to him, but all it did now was remind him of how dark his own life seemed. She was probably one of those people who had everything together. She probably had the perfect husband or boyfriend and a great career doing something she loved.
He opened the passenger door of the truck once he was satisfied he wouldn't do too much damage. He laid the towel over the seat.
The corgi was staring at him, and he could have sworn there was an air of disapproval around the dog.
Dolly, meanwhile, was back to chasing after butterflies. "Dolly!"
The name came out gruff and way louder than he'd meant it to. Dolly stopped and went still.
Brynn immediately seemed to feel the need to make up for his grumpiness. "Come on, sweetie. Let's get you home."
Dolly jumped into the cab and then he had to deal with two dogs who were trying to sniff each other's butts in a space that was way too small for that long-held canine tradition. Dolly settled on his lap and the corgi was back to staring at Major as if he had taken something precious from him.
Brynn eased into the driver's seat and frowned briefly. "I'll be careful, Duke. Settle down, and I promise it'll be okay." She turned back to Major as she fired up the engine. "Sorry. Duke doesn't handle change well. He's a bit of a grump."
Duke huffed and moved from the passenger seat to the small second row, his indignation at being banished to the back obvious.
Dolly nearly deballed him in her haste to join the smaller dog. Major barely managed to not cup himself. He pulled his T-shirt down and did not miss how Brynn's mouth closed after her lips slightly turned up.
It was good someone found the situation amusing.
"You're going to have to give me some directions, Deputy Major. I'm afraid I don't know the town very well." She put the truck in reverse and expertly pulled it out of what could have been a tricky spot in less capable hands.
"You want to get back to the road we came in on and when we hit the highway, you'll take a right." He glanced back, and it was obvious his dog was in love. Her big body was hunkered down right next to the corgi, who looked like he was simply surviving until these strangers were gone and he could get his life back.
He was with the corgi. Though it wasn't like he had much of a life to get back to. The dogs seemed to have it better. At least someone fed them treats and gave them belly rubs.
Not that he wanted a belly rub. Any kind of rub would be nice.
"All right, let's get the rest of this rescue on the road." She eased over the rough terrain. "I'm excited to see the town. I got in a couple of days ago and I've been exploring the B and B, but I hadn't left the grounds until today."
"There's not much to it." He was going to move. Harry had the right idea. He should live in the sticks. If he lived there now then no one would be there to see him run from the truck to the front door wearing nothing but his underwear.
A horrible thought struck.
What was he planning on doing when he got to the front door? Because his keys were in the bog.
Major groaned and let his body come forward, forehead gently hitting the dashboard.
This was not his day.
We hope you are enjoying the book so far. To continue reading...
Bayou Sweetheart
Lexi Blake
Copyright © 2022 All Rights Reserved
Also in this series
Also by this author