Book info
Sample
Audiobook
Media
Author updates
Lists
Synopsis
The official prequel leading into the upcoming Aliens cooperative third-person survival shooter video game, Aliens: Fireteam, from Cold Iron Studios.
Dr. Timothy Hoenikker arrives on Pala Station, a Weyland-Yutani facility. Lured there by the promise of alien artifacts, instead he finds a warped bureaucracy and staff of misfits testing the effects of Xenomorph bio-materials on living creatures. Unbeknownst to the personnel, however, there is an infiltrator among them whose actions could spell disaster. Also on staff is Victor Rawlings, a former marine who gathers together other veterans to prepare for the worst. As the personnel receive a delivery of alien eggs, the experiments spin out of control, and only the former Colonial Marines can stand between the humans and certain death.
Alien: Infiltrator TM & © 2019 Twentieth Century Fox Film Corporation. All rights reserved.
Release date: April 20, 2021
Publisher: Titan Books
Print pages: 336
* BingeBooks earns revenue from qualifying purchases as an Amazon Associate as well as from other retail partners.
Listen to a sample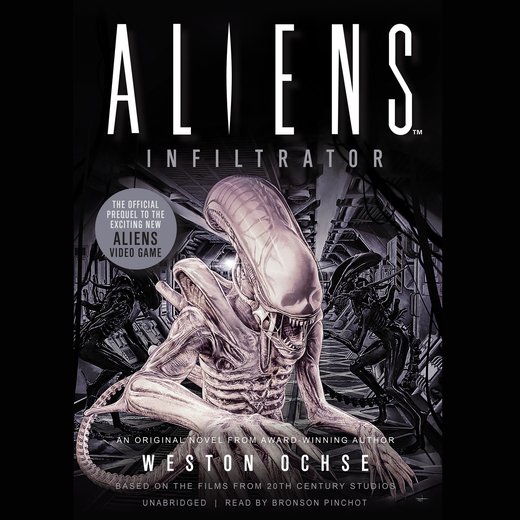 09:08:34
251.13 MB
9781665019637
July 20, 2021
Blackstone Audio
Aliens: Infiltrator
Weston Ochse
1
PALA STATION LV-895 JANUARY 12, 2202
He dreams of storms and flames, the heat of a thousand suns turning everything into molten nightmare. He screams, but the roar of the superheated beast drowns out his cries. His mother, his father, everything he ever knew consumed by something so hungry it cannot be stopped. Even as far away as he is, the heat blisters his face and burns away the hairs on his head. His tears prism his vision until his small universe is a kaleidoscope of fire.
* * *
The shuttle jolted him awake.
"Welcome to Pala Station," the pilot announced as the shuttle landed. The announcement could not have been delivered with less enthusiasm. Still, the welcome was a punctuation to a long journey for Dr. Timothy Hoenikker, who'd traveled too many light years, all at the chance of investigating a cache of newly discovered artifacts.
Alien artifacts.
For a theoretical archaeologist, who up until now had depended on modeling in order to advance his research, examining actual components of an alien race's past was beyond remarkable. This could be, he hoped fervently, the opportunity of a lifetime.
Wiping the dream from his eyes, he shoved the familiar fiend to the back of his mind.
His shuttle partner sighed heavily.
"Back to the shit," the man said. He'd introduced himself earlier as Logistics Specialist Steve Fairbanks. His eyes were haunted, his gaze far away, and he had the world worn look of someone who'd been in the thick of it, and still hadn't found a way out. Probably just short of thirty years old, he was average height and had black hair cut close to his bullet-shaped head. His nose was too thin for a flat face, but that wasn't his fault.
"Can't be as bad as all that," Hoenikker said hopefully, hiding his discomfort at being spoken to, and with the information.
"Just wait, sir," Fairbanks replied. "You'll see what Pala is about in no time."
The station was out on the edge of the known systems—but then, weren't all the places where new discoveries were possible? When Hoenikker had been recruited, he'd convinced himself that leaving the luxury of his cushy Weyland-Yutani corporate job was going to be worth the effort. Before leaving, he'd researched the jungle planet LV-895 and marveled at its exotic life. Sure, the living arrangements might not be what he'd been used to, and the day-to-day luxuries might not be there, but the payoff would be to lay hands on that which he'd only previously imagined.
This could be the opportunity, he knew, to become one of the foremost experts in alien anthropology. His pulse quickened as he imagined the data he could provide to those who would come after, his name synonymous with the greatest archaeologists of all time. Layard. Carter. Jones. Leakey. Evans. Schliemann. Navarro.
Hoenikker.
"Pala Station personnel should be waiting for your arrival," the pilot announced over the intercom. "One minute until doors open."
The thrill Hoenikker felt was tempered with a sick feeling that everything was going to go terribly wrong. He'd always been this way—feeling the desire to experience new things, yet dreading that reality wouldn't live up to his expectations. As had happened all too many times before, was he going to be disappointed, or would this be the greatest adventure of his life?
His friend Stokes, who he'd probably never see again, had argued long and hard for him to take this assignment.
"You might never get this opportunity again," Stokes had said. "Sure, you could stay here at your nine-to-five, going out for dinner on Fridays, seeing your therapist on Wednesdays. Or you could travel to the edge of the known universe, discover wonders no man has ever seen, and be better for it. Be boring and stay here. Or be dangerous and travel far."
Stokes always did the dangerous. He'd been a Colonial Marine, then a scientist traveling for the company. Always the center of any conversation. Even Hoenikker looked forward to listening to the outrageous stories the man continually shared—assuming they were all true. This was his chance, Hoenikker knew, to walk in the footsteps of his friend. But in reality, he could never be the person Stokes was capable of being.
The red flashing light switched to green. The rear door of the shuttle opened, revealing a single man waiting for them, holding a pad. He had dark skin, bald, about forty. Part of his right arm was a prosthesis.
Fairbanks was first off.
"Fairbanks. Steven," he said to the man. "Log. Back from emergency leave."
After making a few marks on the digital pad, the man nodded, but didn't say a word.
"Best of luck," Fairbanks said over his shoulder, then he hefted his duffel and disappeared around the corner.
"You must be Dr. Hoenikker," the man said. "I'm Reception Tech Rawlings, Victor, and I'll be inprocessing you. Is that all your luggage?" he asked, nodding to the single large bag on the deck.
Hoenikker nodded. Rawlings stepped over and grabbed the bag.
"This way please."
Hoenikker followed, noting that the air in the hangar was humid. But that was soon replaced by the cool forced air of the interior, the buzz and hum of environmental equipment immediately making him at home. Facilities he knew. Jungles he did not.
"As you know, Doctor, Pala Station's existence is classified," Rawlings said. "I've been here a little over a year, and things don't hardly change. We prefer it that way. So, you're with the scientists?"
"Yes." Hoenikker didn't know how much he could reveal.
Rawlings laughed. "What you all do isn't a secret to those of us on the station. What with the black goo and all. We just don't like when your research subjects get loose. You understand."
"Does that happen often?"
"Once is too often," Rawlings said. He held up his prosthesis. "I've seen enough action. I'm just trying to get my retirement creds now."
There was the sound of rapid footsteps and three men rushed around a corner. As they did, the third knocked Hoenikker roughly into the wall. The man grunted, but kept going without saying a word. They all held long wooden rods.
"Sorry about that." Rawlings steadied Hoenikker. "We have a rat infestation. Station commander has us on a schedule for extermination duty, and no one is particularly happy about it." He nodded toward where the men had disappeared. "Their turn."
"Rats?"
Rawlings shrugged and gave a good-natured smile. "We're on the edge of nowhere, on a godforsaken jungle planet. Rats are the least of our worries."
They continued on their way, and Rawlings indicated several doors as they passed the various staff sections. Staff Section 1—or S1—was Manpower. S2, Security. S3, Engineering. S4, Logistics. S5, Med Lab. S6, Communications. And S7, Fabrications. He counted them off as they passed.
"Being as far out of system as we are, we can't just order a part. So S7 is in charge of producing everything we need to operate, from a knob, to a screw, to a laser-guided ass missile."
Hoenikker balked. "Laser-guided ass missile?"
"That was a joke. Sorry, military humor. Just know if you need something, they can make it. Anyway, you'll be dealing a lot with S7. Just don't get in the way of their feud with S3. It can get vicious."
They passed through a door and entered an office like many others he'd seen. The setup was familiar. A desk. Two chairs. A camera attached to a terminal.
"Sit there, please." Rawlings gestured. "We'll take your picture, retina display, biometrics, fingerprint, and DNA. Need to make sure you are who we think you are, and give you access to where you need to be later."
Hoenikker sat in the chair across from the camera, eyeing the cradle made for his hand. He could see several dozen minute needles, almost invisible to the eye, and didn't relish the idea of embracing it. Still, bureaucracy. He sighed.
"I think it started two years ago," Rawlings said, oblivious to his hesitation, "when Fabrications ran out of materials and there were no supply shuttles for six months. They were forced to take what they needed from everyone else. It wasn't that bad really, but Engineering—who feel self-important because they keep the lights and air running—began calling Fabrications by all sorts of names, to get under their skin. 'Acquisitions,' 'Infiltrations,' 'Reparations,' 'Thieverations,' and my favorite, 'Mastications.'"
Rawlings pointed. "Eye here, please. Thanks."
Hoenikker placed his right eye in front of the reader, and stared into the light.
"I know. I know," Rawlings continued. "It seems like a small thing, but all day every day for six months became too much. That's it. Thanks, Doctor."
Hoenikker leaned back.
"So, when Fabrications had the chance to turn the tables, turn them they did. Engineering needed Fabrications to create a water pump for the commander, which they did—but they put everything in backward so the pump exploded, and then they blamed it on Engineering. Even pulled out instructions they had clearly fabricated—pun intended—to imply a design flaw. Meanwhile, Engineering is completely overwhelmed, dealing with the effects the environment has on the station, not to mention the rats that are getting into the wiring.
"We're so far away from any supply depot, Fabrications is constantly fixing things that medlab needs, or producing the special glass used in the containment areas for your experiments." Rawlings rolled his eyes, and Hoenikker thought he detected a note of resentment in his voice. "I could tell you about the other staff sections, but we don't have that sort of time. Your fellow brainiacs will have to brief you up."
He gestured at the hand cradle. "Now for this. It won't hurt at all. I promise. Each needle is coated with a local anesthetic. You just have to press firmly."
Hoenikker held out his hand, but hesitated.
Rawlings reached out, gently but firmly grasped Hoenikker's hand, and placed it in the cradle. The reception tech's prosthesis was cold against his skin.
Hoenikker sucked in air, ready to shout out.
The tech was right. No pain.
Rawlings maintained his grip as he made a few selections on the display with his left hand.
"And don't get me started on the commander," the reception tech said, and this time his ire was obvious. "He's completely useless, spending more time trying to get the hell out of here than trying to do his job." He glanced over, and nodded as if Hoenikker had said something. "I know. I know. The deputy should step up, but he's oblivious—too in love with the flora and fauna outside to pay attention to what's going on." He sighed. "It's our own fault, really. We're all professionals—if we weren't, the place would really fall apart. The fact is, each section operates on its own, without supervision. It's not like this is brain science, you know? But no one's paying attention to the big picture."
He released the hand, and Hoenikker hoped it meant he could go. So much gossip…
"Alright. You checked out, and you're checked in." He handed Hoenikker an ID badge on a fob. "Wear this at all times, and Security will leave you alone. Same goes for the synths, but I doubt you'll even see them."
"Synths?" Hoenikker asked, realizing upon hearing his voice that he hadn't spoken in a long while.
"Sure. You know, 'state-of-the-art,'" Rawlings said, delivering air quotes. "Special Security Chief Wincotts maintains them, but we've never seen them in use. No need, I guess. Probably stacked in a closet somewhere, covered in glass with a big sign that says, Break In Case of Emergency." He laughed.
"It all sounds a bit intense," Hoenikker said.
"Oh, no—not really," Rawlings said, standing and urging Hoenikker to do so as well. "I've been in units where the tension is so thick you're worried someone's going to pop off a pulse rifle. Or we could be crawling in mud, on patrol on a new LV. Hell, I could be on sentry duty! No thank you, sir. I'll take the politics of Pala Station anytime." He looked Hoenikker square in the eye. "Just know where you are and who you're talking to before you say something you can't take back." He patted Hoenikker on the shoulder. "But hell, that's the same everywhere, no?"
Hoenikker nodded as he felt himself being guided gently out of the room.
"Now, let's get you situated."
They passed several more doors and went down enough corridors that Hoenikker lost track. Then they came to a door with his name on it.
"Only you and Security will have access. Just place your palm on the access panel." Hoenikker did so and realized the numbness had already passed. The door slid open, revealing a room that was large enough for a desk and chair, a bureau, and a narrow bed.
He turned to Rawlings. "Bathroom?"
The tech pointed across the corridor. "Communal. For brainiacs only. Sorry, Doc. If you wanted a private bathroom, you should have applied to be the commander."
Hoenikker sighed.
"Listen," Rawlings said. "Unpack. Get situated. I'll be back to get you in an hour."
Then he was gone, leaving Hoenikker alone. All he could hear was the pumping and hissing of forced air.
The silence was blissful.
2
When Rawlings returned, Hoenikker was sitting on his bed, hands in his lap. He had folded and refolded his sparse collection of same-color shirts, pants, and lab coats and placed them in their appointed places in the bureau. Pulling out his personal display he had placed it in the middle of the desk, hooking up to the station's comms so he could have access to news, vids, and mail. He'd stripped the bed to check the state of cleanliness, then had remade it.
Now he was ready to get to work.
During the short walk from his quarters to the area that housed the labs, he heard three arguments, saw four rats, and witnessed a man yelling something that sounded like, "I've had it up to here with this shit!" So, when he arrived in the quiet contemplative reception room that led to the labs, detecting the familiar antiseptic smell, he grinned inside. It felt more like he'd escaped from the streets into a house of worship.
For Hoenikker, a lab was a house of worship—a place to worship facts, critical hypotheses, and discovery.
A narrow man approached, wearing all black with a severe Mandarin collar. Somewhere between sixty and seventy, he had a white goatee and white hair that ran into a ponytail. He held both hands behind his back, and his chin was slightly raised.
"Dr. Timothy Hoenikker, I presume."
Hoenikker stood straight and nodded. He didn't like shaking hands, and assumed by the man's posture that the sentiment was mutual. The man in black nodded to Rawlings, who returned the nod and walked away, leaving the two men staring at each other. Despite the awkwardness, however, if anywhere was home, this was it. Whether it was in the center of a city or on the edge of the known universe, all labs were alike.
"I am Mansfield," the newcomer said. "We expected you a week ago."
"B-but…" Flustered, Hoenikker couldn't help but stutter. "But I, I have no control over transportation. Weyland—"
A hand suddenly appeared and cut him off by chopping the air. "You will find, Doctor, that we don't care for excuses around here. We care about results. Now," he said pausing for dramatic effect, "are you checked in and ready to assume your duties?"
Hoenikker gritted his teeth and nodded. Then he softened. Perhaps the man had trouble dealing with new people. Hoenikker could easily understand this. He had the same problem. So instead of responding with anger, he tried another tactic.
"Thank you, Dr. Mansfield," he replied. "When you recruited me, offering an opportunity to work with verified alien artifacts, I dropped everything and came as fast as I could. I'm eager to begin…" He cleared his throat. "…and I apologize for being a week late."
There. That should ameliorate his new boss.
"You are incorrect, and on two accounts, Doctor Hoenikker. To begin, I am not a doctor, although I am the person to whom you will report. And you will not be working on alien artifacts. We have other tasks in mind for you."
Hoenikker tensed, but tried not to show it. He didn't want to argue with his boss on the first day, but working with alien artifacts was the primary—the only—reason he had taken the job.
"There must be a mistake," he replied. "The reason I left my previous position was the promise of working on genuine alien artifacts, to compare them with my archaeological modeling." Despite the attempt to maintain his composure, his words became louder. "If you knew that I wasn't—"
Another hand chop.
"Lower your voice, Dr. Hoenikker," Mansfield said. "I am well aware of the promises that were made. They will be kept. Alien artifacts are closer than you think. However, our mandate is threefold." He began ticking them off on his fingers. "One, create technology with which to defend against the Xenomorphs. Two, to create related tech which the military can use to actively combat any opponents, including the Xenos. And three, discover the nature of the pathogen to determine if it can be used in a positive manner—for example, to cure disease in humans. As it now stands, we've scored some notable successes creating acid-resistant armor. We're also optimistic about the prospects of Leon-895."
Hoenikker had heard rumors about strange things happening at LV-895, but no hint of a biological substance that was the focus of their efforts. Before Mansfield could elaborate, however, a thirty-something woman approached. She had brown hair tied into a bun, and a pleasant face. Mansfield gestured in her direction, but she didn't say a word.
"This is Dr. Erin Kash. She will be your team lead, and will bring you up to speed." Mansfield stepped back. "Is this all clear, Dr. Hoenikker?" He spoke in a way that didn't invite an answer.
Hoenikker understood indeed. Bait and switch. He should have known. And this Mansfield was a real piece of work. He pictured Stokes in his mind, and asked himself what his friend would do.
"Move on," Stokes would say. "Do your best. Be famous."
Hoenikker nodded once.
Mansfield turned and walked away. When he was out of earshot, Dr. Kash finally spoke.
"Did he ask you why you were late?"
Hoenikker nodded.
She grinned and glanced behind her. "He does that to everyone. It's his way of establishing the upper hand. Ignore it. He's simply a bureaucrat Weyland-Yutani put in place to ensure that we create something they can sell. In this case, armor to protect Colonial Marines against the exigent threat of the new Xenomorphs."
"Xenomorphs?" he said. "Are those the creatures the rumors speak of?"
"You've never seen one?" She clapped her hands. "Doctor, you're in for something special. We don't have any at the moment, but are due for a new shipment. That said, we do have some interesting experiments currently under way. Come. Allow me to introduce you to the rest of the team." She led him through a door.
The lab was larger than Hoenikker had anticipated, given what he'd seen of the tight confines of Pala Station. After the reception room came a central area boasting distinctly top-of-the-line lab equipment—though none that he hadn't seen before. Besides digital testing devices, there were the usual old-school beakers, flasks, and test tubes. Old friends.
Two men worked at the central station, injecting something into a tabletop containment device. One had to be pushing three hundred pounds, while the other couldn't be half as much.
"We call this central area Grand Central," Kash explained. "Étienne, Mel, allow me to introduce my new lab partner."
The pair turned and regarded Hoenikker with good-natured expressions. Reaching out with his hand, Hoenikker introduced himself, as did they.
Biologist Étienne Lacroix was the thinner of the two, and spoke with a French accent. About fifty, his skin was olive and he exuded the confidence of three men.
Chemical engineer Melbourne Matthews was the larger man. Even when Étienne was speaking, Hoenikker noted that Mel muttered to himself and had trouble making eye contact. He was younger than his associate, balding, and white.
"What we're doing here, Dr. Hoenikker," Étienne said, "is trying to determine the nature of the pathogen—that's what we call the black goo—and its effects on various Old Earth diseases. Fun stuff like Ebola and smallpox and shingles."
"Please, call me Tim," Hoenikker said. "Or if you must, just Hoenikker."
"I do like Hoenikker, ...
We hope you are enjoying the book so far. To continue reading...
Aliens: Infiltrator
Weston Ochse
Copyright © 2022 All Rights Reserved