A Rip Through Time
Available in:
eBook
Paperback
Audiobook
Hardcover
Book info
Sample
Audiobook
Media
Author updates
Lists
Synopsis
In this series debut from New York Times bestselling author Kelley Armstrong, a modern-day homicide detective finds herself in Victorian Scotland—in an unfamiliar body—with a killer on the loose.

"A great read." —Charlaine Harris

May 20, 2019: Homicide detective Mallory is in Edinburgh to be with her dying grandmother. While out on a jog one evening, Mallory hears a woman in distress. She's drawn to an alley, where she is attacked and loses consciousness.

May 20, 1869: Housemaid Catriona Thomson had been enjoying a half-day off, only to be discovered that night in a lane, where she'd been strangled and left for dead . . . exactly one-hundred-and-fifty years before Mallory was strangled in the same spot.

When Mallory wakes up in Catriona's body in 1869, she must put aside her shock and adjust quickly to the reality: life as a housemaid to an undertaker in Victorian Scotland. She soon discovers that her boss, Dr. Gray, also moonlights as a medical examiner and has just taken on an intriguing case, the strangulation of a young man, similar to the attack on herself. Her only hope is that catching the murderer can lead her back to her modern life . . . before it's too late.

In A Rip Through Time, New York Times bestselling author Kelley Armstrong introduces a brand-new series mixing mystery, romance, and fantasy with thrilling results.

A Macmillan Audio production from Minotaur Books.
Release date: May 31, 2022
Publisher: St. Martin's Publishing Group
Print pages: 352
* BingeBooks earns revenue from qualifying purchases as an Amazon Associate as well as from other retail partners.
Listen to a sample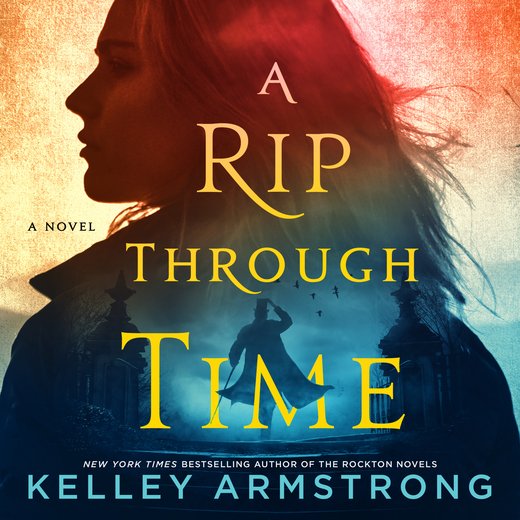 14:00:21
384.7 MB
9781250854612
May 31, 2022
Macmillan Audio
A Rip Through Time
Kelley Armstrong
CHAPTER ONE
MY GRANDMOTHER IS DYING, and I am getting coffee. I can tell
myself that I'm treating the hospice nurses. I can tell myself
that Nan is sleeping, and I can't do anything right now. I can
tell myself that even if she woke, she would never begrudge
me a fifteen-minute break. It doesn't matter. I crossed an ocean
to be at her side for her final days . . . and instead I'm standing
in an Edinburgh coffee shop, ordering lattes and chais as if it's
just another midafternoon caffeine break, as if the doctor
hadn't told me, thirty minutes ago, that the person I love most
in the world will be dead before the weekend.
The shop is overcrowded and understaffed, tempers fraying, people shifting and sniping, and I want to scream at them
all to shut up and be glad for a day where a five-minute wait is
the worst thing that will happen. Instead, I'm on the phone to
my mom, hunched over for some modicum of privacy. In the
midst of this excruciatingly banal chaos, I am telling my
mother that unless she can get here in the next three days, she
will never see her own mother again.
I want to step outside, but I've already placed my order. I
want to say "to hell with it" and reorder elsewhere, but I left my wallet in the hospice and the ten-pound note I brought is
now reduced to spare change. I want to tell Mom I'll call her
back, but she's on a ten-minute recess from court.
I want, I want, I want. I want so many goddamn things
right now.
If wishes were horses . . .
I hear Nan saying that, and with a blink, the coffee shop
glistens behind a gauze of tears.
Focus, Mallory. Do not lose it. Not here. Not now.
"I will do everything I can to get there," Mom says. "If I
can't, your dad will."
"Dad won't want you to be alone at home if . . . when . . ." I
can't finish that line. Cannot.
Her voice drops to a whisper, as if I'm not the only one
having this very private conversation in a public place. "We
don't want you to be alone there either, Mal."
"I'm not. I'm with Nan."
She inhales. "And I am so, so glad of that. I'm—"
"Two turmeric lattes, one masala chai, one dark roast!" a
barista calls, with the exasperation that says this isn't the first
time she's announced my order. I can barely hear her over the
low roar of discontent around me. Her accent doesn't help. I
may have spent every childhood summer in Scotland, but as a
thirty-year-old cop chasing career goals, I haven't visited for
more than a week in years.
I step forward, phone pressed to my ear. Mom's still talking, and I'm half listening, focused on collecting those drinks and getting the hell out of here. I make it halfway when my phone vibrates. A glance at my watch shows a number that has me cursing under my breath.
It's an informant who ghosted me a month ago. One I've been desperately trying to contact, for fear her silence isn't voluntary. I really need to answer this, but there is no way in hell I'm
cutting Mom off, not when her voice cracks with grief and fear.
I'm the lifeline to her dying mother, and I won't sever that to
take a work call, however urgent.
"Two turmeric—!" the barista shouts.
"Mine," I say, waving my free hand as I reach the counter.
"I should let you go," Mom says.
"Sorry, I'm just grabbing coffee for the nurses." My phone
continues vibrating as I shove cups into a cardboard tray. "Can
I call you back in sixty seconds?"
"Tonight is fine, hon."
"Really, I can—"
"Tonight, Mal. I need to get back in court anyway."
She signs off. I hit the Answer button to connect my informant as I slam the last cup in the tray. I'm opening my mouth
as I turn to go . . . and I crash into a man standing right
behind me.
The coffee tray hits his chest. I stagger backward just in
time to avoid dumping four cups of hot liquid on him.
Droplets still splatter his white shirt.
"Oh my God," I say, twisting to set the tray down. "I am so
sorry."
"It's quite all right," he says.
In Canada, there is a warmth to such reassurances. Here, it seems as if they're mandatory, spoken with a cool efficiency that always throws me off balance.
"No, it's not okay," I say, handing him a wad of napkins. "Let me—"He jerks back, as if I were about to touch him. "I'm fine," he says, and again, the words are cool. No annoyance. No anger. Just the sense that he is terribly busy
and wishes I would stop talking. Please.
He moves up to the counter, placing his order as he plucks napkins and dabs his shirt. I hesitate, but an older woman beside me whispers, "He's all right, dear. You go on now.
Enjoy your drink before it gets cold." I nod and murmur my thanks. That's when I realize I'm
still holding my cell phone. I glance down to see my informant has hung up.
***
It's night now. My grandmother is asleep. The nurse warned she might never wake up, and I am not certain that is a bad thing. I want more time, so much more time, but she's so
confused and in so much pain that a tiny part of me hopes she will not wake, and a tinier part wonders whether that is for her
sake or mine. I told the hospice nurse I was going for a jog, but really, I'm running away as fast I can, and every footfall on the pavement
drives a dagger of guilt through my heart. I should be at Nan's side, and instead, I'm fleeing her death as if the Reaper dogged my own heels. I'm in the Grassmarket. I remember Mom telling me how she volunteered at a homeless shelter here during uni. It's long gone, and pubs line the street now. After fielding catcalls from
a drunken quartet, I veer onto a quieter street lined with funky little shops, all long closed for the night. I pass a tourist trap with a hangman's noose painted on the window, which reminds me that the Grassmarket had been the site of executions. Nan took me to the "shadow of the gibbet" when it was first unveiled, maybe ten years ago. There's an old memorial plaque to commemorate some of the executed and,
during a renovation, the city had installed dark cobblestones nearby in the shape of a gibbet. Neither Nan nor I has ever been a keen student of history, but when it comes to the
macabre, we're there.
As I wonder where exactly that spot is, I catch a flicker of
movement. I spin so sharply that my sneaker squeaks. An
empty street stretches before me.
At another flicker, I lift my gaze to a cigar-shop flag fluttering half-heartedly in the night breeze.
I roll my shoulders and stretch in place with one foot
braced against the storefront. I drink in the smell of a recent
rain and the faint odor of cigars. When I listen, there is only
the wind, tripping along the narrow street.
I am alone with my grief and my regret and my rage and
my guilt, the last one slipping away as I acknowledge how
much I needed this break. A chance to run myself to exhaustion, letting tears dry on my face. A chance to lower my guard
and gather my thoughts, and then return to face the horror of
my grandmother's death.
I finish my stretches and gaze out on the street as a long
exhale hisses between my teeth. It is lovely here. Peaceful and
quiet and beautiful in a haunting way. I want to linger, but I have
what I came for—a sliver of solitude—and it's time to head back.
I'm lunging into a run when a woman yelps. My first reaction is no reaction at all. It may be quiet, but there are people around. That playful yelp only makes me long for a moment that is, for now, beyond my grasp. I can't even recall the last time I went to a bar with friends. No one on their deathbed ever wished they spent more time in the office.
Nan's admonition from last Christmas creeps up my spine. She was right, of course. If something happened to me tonight—a slip-and-fall or drunk driver—would I regret not making the major-crimes section? Or regret the fact it's been six damn months since I had dinner with friends? A year since I went on a date, and even that was more hookup than romantic evening.
I could swear that first cry sounded playful, like a woman being surprised by a friend, but when it comes again, it's a stifled shriek. A shriek of delight? A woman out for the evening, a little tipsy, goofing around with friends. Maybe, but I still strain to hear more, just in case.
Muffled whispers. The scuff of shoes on cobblestones. Then silence. I pivot toward the sounds as my hand drops toward the holster I am obviously not wearing. Blame five years of patrol duty, with a preference for long nights and rough neighborhoods.
The sounds came from down a narrow lane ahead. I roll my steps as I ease that way, and my fingers itch for the knife I carry when I jog at home. My fingers close around my phone instead. I pull it out, ready to call 911.
911? Wrong country. What is the emergency number here? Damn it, I should know that. I'm sure Mom and Nan and even Dad all hammered it into my head when I was young. 511?
No, that's traffic information at home. 411? Directory assistance.
My thumb grazes the screen, but my eyes stay fixed ahead. Get a better idea of what I'm facing, and then I'll pause to search for the local number. As I approach the end of the lane, I clutch my phone in one hand. In the event of urgent trouble, I'll dial 911 and pray it forwards to an emergency service. I don't expect to need that, though. The closer I draw to the lane, the more I'm convinced that I'm about to interrupt an intimate moment. The woman's date had surprised her and made her shriek. They'd goofed around and then whispered together and then it fell to silence as they settled into a private spot.
That doesn't mean I turn around. I've rousted couples in dark alleys because what I heard didn't quite sound consensual. Half the time, I've been right.
I ease into a shop alcove. At the first indication of shared passion, I'll scoot. I hear nothing, though. Maybe they've moved on, seeking true privacy— A whimper. I press my hand to the wall and lean as far as I dare, my eyes half shut as I strain to listen.
A muffled sound, one I can't make out.
Damn it, give me a little more.
I lift my phone and open the browser. I'm halfway through typing "Scotland emergency phone number" when a cry comes, a stifled word that is unmistakable.
Help. Then another cry, this one of pain and surprise, and I bolt from my spot before I realize what I'm doing. I swing into the lane to see . . .
Nothing. It's more alley than lane, stacked with boxes and bins for trash pickup. The cobblestones stretch into darkness, and I race along them, following the whimpers and muffled cries of a woman, until I reach the back corner and look around it to see . . .
An empty lane. It's a narrow alleyway between the rows of shops, and there is nothing in sight. I squint into darkness lit only by a single flickering lamp over a door. Even without better lighting, I am absolutely certain there's no one here. They must have moved on. I misunderstood, and the
couple moved on.
I'm turning away when a gasp sounds behind me. I spin,
fists rising, to see that empty expanse of alley again.
Then there's a flicker. The shifting of light. A flash of cornflower blue, hovering like a haze. The haze becomes a dress. A
long dress, half-translucent. A glimpse of light hair. Then
another gasp, as the wisp of a figure falls back against the wall,
only to disappear as she strikes it.
What the hell?
I blink hard. A projection? It must be. Some kind of video projection from a tour, a young woman in an old-fashioned dress struck down by an unseen assailant. I peer up at the opposite wall, looking for the malfunctioning projector. Something moves behind me. Do I catch the whisper of a foot on stone? The smell of another body? Or just a shift in air pressure. Nan would call it a sixth sense, but all I know is that my gut says "Turn around now!" and I obey.
I wheel just as something swings toward my head. I spin out of the way and catch a glimpse of rough rope gripped in a man's hand. Synapses fire, a connection made. An article glimpsed in passing. Edinburgh. Two bodies found in the past month.
Strangled. Old rope around their necks.
A spark of realization, smothered by the far more important fact that I am being attacked. This is not a malfunctioning ghost-tour video.
My arm smacks up into his, and he staggers back grunting in shock. His face rises, hidden in the shadow of a dark hoodie.
Then the hood falls half back and—
It's the man from the coffee shop. The man I spilled coffee on.
If asked what he looked like, I'd have said I had no idea. I only saw his shirtfront, dappled with coffee droplets. But I never ask witnesses whether they would recognize someone if
they saw them again, because half the time they'll say no, but if I put a lineup before them, the memory will slam back. That's what happens now. I thought I didn't see his face earlier, but then this man looks at me—white guy, midthirties, average face, light hair, dark eyes—and I know him. I know him beyond any doubt.
I spilled a few drops of coffee on some suit in a crowded shop, and now he's in this alley, dressed in a black hoodie, with a length of fraying rope in his hand.
It makes no sense, and that is where I fail. My foot was flying up to kick him, and then I recognized him and I falter. He feints out of my way. I stumble and twist to right myself and in a blink, the rope is around my neck.
I claw to get my fingers under it as twenty thoughts explode at once. Twenty instructions, and above all of them, the scream that I should do better. I've taught women how to fight off an attacker in every situation, and here I am, uselessly clawing at a rope already around my neck.
It happened so fast. It happened so goddamn fast, and part of me screams a curse for every time I calmly told some woman how to fight this. Get your fingers under whatever is choking you. Free some air. Claw. Kick. Punch. Scream.
Scream? I can't breathe. How the hell can I scream?
I do claw, but the rope is already digging in, my nails shredding against it. I kick backward. Rear kick. Side kick. Roundhouse kick. I know them all, but my foot never makes contact. Even when I manage to get my hand behind my neck, all I feel is that length of rope.
He hasn't said a word. Hasn't made a sound. My sneakers scuff against the stone, and I'm gasping, the world tinging red at the edges.
I am suffocating. I am going to die, and there isn't a goddamn thing I can do about it.
Fight. That's what I can do. Fight in any way possible. My kicking foot finally makes contact. Hard contact. The man grunts and staggers, and I get my balance again. I throw myself forward, but he's already recovered, wrenching me off balance.
The man yanks again, as if growing impatient. I am taking so long to die. I twist, and down the alley, two figures shimmer. A young woman with honey-blond hair, in a cornflower blue dress, as a shadowy figure has his hands wrapped around
her throat. The figures vanish, and I fight anew, but I'm off balance and can't do more than flail. I'm sorry, Nan. I'm sorry I won't be with you. I know I promised—The world goes dark
We hope you are enjoying the book so far. To continue reading...
A Rip Through Time
Kelley Armstrong
Copyright © 2022 All Rights Reserved