A Catered Book Club Murder
Book info
Sample
Audiobook
Media
Author updates
Lists
Synopsis
Sisters Bernie and Libby Simmons run a catering business in their upstate New York town, and they're delighted for the chance to provide tasty desserts for the local mystery lovers' book club. But when fiction spills into a reality and
the sisters find themselves investigating a suspicious death, it's up to them to figure out whodunit …
If anything can be said about the endearingly predictable Margo Hemsley, it's that she always serves elaborate desserts at her mystery book club meetings. That's why everyone fears the worst after she doesn't pick up her order from
Bernie and Libby and skips out on the monthly gathering. The Simmons sisters can't imagine their acquaintance vanishing like a character from one of her favorite novels, at least not willingly.
When the search ends with the discovery of a dead body, Bernie and Libby agree to help the nine remaining book club members prove their friend was murdered. But a speed read through Margo's background reveals there was more
to the victim than harmless hobbies and frumpy cardigans would suggest. As the sleuthing sisters unearth scandalous secrets about the book club members, they'll have to determine who was connected to Margo's shady dealings—and who sent
her to an early grave …
Release date: December 29, 2020
Publisher: Kensington Books
Print pages: 304
* BingeBooks earns revenue from qualifying purchases as an Amazon Associate as well as from other retail partners.
Listen to a sample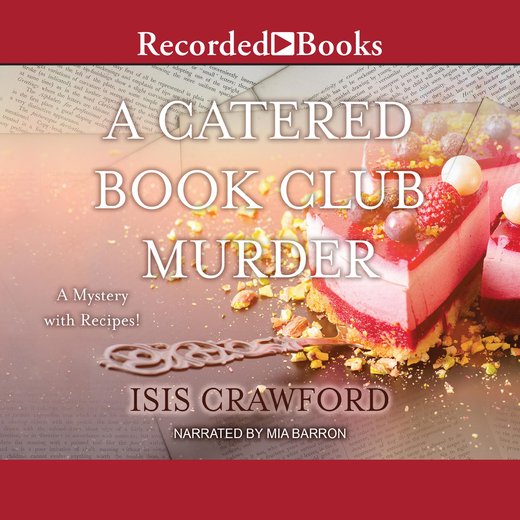 08:32:17
234.52 MB
December 29, 2020
Recorded Books
2021
A Catered Book Club Murder
Isis Crawford
Bernie checked the clock on the wall of A Little Taste of Heaven. It was almost seven p.m., and Margo Hemsley hadn't picked up her order yet. She turned to her older sister. "This is the second Tuesday of the month, right?"

Libby cracked a roll of quarters into the register with a practiced flick of her wrist before answering. "As far as I know it is. Why?"

"Because Margo isn't here."

For the past five years, Margo Hemsley had had a standing order consisting of one small chocolate cake with mocha buttercream frosting, one small raspberry pie with whipped cream on the side, and a dozen peanut-butter chocolate-chip cookies, an order she would pick up at the shop and transport to the home of whoever was hosting the monthly meeting of the Longely Mystery Book Club.

Libby looked at the clock. "She's five minutes late."

"Exactly. She's always ten minutes early."

"Maybe she had car trouble," Libby hypothesized as she began waiting on Mike Crenshaw.

"You know what I appreciate about this place," Mike said to Libby as she boxed up his to-go order of fried chicken, dirty rice, and watermelon and feta salad.

Libby looked up. "No. What?"

"No kale."

"That's not true. We have a kale salad," Libby protested.

"Which I will never eat. I hate kale. My soon-to-be ex knows that, but she puts it in everything anyway. Why would she do that? Never mind. Don't answer," Mike said before Libby could say anything. Then he pointed to the strawberry shortcake in the display case and patted his belly. "And throw in a piece of that. I mean, what the hell. You only live once, right?"

"Right," Libby agreed as she pulled another takeout container from underneath the counter and cut a generous slice for him. "You're off schedule," she noted as she carefully transferred the slice to the container.

"How do you mean, Libby?" Mike asked.

"Well, you're a seven-fifteen in the morning Metro North guy. You never come in for dinner."

Mike laughed. "Dentist appointment." He made a face. "I have to get a new crown, so I decided to treat myself."

Libby added another piece of cake to the container. "In sympathy," she explained.

Mike smiled and nodded his thanks. "By the way, Margo's car is fine," he said.

"How do you know?" Bernie asked.

"Because I was picking up my vehicle from Azrias's at the same time Margo was picking up her Camry. I heard Phil tell her it was good to go and would be for another thousand miles or so. Then she'd need to get a new vehicle."

"Car shopping. Not my favorite thing to do," Bernie noted. Then she went into the back to finish cleaning up, leaving her sister and their two employees, Amber and Googie, to wait on the remaining customers. She looked at the clock again after she'd finished with the dishes in the sink. Seven-thirty. Margo had never been late in the five years she'd been picking up the order. Bernie reached for her phone and called her. There was no answer, so Bernie left a voicemail message.

Maybe Margo had gotten into an accident, Bernie mused. Or maybe she was sick. Maybe she'd gotten that stomach thing that was going around and was in the bathroom puking her guts out. Bernie hoped not as she grabbed one of the dish towels hanging from the wall-oven handle and spread it out on the counter so she could put the knives on it. She was very particular about how she treated them.

For one thing, they'd been her mother's, so they had sentimental value. For another thing, they were the tools of her trade: she was accustomed to their heft and balance, the way they felt in her hand. And for a third thing, they would be extremely expensive to replace. After she washed the four knives, she thoroughly dried them—if she didn't, they would rust—and laid them on the kitchen towel. Then she tried Margo again. Still no answer.

Bernie tapped her phone against her chin while she thought. She was probably being overly concerned, but on the other hand . . . She was in the middle of looking up the number for another member of the Longely Mystery Book Club when her cell went off. Betsy Glassberg was on the line.

"Has Margo come by?" she asked.

Bernie told her she hadn't.

"I'm worried," Betsy said. "She's forty-five minutes late."

"It's unlike her," Bernie agreed.

"And she isn't answering her phone," Betsy added.

"I know. I just tried calling her, too. Has anyone checked her house?" Bernie asked as she put the knives back where they belonged.

"Tom is driving over there now." Tom was Betsy's husband. "I don't suppose . . ." Betsy started to say, but Bernie finished her sentence for her.

"I could run the stuff over?"

"Yes. If that wouldn't be too much trouble."

"No trouble at all," Bernie said. "The shop officially closes in fifteen minutes anyway."

"The meeting is at the Westovers'," Betsy informed her. Their house was a little over ten minutes away.

Bernie told her she or one of her staff would be over in a few and hung up. Then she went out front and filled in Libby on what was happening. "So who is doing the delivery?" Bernie asked her sister when she was done. "You or me?"

"I will," Libby volunteered. She'd been planning on going over to her boyfriend Marvin's flat, and the Westovers' place was close by. "I just need to change into a clean shirt."

"And do something about the pants you're wearing," Bernie suggested.

"They're comfortable," Libby protested.

"They're hideous."

Libby looked down at them. What was so bad about paisley harem pants? "I wouldn't go that far."

"I would," Bernie told her. "Some fashions don't deserve to come back."

"Marvin doesn't care."

"He does. He's just too polite to say so. And even if he doesn't, you should."

"So what would you suggest, oh great fashionista?"

Bernie grinned. "I'm glad you asked. Wear the light pink sundress I gave you. Besides, it's too hot out for pants. You'll be more comfortable in a dress." She reached up, took off the thin gold chain she was wearing around her neck, and handed it to Libby. "Here. It goes with the dress."

Libby wanted to argue, but she couldn't. In her heart, she knew her sister was right. Twenty minutes later, she was on her way. The Westovers' house was in a development called Bubbling Brook, even though there never had been a brook, much less one that bubbled, on the property. A classic, three-bedroom, pale blue colonial with white shutters, there was nothing about it that called attention to itself. It looked like all the other houses on the block. Comfortable. A tad dowdy.

As Libby approached the Westovers' house, she noted that the driveway leading up to it was full. The gang's all here; well, almost all the gang, she thought as she parked Mathilda, the sisters' van, across the road. Then she grabbed the delivery and headed toward the Westovers' residence. The smell of honeysuckle enveloped her as she crossed the street. She was halfway up the porch stairs when Gilda Westover opened the door and stepped outside.

She had a cap of jet-black hair, wore aggressively large tortoiseshell glasses, and bright pink lipstick. Black was her favorite color, and tonight was no exception. She was wearing cropped black linen trousers, a black tank top, and white slides.

"You're just in time," she told Libby as she took Libby's package from her. "We're about to head out."

"Head out?" Libby asked. "I don't understand."

"To see if we can find Margo, of course," Gilda explained.

Libby nodded. Of course. "So, I take it Margo wasn't home."

Gilda shook her head, her face creased with worry. "Not only wasn't she home, but her car wasn't in the driveway."

"Maybe she forgot," Libby suggested, feeling foolish as the words escaped her mouth.

Gilda peered over the edge of her glasses. "Seriously? We're talking about the person who never leaves home without her engagement calendar, the person who measures her life out in fifteen-minute increments."

Libby nodded. Gilda was correct. "Did Tom go inside Margo's house?"

"He couldn't. He doesn't have her key."

"Surely someone here does," Libby commented, gesturing toward the cars parked in the driveway.

"You'd think, but you would be wrong," Gilda replied. "Margo is a private person," she added by way of explanation, speaking louder so she could be heard over Lydia, whose voice was floating out of the open door.

"I warned her," Lydia was saying. "I told Margo. I went out of my way to tell her. Why didn't she listen to me? This is my fault. I should have tried harder."

Gilda rolled her eyes. "Lydia does tend to the dramatic," she observed.

Libby was about to say, yes, indeed she does, but she stopped herself in time. As her mother had warned and she had learned from painful experience, when you own a shop in a small town, it's a bad idea to say anything about someone else in public—even if it's positive—because it could come back and bite you in the behind.

"Do you need some help locating Margo?" Libby asked instead. After all, she and her sister had a pretty good solve rate when it came to this sort of thing.

Gilda shook her head and pulled up her pants. She'd had her stomach stapled six months ago and was still losing weight. "Thanks, but I think we've got this. We've read enough mysteries. I mean, how hard can finding her be? It's not like she's a secret agent or anything like that. We'll be fine."

Libby nodded, relieved. The moment she'd made the comment about helping, she'd regretted the impulse. After all, she hadn't changed her clothes to hang out with Marvin for nothing. "Well, keep me in the loop."

"I will," Gilda promised as the members of the LMBC streamed out of her house.

They're excited, not concerned, Libby thought as she watched Toni and Brad Musclow and Irene and Steven Offenbach head for their vehicles. It's like they're going on a scavenger hunt or playing hide-and-seek.

A voice behind her said, "I do hope she's okay."

Libby spun around. Lydia was standing in back of her. She'd put her salt-and-pepper hair up in a topknot and decorated it with a yellow rose from her garden. She took a step forward. Now she was close enough that Libby could smell the alcohol on her breath. "Why couldn't Margo have listened to me?" Lydia demanded. She blinked tears away. "Why doesn't anyone listen to me?" She raised her hands, then let them fall to her side. "All I want to do is help."

"I'm sure Margo is fine," Libby soothed.

"I wish I were sure," Lydia said. Then she turned and stumbled to her car.

Libby pivoted to Gilda. "I hope you're not going to let Lydia drive," she said.

"Absolutely not," Gilda answered. "The last thing we need at a time like this is an accident." And, with that, she ran off to intercept Lydia.

Five minutes later, the Westovers' driveway was empty. Libby was about to get into Mathilda when she spied the package she'd brought lying on the top step. Evidently, in the confusion, Gilda had forgotten to take it into the house.

So much for good deeds, Libby thought as she went to retrieve it. But on the bright side, Marvin and his crew would be happy.

The Next Day

It was ten a.m., and the morning scrum of customers at A Little Taste of Heaven had dissipated. Libby was leaning against the counter, sipping a cup of coffee and planning tomorrow's specials. She was wondering if she could get enough tasty local tomatoes to make gazpacho—recently they'd been flavorless, though, of course, it was still early in the season—or if she should make a cucumber and cantaloupe soup instead, when Betsy and Tom Glassberg walked into the shop.

"We need to speak to you," Tom said to Libby. "You and your sister," he amended. He was a short, chubby man with a deep voice. His wife, on the other hand, was as thin as a stick and six inches taller. The pair always reminded Libby of Jack Sprat and his wife, in reverse.

"Both of you," Betsy repeated for emphasis.

"It's important," Tom said.

Libby put down her coffee. "I assume this is about Margo," she said.

The Glassbergs exchanged glances. "Among other things," Betsy said.

Libby nodded, wondering what the other things were. "Can I get you coffee or something to eat first?" she asked, being polite.

"No, thanks," Betsy said, at the same time her husband said, "Don't mind if I do."

"I'll take a muffin," Tom said, ignoring his wife's evil eye. "Blueberry, if you please. No, make that a cinnamon bun. What?" he said to his wife. "I'm entitled once in a while."

"You had a pint of ice cream last night," Betsy reminded him.

"It was gelato."

"Even worse," Betsy said. She threw her hands in the air. "I give up. Have whatever you want."

Tim grinned. "Thanks. I think I will."

"Just don't expect me to take care of you when you have a heart attack."

"Go ahead," Tom said to Libby, who was hesitating.

Libby looked at Betsy.

"Give it to him," she said. "It's his body."

Tom patted his belly. "I'll start my diet after this."

Betsy snorted while Libby got the cinnamon bun out of the display case, put it on a paper plate, and handed it to Tom, along with a couple of napkins because the bun was sticky. Then she told Amber and Googie to call her if they needed her and motioned for the Glassbergs to follow her into the back room.

Bernie looked up from the mixer as everyone trooped through the prep-room door.

"They're here about Margo," Libby informed her.

"So, you still haven't heard from her," Bernie surmised after she'd shut off the mixer. There were two in the prep room: a commercial one that had a forty-pound capacity and the one Bernie was using now, which was considerably smaller, but much noisier.

"No, we haven't," Betsy told her. "We went out looking last night."

"That's what my sister said."

"But we didn't have any luck," Tom told Bernie.

"It's like she's disappeared off the face of the earth," Betsy observed.

"And gone into a black hole," Tom said.

"Hardly," Betsy replied.

"It's possible, Bets."

Betsy sniffed. "Anything is possible, but we're not in a science-fiction novel."

"She's just annoyed with me because I didn't leave any ice cream for her last night," Tom confided to Libby and Bernie. Then he took a bite of the cinnamon bun he was holding and smiled. "This is excellent. Absolutely delicious. Worth every single calorie."

"I'm glad you think so," Libby said, acknowledging Tom's compliment with a smile.

"We need your help," Betsy said, returning to the reason they'd originally come. "We want to hire you to find Margo. All of us do."

Bernie raised an eyebrow. "All?"

"The LMBC, the Longely Mystery Book Club," Betsy explained. "We're representing them. Plus, we're hoping there's something else you can take care of as well. For us."

"Let me finish what I'm doing, and I'll be right with you," Bernie promised them, turning the mixer back on with a flick of her thumb. Five minutes later, she'd finished making the dough for the chocolate croissants, covered the bowl with a cloth, and put the bowl in the cooler to allow the dough to rest. Then she brushed a few specks of flour off the top of her pink-and-white-checked gingham shirtdress, washed her hands, poured herself a cup of coffee from the carafe sitting on the corner of the prep table, and joined her sister and the Glassbergs in the office.

The office, which was small to begin with—or cozy, as Bernie and Libby's mother, Rose, liked to say—was made even smaller by the amount of clutter in it. Stacks of cookbooks and miscellaneous files were piled up along the bottom half of three walls, while the top halves were covered with cork bulletin boards full of reminders, schedules, to-do lists, and legal notices. There was just enough room for a desk, a file cabinet, and three chairs. Since the chairs were all occupied when Bernie came in, she perched on the corner of the desk. Everyone stopped talking.

"Have you asked the police to perform a wellness check?" Bernie inquired in the ensuing silence.

Betsy answered. "Yeah. I called when we got back the other night. An officer walked around Margo's house, but that was it. He said he couldn't go inside without a compelling reason—say, she had a heart condition or something. Which she doesn't. He said that maybe she'd just gone off for some reason and forgot to tell someone."

"Which I told him was totally unlike Margo," Tom interjected. "At which point, he said we should file a missing person's report if Margo wasn't back in twenty-four hours."

"Which is what Tom and I just finished doing," Betsy explained. "We were a little early, but they took it anyway. I guess this is what we pay our taxes for."

"I have to say Bets and I were shocked. The detective we spoke to said there really isn't a lot they can do," Tom replied after he'd taken another bite of his cinnamon roll. "He said he'd keep an eye out for Margo, but that was it."

Betsy leaned forward. "We wanted them to launch a full-scale search, but the detective said they couldn't do that unless we thought that Margo was either a danger to others or a danger to herself."

"Which she obviously is," Tom said. "Otherwise, she wouldn't be missing. We keep calling, but the message goes straight to voicemail. I texted. No response. Obviously, something's really wrong. What the detective said makes no sense. No sense whatsoever. In fact, he was the one who suggested we come to see you. He said that you might be able to help us. I don't know why I forgot that you do this kind of thing."

"Did you speak to a guy called Clyde?" Bernie asked.

Betsy nodded.

"Just so you know, he's a lieutenant, not a detective. He's also my dad's friend," Bernie informed the Glassbergs. "And I think what Clyde was saying was that the LPD would launch an immediate search for Margo if she was suicidal or had dementia, or if she had a life-threatening disease of some kind and needed treatment."

"Or she was a minor," Libby added.

"That's ridiculous," Tom scoffed.

"Not really," Libby interjected. "Statistically speaking, most people who go missing show up again after a couple of days, usually a little worse for the wear."

"Not Margo," Betsy declared. She leaned forward. "What if Margo doesn't show up? What if Margo's in danger?" Betsy asked. "She could be." Betsy raised her hands, then let them fall back into her lap. "I mean, for all we know, she could be lying in a ditch somewhere, a victim of a carjacking. Or maybe she was kidnapped."

"It's more likely that she got into some sort of accident," Bernie gently suggested.

"I called the hospitals in the area last night," Betsy replied. "They don't have anyone there by that name."

"Or matching her description," Tom added.

"The accident, if there was one, could have happened someplace else," Bernie said.

"I'm surprised they talked to you at all, what with the HIPAA law and everything," Libby commented.

Tom patted Betsy on the shoulder. "My wife can be very convincing."

Betsy beamed. "I really can be. Actually, I lied and told them Margo was my sister." Then she frowned as she thought of the other possibilities she'd been contemplating. "Margo could be unconscious," Betsy said. "Or, worse, she could have amnesia and not know who she is. Imagine how scary that would be. Or she could be in a fugue state and have taken a plane somewhere and then seven years later"—Betsy snapped her fingers—"bang! She comes out of it with no idea where she is or how she got there or what she's done." Betsy shivered. "I can't imagine how awful that would be. All those years of your life gone. Just like that. We have to find Margo before it's too late."

"I don't think that kind of thing happens very often," Libby felt constrained to point out. "It may happen in mystery novels, but it's pretty rare in real life."

"But it does happen," Betsy insisted.

"Yes, it does," Bernie agreed. "But a more likely scenario is that Margo might have had an unexpected emergency and her cell phone isn't working, so she can't call you."

"But surely someone around her would have a phone she could use," Tom objected.

"Maybe she doesn't remember your numbers," Libby said. "I'm embarrassed to admit I don't remember anyone's anymore."

"That's true," Betsy conceded. "I don't either."

"Me either," Tom admitted. "I used to know everyone's, and now"—he patted his wife's shoulder again—"I just know Betsy's."

"That's so sweet," Betsy said, and she leaned over and gave Tom a peck on the cheek. He blushed.

"There's another possibility as well," Bernie said, coming up with yet another scenario. "Margo could have met some guy and be hanging out with him. You know, having a lost weekend."

Tom snorted. "You wouldn't say that if you knew her."

Betsy laughed and shook her head. "No way," she agreed. "Tom's right. That would never happen."

Bernie raised an eyebrow. "Never?"

"Never," Betsy repeated firmly.

"Never is a strong word," Bernie observed.

"Okay. Then let's say it's highly unlikely," Betsy conceded.

Bernie got up, leaned against the door frame, and took a sip of her coffee. Sitting on the edge of the desk was just too uncomfortable. "Tell me what you did when you went over to her house and checked on her," she said to Tom.

"Sure," Tom replied. "No problem. I rang the bell several times. No one answered. Then I walked to the back to see if her car was there, which it wasn't. I tried the doors, but they were all locked, and lastly I walked around her house and looked in the windows where the shades weren't pulled down, but there was nothing to see. She wasn't there. Of course, she could have been in another room."

"Did you talk to her neighbors?" Bernie inquired.

Tom shook his head. "I couldn't. The houses on either side of her were dark. No one was home."

"Did you knock on their doors to check?" Bernie asked.

Tom shook his head again.

"Leave them a note?" Libby asked.

Tom looked chagrined. He scratched his cheek. "I probably should have. I'm sorry, but it just didn't occur to me."

"How about Margo's family?" Libby asked. "Did you speak to them?"

Tom turned to his wife. "I don't think she has any. Do you, Bets?"

Betsy shook her head. "Not living. She's an only child, and both her parents are dead. Maybe she has some cousins or aunts and uncles around someplace, but if she does, I don't know who they are. She certainly never talks about them."

"How abo. . .
We hope you are enjoying the book so far. To continue reading...
A Catered Book Club Murder
Isis Crawford
Copyright © 2023 All Rights Reserved
Also in this series
Also by this author