Book info
Sample
Audiobook
Media
Author updates
Lists
Synopsis
Someone knows your secret. And they're coming to find you…

Stephanie Miller is an average working mom. She isn't perfect, but when her war hero husband dies and her work as a scientist puts her in news headlines, her past laid bare for all to see, she's determined to make a new life for herself and teenage daughter, Amy. But she fears it's only a matter of time before the biggest mistake of her life is revealed.

As Stephanie and Amy take refuge on a remote island in Washington, it feels like they're learning how to live again. But then they come home to graffiti on their garage door, there's no escaping the hate online, and Stephanie is sure someone is watching from the shadows outside their house.

When someone close to Stephanie is murdered in cold blood, she knows her worst fears have come true. Someone knows the truth. And she must become the fighter her husband always knew her to be if she is to protect her daughter, and everything left in the world that she loves.
Release date: June 3, 2021
Publisher: Bookouture
Print pages: 350
* BingeBooks earns revenue from qualifying purchases as an Amazon Associate as well as from other retail partners.
Listen to a sample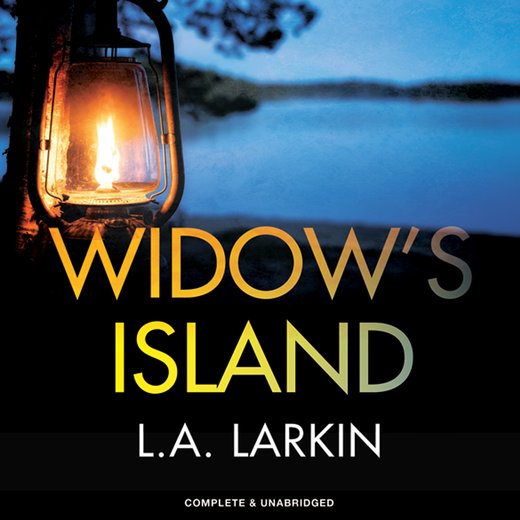 09:16:02
254.56 MB
9781787825819
June 1, 2021
Aurora Audio Books
Widow's Island
L.A. Larkin
Leaving Whisper Island, Washington

Emma asks me how I'm doing.

I shrug. Gaze into the distance with weary eyes. Give her the lie that slips off my tongue like ice cream on a hot day.

"Good. I got a new job. Big money."

"Congratulations!"

Emma blinks one-two-three, more like a flutter, her freckled face creased, squinting into the sunshine. She's waited until this moment to ask, three weeks after her wedding, as we stand on the ferry's upper deck, watching Seattle lurch closer. The wind slaps her wavy hair across one eye and she claws at the billowing strands, then tugs them behind a perfect ear.

I hang my head, feel my shirt collar vibrate against my cheek. Mouth droops. My hurt look, one from my repertoire of imitations. "You should have waited."

Beneath our viewing platform, parked vehicles squat, penned-in like cattle corralled for slaughter. Beyond the bottle-green bow, white water churns, angry and loud, like the voice in my head. I'm not getting what I want. Both Emma's hands grip the railing. They don't grip me.

"Why do you do this?" A note of sharpness in her voice. "There never was anyone but Dustin." She squeezes her lips together, stopping anything else she might have said. "We're still friends. Just because I'm married, doesn't mean—"

"It doesn't matter. I don't care anymore."

Emma turns, so her back rests against the rail. Hair crowds her face. All I see is the tip of her nose.

"Don't spoil a great morning," she says. "You haven't seen our new condo. Come take a look. We'll drink coffee and talk. It'll be like old times."

It's as if her voice comes from the bottom of the sea. I don't see her. I don't see anything. Blindly, I raise a balled fist and slam it down. It hits the rail. She flinches.

"No, it won't!" I yell. "It will never be the same."

Until then, I'd been in control.

Heads turn. People stare.

"What are you looking at?" I sneer at a middle-aged woman in Jesus sandals, a metal water bottle dangling from her daypack. She looks away, then heads inside, creating what she must view as a safe distance between us.

There is no safe distance.

Emma's lips are parted, her pale brows raised. She takes a subtle step away from me. Gone is the camaraderie. Instead, there's fear in the black holes of her eyes.

"Em, I'm sorry. It sounds like a great idea." But she's raised a wall between us. Oh no you don't. I create puppy-dog eyes. "Please?"

Emma relents. She always relents. Except over Dustin.

"I need the bathroom," I say. "Won't be long."

I duck inside so she can't see my unguarded euphoria, like I've smoked strong weed and my cheek muscles ache to laugh. Past the cafeteria and down internal stairs to the near-deserted car deck where I won't be seen. Behind an empty bus, I stop, lean my elbows on the ferry's rail, allow the sea spray to cool my skin. Only now do I acknowledge the pain in my hand.

For a while, when we were teenagers, Emma was the closest I had to a friend. Then one day she stepped out of our relationship, as if fleeing my leaky inflatable boat and jumping onto a sleek yacht, and set sail for calmer waters. That sleek yacht is Dustin. He isn't a freak. He remembers to gel his hair and brush his teeth and to ask her how she feels.

From my pocket I pull out my scuffed leather wallet with an unsightly bulge like a giant wart. I check that nobody can see, then slide my finger inside, remove the bulge. In my palm is a yellowed tooth. A premolar to be exact. Root and all. Straggly threads of dried gum, like prosciutto that's way past its expiry date.

It had been an afterthought. A memento. I'm glad I kept it. I run the tip of my tongue over its ridges and dents, then trace the V-shaped root. Licking the taste of her.

She's mine now. And so will Emma be.

Spring Lake, North Carolina

The ground around the memorial stone for Sergeant Major Patrick Miller was parched and cracked. Tufts of grass, so lush and green in the spring, had become patchy in the hot and unusually dry summer. Thirty-nine-year-old Stephanie Miller had come to say goodbye. She knelt before her husband's memorial and tried to focus on the arrangement of blue hydrangeas and sea lavender, white roses, and lilies in the cobalt-blue vase. Perhaps then she could hold back her tears. She pulled out a lily stalk for no reason other than it gave her something to do. She put it back in the vase in a different position.

"Enough already," said Amy, her fourteen-year-old daughter, who sat cross-legged, clutching a water bottle.

"Maybe a touch more," Stephanie said.

Amy sighed loudly. Her nostrils flared. She topped up the vase until it overflowed, the water pooling on the baked ground.

"Who's going to do this when we're gone?" Amy asked, screwing the cap on the near-empty bottle, then giving her mother a hard stare.

It had been nine months and eleven days since Stephanie had returned home from dropping Amy at a friend's house to find the men waiting for her on the porch. The low sun was in her eyes. When they stepped out of the shadows, she saw the formal uniforms, and recognized Patrick's commanding officer and the chaplain.

"Professor Miller," the colonel had said, "may we come in?"

Stephanie groaned at the memory as if she were in physical pain. She bent forward, clutching her stomach. Her grief hadn't diminished with time passing, as people said it would. It was a wound that never healed. It bled day and night, draining Stephanie of her strength, until she was a shadow of her former self. Beneath her wide-brimmed hat, a warm tear followed the bridge of her nose and dangled at its tip. She wiped the tear away with the back of her hand and sat up. She had to try to be strong for Amy's sake.

"Nancy," Stephanie said, finally answering her daughter's question. "I've asked her to come by with fresh flowers each week."

Perhaps Stephanie was biased. She guessed every mom was. Or maybe it was because Amy was so like her father. Beneath the purple hair dye and the harsh black eyeliner, Amy was beautiful. She had her father's cornflower-blue eyes, his thick dark hair, and his height, all five feet, eleven inches of it. Stephanie, on the other hand, was a nudge over five-feet tall and the epitome of pale, with blond hair that in direct sunlight could be mistaken for white. Patrick used to describe Stephanie as "ethereal," but these days, given how often Amy ignored her, there were times when she wondered if she might be transparent.

"I'm not leaving," Amy said, her eyes narrowed.

Could Stephanie do it? Could she actually board that flight and leave the house, the town, the life she'd shared with Patrick for sixteen years? Just the thought of walking away from the cemetery caused bile to rise up her throat. But she had to do it. Amy was on self-destruct. Before Patrick's passing, she had been a popular, straight-A student. Since his passing, Amy had played truant from school, picked fights, broken a teenage boy's jaw, verbally abused a teacher, graffitied the school walls with obscenities, and been expelled. Seeing a shrink hadn't helped either of them. Stephanie was at her wit's end.

"We can come back and visit. It's for the best." Stephanie tried to sound positive.

Amy stood suddenly. Dirt clung to her distressed black jeans. "No, it's not," she said, her voice raised. "We'll be thousands of miles away on some stupid island. I don't want to go."

Her words carried across the quiet of Sandhills State Veterans Cemetery and the neat rows of memorial stones lying flat on the earth. Not far away, an elderly couple stared at Amy with disapproving frowns.

Stephanie swayed, doubt swirling around her, sucking the oxygen from her lungs. She put a palm on the ground to steady herself. What if she was making a terrible mistake, uprooting their lives like this?

"I can't keep doing this. This arguing. Please, Amy. Please understand. I love your father with every ounce of my being. But—"

"But what?" Amy spat out.

"We need a new start. Somewhere we can heal."

Amy's lip curled into a sneer. "You're pathetic! Dad would be ashamed of you."

She turned her back on her mother, then stomped across the patchy grass, heading for the parking lot. Stephanie watched her go. She'd grown used to such outbursts, but this one really stung. She took a few slow breaths in and out, trying to clear her head, then ran a finger across the warm stone and the words loving husband and father.

"I love you, Patrick. You are always in our thoughts. Always. I know you'll be with us wherever we go." Stephanie pulled out a tissue and blew her nose, then glanced in the direction Amy had taken. She should go check on her. She tried moving her stiff legs. Pins and needles caused her to wince. She stood unsteadily, like a woman twice her age. Then she paused. "I'm so sorry."

Whisper Island

Stephanie Miller had exactly three minutes before the car ferry left Whisper Island. If she missed the 3:20 p.m. departure, she would have to wait one hour, twenty minutes for the next ferry and she'd probably miss her flight to DC. Life on a remote island took some getting used to. The stunning beaches and forest, the slower lifestyle, the beauty and tranquility came at a price. The only way on and off the island was the ferry, and in the fall the service was limited. So Stephanie barely braked as she drove down the hill to the north-end terminal, despite the pelting rain and the glistening sheen of water on the road. She careened past the park-and-ride and the dense fir trees that lined the road, her sights set on the diminishing line of vehicles already boarding the car ferry. The windshield wipers were on the fastest setting, but the downpour was so heavy it blurred the view.

Her armpits were tingling with perspiration, her palms sticky on the steering wheel. Despite the thumping of rain on the car roof, she heard the ferry's powerful diesel engines rev as water churned around the hull, a sign the ferry was about to depart.

"Why didn't I leave earlier?" she mumbled.

But she knew why.

These days she found her voice diminished; her self-belief as wobbly as a baby's first steps. It was easier to give in to people's demands and deal with the consequences later. She had worked from home today so she could collect Amy, who had recently turned fifteen, from school and drive her to Jen Wrobel's place. Amy would stay the night there while Stephanie was away. Jen was the reason that Stephanie had picked Whisper Island as their new home. They had been best friends since college. Stephanie's well-laid plans for the day had begun to unravel when her new department head, Dr. Florian Carr, called her into a Zoom meeting at the last minute. Then Amy threw a curveball—she didn't want to stay with Jen after all. She couldn't cope with the baby crying. She wanted to go stay at Clara Snyder's place. Clara's daughter, Jess, was the only kid at Whisper Island High that Amy appeared to like. After several phone calls and profuse apologies, Stephanie had dropped her daughter off, then raced to the ferry terminal.

Two minutes to departure.

A maroon pickup was the last vehicle to board. The red-and-white boom gate closed just as Stephanie pulled up at the electronic tollbooth. She rolled down the window and tried scanning her commuter pass. Her sleeve was rain-soaked in seconds. A man in a yellow reflector jacket and a black beanie came up to her window.

"Boarding's closed, ma'am."

"Please, I have to catch a flight. Let me on."

"No can do." His face dripped with rain. Stephanie peered helplessly through the windshield as the massive platform that allowed entry to the car deck rose up. "What do I do now?"

"Wait in your car." He tucked in his chin and headed for the walk-in ticketing kiosk, no doubt seeking shelter.

Stephanie leaned back into the headrest and closed her eyes. Wouldn't it be great if, for once, life was easy? The ferry horn sounded and white water churned. Smoke billowed from the funnel as she watched the ferry cut a swathe through the deep gray water of Puget Sound. In the far distance, Seattle was a dark blur. She toyed with the idea of turning around and going home, but the 4:40 p.m. ferry was a popular one and she couldn't risk the vehicular deck filling up before she boarded. She would have to wait. She had her laptop. She could catch up on some work.

Stephanie's cell phone beeped. It sounded like the specific tone she'd set up for Facebook notifications. It could be from Amy. Her phone was wedged between a notebook and her wallet in her leather satchel. She pulled it out, tapped the Facebook icon, and peered at her profile.

The most recent post automatically appeared first.

You're not what you seem, are you, Stephanie?

I know your dirty little secret.

Tick-tock. Tick-tock.

Washington, DC

Stephanie hadn't slept a wink on the red-eye to Washington, DC. Instead, her mind had gone over and over Christy Horton's cryptic Facebook post:

You're not what you seem, are you, Stephanie?

I know your dirty little secret.

Tick-tock. Tick-tock.

Stephanie was totally blindsided by it. Her stomach churned with worry, even though she had hastily deleted it from her Facebook profile and blocked the author. The problem was that the original post was on Christy's profile and she had tagged not just Stephanie but also several of Stephanie's friends. There wasn't a thing she could do to stop her.

Who was Christy Horton anyway? Stephanie vaguely remembered receiving a friend request a few days ago. She had taken a quick look at the woman's bio. Christy had seemed so nice. A mother of two girls, she lived in California and liked nature walks and baking. So did Stephanie. Not really thinking much beyond their common interests, Stephanie had accepted the request. Now she deeply regretted it.

As soon as the plane landed, she'd switched off flight mode and gone straight to Facebook. What she saw made her gasp. The man in the seat next to her gave her a concerned glance. Stephanie couldn't believe it. While she had been 35,000 feet up in the air, Christy's damaging post had gone viral. Like a bird freed from its cage, the lie was out there.

Other people piled in:

Professor Miller is phony. She's full of shit, wrote one person.

Little miss perfect isn't so perfect after all, wrote another. Can't wait to see Miller crash and burn.

As soon as Stephanie was in the back of a cab, she switched to her Twitter account. There again, Christy Horton accused her of having a "dirty little secret." It got worse.

I know your secret, you dirty little whore @ProfStephMiller, tweeted Daniel Connor.

The first step to recovery is to admit you're an alcoholic @ProfStephMiller, tweeted Denise Sinclair.

Stephanie must have turned even paler than normal because the driver, peering at her in the rear-view mirror, asked her if she was feeling okay.

"Just tired," she said, and opened the window to gulp in the crisp cold air.

In truth, she felt like she was going to throw up.

Whore? Alcoholic? This was madness. Stephanie was a high-profile scientist and had attracted her fair share of public criticism. It was par for the course these days. But nothing this personal.

She closed her eyes. It'll be okay, she told herself. Nobody will believe it.

Her phone made a pulsing sound, notifying her of a new tweet. She shouldn't look at it. But she couldn't resist. This time it was from a Sara Graham:

Shame on you @ProfStephMiller. Drunk and flirting with boys half your age #alcoholicStephanie

Flirting with boys? Where on earth was this coming from? If it wasn't so potentially damaging, it would be laughable. Except Stephanie wasn't laughing. Stephanie never flirted. She never had, even before she met Patrick. How could anyone accuse her of flirting when she was, and always would be, very much in love with Patrick?

The taxi's interior seemed to suddenly jerk closer. She felt trapped. Claustrophobic. Stephanie clutched the grab handle and tried to calm her quickening breath. Breathe in, breathe out. Nice and slow.

It wasn't working. Her panic was rising. She had to talk to someone. And there really was only one person she could be totally herself with—her best friend, Jen. Whisper Island was in a different time zone to Washington, DC. It would be early morning there, but baby Zach would probably have her up. Stephanie dialed.

"Hey, Steph," Jen answered, sounding cheery as always. "I'm feeding Zach. Just got to get comfortable. Ah, that's better. So, how's it going in DC?"

"Just arrived. Sorry to call you this early. Something weird is going on." Stephanie was talking too fast.

"Okay. What's up?"

"There are all these people on Facebook and Twitter making out that I'm a terrible person."

"Worse than the usual crazies?"

"Way worse. This is personal." Stephanie dropped her voice, hoping the cabbie wouldn't hear. "Like I'm a slut and an alcoholic."

"Seriously?"

"It's bad, Jen."

"Yeah, I get that, but it's ludicrous. You're the last person I'd ever say was a slut. Or an alcoholic. Jeez, what's wrong with these people!"

"The timing couldn't be worse," said Stephanie, peering out the window at the bare trees and the pale blue sky flecked with white contrails, like slashes on blue silk.

"Can you delete them?" Jen asked.

"I've deleted what I can, but I can't stop this woman from posting stuff on her own sites. Or other people sharing it."

"Do you know her?"

"No." Stephanie rubbed her forehead. "This is embarrassing, Jen. What am I going to do?"

"Okay, first of all, calm down. Focus on what you can control, not what you can't." Jen's voice was soothing. Stephanie inhaled. Exhaled. "You've got an important meeting. Look confident. Remember you're a world-renowned scientist, the best in your field. Forget the cyberbullies. Deal with them later."

"What if Young's seen it?"

"Is he the dude you're meeting?"

"Yes, Lieutenant General Young."

"If he's seen it, just tell him it's not true. Because it's not."

"You're right," Stephanie said, feeling some of the tension leave her body. "Of course, you're right."

"You bet I'm right. What you're doing there matters. To them. To me. To Amy. And you know how much it meant to Patrick."

Her heart missed a beat. Patrick. He had been so excited when the Pentagon picked her to lead the project. He had swept her up in his arms, "You'll do it, won't you?" he'd said.

Stephanie smiled at the memory and let go of the taxi's grab handle. "Thank you, Jen, I don't know what I'd do without you." It was the truth. Since Patrick's death, Stephanie had come to rely on Jen's friendship more and more.

"You'd do just fine. Now go wow them, my friend."

On autopilot, Stephanie paid the cabbie and went through the Pentagon's security procedures. Somehow, she was now seated in a waiting area where an executive assistant in a pristine white blouse sat stiffly behind a solid wooden desk. Stephanie fiddled nervously with her wedding ring, moving it around and around her finger.

"Professor?" said the woman. "Lieutenant General Young is ready for you now."

But Stephanie wasn't ready. Not ready at all. Her embarrassment at the lies being spun about her had turned her brain to mush.

"Professor?" urged the executive assistant.

"Ah, yes." Stephanie brushed the creases from her skirt, then followed the woman along an austere corridor lined with framed portraits of severe-looking generals and admirals. Her shoes, which were already making her heels sore, clacked on the shiny floor. She paid little attention to the people she passed.

I'm not a bad person, Stephanie told herself. I try to be a good mother. I do my best. And I was a good wife. Wasn't I?

A feeling like heartburn caused her step to falter. Nobody knew about the guilt that woke her in a sweat at night as she called Patrick's name. Amy, of course, heard her. Sometimes she would get into Stephanie's bed and they would hold each other until the tears had ceased. But the guilt never left her.

"Professor Miller."

Lieutenant General Arthur G. Young stood before her, his large hand extended. She shook it and sat at a polished boardroom table that seated twelve. But Stephanie's meeting was a one-on-one with Young, who was the senior adviser to the US Army's Joint Chiefs of Staff. For the next twenty-six minutes, Young grilled Stephanie on her report—a report the Joint Chiefs of Staff had commissioned and seventy base commanders had contributed to. Young was testing her. Seeing how she reacted under pressure. She tried to keep her voice level and strong, but occasionally it sounded flaky. Beneath the table, Stephanie's hands were clenched so tight her fingernails dug into her palms.

"You understand, Professor, the Senate Armed Services Committee hearing is just the start of a grueling process? We'll ask their approval for a new combatant command led by a four-star chief of staff. We've suggested it's called ClimateCom since we already have a CyberCom. If we fail to secure committee approval, the legislation will not advance to the Senate floor and ClimateCom is dead in the water."

Her stomach did a backflip. "I understand."

His fingers tapped the open pages of her report titled Protecting America: How Climate Threatens National Security. "Skeptics, and there are many on the SASC, will focus on undermining your climate models. They'll dissect and challenge. Claim you're exaggerating, even fabricating. It'll be a long and punishing ordeal. I want to help you prepare for it."

"Thank you." Her tongue was so dry the words came out as a lisp.

She dreaded the hearing. The anticipated hours of questioning was her idea of hell. She had watched some SASC hearings on YouTube, and they were brutal affairs. One mistake on her part could derail two years' work and dash the hopes of the Joint Chiefs. She couldn't let that happen. This was her chance to make something good happen. To protect the country she loved and fulfill her promise to Patrick.

"Professor, are you all right?"

Stephanie opened her eyes, unaware she had closed them. "Yes, I'm quite all right. I didn't get much sleep on the flight."

Young's blue eyes scrutinized her face.

"I believe you're acquainted with the chairman, Senator Campbell of Texas?"

Stephanie could feel her cheeks burn. "We, um… went to the same high school. We were good friends for a while." She gazed past the neat lines of the Lieutenant General's immaculate uniform to the wood paneling on the walls. Her gaze finally came to rest on a painting of the evacuation of Dunkirk during the Second World War. "We've lost touch over the years."

"How many years?"

"Must be… maybe eleven."

"Renew that contact. Have lunch with him. How long are you in DC?"

"Flying home later today."

"Pity."

"I wouldn't want… It would be awkward after all this time. Chuck would see right through it."

Young gave her an encouraging smile. "Be open about why you want to meet. Senators expect to be lobbied." He pulled together his documents into a neat pile. "I have one last question, and please forgive my directness. Do you have any skeletons in your closet?"

Stephanie took a sip of water he'd poured for her at the beginning of the meeting. Did he know? Or was this a routine question? Her hand shook as she held the glass to her lips. How could she tell this severe-looking man who she hardly knew that she'd been accused of being an alcoholic and a whore?

"Everybody has secrets," she began. There was a tremor in her voice. She heard it. Young heard it.

"I mean anything that could be used to discredit you at the hearing."

She cleared her throat. "Losing Patrick was devastating. I took antidepressants. I've stopped taking them now."

"I'm very sorry for your loss. Sergeant Major Miller was a fine soldier."

"Thank you." Stephanie looked down so that Young couldn't see her eyes grow watery.

"Could the antidepressants have affected the. . .
We hope you are enjoying the book so far. To continue reading...
Widow's Island
L.A. Larkin
Copyright © 2022 All Rights Reserved