Book info
Sample
Audiobook
Media
Author updates
Lists
Synopsis
"Vacker's overall performance, especially her solid pacing, will keep listeners guessing." - AudioFile Magazine

"Clever and deliciously dark." - Alice Feeney, bestselling author of Rock Paper Scissors

"Narrator Karissa Vacker, with scores of audiobooks under her belt, provides a pitch-perfect performance in what, for some, would be a tough ask. Vacker's voice is a solid touchstone guiding listeners through shocks and twists."- Booklist

They were eleven when they sent a killer to prison. They were heroes . . . but they were liars.

Kate Alice Marshall's What Lies in the Woods is a thrilling novel about friendship, secrets, betrayal, and lies - and having the courage to face the past.

Naomi Shaw used to believe in magic. Twenty-two years ago, she and her two best friends, Cassidy and Olivia, spent the summer roaming the woods, imagining a world of ceremony and wonder. They called it the Goddess Game. The summer ended suddenly when Naomi was attacked. Miraculously, she survived her seventeen stab wounds and lived to identify the man who had hurt her. The girls' testimony put away a serial killer, wanted for murdering six women. They were heroes.

And they were liars.

For decades, the friends have kept a secret worth killing for. But now Olivia wants to tell, and Naomi sets out to find out what really happened in the woods—no matter how dangerous the truth turns out to be.

"What Lies In the Woods is a gorgeous fever dream of a novel about the dangers lurking in the hearts and imaginations of little girls. Kate Alice Marshall deftly charts a winding path through her creepy woods, doubling back and changing course to build a labyrinth of secrets and lies in which I was delighted to lose myself for hours. Hands down, it's the best thriller I've read in a long, long time."—Chandler Baker, bestselling author of The Husbands

A Macmillan Audio production from Flatiron Books.
Release date: January 17, 2023
Publisher: Flatiron Books
Print pages: 368
* BingeBooks earns revenue from qualifying purchases as an Amazon Associate as well as from other retail partners.
Listen to a sample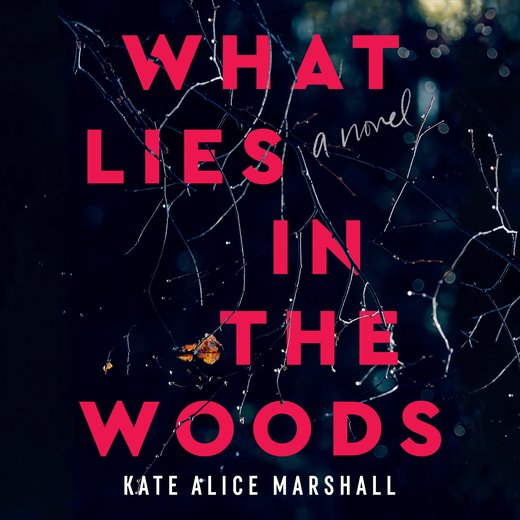 11:16:40
309.77 MB
9781250882448
January 17, 2023
Macmillan Audio
What Lies in the Woods
Kate Alice Marshall
1



There is a wilderness in little girls.

We could not contain it. It made magic of the rain and a temple of the forest. We raced down narrow trails, hair flying wind-wild behind us, and pretended that the slender spruce and hemlock were still the ancient woods that industry had chewed down to splinters. We made ourselves into warriors, into queens, into goddesses. Fern leaves and dandelions became poultices and potions, and we sang incantations to the trees. We gave ourselves new names: Artemis, Athena, Hecate. Conversations were in code, our letters filled with elaborate ciphers, and we taught ourselves the meanings of stones.

Beneath a canopy of moss-wreathed branches, we joined hands and pledged ourselves to one another forever—a kind of forever that burns only in the hearts of those young enough not to know better.

Forever ended with the summer. It ended with a scream and the shocking heat of blood, and two girls stumbling onto the road.

The way Leo Cortland told the story, he thought at first that the sound was some kind of bird or animal. His spaniel's ears perked, and she barked once, staring intently into the trees.

The truth was he knew right away that the sound belonged to a child. The story he told was a way to explain to himself why he stood for so long, unmoving. Why, when the spaniel lunged toward the noise, he hauled her back, wrapping the leash around his fist. Why he was starting to turn, to walk the other way, when the girls stumbled out of the woods, the two of them wild-eyed and whimpering and their clothes soaked with dark blood.

"What happened to you?" he asked, still in shock, still seized with the urge to get away.

One girl shivered and shook her head, wrapping her arms around her body, but the other spoke. Her voice was hollow and lost. "There was a man," she told him. "He had a knife."

"Are you hurt?" he asked, wishing that he had his gun, wishing that his spaniel had ever been a threat to anything but his shoes.

"No," the girl said. When he told the story, Leo would linger on this part. The way she stared right through him, like there was nothing but a ghost behind her eyes. "But our friend is dead."

This was the one part of the story that was Leo's and Leo's alone; after that, it belonged to everyone, and each found a different part to tell again and again, polishing it smooth. Some spoke of the bravery of the two of us who had stumbled to the road to find help, who despite the shock gave the description that would lead to the attacker's arrest. Others focused on the monster himself, fascinated by his wickedness and his brutality, the darkened corners of his soul.

Our parents always spoke of the moment they found out—of hearing that three girls had gone into the woods and only two had emerged, knowing right away that it was their girls, because it was a small town and because they knew the way the wilderness called to us, the way we slipped down deer trails and searched for the tracks of unicorns beside the creek.

Knowing that three of us had gone into the woods. Not knowing which two had returned.

Others spoke of the young man who found the last of us. Cody Benham was walking through the woods with the search party—three dozen men and women, most of them armed, all of them angry. He spotted the small form lying sprawled over the rotting hump of a fallen tree, as if she'd tried to climb over it with her last failing strength. The rain ran over her, rivulets of blood-tinged water tracing lines down to the tips of her pale fingers.

He didn't call out at first. He fell to his knees instead, all the breath going out of him. He pressed his face against her cold cheek.

Her fingers curled against the bark.

Some people talk endlessly of the miracle it was, when they carried that little girl, still breathing, from the woods. They praise her strength and her bravery. They remember the television image, the girl in a wheelchair with a scar twisting up her cheek like a knot in a tree, and how she nodded when the prosecutor asked her if the man who'd hurt her was in the room.

They told the story again and again, until they thought they owned it.

We tried to forget. We didn't tell the story.

Not the real one.

Not ever.



1

I tried to appear attentive as the couple across from me flipped through the binder of photographs, murmuring appreciatively. Normally, I'd say it was a good sign—except for the telltale tension in the bride-to-be's shoulders, and the way her eyes kept darting up to my face when she thought I wasn't looking.

My phone, facedown on the table, vibrated. I pressed the button to silence it without picking it up, resisting the urge to check who was calling.

"Your portfolio is really, really impressive," the bride said, fiddling with the edge of her paper napkin. "Really."

"I'm glad to hear that," I replied, mentally calculating how much I'd just lost on gas by agreeing to this meeting. I should have known better. The groom being the one to contact me, the way he'd specified, I showed Maddie some of your photos, when I asked if she'd seen the website.

"It's just," she began, and stopped. Her husband-to-be, an earnest-looking young man with a chin dimple and too much hair gel, put a hand on her wrist.

"Babe, it's exactly what you were looking for. You're always complaining about washed-out photos. You wanted someone who isn't afraid of color."

My phone started buzzing again. "Sorry about that," I said, picking it up to check the caller ID. Liv. I declined the call again and tucked it into my purse. Whatever the latest crisis was, and it was always a crisis, she'd have to wait a few minutes more.

"It's just," the bride said again. She bit her lip. "I'm sorry, I don't want to sound totally awful. Your photos are really, really—"

"Impressive," I finished for her, smiling. When I smiled, only one side of my mouth went up. She flinched.

"Come on, Maddie," Husband-to-Be said—I couldn't remember his name. It was probably Jason. It was usually Jason, for some reason. The ones who trotted me out like a surprise, as if to shame their partners into hiring me. It had mostly stopped happening since I tripled my prices, which magically turned my scars from a pitiable flaw to part of my edgy appeal.

"It's all right," I assured him. "It's your wedding day, Maddie. Everything should be perfect."

"Right," she said, relieved that I understood.

"And if anyone isn't perfect, you shouldn't have to have them there," I added. Her smile faltered.

"Your prices are very high," she snapped, turning pink. "Maybe you should consider lowering them. You might get more business."

I sighed. "My prices are high because my work is really, really good," I said, parroting her words back to her. "I make sure that my photo is front and center on my website because I don't want anyone to waste their time or mine. And now we've done both."

I stood, picking up the binder. My coffee sat untouched on the table, but I had only ordered it to kill time while I was waiting for them to show up twenty minutes late. "I hope you have the wedding of your dreams, Maddie. Jason, nice to meet you."

"My name's Jackson, actually," he muttered, not lifting his eyes past my chin. As I walked away I heard him whispering furiously to her. Just as the door swung shut, she burst into tears. I stopped on the sidewalk and shut my eyes, letting out a breath and telling myself to relax the muscles that had slowly tightened throughout my body.

The only thing worse than brides like Maddie was getting to the meeting only to discover that the client was a "fan." Not of my photos, of course. Of the dramatic story my life had become when I was eleven years old.

I pulled my phone out of my purse. Liv hadn't left a message, but that wasn't surprising. She hated being recorded. We'd spent enough time with cameras shoved in our faces, and the clips still lived on the internet under names like GIRLS FOIL SERIAL KILLER IN OLYMPIC FOREST and SURVIVORS OF "QUINAULT KILLER" ALAN MICHAEL STAHL SPEAK OUT.

Back then Liv had what her mom called "stubborn baby fat" and a round face made rounder by blunt bangs and a bob. In the years after, she'd sprouted up and slimmed down, and then she just kept vanishing by degrees, melting away until you could count the vertebrae through her shirt. She made sure there wasn't enough of herself left to get recognized.

I didn't have the option. The scar on my cheek, the nerve damage that kept the corner of my mouth tucked in a constant frown—those weren't things I could hide. Changing my name had cut down on the number of people who found me, but I'd never get rid of the scars, and I refused to try to hide them. I kept my hair cut short and sharp, and I always photographed myself straight on. I described my style as unflinching. My most recent therapist had been known to suggest I was using honesty as armor.

As if on cue, the phone started buzzing again. This time I answered, bracing myself to talk Liv down from whatever crisis the day had brought. "Hey, Liv. What's up?" I asked brightly, because pretending it could be anything else was part of what we did.

She was silent for a moment. I waited for her. It would come in little hiccup phrases at first, and then a flood. And at the end of it I would tell her that it was going to be okay, ask if she was taking her meds, and promise I didn't mind at all that she'd called. And I didn't. I was far more worried about the day she stopped calling.

"I'm trying to reach Naomi Cunningham," a male voice said on the other end of the line, and I blinked in surprise.

"That's me. Sorry, I thought you were someone else. Obviously," I said, letting out a breath and sweeping windblown strands of hair back from my eyes. "Who's calling?"

"My name is Gerald Watts, at the Office of Victim Services. I'm calling about Alan Michael Stahl."

My mind went blank. Why would they be calling me now? It had been over twenty years, but— "Has he been released?" I asked. I remembered the word parole in the sentence. Possibility of parole after twenty years. But twenty years was eternity to a child. Panic bloomed through me like black mold. "Wait. You're supposed to call us, aren't you? We're supposed to be allowed to testify, or—"

"Ma'am, Stahl has not been released," Gerald Watts said quickly and calmly. "I've got better news than that. He's dead."

"I—" I stopped. Dead. He was dead, and that was it. It was over. "How?"

"Cancer. Beyond that, I'm not able to share private medical information."

"Do the others know? Liv—I mean Olivia Barnes, and—"

"Olivia Barnes and Cassidy Green have been notified as well. We had a little more trouble getting hold of you. You changed your name." He said it like it was just a reason, not a judgment, but I stammered.

"You can still figure out who I am, it's not like I hide it, but it cuts down on the random calls and stuff," I said. I'd had strangers sending things to my house for years. Or just showing up themselves, ringing the doorbell, asking to meet the miracle girl and gape at my face.

"I don't blame you," he said. "Him dying, it'll get reported here and there. You might want to take some time off, if you can. Go someplace you won't get hassled. Shouldn't take long for the interest to die down."

"I'll be fine. It never takes long for some new tragedy to come along and distract everyone," I said.

He grunted in acknowledgment. "Ms. Cunningham, if you need to speak to a counselor, we have resources available to you."

"Why would I need to talk to a counselor?" I asked with a high, tortured laugh. "I should be happy, right?" The man who'd attacked me was dead. A little less evil in the world.

"This kind of thing can bring up a lot of complicated feelings and difficult memories," Gerald Watts said gently. He had a grandfatherly voice, I thought.

"I'll be fine," I told him, though I sounded faint, almost robotic. "Thank you for telling me."

"Take care of yourself," he said, a firm instruction, and we said our goodbyes.

I stood at the curb, my toes hanging over the edge, my weight rocking forward. There was something about that feeling. After the attack, I'd had damage to the membranous labyrinth in my left ear. I'd had fits of vertigo. Years later, after it faded, I would stand like this, almost falling, and that rushing feeling would return. But I was in control. I was the one who decided if I would fall.

I closed my eyes and stepped off the curb.

* * *

I was on my second glass of wine by the time Mitch came home. He dropped his messenger bag with the kind of dramatic sigh that always preceded a long rant about the soul-stifling horror of working in an office.

"You wouldn't believe what a shit day I've had," he declared, kicking off his shoes as he headed for the fridge. "Bridget is on my ass about every little thing, and Darrel is out sick again, which means that I have to pick up the slack. Fuck, all that's in here is IPAs. I might as well drink grass clippings."

"There's a porter in the back," I said, sipping my wine and staring at the wall.

"Thank God."

I picked out patterns in the wall texture as Mitch cracked open the beer and dropped onto the couch next to me. I liked Mitch. There was a reason I liked Mitch. In a moment I would remember what it was.

I ran a finger along the rim of my glass, examining him. His hair flopped over his eye, too long to be respectable by exactly a centimeter, and he maintained a precise amount of stubble. We'd met at the gallery opening of my ex-girlfriend, forty-eight hours after she dumped me for being "an emotional black hole" and then demanded I still attend to support her. Mitch had stolen a whole tray of fancy cheeses and we hid in the corner drinking champagne and waxing faux-eloquent about tables and light fixtures as if they were the exhibit. It had been a bit cruel and definitely stupid, but it had been fun. This man, I'd thought, is an asshole.

So of course I'd gone home with him.

"And how goes the wedding-industrial complex?" he asked.

"Fine," I said. I paused. "No, it wasn't. The bride didn't want a photographer with a mangled face."

"Bitch," he said matter-of-factly. "You're wasting your time with those people."

It was, more or less, what I'd said to her. But it meant something else, coming from him. "Today was a waste of time," I agreed. The whole thing felt so far away.

"You're better than this," Mitch said. His hand dropped to my knee, his head lolling on the back of the couch. "I mean, Jesus. You have actual talent. And you're spending your time on Extruded Wedding Product #47."

"I like what I do," I said evenly.

"It's beneath you."

"Okay." I wasn't interested in this argument, not again.

"All those women are so desperate to have their perfect day. I can't even imagine getting married. I just try to picture it, you and me at the altar and the tux and the floofy white gown, and it's like a complete parody. I don't see the point. Do you?"
We hope you are enjoying the book so far. To continue reading...
What Lies in the Woods
Kate Alice Marshall
Copyright © 2023 All Rights Reserved