Book info
Sample
Audiobook
Media
Author updates
Lists
Synopsis
Two Can Play is the second audiobook in a new thriller series where a criminal psychologist uses her own dark past to help law enforcement catch dangerous killers.

Halloween is approaching, and criminal psychologist Audrey Harte has been hired by the prosecution to help prepare for the trial of 19-year-old serial killer Ian "Boy Scout" Monroe. His one surviving victim, Tori Scott, is the star witness, but when someone begins killing with Monroe's M.O., the authorities -- and Audrey -- begin to wonder if Monroe had a partner. Keeping Tori safe is the main concern, but Audrey has also attracted the copy-cat's attention.

Audrey is drawn into a dangerous game of cat and mouse, and when someone close to her is abducted by the killer, Audrey has no choice but to play...

Audrey Harte novels
It Takes One
Two Can Play
Three Strikes
Release date: September 25, 2018
Publisher: Orbit
Print pages: 384
* BingeBooks earns revenue from qualifying purchases as an Amazon Associate as well as from other retail partners.
Listen to a sample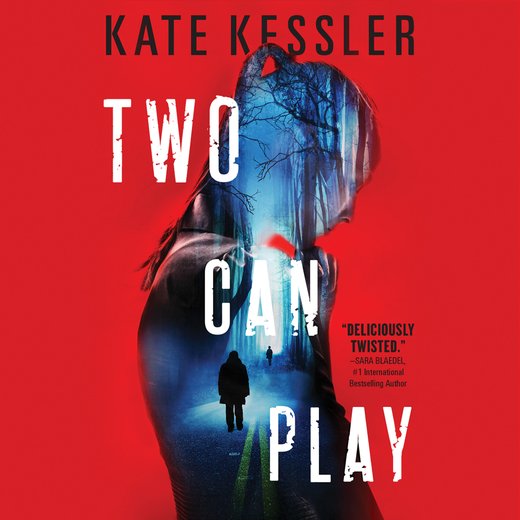 09:07:26
250.6 MB
9781478940234
November 8, 2016
Hachette Audio
Two Can Play
Kate Kessler
Ian Monroe didn't look like a serial killer.

Audrey Harte stared at the mugshot in Monroe's file. He didn't have a vacant expression like Gacy or Bundy's crazy eyes. He didn't have that seventies gay porn star look like Dahmer, or the full-on nut job vibe of Ramirez. He looked preppy and stylish—smart, like he was posing for his high school senior class photo.

In fact, Monroe had been out of high school for only two months when he was arrested for the murders of five girls in Portland, Maine. The yearbook, in which he wore a smile much like the one in his mugshot, had been dedicated to the memories of four of his victims. He'd gone to their funerals, the little prick.

Someone (a reporter) had given him the title of Maine's youngest—and handsomest—serial killer—like it added prestige to the violence done by the then seventeen-year-old. Monroe, a fairly textbook psychopath, didn't need his ego stroked by being singled out. Like most psychopaths, he already believed himself superior to most of the world. As a subject of study, he was fascinating. As a human being, he was one of the worst.

He was finally going to trial, and the prosecution had asked Audrey to be an expert witness. They said it was because she was from Maine and understood the people there—that she would be invaluable in helping select jurors, but when a tabloid magazine ran a photo of her next to one of Monroe with the caption Killer Doc to take on "Boy Scout" Monroe at trial, she wondered if the DA wasn't trying to stir up some publicity of his own.

If someone had told her when she was in college that having committed murder when she was thirteen would actually make her professionally desirable, Audrey wouldn't have believed it. But with the murder of her former best friend, and partner in crime, Maggie Jones, that summer, Audrey's past had bit her on the ass so hard, she still had a bruise. She didn't like to think about Maggie, or the particulars of her murder, but she couldn't deny it was partly responsible for her now having her own office at the Beharrie Center. Her boss, Angeline Beharrie, had put her in charge of the East Coast location—a position in which she felt like a fraud at thirty-two. And she was well aware that there were those at the center who didn't think she deserved the promotion.

Which meant she was going to have to prove that she did deserve it. She might be slightly notorious, but she loved her job, and worked hard at it. She was going to do everything she could to make sure the prosecution's case against Monroe was airtight.

A knock on her office door—which was open—made her lift her head. It was Lauralyn, who ran the front desk and handled appointments, calendars, and client concerns for the clinical psychologists in the office. Basically, no one there would know what to do without her. She was forty-something with curly blond hair and a youthful round face. She smiled as she stuck her head in.

"It's two o'clock."

Audrey glanced at the clock on the wall. She'd asked Lauralyn to remind her that she wanted to leave early. Traffic around Boston was horrible at the best of times, and she didn't want to turn a three-and-a-half-hour drive into five by being stupid enough to leave at rush hour.

"Thanks," she said, closing the folder. "I'm staying at that B and B in Rockland, right?" It wasn't far from Warren, where Ian Monroe was incarcerated, and an hour and a half from Portland, where the murders had taken place.

"Yep. I e-mailed you the details and the Google map, and here's your travel mug." She set the tall mug on the desk. "The coffee's fresh and I added that Italian Sweet Crème that you like."

Fetching coffee wasn't part of Lauralyn's job; she was just that nice. "You are an angel," Audrey told her with a grin.

The older woman winked. "I'll remind you that you said that at my review. Safe travels, and good luck in Portland." Then she left the office.

Audrey stood, gathering up Monroe's file, along with several others, and the binder in which she kept her notes. Her hand hesitated over the latest People magazine that had an article on Ian and the events leading to his arrest. The FBI and Portland police had gathered enough evidence against him for a warrant, and barged in while he was toying with his latest victim, whom they rescued before Monroe could kill her. The writer spoke in depth to Victoria Scott—The One That Got Away—and several other people close to the case. Since a good part of Audrey's involvement in the trial consisted of assessments and interviews, the article would be a good one to have as a reference. Plus, it mentioned her. Audrey tossed it in her leather computer bag before slipping her laptop inside as well.

She slipped into her dark red peacoat and wrapped her scarf around her neck before slinging her bags over her shoulder and grabbing her coffee. She turned down the heat, shut off the lights, and locked the door behind her.

The clinic was located in Cambridge, a bit of a walk from Harvard. Angeline chose the five-story building for its location, and for the fact that its redbrick facade was both academic and inviting. The first time Audrey had seen it, she thought it looked like money, and vaguely pretentious, but she wasn't the one paying the rent. She had to admit, though, it was a nice place to work.

And she had been working. A lot. Mostly to avoid going home. And because her work enabled her to continually psychoanalyze herself without anyone noticing. Of all the killers, violent offenders, and victims she'd interviewed, the workings of her own mind were what confounded her most. She could be very good at her job. She was capable of being a good person, but the place she felt the most comfortable was the place she'd run away from years ago—the place that knew just how terrible she could truly be.

She had a reserved spot in the parking garage attached to the building via a covered walkway, which helped her avoid the damp cold that had settled over the city for the last couple of days. As she approached, she hit the remote starter for her Prius so it would be nice and warm when she got in. Jake had laughed at her for getting the remote, but he hated to wear shoes, even in the winter, so obviously he was a freak of nature. A guy with that little body fat should not be warm all the time.

The drive to Rockland was uneventful except for the thermometer dipping a couple of degrees the farther north she drove. In another couple of weeks it would be Halloween. She remembered it would sometimes snow while trick-or-treating as a kid. They had loved it, little freaks that they were.

After more than a decade in California, she wasn't prepared for a New England winter. Hell, she wasn't even prepared for fall.

It was getting dark when she pulled into the B and B's drive. Hers was the only car in guest parking. This place probably did extremely well in the summer given its picturesque view of the water. The trees had turned color, and most of them still had an abundance of leaves. It might be colder than LA, but the air was clean, and it was a hell of a lot prettier. Not that LA didn't have its moments.

Pulling her coat closed, Audrey got her bags out of the backseat and locked the car.

The door was opened by a smiling woman who looked to be in her sixties. "You must be Audrey."

"I am." She returned the smile. "Mrs. Fletcher?"

"Indeed. Come on in. It's going to be a nippy night, I think."

Audrey stepped inside. The interior was very English countryside—plush and rich but inviting. And was that roast beef she smelled? And apple pie? Her stomach growled.

Mrs. Fletcher showed her the dining room and common areas before taking her up to her room. Decorated in shades of plum, cream, and dark green, it had the same relaxed opulence of the rest of the house. It had its own bathroom as well, complete with a large, claw-foot soaker tub. Much better than staying in a cheap hotel.

"It's lovely," she told Mrs. Fletcher. "Do you suppose I could trouble you for some ice and directions to the nearest good restaurant?"

"I can bring you an ice bucket. And you needn't worry about going out again after your long drive. If you like roast beef, I'll bring you up a tray of our dinner. I always make too much."

The inherent kindness of this part of the world always surprised her, even though she'd grown up with it. When she was a kid, though, it always seemed intrusive, and was counterbalanced with the nosiness and gossipmongering of small-town life. "That's very kind of you. If it's no trouble, I'll take you up on it."

Mrs. Fletcher smiled. "No trouble at all! It's so nice to have someone else in the house. Did I read that you're part of the prosecution against Ian Monroe?"

Audrey froze as she set her bags near the bed. And there was the flip side of small-town hospitality. "Yes." She met the woman's pale blue gaze. "I am."

All the mirth drained from Mrs. Fletcher's round face. "Terrible business. Do you actually have to see him? Is that why you're here?"

Was there any harm in being honest? Audrey couldn't tell, but she also couldn't think of how this nice woman could possibly make trouble for her since she would be leaving the next day. "Yes. I'll be interviewing him tomorrow."

Graying curls bobbed as she shook her head and clucked her tongue. "I'm going to bring you a slice of pie as well. Do you like ice cream?"

Do bears shit in the woods? The voice of her father rang in Audrey's head. "I do. Thank you."

The older woman's smile returned just before she closed the door, leaving Audrey alone. She took her toiletries from her overnight bag and set them in the bathroom. Then she took her suit for the next day out of her garment bag and hung it up. It was simple and well cut and had cost more than some people made in a week. It had been a worthy investment, though. With a crisp white shirt, she looked professional, put together, and slightly intimidating, but not like she was trying too hard. She called it her Grosse Pointe Blank suit, because when she wore it, she felt like John Cusack's character from the film. Hopefully she wouldn't have to assassinate anyone.

She had just kicked off her boots and taken off her coat when Mrs. Fletcher returned with a tray bearing dinner, a bucket of ice, and a bouquet of flowers. Audrey quickly took the heavy tray from her and set it on the small table near the window.

"I forgot that those were delivered for you earlier today," the older woman told her, her face a little flushed from carrying the tray up an entire flight of stairs.

Audrey checked the flowers. "Really?" No one but work and Jake knew where she was staying. "They're very pretty." Actually, white roses always made her think of funerals, but they still smelled nice.

Mrs. Fletcher looked disappointed that she hadn't opened the card. "Well, I'll leave you to it. Just leave the tray outside the door and I'll collect it later."

After thanking the woman once again, Audrey put the bottle of wine she'd brought with her in the bucket of ice, and sat down to eat. It was as delicious as it smelled—and way too much food. Cooks in Maine seemed to operate under the thought that every meal was for a lumberjack—or a teenage boy. Every time she came home she had to double up on gym time when she returned to Boston.

When she finished the last bite of pie and melting vanilla ice cream, she set the tray on a table outside her room and went back to the flowers. There was a small card inside a white envelope. She opened it.

Looking forward to playing with you.

What the hell? That wasn't cryptic or creepy at all.

The card wasn't signed, but the phone number for the florist was embossed in silver on the bottom. They could be from Jake. Though she couldn't imagine him writing something so cheesy, or picking white roses as a gift. He had more color to him than that, and he'd probably go for something more exotic.

Like a carnivorous plant. A pretty one. And he'd tell her it reminded him of her.

Audrey smiled at the thought of him, even though her stomach fluttered like a hive of neurotic bees. It wasn't a new sensation. Jake Tripp had fascinated her, scared her, and held a firm grip on her heart for almost twenty years. They'd been friends for even longer. His grandmother, Gracie, had appointed herself Audrey's fairy godmother even before she and Maggie had been arrested for killing Clint Jones. Audrey wouldn't be where she was if not for Gracie. God only knew how she might have turned out.

She ran a bath and called Jake while the tub filled.

"Are you in Rockland?" he asked when he picked up. The sound of his slightly scratchy voice loosened her muscles more than any bath ever could. He was like her grounding wire. Always had been, even when he was the one setting her nerves on edge.

"Yeah. Got here a little while ago. Hey, did you send me flowers?"

There was a pause. "No. Was I supposed to?"

"No. But the owner gave me a bouquet that had been delivered earlier with my name on them."

"What did the card say?"

Now she was the one who hesitated.

"Aud?"

"It said, 'Looking forward to playing with you.'"

"That combination of words would never find its way out of my mouth." He sounded offended that she'd even asked.

"I didn't think so, but I wanted to ask before I let paranoia set in."

"You think someone related to the Monroe case is trying to unsettle you?"

"I don't know. At least I know they didn't come from Monroe. I can't imagine they let you send flowers from prison."

"He could have paid someone to do it. It's a classic taunt."

Oh, shit. "Not helping with that paranoia."

"You want me to tell you it's nothing? That you're imagining things?"

"Yes."

"Can't do it. It's weird, and you should look into it. You should also tell the prosecution. Take a photo of the flowers and the card." He sounded concerned, but not freaked out, which was exactly the right reaction to make her feel the same.

"I will." She took a corkscrew from her bag and opened the bottle of wine. "You still want me to stay at your place this weekend?" Though she spent most of her time in Edgeport at his house, she did occasionally stay with her parents. She trusted him to tell her if he didn't want her around, but after years of being hung up on him, the reality of being with him seemed … tenuous. They were still trying to find their way—or she was.

"You get a better offer?"

She smiled at his teasing tone. "No."

"You just want to hear me say it, is that it?"

"Would it kill you?"

He laughed. "Yes, Aud, I want you to stay with me. It would fair render me distraught if your boots found their way under someone else's bed."

Audrey's brow pulled as she poured wine into one of the glasses on the table. "I've heard that before."

"Gran used to say it to Gramps when he accused her of trying to get rid of him."

Gracie and Mathius Tripp had one of those loves that they made movies about. The sort that ran down to their bones and even death couldn't shake. In another life they would have gone out together in a hail of bullets during a gunfight with the police. Instead, they both went quietly in their beds, far too many years apart. "Good thing I wore boots, then."

They talked for a little while longer and then hung up. He hadn't said he loved her and neither had she. There was a small part of her that wanted to say it—wanted to hear it—but deep inside she already knew it. She and Jake had loved each other since they'd been kids, long before either of them knew what romantic love was.

After plugging her phone into the charger, Audrey took a photo of both flowers and note, sent each to Will Grant, the prosecuting attorney, and then headed for the bath with her glass of wine. She soaked for almost an hour before getting out, her skin gone pruney. After drying off, she slipped into a T-shirt and pajama pants, and slathered on her nightly skin care before climbing into bed with her tablet and another glass of wine. She read for a couple of hours before deciding to call it a night.

But before she went to sleep, she climbed out of bed, picked up the vase of roses, and put the creepy arrangement on the table in the hall. They were not going to be the last thing she saw before going to sleep, and they sure as hell weren't going to be the first thing she saw in the morning before heading to Maine State Prison to interview its most dangerous inmate.

Margot Temple had a shrine to Ian Monroe.

Actually, it was a scrapbook, several DVDs, and a wall in her basement covered with his photographs, but "shrine" sounded pure and holy while the truth made her sound more like a teenage girl than a full-grown woman. A fourteen-year-old's devotion to a member of a boy band could not begin to compare to the deep, almost spiritual connection she had with Ian. No one understood it—not her family, her friends. Her therapist tried to understand, but when she said they'd work together to rid Margot of her "obsession," Margot canceled all future appointments.

She didn't want to be rid of Ian.

He had done horrible things, she knew that. Judging or forgiving him wasn't her responsibility. She wanted only to help heal whatever wound had turned him into the sort of person who hurt women. He was broken, but he could be fixed—she was sure of it.

Her psychologist (the one she'd fired) said she had hybristophilia, and suggested that she had a history of being sexually drawn to dangerous, even criminal, men. Really? What woman hadn't lusted after a bad boy once or twice in her life? Maybe she was attracted to danger, but it didn't feel that simple. She didn't just want to sleep with Ian, she wanted to heal him. The age difference between them was enough that she could guide him, but not so vast that she was old enough to be his mother. Not that it mattered.

She could count the weeks until his trial on both hands. She would be there every day if she could manage it. She'd already booked her vacation for that week so she could be there for him if he needed her. He would need her too; she felt it in her bones. He would need to know he had a friend in the courtroom—one who could pass on the support of the more than a dozen supporters he had in the city.

Margot unlocked the door to her apartment and crossed the threshold. Her cat—a large fluffy Persian named Mr. Beans—came to greet her. She picked him up and hugged him to her chest, pressing little kisses all over his velvety head. She turned the deadbolt and carried sixteen pounds of purring cat into the living room.

She ordered Chinese for dinner and then went to her bedroom and changed into her pajamas. While waiting for her food, she began wondering about Ian's trial, and what to wear. She wanted to look good. Polished. Not crazy—because she knew that's what people said about her when they found out that she had started a support group for Ian Monroe. They called the Freedom for Ian Coalition a "fan club" and made fun of her. The only person who hadn't talked about her like she was a joke had been Chris James, who had interviewed her for the book he was writing about Ian. At the time it had been obvious that he didn't understand her attraction to Ian, but at least he tried.

Because of her involvement in the support group, Margot got a lot of mail—both e- and snail. Most of it was friendly. Some of it was weird, and some of it was downright hateful. She didn't have an assistant because she couldn't afford one—it wasn't like she charged people to be part of the support group—so she read and answered all of it herself. Sometimes, the letters left her sobbing and shamed, or cursing and furious. People called her crazy, stupid, delusional. They said the world would be a better place if she killed herself. What sort of freak was she to support a monster like Ian Monroe? A compassionate one, she had to remind herself. She didn't answer those awful letters, but she did save them just in case, and she took screen shots of every threatening or mean post on her social media sites as well. Many times the ones who were the most vocal about how crazy she was to support Ian were the very same ones threatening to rape or kill her. It was because of these scary communications that she kept her phone number unlisted and never mentioned where she lived—not even the neighborhood.

So when eating chow mein straight from the carton and checking her mail, she was surprised to find an envelope from Maine State Prison.

Margot's heart skipped excitedly in her chest, like two young girls playing double Dutch. Her fingers trembled as she slipped one beneath the flap and tore the paper. When she opened the letter inside, tears sprang to her eyes.

Dear Miss Temple, I've added you to my visitor list. I look forward to meeting you at last.

Sincerely, Ian Monroe

Margot giggled, then laughed. She was still laughing when tears trickled down her cheeks.

She was going to meet him. Finally. She was going to be in the same room with Ian. He wanted to meet her. Talk to her. She would be able to tell him just how much she cared for him. Tell him that she would do anything for him.

Anything.

Audrey woke up early the next morning, a small knot of either anticipation or anxiety—she couldn't discern which—in her stomach. She took a shower, did her hair and makeup, got dressed, and went downstairs for breakfast. Mrs. Fletcher was in the kitchen. She looked up when Audrey entered the room, and smiled, lines around her eyes and mouth creasing. "I hope you like French toast."

Audrey smiled. "It's my favorite. You really don't have to go to that much trouble."

"It's no trouble at all. I made it for my husband and myself as well. Would you like to join us for breakfast? Or would you prefer to eat in the dining room?"

Eating alone would give her a chance to mentally prepare for her upcoming interview with Ian Monroe, but Audrey didn't much feel like sitting at that big table all by herself, or making the older woman wait on her. "If you and your husband don't mind the company, I would like to join you. Thank you."

The older woman seemed pleased by her decision. "We don't mind the least bit. I hope you don't mind, but I told my husband why you were here. He's very eager to meet you. He watches all of those crime shows on the television—you know, those ones about the criminal profilers and forensic investigators."

While Angeline wasn't a big fan of such shows and their portrayal of forensic psychologists, Audrey sometimes watched one or two of them herself. She realized they had to take a lot of dramatic license, but she appreciated when they actually got it right.

"I hope he's not expecting me to be like Gil Grissom or Clarice Starling," she said with a smile. "He's going to be very disappointed if he is."

"Oh, I suspect he will be more than thrilled to hear about the real thing. That is, if you don't mind him asking you questions?" She actually looked a little anxious.

"Of course not. I have a little time before I need to leave for Warren, so I will try to give him as much of an accurate description of what I do as I can."

The anxiety disappeared from the older woman's face. "He'll enjoy that so much! You are a dear to indulge him."

Audrey helped Mrs. Fletcher carry the coffee and French toast into the family dining area. It was a small nook off the kitchen with a square table and four chairs and a window that overlooked the water. Very cozy.

Mr. Fletcher was a tall thin man with gray hair and spectacles. He wore a plaid shirt and gray trousers and a pair of highly buffed oxfords. He smiled when he saw Audrey, and rose to his feet.

"You must be Dr. Harte." He offered his hand. Audrey accepted the handshake, pleased that he didn't limp-fish her like many older men did, as though they thought themselves so strong they might break her delicate female bones. "It's a pleasure to meet you."

"Call me Audrey. It's lovely to meet you. You have a beautiful home."

"If it's lovely, it's all because of the missus," he said with a twinkle in his eye. "Please, have a seat."

Audrey set the coffeepot on a trivet, and took the chair on Mr. Fletcher's right. Mrs. Fletcher sat across from her and offered her the platter of French toast. She took two thick slices, and doused them both with a heavy deluge of maple syrup.

"It's all local," Mrs. Fletcher told her with a touch of pride. "I made the bread myself, the eggs are from a farm just outside of town, as is the cream, and the syrup was made by my son-in-law."

Audrey cut into the golden brown egg-soaked bread and leaned forward as she shoved the bite in her mouth to keep from getting any syrup on her shirt. She couldn't help closing her eyes in pleasure at the taste.

"It's delicious," she said after she swallowed. "Thank you."

Mrs. Fletcher cut into her own breakfast. "I couldn't help but notice that you put the flowers on the hall table. Mind if I ask why?"

Audrey hesitated before replying, "I think they were meant to be more of a taunt than a gift." Even as the words left her mouth, she realized she shouldn't have said them.

"A taunt?" Mr. Fletcher asked. "From who?"

"Someone trying to unsettle me." Audrey cut another bite as she tried to sell that it was nothing. "Attorneys do it all the time." They didn't, but the Fletchers probably wouldn't know that.

Mr. Fletcher frowned. "Should we call the police?"

She shook her head. "I sent a photo of the card to the prosecuting attorney just in case, but I think it was meant as a prank—to throw me off. No threats were made. Please, I didn't mean to upset either of you."

"Upset?" Mrs. Fletcher echoed. "We're not upset, my dear, we're angry! To think that someone might actually sympathize with that monster … well, it's disgusting."

"It happens more often than you think," her husband replied. "There are people out there who have fan clubs for serial killers. Why, even Charles Manson found some poor soul to marry him."

Audrey couldn't argue that, but she could change the subject. Instead, she commented on how comfortable and lovely the house was, and asked how long they'd lived in Rockland. By the time she'd finished her breakfast, the older couple was all smiles, and Ian Monroe—and serial killer groupies—was forgotten. Though, she felt as though she'd given Mr. Fletcher a twenty-minute crash course on forensic psychology.

She went back to her room, brushed her teeth, packed up, and left for Warren. It was about a fifteen-minute drive to the prison. Even though her appointment time wasn't until nine thirty, she was there at nine, per the instructions given to her for visiting the facility.

Maine State Prison was a large, white building, slightly grayed from the elements. If you ignored the wire, fences, and armed guards, it would look more like an industrial building than a maximum-security facility. Audrey pulled into the parking lot and found a spot. Before getting out of the car, she checked to make certain her hair and makeup looked presentable. She didn't care if Ian Monroe was impressed with her—his taste was in blondes—but she wanted to make certain she looked put together and professional.

And maybe a little intimidating. What was the point of having "resting bitch face" if you we. . .
We hope you are enjoying the book so far. To continue reading...
Two Can Play
Kate Kessler
Copyright © 2022 All Rights Reserved
Also in this series
Also by this author