Book info
Sample
Audiobook
Media
Author updates
Lists
Synopsis
"Deliciously twisted and genre-bending, Kate Kessler's positively riveting It Takes One boasts a knockout concept and a thoroughly unique and exciting protagonist, a savvy criminal psychologist with murderous skeletons in her own closet." -- Sara Blaedel

Criminal psychologist Audrey Harte is returning home after seven years.

Less than 24 hours later, her best friend is murdered.

Audrey is both the prime suspect and the only person who can solve the case. . .

It Takes One is the first in a brand new thriller series where a criminal psychologist uses her own dark past to help law enforcement catch dangerous killers.
Release date: April 26, 2016
Publisher: Orbit
Print pages: 416
* BingeBooks earns revenue from qualifying purchases as an Amazon Associate as well as from other retail partners.
Listen to a sample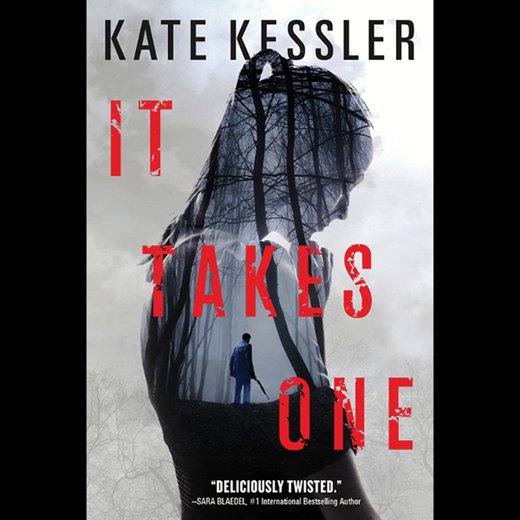 12:55:12
354.87 MB
9781478938736
April 26, 2016
Hachette Audio
It Takes One
Kate Kessler
ould you kill for someone you love?"

Audrey Harte went still under the hot studio lights. Sweat licked her hairline with an icy, oily tongue. "Excuse me?"

Miranda Mason, host of When Kids Kill, didn't seem to notice Audrey's discomfort. The attractive blonde—whose heavy makeup was starting to cake in the lines around her eyes—leaned forward over her thin legs, which were so tightly crossed she could have wound her foot around the opposite calf. She wore pantyhose. Who wore pantyhose anymore? Especially in Los Angeles in late June? "It's something most of us have said we'd do, isn't it?"

"Sure," Audrey replied, the word forcing its way out of her dry mouth. "I think we as humans like to believe that we're capable of almost anything to protect our loved ones." Did she sound defensive? She felt defensive.

A practiced smile tilted the blonde's sharply defined red lips. "Only most of us are never faced with the decision."

"No." That chilly damp crept down Audrey's neck. Don't squirm. "Most of us are not."

Miranda wore her "I'm a serious journalist, damn it" expression. The crew called it her Oprah face. "But David Solomon was. He made his decision with terrible violence that left two boys dead and one severely wounded."

It was almost as though the world, which had gone slightly askew, suddenly clicked into place. They were talking about a case—a rather famous and recent one that occurred in L.A. County. Her mentor, Angeline, had testified for the defense.

It's not always about you, she reminded herself. "David Solomon believed his boyfriend's life was in danger, as well as his own. The boys had been victims of constant, and often extreme, bullying at school. We know that Adam Sanchez had suffered broken ribs and a broken nose, and David himself had to be hospitalized after a similar attack."

Miranda frowned compassionately—as much as anyone with a brow paralyzed by botulism could. "Did the school take any sort of action against the students bullying the boys?"

Audrey shook her head. She was on the edge of her groove now. Talking about the kids—especially the ones driven to protect themselves when no one else would—was the one place she felt totally confident.

"A teacher suggested that the attacks would end if the boys refrained from provoking the bullies with their homosexuality." Asshole. "The principal stated that there would hardly be any students left in the school if she suspended everyone who picked on someone else." Cow.

"Why didn't the boys leave the school?"

Why did people always ask those questions? Why didn't they run? Why didn't they tell someone? Why didn't they just curl into a ball and die?

"These boys had been raised to believe that you didn't run away from your problems. You faced them. You fought."

"David Solomon did more than fight."

Audrey stiffened at the vaguely patronizing, coy tone that seemed synonymous with all tabloid television. She hadn't signed on to do the show just to sit there and let some Barbara Walters wannabe mock what these kids had been through.

Maybe she should thank Miranda for reminding her of why she'd dedicated so much of her life to earning the "doctor" in front of her name.

"David Solomon felt he had been let down by his school, his community, and the law." Audrey kept her tone carefully neutral. "He believed he was the only one who would protect himself and Adam." What she didn't add was that David Solomon had been right. No one else in their community had stood up for them.

Miranda's expression turned pained. She was about to deliver a line steeped in gravitas. "And now two boys are dead and David Solomon has been sentenced to twenty years in prison."

"A sentence he says is worth it, knowing Adam is safe." David Solomon wasn't going to serve the full twenty. He'd be out before that, provided someone didn't turn around and kill him in prison.

Miranda shot her an arch look for trying to steal the last word, and then turned to the camera and began spouting her usual dramatic babble that she used in every show about senseless tragedies, good kids gone bad, and lives irreparably altered.

This was the tenth episode of the second season of When Kids Kill. Audrey was the resident criminal psychologist—only because she was friends with the producer's sister and owed her a couple of favors. Big favors. Normally, Audrey avoided the spotlight, but the extra money from the show paid her credit card bills. And it upped her professional profile, which helped sell her boss's books and seminars.

She'd studied criminal psychology with the intention of helping kids. In between research and writing papers, she'd started assisting her mentor with work on criminal cases, which led to more research and more papers, and a fair amount of time talking to kids who, more often than not, didn't want her help. She never gave up, which was odd, because she considered herself a champion giver-upper.

Thirty minutes later, the interview was over. Miranda had had to do some extra takes when she felt her questions "lacked the proper gravity," which Audrey took to mean drama. Audrey dragged her heels getting out of the chair. It was already late morning and she had to get going.

"Don't you have a flight to catch?" Grant, the producer, asked. He was a couple of years older than her, with long hipster sideburns and rockabilly hair. His sister, Carrie, was Audrey's best friend.

Only friend.

"Yeah," she replied, pulling the black elastic from her wrist and wrapping it around her hair. She wrestled the hairspray-stiff strands into submission. "I'm going home for a few days."

His brow lifted. "You don't seem too happy about it."

She slipped her purse over her shoulder with a shrug. "Family."

Grant chuckled. "Say no more. Thanks for working around the schedule. Carrie's been harping on me to be more social. Dinner when you get back?"

"Sounds good." There was no more use in stalling. If she missed her flight, she'd only have to book another. There wasn't any getting out of the trip. Audrey gathered up her luggage and wheeled the suitcase toward the exit.

"See you later, Miranda," she said as she passed the older woman, who was looking at herself in the mirror of a compact, tissuing some of the heavy makeup off her face. Audrey would take hers off at the airport. She hated falling asleep on planes and waking up with raccoon eyes.

"See ya, Audrey. Oh, hey"—she peered around the compact—"you never answered my question."

Audrey frowned. "I'm pretty sure I answered them all."

Miranda smiled, blue eyes twinkling. "Would you kill for someone you love?"

"Of course not." Huh. That came out smoother than it should have.

Miranda looked contemplative, but then, too much plastic surgery could do that. "I'd like to think I would, but I doubt I could."

"Hopefully you'll never have to find out. Have a good day, Miranda."

The woman replied, but Audrey didn't quite make out the words—she was too busy thinking about that question.

No, she wouldn't kill for someone she loved.

Not again.

It was an eight-and-a-half-hour flight from L.A. to Bangor, with a stopover in Philly. It was an additional two hours and change from Bangor International to Audrey's hometown of Edgeport, on the southeast shore of Maine. She was still fifteen minutes away, driving as fast as she dared on the barren and dark 1A, when her cell phone rang.

It was her mother.

Audrey adjusted her earbuds before answering. She preferred to have both hands on the wheel in case wildlife decided to leap in front of her rented Mini Cooper. It was dark as hell this far out in the middle of nowhere; the streetlights did little more than punch pinpricks in the night, which made it next to impossible to spot wildlife before you were practically on top of it. The little car would not survive an encounter with a moose, and neither would she.

"Hey, Mum. I'll be there by midnight."

"I need you to pick up your father."

Something hard dropped in Audrey's gut, sending a sour taste up her throat that coated her tongue. Could this day become any more of a cosmic bitch-slap? First the show, then she ended up sitting next to a guy who spent the entire flight talking or snoring—to the point that she contemplated rupturing her own eardrums—and now this. The cherry on top. "You're fucking kidding me."

"Audrey!"

She sucked a hard breath through her nose and held it for a second. Let it go. "Sorry."

"I can't do it, I have the kids." That was an excuse and they both knew it, though Audrey wouldn't dare call her mother on it. In the course of Audrey's knowledge of her father's love affair with alcohol, never once had she heard of, nor witnessed, Anne Harte leaving the house to bring her husband home.

"Where's Jessica?"

"She and Greg are away. They won't be home until tomorrow." Silence followed as Audrey stewed and her mother waited—probably with a long-suffering, pained expression on her face. Christ, she wasn't even home yet and already everything revolved around her father. She glared at the road through the windshield. She'd take that collision with a moose now.

"Please, babe?"

Her mother knew exactly what to say—and how to say it. And they both knew that as much as Audrey would love to leave her father wherever he was, she'd never forgive herself if he decided to get behind the wheel and hurt someone. She didn't care if he wrapped himself around a tree. She didn't. But she couldn't refuse her mother.

Audrey sighed—no stranger to long-suffering herself. "Where is he?"

"Gracie's."

It used to be a takeout and pool hall when she was a kid, but her brother, David, told her it had been turned into a tavern a few years ago. Their father probably single-handedly kept it in business.

"I'll get him, but if he pukes in my rental, you're cleaning it up."

"Of course, dear." Translation: "Not a chance."

Audrey swore as she hung up, yanking the buds out of her ears by the cord. Her mother knew this kind of shit was part of the reason she never came home, but she didn't seem to care. After all these years, Anne Harte still put her drunken husband first. What did it matter anymore if people saw him passed out, or if he got into a fight? Everyone knew what he was. Her mother was the only one who pretended it was still a secret, and everyone let her. Classic.

Rationally, she understood the psychology behind her parents' marriage. What pissed her off was that she couldn't change it. Edgeport was like a time capsule in the twilight zone—nothing in it ever changed, even if it gave the appearance of having been altered in some way. When she crossed that invisible town line, would she revert to being that same angry young woman who couldn't wait to escape?

"I already have," she muttered, then sighed. Between Audrey and her husband, Anne Harte had made a lot of excuses in the course of her life.

Although seven years had passed since she was last home, Audrey drove the nearly desolate road on autopilot. If she closed her eyes she could keep the car between the lines from memory. Each bump and curve was imprinted somewhere she could never erase, the narrow, patched lanes—scarred from decades of abusive frost—and faded yellow lines as ingrained as her own face. The small towns along that stretch bled into one another with little more notice than a weathered sign with a hazardous lean to it. Long stretches of trees gave way to the odd residence, then slowly, the houses became more clustered together, though even the nearest neighbors could host at least two or three rusted-out old cars, or a collapsing barn, between them. Very few of the homes had lights on inside, even though it was Friday night and there were cars parked outside.

You can tell how old a town is by how close its oldest buildings are to the main road, and Ryme—the town west of Edgeport—had places that were separated from the asphalt by only a narrow gravel shoulder, and maybe a shallow ditch. Edgeport was the same. Only the main road was paved, though several dirt roads snaked off into the woods, or out toward the bay. Her grandmother on her mother's side had grown up on Ridge Road. There wasn't much back there anymore—a few hunting camps, some wild blueberries, and an old cemetery that looked like something out of a Stephen King movie. When Pet Sematary came out there'd been all kinds of rumors that he'd actually used the one back "the Ridge" for inspiration, though Audrey was fairly certain King had never set foot in her mud puddle of a town in his entire life.

She turned up the radio for the remainder of the trip, forcing herself to sing along to eighties power ballads in an attempt to lighten her mood. Dealing with her father was never easy, and she hadn't seen him since that last trip home, years earlier. God only knew how it was going to go down. He might get belligerent.

Or she might. If they both did there was going to be a party.

Gracie's was located almost exactly at the halfway point on the main road through town. It used to be an ugly-ass building—an old house with awkward additions constructed by people devoid of a sense of form or beauty. The new owner had put some work into the old girl, and now it looked like Audrey imagined a roadhouse ought to look. Raw wooden beams formed the veranda where a half dozen people stood smoking, drinks in hand. Liquor signs in various shades of neon hung along the front, winking lazily.

She had to park out back because the rest of the gravel lot was full. She hadn't seen this kind of crowd gathered in Edgeport since Gracie Tripp's funeral. Gracie and her husband, Mathias, had owned this place—and other businesses in town—for as long as Audrey could remember. Gracie had been a hard woman—the sort who would hit you with a tire iron if necessary, and then sew your stitches and make you a sandwich. She and Mathias dealt with some shady people on occasion, and you could always tell the stupid ones because they were the ones who thought Mathias was the one in charge.

Or stupider still, that Mathias was the one to be afraid of.

Audrey hadn't feared Gracie, but she'd respected her. Loved her, even. If not for that woman, Audrey's life might have turned out very differently.

She opened the car door and stepped out into the summer night, shivering as the ocean-cooled air brushed against her skin. Late June in Maine was a fair bit cooler than in Los Angeles. It was actually refreshing. Tilting her head back, she took a moment there on the gravel, as music drifted out the open back door of the tavern, and drew a deep breath.

Beer. Deep-fryer fat. Grass. Salt water. God, she'd missed that smell. The taste of air so pure it made her head swim with every breath.

Something released inside her, like an old latch finally giving way. Edgeport was the place where practically everything awful in her life had taken place, and yet it was home. An invisible anchor, old and rusted from time and neglect, tethered her to this place. The ground felt truly solid beneath her feet. And even though she'd rather give a blow job to a leper than walk through that front door, she didn't hesitate. Her stride was strong and quick, gravel crunching beneath the wedges of her heels.

The people on the veranda barely glanced at her as she walked up the steps. She thought she heard someone whisper her name, but she ignored it. There would be a lot of whispers over the next week, and acknowledging them could be considered a sign of weakness—or rudeness—depending on who did the whispering.

She pushed the door open and crossed the threshold. No turning back now. Inside, a country song played at a volume that discouraged talking but invited drinking and caterwauling along. There were four women on the dance floor, drunkenly swaying their hips while they hoisted their beer bottles into the air. Most of the tables were full and there was a small crowd gathered at the bar. Whoever owned this place had to be making a killing. Why hadn't someone thought of putting a bar in Edgeport before this? Drinking in these parts was like the tide coming in—inevitable.

Audrey turned away from the dancing and laughter. If her father was drunk enough that someone needed to fetch him, then he was going to be in a corner somewhere. She didn't doubt that he'd provided quite a bit of entertainment for Gracie's patrons a couple of hours before. He thrived on attention, the narcissistic bastard. How many songs had he shouted and slurred his way through? How raw was the skin of his knuckles?

She found him slumped in a chair in the back corner, denim-clad legs splayed out in front of him, a scarf of toilet paper—unused—draped over his shoulders and wrapped around his neck like a feather boa. He reeked of rum but luckily not of piss. He'd better keep it that way too. She'd toss him out on the side of the fucking road if his bladder let loose in her rental.

John "Rusty" Harte wasn't a terribly big man, but he was solid and strong. He had a thick head of gray hair that used to be auburn and mismatched eyes that he'd passed on to only one of his children—Audrey. Thankfully she'd gotten her mother's dark hair and looks.

Audrey approached her father without fear or trepidation. Her lip itched to curve into a sneer, but she caught the inside of it in her teeth instead. Give nothing away—that was a lesson she learned from her mother and from Gracie. Show nothing but strength; anything else could be used against you.

She stretched out her foot and gave his a nudge with the toe of her shoe. He rocked in the chair but didn't stir. Great, he was out cold. That never ended well.

She reached out to shake his shoulder when someone came up on her left side. "Dree?"

Audrey froze. Only one person ever called her that—because she never allowed anyone else to do so since.

She bit her lip hard. The pain cut through the panic that gripped at her chest as years of memories, both good and terrible, rushed up from the place where she'd buried them.

Not deep enough.

She turned. Standing before her was Maggie Jones—McGann now—grinning like the damn Joker. She looked truly happy to see Audrey—almost as happy as she had the night the two of them had killed Clint.

Maggie's father.

ake Tripp reached beneath the scarred wood of the bar and touched the shotgun he kept there. The ammo was in a small drawer to the right. This was the first night since they'd opened that he thought he might actually have to use it.

The moment he'd seen Audrey Harte walk in, he'd known something was going to happen—it always did when Audrey came around. And tonight, not only was Audrey's old man there, passed out, but Maggie was there too, drunk and loud. That added up to too much booze, not enough sense, and way too much history.

If he'd known she was home, and that she'd be the one sent to get her dad, he wouldn't have called Anne. It wouldn't have been the first time Rusty Harte slept it off in his office.

Jake came out from behind the bar—without the gun—moving on a path to intercept Audrey as she approached her father. A few guys turned their heads to stare at her as she passed. Audrey had grown into her looks over the years. She'd always been pretty, but there was a hard edge to it. She was hot but rough—the sort of woman who might give you the sweetest kiss right before tying your balls in a knot. The sort you'd tell yourself was worth it, and then curse when she left you bleeding.

Yeah, he'd had a lot of time to think about it.

He ignored someone shouting his name. Shrugged them off when they made a sloppy grab at his arm. Fucking drunks.

Jake came up beside Audrey at the same moment Maggie squealed her name. Audrey's face changed—a flicker of surprise followed by a hardening of her jaw, a narrowing of her eyes. People said she had "them Harte devil-eyes," which was as much an insult as it was romantic nonsense. Though they did take some getting used to.

Was Maggie actually going to hug her? Audrey took a step back. Jake took that as his cue. He put himself between them—his back to Maggie because she was the safer bet.

"I'll help you get him out to the car," he said, skipping the niceties. The two of them had never had much use for small talk.

Audrey blinked at him. Looking into her eyes—one blue, one topaz—was like looking at two different people. Not just two different people, but two different people who could both look into the darkest part of you without flinching. It was unnerving.

She didn't speak, but she didn't have to. Her nod, stiff and shallow, said more than any words ever could. Maggie tried to step around him, but Jake pushed her back, shooting her a look over his shoulder that would have told anyone else to fuck off.

Maggie smiled.

John Harte was shorter than Jake, but he was built like a bull, and just as solid. Passed out like he was, he was nothing but deadweight. Jake took his right side as Audrey went left. With an arm about each of their shoulders, and their own arms around his back, they hauled John out of the chair.

Christ, he was heavy! John's steel-toed work boots dragged on the plank floor. Jake glanced at Audrey; she was focused on the exit, but her cheeks were flushed and her nostrils flared. Determination. He knew that look. She would have grabbed her old man by one foot and dragged him out of there on her own if she'd had to. It wouldn't have been pretty, but she would have done it. She couldn't have changed that much over the years, and he knew the only reason she'd accepted his help was because she just wanted to get the hell out of there. She could have just as easily punched him in the mouth.

And he'd seen what Audrey could do with those deceptively delicate-looking fists of hers.

Someone laughed when they came out onto the porch. "Night, night, Rusty," he said, snickering.

Jake shot him a glance. It was Albert Neeley. His beer-glazed gaze was unsteady and his knees were slightly bowed. He looked like a drunk bullfrog. "Get your ugly ass off my porch, Neeley. You're bad for business." He jerked his head toward the door. "Last call."

When they reached the bottom of the steps, Jake looked at Audrey. "Go get your car. I'll wait with him." They sat her father down on the rough-hewn wood. Harte's head smacked against the railing. He snorted but didn't wake up. Audrey looked as though she wanted to grab her old man by the hair and try it again.

A cigarette butt landed on the gravel a few feet away from where Jake stood. He glanced up to see the front door close. Last call was taken seriously in this town, and the bar and waitstaff would be overwhelmed with the demands for more beer, more rum, more whiskey, and, occasionally, more wine. He ought to be inside helping out. He ought to be in there encouraging them to drink more. If he was a better man he'd be in there collecting car keys so none of them wrecked their vehicles on the way home. Most of his regulars drove better drunk than sober—years of practice. What he really ought to do was install beds out back and charge for them. Instead of any of those things, he was babysitting one of the town's more notorious drunks on the front step because he'd do just about anything to know that he and Audrey were friends again. His grandmother always said that one good friend was all a person needed. But Gran's standards had been high. To her, a friend would help you dig a grave. A good friend would help you put the body in it.

His first memory of Audrey Harte was from when he was about five years old. She and her parents came to Gracie's—which had been a takeout back then—and got ice cream. It was summer, and he would be starting school that fall. Audrey had been watching him and some other kids play, licking her ice-cream cone as her parents talked to some friends. His brother, Lincoln—almost seven and old enough to know better—knocked the ice cream out of her hand, sending it splattering on the hot gravel of the parking lot. Audrey didn't cry. She kicked Lincoln as hard as she could—right in the nuts. He fell into the puddle of ice cream. Only then did Audrey get upset about losing her treat. Jake went in and asked his grandmother for a new cone. She'd given him one for himself too, and he and Audrey sat at one of the picnic tables, eating in silence. Lincoln glared at them both but kept his distance.

When his mother took him and his siblings away a year later, Audrey was the only person he missed. And when his mother returned him to his grandmother with the remark, "He's your problem now," Audrey had been the first friend to welcome him back.

Christ, the first time he got arrested had been with her. Twenty years ago. Just before he'd started to think of her as a girl.

A red Mini Cooper pulled up in front of him. Audrey climbed out of the driver's side and came around to open the passenger door.

"Is that cardboard?" Jake asked, glancing inside at the seat. She shrugged. "Found it out back. I needed something in case he pisses himself." The statement was delivered with absolutely no emotion—just flat matter-of-factness. "It's a rental."

"Smart," Jake replied.

Audrey snorted. "Smart would have been missing my flight." And then, as she bent to collect her father again, "You running the place now?"

"Yeah." He came around to Rusty's other side. "Lincoln helps out." Why had he bothered to tell her that? She probably didn't give two shits if his brother was employed or not.

They managed to get her father into the car and onto the remains of the rum box. "It's like moving a corpse," he joked.

She didn't laugh. She looked at him, though—right in the eye—before stepping back. "Yeah? How many corpses have you moved?" That didn't make things awkward at all.

Jake shut the door, then tugged on the handle to make sure it was latched. "Want me to follow you? Help get him into the house?"

"No. Mum wouldn't like that." She sighed. "Thanks, though."

Jake nodded. "Mine was the same way. I never understood it. Not like it was her fault Dad was a drunk." The one thing that wasn't his mother's fault.

Audrey nodded. "Well, thanks again." She hesitated, then looked up. He swallowed. Went still as her gaze met his. Those damn eyes. "Good night, Jake."

He opened his mouth …

The door to the bar flew open. "Dree! What's your damage?"

Maggie. Of course. She was the punch line to the cosmic fucking joke that was his relationship with Audrey. Jake took a step back to watch the drama unfold. It wasn't the most honorable thing, but he wasn't going to get between them again—that would be begging for trouble.

Soft, blonde, and tottering on four-inch heels, Maggie was everything Audrey wasn't. She'd come back from wherever they'd locked her up as loud and brash as Audrey had turned quiet and focused. Then, she'd stopped partying for a long time and ended up married to one of the town's pride and joys—Gideon McGann. This was the first time Jake had seen her drunk in a long time. Her lipstick was smeared, giving her a vaguely Courtney Love look.

"Are you seriously not going to talk to me?" Maggie demanded as she staggered down the steps. "After all we've been through?"

A few people had followed Maggie outside, which Jake took to mean that she'd announced her intent to confront her old friend before heading out. She was still a drama queen.

Audrey frowned. "I didn't come here to talk, Maggie. I came to get my father. You and I can talk later. When you're sober."

Maggie's eyes snapped wide open, but her gaze was still unfocused, giving her a creepy doll-like appearance. "Don't you play all sanctimonious with me, Audrey Harte. I know you." She jabbed a skinny finger in Audrey's direction. "I know things about you no one else in this town knows. I could ruin you."

Audrey laughed. Jake winced at the sound. "You're welcome to try," she challenged. "But I think we're past that, don't you?"

The air between the two women practically crackled with tension. Jake stared at them along with the rest of the gawkers. No one else spoke. That was Edgeport for you—a town of fucking watchers, like birds lined up on a telephone line. Watching and squawking. So long as you avoided getting shit on, you were okay.

Maggie lurched closer, heels turning on the gravel. Jake imagined her ankle snapping and almost smiled. She stopped right in front of Audrey. In her sandals she was still an inch shorter than her old friend. Her lip quivered. "Come inside and have a drink with me. Just one."

Audrey shook her head. "Sorry. I can't."

Maggie's fingers trailed up Audrey's bare arm. It was a strangely flirtatious gesture. "Yes, you can. Your father will be fine. It will be like it used to be."

"No. It won't."

The blonde pressed closer. How many of the guys watching were sprouting hard-ons? Jake wondered. There had been a time when he would have given his left nut to be part of an Audrey and Maggie sandwich. Now, he found it a little unsettling. It wasn't about being sexy; it was about dominance.

And Maggie had yet to realize that she wasn't alpha anymore.

"I've missed you," Maggie co
We hope you are enjoying the book so far. To continue reading...
It Takes One
Kate Kessler
Copyright © 2022 All Rights Reserved
Also in this series
Also by this author