Book info
Sample
Audiobook
Media
Author updates
Lists
Synopsis
The steamy and intoxicating story of Laura and Massimo continues in this unputdownable sequel to the international bestseller 365 Days – the inspiration behind Netflix's blockbuster movie.

When Laura was abducted by the powerful Mafia Don Massimo Torricelli, she never dreamed that she'd embark on a passionate affair with her menacing, seductive captor – much less fall in love with him.

Now her new life in Sicily seems picture-perfect, with a grand wedding, a devoted and devastatingly handsome husband, a baby on the way, and all the sumptuous glamour – servants, ritzy cars, seaside palazzos – she could ever desire. But there are cracks in this fairytale facade of luxe domestic bliss. Her only companions are bodyguards and crooks, and the threat of being kidnapped or assassinated dogs her every step. Worse, her best friend has blindly stumbled into the fray, becoming yet another target for rival mafiosos eager to topple Massimo's criminal empire.

Surrounded by enemies and engulfed in her husband's shadowy world of power, pleasure and peril, Laura is about to learn what it means to be married to the most dangerous man in Italy …

'Lipin´ska spins a tantalising dark erotic romance between a volatile pair with this sequel to 365 Days ... Fast-paced, suspenseful and loaded with twists and turns, this edgy romance will entice fans enamored by complicated, dangerous heroes ... [An] addictive thrill ride.' Publishers Weekly
Release date: December 7, 2021
Publisher: Atria/Emily Bestler Books
Print pages: 320
* BingeBooks earns revenue from qualifying purchases as an Amazon Associate as well as from other retail partners.
Listen to a sample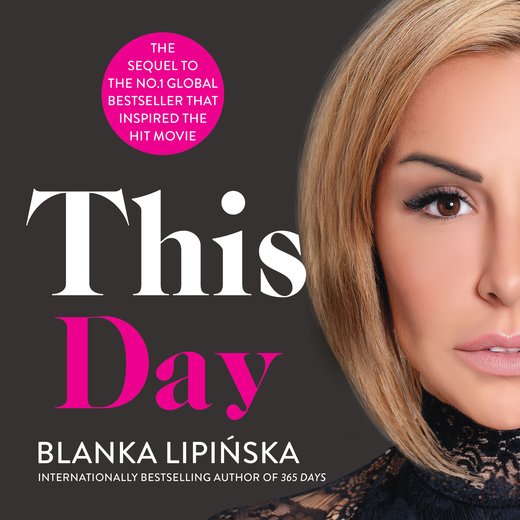 11:00:36
302.41 MB
9781761101113
November 30, 2021
Simon & Schuster Australia
This Day
Blanka Lipinska
Chapter One
CHAPTER one
It grew quiet, and I closed my eyes, realizing what I'd just said. It was another one of those times my mind only wanted to think something, but mistakenly ordered my mouth to voice the thought.

"Say that again," he said calmly, raising my chin.

I looked at him and felt my eyes welling with tears.

"I'm pregnant, Massimo. We're going to have a baby."

The Man in Black fixed me with a wide-eyed stare before collapsing to the ground and kneeling before me. He lifted my shirt and planted a soft kiss on my belly, muttering something in Italian. I had no idea what was happening, but as I took his face in my hands, I felt tears running down his cheeks. That strong, imperious, dangerous man was kneeling before me and crying. I couldn't stop myself and felt tears streaking down my face, too. We froze for a long while, allowing ourselves to take in the new circumstances.

The Man in Black rose from his knees and kissed me passionately on the lips.

"I'll buy you a tank," he said. "And if that's not enough, I'll dig a bunker myself. I promise you I'll protect the two of you, even if I'll have to pay with my own life."

He said "you two," I thought, and broke down again.

"Hey, baby girl, it's all right." I wiped away the tears with the hem of my sleeve.

"Those are tears of joy," I said, making my way to the bathroom. "I'll just be a minute."

When I returned, Massimo was sitting on the bed with nothing but his boxers on. Then he got up and crossed the distance between us to plant a kiss on my forehead.

"I'll take a shower. Don't go anywhere."

I lay down, snuggling against the pillow and analyzing what had happened. I hadn't been aware the Man in Black was even capable of crying, least of all out of joy. A few minutes later, the door to the bathroom opened and he appeared in the doorway, naked and dripping with water. Slowly, he made his way to the bed, allowing me to drink in the sight of him before lying down next to me.

"When did you find out?" he asked.

"On Monday, when I got my blood tested."

"Why didn't you tell me before?"

"I didn't want to tell you before your trip. Besides, I needed to come to terms with it myself."

"Does Olga know?"

"Yes. And your brother, too."

Massimo frowned and rolled to his back.

"Why didn't you tell me Domenico and you were family?" I asked.

He took a moment to think, biting on his lip.

"I wanted you to have a friend. Someone close, who you'd trust. If you knew he was my brother, you would have acted differently. Domenico knows how valuable you are to me. I wouldn't have anyone else taking care of you when I was gone."

It made sense, I thought. I wasn't mad and didn't hold anything against him.

"So… are we calling off the wedding?" I asked, looking him in the eyes.

Massimo rolled to his side and stuck to me with the entire length of his body.

"You're joking, right? The child needs to have a full family. And a family is three people. Remember?" He started to kiss me. Gently. "What did the doctor say? Did you ask him if we can…"

I laughed and slid my tongue into his mouth. He moaned and crushed my lips in a passionate kiss.

"Yeah… I'll take it as a yes," he rasped, pulling away from me. "I'll be gentle. I promise."

He reached out to the nightstand and turned off the TV, plunging the room into complete darkness. His hand shot out and snatched the sheets from me, tossing them to the ground, before it slid beneath my blouse and pulled it off. Massimo's hands explored my body, gently touching my face before trailing down and clamping onto my breasts and squeezing. His head followed his hands, as he pinched my nipple between his teeth and sucked. A strange feeling overcame me—a kind of pure ecstasy that I'd never felt before when someone did that. Massimo didn't rush it. He took his time, savoring the different areas of my body. His lips flew from one nipple to the other, only to venture back to my face, kissing me passionately on the mouth. I could feel his cock swelling slowly as it rubbed against me with each motion of his body. A while later I started growing impatient. Horny and starved of his attentions, I took over the initiative. I wanted to have him. Right now. I lifted myself a fraction, but the Man in Black predicted my movement and pinned my shoulders to the bed.

"Come to me," I whispered, squirming beneath him.

I felt, rather than saw, his triumphant smirk. He knew how much I wanted him.

"I'm only just beginning, baby girl."

Massimo's lips trailed slowly down my skin, starting with the neck, passing my breasts and my tummy to finally end up where they should have been from the very beginning. He kissed and licked me through the thin lace of my thong, teasing my throbbing clit, before slowly pulling the underwear down my legs and tossing it aside.

I spread my legs, knowing what was coming. My hips started to undulate in the silk sheets, delicately and steadily. I felt his breath between my legs, and a wave of lust crashed over me. Massimo slowly slid his tongue inside me and moaned.

"You're so wet, Laura…" he breathed. "I don't know if it's the pregnancy or if you've just missed me."

"Shut up, Massimo," I replied, pressing his head against my wet snatch. "Make me come."

My commanding tone brought out the animal in him. He clasped his hands on my thighs and pulled me rapidly down the bed, pushing a pillow under my back and kneeling on the cover he had thrown off the bed earlier. My breathing quickened. I knew whatever he was about to do, he wouldn't take much time doing it.

The Man in Black slid two fingers inside me while his thumb trailed soft circles around my clitoris. My muscles tensed, and I let out a loud moan. That's when he turned his palm around and his thumb gave way to his tongue.

"Help me out a bit, baby girl."

I knew what he was asking for. With one hand I spread my pussy, giving him better access to the most sensitive spots. As his tongue started to rhythmically flick against my clit, I knew I wasn't going to last long. His fingers picked up the pace inside me, and their pressure became harder. I couldn't keep the orgasm at bay anymore. It had been looming over me like a great cloud since Massimo had first touched me. I came with a long, piercing scream, before collapsing on the pillow.

"I'll have another go," he whispered, keeping his lips clamped around my clit. "I've neglected you lately, babe."

I thought he was joking but I was wrong. His fingers began to move faster, and the thumb that had been playing with my clitoris earlier now moved to my back entrance. My buttocks tensed involuntarily. Oh no, he wasn't joking at all.

"Relax, my love."

I did as he told me. I was in for more ecstasy. When his finger finally slipped delicately inside, I could already feel another orgasm coming. Massimo knew perfectly how to make my body react the way he wanted it to. His fingers pistoned into both my holes, his tongue and lips pushing against my sweet spot. Another wave of orgasm washed over me, and then one more. When I reached the point at which the ecstasy was physically painful, I clawed at his neck. I was out of breath. I collapsed on the pillow, breathing heavily.

The Man in Black turned me over, yanking me up the bed and lifting my legs so that my knees nearly touched my shoulders. He knelt with his cock fully erect.

"If it hurts, just say so," he breathed, pushing himself inside me before I could react.

His thick, bulging prick slid deeper into me, pushing its way forward. As he reached the end, Massimo's hips stopped, as if waiting for me to say something.

"Fuck me, don Massimo," I said, my arms wrapping around his neck.

I didn't have to say it twice. His body burst into motion, pumping like a machine gun. He fucked me fast and hard—just the way we both liked it.

After a while, the Man in Black stopped, put his hands around me, and rolled me over before sliding his dick back in and going back to his wild ride.

I could feel him getting close, but he couldn't decide how and when he wanted to come.

Another instant later, he slid out and rolled me back to my initial position. His hand groped around the nightstand. He found the remote and turned the lights on, bathing the bedroom in a delicate light. With his knees, he spread my thighs and slowly slid back into my wet pussy, his gaze never leaving my face. He leaned over and lowered himself, clinging to me, his lips hovering just a few inches above mine. I could see his eyes glazing over, as a powerful shiver of ecstasy shook the Man in Black. His hips pumped even harder, slamming into me, and his back ran with sweat. Massimo orgasmed for a long time, but his eyes never wavered. I had never seen anything as sexy in my entire life.

"I don't want to pull it out," he said, rasping.

I laughed and ran my fingers through his hair.

"You're crushing our daughter."

Massimo closed me in a viselike grip and rolled us both over. Now I was on top. With one hand, he picked up the bedcover, pulling it over my back.

"A girl?" he asked, stroking my hair.

"I'd like it to be a girl, but knowing my luck, it'll be a boy. And I'll never stop worrying if he follows in your steps."

The Man in Black laughed out loud and nestled his head in the crook of my neck.

"He'll do whatever he likes. I'll make sure to get him everything he'd ever dream of."

"We'll have to talk this over one day, but let's leave it for now."

Massimo said nothing for a while, only tightening his embrace. Finally, he ordered, "Go to sleep now."

I'm not sure how long I slept. When I opened my eyes, the first thing I did was grab my phone.

Goddamn it! It was noon. Who sleeps this late? I turned my head, searching for the Man in Black, but the space beside me on the bed was empty. Why wasn't I surprised… For a while, I stayed in bed, slowly shaking off the sleep, before I got up and went to the bathroom. If Massimo was back, I needed to look my best. Better than I had for the last couple of days. But, of course, without actually revealing that I had done anything to make myself up. I wanted him to believe I woke up this pretty. I accented my eyes and brushed my newly cut hair. Then I rummaged through the wardrobe and found a pair of denim shorts, a bright sweater leaving one shoulder bare, and a pair of beige Emus. As long as I could show off my body, and it was still warm outside, I would dress however I liked.

I met Domenico in the corridor.

"Oh, hi! Have you seen Olga?"

"She woke up a moment ago. I just ordered breakfast. Or lunch, more like."

"And Massimo?"

"He left early in the morning, but he should be back any time now. How are you feeling?"

I leaned against a door frame and smiled playfully.

"Oh, just perfect… wonderful." Domenico raised his hand and waved me off.

"Yadda-yadda. My brother was just as bubbly. I'm asking if anything hurts. I've booked you another visit to the cardiologist. And a gynecologist. You should be at the clinic by three."

"Thanks, Domenico," I said, leaving him on my way to the garden.

The day was warm, and the sun shone through the cloud cover. Olga was sitting by the table, reading a newspaper. Passing her by, I planted a kiss on the top of her head before taking a seat in an armchair.

"What's up, bitch?" she greeted me, sending me a glance through her shades. "What's with the smug face? They give you the same pills I had? I totally blacked out. Only just got up. Think that doc has more of those?"

"I got something way better," I replied, raising my brows with a meaningful smirk.

Olga took her sunglasses off and put the paper down, staring at something behind me.

"All right, tits up! Massimo's back." I turned in my chair and saw the Man in Black appearing through the door, making his way toward us. I felt hot all of a sudden. He wore gray pants and a graphite sweater with the collar of a white shirt sticking out from underneath. He had one hand in his pocket, while the other held a cell phone to his ear. He was breathtaking. Godly. And most important—mine.

Olga watched Massimo closely as he stopped near the edge of the garden, talking over the phone and staring out to the sea.

"I bet he fucks like a god," she mused, shaking her head.

I raised a cup of tea to my lips, keeping my eyes on the Man in Black.

"Want me to tell you just how good he is?"

"No need. The look on your face alone tells me all I need to know. Besides, a guy like that pretty much guarantees satisfaction, eh?"

I felt glad her humor was back and that she'd decided not to talk about what had happened yesterday. I needed to keep it out of my head, too. Otherwise, I might have gone mad. Massimo ended the call and approached the table with a stony expression.

"Good to see you, Olga."

"Thanks for inviting me, don Massimo. It's very kind of you to let me accompany Laura during her big day."

Massimo grimaced, while I kicked Olga in the shin under the table.

"What's with the kick?" she asked, genuinely baffled. "It is an honor. Not even your parents are here, are they?"

She took a breath, apparently intending to continue, but suddenly reminded herself that I was supposed to keep my nerves under control.

"How are my girls?" The Man in Black changed the subject, bending over me and planting a kiss on my tummy and then my lips.

That only disconcerted Olga.

"You told him?!" she burst out in Polish. "I thought he just got back."

"I did. He returned last night."

"Well, then. Now I know why you're in such a good mood. Nothing like a good fuck. Especially after popping a bunch of tranquilizers." She nodded her head knowingly and got back to skimming through her paper.

Massimo took his place at the head of the table and turned his head to me.

"When are we going to see the doctor?"

"What do you mean, 'we'?"

"I'm going with you."

"I'm not sure I'd like that." I grimaced at the image of him accompanying me to the gynecologist. "The doctor is a man. I'd like him to stay alive a bit longer. Do you even know what an obgyn exam looks like?"

Olga spat out her coffee.

"If Domenico chose him, he's the best at what he does. Besides, I can wait outside if you prefer."

"No way, Massimo. There's a special screen," Olga chimed in, putting her newspaper down. "You'll have the time of your life."

"Want another kick? Just say a word," I hissed at her in Polish.

"Can you two speak English?" the Man in Black growled. "When you speak Polish, I get the feeling you're laughing at me."

Domenico appeared out of the blue to defuse the situation. He sat down in the last free chair.

"I need your help, Olga," he said. "Would you come with me, please?"

I raised an eyebrow, turning to the young Italian.

"Keeping secrets from me?"

"Nope," Olga replied and then turned to Domenico, saying, "Sure I would. When our little lovebirds go to the doctor. Not as if I have anything better to do anyway."

"Brother"—Domenico's eyes moved to Massimo—"can I officially congratulate you now?"

Massimo's stare grew less hostile, and a slight smile illuminated his face.

Domenico got up and walked over to his brother, saying something in Italian. The two men embraced, patting each other's backs. It was a new and heartwarming sight for me. The Man in Black sat back down and took a sip of his coffee.

"I have something for you, baby girl," he said, placing a small black box on the table. "I hope this one will be luckier."

I sent him a quizzical look but took the little box and opened it. Immediately, I slumped back in my seat, shocked. Olga took a look above my shoulder and whistled in appreciation.

"A Bentley. Pretty cool. Have any more of those little boxes?"

My eyes darted from the car key to Massimo.

"At first I didn't want you to have a car of your own. But I can't let you go paranoid. Besides, I've learned everything there is to learn about this whole situation, and I don't think you're in any more danger."

"Excuse me? What do you mean?"

"I saw my inside man at the police station in the morning and took a look at the CCTV recordings from the highway. There was only one person in the car that hit you. We couldn't identify them from the recording, but we also got ourselves a copy of the recordings from the spa. Same story there—the driver wore a baseball cap and a hoodie. Nevertheless, I was able to exclude some people from the circle of suspects. The driver acted very chaotic, you see. And the person who wanted to ram you had no idea how to do it properly. If it had been a professional, you would have been dead by now. So, either it was a coincidence, or the situation was unrelated to the family business."

"Sure, we're the luckiest girls in the world." Olga snickered, rolling her eyes.

"That doesn't make me any happier," she continued. "One day, I'll have to leave her here with you. I hope nothing happens to her while I'm away. Otherwise, even your horde of goons won't protect you from me."

Massimo couldn't hide his amusement at that. Domenico, on the other hand, looked utterly dumbfounded, staring at my personal protector.

"That temperament must be a Polish thing, Massimo," he said.

I gave Olga a smooch on the cheek and stroked her hair, laughing.

The table was piled with all kinds of delicacies. The four of us got to eating. Uncharacteristically, I had a great appetite and wasn't feeling nauseous today.

"All right, boys," I said, putting my fork down, "how about you two tell us something about your brotherly relationship? Did you have fun pretending to be boss and underling?"

The brothers exchanged glances, unsure of who should begin.

"It wasn't exactly pretending," Domenico said finally. "As the head of the family, Massimo is actually my boss. Though of course, first and foremost, he's my brother. Family comes first, you know. But he's the don, so I owe him a kind of respect that goes beyond what you feel toward relatives." He propped his elbows on the tabletop and leaned forward. "Besides, we only found out we're brothers a couple years ago. When our father died."

"When I was shot, I needed blood," the Man in Black cut in, "and when our blood tests came in, it turned out we were genetically related. Then, after I recuperated, we decided to get to the bottom of this and found out that we were half brothers. Domenico's mother is my mum's sister. And we have the same father."

"Wait a minute," Olga chimed in, "doesn't that mean your old man banged both sisters?"

The men frowned, adopting similar expressions.

"If you put it as colloquially as you did," Massimo said flatly, "then yes. That's what happened."

An awkward silence fell over us all.

"Anything else you'd like to know, Laura?" the Man in Black asked, keeping his eyes on Olga.

"Since we're among family," I said, "let's pick a name for the baby to defuse the tension a bit."

"Henryk!" Olga called out. "A beautiful name! A king's name!"

Domenico frowned as he and Massimo tried pronouncing the Polish name.

"Nah, I don't like it." I shook my head. "And I'm still convinced it's going to be a girl."

Three seconds later, an argument was already raging, and I started to regret trying to change the subject in the first place. Olga was yelling, and Massimo calmly rebuffed her arguments. They didn't need me, it seemed. Observing the exchange, I realized that until Olga accepted I was happy and safe, her war with the Man in Black wouldn't end. She'd just keep whipping him up and gauging his reactions.

I got up and planted another kiss on her head.

"I love you."

Olga trailed off at that, growing silent again. I crossed the patio and kissed Massimo—long and passionate.

"We love you," I said. "Now. I'm off to the clinic. Don't want to be late." I snatched the black box from the table and left.

Massimo excused himself and stood up, launching himself after me and catching up in no time. He wrapped his arm around my shoulders.

"Do you even know where I parked the car, baby? Or were you planning to go on a treasure hunt?"

I jabbed an elbow into his gut with a laugh, and he led me to a part of the garden that I'd never visited before. It sat behind the house. It was covered in deep shade and had no view of the sea, so I had never even thought about going there.

When we reached the place, I saw a large, single-floor building set into the mountainside. The gate lifted and I realized the garage—or rather the hangar—was indeed carved into the mountain. There were dozens of cars inside. I froze, shocked. Who needs that many cars?

"You drive them all?"

"I've driven all of them at least once, yes. They were a hobby of my father's. He collected them."

My eyes focused on the line of motorcycles by the wall, and I edged closer.

"Oh, I love this one," I said, running a hand along the curves of a Suzuki Hayabusa. "Four cylinders, six gears, and crazy torque!" I squealed with delight. "?'Hayabusa' means 'peregrine falcon' in Japanese. It's the fastest animal in the world. It's wonderful."

Massimo kept a step behind, listening to me with a look of surprise.

"Forget it," he barked as I finished, pulling me toward the exit. "You'll never—and I mean ever—ride a bike. I'm being serious."

I snatched my hand away and sent him a furious glare.

"Who are you to tell me what to do?"

The Man in Black turned to face me and clasped his hands around my cheeks.

"You're pregnant with my child. When it's born, you'll be my baby's mother." He stressed the word "my," keeping his eyes fixed on mine.

"I will not risk losing you or the two of you. So forgive me, but I will tell you what to do."

His finger pointed at the bikes.

"I will get rid of those. This isn't about your skills or your care or the lack of it. You just can't be entirely safe on the road. Things happen."

I had to agree with that. I didn't like it, but he was right. I wasn't only responsible for myself anymore.

Looking into his cold, angry eyes, I put my hands on my belly and gently stroked it. The gesture seemed to calm him down. He put his palms over mine and leaned his brow against my own. I didn't have to say anything. I understood. And he knew what I felt and what I thought.

"Please don't be stubborn, Laura. At least not without a good cause. And let me take care of both of you. Now come with me."

There was a black Bentley Continental parked by one of the gates. The muscular coupe had nothing in common with the bulky Porsche that I had driven last time.

"You told me I wouldn't get a sports car."

"I changed my mind. Besides, I'm going to strap it with a speed limiter."

I paused, confused, sending him a wary glance.

"You're joking, right?"

Massimo grinned at that. "Of course I am. The Bentley doesn't offer anything like that." He raised his brows, amused. "But it's very safe and very fast. I've chosen it for you after some… consultations. It's simpler than the Porsche and much more elegant. And it has a lot of interior space, so your belly will fit without any issue. Do you like it?"

"I like the Hayabusa," I grumbled, pouting.

Massimo shot me a warning glare and opened the driver's door. Surprised that he was allowing me to drive, I got inside. The cockpit was a beautiful honey-and-almond color. It was elegant, simple, and refined.

The seats and parts of the door were covered in quilted leather, and the rest was wood.

With a start, I discovered that it wasn't really a typical coupe inside—it was a large four-seat car. Still looking around, dazzled by the luxury of the interior, I heard Massimo getting comfy in the passenger seat.

"You like it?" he asked.

"Well, I guess I can live with it," I replied sarcastically.

On the way to the clinic, Massimo gave me a crash course in using the various functions of the car, and after twenty minutes or so, I became a Bentley driving expert.

Massimo was calm and disciplined at the doctor's office. He listened to the gynecologist and asked questions, all of them rational and insightful. During the examination, he left the room, explaining that he wanted me to feel as comfortable as possible. Just as I thought, yesterday's accident hadn't impacted my health in any way, nor had it hurt the child inside me. The cardiologist confirmed that I was okay, and that my heart was as good as it got, considering the circumstances. He prescribed me some drugs I was supposed to take whenever I felt under the weather.

Two hours later, we were on our way back home. This time I asked the Man in Black to drive. Those visits at the clinic were a bit taxing on my nerves, and I didn't want to take any unnecessary risks.

"Luca," Massimo said suddenly, keeping his eyes on the road.

"I'd like our son to have my grandfather's name. He was a great and wise Sicilian. You would have liked him. A charming and intelligent man. Truly ahead of his time. It was his idea to send me to university instead of allowing me to play around with guns."

I mulled the name over for a while, finally deciding I liked it. The only thing that counted for me was for the baby to be healthy and have a chance at a normal childhood.

"It's going to be a girl. You'll see."

Massimo's lips spread in a shy smile, and his hand landed on my knee.

"So we're going to name her Eleonore Claire. Like our mothers."

"Do I have a say in this at all?" I asked.

"Nope. I'll get the birth certificate sorted out while you're recovering."

I shot him a stormy glare and punched him on the shoulder.

"What?" He laughed. "It's tradition! The head of the family decides about everything. And I've made up my mind."

"Oh yeah? How about I tell you some Polish traditions? First of all, we castrate the husband after the first
We hope you are enjoying the book so far. To continue reading...
This Day
Blanka Lipinska
Copyright © 2023 All Rights Reserved