Book info
Sample
Audiobook
Media
Author updates
Lists
Synopsis
Hope Tantry arrives at cottage in England's pastoral Lake District where her mother, Ally, spent the last years of her life. Ally - one of a group of women who called themselves the Wednesday Sisters - had used the cottage while she worked on her unpublished biography of Beatrix Potter. Traveling with Hope are friends Anna Page and Julie, first introduced in The Wednesday Sisters, now grown women grappling with issues of a different era. Tucked away in a hidden drawer, Hope finds a stack of Ally's notebooks, written in a mysterious code. As she, Julie, and Anna Page try to decipher Ally's writings, they are forced to confront their own struggles: Hope's doubts her marriage, Julie's grief over her twin sister, Anna Page's fear of commitment.
Release date: July 16, 2013
Publisher: Ballantine Books
Print pages: 304
* BingeBooks earns revenue from qualifying purchases as an Amazon Associate as well as from other retail partners.
Listen to a sample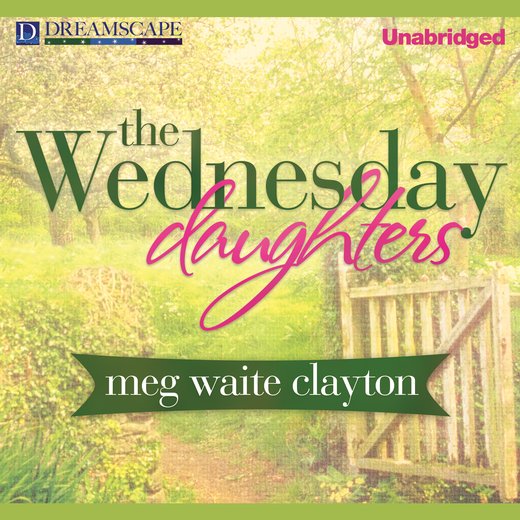 09:22:41
257.61 MB
9781666607130
July 16, 2013
Dreamscape Media
The Wednesday Daughters
Meg Waite Clayton
Chapter 1

Autumn is far away the best time at the Lakes.

—­Beatrix Potter, in a September 1903 letter to her then publisher and eventual fiancé, Norman Warne

We Wednesday Daughters weren't born on Wednesdays, and we aren't blood relations. We don't gather to write at picnic tables like our mothers did. We're just daughters of friends who've called themselves "Wednesday Sisters" since before I was born, daughters who became friends ourselves the way girls who grow up together sometimes do, whether they have much in common or not. Perhaps that is a lot to have in common, though: a shared childhood, friends who've known you since before you knew yourself.

We're are all old enough now to understand what Aunt Kath forever tells us—­that life and living aren't the same—­and our moms long ago moved on (more or less) from mothering us to other passions: Aunt Linda's cancer-­survivor runs, Mom's infertility support group, the novels Frankie and Brett still write. But they've brought us together for holiday dinners and barbecues so often over the years that at some point we started gathering ourselves, our childhood bonds deepening despite, say,  the dozen years that separate Anna Page and me. It's that combination of our mothers' friendships and our own that sent three of us together to the English Lakes—the fall of 2011, it was—and allowed us to share the comfort we found there in one exquisite wooden puzzle box. We are, in the Wednesday Circle, our mothers' daughters: Kath's Anna Page, Linda's Julie, and me, Ally's Hope. And this is our story, which is, I suppose, a love story. Or two. Or, actually, probably four.

"You'll want to be hearing the quiet of the evening coming up," the boatman suggested as he lead us to a rowboat rather than a motorized launch. "Your head's a marly if you'll have an engine spoilin' this." Such funny phrases, I thought as he loaded our suitcases and set off across Lake Windermere. Like so many of the expressions Mom brought home from her stays there: "queue" and "toff" and "fancy," "single-­track" instead of "one-­lane" to describe the winding roads. But as the daylight softened from blue to salmon to steel with each hushed push of the wood oars, I could hear the quiet. Even with the squabble of geese down the shoreline, the occasional gunshot clap of a car passing over a trestle echoing off the hills, I could hear the quiet of our little boat slipping as surely forward as time itself.

It was mid-­October, the air fresh with the smell of lake water and field grass and forest, the promise of frost. On the hillside we'd left behind, the maze of stone walls dwindled. The black-­faced sheep we'd seen out the train window faded to nothing as lights blinked on in the shops trailing down from the station to hug up together at Bowness, the boats in the harbor bare-­masted as full sails were exchanged for fireside seats in restaurants and pubs and homes. Ahead, two white swans dug at the lake grasses. The thick woods on the shore beyond them took shape as individual trees. A stone chimney poked above the treetops upslope, collecting more stone around it: other chimneys, a square tower, various slants of roof that were all of a same.

"That's your mama's little writing cottage, Hope?" Anna Page asked, fingering her hair, which was wavy-­dark and wild in the still of the approaching evening.

The boatman—­Robbie, he'd said his name was—­glanced over his shoulder, his hands on the rough oars not young, but steady and surprisingly well kempt. "That's the one to gawk at, the big house," he said, his voice Irish rather than English; perhaps that was the hint of not quite belonging I sensed in him. He raised the oars and pointed to the right of a lone wooden pier and a dilapidated boathouse. "There's a cottage there through the scrub, see?"

A glimpse of cornflower blue took shape through the tangle of branches—­a door overhung with vines on a cottage I'd seen only in photographs: a simple rectangle of gray stone; low walls around a patio; a last straggle of geraniums in a window box. I trailed a hand over the boat's edge, the echo wake of my fingers folding into that of the drifting boat as I imagined Mom writing at a wrought-­iron table on the patio, her feet up on a second chair. When it was colder, she would have moved inside, written at a desk beside a wood fire, or at a table piled with books and papers, pens and paper clips and Post-­it notes, empty teacups scattered as if to catch drops from a leaking ceiling in a life that held little rain—­except maybe the disapproval of Ama, my dad's mom, who spent a lifetime trying to make a proper Indian wife of her Caucasian daughter-­in-­law.

"That's the pier Mom uses, then, I guess," I said. "She keeps a bicycle and a small boat here, so she doesn't need a car."

Kept a bicycle. Didn't need. Mom didn't need anything in this world anymore except for me to pack up what was left of her life in England, the way I'd not yet managed to pack up her pajamas and teapots and hairbrushes at home, her puzzle box collection, her manuscript drafts of the children's books she'd spent her life writing but had never seen in print.

"Aunt Ally said there's a ghost who walks those hills?" Anna Page said to Robbie.

Robbie answered softly, " 'That old Crier of Claife on Furness Fell,' /  " 'as long as ivy evergreens shall twine, / May sally forth at will from his ravine, / And rouse the boatman with his human yell.' "

Julie blinked back the same surprise I felt at the fact of this boatman spouting poetry—a poem he'd have memorized to amuse the folks he took on tours of the lake, but still. "A ghost," she said, and I remembered Aunt Frankie joking about a ghost friend of Mom's who played piano at an old mansion in the park at home. I imagined Mom insisting that the ghost of the grizzled old character who'd ferried her across this English lake could have been enlisted to take us.

Anna Page leaned close to Robbie and whispered in his ear, the sprinkle of grays at her part line a bit tacky—­although that was just me being tacky; Anna Page had no marriage to end first, and never had. She could have as many doors as she wanted. She could paint them any color she chose. Which she did; even at fifty-­one, Anna Page took in men as often as I took in the Sunday paper, and took what she wanted from them, and set them out with the recycling bin, or that was the way it sometimes seemed. Julie could have as many doors or men or anything else as she wanted by then, too, with her divorce from Noah filed. I was the only one of us with a marriage left, or with what passed for one.

"They say he killed someone," Robbie said to Anna Page or to Julie, I wasn't sure which, but it was Anna Page's laughter that warmed the evening in response.

"Lordy, did Ma pay him to say that?" she said to Julie and me. Then she delivered, in a near-­perfect mimic of her mother's Southern accent, the Gatsby line our moms all whipped out at the slightest provocation: " 'You look at him sometimes when he thinks nobody's looking at him. I'll bet he killed a man!'

I heard Mom's voice wrapped around the words, Mom's laughter.

"Not a bloke but a lady," Robbie insisted as he set his weight to the oars again. "His British wife."

"His British wife," Anna Page repeated, charming him with the hint of tease that worked so well with men.

"He had two, didn'e," Robbie said. "One wife in India and a proper British wife as well." He laughed uncomfortably, glancing my way as if his words might offend me when they wouldn't offend Julie or Anna Page. He thought I was Indian. People who aren't Indian always do.

"Two wives," he repeated more gently, staring shoreward with eyes as deep as the lake in a face that had seen as much weather, eyes that just might understand how two loves could be held in a single heart. "Or that's the blather here," he said.

He dipped one oar and raised the other to ease us toward the pier, where he hopped out and secured the boat to a mossy post, the swan pair watching suspiciously from a jetty of flat rocks on the other side of the boathouse, where the original pier must have been. "They say old man Wyndham who killed his British wife is the Crier of Claife, the ghost who calls across to the ferrymen at Nab. The only one who ever went to him, though . . . that poor bloke wouldn't speak of what he'd seen, and still he died the next day."
We hope you are enjoying the book so far. To continue reading...
The Wednesday Daughters
Meg Waite Clayton
Copyright © 2023 All Rights Reserved