The Twice-Scorned Lady of Shadow
Book info
Sample
Audiobook
Media
Author updates
Lists
Synopsis
I'm learning to embrace who and what I am, but there's one thing I can't face: the night Zak betrayed me. But even with the mysteries of our shared past hanging between us, I can't turn Zak away when he asks for my help.



Powerful fae are going missing, and when he tried to investigate, Lallakai vanished too. Now he wants me to venture with him into the territory of the Shadow Court, but its bloodthirsty courtiers don't welcome meddling druids.



Danger is gathering around us, seen and unseen. As we uncover incomprehensible clues about the missing fae, we realize this nightmare runs deeper than we imagined, and unveiling it means delving into the past—our past.



If I abandon Zak now, he'll never make it out alive. But if I stay at his side, if I face the truth of that night, it will destroy us both.
Release date: May 6, 2022
Publisher: Dark Owl Fantasy
* BingeBooks earns revenue from qualifying purchases as an Amazon Associate as well as from other retail partners.
Listen to a sample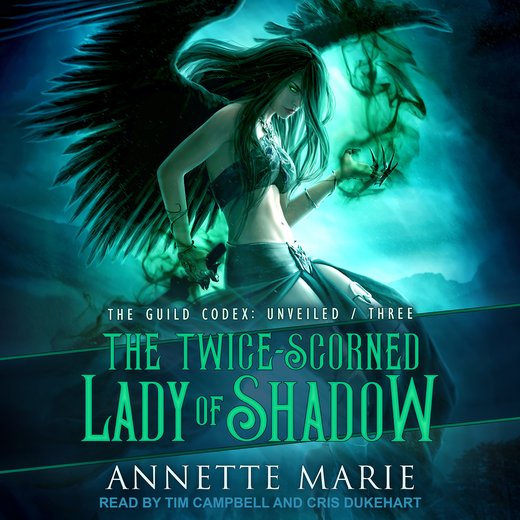 07:37:31
209.44 MB
June 28, 2022
Tantor Audio
2022
The Twice-Scorned Lady of Shadow
Annette Marie
Chapter 1
- ZAK -
Ten Years Ago
"It's impossible, isn't it?"
Sitting against the brick wall beside me, the girl clenched her hands into fists. The dim light from a streetlamp barely reached us in the dark alley, and her face was half in shadow, but I could still see the worried crease between her eyebrows.
"She's gonna sell me to Bane," she continued, sounding hopeless. I didn't like it. I preferred it when she sounded brazen or sarcastic, or when she sometimes got that soft, sort of breathy note in her voice. "And he's going to … what?"
"Feed you to a fae, probably," I guessed.
She didn't flinch. Instead, she studied me as though puzzling something out. I liked her eyes. Her blue-gray irises were so pale it was like I could see through them, but at the same time, they had this intensity that made it hard to hold her gaze. Her eyes suited her much better than her blond hair.
Faint sounds of conversation leaked from the building behind us. Inside, the girl's aunt was probably cashing in. I'd overheard enough from Bane and the other regulars to know that Ruth sold expensive, rare poisons. Bane had complained more than once about her prices, even for raw ingredients.
Poisoning her wouldn't be easy, but it seemed like the best option. And death by poison for an alchemist was nicely ironic.
"What if …" I hesitated, then threw out the question. "What if I could get you a poison with no antidote?"
The girl wrinkled her nose. "Where would you get that?"
Fear spiked in my chest at the plan I was proposing. "It's one Bane doses himself with for his mithridatic training. I could steal it."
Hope brightened the girl's eyes. "Really?"
Could I steal from Bane? Accessing his poisons wasn't a problem. Getting away with it was the issue.
Bane had trained me in everything I needed to become an evil bastard as unstoppable as he was. He'd hired the best dark-arts sorcery and alchemy tutors money could buy, and the rest he'd taught me himself: druidry skills, different forms of combat with and without weapons and magic, fae customs and culture, negotiation, manipulation, deception, and a hundred ways to kill.
I'd mastered everything he'd taught, but I was still no match for him. He had me beat in every druidry skill, and he knew almost as much about poisons as a master alchemist. Plus, he had a pack of vicious familiars at his beck and call. But the way he somehow knew what I was thinking or planning—that was what really scared me. He was always twenty steps ahead of me. I never caught him off guard. I never got away with anything.
I glanced at the girl. All that training, but I was completely out of my depth having a conversation with a girl my age. Not that this counted as a normal conversation. Either way, it was fucked up.
"What will happen to you if your aunt dies?" I asked.
She twitched her shoulders dismissively. "My parents are dead, and if I have other relatives, I don't know them."
So she was as alone as I was.
"Bane might try to take you anyway," I warned her, "depending on how bad he wants you."
Why he wanted her, I wasn't sure. Grenior had told me she had faint spiritual energy, meaning she was probably a witch. It wouldn't be the first time Bane had bartered a live witch to a dark fae as part of a deal, but I didn't understand why he was so determined to get his hands on her. There had to be easier, cheaper options.
"So we have to kill them both."
My attention snapped back to her.
She met my eyes, her gaze sharp. "Especially if you're going to steal from him."
We were back to that: killing Bane and whether I could do it. I let out a slow breath. Killing Ruth was barely a challenge—unless I was badly underestimating the alchemist. Bane, on the other hand …
Stealing from him scared me. The thought of trying to kill him stirred panic in my chest.
As though reading my mind, she asked, "What's the biggest thing stopping you from killing him?"
My nerves twanged with paranoia. "His fae. They're always there. Always watching my every move. He knows I'd murder him in a heartbeat, so he always has one shadowing me."
She stiffened. "Even right now?"
"Not now. My familiars are keeping his away, but that won't work if he's nearby. He'd notice right away."
I almost reached telepathically for Grenior but stopped myself. If Bane's vargs had been close enough to hear our conversation, Grenior would have warned me.
The girl's gaze drifted across the dark, damp alley. She tugged absently at the collar of her jacket. "If you could get past his fae without them noticing you, could you kill him?"
"Yeah," I replied, even though "maybe" was a more realistic answer. "But it's impossible to sneak past those fae."
She pulled at her collar again. "Actually, you can. With the right magic."
"What magic?"
"I have a … an artifact." Her intense blue-gray eyes locked on mine. "It hides the person wearing it from fae senses. I could lend it to you."
"Something like that exists?" Impossible. If it did, I'd have discovered it already. I'd been searching for ways to escape from or kill Bane for years. I hesitated, then asked, "You'd let me use it?"
"Borrow it," she corrected me, emphasizing the word. "It was a gift from my parents. It's the only thing of theirs I have left."
"Borrow," I repeated hastily, my mind racing ahead, already planning. "For one night. Just long enough to …" Doubts cut through my exhilarated strategizing. "Are you sure that's how it works? It will hide me from any fae?"
"My parents said it doesn't matter what kind of fae or how powerful. As long as I'm wearing it, no fae will notice me."
"That's … that's unbelievable." Was it too good to be true? I dragged my hand absently through my hair, knocking my hood back. "I could test it with my familiars, figure out exactly how it works …"
I trailed off, thinking it through. I'd have to confirm the artifact worked as she said, and if I combined it with other potions and spells … but what if that wasn't enough? Bane was always prepared, and he expected me to try to kill him. The training he'd put me through—the grueling, never-ending hours of physical drilling, book studies, psychological conditioning, mental games, and underhanded tests—he'd done it all to turn me into a copy of him.
And when the "copy" was complete and I surpassed him in power, I would kill him. That was the deal.
Until then, I was at his mercy in every way. He already punished me for my failures, big or small. If killing him was my ultimate "test," then the punishment would be worse than anything he'd ever done to me before.
But if I didn't try, I'd have to keep going as his apprentice until I was strong enough to be one hundred percent certain I wouldn't fail. I'd have to let him train me and test me and twist me until I was just like him. He was recreating himself in me, and if I stayed, I might become him.
I'd rather try, fail, and die than turn into Bane.
I forced my gaze back to hers. "If the spell does what you say it does, I can do it."
"You can kill him?"
I nodded, even though I felt nowhere near confident. "He relies on his fae to watch me. I can slip away using your artifact, and while they're searching for me, I can kill him."
"And I can kill my aunt with your poison." A grin flashed over her face, but the expression quickly faded. She glanced away, ducking her head. "And after they're dead, we could …"
I waited a moment. "We could what?"
"We could … band together?" She abruptly straightened, forcing a nonchalant expression, even though she was still blushing. "Better than going at it alone, right? I mean … if you want to."
"Like … long-term?" I asked uncertainly.
She tried to meet my eyes, couldn't hold them, and looked away.
Band together with this girl? She was tough enough to endure her aunt's abuse and brave enough to plan a double murder, but she wasn't like me. I doubted she had any useful survival skills.
"I …" My shoulders flexed. I'd have to protect her, but was that so bad? Like she'd said, it was better than being alone. And I'd been alone for a long time. "I like that idea."
"You do?"
Doubts flickered, then quieted. "Yeah."
The flush in her cheeks deepened, and she abruptly grabbed my wrist. "How's the cut?"
Her voice had gone high with embarrassment, and she hid her face as she examined the scar between my ring and middle fingers where she'd cut me.
She grimaced with obvious guilt. "Sorry."
Her remorse was so over-the-top it was funny. You'd think she'd gutted me, not nicked me with a tiny knife, and I couldn't hold back a short chuckle. "A memento, I guess."
"You don't need a memento of me." She arched an eyebrow. "We're going to stick together, right?"
"Right."
"We are … aren't we?"
It sounded like she really wanted this. She wanted to be with me—and I liked that. "Yeah. Together."
Her cheeks flushed again and she gripped my hand tightly. "Then I guess we should, you know, introduce ourselves. My name is—"
"Wait." I pressed my fingertips to her lips as a strange, nervous anticipation spread through my chest. "Not yet."
"Then … when?"
Her lips were so soft under my fingers.
"After they're dead," I whispered. "A reward."
Bane controlled my entire life, and as long as he lived, I had no future. I wanted the moment I learned her name, the moment she became a real part of my life, to be the same moment that my future began.
My fingertips slid across her silky lips. "I need something to look forward to."
Understanding softened her expression. My touch drifted from the corner of her mouth to her cheek, and she tilted her face toward mine in invitation.
I leaned down. Our lips touched. Soft. Warm. Inviting. With my hand cupping her cheek, I fitted our mouths together. Her breath hitched. For a second, she didn't respond, then she copied me, each press of soft skin sending a thrill through me.
Everything outside of this moment vanished from my head, and I kissed her harder, my fingers digging into her cheek. A small, startled noise escaped her.
Zak.
Grenior's deep growl cut through my head, and I pulled back. The girl's blue-gray eyes rose to mine—heated and dazed and questioning. Her tongue ran across her lower lip.
"I have to go," I said reluctantly.
She glanced toward the building, where the rumble of conversation had gone quiet, then nodded.
I slid my hand from her cheek. My fingers had left pink imprints on her fair skin, and I felt a flicker of guilt. I should've been gentler.
"Next time." I pushed to my feet and pulled up my hood. "I'll bring the poison."
At the reminder of our plan, the flush in her cheeks drained away. But she didn't look scared as she nodded and promised, "I'll have my artifact."
I hesitated, unsure what to say. We'd never bothered with goodbyes before, so I turned and walked away. I could feel her watching me.
Grenior's silent voice beckoned me into the next alley. The huge black wolf appeared at the end, a distant silhouette, then slunk out of sight. Gravel crunched under a heavy boot, and I turned.
Bane strode into the alley I'd just entered. The distant streetlamps gleamed off his shaved head, a contrast to his thick black beard. His dark, deep-set eyes cut dismissively across me, cruel and confident, and his leather coat swept out with his long steps. The closer he came, the smaller his powerful bulk made me feel.
As he passed me, I fell into step behind him. I wasn't worthy to walk beside him, and he never let me forget it.
"Nu i kak vse proshlo?" I asked. He preferred his mother tongue, and when my master preferred something, I had no choice but to prefer it too.
"It went well," he answered in Russian. His deep growl of a voice held a mocking note as he patted the front of his coat where he probably had something small, expensive, and deadly hidden in an inner pocket. "And if you're lucky, Zaharia, you'll never learn what these do."
I didn't react to the veiled threat. I hadn't expected him to reveal what he'd bought, but if he thought I was interested in his purchases—and how I might use them against him—then he wouldn't be looking for signs of my real plan.
He knew I would kill him someday, but he didn't think I was ready yet.
I didn't think I was ready either.
But I couldn't wait any longer.
Chapter 2
"Welcome to the Crow and Hammer, Miss Orien."
The man on the other side of the desk extended his hand to me, and I reluctantly stretched mine out. He grasped my hand with strong, warm fingers.
"Darius King," he introduced himself in a deep, pleasant voice. "It's a pleasure to meet you."
He was a handsome man in his early fifties with salt-and-pepper hair, a short beard, and a charming, roguish air—and he was triggering all kinds of warning bells. My instincts whispered that he was dangerous, and they were usually right.
My gaze flicked sideways, leaving the older man for only a second to glance at the younger man in the office with us.
Agent Kit Morris was smiling, but there was a slight difference in his body language compared to when we'd first walked into the guild. He wasn't tense or nervous, but he was more alert. Attentive. Focused on the man shaking my hand.
I pulled my fingers free, my cold stare boring into the man's clear gray eyes.
"Saber," Morris whispered. "Stop glaring at your new guild master."
I didn't reply. I didn't stop glaring either. Better not to show weakness in front of the man about to take control of my life.
Darius sank into his chair. "Have a seat, Miss Orien, Agent Morris."
I lowered myself onto the edge of a cushioned chair. Under my jacket, I felt a small tug as Ríkr, in the form of a ferret, adjusted his grip on my shirt.
Morris took the seat beside me. "Saber is a bit prickly," he said as though I wasn't two feet away and listening to every word, "but she's like a lovable cactus. She'll only stab you if you try to hug her."
Darius steepled his fingers together, his wrists resting on his desk. "Prickly is nothing new at this guild. How much do you know about the Crow and Hammer, Miss Orien?"
"The name," I said baldly. "There's a pub downstairs. And this is a shit part of town."
"Loveable cactus," Morris stage-whispered to Darius as though trying to convince him.
Darius's lips twitched in a faint smile. "This location suits our membership quite well. Agent Morris thinks it will suit you, too."
"Because I'm an ex-con?"
"Because you're unimpressed by authority."
How observant of him. I bared my teeth in a smile. "I don't like playing by other people's rules. They always fuck me over."
Morris sighed heavily.
Darius studied me, and I glared back, waiting for his reaction. Waiting to see what kind of guild master he was—and what my next move would be. Would he lash out in anger? Put me in my place? Intimidate me into submissiveness?
"I understand your aversion to rules," he finally said, "but you'll need to follow several to be a member of my guild. Given the potentially deadly magic of a druid, my priority is the safety of my guildeds."
"You think I might hurt other members?"
Again, he assessed me. "The first rule of the Crow and Hammer is 'don't hit first, but always hit back.'"
My eyebrows rose. "Let me guess. That rule won't apply to me."
"It applies to everyone, including you. There is no situation in which a person is not entitled to defend themselves. However, as one of the more powerful mythics in the guild, you have a responsibility to consider the appropriate level of force to use against others."
My fingers slipped into my pocket and curled around my switchblade. I wasn't used to being counted among the powerful. Wasn't I a weak witch with nothing but a switchblade for protection?
"Our third officer, Felix Adams, will supervise your rehabilitation. To start, you'll have twice-weekly meetings with him here at the guild, and monthly meetings with the three of us. You'll also be required to attend the guild's regular monthly meeting."
Twice weekly? I hadn't had to meet with my parole supervisor that frequently since my first two years out of prison.
"Agent Morris indicated that you want to continue living at your current residence near Coquitlam?" Darius asked.
"It's an animal rescue nonprofit," Morris offered. "Saber volunteers almost all her spare time to running the rescue."
"I don't run it," I corrected. "I just help out."
"I have no issues with you continuing to live there on the condition that you attend all your meetings with Felix," Darius said. "As per MPD requirements, however, your residence will be subject to short-notice inspections by your rehabilitation supervisor."
"How short notice?" I asked.
"An hour."
Morris crossed his ankles. "Plenty of time to hide a body."
I shot him a disbelieving look, then refocused on Darius. "Anything else?"
Darius leaned back, his gray stare probing. "Felix will be your rehabilitation supervisor, but every guilded here is also assigned a mentor—an officer they can go to with questions and concerns. Their mentor is also responsible for their mentee's guild responsibilities, training, and discipline."
I bristled at "discipline."
"To keep your guild membership as separate from your rehabilitation as possible, Felix won't double as your mentor. Instead—"
A rap on the office door interrupted him.
"Come in," Darius called.
The door swung open and a man breezed in—tall, athletic, tousled copper-red hair, and a generous sprinkling of freckles across his fair skin. A smile flashed over his face as his blue eyes landed on me.
"Is this the newbie?" He swung around my chair and perched on the edge of the desk in front of me. "Not what I was expecting."
My hackles rose.
"Miss Orien," Darius said, "this is Aaron Sinclair, our fourth officer. He will be your mentor at the Crow and Hammer. He'll help you settle in at the guild."
Aaron grinned again. "On a scale of one to badass, how strong of a druid are you?"
I pressed my lips together—and before I could think of a response, a ripple of shivery-cold power pulsed against my side where Ríkr was hiding. Frigid cold plunged over the room and thick frost formed on every surface, encasing us in bright white. The three men stiffened as the subarctic air sparkled.
Ríkr, I silently admonished.
I will expound on all the ways this charade of justice is an insult when we have the leisure, he replied. Unless you give me leave to freeze them solid this moment?
Aaron's shocked exhalation puffed white, his eyes wide. "Whoa."
Morris turned to me and his eyes were even wider, but not with shock. "Saber, there's a kryomage I really need you to crush with fae ice magic. It's my dying wish. Please."
"You're dying?" Aaron asked.
"I'll die of happiness when she turns Agent Park into teeny, little Vincent crystals."
Darius cleared his throat, and when I turned, my instincts flared, that sense of danger returning in a flash.
"Miss Orien, the Crow and Hammer is a guild of second chances. You aren't the first ex-convict to join, and among us you'll find reformed rogues, delinquents, troublemakers, trouble magnets, and more. Many members are rough around the edges." He sat forward in his seat, his attention fixed on me like the unyielding press of a blade. "You won't be the only one who's defensive, aggressive, anti-authority, or provocative."
I met his stare.
"There are mythics here who share similar backgrounds to you. How you respond to them will determine whether they become companions and confidants, or adversaries."
I opened my mouth to retort that how they reacted to me would determine that, but I hesitated. Was this more of that "reacting with appropriate force" thing he'd mentioned?
Darius leaned back. "Aaron, why don't you give Miss Orien a quick tour? That will be enough for this evening. We can give her a proper introduction on meeting night."
"Sure." Aaron pushed off the desk. "Come on, Saber."
I rose to my feet, and when my eye level came within inches of my new mentor's, he blinked in surprise, caught off guard by how tall I was. The frost on his shirt had already melted, and a faint hiss of steam emanated from his t-shirt.
With a final glance at Darius, I walked out.
* * *
Outside Darius's office was a larger room packed with five desks in varying states of disarray. Aaron fell into step with me as we headed for the door at the far end of the room. I could feel his gaze, and when I looked over, I found curious blue eyes scanning me.
"Just so you know," he said, "everyone in the guild loves to talk, meaning they all know we're getting a druid."
My lips thinned. What was I, a collector's card?
"But no one outside of guild leadership knows you're here for rehab," he added.
I stopped. He took another step, then swiveled to face me.
"Are you going to tell them about my criminal record?" I demanded. "Do you know what I did?"
"You killed your abusive aunt a decade ago." He arched his eyebrows. "But you're not murdering people these days, right?"
My mind flashed over the past two weeks. "No."
He squinted at me. "Did you just hesitate?"
"No."
"Pretty sure you did."
"Are you giving me a tour or not?"
He pushed the door open, revealing a short hall. "Anyway, it's up to you what you want to share about your past."
That little reveal churned in my head as Aaron led me down a flight of stairs to the second level. He was talking, telling me about the shared workspace that took up most of the floor, but I couldn't focus.
Most mythics here didn't know I was a killer. After my experience at my old coven, I knew there was no way any normal guild would accept a murderer, even if I played nice for years. I'd been prepared to use my reputation and the threat of violence to intimidate my new guildmates into leaving me alone—but without my ex-con status to sabotage me, did I have a chance at being accepted here? If I played "nice Saber," could I fit in?
I was still chewing on the questions as Aaron led me down another flight of stairs. A wash of conversations rolled over me as we entered the pub on the main floor. Dark beams and wood-paneled walls gave it an intimate atmosphere undercut by a general air of shabbiness. I didn't mind it.
But I did mind the way dozens of eyes turned my way, watching my every move with interest. Even more people had shown up since I'd arrived with Morris thirty minutes ago.
Aaron either didn't notice or didn't care that everyone was watching us. He guided me to the long bar that spanned the back of the pub and pulled out a stool.
"Have a seat," he said. "Order a drink. I'll be right back."
I slid onto the stool, aware of the gazes tracking my every move. Adrenaline dumped into my veins. There were over twenty mythics in here, and I didn't like having them behind me. At least there was no bartender in sight, so I didn't have to bother refusing a drink. As if I'd dull my wits right now.
Conversations picked up again, and among the jumble of voices, I caught the word "druid" several times. Clearly, I'd been identified as the new guild member.
With the prick of claws, Ríkr wriggled out of the front of my jacket and hopped onto the bar. Heaving a ferrety sigh, he shook his long, white-furred body, then sat on his haunches and peered around. Everyone was now staring at the ferret instead of my back, but I didn't feel any less tense.
"Is that her familiar?" someone asked, their voice carrying a bit too clearly.
"I thought she was a druid."
"Shouldn't she have powerful familiars?"
Ríkr's whiskers twitched. What is your assessment, dove? Shall I unleash a wintry nightmare upon this guild?
I propped my elbows on the bar top, tuning out the conversations behind me. Tempting, but no.
His immediate disappointment was obvious.
You've shown off enough, I added. Why the display of power? That's not your usual style.
He was an ambush predator at heart, always showing his weakest face until the last possible moment.
He fluffed his fur in irritation. They treat you as a petitioner groveling for leniency, but it is they who should curry mercy with you.
"It's your mercy they need," I corrected in a low murmur. "Not mine."
You are my consort now. In matters of humankind, I am your weapon to wield.
A faint smile curved my lips. Mere hours ago, Ríkr and I had completed the simple but powerful magical ceremony to make me his consort, binding us together for life—well, my life. He was immortal.
Does that mean when it comes to fae, I'm your weapon? I asked.
He smiled, showing his tiny, razor-sharp teeth. Precisely, dove.
I drummed my fingers on the bar top, then turned sharply. As my glare swept across the two dozen mythics in the pub, half of them looked away, pretending they hadn't been watching me. The other half continued to stare, unabashed or openly challenging.
Turning back to Ríkr, I drummed my fingers more forcefully. Since these people didn't know about my past, it made sense for me to play "nice Saber." If I acted warm, cheerful, and kind of dumb, they'd lose interest in me. I'd fade into the background, conflicts avoided before they could begin. Even the rarity factor of being a druid would wear off if I was bland enough.
My fingernails clacked rapidly on the wood. I don't want to be nice to these people.
Of course not, Ríkr replied. Why would you?
"She's pretty hot," a male voice remarked from among the assorted mythics. "Cameron, you should ask her out."
"You think?"
"She's got legs for miles, man. You've gotta—"
I turned around again. I couldn't tell which cluster of men had been discussing my assets, so I slashed my glower across all of them. Fewer people looked away this time. The air of challenge was stronger.
As terse readiness gripped my chest, I realized why I couldn't make myself play nice. By embracing my druid power, I'd given up "nice Saber." She'd been born of insecurity, of the belief that no one would accept who I really was. I'd been afraid to be at odds with the entire world. To be an outcast. To be completely, utterly alone.
But now?
I looked down at Ríkr, and my lips lifted in a faint smile. Before he could react, I patted his furry head affectionately.
His whiskers twitched in confusion. Dove?
Thank you, I told him. Before, I'd always been cautious about saying those words to him, but I was his consort now. The ties between us ran far deeper than debts.
I pushed off my stool and swung around. Every pair of eyes snapped to me as I faced the pub.
"If you all keep staring at me, I'll start carving eyeballs out."
Silence weighed down on the room in the wake of my flat, icy declaration.
Then another voice rang out, loud with derision. "You and what knife?"
I didn't see who had spoken, but it didn't matter. My hand drifted toward the pocket where my switchblade was nestled. But the switchblade was a weapon for taking on humans, not mythics.
So I lifted my other hand. The rune on my wrist flared cold, and with a flash of blue light, a four-foot-long ice spear formed in my hand, the crystalline point aimed at the mythics.
"With this."
This time, their silence was from surprise, all eyes locked on the gleaming spear. I stared them down for a moment more, then swung the spear. Everyone flinched as it struck my stool and exploded into a starburst of ice.
Ríkr sprang onto my shoulder. As his weight settled next to my jacket collar, I strode past the jagged ice formation, heading for the door. I was done with this. With them. With all this bullshit. I'd show up for my rehab meetings. I'd attend the monthly guild meeting. But that was it.
Morris had said this place could be a home for me, but I didn't want a home. I had one already.
As I swept toward the door, my skin prickled in warning. My gaze snapped to my left. There, standing almost out of sight on the staircase, one shoulder propped against the wall and arms crossed, was my mentor, Aaron Sinclair.
Had he been waiting there this whole time? Had he left me alone at the bar on purpose, testing my reaction the same way I'd tested Darius in our meeting?
My upper lip curled, and I shoved through the door into the cool night air.
I didn't need a home here. The rescue was my home, and these people and their judgments could burn in hell for all I cared.
We hope you are enjoying the book so far. To continue reading...
The Twice-Scorned Lady of Shadow
Annette Marie
Copyright © 2023 All Rights Reserved