The Trouble with Hating You
Book info
Sample
Audiobook
Media
Author updates
Lists
Synopsis
Strong-willed and proudly single, an engineer walks out when her parents set her up with a lawyer—but when work brings them together again, she just might give love a second chance.
Liya Thakkar is a successful biochemical engineer, takeout enthusiast, and happily single woman. The moment she realizes her parents' latest dinner party is a setup with the man they want her to marry, she's out the back door in a flash. Imagine her surprise when the same guy shows up at her office a week later—the new lawyer hired to rescue her struggling company. What's not surprising: he's not too thrilled to see her either after that humiliating fiasco.
Jay Shah looks good on paper . . . and off. Especially if you like that whole gorgeous, charming lawyer-in-a-good-suit thing. He's also infuriating. As their witty office banter turns into late night chats, Liya starts to think he might be the one man who truly accepts her. But falling for each other means exposing their painful pasts. Will Liya keep running, or will she finally give love a real chance? Find out in this laugh-out-loud romantic comedy debut about first impressions, second chances, and finding the love of your life in the most unexpected way.
Release date: May 12, 2020
Publisher: Grand Central Publishing
Print pages: 352
* BingeBooks earns revenue from qualifying purchases as an Amazon Associate as well as from other retail partners.
Listen to a sample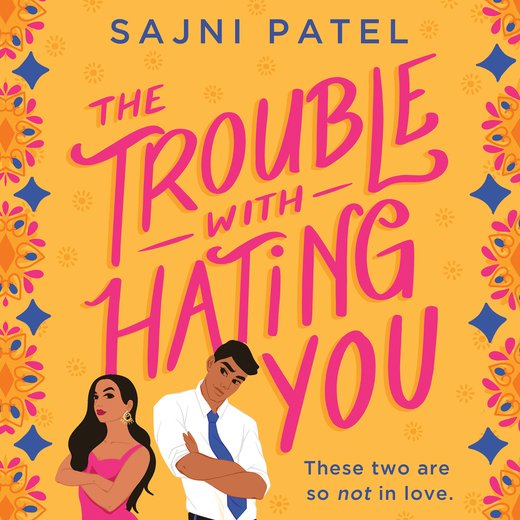 10:46:10
295.8 MB
9781549101632
May 12, 2020
Hachette Audio
2020
The Trouble with Hating You
Sajni Patel
Chapter One

 

My mom absolutely loved the crap out of WhatsApp. She didn't know how to text, but she could do anything on WhatsApp—including sending me a half dozen pictures of the guy she and my dad had chosen for me. And by chosen, I meant the one guy who had even agreed to meet me. Which was a feat in itself, to be honest. He must not have heard about me.

Now my parents were convinced that he was the one, because he'd been the only one to not turn and run from the mere whisper of the name Liya Thakkar.

I had absolutely zero interest in allowing my father to arrange my marriage to anyone. While my friends may have ended up in perfectly content matches, I couldn't give in to the archaic practice of this whole arranged marriage business. Or marriage in general. Or commitment, for that matter. No. Freaking. Thank. You.

If I wanted to answer to a man for the rest of my life, I'd just live with my father. Thanks to a culture where our twenties meant draconian aunties swooping in to play matchmaker, I had to battle the nauseating notion of lifelong commitment.

Speaking of the devil from whose loins I came, Dad's name flashed across my cell phone screen for the twentieth time this week, but I muted the ringer. This was likely another demand that I meet this suitor he'd so precisely picked. After all, as one of his multiple voicemails pointed out, finding a qualified man who would even consider me had been a strenuous five-year hunt. Given my reputation and all. We had to act fast to secure this guy before another woman lured him away. I mean, hell, let her drag him away. It would make my life that much easier.

Yet…here I was, at my parents' house because Momma promised this was just an ordinary dinner, just the three of us, and nothing more.

I checked the rearview mirror of my gray Lexus as I drove to their house in the Woodlands on the outskirts of Houston. The car had been a gift to myself, a reminder of how far I'd come and all that I'd accomplished, including my recent promotion. Also, it was physical proof that I didn't need a man to take care of me.

The sun was out, but the towering tree canopy shaded almost every inch of my parents' charming street. When the houses were built years ago, the developer made a point to cut down as few trees as possible, thus pairing fairly contemporary homes with as much untouched nature as possible.

Even though I hadn't always enjoyed spending time with my parents growing up, I loved the neighborhood, and the nostalgia thrust me back to all those mornings running with other kids—the wind in my hair, the faint smell of cedar and cypress trees, and the giggles of girls.

Nostalgia was the past. The present held a different meaning, as was apparent when I parked on the street, providing plenty of room to escape. Why? Because Dad and I had our differences. So I drew a breath, in and out, and reminded myself that Momma was my sole purpose for coming today. She was the calming one, the nurturing one, the only person in my family worth spending time with, and the source of my unconditional love.

The walk up the pebbled concrete driveway was much too short. Leaves crunched beneath my brown Prada riding boots, and the breeze offered a hint of iciness, almost like a foreboding chill telling me to turn around.

I shivered, adjusted the scarf around my neck, and knocked.

Momma swung open the newly polished oak wood door. The woman barely reached my chin, yet she threw her hands around my shoulders and forced me to lean down. My back gladly bent to her command and my senses lit up with pure joy from the smell of her coconut hair oil and rosewater perfume. She smelled like home.

We hugged a few seconds longer. It always hurt to let her go, like maybe she'd wither away. Hugging her was the only way I felt like I could protect her.

She pulled back and swatted the air, her eyes moist. "Why do you always knock? You have a key."

I removed my boots outside the door and followed her inside, the decorated tiles cold beneath my socks. "I know, but it's your house, your privacy."

"We knew you were coming. What were you going to interrupt, huh?" She smiled that genuine, heartfelt smile of hers, the one that made my heart ache because it had become a rare sight over the years.

The spicy aromas of curried vegetables and buttery roti wafted from the kitchen, rolled through the hallway, and greeted me in the foyer. My mouth instantly watered. Who didn't melt a little when they smelled their mother's home cooking?

As I made my way down the hall, I saw Dad sitting on the couch in the family room across from the kitchen. His khaki-covered legs were crossed, and a newspaper was in his hand. The gentle swish of turning pages filled the silence as I waited for his acknowledgment, but after a few cold seconds, I said, "Hey, Dad."

"Liya," he stated in that impassive, flat tone of his.

Nice. Not even a smile or eye contact. Something in that shuffling newspaper must've been pretty important.

I walked to the stove and peered into pots and pans, my nostrils greedily inhaling many wonderful scents. Momma pulled down plates and cups from the cabinets and set the table. We didn't usually eat at the table, which should've been my first clue.

"You outdid yourself," I said, popping a seasoned slice of radish into my mouth. A pinch of salt hit my tongue. Curried vegetables in muted hues of green and orange were piled high in a bowl. Spicy dhal with a swirl of paprika-induced red glistening on the surface simmered in a pot next to a platter of saffron-infused yellow rice. On the granite countertop, crispy papad with hot spots of fennel were stacked on a metal dish beside an open container of creamy raita with bright pieces of mint leaves. My stomach growled something fierce.

"Just the everyday."

"I can't believe you cook like this twice a day, every day." I dipped a piece of cucumber into the raita and relished the taste. There was something calming about the refreshing crunch mixed with the tangy yogurt.

"You should spend more time in the kitchen with your mother and learn how to cook," Dad said, his eyes glued to the paper. "What will you feed your husband and children?"

"Food," I replied as I grabbed a spoon, dipped it into the piping hot dhal, and took a tentative sip of the tomato-heavy sweet-and-sour soup.

He scoffed. "Takeout, you mean? A woman should be able to cook three fresh meals a day. You don't want your husband to starve."

"I'm sure if it came down to starvation, he could figure things out," I said, annoyed that his comments took me away from the beauty of Momma's cuisine.

"He would be too tired after a long day of work. The least you can do is have a hot meal ready when he steps through the door to show your appreciation."

"You do remember that I have an MBA and was recently promoted to lead in my department, don't you? Which means I work long days. Maybe he should have dinner ready for me."

"Absurd. The plight of a woman is to work in order to make money, but the purpose of a woman is to help her husband by taking care of the home and his needs…" he said in that condescending voice.

I tuned out the rest of his rant about the proper place for women, but unfortunately, my ears wandered back to his babbling when he asked, "Do you even care that people give us such a hard time at mandir about my unmarried daughter residing on her own?"

"I'm not going to argue with you, just like I'm not going to move back into your house. I've been on my own since freshman year in college."

He huffed. "Ha. Ms. Independent." Then he said to Momma, "Make me some cha."

Momma, flustered as she put the finishing touches on an elaborate meal, went to grab yet another saucepan to make cha. I lunged for a ladle to ease down the piping hot dhal before it spilled over and asked, "Can I turn this off?"

She gave a brief nod as she moved gracefully across the kitchen to get milk, sugar, cha, mint, masala, and water, all the fixings for a warm, aromatic drink.

"And hurry," Dad added. "You know I like a cup at this time of day."

So while she sprinted to make a grand meal—and made sure it was just the right temperature by the time he ate—Dad sat there with nothing else to do except read a paper that wasn't going anywhere anytime soon.

I didn't glance at Momma, because she'd give me that curt shake of the head that said let it be.

I tried.

For about two minutes, until Dad said, looking at me, "And get me water."

I held up a hand, embracing my unruly, opinionated self. "You get on me for not knowing how to cook three Indian meals a day, but you can't possibly get off your butt and make your own cha? Or get some water? It's right there. The fridge even dispenses it for you."

Dad glared at me. Boy, if eyes could light things up, I'd be on fire right about now. Momma gently slapped my arm as I brought items to the table.

"Watch your mouth," he growled.

"Don't be so bigoted. Momma, bless her heart, cooks so much because you can't tolerate leftovers. You could help out by making your own cha."

Dad crumpled the paper, his knuckles white. "Liya, you are a girl, perhaps the most rebellious one I've ever known, and you should bridle that tongue of yours. I don't know what I've done in my past lives for the gods to curse me with you."

I raised a sharp brow, my bangled wrist on my hip. "I don't know about your past lives, but you've done enough in this lifetime to deserve some affliction."

Momma paled at my side. She turned stiff and stared at her feet while Dad glowered. In his head, he knew damn well what I meant, but somewhere in that black-and-white mentality, he still did not think badly of his actions.

I took in a long breath. There was absolutely no one in the world who made me lose my crap the way Dad did. And I thought for sure that sometimes he did it on purpose. But if he was the rash-inducing irritant that set me off, then Momma was the Tiger Balm ointment to my wounds. She had a quiet way of calming me, which inspired me to defuse things, if for no one else, then for her.

"I just mean, Dad, would it hurt for you to get your own water once in a while when Momma is running around? You'd never lift a hand in the kitchen, but maybe a little to get a drink?"

Instead of acknowledging my question, he said, "We have company arriving any minute. Go touch up. You look unpresentable."

By "any minute," he meant any second, because the doorbell rang. Since this company was apparently anticipated, Dad answered the door himself instead of expecting Momma to.

I unclenched my aching fists and looked to her for an opening to talk about the "forbidden things," but she escaped my gaze and took a pitcher of water to the dining area. The table, now fully adorned with five settings, explained why Momma had made so much food.

She rubbed my arm. "Why must you test him like this?"

"What about what he does to me? Don't you find his attitude demeaning?"

"He does have a point. You must not let your mouth run wild and goad your elders, your parents much less."

My jaw dropped, but I wasn't sure why.

Lots of people said things could always be worse. Sure. He could physically abuse Momma, in which case losing my crap would be an understatement. But it could be a lot better.

Dad's over-friendly voice carried through the hall as it mixed with the upbeat, laughing voices of his company: a man and a woman.

I popped another sliver of radish into my mouth. "I thought it was only us tonight. Who's here, and do I have to eat with them?"

"Jayesh Shah and his mother, and yes, you do have to eat with them."

My eyes widened as I recognized Jayesh's name from Momma's many WhatsApp messages. "Are you kidding me?"

Her expression turned to pleading, a look I couldn't ever seem to deny, but this was far beyond acceptable. "Momma, please," I whispered, "I told you I did not want to meet this guy."

She clutched my arm, and every instinct in my body told me to do whatever it took to make her happy. She needed someone in her corner.

"Just meet him, please. You can reject him after dinner. But I don't think you will want to once you meet. Did you see his photos? Isn't he a handsome boy? I thought you would like him."

"You know that's not how things work. There's even more pressure to say yes after agreeing to meet. You can't use passive aggression to force me to marry someone."

I scoffed at the voices mingling in the foyer. I still had time to grab my purse and slip out the back door.

"Please," Momma begged, her voice trembling. "Dad will be so upset if you leave like this."

I clenched my eyes shut, struggling with the prospect of Dad berating Momma because of me.

"He cannot manipulate me every time I come here. I told him no. I'm sorry," I breathed. The words splintered my heart the moment they left my lips.

Before the shadows in the hallway crested into the family room, I fled out the back door. Ignoring my instantly damp socks, I cut through the gate and went around to the front yard. I grabbed my boots on the front porch, slipping one on and hopping haphazardly on one foot before securing the second boot. I hurried to turn the corner of the front porch, around the granite pillar, my attention caught on the stupid pebbles in my right boot instead of looking straight ahead.

My quick, clean getaway hit a wall. A very hard, solid wall of flesh as I bulldozed all six-foot-plus of finely tailored man to the grass. I wish I could've fallen gracefully, or at the least knocked him down and somehow remained on my feet. But no. My body was splayed on top of this stranger, the air knocked from my lungs as I fought to catch my breath. Sugary laddoo and saffron peda rolled across the front yard.

The man beneath me had a hand on my waist and the other above his head holding a red-and-gold box with the lid crushed open. His blue, fitted, button-down shirt scrunched up at the collar.

Momma had been right. He was quite handsome, with pitch-black hair, rich light brown skin, dazzling dark brown eyes, and a jawline that could cut glass.

My heart beat against my chest, and not in an insta-crush way. It beat the way it had when I came dangerously close to getting a less-than-perfect grade. It beat as if I were in trouble, as if I had gotten caught doing something bad.

And that feeling did not sit well with me.

"You must be Liya. Would you like a sweet?" he asked in a voice so deep and rumbly, it could've made my legs wobble. If I were still standing.

He brought the nearly crumpled box to my face.

Um…

Well…

All right. This was a definite testament to my stubbornness. Had this been any other situation in the entire world, I would've accepted with a laugh. Who didn't love themselves an Indian sweet? But not today. I shook my head.

I wasn't going to avert my gaze first. Keeping my stare locked with his, the mature part of my brain told me to apologize.

I let out a small sigh. Liya Thakkar was a brutally honest person, but she wasn't brutally brutal. My lips parted to apologize, but then two things happened.

One: He spoke again, "A very tempting way to meet, huh?"

What. The. Hell? Tempting how? Like I literally threw myself at him? Did he know? Well, of course he did! Why he wanted to meet me suddenly made sense. Play me to see if the rumors were true? I knew no decent, traditional man would want to marry me, but to use traditions to test those rumors was vicious.

Two: He smiled at me. The audacity! And not a kind, pardon-the-awkwardness-this-wasn't-how-we-intended-to-meet smile. But a flashy, charming, cocky as hell smile. The kind that made women drop their panties in a split second. The kind he probably expected would make me drop my panties. Yep. He'd heard the rumors all right.

As I pushed myself off my suitor, the thin scarf around my neck practically choked me and yanked me right back against him. My chin hit his toned chest.

"Do you mind?" I grumbled, verbally smothering his laugh as he moved and lifted the arm that pinned the end of my scarf to the ground.

I snatched it to my chest and rose as Dad opened the front door and shot eye daggers at me. His lips pressed tightly together, and his hands bunched into fists at his side. His words weren't audible, but he was most definitely hissing my name, demanding that I get back into that house while he helped my suitor up.

I did what I had to do. I rolled my eyes at the man flicking grass blades off his dress pants and waved at Dad—an eff-you salute—before hopping into my car. The flare of anger that lit Dad's face was priceless, worth it, but in the back of my mind, I knew that this embarrassment wouldn't go unpunished.

I drove off and eventually parked my car outside my building and rested my head against the steering wheel. More times than not, I was happy to come home to an empty apartment. Peace. Quiet. Freedom. I didn't have to answer to my parents or some man, or hurry to make dinner for anyone. I bought and owned everything to my liking, no compromises.

Ugh. The twenty-minute drive hadn't calmed me as much as I'd have liked. Having someone in my life who reduced me to this emotional mess was not healthy. If not for Momma and my girlfriends, I'd leave Houston forever. That very opportunity had presented itself two weeks ago. A lab position for a giant corporation in Dallas. The offer made my insides tingle. Decent pay, and a reason to leave Houston and all of its hideous memories behind.

I'd mentioned it to my current boss, Sam. He had convinced me to stay because he saw management in my near future. I had taken that chance and it had paid off in big ways at my current company. I was actually putting my MBA to proper use. Perhaps I'd suffer for another year here and land a management role elsewhere once I had this experience under my belt.

I took the elevator to the tenth floor and walked to my loft. I kicked off my boots in the foyer, tossed my dirty socks in the hamper, and quickly dropped onto the couch with a glass of red wine. Time to unwind and prepare for the workweek, but first, I answered a group call from Reema, Preeti, and Sana.

"Hey, Liya! I wanted to see if we could meet the girls at mandir on Saturday?" Reema asked as I put the group on speaker.

The idea of going to the temple sent chills up my spine. It was the place where draconian aunties gathered and vicious gossip made or broke reputations. But for Reema, I'd do anything. "Sure."

"You okay?"

"Yeah. Why?"

"Usually, you have something to say."

I put on a smile, because people often said that they could tell if one smiled over the phone, and explained, "Girl, you would not believe what my parents tried to pull today."

"What?"

"Dish!" Preeti and Sana blurted at the same time.

"You know how I'd told them I wasn't interested in meeting suitors?"

"Yeah…" Reema said.

"They invited this guy and his mother over anyway!"

"No! Stop! That's why they asked you to go over to their house?" Preeti squealed.

"Hey, don't be so quick to snicker, lady. You're next."

"Oh, boy. That time is near," Preeti replied, her enthusiasm suddenly vanishing.

"Is there a guy?" Sana asked, moving the conversation toward Preeti, who, unfortunately, volleyed it right back to me.

"First, let's talk about Liya and her stud! Was it a big Bollywood meet-cute where your dupatta got stuck to his suit and it was googly-eyed love at first sight?"

I could not laugh harder. Anger drained out of me like fat draining out from sizzling bacon in a hot pan. Speaking of bacon, that sounded like the perfect thing to have for dinner. While I relayed the entire stunt to the girls, I pulled out all the fixings to make bacon and jalapeño mac and cheese from scratch because, contrary to popular belief, I could cook.

Chapter Two

 

I lurched up in bed and hissed from the pain that slashed across my back. Drenched in sweat, I shoved off the covers and grabbed my shoulder as my eyes adjusted to the darkness. My heart beat to an insane rhythm, and my body blazed hot like I was surrounded by fire.

Hold on. Wait. I was at home. In bed. Not engulfed in flames.

"Son of a…"

I stomped into the bathroom and splashed cold water onto my face. My eyes were sunken and my lips downturned. The nightmares came and went, fewer and fewer every year, but they were still there. The worst part wasn't the pain or memories, but seeing Dad's face. Smeared with cinder, partially burned and red as he stretched out his hand to push us away. Embers danced around him, grazed his hair, illuminated his eyes. Watery eyes. The kind that spoke immensely about love and life and sacrifice. He made the ultimate sacrifice, and I had not, to this day, forgiven myself for that.

Dad died because of me. Ma kept saying that I deserved a full and rich life, which was why she tried so hard to find a good woman for me. But the truth was that I didn't deserve anything, much less a life. Not when Dad sacrificed his life for mine. But how could I ever tell her that?

I was not really the traditional or religious type. I didn't particularly enjoy going to mandir every week, nor did I entertain the notion of settling down. But I would never be the cause of another stress for Ma after Dad's death. He was the love of her life, a kind and compassionate man. I would never leave her side, but how could I tell her that I didn't deserve the happiness that she wanted for me?

Shaking my head, I twisted and looked at the scars raked down my back. "You're a grown man. Get control of yourself."

Unable to get back to sleep, I pulled out a skillet and made eggs and toast. As I ate, I read over a few legal files for Reinli BioChem, the company I'd recently been assigned to, and sent out email reminders for my first meeting with them for Monday. This was not exactly the type of work I'd envisioned myself doing, but it was what I had in Houston. To do anything else, I had to leave this city, which meant leaving my family, the people who sacrificed everything for me since Dad's death. And that was not about to happen.

I finished up and headed to the mandir to meet the guys for a friendly basketball game. If I had to go to a temple, it might as well be fun.



The makeshift court was small, and the movable hoop was a crying shame, but the room was free, and these boys didn't seem to believe in a gym they had to pay for.

"I can't keep doing this," I said.

"What?" my brother, Jahn, asked.

"This sorry so-called court. We have gym memberships. We need to use the court at the gym."

"What about us?" Samir asked.

"Get a membership!"

"It's not that bad," Jahn said.

"Yes, it is. I can throw the ball across the entire room. We have to dumb down our skills to fit in here. It's hardly exercise."

"Any more complaints?"

"Yes…" I grumbled, agitated in one of those ways where no matter what I did, I couldn't shake it off.

I exhaled and shook my head.

Samir restarted the game, made points, and the ball came back to me. I loved the feel of a rough, rubbery basketball in my hands. I could grip it as tightly as my fingers allowed and pummel it against the floor, aggression flowing from me and through it.

The pounding of the ball echoed against the walls as Rohan tried to block me, but I moved left then right. My back hit his shoulder as I crouched, then shot up to score.

"You mad?" Samir asked.

Clenching my teeth, I only cocked my chin and bent over, my hands on my thighs as I waited for the next chance to get the ball.

"I thought this was a friendly game," Rohan said, bouncing the ball from hand to floor to the other hand.

"Sorry," I muttered and snatched the ball from an unsuspecting Rohan and made another point. His team groaned and threw up their hands.

"Yo, what's going on with you?" Jahn asked.

I shoved a hand through my damp hair. "Sorry. I had a rough night. Not that it's an excuse to demolish you guys. Then again, you're easy to demolish."

And thus, the smack talk began, which siphoned the tension out of the air. The room rumbled with laughter and scuffing sneakers. We didn't keep score, just played. It was enough to ease my thoughts away from the nightmares. Unfortunately, that left just enough room to recall the debacle of meeting Liya Thakkar.

Crap. And just like that, I was irritated.

"Seriously, what's up?" Jahn asked for the third time.

"You know Ma and I met with a woman and her parents. Take a guess."

"Ma hated her? No, she loved her and you hated her? No, wait, she was great, but you couldn't stand her parents? No, I bet—"

"Funny," I said, cutting him off.

"Oh, wait, those have all been done before. Why do you care? You don't want to get married anyway."

Jahn was right. I didn't want to get. . .
We hope you are enjoying the book so far. To continue reading...
The Trouble with Hating You
Sajni Patel
Copyright © 2022 All Rights Reserved