Book info
Sample
Audiobook
Media
Author updates
Lists
Synopsis
On the verge of realizing her dream of being a doctor, Preeti Patel should be ecstatic. But between the stress of her residency, trying to find a job, and managing her traditional, no-boundaries family, Preeti's anxiety is through the roof. Relationships and love aren't even an option. Fortunately, Preeti's finally found a new place to stay . . . only to discover that her new roommate is her ex.Preeti never quite got over Daniel Thompson. Super-hot, plenty of swagger, amazing cook—the guy is practically perfect. And if it weren't for their families, there might have been a happily ever after. But it's hard to keep her sanity and libido in check when the man of her dreams is sleeping mere feet away. Can Preeti and Daniel find a way to stand up and fight for each other one last time . . . before they lose their second chance?
Release date: September 21, 2021
Publisher: Grand Central Publishing
Print pages: 384
* BingeBooks earns revenue from qualifying purchases as an Amazon Associate as well as from other retail partners.
Listen to a sample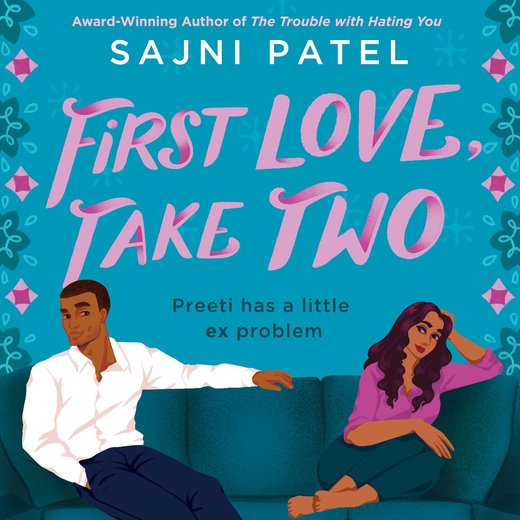 10:34:25
290.43 MB
9781549109188
September 21, 2021
Blackstone HBG
First Love, Take Two
Sajni Patel
Chapter One

Some things that I found fascinating: the geometric designs of flowers, the way rectal polyps reminded me of raspberries, the number of penises I saw in a day, and lacerating this infected lesion so that the swollen cocoon of skin around it deflated like a saggy balloon. Oddly mesmerizing.

As I finished the debridement and meticulously applied a padded wound VAC and sterile dressing around it, I nodded proudly at my work, as if saying: Fine job. Another beautiful fix, and another infection case to add to my research project.

As a fourth-year medical resident, I saw patients on my own and treated them, with a physician's sign-off. As chief resident, I'd just gotten off night call but had to cover for a sick colleague, since no one else could; I still had the holiday schedule to work out for fellow residents, plus their final assignments; and I was a million days behind in my work presentation on infectious diseases. But thanks to this new patient, I met the minimum requirements for case studies. This presentation queen was on her way, giddy with the thought of color-coordinated cards. First came prep, then wowing my boss enough to land the one coveted open position at this practice.

I'd interviewed two weeks ago and was slowly crumpling from the suspense. However! Every day that passed without a decision meant I was still in the running, and every day that I was in the running was another chance to show my worth.

I went over care instructions with the patient and called in the receptionist to set him up with a visit to the wound care clinic for further treatment.

"Thank you. Thank you so much, Doctor," he said effusively, offering his hand for a shake after I removed my gown and gloves.

I glanced at his outstretched palm, a request for something so common, for reasons beyond me. Not wanting him to feel that my response to reject his handshake had anything to do with him, but rather everything to do with my touch aversion, I smiled. "So glad to help. It's what we're here for," I said as I went to the sink to wash my hands.

Family practice wasn't always a walk in the park, but the rewards were immense. Helping people, breaking symptoms down to find diagnoses, prognosis, and treatment, was the most fulfilling job in existence. Developing lifelong relationships with patients was a major bonus. I couldn't imagine doing anything else with the rest of my life.

I scrubbed my hands to death in the patient's room before leaving. Then again in the locker room for good measure before changing into my dress pants. Life hack: pull-on pants are as comfortable as scrubs, which are in fact as comfy as pajamas. I declined an invitation to go out for drinks with the other residents and hurried out the door, checking my watch, on the way to my tenth interview in the past three months.

Traffic had nefarious plans to thwart my punctuality, causing me to be fifteen minutes late. Which, in turn, diverted my focus. I stuttered, shook, and tripped over answers…no wonder the interviewing doctors seemed eager to get me out of their space.

Every day had its ups and downs, but this down felt deeper than it had been in weeks. My residency was up in two months, and not having a permanent job yet had my stress skyrocketing.

My chest ached. There was no worse feeling than the anxiety that came from not acing something so important. My headache started before I reached my car and then worsened into a stabbing pain.

"Crap," I muttered. I turned on my calming app to help alleviate some stress before heading to the apartment.

My roommate, Reema, was due to return this weekend from her honeymoon, with a new husband attached, and three made for an awkward crowd.

Rohan had given up his place to move in with Reema, seeing that our apartment was bigger and conveniently located for both of their jobs. That left me in search of a new place. Something I should've found by now, but as it turned out, there was such a thing as losing an apartment if you didn't sign the lease in time.

By the time I parked and pried my fists off the steering wheel, they were aching from the death grip. My heart pounded and a dizzy spell bore down on my thoughts, my head crowded with haunting missteps from interviews past and trying to figure out where to live. The hospital might not approve of me utilizing the on-call room as a permanent residence.

I could move back home with my parents, since they kept offering, but the drive from their place to the hospital and clinic was too far.

Reema and Rohan weren't heartless, though. They would let me stay a bit longer. Things were okay. No need to panic. Calm down. Reema was like the mom in our tight circle of friends. She kept us all in line and brought profound wisdom. And a mom wouldn't just kick a roomie out if they didn't have a place to stay.

I walked up the open staircase to the third floor, my backpack full of textbooks and a laptop, while responding to texts and managing to trip only twice.

Reema: Hi! Sorry to bother you, hon, but do you mind bringing in the delivery Rohan received, if you're going to be there? We got a notification it arrived earlier today. It's his new desk!

Me: OfC! Hope you're having a fantastic time!

Reema: It's perfect! We're so ready to jumpstart all of our plans when we get home. But first honeymoon calls. ;)

They had lots of plans, all right. Rohan worked from home twice a week and his first goal was to have an office ready to go. AKA my room.

I felt like a college kid who realized their parents had turned their bedroom into the hobby room they'd always wanted. There was no moving back home after that. There was no staying for me.

Time to woman up and live on my own. Just until my own wedding, which seemed to be nipping at my heels. My body wanted to shut down at the thought. Marriage wasn't always about love and connection. Sometimes it was about fulfilling happiness in other ways: duty and honor and moving forward with life. But in my case, moving forward meant having to scale a massive wall studded with the jagged edges of my emotions.

A giant box at the door glared at me as if it had won a battle. It had. It was taking my room from me.

After unlocking the front door and depositing my backpack on the couch, I lugged in the box. It was so wide I could barely get my scrawny arms around it. I channeled all of my effort into my legs, grunting the whole time. Ugh. I should've done more weight training and less cardio.

With a final pant, I pushed the box into the center of the living room, between the back of the couch and the hallway. It wasn't the best place, but neither was my still-intact bedroom.

Exhausted, I showered, slipped into my favorite pair of pink sweatpants and a T-shirt, and heated up dinner. There was just enough space beside the box to ease onto a barstool.

I called Liya as I ate generous wedding-food leftovers. Couldn't let it go to waste! And not just reception dishes, but snacks from the actual wedding and food from the events leading up to it. Cake was next. There was this thing, apparently, where couples froze the top tier of their wedding cake to eat on their first anniversary, but Reema and Rohan wouldn't have any left at this rate.

"Hello, love!" Liya said in an unexpectedly affectionate and energetic voice. She was the wild, fearless one in our group of four, and hearing this unusual sweetness from her had me wondering what she was up to.

"Um. Hello. Love?"

"I'm trying it out. What are you doing?"

"Eating wedding food."

"What is it?"

My mind went blank as I pushed a fork through the vegetarian dish. "Um. Curried chickpeas."

Liya asked dryly, "You mean chana masala, chole? Anything but curried chickpeas."

"Couldn't think of the word. Sorry. Sheesh. Do you want to take my Indian card?"

"Um, yes. I think I have to."

"Fine. I don't have many cards left anyway."

She laughed. "You don't. But you at least like Indian food. Eat your chole in peace."

"You know, I'm a doctor. I can't remember everything at all times. Anyway…are you feeling better?" I asked, my gut twisting as I remembered the night of Reema's wedding. Going after Liya that evening had meant being the only one there for her when her prick of a father and an elder in the community had tried to destroy her. It was the final straw that pushed my dear childhood friend out of town.

Her tone seemed relaxed, calm when she replied, "Yeah. Actually. Moving to Dallas was the best decision for me, you know? Don't get me wrong, I miss you girls the way I'd miss cheese if I had to go vegan, but Houston is too toxic for me. I feel like I can breathe here. It's a new start, but not too far. I make more money with this job and it's not nearly as stressful as the last. Jay is moving here, helping me cope."

"I wish I had known. Liya, all this time you'd been suffering at the hands of a man who everyone else respected."

She scoffed. "Except you."

"Well, he did spread vicious lies about me when it came out that I was dating Daniel," I said, skipping a breath from having said his name aloud, both a soothing balm for the burnt remnants of our past relationship and a tormenting memory of how things had ended.

"We all know your fois lit those fires. But let's be real. A lot of folks here were racist to begin with, not just your aunts. That crap doesn't rear its head just because one of their own is sullied."

"I hate him for what he did to you."

"Me too. But things are good, Preeti. They really are now. The only way they could be better is if you moved here," she said, hopeful.

I laughed. "The only thing I can promise is that I'm looking for work in Dallas. But who knows?"

"You haven't heard back from any interviews?"

My shoulders slumped. A panic attack brewed at the edges of my thoughts, creeping closer and closer as my unease turned physical. Anxiety was like soft, annoying fingers pressing down on my brain. If I didn't take care of myself now, that soft but unnerving stroke would turn into a harsh, suffocating grip. "No. I'm so tired of interviewing and wonder if I'll ever get a job at this rate."

"You'll get the one you want. Look at everything you do, Miss Chief Resident!"

"I really hope so. All those hours doing side projects and scheduling and filling in for sick call at the drop of a hat and mentoring new residents better be worth it."

"Don't worry. They will be. Reema and Rohan are back this Saturday night, right? I'm driving down. We'll get your mind off job hunting."

I beamed. "That would be fantastic!"

"By the way, did you find a new place? In all my drama, I don't think I asked where you'll be living."

"It slipped my mind to turn in my lease for the new apartment with all the chief resident duties. In the chaos of the wedding and you leaving and work and seeing Daniel…" I muttered.

"Oh? Did you speak to him at the reception?"

"No. I managed not to."

"Did you run? Like, literally, run?"

I was an expert at running from Daniel: dodging calls and texts, ignoring his knocks on my door, making my friends evade his questions, and, more times than I could count, literally just walking away. Avoiding confrontation wasn't my best feature. Quite possibly one of the worst things about me, actually. If I had better conflict management skills, I would've shut down my aunts at the first accusation and maybe I'd still be with Daniel.

I admitted, "I ran as fast as I could in my chaniya choli."

"Ah. Since I took up my new job's offer of living arrangements, I still have two months left on my Houston lease. Why don't you stay there?"

I gasped. "Are you serious?" Liya's apartment was the perfect location for work, and when else would I ever get a chance to live in such a posh place? Oodles of stress immediately drained out of me at the knowledge that I would have a temporary place to live and more time to find a permanent residence, and could get my butt out of this apartment before Reema and Rohan returned. It was perfect timing, too. Her apartment lease would be up when my residency ended, so no long-term commitment if I didn't secure a job nearby.

"Yes! And my new company provides a furnished apartment because they wanted me here on short notice. I won't need my furniture for a while. It's just sitting there."

"You'd be saving me! I would pay rent, of course."

"Oh my god, Preeti. No. You're not paying rent. But for full disclosure, someone else just asked me about it, too."

My shoulders slumped. "If you gave it to someone, then no worries."

She quickly rebutted, "Do you have another place to live?"

"No…" I bit my lip.

"Then maybe you two can share the place? You take the bedroom, he can take the couch?"

"He who?" I sat up pin straight. I couldn't believe Liya would seriously suggest I share an apartment with a stranger, much less a man.

"Um. Daniel," she replied, sounding a little like a kid saying oopsie—but more like a giddy woman executing a setup.

I nearly choked on my water and almost fell off the barstool. Please, lord, tell me she's joking. "How is that a good idea?"

"It's temporary. He needs a place for three weeks. That's all. He can take the couch. You can have the entire bedroom. And if y'all work it out and get a little busy, then hey, icing on a very delicious cake."

"Liya!" My skin heated at the thought of all the very intriguing, sexy things that could, but would not under any circumstances, happen. "I'm dating Yuvan! Our parents are expecting us to get engaged."

"Do you even love Yuvan? Or rather, don't you still love Daniel?"

I opened my mouth to protest the validity of that question, but she quickly went on, "And don't even try to deny. You are the worst liar in Houston. You've been in love with him since college, and I don't know who Yuvan is, but he's not Daniel. And that's all anyone needs to know."

I groaned into the phone, but there was no argument to have. No one compared to Daniel.

"You could live with Reema. But Rohan will be there. And when your parents find out, they're going to make you move all the way to their house in the suburbs. And you can't live with Sana because she's living in a full house with her family."

I pressed my lips into a tight line. Liya was right. Even if I wanted to squeeze into a bunk bed with the fourth member of our girl group, Sana was already losing her crap from the lack of privacy.

"What's the worst that could happen, anyway?" she asked.

I guffawed. "Ruining my relationship with Yuvan? My parents finding out and their utter disappointment? Any auntie at mandir finding out and going through the exact same thing that happened years ago? A lot is on the line, Liya."

"I know that. But I think you also know that you've got some sorting to do. You're an adult," she reminded me. "And if you can't stand to be near Daniel without ripping his clothes off, then you'd best rethink this whole Yuvan business."

Dang it. "I hate when you're right."

"You love when I'm right," she teased.

I gnawed on my lower lip as anxiety descended again. I closed my eyes and made a snap decision, based on logic and current needs and the most efficient way to do things, just as I would with an emergency at work. "Okay, fine!"

"Yes!" Liya whooped.

"But just so you know, I'm going to move forward with dating Yuvan, and eventually engagement, because it's the right course of action."

"Engagement? Ugh. I can't believe you never told us you'd been dating some guy."

"I had to be certain about him before you started a debate," I muttered.

Yuvan and I had been chatting for months, so when the time would come to say yes to engagement, I could be one hundred percent sure without the pressure from friends and family. But in my family and in our community, going public about dating was basically an announcement that we were considering marriage. My stomach sank at the thought. Marriage felt so…permanent. "My parents have their hearts set on him."

"I still think you need to work things out with Daniel."

"Not possible."

"Tell me that after you spend some time with him. One night alone with Daniel and you wouldn't be entertaining this ridiculous idea of being with anyone else. You saw him for part of a night at the reception. You need to finish that night."

I wished she could see the scowl on my face.

"I mean…what would you do if you were stuck alone with him?" she asked almost whimsically.

"Probably hide."

"Preeti! He deserves the truth. First love always deserves a second chance. All right. I'm going to give him a heads-up about you staying there."

Maybe Daniel would decline the offer to stay if he knew I came with the apartment. Hope fluttered through me.

"Well, you better get to packing! I'll be in town Saturday to welcome Reema back to good ol' Houston. I'll get some things from my place, but I'll be staying with Jay, so feel free to start sleeping there right away," she said almost too eagerly. "I can help you move."

"That would be great. I want this place clean and ready for their return."

"I don't think I volunteered for cleaning duties."

"What are best friends for, though?" I grinned into the phone.

She sighed. "Fine. See you then!"

As soon as I got off the phone with Liya, I called Sana to see if she could help me move over the weekend. She, of course, was eager to spend time with me and Liya.

I giddily packed blouses and slacks. I'd never lived by myself before, much less in a luxury apartment. And seeing that my singlehood could come to an end faster than the onset of lidocaine, I suddenly felt the need to live it up—after Daniel moved out, of course, because until then, I would be a master of hiding.

Maybe it was cold feet.

Maybe it was the constraints of marriage to a person I didn't feel a connection with.

Maybe it was leaving the days of roommates and fully embarking on my own.

Whatever it was, I had a couple of months to be wholly free.

But that was the problem, wasn't it? Singleness equated to freedom while marriage meant binding myself to a guy whom I didn't love in hopes of developing those feelings later. It wasn't unheard of—marrying out of pragmatism and falling in love at some point afterward. My parents had done it. My aunts and uncles and several cousins and countless others from mandir and literally millions across the Indian diaspora and beyond had done it. Our culture wasn't the first or the last to encourage marriages according to carefully laid-out plans.

My brain, full of intelligent reasons and conceptual propositions, bluntly declared that marrying Yuvan was the practical, correct course of action. He was patient, successful, and adored by my parents. But my heart, or rather the chemical impulses raging uncontrollably across my system, blasted off that it was still, and always would be, a die-hard lover of Daniel Thompson.

Well, too freaking bad, oh treacherous heart. The brain must win this one. I had come too far in my personal journey to be swayed by a few encounters with Daniel.

I took in a couple of shaky breaths. Get a hold of yourself! You are a doctor, for goodness' sake! How was it that I could deftly use a scalpel to cut open body parts and reapproximate everything without being a nervous wreck, yet I couldn't manage to see my ex without imploding? One look at Daniel and I was five steps back.

All right. I could work past this.

Living with Daniel for three weeks? No big deal.

Calm down, body. No need to get all revved up.

Chapter Two

Thursday was typically family dinner night with my parents, but moving and overworking had me breaking the tradition this week. On the bright side, I could dodge questions about Yuvan. Circumventing questions was my specialty. I had at least three gold medals to show for it and might hit a fourth one for this week alone (crossing all fingers).

"Come to the house for dinner with Yuvan and his family. We can discuss dates. What do you think?" Mummie said over the phone that morning.

"Lots of work. Can't this week. Besides, I need to take care of Liya."

"Oh my! Poor, poor girl," Mummie replied, and sent our conversation toward holding one of our elders accountable for assaulting my best friend. It was not easy. We lived in a society where a victim had to fight to prove her story while every skeptical doubt was thrown at her. She was villainized more than the actual villain.

I clenched my eyes, feeling the pain Liya had endured.

Mummie had a sudden fire in her that I lived for, though. I was content listening to her updates from the auntie squad. She'd banded with Liya's and Jay's and Reema's moms and a bunch of other moms and orchestrated a plan to hold Mukesh accountable while Jay worked on the legal case. It made my heart swell with pride. Liya was strong and loyal and loving, and she'd found a match in Jay, who never left her side. It was a weird feeling to be elated for her and yet sick to my stomach for her.

I blinked and stared at my bedroom wall. Don't think it. But ghostly whispers formed in the depths of my mind and curled to the surface.

Why hadn't my mom spoken up for me when the fois raged with seething gossip bathed in inherent racism about my dating Daniel? Where was this band of aunties then? I knew my situation wasn't as horrific as Liya's, but still…where was the community to support me?

When we hung up a short while later, I sat on the bed and lost the battle to scroll through my contacts list.

I lingered on Daniel's number, wondering aloud, "Is it still the same?" as my fingers hovered over the cell phone screen.

Great seeing you. Sorry that I ran off at Reema's wedding.

Just wanted to say that you looked nice. It's been so long.

How long are you in town for?

I groaned, deleting the text as quickly as I'd typed it. What would I say if he responded? Hey, we should grab dinner? Let me explain why I left you the way I did and broke your heart?

Ugh. It was best to leave him alone. He probably didn't want to hear from me, probably would ditch the apartment knowing I would be there, too. How could he ever forgive me? He likely thought that I had no problem taking four amazing years of dating, of being in love, and throwing it away like it meant nothing. He probably thought I was callous, even six years later. If he knew the reasons why I'd left him, there was no way that he would look kindly at me again. He'd have so much hate. And well…I wouldn't blame him. I was a coward. Gold medal for that, too.

Why couldn't I commit to deleting his number?

There was a profile picture next to it in my contacts, taken years ago, a masterful selfie of me beaming down at him while he lay on his back in the park. My sun-drenched hair fell over my shoulders as I leaned over him. We'd had the biggest, cheesiest grins. He wore a muted gray button-down shirt and I had on this bright pink blouse. I hadn't thought much of the top, but Daniel had thought the combination of it all created an ethereal glow. Together we looked…perfect.

I couldn't even delete this picture. In this frozen snapshot, all I could see was love and all I could feel was pain.

I remembered the day Daniel walked the stage for his master's degree, when I'd met up with his parents before the ceremony. They'd never liked the fact that we dated, which was why Daniel and I hadn't spent much time with them. His mother had been kind, although the quiet disapproval in her features wasn't.

Daniel's father had looked down on me the moment he realized Daniel and I were still together.

"That's my boy, my firstborn, my legacy," he'd said beside me in the s. . .
We hope you are enjoying the book so far. To continue reading...
First Love, Take Two
Sajni Patel
Copyright © 2022 All Rights Reserved