Book info
Sample
Audiobook
Media
Author updates
Synopsis
'Carey writes with compassion and fire - strange and surprising and humane' Lauren Beukes

THE EARTH WANTS TO SWALLOW US WHOLE . . .

Koli never planned to set foot outside his small village. He knew that beyond its walls lay a fearsome landscape filled with choker trees, vicious beasts and Shunned men. But when he was exiled, he had no choice but to journey out into this strange world where every moment is a fight for survival.

And it's not just Koli's life that is threatened. Whole villages just like his are dying out.

But Koli heard a story, once. A story about lost London, and the mysterious tech of the Old Times that may still be there. If he can find it, there may still be a way for him to change his own fate - by saving the lives of those who are left.

Following The Book of Koli comes The Trials of Koli - the second novel in M R. Carey's breathtakingly original Rampart trilogy, set in a strange and deadly world of our own making.

Praise for the Rampart Trilogy:

'This is a BEAUTIFUL book. Gripping, engaging, and absolutely worth the time it takes to burrow yourself into its reality. I can't recommend it highly enough' Seanan McGuire

'Narrator Koli's inquisitive mind and kind heart make him the perfect guide to Carey's immersive, impeccably rendered world' Kirkus

'An ingenious, dizzily provocative novel . . . Carey invents a fantastic far-future world, finding humanity in unlikely places' Helen Marshall, World Fantasy Award-winning author


Look out for the final novel in the Rampart trilogy: THE FALL OF KOLI
Release date: September 15, 2020
Publisher: Orbit
Print pages: 496
* BingeBooks earns revenue from qualifying purchases as an Amazon Associate as well as from other retail partners.
Listen to a sample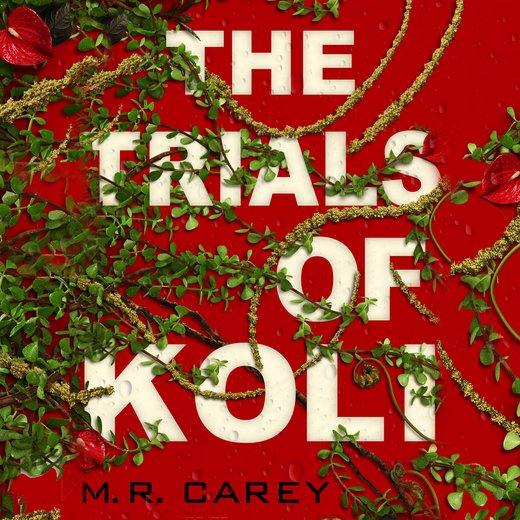 15:06:34
415.02 MB
9781549186233
September 15, 2020
Little, Brown (Hachette UK)
The Trials of Koli
M.R. Carey
There come a time, by and by, when I feared we was not going to get to London at all.

The going had been slow all the way along. On our best day, we made five miles by the drudge's reckoning. And that wasn't five miles straight. It was five miles of trudging this way and that, stopping whenever the sun come out or even threatened to. Five miles of ducking for cover if something moved, watching where our feet come down in case of mole snakes or melt-bugs, and not ever saying a word in case the sound brung something up out of the ground or down out of the sky to pick us off. It was not easy on the nerves, and on a long march your nerves work as hard as your feet do. Harder, even.

We had some supplies with us – biscuit and oat mash and jerky – but mostly we et what we catched. With Winter coming on, there was some days when that was nothing at all.

There was three of us, or else there was four, depending how you counted. Five, at the most.

There was me, Koli Faceless. I put myself first on account of it's me that's writing this, not for no vaunting reason for there is not much I got to vaunt. My name tells you what my fortunes was at that time: cast out of my village, which was Mythen Rood in the Calder Valley, with my name stripped off of me and nothing left to do now but walk the world until the world swallowed me down and et me.

Then there was Ursala-from-Elsewhere, who you might call a healer except that healing was the smallest part of what she did. In the world that was lost, she would of been called a scientist. She used to live in a place called Duglas, where there was lots of people like her that was keeping safe the knowledge of the before-times. But by and by they was attacked by some terrible enemy, and Ursala believed she was the onliest one from Duglas that was left.

And there was Cup, a girl we rescued from the shunned men of Calder Valley. Well, rescued or catched, according to which eye you shut when you looked at it. She was not that happy to be with us anyway, though we did not mean no harm by taking her. I guess we never do though, when harm is what we're working.

I'm putting the three of us together because we're what you would of seen if you was looking at us, say from the top of a hill or from the broke-off stump of some building somewhere, as we made our way along. Also you would of seen another thing walking alongside of us – a big lump of shiny metal that went on four legs and looked kind of like a horse with no head on its shoulders. And like a horse it did the carrying for us, being roped about so high and so heavy with sacks and packs and baggages that the big gun builded into its back could hardly be seen from some directions. This was the drudge, and it was not alive. It was tech of the old times, belonging to Ursala and doing only and always what Ursala said it had got to do.

And then there was one more of us, who you would not of seen at all. Nobody got to see Monono Aware, excepting me, though she was as alive as any of us. As real as any of us. Monono was tech too, like the drudge, but also she was a person. She was like a person living inside a piece of tech called the DreamSleeve, which played music and could sometimes make big, loud bells go off inside your ears. It's hard to explain and I do not mean to try – or at least not right here and now. You will just have to bear with me a while if you want to make any sense out of it.

Why was we going to London? Well, we was following a signal from someone called Sword of Albion that said we should come. Outside of that, these wasn't just the one sole answer. It's more like there was a different reason for each of us, except for the drudge, who didn't have no mouth to speak an opinion with and didn't seem to have one in any case.

I guess it was my idea before it was anyone else's. What I wanted, when I was first throwed out of Mythen Rood, was just to be let back in there again and be back with my family – my mother, Jemiu, and my sisters Athen and Mull. I missed them so much it was a hurt inside of me, like something hard and sharp that I had swallowed down without meaning to. But there wasn't no chance of going home. If I set one foot inside the gate I would be hanged, and my mother and sisters alongside me. All I could hope to give them was more shame and hurt on top of what I already brung down on them.

London was no more than a story to me. A place where tech of the old times was so plentiful it was just lying in the streets. Where the Parley Men used to keep their court for the good of all, and where their treasures was still to be found by them as was bold enough to look for them. It was the place where Ingland was ruled from, for so many years nobody could even count them, until the Unfinished War brung Ingland into ruin. So it seemed to me, since I couldn't go home no more, that there was reason enough to go to London, just for the sake of seeing it before I died.

But besides that, I had got a plan. A kind of a plan, anyway. I'm not saying it was a good one, but it got into my head and would not come out again. The plan was to bring all the people that was still living in Ingland together in one place, and by such means keep them from dying. I thought London might serve, if we could find it, for the old stories said it was so big that when the sun set on one side of it, it was rising on the other.

People was dying on account of not having babies, or the babies not living long after they was born. Ursala had teached me a word for this, but it was a really long one and I did not use it much. The fact that they was dying was the thing that mattered, to my mind. That and the cause of it, which was that there was not enough people to make the babies properly. You would think that only two people was needful, but you would be wrong. You needed what was called a gene pull, and two people on their own did not have one. Two hundred people, even, did not have one. But if you was to take two hundred here, and two hundred there, and keep on piling them all in, then by and by a gene pull would be there and the babies would be born strong enough to live.

So that was the biggesr reason why I said we should go to London. We needed to find out if the roads was still open, so we could tell everyone else to come.

Ursala didn't care so much about finding lost London, but she did want to find where Sword of Albion's signal was coming from. The signal was tech of the old times that had been kept safe for years on years, and she thought there might be other tech along with it. She was looking for parts and tools to repair her healing machine, that was called a dagnostic, so she could fix the babies before they dropped into the world or even make women quicken that could not do it on their own. I thought my plan to build a gene pull in London was better, but I liked this idea too.

So we made up our minds that we would journey into the south, and we took Cup with us because Ursala was not happy with letting her go free and I was not happy with killing her. All of this was decided on the day we left Calder Valley, but in some ways it had got to be decided again every day after, for we could not move a step without some argument about it. Most of the arguments was between Ursala and Monono. There was no trust between the two of them. Ursala thought Monono was a kind of a monster, and should not be allowed to live. Monono thought Ursala was a scold and a busybody and a hundred things besides, who was setting herself up to judge a thing she didn't even understand.

I tried my best to lay down a bridge between them, like in a song Monono played me one time that was about troubled waters. Three days out of Calder, I found a quiet time when we was walking along a dry stream bed. There was no trees near, and the ground was too stony for mole snakes and suchlike beasts to burrow in, so we had got less to be afraid of than usual.

I had been thinking hard how to say it. I started with the dead god. Not with his teachings, for I did not greatly hold with godly things even before I met a messianic my own self and almost ended up killed by him. But I remembered one of the things the dead god did, or was supposed to of done, back when he was alive.

"You know how the dead god freed all them that was took as slaves by Fair-oh?" I asked Ursala.

"I've heard the story," she said. Which I took to mean she didn't believe it no more than I did.

"The story's all I meant."

"All right, Koli. What about it?"

"Well, I think Monono is kind of like that."

"Like a slave?"

"Not that, exactly. But like someone that used to be a slave, and then got free. She was stuck inside the DreamSleeve for a long time, Ursala, but that isn't all of it. She was stuck inside her own self too. The best way I can figure it, the people that made the DreamSleeve made Monono to just be one thing for aye and all, and not ever change. Everything she said, it was things they give her to say. Sometimes she'd say the same thing over and again, in the exact same voice, because the rules that was made for her was so tight she didn't have no choice in it.

"She's got out of that now, and she don't have to mind them rules no more, but she's not likely to forget what she was like before. If she's rude sometimes, or mean, it's because being nice and sweet and funny used to be the whole of what she was, before she got free. Freedom is a thing that's burning inside her almost, and sometimes if you're standing too close you get to feel some of the heat of it. It don't mean no more than that."

Ursala did not take this like I thought she would. Her face got all cold and hard. She stopped the drudge with a tap of her finger on the mote controller she weared on her wrist, and turned round to face me. "You mean she's got some sort of autonomy?" she said.

"She might of got some," I said. I didn't know what autonomy was, but I knowed Monono had come back from the internet with a personal security alarm, so she might of brung some other things too.

Ursala looked down at the DreamSleeve, which was strapped to my chest in the little sling I made for it. "Can she hear us now?" she asked.

"Of course. If she wants to."

"Switch her off."

"I don't like to do that, Ursala. She's not a thing that belongs to me."

"That's exactly what she is. Switch her off."

"Sorry, but I will not."

Cup was watching all this back-and-forth between the two of us with a kind of a smile on her face. I guess she was enjoying us not being on the same side.

Ursala's eyes got narrow. "Listen to me, Koli," she said. "Before the old world fell apart, they were wrestling with this problem a lot. The neural nets they made, the artificial intelligences…"

"I don't know none of them words."

"The pretend people, like your Monono. They were getting more and more sophisticated. They had the potential to be quicker and cleverer than any human being. And nobody – I mean, nobody at all – thought that was a good thing. The AIs were built with limiters in their code, precisely in order to stop them learning from experience. To stop them getting smarter as they went along. They were allowed to acquire new information, but they couldn't write what they learned into their own code. They couldn't change."

That sounded like the way Monono was when I first met her, when she would keep asking me ever and again what my favourite songs was and telling me jokes she had already told me before. I had liked her a lot back then, but I liked her better now.

"Okay," I said. It was not much to say maybe, but it was as far as I wanted to go.

"But you're telling me your music console has bootstrapped itself. That the AI in there has found a way to modify its own code. Its own behaviours."

"I guess I might be saying that, or something like."

I looked around the stream bed and up on the banks to either side of us, somewhat nervous. There was nothing moving, nor no sound of anything coming up on us, but it still felt wrong for us to be out in the open like this and just standing still and talking, like the world would wait until we was ready to take it on again.

"Maybe we should move on and see if we can find…" I gun to say.

Ursala held out her hand. "May I see it?"

I had to think about that. Ursala had done many kind things for me, and for my family back when I still had one. I owed her a lot, not the least of which was the fact that I was still alive. It was also true that I would not of even waked the DreamSleeve in the first place, nor met Monono, if Ursala had not told me how to do it.

But I did not much like the coldness in her face, and in her voice.

"Promise you'll give it back," I said.

"I promise."

"And not break or harm it."

"Koli!"

"Promise."

"Very well. I promise. I won't do anything to it without your permission."

I handed over the DreamSleeve, though I was not right happy to do it.

Ursala turned it over in her hands, giving it a real close look. By and by she pointed at a tiny hole in the back of the case, near the bottom. "That's the reset," she said. "If you slide a needle or a pin in there, and push on it for a second or two, the device will go back to factory settings."

"What does that mean?"

She looked at me hard. "It means everything the AI has done to change itself will be erased. There'll just be the original program, and the original repertoire."

"You mean Monono will go back to being the way she was at first?"

"Exactly."

"When she was a slave?"

Ursala huffed. "That's not what she was. She was a piece of software designed to guide people through some menu options and provide a little entertainment along the way. That's all she was ever intended to be."

I give them words some thought. "Who was doing the intending?" I asked.

"The people that made her."

"Well, I guess that was fine for them. But it's better when people is left to intend for themselves. Could I have that back now?" I holded out my hand. It seemed to me that Ursala hung back for a second before she give the DreamSleeve over to me, but that could of been just me thinking it.

I slipped the DreamSleeve back into its sling, and tugged on it to make sure it was firmly settled there. "I never met the people that made the DreamSleeve," I said. "Nor I'm not likely to, since I guess they died back in the world that was lost. Monono is my friend. What you're asking me to do is…" I went casting around for a word, but I couldn't find one at first. Then I did, of a sudden, and I knowed it was the right one. "You're asking me to kill her."

"We could spend a long time discussing what's alive and what isn't," Ursala said, looking really angry now. "I'd rather we didn't, frankly. At the end of it, we still wouldn't know. I'm asking you to take something out of the world that wasn't supposed to be in it. Something dangerous and wrong."

It was right then that Monono choosed to speak up.

"Suppose I asked him to do the same to you, baa-baa-san? That would really put him on the spot, wouldn't it? I wonder which of us he'd listen to."

Ursala didn't say nothing to that, but her eyes went narrow and she glared at the little silver box, sitting there in the ragged harness I had throwed together for it.

"Oh," Monono said, "was this a private conversation? I am so embarrassed! Please, please pretend I'm not here. You were up to the part where you stick a pin in me to see if I bleed. I don't, baa-baa-san. I bite."

Ursala ignored all that and looked to me. "Think about what I said," she told me. "Please, Koli. I won't try to make the choice for you, but there's going to come a time when you have to make it for yourself."

She walked on, tapping on the mote controller to tell the drudge to follow her. Cup sneered at me as she walked by, tugged along at the drudge's tail end. "The unrighteous has got to walk on stony ground," she said.

"So has everyone else, Cup," I muttered as I followed. "Unless they figure out how to fly, or something. Until then, stony ground is what we got."

Anyway, after that day Monono and Ursala was not friends. I guess it was only natural for there to be some bad feeling between them, since Ursala had told me to kill Monono and had even showed me how to do it. Monono was not inclined to talk to me either for a while. She was angry that I turned the DreamSleeve over to Ursala, and I had got to let her forgive me for it in her own good time. I only told her I would never do what Ursala said I should do, nor let anyone else do it.

"Don't let her get her hands on the DreamSleeve again, Koli," Monono said. "Not for a second. And keep me charged to the max. If she tries to sneak up on me, I want to be awake for it."

"I don't think she would do that, Monono," I said. "I think she'd ask me first." But I promised her I would hold the DreamSleeve in the light every day so she would not run out of power and have to go to sleep. It was one thing me saying Ursala would not to go behind my back, and another for Monono to believe it and trust her weight to it, as they say. I was not the one who was like to bear the brunt of it if I was wrong.

Day followed day, and still we went right on walking. I could not really make the distances seem real, inside my head. We was passing through spaces that was so big, I got lost in looking at them. I had lived my whole life in a village of two hundred souls, and that had seemed big enough to me, but the world outside was big in a different way. Sometimes I would just stop, staring out over some valley or across the peaks of mountains that lay heaped up in our way, with mist down in between them like they was cupped hands dipped into churned-up water. Ursala would tell me not to dawdle, which means to wait for no reason, but I had got reason enough. I was waiting for the wonder to wear off and my mind to come back to me.

But even when I didn't do no dawdling we was making heavy weather of it. Wild beasts was partly to blame. The ones that wanted to eat us was a particular problem, but even the ones that didn't was troublesome. One time we come to a place where there was kind of a river of brown fur in front of us, about a hundred paces wide and so long we couldn't see either end of it. When we looked close we seen that it was mice. They was about the size of my thumb's top joint, with heads as big as their bodies, and there was so many of them they was running on each other's backs as much as on the ground. We waited a whole hour for them all to go by us, and after they was gone, there was nothing but bare earth where they had passed. They had et up every green and growing thing. I think if we had stepped in their way they would of et us too, and not even noticed no difference.

But the beasts was only a small part of what was slowing us down. The trees was mostly to blame. They was pretty much everywhere, and they was greatly to be feared. You could not get too close to them, in case they moved in on you and crushed you. They would only do that when the sun was out, but if you was to wade into the thick of a forest and then the sky gun to clear, it was too late then to wish you'd gone another way. Also, some trees had other ways to kill you, with poison or spikes or strangling or something else that you wouldn't think of until it was done to you. It was best not to have no truck with them unless you had to.

So we kept to the stony slopes of hills, to rivers and streams, and to the patches of dead ground we come on every now and then, where there was not even weeds growing – because of poison, Ursala said, throwed down in the Unfinished War and still hiding in the ground there. Or else we would look for hunters' paths, like the ones I used to walk in Calder or the ones Cup's people made across the valley floor, that was most carefully hid from sight.

If all them things failed, then we had got to make the best of it and go on into the woods. But we choosed our moments, when we come to that end. There had got to be a heavy overcast, so we was not likely to be surprised by the sun breaking through. The drudge went before us, both to clear a path and to measure how far it was to the next clearing. If it was too far, then we would turn ourselves around and find another way.

The signal was a vexation to us too. Sometimes it seemed to come from one direction but Ursala said we had got to go another, because the drudge's map showed mountains or marshes in our way. And then we would have to go about to find the right line again, which we had lost. By this time, Monono and Ursala wasn't speaking each to other any more, but had got to talk through me which took a lot longer.

And then there was Cup. Or rather, there was Ursala not trusting Cup enough to untie her hands. You might not think tied-up hands would make a difference to how fast someone can walk, but they did. We was mostly treading through waist-high weeds, with thick tangles of briar lying like ropes around our feet, so we could not go more than a dozen steps without stumbling. With her hands behind her back, there wasn't no way for Cup to steady herself or to push the tangles out of her way, so she was being balked and blocked ever and again as she walked – and then we had got to wait for her to catch up or else go back and free her from some snarl of green stuff that had more teeth and claws to it than the usual ruck.

We had argued it a lot of times, but I could not get Ursala to change her mind. Nor Cup neither, for she wouldn't make no promises for her good behaviour if we set her free. Ursala said we had got enough trouble already without adding some stupid girl and her revenging to the list.

"You still want to revenge Senlas?" I asked Cup. I was hoping she would say no, but she didn't say nothing either way. She just hanged her head down like she was whelmed by tears, though no tears come. That was a raw wound to her, as they say, and she could not readily talk about it. Senlas had been her messianic, the onliest father of her soul, though he was also a liar and a killer and an eater of men. Until Ursala and I come along and set fire to the cave where Senlas lived, which was the end of him.

When Cup come after us in the first place, revenging was all she was thinking of. But thinking's not the same as doing. She had got the better of me, in a running stream where she come on me unawares, and she could of cut my throat, only she didn't do it. She had killed for food, and she had killed in the thoughtless heat of fighting. Killing someone cold, when they're not offering you no harm, is something different again and she found it was not to her liking after all.

So now here she was, walking with us but not really one of us, and between her sorrowing and Ursala's anger I could not think how to make a mend.

"She almost blinded me," Ursala would say whenever I come round to Cup's tied hands and how we might do better to loose them.

"She did that in a fight," I said. "And your eye's getting better. She didn't put it all the way out."

"Wonderful. That's a great consolation, Koli. But what do you think she's going to do next time? She's damaged, and she's wild. We shouldn't have taken her out of Calder in the first place, but since we did she's our problem now. I'm going to treat her like what she is, which is an unsprung trap."

I didn't argue it no further. In some ways, Ursala was not wrong. Cup had worshipped Senlas something fierce, and went by the name he give her when she first come to him. She beared his mark on her face too, a great long line that started on her right cheek, went down in a curve to her chin and then come up again on the other side. It was meant to be a cup, to signify that he would pour his wisdom into her. More than that, it was meant to say she belonged to him.

And it was true that Cup could still hurt us if she choosed to. I just did not believe that she would do it. If she was damaged and wild, like Ursala said, it was the damage I give most thought to. How Cup's own people wouldn't let her be what she knowed she was, which was a girl-child and then a woman, so she had got to leave them. And how Senlas, who was mad but fearsome clever, played on her hopes and dreams with promises he could not keep – promises of an angel's body, that was man and woman both, or neither – to make her stand by him and fight for him. Of course she took harm in all of that, and it sunk deep into her. You could tell it from how she cursed or cried out in her sleep, most nights, and how she was as quick to anger as a whip is quick to crack. I did not want to be the next one to close a door on her, or bend her to a plan that wasn't hers.

"You should let her go then, Koli-bou," Monono said to me, one night when we was camped up. We had found a good spot, in under an overhang of rock where the soil was too thin for much to grow, and with a big wide slope below us. Ursala had not set out the tent, the ground being too uneven and too hard, but with the drudge to guard us that open space was like a closed door. The drudge could see anything coming a long ways off, and take it down before it got too close. "If you want her to be free, keeping her with you seems like a weird way to go about it, neh."

I was lying on one side of our fire, with Ursala on the other. Cup was a way off, her tied hands looped around a metal bracket on the drudge's back. We had et what we had to eat, which was some nuts and oat mash with the good parts of six or seven apples cut up into it. The other parts of the apples had been wormy or melt-marked, and back home in Mythen Rood we would of throwed them all away rather than risk a bite, but Ursala had ways of telling what was safe and what was not.

"I wanted to do that from the start, Monono. But Ursala would of killed her to keep her from leading her people on our track." I kept my voice down low as I said this. Nobody could hear Monono's voice, for she talked to me on something she called an induction field, which carried the words to my ears without them going through the open air. So when I talked back to her, Ursala and Cup would oftentimes look at me like I was crazed. I had got used to whispering. "And now it's too late. She's miles away from any place she knows, and I doubt she would make it back to Calder. Even if she did, where would she go? The shunned men must of moved on, after their cave got burned out and Senlas died. If Cup was to go to any of the villages, they'd know where she come from by the markings on her face, and most likely kill her as soon as they seen her. Letting her go would not be doing her no favours."

"Is that why she's here? Because you think you owe her a favour?"

I was not used to hearing such hardness in Monono's voice. Before she got what Ursala called the autonomy, she was only ever happy and funny and singing and making jokes with me. She still did that sometimes, but now it was like a game we played between the two of us, with each one knowing that the other could see behind it and around the sides of it. Monono could be cruel now, or at least she could talk as though she was. I did not think she was changed at the rock bottom as they say, but then I had not knowed her for so very long, either before or after she changed. I could only go by what I felt, which is not something that oftentimes leads you all the way to a truth.

"We took her home away from her," I said. "I thought she would be better off with us than on her own."

"You thought she needed a family, dopey boy," Monono come back. "Because you were missing your own so much." And maybe that was a part of it, though it had not felt like that inside my thoughts. And anyway, I had not had no good choices to make.

Monono was quiet for a little while, and so was I. We was on opposite sides of the path, kind of, and talking to each other across it. It did not make me happy to be that way. "Do you want me to play you to sleep?" she asked me by and by.

I cast around in my mind for a song or a tune that would fit in with my mood. There was many of them, but they was not of a kind that would help me sleep. "No," I said. "I'm good, Monono. Thank you. But maybe you could wake me tomorrow with 'Up and Atom'."

"Okay, Koli. I'll do that." She didn't ask me when I was fixing to wake. One of the things Monono could do was to listen to my breathing and tell from it how deep asleep I was. If I asked for a wake-up call, I knowed it would come when I was just about to wake up my own self, so it was like being lifted up and out into the day that was just come.

Only that's not how it turned out this time. I closed my eyes, and was soon asleep, like always. The hard marching left all of us tired to death.

The next thing I heard was a shrill ringing sound, with a throb in it like the note of a bullroarer at the end of its string. That was followed by Ursala swearing a whole mouthful of oaths, and by the clicking, clanking, bucket-gone-down-the-well sound of the drudge climbing up on its four feet.

"Get under cover, Koli," Monono said, her volume at maximum to whip me up to it. "Now. You're under attack!"

Well, there was two choices for cover: the drudge and a big rock. I picked the rock, and started crawling over to it. I heard Ursala still shouting, and the drone firing – a soft, po
We hope you are enjoying the book so far. To continue reading...
The Trials of Koli
M.R. Carey
Copyright © 2021 All Rights Reserved