Book info
Sample
Audiobook
Media
Author updates
Lists
Synopsis
'This was pure joy to read and left me feeling warm inside!!' ⭐⭐⭐⭐⭐

'This book pulled at my heart strings and broke me in places and then slowly pieced me back together again' ⭐⭐⭐⭐⭐

'Oh my!!!!!! Cathy Bramley has done it again, a fantastic read and I could not stop reading it' ⭐⭐⭐⭐⭐

'This book - I absolutely adored it!' ⭐⭐⭐⭐⭐

Three generations of women, and the summer that saved them.

The holidays are here, and in Salcombe, Liz longs for the arrival of her god-daughters, Skye and Clare and Clare's daughter baby Ivy. After years on her own, she needs help to save the catering business she built with Clare's late mother, Jen.

However, half-sisters Skye and Clare couldn't be more different, struggling with family secrets and hidden jealousies. As the women navigate this unexpected summer together, truths are revealed and their relationships are put to the test.

The Sunrise Sisterhood is a summery slice of joyful escapism as well as an emotional drama about three women healed by the sparkling waves of Salcombe and the power of the sisterhood.

***

'A heartwarming story of sisterhood and second chances' Lucy Diamond

'Total escapism full of joy, hope and heart' Kim Nash

'Comforting, funny, warm and wise. No-one does complicated family and friendships like Cathy' Veronica Henry

'Beautifully written and richly layered with characters that feel like firm friends, it's full of Cathy's wonderful warmth, wisdom and wit' Alex Brown

'A wonderful story of family, sisterhood and finding yourself' Emily Stone

'Absolutely loved this summer swoonsome read from Cathy Bramley' Holly Hepburn

'Full of sun, humour and heart, it is Bramley's best book yet' Katie Marsh

'A gloriously pitched mix of single parenting, unexpected love affairs, a possible drinking problem and beachside yoga work together to create a summer read that is all about escapism with a capital E!' Stylist

'Joyfully humorous, wise and heartfelt' Heat BOOK OF THE WEEK

'A slice of pure escapism' Pick Me Up!

'A warm read about friendship' Fabulous Magazine

'A wonderfully told story of complicated relationships, Cathy Bramley's heart-warming and uplifting novel is rich, funny warm and wise' Sunday Express

'This joyful novel explores grief, family dynamics and friendship' The Sun
Release date: May 25, 2023
Publisher: Orion
Print pages: 400
* BingeBooks earns revenue from qualifying purchases as an Amazon Associate as well as from other retail partners.
Listen to a sample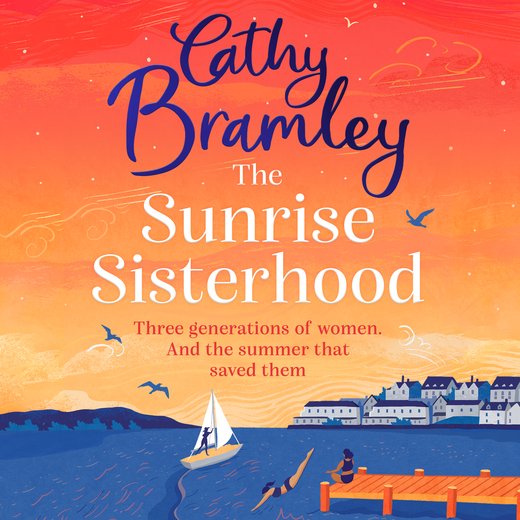 11:21:05
311.79 MB
9781398703995
May 11, 2023
Hachette UK
The Sunrise Sisterhood
Cathy Bramley
JUNE 2022

I checked the front pocket of my rucksack for my passport. It was there. Just as it had been the last five times I'd looked. The taxi I'd booked to take me to the airport on the other side of Kampala was due any minute. My throat was tight with the anxiety which had been building over the last forty-eight hours.

Was I doing the right thing? I thought I was. But it didn't stop the niggling voice in my head telling me I was running away. Back to the place I'd run from.

I'd initially come to Africa to travel, to do some volunteering, to escape from a life that had felt pointless, and from my parents, specifically my father, who made me feel as if nothing I did was ever good enough. Within days of arriving here at the Hope Foundation charity project in Uganda, I felt sure I'd found the place I was supposed to be. Here I felt valued; I had a role to play and, for the first time, my life had purpose.

Before long, the emotional baggage I'd brought with me became irrelevant in a country where life felt raw and vivid – bigger than anything I'd experienced. The red dirt roads, chaotic traffic and crowded towns were islands in a vast ocean of green plains inhabited by animals I'd only seen in zoos. Scorching dry heat was counterbalanced by torrential rain, and, despite the poverty, I'd encountered friendship, community and pure happiness. Uganda was a country of contrasts and, for a young woman who wasn't quite sure who she wanted to be, it was the perfect place to be while she figured it out.

Five years on and apparently I still hadn't figured it out.

My case was sitting in the doorway, stuffed with as many mementoes from my time here as I could fit in it. Even so, I was leaving a lot behind . I cast one last look around the house and walked outside onto the porch, where I could avoid seeing all Jesse's pairs of flip-flops piled up by the door, and the knick-knacks we'd accumulated over the years to make this tin-roofed house feel like a home: the wood carvings, wall hangings and the children's art I'd been given and couldn't bring myself to throw out.

I kept my eyes on the entrance to the camp, willing the taxi to hurry up. My palms were clammy and my stomach was fluttery with nerves.

My plans to return home to the UK had been made so quickly that I kept expecting to wake up and find it was a dream. That what had happened at the party two nights ago wasn't real and that any minute now everything would be back to normal.

But then I'd catch Jesse's eye and my stomach would plummet all over again. My carefully curated, simple life managing the volunteers who came here to work at the Hope Foundation was over.

My friends, Aster and Dembe, crossed the yard separating our houses and came to join me on the porch. Dembe had her new baby, Kemi, swaddled close to her body, tied in a scarf as usual.

'You're really leaving?' Aster asked as she sat beside me. 'I don't believe it.'

'I'm really leaving.' As I squeezed her hand between both of mine, I felt a lump form in my throat, and it hit me just how much I'd be giving up if I didn't return.

Officially, Aster was our cook. She'd been preparing meals for the volunteers since before I arrived. But she was so much more than that; she was the maternal figure the volunteers turned to when they were missing home or when they were feeling under the weather. She had twelve grandchildren of her own, but counted everyone at the Hope Foundation as her family too.

'Don't worry, Aster. She will come back, her heart is in Uganda. This is her home now.' Dembe held my gaze, as if challenging me to argue with her.

'It does feel like home and I've been very happy here,' I admitted. 'Happier than I've been anywhere.' I leaned forward to peek at the baby's face. 'One last cuddle?' I said, holding my arms out.

'One last cuddle for today,' Dembe corrected me, unknotting the scarf.

I cradled Kemi to me, her little body totally relaxed in my arms, her knees tucked up towards her chest.

When I'd first arrived five years ago, Dembe was newly married. Now she had three children, all of whom I'd held in my arms, just like this. Motherhood hadn't stopped her working for long; she and her husband were in charge of transporting our volunteers on trips, airport runs, medical emergencies … you name it.

Aster frowned. 'It's not right that you are leaving without a celebration. The community will be disappointed they were not able to thank you for all you have done for us.'

'And the schoolchildren haven't said goodbye, performed their songs and dances for you,' Dembe added.

The children loved to put on a show for the volunteers to thank them for whatever they had achieved: sports coaching, English classes, music lessons. It was always a highlight of any stay here for the volunteers.

'There's no time, I need to go,' I replied. 'When I come back, we can have a party then.'

'I don't understand. Why so quickly?' Dembe asked, folding her arms. She and Aster shared a look. 'Is it because of the boss?'

'Jesse can be …' Aster paused, choosing her words carefully. 'A bit bossy?'

I lowered my head and kissed Kemi's soft dark hair so that they couldn't read my expression. 'This isn't about Jesse.'

A white lie, and only told because I didn't want to make anyone out to be the bad guy. This was about me.

My friends gazed back at me, uncomprehending, worried. I had to tell them something.

'It's …' I cleared my throat. 'My family needs me.'

Now that was a lie. But I knew it was something they would accept easily. Here in this small community where I'd been welcomed so warmly, family was at the heart of everything. Generations lived under one roof, grandparents looked after grandchildren, sisters were each other's best friends. When someone was taken to hospital, one family would step in to care for another. A life made up of big hearts and small kindnesses. Maybe it wasn't just Uganda where this happened. Maybe it was common in the UK too. But not in my family. Months would go by without even a phone call between us. A shiver ran down the length of my spine at the thought of what I was going back to, going home to. But I had to go, I had no choice.

'Someone is ill?' Dembe asked, eyes wide with worry.

I shook my head. 'It's complicated.'

An understatement where my family was concerned.

'You are a good girl,' said Aster. 'You go to your family, but don't forget about us.'

'Never,' I promised easily. 'As if I could.'

My taxi pulled into the yard, sending a cloud of dust into the air. At the sound of the car, other friends and their families appeared, their faces solemn. Babies in arms, children too young to be in school, aunts, uncles and grandparents. People I'd come to care about; leaving them was so difficult and, for a split second, I wavered, my head doing battle with my heart.

Aster picked up my suitcase while I handed Kemi back to her mum.

'Where is Jesse?' Dembe cast her eyes around, worriedly.

'We said goodbye this morning,' I replied quietly. 'Neither of us wanted a fuss.'

Jesse had offered to drive me to the airport, but I couldn't bear the thought of a journey spent in silence, or perhaps, even worse, being told that I didn't need to leave, that I was doing the wrong thing. Instead, we'd hugged each other for a long time and promised to take care of ourselves until we saw each other again.

'Write to us,' Aster's husband said, loading my suitcase into the car.

'I will.'

'Please bring me a Manchester United shirt when you come back,' asked Apolo, the school cleaner. Technically he should have been in school now, but I was glad he'd come to see me off.

'Just come back,' said Aster, nudging Apolo out of the way so she could put her arms around me.

Half a dozen children formed a circle around us, holding on to the back of my skirt as they always did when they couldn't catch hold of my hand.

'God bless your family,' said Dembe, grabbing my face and kissing my cheeks as I tried to peel myself away from my dear friends.

Finally, I climbed into the taxi and I took one last look at the place I'd called home for five years, drinking in every detail, committing it all to memory.

Just in case I never returned.

JULY 2022

From her table on the upper deck of the Kings Arms, Liz gave the wine list a cursory glance before turning her attention to the scene in front of her. Salcombe was beautiful all year round, but now, in mid-July, with the water sparkling in the sunshine, it was paradise. Down on ground level, holidaymakers milled around, eating ice cream, browsing the shops and taking selfies. A flotilla of tiny boats sailed by, little ducklings all in a line hugging the coastline. Kids on paddleboards, the ferry doing its loop from here to East Portlemouth and back and sleek yachts moored at the quay, masts tinkling as they bobbed on the gentle waves. Across the estuary, crescents of golden beaches were dotted with figures. Liz could just make out coloured rectangles of beach towels and children charging into the waves, then running back to the safety of parents' arms. Life in all its summer glory.

She was fortunate to live here, she knew that, but lonely. Oh so lonely.

'Liz?' called a surprised voice from below, jolting her from her thoughts.

She looked down to see Viv waving to her and waved back in trepidation. Viv Carroway was a business contact who Liz had got to know well over the years. She ran a successful holiday lettings agency and was always rushed off her feet managing the expectations of homeowners and holidaymakers. She was brilliant at her job, which meant that her properties were full almost all year round. Viv's company had put a lot of work Liz's way at one time. But not anymore.

'It is you!' Viv cried and promptly ran up the steps to join her.

Liz stood to greet her and then wished she hadn't. Her linen tunic dress had creased into pleats, and, oh no, was that a sweat patch under one boob? Some women could wear linen and look effortlessly cool and bohemian. Liz looked like she'd slept in her clothes. Viv, by contrast, was in heeled sandals and a hot-pink tailored shift dress which looked sensational against her tan.

'How lovely to see you out and about again!' Viv kissed her cheeks; Liz was assailed by her perfume. Viv didn't know the meaning of the word subtle. 'And not before time. How are you?' She cocked her head to one side waiting for Liz to answer.

Liz felt her eyes begin to burn.

'I'm well,' she said, nodding as much to convince herself as Viv. 'Getting there, you know.'

'Excellent news!' the other woman beamed at her. 'I can't tell you how many clients are desperate for your services. Just say the word and I'll get those bookings flowing again.'

'I don't think so,' Liz stammered. 'But thank you.'

She wished Viv would go away and leave her in peace. She felt bad enough as it was about her lack of motivation without Viv flaunting her energy and drive in front of her.

Viv studied her for a moment as if she was about to pass comment, but her phone buzzed inside her bag, distracting her. 'Listen, I'd better dash. I'm meeting a new client. But let's catch up soon, yes? I'll be in touch.'

'Sure.' Liz sank back onto her chair, already planning to fob her off when she called.

As soon as Viv was out of sight, a waiter appeared. Liz did a double take; it was none other than Viv's handsome son, Noah.

'Hey, Liz, sorry about the delay coming to take your order,' he said with a grin. 'I wanted to make sure the coast was clear, if you know what I mean. What can I get you to drink?'

'A glass of sparkling water please.' She smiled at him. 'I take it you're referring to your mum?'

She'd known Noah since he was a little boy obsessed with dangling his crabbing line over the quay with bacon as bait. Now he was all grown up, with beach-tangled hair and a suntanned face.

He laughed. 'Got it in one. She takes every opportunity to comment on me waiting tables, when I could be suited and booted and earning more money working for her.'

'And you're not interested?' She could see why Viv would want him; he'd be a great asset.

Noah wrinkled his nose. 'I'm proud of what she's done, but I want to go my own way, start my own business one day. Like she did, and you.'

Liz looked down at her hands; she hadn't done it on her own though, unlike Viv.

'Haven't seen you in here in for a while,' Noah continued. 'Special occasion?'

'Sort of.' She glanced away before meeting his eye again, buying herself a moment to take control of her voice. 'It would have been my friend Jen's birthday today.'

The second birthday since her death. Time had both flown and dragged, if that was possible. Liz had read the books, listened to the podcasts, heard the platitudes; she knew time was supposedly a great healer. But the pain of losing Jen seemed as sharp now as it had on the day she'd died.

Noah's face fell. 'Ah, I'm sorry, I didn't know. I'll go and get you that water.'

'Actually,' Liz blurted out with a sudden change of heart. 'Make it a bottle of Sauvignon Blanc instead.'

He smiled with sympathy while he tapped her order into a handheld device. 'Sounds like it's a glass-of-wine kinda day.'

'Definitely,' she agreed.

Liz had started the morning with a brief phone call to Clare, Jen's daughter, who, as usual, was racing to get the baby fed and dressed and out of the door for work and nursery. They'd only spoken for a minute or so, but it was long enough for Liz to let her know she was thinking about her on what she knew would be a tough day, and for her to connect with someone who had loved Jen too.

Her plan had been to catch the ferry and walk to the Gara Rock hotel, Jen's favourite place, to toast her best friend with a glass of champagne. But Jen's ex-husband, Mike, had phoned this morning and invited her for an impromptu lunch. It had been so thoughtful of him and she'd accepted without hesitation.

'Hey, did Mum tell you she's dating again?' Noah said, collecting the wine list from the table.

Liz raised her eyebrows in surprise. Viv must only have been divorced a matter of months after kicking her husband out for cheating on her last year.

'Good for her. Anyone special?' The sun was getting stronger, and she shaded her eyes as she looked up at Noah.

He grinned. 'She's got a few on the go. I don't think she's too fussed about getting tied down again. She's got a better social life than me, these days. Now I'm working full time here, I hardly get to see my girlfriend.'

'Who's the lucky girl?'

'Jade. Manager of the coffee shop the other end of Fore Street?'

'I know the one.' Liz nodded, although not being much of a coffee drinker herself, she'd never been in. Jen had been a coffee fiend, as was Clare, so she always kept the good stuff in. Had a proper machine and everything.

'I'll go and get that wine,' said Noah.

As Liz watched him walk away, her thoughts wandered back to Viv. Holidaymakers and people with second homes liked to be cooked for and Viv had put a lot of work their way.

After Jen died, Liz hadn't been in a fit state to cater for herself, let alone anyone else, and she'd let Viv down repeatedly. She'd felt guilty, but incapable of doing anything about it. Eighteen months on, Liz was still barely working, and certainly not enough to cover the business's bills. The only catering jobs she would even consider were small ones for people she knew, in kitchens she'd cooked in before. Viv had been disappointed by Liz's reluctance to come back to work and a bit bewildered too. No doubt she would take Liz's lunch out as a sign that things were getting back to normal. As if that was ever going to happen.

A dart of sadness pierced Liz's heart.

Liz and Jen, Jen and Liz. Inseparable since the age of eighteen. They'd been known as The Gourmet Girls at university because of their infamous supper clubs, to which every student in their circle wanted to be invited. When they'd reunited a decade and a half ago to set up in business together in Salcombe, the name had morphed into The Seaside Gourmet Girls.

It had been the best decision Liz had ever made. Dinner parties, anniversary celebrations, even elaborate beach picnics – Jen's joie de vivre and 'nothing is too much trouble' attitude coupled with Liz's knack of conjuring up the perfect menu for any occasion had been a winning combination. The Seaside Gourmet Girls had become the 'go-to' catering company in the area. Few friendships would have endured a lifetime of so many ups and downs, but theirs had. With Jen gone, Liz's world would never be the same again.

Deep down, Liz knew that life was a gift which could be taken away at any moment and it was high time she started living again – she owed that to Jen. Knowing it was one thing, doing it was another entirely. For a start, The Seaside Gourmet Girl didn't have quite the same ring to it. And she was sixty-bloody-two, for heaven's sake; it had been fun to call themselves girls when there were two of them. Girl – singular – was just … odd.

Her mouth felt dry; she was ready for a drink to settle her nerves, help her relax. Where was that wine? And where was Mike, come to that? Not that she'd expected him to be on time. He'd always been one to underestimate how long things took, like driving from his house in Exeter to Salcombe on a Friday in tourist season. But at least he'd remembered it was Jen's birthday and, for that alone, he would be forgiven.

By the time Mike arrived, Liz was on her second glass and feeling pleasantly buzzy. Her arms were tingling from being in the sun and she hoped her face hadn't gone too red.

She heard him talking to the staff in a loud, confident tone and turned to watch him run up the steps to join her. She wasn't the only one; women shot him sneaky glances when their husbands weren't looking and she noticed more than one man sit up straighter, pulling in his stomach as Mike passed by. Tall, silver-haired and impeccably dressed in a crisp navy shirt and chinos and a cross-body bag, very trendy. He'd got broader over the years, but there wasn't an ounce of fat on him. She wouldn't have been surprised if he'd been out for an early-morning run before breakfast. He'd always had more energy than anyone else she knew. Mike Marriott, object of a hundred and one crushes and as handsome now as he'd been at university when she and Jen had first met him.

Liz quickly dabbed her upper lip with her napkin to remove any perspiration.

'Not bad.' She looked from Mike to her watch. 'Only ten minutes late.'

'Sorry, sorry, parking was a bloody nightmare.' He took off his bag and set it down on the table before kissing her cheek. 'Have you got an elderflower pressé or something?' This comment directed to Noah, who'd followed Mike to the table.

'You'll have a glass of wine, surely?' Liz tapped the side of the ice bucket.

Mike shook his head. 'Better not. Got a packed day, need to keep a clear head.'

Liz swallowed her disappointment; it would have been nice to have a drinking partner for once, she would have felt less … conspicuous.

'Coming up,' Noah said. 'I'll give you a few minutes to look at the menu.'

'No need.' Mike took a seat. 'I already know what I want. Liz, how about you?'

'It's got to be the fish and chips.' She'd been too caught up in her memories to look at the menu. But the Kings Arms did the best fish and chips; she couldn't go wrong with that.

'Sea bass fillets with salad, for me, please,' said Mike. 'Dressing served on the side.'

Liz cringed inwardly. Salad and a soft drink. Now she looked like a boozer and a greedy pig.

'Actually,' she blurted out, 'that sounds delicious. I'll have the same. Thanks.'

When Noah left, Mike reached for her hand across the table and gave it a squeeze.

'You look well, Liz, really great.'

'No I don't, I feel a hundred years old. But thanks for being kind.' Liz felt herself redden under his scrutiny and picked up her glass to hide behind. 'You, on the other hand, really do look great.'

'You've got to watch what you eat at our age.' Mike patted his lean stomach. 'I'm all low carbs and no eating after six if I can. I feel great for it.'

'You've changed.' Liz shook her head fondly. 'I remember you at uni ordering takeaway pizza at night and polishing off the leftovers for breakfast.'

He held her gaze. 'Of course I've changed. Life moves on, our goals shift, and the people we love come and go.'

Liz didn't feel as if she'd changed. She still loved the ones she'd always loved. Her eyes tingled, a warning sign that tears weren't far away.

She swallowed a large mouthful of wine. 'Thanks for suggesting lunch; I'd planned on spending the day on my own, thinking about how Jen and I would have celebrated her birthday. It means a lot to me that you were thinking of her too.'

Liz's stomach lurched as she registered his blank expression. He had no idea what day it was. How could he have forgotten? She was so disappointed that she could almost taste it. If that was the case, why were they both here? What was this lunch all about?

Mike recovered quickly, his brown eyes soft with sympathy. 'Of course. Today must be hard for you. For all of us. Dear Jen.'

His fake sincerity infuriated her. At that moment, Noah appeared with Mike's drink, giving Liz a chance to compose herself.

'Come off it,' she said, draining her glass once Noah had gone. 'You forgot about it. It's written all over your face. But now I've reminded you, please do the decent thing and call your daughter. Clare needs your support: she's looking after Ivy on her own, trying to hold down a big job. She'll be missing her mum terribly today.'

Clare was Jen's only daughter, but Mike also had Skye, who was younger by five years. Liz was godmother to both. Mike hadn't been a great father to either of them as far as she was concerned.

'I know all that,' Mike said tetchily. 'But I also know Clare; she'll be fine, she can cope with anything, that girl. Top-up?'

Liz didn't reply. She looked at him, marvelling at how dense he could be. No one who had lost their mother suddenly and became a mother herself while still in the grip of grief could possibly be fine. Surely, he must realise that.

Mike lifted the bottle out of the ice bucket and looked pointedly at the amount of wine already gone. 'Good grief, Liz, I was only ten minutes late.'

She flushed. 'Whoops. It's fatal when the waiter tops up your glass; it's impossible to keep track of these things.'

'Luckily, our food is here,' said Mike, sitting back as Noah set their plates down for them. 'Would you like some bread to soak up the wine? Can't have you going back to work tipsy, can we?'

'I am not tipsy!' Liz was mortified. Noah took the hint and slipped silently away. 'And even if I was, it wouldn't matter. I'm not working for the rest of the day.'

'Really? On a Friday?' Mike flicked his napkin and settled it on his lap. 'I thought you'd be rushed off your feet now holiday season has started. The bookings must be pouring in.'

'Not exactly.' Liz's chest tightened.

She contemplated confiding in him. It would be a relief to get it all out in the open, tell him how she felt. About how running the business without Jen held no appeal, so she'd let it slide. How she was torn between walking away from it and feeling duty-bound to stick at it, for Jen's sake. About how small her life had become; how lonely she was without Jen brightening up her days.

Mike tipped the smallest amount of dressing over his salad and eyed her beadily. 'Come on, old thing, spit it out.'

'Do you ever think about retiring?' she said. 'Because I do. I'm getting too old for hustling. Negotiating prices. Working unsociable hours. Schlepping to other people's inadequately equipped kitchens to whip up some culinary wonder. Catering – quite literally – to a customer's every whim. I'm not sure I want to go on.'

'Good grief, Liz.' Mike glanced at the nearby tables as if checking they hadn't been overheard. He leaned forward, lowering his voice. 'No way. Retirement is for old folk, and we're not in that bracket. You and I are in our prime. Anyway, what would you do all day?'

'Plenty of things.' She shrugged, not wanting to admit that some days she could barely be bothered to get dressed and leave the house.

Since Jen had died and Liz had pressed pause on the business, she'd realised just how much her life had revolved around work. She hadn't felt up to filling that gap much in recent months, but as soon as she did, she was going to make herself a priority. A partner was number one on the list. If Viv could do it, so could she. She missed being needed, and she missed being someone else's significant other. Liz had a lot of love to give, always had, it was getting the right person to notice her, that was the issue.

'This fish is melt-in-the-mouth, try it,' said Mike, adding casually, 'besides, I couldn't afford to retire if I wanted to. Not right now. Bit of a cash-flow situation, to be honest.'

'Oh Mike, I'm sorry.' She removed a bone from her fish and set it on one side. 'I assumed business was booming.'

He dismissed her concern with a shake of his head. 'The company is fine. I've got a great new assistant, Harriet, who's keeping me on my toes. It's my personal finances that are taking a bit of a hit.' He paused and stared at his plate. 'The thing is, Liz, I need you to repay me that loan I gave you and Jen to set up the catering business.'

She blinked at him, horrified. That twenty thousand had been a loan? Adrenaline shot through her; Jen had never told her that. She racked her brains to try to recall the details. 'There's no paperwork about it being a loan.'

Mike winced. 'I know. It was all a bit "back of the envelope" and, if I'm being honest, I wanted the money to fly under the radar, so Frankie didn't find out at the time.'

'Ah.' Liz sniffed. Frankie, Mike's second wife. The stunning redhead ten years his junior. The one he'd cheated with behind Jen's back. This was ringing a bell now.

'Jen promised the two of you would pay me back after fifteen years,' said Mike.

Which was this year. Liz gulped her wine, no longer caring if he thought she was knocking it back too quickly.

'I would have asked before now,' he continued softly, 'but with Jen's passing, I haven't wanted to bring the subject up. But, I'm afraid, I'm going to have to call in my debt. I've got some unavoidable expenses coming up and I need cash to pay for them. Shall we say beginning of September?'

Liz felt panic surge in her chest. 'It's only six weeks until September. I'm not sure I can do it.'

'A catering business in prosperous Salcombe?' He eyed her sceptically. 'Come off it, you must be sitting on a gold mine.'

'I'm really not.' She'd woken up feeling awful, now she felt even worse.

'If you say so.' Mike winked, as if he was humouring her. He forked up the last of his salad leaves and wiped his mouth on the napkin. 'In other news, I've got a new project in the offing. Harriet suggested we take them out for lunch. But I thought I'd book my favourite caterers to do lunch for the big meeting. If you can fit us in of course?'

'I'm sorry, but no I can't.' Liz picked up her glass, but somehow it was empty, and she set it down again. 'I can't run The Seaside Gourmet Girls without Jen. I don't have it in me.'

'Of course you do.' He stared at her, bemused. 'You could run it standing on your head.'

'I couldn't, I can't,' she retorted fiercely. 'The business worked because we had complementary skills. Jen was the "seal the deal" girl, the one with the big, sunny smile to smooth over any client wobbles. I was the back-room girl, the slicer and dicer, and happy to be so.'

'Who also has a big, sunny smile,' Mike countered. 'Not to mention you're a talented cook and a brilliant business brain. Of course it's different without Jen, but you can do it, I have every faith. Really.'

She held his gaze. He'd always managed to make her feel good about herself, that the world was hers for the taking.

Except the one thing that had mattered most to her, that was.

Liz shook her head, annoyed with her mind for going there.

'Our website is full of pictures of Jen, she even recorded the greeting on the answer phone, which I can't bring myself to delete. Jen runs through every strand of the business, always has, right from day one. I can't do it without her, and even if I could, I'm not sure I want to.' She blinked hard to keep her tears at bay. 'My only option is to cease trading.'

'You can't do that. At least not until you've paid me,' Mike spluttered, before clearing his throat. 'I need that money back, Liz.'

Her heart thumped; he was serious about this. Where was she going to get that sort of money from in such a short space of time? Even the thought of getting the business back up and running made her feel exhaus
We hope you are enjoying the book so far. To continue reading...
The Sunrise Sisterhood
Cathy Bramley
Copyright © 2023 All Rights Reserved