Book info
Sample
Audiobook
Media
Author updates
Lists
Synopsis
When you swear off men for the foreseeable future, that means no dating. Hookups don't count, right?

Harper Ryland has been on a self-imposed man ban for the last twelve months, after a particularly horrible breakup. Instead, she's focusing on the one thing she can control: her career as an up-and-coming food stylist. Harper's latest gig is her best friend's wedding, and she receives glowing praise throughout the night. When the Best Man, Manny Gomes, belittles her hard work, she wants to stab him with skewers from the buffet table, but she can think of something much better: to lead him on the entire wedding and then humiliate him in sweet revenge.

When the handsome Anglo-Indian doctor shows up in New Zealand a week later, while Harper's on her first international job, it's the last thing she needs. Everything about him rubs her the wrong way, but when suave Manny steps in to help after an unfortunate disaster, his chivalry gets under her skin a little, and Harper discovers lifting her ban while overseas is exactly what the doctor ordered.

Manny isn't looking for anything but fun either--especially not marriage, like his grandmother Izzy keeps pushing on him. But there's something about Harper that makes him want more, even though she keeps her distance, and they're about to discover how far he's willing to go to be with her. . . .
Release date: July 27, 2021
Publisher: Berkley
Print pages: 352
* BingeBooks earns revenue from qualifying purchases as an Amazon Associate as well as from other retail partners.
Listen to a sample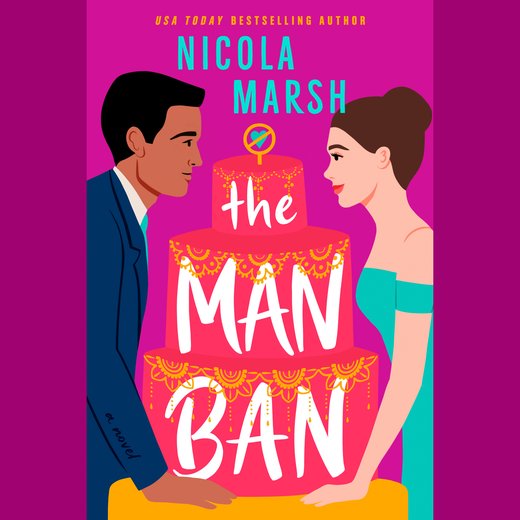 09:18:23
255.63 MB
9780593410295
July 27, 2021
Penguin Random House
The Man Ban
Nicola Marsh
1

Harper didn't believe in karma.

Unlike her best friend Nishi, the most beautiful bride she'd ever seen, who waxed lyrical about how meeting Arun at a Diwali celebration in southeast Melbourne had been fate, how they'd taken one look at each other and fallen madly in love, how a psychic had predicted this when doing her chart at the time of her birth.

Nishi had been her best friend since high school, so Harper didn't disillusion the loved-­up bride. Her cynicism could easily explain Nishi's version of "fate": meeting Arun was random, it was lust at first sight considering they ended up shagging the night they met, and the tall, handsome, rich doctor the psychic predicted was a generic promise given to thousands of hopeful Indian parents after the birth of a daughter.

But Harper had to admit, being maid of honor and witnessing Nishi and Arun exchange vows earlier today, there'd been something almost magical about the couple so sure of their love they'd committed to each other in front of five hundred guests.

Five hundred guests who would hopefully take one look at the food she'd styled and gush on every social media app.

Harper needed work. Food styling may be her passion, but it didn't pay the bills half as much as her previous career in catering. She needed a big break, and Nishi had assured her that among the throng of five hundred were many online influencers. All it would take was one photo, one perfect pictorial image of her beautiful bondas, precise pakoras, or vivid vadas, and she'd be on her way.

As the guests mingled in the outer foyer of the Springvale Town Hall, she cast a final critical eye over the buffet tables. Two trestles lay end to end along an entire wall of the hall, laden with enough food to feed a thousand. The crimson tablecloths were barely visible beneath gold platters piled high with delicious Indian finger food, with squat ivory candles casting an alluring glow over everything.

She'd never styled a job this big and had balked when Nishi first asked. But her bestie had insisted, and it had been her gift to the happy couple. Everything looked perfect, and she blew out a breath, rolling her shoulders to release some of the tension. The edge of her sari slipped, but before she could pull it up, a hand tugged it back into place.

She turned and locked gazes with one of the groomsmen. She couldn't remember his name after being introduced earlier in the day, what felt like a lifetime ago, but she remembered his eyes, a mesmerizing, unique gray and currently lit with amusement.

"Can't have you unraveling and distracting the guests," he said. "Though personally, I wouldn't mind a little entertainment along with my entrée."

Harper bit back her first retort, that his flirting was wasted on her. She had a firm man ban in place, ensuring the last twelve months had been angst-­free, leaving her to focus on her career and not a never-­ending parade of dating disasters.

"Sorry to disappoint, but the only entertainment you'll be getting tonight is from the ten-­piece band playing later."

If he heard the bite in her words, he didn't show it. Instead, he grinned, and something unfamiliar fluttered deep. That was the only downside to her ban; she missed the sex.

"Too bad."

His glance flicked over her, a practiced perusal from a guy who probably flirted with anything in a skirt. At six-­two, with thick, wavy black hair, sharp cheekbones, broad shoulders that hinted at gym workouts, a killer smile, and those stunning eyes, this guy would be used to women preening under his attention.

When she frowned and didn't respond, an eyebrow quirked and he thrust out his hand. "We met earlier. Manish Gomes, but my friends call me Manny."

"Harper Ryland." She shook his hand and released it quickly. "Don't you have to go help the groom, Manish?"

He laughed at her sarcastic emphasis. "Arun's got everything under control. Besides, we're not exactly best buds. I think the only reason he asked me to be a groomsman was because we pulled two all-­nighters in a row around the time he proposed to Nishi and I had biryani leftovers I shared."

Figured. Manish's confidence came from saving lives alongside Arun in the ER.

"Nishi's my best friend."

Her response sounded judgmental, like she couldn't figure out why Arun would ask some fellow doctor to be part of his wedding party when they obviously weren't close.

"You work together?"

She shook her head. "Best friends since high school."

"Right."

They lapsed into a silence that bordered on awkward. She may not be the most extroverted at the best of times, but she could hold her own in social settings. But something about this guy had her on edge, and she didn't like it. Not his fault he was gorgeous and charming; her latent insecurities made her want to rush to the bathroom and check her hair and makeup.

"Well, if you have any further sari emergencies, you know where to find me," he said, pointing at the head table, set below the stage. "I'm chivalrous that way, in case you were wondering."

"I'm not," she muttered, earning another grin. "Besides, you should be thankful I didn't slap you for fixing my sari when I didn't ask for your help."

His eyebrows arched in surprise at her snark as he held up his hands in apology. "You're right. My bad. I'll see you later."

Harper bit back a sigh as she watched him stride toward the foyer, all long legs and impressive shoulders shifting beneath a perfectly fitted kurta. She'd been envious when Nishi had told her what the guys were wearing; the slim-­fitting pants and flowing top combo looked a lot more comfortable than the saris chosen for the women. She'd been in a perpetual state all day for fear of tripping over and causing the unraveling Manish had mentioned. But she had to admit the bridesmaids looked stunning in the cream silk shot through with gold thread, and she'd never felt so glamorous, even if she was one step away from a revealing disaster.

She'd been curt with Manish to the point of rudeness, and he hadn't deserved her brusque treatment. She blamed her nerves. This job meant everything to her, but deep down she knew better.

His perfection rattled her, and a man hadn't unnerved her in a long time.

Not that it mattered. Once this wedding was done, she'd probably only see him at the occasional function Nishi and Arun hosted: birth of their first child, baptism, that kind of thing. By then, she'd feign forgetfulness of their first meeting.

What Manny thought of her didn't matter. She had a job to do, and with the revelers soon lining up for the food, that's where her focus should be.

Bold men with unusual slate eyes should be forgotten.

2

"Manish, why are you sitting here talking to your old grandmother when you could be mingling and finding a wife?"

Manny slid an arm around Isadora Gomes and squeezed gently. "Because you're my plus-­one and the most beautiful woman in the room."

"Get away with you." Izzy, as he'd called her since he could talk, slapped his chest but bestowed a warm smile on him. "I'm not getting any younger, you know, and it will be the happiest day of my life when you marry."

And the worst of his, considering he had no intention of ever entering the constricting bonds of matrimony.

"We've had this conversation many times, and it always ends the same," he said, pecking her cheek. "So let's enjoy Arun's wedding without the lecture, okay?"

Izzy puffed up in outrage, as expected. "I do not lecture. I merely point out you're forty and single when you could have your pick of women and make me a great-­grandmother before I journey into the next world."

"Heard it all before." He rolled his eyes, a reaction that served to narrow hers.

"Manish, you need a wife."

"I need peace at the end of a long shift in the ER, so coming home to a nagging wife who resents my job because it takes me away from lavishing her with attention . . . no thanks." He shook his head, earning another narrow-­eyed glare from a determined Izzy.

"You are too picky."

"And you are too fixated on marrying me off when I'm more than happy with my life."

It was the truth. He loved saving lives in a bustling ER in an inner-­city Melbourne hospital, he loved his contemporary apartment in Prahran, and he loved being able to date freely.

His grandmother tsk-­tsked. "Happiness comes with sharing your life with someone."

"Or from a bottle." He raised his glass, quarter filled with two-­hundred-­dollar whiskey. He hated to think how much Arun had spent on this wedding. The bride's parents might've paid for it, but Arun had contributed more than six figures if his boasting to a resident at the hospital had been right.

Manny would rather invest in real estate. Or a luxurious car. Just as many sleek curves without the hassle.

"You're incorrigible." Izzy whacked him on the chest again, but she snuggled closer under his arm. "But I love you."

"Right back at you."

Manny tightened his arm around his gran's shoulders, surprised to find her fitting more closely into him. Had she lost weight? But before he could quiz her, she straightened out of his embrace and pointed to a group of giggling twentysomethings poring over their cells.

"Go mingle."

The last thing he felt like doing was talking with a bunch of women over a decade younger than him, but he saw the determined glint in Izzy's judgmental stare. That's when he spotted Harper near the buffet table. She'd been prickly and standoffish and completely immune to his charms, which only served to intrigue him.

And she'd been right; it was totally inappropriate to snag the material of her sari and place it on her shoulder, but it had been an instinctive reaction, something he'd done for his mom countless times before she'd died.

He owed his grandmother so much, but if he had a choice between fake flirting with a bunch of immature women and verbally sparring with a recalcitrant maid of honor, he knew which he'd pick any day of the week.

"All right, have it your way." He pressed a kiss to her forehead. "I'm off to talk with a woman."

Izzy beamed as he stood, before waggling her finger at him. "Make sure she's suitable bride material."

He shook his head, shooting his grandmother a fond glance before heading in Harper's direction. Spending time with her would definitely get Izzy off his back, at least for tonight, though considering her nationality, maybe not. He knew when Izzy discussed his future bride she envisaged an Indian woman, not an Australian. Crazy, as he'd been born here and embraced it as much as his Anglo-­Indian culture.

But he wasn't marrying anyone, least of all a woman who radiated serious hands-­off vibes, so spending an hour or two seeing if he could charm her held a certain allure. With those big blue eyes, brown hair hanging halfway down her back in artfully styled waves, and curves highlighted by the sari, he knew exactly what Harper's allure was.

He'd been working manic hours in the ER lately and hadn't had a date in forever, so some harmless flirting with Harper beckoned.

He made a beeline for her, surprised she seemed to be hovering near the buffet table. The guests hadn't been directed to the food yet, so her positioning was odd. Either she was starving and wanted to be first in line, or she was avoiding the bridal table, where most of the wedding party now sat, apart from the two of them.

"Hey," he said, as he drew near. "Need some help guarding the food?"

He glimpsed a telltale flare in her eyes that implied she wasn't as immune to his flirting as she'd like him to think.

"I'm not guarding it."

Her response had a similar bite to earlier, like she didn't want him anywhere near her. But the eyes rarely lie, and right now she was gobbling him up and salivating for seconds.

"Sure looks that way to me." He smiled and gestured at the table. "Though who's going to want to touch all this fancy-­schmancy stuff? It's way over the top."

Somehow he'd said the wrong thing again, as her eyes narrowed to glacial slits. "Is that right?"

"Absolutely. Indian food doesn't need dressing up. It's the flavor that matters, not the presentation."

"So you're an expert in food?"

"I hold my own in the kitchen."

He'd learned from the master. Izzy made the best bebinka, his favorite dessert, a rich, layered, coconut pudding that took hours to make and channeled her Portuguese-­Goan heritage perfectly. He could also make a mean pork vindaloo, dahl, and aloo tikki, the lentils and spiced potato patties something he'd lived on while in med school.

When he wasn't working manic hours at the hospital, he loved to cook for Izzy. His way of thanking her for the countless delicious meals she'd served him over the years, and a way to de-­stress at the same time. No better way to vent frustration than dicing vegetables.

"You're very opinionated."

She sounded so disapproving he couldn't help but laugh.

"It's better to be honest, don't you think?"

"Yes, but someone took time to make this food look appealing for the guests. The least you can do is appreciate it."

He made a scoffing sound. "Styling food is overrated. As for prettying it up for this lot"—­he pointed at the throng milling through the massive hall—­"waste of time. They'll demolish whatever they can get their hands on in five seconds flat. Weddings make people hungry, and they don't want to stand around admiring the food; they want to eat it."

Her top teeth caught her bottom lip, and the damnedest thing happened. He wanted to do the same. Right here, right now. His gaze riveted to her mouth; the bow shape of it, glossed in crimson, the fullness. Man, he needed to get laid ASAP if watching a prickly woman gnaw unconsciously on her lip had him wanting to take her in the nearest private space.

She waged an inner battle. He saw it reflected in her expressive eyes, torn between berating him for his opinions and applauding. The war didn't last long—­those luscious lips curved in a slow smile that had him sucking in air.

"I'm not hungry. Are you?"
We hope you are enjoying the book so far. To continue reading...
The Man Ban
Nicola Marsh
Copyright © 2021 All Rights Reserved