The Ice Queen
Available in:
eBook
Paperback
Audiobook
Hardcover
Book info
Sample
Audiobook
Media
Author updates
Lists
Synopsis
From the bestselling author of The Rules of Magic, a miraculous, enthralling tale of a woman who is struck by lightning, and finds her frozen heart is suddenly burning.
Be careful what you wish for. A woman who was touched by tragedy as a child now lives a quiet life, keeping other people at a cool distance. She even believes she wants it that way. Then one day she utters an idle wish and, while standing in her house, is struck by lightning. But instead of ending her life, this cataclysmic event sparks a strange and powerful new beginning.
She goes in search of Lazarus Jones, a fellow survivor who was struck dead, then simply got up and walked away. Perhaps this stranger who has seen death face to face can teach her to live without fear. When she finds him, he is her perfect opposite, a burning man whose breath can boil water and whose touch scorches. As an obsessive love affair begins between them, both hide their most dangerous secrets–what happened in the past that turned one to ice and the other to fire.
A magical story of passion, loss, and renewal, The Ice Queen is Alice Hoffman at her electrifying best.
Release date: April 1, 2005
Publisher: Little, Brown and Company
Print pages: 224
* BingeBooks earns revenue from qualifying purchases as an Amazon Associate as well as from other retail partners.
Listen to a sample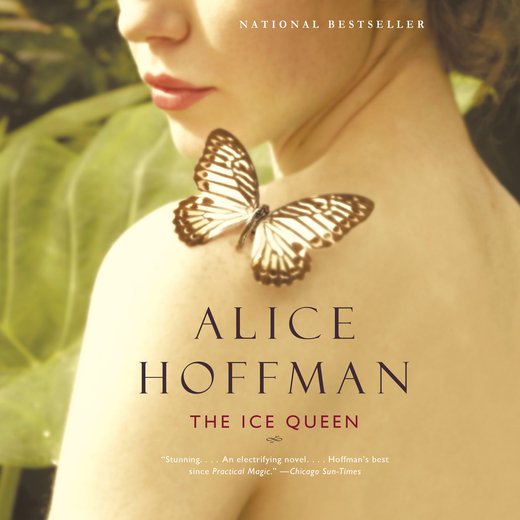 05:57:41
163.74 MB
9781594831607
April 1, 2005
Hachette Audio
The Ice Queen
Alice Hoffman
CHAPTER ONE

Snow

BE CAREFUL WHAT YOU WISH FOR. I KNOW that for a fact. Wishes are brutal, unforgiving things. They burn your tongue the moment they're spoken and you can never take them back. They bruise and bake and come back to haunt you. I've made far too many wishes in my lifetime, the first when I was eight years old. Not the sort of wish for ice cream or a party dress or long blond hair; no. The other sort, the kind that rattles your bones, then sits in the back

of your throat, a greedy red toad that chokes you until you say it aloud. The kind that could change your life in an instant, before you have time to wish you could take it back.

I was in the wrong place at the wrong time, but don't all stories begin this way? The stranger who comes to town and wreaks havoc. The man who stumbles off a cliff on his wedding day. The woman who goes to look out the window when a bullet, or a piece of glass, or a blue-white icicle pierces her breast. I was the child who stomped her feet and made a single wish and in so doing ended the whole world—my world, at any rate. The only thing that mattered. Of course I was self-centered, but don't most eight-year-old girls think they're the queen of the universe? Don't they command the stars and seas? Don't they control the weather? When I closed my eyes to sleep at night, I imagined the rest of the world stopped as well. What I wanted, I thought I should get. What I wished for, I deserved.

I made my wish in January, the season of ice, when our house was cold and the oil bill went unpaid. It happened on the sixteenth, my mother's birthday. We had no father, my brother and I. Our father had run off, leaving Ned and me our dark eyes and nothing more. We depended on our mother. I especially didn't expect her to have a life of her own. I pouted when anything took her away: the bills that needed paying, the jobs that came and went, the dishes that needed washing, the piles of laundry. Endless, endless. Never ever done. That night my mother was going out with her two best friends to celebrate her birthday. I didn't like it one bit. It sounded like fun. She was off to the Bluebird Diner, a run-down place famous for its roast beef sandwiches and French fries with gravy. It was only a few hours on her own. It was just a tiny celebration.

I didn't care.

Maybe my father had been self-centered; maybe I'd inherited that from him along with the color of my eyes. I wanted my mother to stay home and braid my hair, which I wore long, to my waist. Loose, my hair knotted when I slept, and I worried; my brother had told me that bats lived in our roof. I was afraid they would fly into my room at night and make a nest in my head. I didn't want to stay home with my brother, who paid no attention to me and was interested more in science than in human beings. We argued over everything, including the last cookie in the jar, which we often grabbed at the same time. Let go! You first! Whatever we held often broke in our grasp. Ned had no time for a little sister's whims; he had to be bribed into reading to me. I'll do your chores. I'll give you my lunch money. Just read.

My mother didn't listen to my complaints. She was preoccupied. She was in a rush. She put on her raincoat and a blue scarf. Her hair was pale. She'd cut it herself, straining to see the back of her head in the mirror. She couldn't afford a real haircut at a salon; still she was pretty. We didn't talk about being poor; we never discussed what we didn't have. We ate macaroni three times a week and wore heavy sweaters to bed; we made do. Did I realize that night was my mother's thirtieth birthday, that she was young and beautiful and happy for once? To me, she was my mother. Nothing less or more. Nothing that didn't include me.

When she went to leave, I ran after her. I was barefoot on the porch and my feet stung. The rain had frozen and was hitting against the corrugated green fiberglass roof. It sounded like a gun. Ice had slipped onto the floorboards and turned the wood to glass. I begged my mother not to go. Queen of the universe. The girl who thought of no one but herself. Now I know the most desperate arguments are always over foolish things. The moment that changes the path of a life is the one that's invisible, that dissolves like sugar in water. But tell that to an eight-year-old girl. Tell it to anyone; see who believes you.

When my mother said that Betsy and Amanda were waiting for her and that she was already late, I made my wish. Right away, I could feel it burning. I could taste the bitterness of it; still I went ahead. I wished I would never see her again. I told her straight to her face. I wished she would disappear right there, right then.

My mother laughed and kissed me good-bye. Her kiss was clear and cold. Her complexion was pale, like snow. She whispered something to me, but I didn't listen. I wanted what I wanted. I didn't think beyond my own needs.

My mother had to start the car several times before the engine caught. There was smoke in the air. The roof of the patio vibrated along with the sputtering engine of the car. I could feel the sourness inside me. And here was the odd thing about making that wish, the one that made her disappear: it hurt.

"Come inside, idiot," my brother called to me. "The only thing you'll accomplish out there is freezing your ass off."

Ned was logical; he was four years older, an expert on constellations, red ants, bats, invertebrates. He had often told me that feelings were a waste of time. I didn't like to listen to Ned, even when he was right, so on that night I didn't answer. He shouted out a promise to read to me, even if it had to be fairy tales, stories he held in contempt. Irrational, impossible, illogical things. Even that wasn't enough for me to end my vigil. I couldn't stop looking at the empty street. Soon enough my brother gave up on me. Didn't everyone? My feet had turned blue and they ached, but I stood out there on the porch for quite a while. Until my tongue stopped burning. When I finally went inside, I looked out the window, and even Ned came to see, but there was nothing out there. Only the snow.

MY MOTHER HAD HER ACCIDENT ON THE SERVICE ROAD leading to the Interstate. The police report blamed icy road conditions and bald tires that should have been replaced. But we were poor, did I tell you that? We couldn't afford new tires. My mother was half an hour late for her birthday dinner, then an hour; then her friend Betsy called the police. The next morning when our grandmother came to tell us the news, I braided my own hair for the first time, then cut it off with a pair of gardening shears. I left it behind for the bats. I didn't care. I'd started to wonder if my brother had been right all along. Don't feel anything. Don't even try.

After the funeral, Ned and I moved into our grandmother's house. We had to leave some of our things behind: my brother his colony of ants, and I left all my toys. I was too old for them now. My grandmother called what I'd done to my hair a pixie cut, but could she give a name to what I'd done to my mother? I knew, but I wasn't saying. My grandmother was too kind a person to know who was living under her roof. I'd destroyed my mother with words, so words became my enemy. I quickly learned to keep my mouth shut.

At night I told myself a story, wordless, inside my head, one I liked far better than those in my books. The girl in my story was treated cruelly, by fate, by her family, even by the weather. Her feet bled from the stony paths; her hair was plucked from her head by blackbirds. She went from house to house, looking for refuge. Not a single neighbor answered his door, and so one day the girl gave up speaking. She lived on the side of a mountain where every day was snowy. She stood outside without a roof, without shelter; before long she was made of ice—her flesh, her bones, her blood. She looked like a diamond; it was possible to spy her from miles away. She was so beautiful now that everyone wanted her: people came to talk to her, but she wouldn't answer. Birds lit on her shoulder; she didn't bother to chase them away. She didn't have to. If they took a single peck, their beaks would break in two. Nothing could hurt her anymore. After a while, she became invisible, queen of the ice. Silence was her language, and her heart had turned a perfect pale silver color. It was so hard nothing could shatter it. Not even stones.

"Physiologically impossible," my brother said the one time I dared to tell him the story. "In such low temperatures, her heart would actually freeze and then burst. She'd wind up melting herself with her own blood."

I didn't discuss such things with him again.

I knew what my role was in the world. I was the quiet girl at school, the best friend, the one who came in second place. I didn't want to draw attention to myself. I didn't want to win anything. There were words I couldn't bring myself to say; words like ruin and love and lost made me sick to my stomach. In the end, I gave them up altogether. But I was a good grandchild, quick to finish tasks, my grandmother's favorite. The more tasks, the less time to think. I swept, I did laundry, I stayed up late finishing my homework. By the time I was in high school, I was everyone's confidante; I knew how to listen. I was there for my friends, a tower of strength, ever helpful, especially when it came to their boyfriends, several of whom slept with me in senior year, grateful for my advice with their love lives, happy to go to bed with a girl who asked for nothing in return.

My brother went to Harvard, then to Cornell for his graduate degree; he became a meteorologist, a perfect choice for someone who wanted to impose logic onto an imperfect world. He was offered a position at Orlon University, in Florida, and before long he was a full professor, married to a mathematician, Nina, whom he idolized for her rational thought and beautiful complexion. As for me, I looked for a career where silence would be an asset. I went to the state university a few towns over, then to City College for a master's in library science. My brother found it especially amusing that my work was considered a science, but I took it quite seriously. I was assigned to the reference desk, still giving advice, as I had in high school, still the one to turn to for information. I was well liked at the library, the reliable employee who collected money for wedding presents and organized baby showers. When a co-worker moved to Hawaii I was persuaded to adopt her cat, Giselle, even though I was allergic.

But there was another, hidden side to me. My realest self. The one who remembered how the ice fell down, piece by bitter piece. The one who dreamed of cold, silver hearts. A devotee of death. I had become something of an expert on the many ways to die, and like any expert I had my favorites: bee stings, poisoned punch, electric shock. There were whole categories I couldn't get enough of: death by misadventure or by design, death pacts, death to avoid the future, death to circumvent the past. I doubted whether anyone else in the library was aware that rigor mortis set in within four hours. If they knew that when heated, arsenic had a garlic-like odor. The police captain in town, Jack Lyons, who'd been in my brother's class in high school, often called for information regarding poison, suicide, infectious diseases. He trusted me, too.

Once I began researching death, I couldn't stop. It was my calling; I suppose it was a passion. I ordered medical texts, entomology books, the Merck manual of pharmaceuticals so as to be well versed in toxic side effects when Jack Lyons called. My favorite reference book was A Hundred Ways to Die, a guide for the terminally ill, those who might be in dire need of methods and procedures for their own demise. Still, I always asked Jack if he hadn't someone more qualified than I to do his research, but he said, "I know I'll just get the facts from you. No interpretations."

In that regard, he was wrong. I was quiet, but I had my opinions: when asked to recommend which fairy tales were best for an eight-year-old, for instance, Andersen's or Grimm's, I always chose Grimm's. Bones tied in silken cloth laid to rest under a juniper tree, boys who were foolish and brave enough to play cards with Death, wicked sisters whose own wickedness led them to hang themselves or jump headfirst into wells. On several occasions there had been complaints to the head librarian when irate mothers or teachers had inadvertently scared the daylights out of a child on my recommendation. All the same, I stood my ground. Andersen's world was filled with virtuous, respectable characters. I preferred tales in which selfish girls who lost their way needed to hack through brambles in order to reach home, and thoughtless, heedless brothers were turned into donkeys and swans, fleas itching like mad under their skin, blood shining from beneath their feathers. I didn't believe that people got what they deserved. I didn't believe in a rational, benevolent world that could be ordered to suit us, an existence presumed to fit snugly into an invented logic. I had no faith in pie charts or diagrams of humanity wherein the wicked were divided from the good and the forever after was in direct opposition to the here and now.

When I walked home from the library on windy nights, with the leaves swirling, and all of New Jersey dark and quiet, I wouldn't have been surprised to find a man with one wing sitting on the front steps of Town Hall, or to come upon a starving wolf on the corner of Fifth Street and Main. I knew the power of a single wish, after all. Invisible and inevitable in its effect, like a butterfly that beats its wings in one corner of the globe and with that single action changes the weather halfway across the world. Chaos theory, my brother had informed me, was based on the mathematical theorem that suggests that the tiniest change affects everything, no matter how distant, including the weather. My brother could call it whatever he wanted to; it was just fate to me.

Before I knew it thirteen years had passed at the library, and then fifteen. I still wore my hair the same way—the haircut I'd given myself at the age of eight had become my trademark. People expected certain things of me: assistance, silence, comfort. They had no idea who I was. I dated Jack Lyons for some of that time, if you could call it that. He'd phone me for information, and later that same evening he'd be waiting for me in the parking lot. We'd do it in his car. The sex was hurried and panicked and crazy, but we did it anyway. We took chances. Times when patrons would be arriving, days when there was so much snow, drifts three feet high built up around the car. Maybe I wanted to get caught, but we never did. We were alone in the world. Jack knew I didn't like to speak; true enough, but it was my own words I mistrusted. No one else's. He could say whatever he liked. He could even blurt out that he loved me, as long as he didn't mean it. That was the important thing. The girl encased in ice facing the mountain. The cold silence that was so clean it didn't hurt. For me, there was nothing beyond those mountains. Nothing worth going toward.

Jack always let me walk home alone and he never tried to follow me. I thought he knew me better than most. I thought he understood I didn't deserve kindness, or loyalty, or luck. Then one night Jack brought me flowers, a handful of fading daisies he'd picked up at a farm stand, but flowers all the same. That was the end; that was how he ruined everything. The minute Jack acted as though we were anything more than two strangers who had a shared interest in death and sex, it was over. As soon as there was the possibility he mig. . .
We hope you are enjoying the book so far. To continue reading...
The Ice Queen
Alice Hoffman
Copyright © 2023 All Rights Reserved