Book info
Sample
Audiobook
Media
Author updates
Lists
Synopsis
Master storyteller Alice Hoffman brings us the conclusion of the Practical Magic series in a spellbinding and enchanting final Owens novel brimming with lyric beauty and vivid characters. The Owens family has been cursed in matters of love for over three-hundred years but all of that is about to change. The novel begins in a library, the best place for a story to be conjured, when beloved aunt Jet Owens hears the deathwatch beetle and knows she has only seven days to live. Jet is not the only one in danger—the curse is already at work. A frantic attempt to save a young man's life spurs three generations of the Owens women, and one long-lost brother, to use their unusual gifts to break the curse as they travel from Paris to London to the English countryside where their ancestor Maria Owens first practiced the Unnamed Art. The younger generation discovers secrets that have been hidden from them in matters of both magic and love by Sally, their fiercely protective mother. As Kylie Owens uncovers the truth about who she is and what her own dark powers are, her aunt Franny comes to understand that she is ready to sacrifice everything for her family, and Sally Owens realizes that she is willing to give up everything for love. The Book of Magic is a breathtaking conclusion that celebrates mothers and daughters, sisters and brothers, and anyone who has ever been in love.
Release date: October 5, 2021
Publisher: Simon & Schuster
Print pages: 384
* BingeBooks earns revenue from qualifying purchases as an Amazon Associate as well as from other retail partners.
Listen to a sample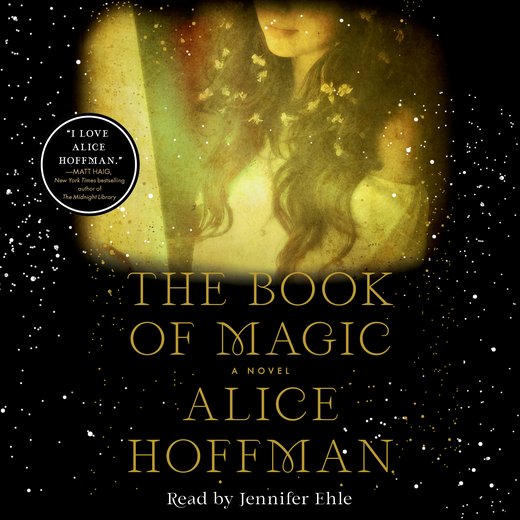 12:52:28
353.61 MB
9781797129082
October 12, 2021
Simon & Schuster
The Book of Magic
Alice Hoffman
Chapter I
I.

Some stories begin at the beginning and others begin at the end, but all the best stories begin in a library. It was there that Jet Owens saw her fate in a mirror behind the reference desk. Even in her eighties, Jet was still beautiful. Each day she washed with the black soap the family prepared in March during the dark phase of the moon, with every bar then wrapped in crinkly cellophane. Jet had no aches or pains and had never been ill a day in her life, but fate is fate and it can often be what you least expect it to be. On this day, when the daffodils had begun to bloom, Jet saw that she had seven days to live.

The deathwatch beetle had begun to call from within the walls of the Owens Library, a sound that often went unnoticed until it was so loud it was all a person could hear. When your time came, the black beetle would withdraw from hiding and follow you everywhere, no matter where you went. Its presence meant that the past was over and the future no longer existed. This was the moment that revealed how you had walked through the world, with kindness or with fear, with your heart open or closed. It had taken this long for Jet to appreciate that every instant was a marvel. Now everything she saw was illuminated. The sun streaming through the library windows in fierce bands of orange light. A moth tapping at the glass. The sweep of the branches of one of the last elm trees in the commonwealth, which shadowed the library's lawn. Some people unravel or run for shelter when their time has come, they curse their fate or hide under their beds, but Jet knew exactly what she wished to do in the last days she'd been granted. She didn't have to think twice.

Long ago, the library had been a jail where Maria Owens, the first woman in their family to set foot in Massachusetts in 1680, had been confined until the judges announced she would be hanged. Those were the days when witchery was forbidden and women were harshly punished, judged to be dangerous creatures if they talked too much, or read books, or did their best to protect themselves from harm. People said Maria could turn herself into a crow, that she had the ability to enchant men without ever speaking to them directly and to compel other women to do as they pleased, so that they were willing to forsake their proper place in society and in their own families. The court set out to destroy Maria and nearly did, but she could not be drowned, and she did not back down. She blamed love for her undoing, for she'd chosen the wrong man, with dire consequences. Just before the rope that was meant to end her life snapped, and she was miraculously saved, Maria called out a curse upon love.

Beware of love, she had written on the first page of her journal, now exhibited in the library, a display mothers in town often brought their teenaged daughters to view before they started dating. Beware of love that was dishonest and disloyal, love that would lie to you and trick you, love that could break you and condemn you to sorrow, love that could never be trusted. If Maria Owens had been less rash, she might have realized that when you curse another, you curse yourself as well. Curses are like knots, the more you struggle to be free, the tighter they become, whether they're made of rope or spite or desperation. Maria invoked an enchantment to protect the generations to follow, with her daughters' and great-granddaughters' best interests at heart. For their own safety, they must avoid love. Those who failed to abide by this rule would find that engagements would be tragic, and marriages would end with funerals. Over the years, many of those in the Owens family had found ways to outwit the curse, always an intricate and risky endeavor. All the same, a person could trick fate if she dared, she could change her name, never admit her love, skip a legal union, vanish from view, or, for those who were careless and wild, simply plunge in and hope for the best, knowing that sooner or later everyone had to face her own destiny.

Maria's journal pages had been up on the wall of the library for more years than anyone could remember. Certainly, they had been there when Jet and her sister, Franny, were girls, and came here on muggy heat-laden summer days, waiting for their lives to begin, learning the truth about themselves from the town records and from their beloved aunt Isabelle. The family had a history of witchery, inherited in every generation, and had practiced the Nameless Art. They were bloodline witches, genetically predisposed to magic, with a lineage to ancestors who possessed the same sacred gifts. For those who tried to escape their heritage, it soon became clear that they couldn't run away from who they were. A person could do her best to be ordinary and fit in, but the past could not be refuted, even when it was hidden from children thought to be too tender to know the truth. You didn't choose magic, it chose you; it bloomed inside you, blood and bones. And a curse, once spoken, could not be denied. All the same, fate was what you made of it. You could make the best of it, or you could let it make the best of you. On this evening when she saw the truth in the library, Jet Owens decided she would do her best to change her family's destiny.

It was dusk when Jet and her niece Sally walked home from the library, as they did nearly every evening. Sally and her husband and daughters had moved into the old family house when the aunts' aging became noticeable, and she had been happy to settle into the place she couldn't wait to escape from as a girl. Sally had two wonderful girls, Kylie and Antonia, but both were now off at school, and her sister, Gillian, lived in Cambridge quite near to the girls, where she worked in a lab at MIT, so it was only Sally, now a widow, who still resided with her aunts in that big tilted house with the black shutters on Magnolia Street, where a fierce iron fence circled an enormous parcel of land the gardeners in town all envied, for it was here that the first daffodils pushed through the earth and where herbs grew between patches of ice in March, a month before they appeared anywhere else. Already the bramble of blackberries along the gate was beginning to green, and the lilacs, which would bloom in shades of violet and deep purple and white, were filling in with their flat heart-shaped leaves.

Unfortunately, Sally Owens couldn't hold on to love and everyone knew it. She'd been a victim of her family's curse, not once but twice. She was quite young when she first married, a forbidden act that could only end badly. Her husband Michael, a school friend and the father of her girls, had been a local boy and the first to ask her out; he was cursed with an untimely death, a victim of bad luck and bad weather, struck by lightning. Sally didn't speak for a year after his death, but she tried again with her second husband, Gary Hallet, a man she could depend on until he'd passed on a few years after their marriage. Gary had been afflicted with a childhood congenital heart disease that had finally caught up to him, but Sally was convinced his death had been activated by the family curse, for Gary had always seemed to be as healthy as he was strong. He had come from Arizona to work on the local police force, preferring a horse to a patrol car, and he and his tall good-natured bay, Jack, were known and beloved in town. Gary would rather give someone a second chance than arrest him, and the children in town begged to visit old Jack at the police stable on the far side of Endicott Street, bringing sugar cubes and carrots.

How was it possible for a man like Gary Hallet to kiss his wife good night, close his eyes, and never wake again? His horse had died of grief two nights later, lying down on the earthen floor of the stable. Sally was stunned and devastated, and some people said she had lost a piece of her heart. Certainly, she seemed transformed. When she did say hello to her neighbors, which was rare, she made it perfectly clear she preferred to be left in peace. Sally had returned to school for her degree in library science at Simmons University, and now, at the age of forty-four, she was the director of the Owens Library. The only other employee was Sarah Hardwick, who had worked at the library for over sixty years, and who still made it a point of leaving every day at five o'clock on the dot, which allowed her to stop by the Black Rabbit Inn and have a cocktail at her regular time. Often, she didn't report back until ten in the morning, especially if she'd had more than one drink. Sally didn't begrudge Miss Hardwick the need to come in late and leave early at her age, and she didn't mind the hours she spent working alone in the library, late into the evenings. She did her best to be helpful when she checked out books, or assisted students from the local high school, but everyone knew Sally Owens was embittered, and even more standoffish than she'd been as a girl.

The curse had ruined Sally's life, and she had decided not to reveal the Owens fate to her daughters. They knew bits, of course, and there was a scrim of magic over the house on Magnolia Street; the famous garden, the dangerous plants locked away in the greenhouse, the sparrow that arrived at midsummer. Still, the word witchery was never spoken out loud. Sally knew that her great-grandmother Susannah Owens had also kept the truth of their heritage from her children, setting out a series of rules to ensure they would avoid magic. Sally felt a kinship with Susannah, and when she found her great-grandmother's rules jotted down in an old diary, she made use of them. No swimming, no books about magic, no candles, no sitting out on the roof and gazing at stars, no wearing black, no walking in the moonlight. In Sally's opinion a life without magic was preferable, and she had done her best to ensure that her daughters wouldn't live with the cloud of the curse above them, spying danger in every kiss. When the time came, if and when one of the girls teetered on the verge of falling in love, Sally would step in and put a stop to it, as she wished she had done when her sister, Gillian, had fallen for the man whose name was never said aloud for fear he'd be called back from the dead. Thankfully, neither Antonia nor Kylie seemed to have any romantic inclinations. Perhaps the curse would never be a problem for them and they'd be safe after all. Kylie spent all her time with her best friend, Gideon Barnes, and Antonia was clearly a workaholic, even now that she was pregnant. There was no partner in the picture and when asked who the father of her unborn child was, Antonia merely shrugged and said it was a long story, which in truth it was not. She had dated Scott Morrison in high school, but she had always preferred women and had several girlfriends, many of whose hearts were broken without Antonia even trying to accomplish that task. Antonia was a confident, calm young woman of twenty-three, a redhead who didn't possess the same fierce temperament as Franny, the sort of person you would want beside you in an emergency, and no one was surprised when she announced that emergency medicine was the specialty she wished to pursue. Whenever she heard a siren on the street, she broke into a run, ready to offer help, for she was and always had been a natural healer; the more urgent the problem, the more focused she was on a cure.

Antonia didn't understand why people thought she was a bit tone deaf in matters of the heart when she was simply more preoccupied by her studies. To be honest, she wasn't even sure if she believed in love, but she definitely believed in children, as did Scott, who was two years ahead of her at med school, in a long-term relationship with another doctor, Joel McKenna. They agreed they would all make terrific parents, especially if they raised the child together.

As for Sally, she had worn black ever since her husband Gary's death and had a closet filled with dark, austere dresses, cotton for spring and summer, wool for the colder seasons. With her silky black hair pinned up, and her black coat flaring out behind her, Sally looked like a ghost on evenings when she walked home from the Owens Library with her aunt, with heaps of new leaves falling from the trees as she passed by. She closed the shutters on sunshiny days and favored large dark glasses that made her expression impenetrable. When she lingered on the porch in the evenings, not wishing to go up to her lonely bedroom, she rocked back and forth in an old wicker chair as the dusk settled around her, not realizing that she was frightening the neighborhood children who came upon her in the falling dark. The children who glimpsed Sally Owens on cold, crisp evenings shared their opinion that she was a witch who could turn herself into whatever she wished to be—a cat or a crow or a she-wolf—and that they had best not talk too much or have too much fun when she had them in her sights. Most people in town considered Sally to be unpredictable and irritable and there were those who insisted it was best not to cross her or she would hex you in the blink of an eye. Sally paid no attention. Let the neighbors gossip, let them cross the street when they spied her, she couldn't care less. The Owens women had a habit of doing as they pleased no matter what people might say, and she would continue to do so.

This week, as spring neared, Sally had decided to turn out the light on the porch, which had been kept on for three hundred years, assuring women in need of assistance that they were welcome to call. Enough was enough, in Sally's estimation. Let the neighbors go elsewhere for cures. Soon after, the gate was latched, the front door bolted, and thorny vines clung to the skirts of anyone who tried to pass by on the bluestone path. If a remedy was needed, for health or love or revenge, the best clients could do was wait on the sidewalk outside the fence, hoping that Franny Owens, or more likely dear Jet, would venture out on the way to the market or the drugstore and stop long enough to listen to their woes. Perhaps, if they were lucky, one of the aunts would grant them an elixir, stored in the pantry or in the greenhouse, well out of Sally's sight. Star tulip to decipher dreams, blue beads for protection, garlic, salt, and rosemary to dispel evil, or the most sought-after cure, Love Potion Number Nine, which consisted of anise, rosemary, honey, and cloves, all simmered for nine hours and always costing $9.99. Jet would never charge a penny more, and she made certain to remind the buyer that the spell worked best on the ninth hour of the ninth day of the ninth month. On some nights, neighborhood women stood in the dark in front of the Owens house, their hands clutching the iron fence, with jewelry or cash in their purses, in need of assistance in matters of love or health or revenge. Often the aunts were already in bed, still the women stayed, ever hopeful, and there were times when Sally had to step over them on her way to work in the morning, for some truly desperate clients fell asleep on the sidewalk, dreaming of cures they would never receive.

Sally had become so closed off that she had recently lost the ability to see the color red, a side effect of severing one's emotions. One morning she woke and that color was simply gone from the palette of her vision. Anything that had once been scarlet or crimson or cherry or coral had turned a splotchy gray. As far as Sally was concerned, good riddance. She didn't mind the loss of red in her life one bit. Who needed a color as bright and disturbing as red? Red blossoms, red heart, red magic, red love. Even though spring had begun, for Sally the month of March was muted and blurry, a world of black and white. She didn't care that she could no longer spy cardinals perched in the trees, or that the red tulips in the greenhouse forced into an early bloom were the color of dust. Sally felt quite sensible observing the world through a scrim of gloom.

Though Jet didn't work in the library officially, she was a great favorite with the youngest patrons. She had the ability to know what people were thinking, and therefore understood that boys who were rude were usually fearful and that quiet girls often had a lot to say. She frequently stopped by to help young people choose books, guiding them to stories that contained magic of the best sort, practical magic that was folded into the everyday world, tales in which people stumbled into enchantments, often while walking down the street in their own hometown, or when they stepped into closets that contained other worlds, or waited for a train that would take them to a place they'd never before imagined.

"All you need is patience," Jet told Sally when she threw up her hands each time she was faced with disruptive behavior from middle-school visitors who gathered in groups, lounging at the tables as if they were in their own homes.

Sally had been an excellent mother, but nowadays she was strict and rarely smiled anymore, and children are always put off by a rigid sensibility. Her own daughters had chafed under the household rules, but the rules were the rules, and Sally would not have them be broken. She'd taped up a laminated list at the reference desk in the library. No running, no shouting, no gathering in groups, no pets, no bare feet, no crying when you didn't get the book you most wanted to read. She didn't blame the children for avoiding her, preferring Jet or Miss Hardwick. She had turned away from the world and its sorrows and there were times when she walked past a mirror and could have sworn she saw the image of her aunt Franny rather than her own. Those cold gray eyes; that frown. Surely, she had inherited Frances Owens's no-nonsense attitude; she was curt and didn't easily suffer fools. She sometimes heard Franny's voice inside her head, or worse, she heard herself speaking phrases Franny had long ago imparted to her, blunt advice that pulled no punches. Courage or caution? Why on earth would you want to be normal? What fun would that be?

When their parents had died, and Sally and Gillian had come to the house on Magnolia Street, they'd both been terrified of Franny, intimidated by her wild hair and her red boots and her freckled complexion and her clipped conversation, and they'd secretly called her the mean aunt. But when Sally wept in bed at night, it was Franny who came upstairs to sit beside her. She didn't offer silly, meaningless words of comfort, but instead stroked Sally's long, dark hair and told her that in the morning they would have chocolate cake for breakfast, and they always did.

Although Sally considered herself to be a logical woman, she knew there was more to this world than could be seen with the naked eye. Ever since childhood she'd been convinced that a dark brand of bad luck followed at her heels, a wicked spell she couldn't diffuse, not with sage or garlic or salt. It was after her, there was no doubt about it. The Owens curse stalked her even though she was determined to avoid magic. Oh, she had tried, but no matter how ordinary her life might be, the curse hung on as if it were an obstinate dog that refused to loosen its bite even when she tried to shake it off. Now, as Sally and Jet walked through town, Sally realized that a little dog was, indeed, pursuing them, as though it had read her mind, validating her theory that a hex and a wild dog were equally difficult to be rid of. The one following them was a scraggly white thing with sharp black eyes. Sally soon recognized it as the stray that had been hanging around trash barrels behind the library for several days, one wily enough to escape every time animal control was called in.

"I can't seem to catch that dog," Sally said. Now that her girls were grown, with Kylie a sophomore and Antonia in her second year of medical school, both at Harvard, and with Antonia pregnant, nearly a mother herself, Sally often stayed at the library after hours. What was the point of leaving? She would have preferred to eat a sandwich at her desk and would likely have forgotten to come home entirely, choosing to work through the night, had Jet not come for her at the end of the day.

"I think it's Daisy," Jet said thoughtfully as she observed the dog.

Once you knew that death was walking alongside you, things came into focus, as they now did for Jet. With only seven days left she had best pay attention to every detail. She had already taken note that the lines on her right palm, showing the fate that she'd been given, and those on the left hand, the fate she had made for herself, were exactly the same; they had converged, as they always do at the end of a life. Jet's gift of the sight had intensified. She could envision the dog's heart beating under its tangled fur, just as she saw the slow unfolding of black leaves on the last surviving elm trees in Essex County. The Reverend Willard had owned a dog resembling this one before he'd been forced into residing at the retirement home on Endicott Street. The Willards and the Owenses were all descendants of a witch-finder and a witch, John Hathorne and Maria Owens on the Owens' side, and a granddaughter of Hathorne and a relation of John Proctor, hanged as a witch when he tried to protect an innocent woman brought to trial, on the Willards' side. Although there had been centuries of distrust, Jet had managed to change that after her beloved Levi Willard's death when she knocked at the Reverend's door, refusing to allow him to turn her away until they set the situation right. The Reverend had passed his hundredth birthday and could no longer care for himself, let alone a dog, and it was said that his little Maltese had run off and was now dodging around town, eating from garbage cans, sleeping on porches, begging for food from children exiting the school bus. Wary, the dog ducked beneath the thickets, but Jet stopped and waved cheerfully. "Come here, Daisy," she called. "I think she belongs to the Reverend."

"You don't want a dog," Sally reminded her aunt. "You're a cat person."

True enough. Jet had had a series of adored black cats when she was younger, all named for birds, including Magpie and Goose and Crow. Yet when Daisy, if indeed it was she, began to approach, Jet felt something prick her heart. She bent to pick up the dog and when she held it she could feel its jumpy heartbeat next to her own. She remembered being told that you didn't choose a familiar, it chose you. In truth, Jet felt comforted by Daisy's presence. Life of any sort was marvelous. She saw that now.

"Are you sure?" Jet murmured to the dog. She had only a few days left, after all, and couldn't pledge to oversee Daisy's future. All the same, the Reverend's dog settled in against her, clearly pleased to be carried along, although it didn't make eye contact. That was curious. A familiar saw inside you. It was then Jet realized she was only a temporary caretaker. Daisy was meant for someone else.

"Here we go." Sally's tone was gloomy. She had no patience for anything these days. Although she looked far younger than her age, likely due to the miraculous black soap the Owenses had concocted from a family recipe since the 1600s, when it had been useful in treating those infected with the plague in a time when simply washing one's hands made a world of difference, with ingredients that were disinfectants, including rosemary, lavender, and mint. Sally distrusted the world, an attitude that aged a person beyond her years. Soap couldn't fix that. "One thing will lead to another," Sally told her aunt, "and the end result will likely be fleas."

Jet patted the dog and didn't argue. She had always loved the month of March, though it was wild and unpredictable, evoking hope as the wintry brown world began to flourish. Jet felt extremely grateful to experience it this one last time. Everything was greening and the hedges had a fresh, peppery scent. There was a chill in the blue air, yet daffodils were pushing up through the damp, black earth, and in the Owenses' garden they had already bloomed. Oh, what a beautiful, unexpected world this was.

"Be prepared. Franny will have a fit if you bring a dog home," Sally continued to warn her aunt as they walked along past the Black Rabbit Inn. Tonight the special was chicken pot pie, but most of the regulars were concentrating on whiskey. A fiddler was playing enthusiastically in the bar. It was the kind of rousing, rowdy song Gary would have liked. Once he'd moved to Massachusetts, he'd missed the desert where he'd grown up, and the untamed country he'd known. He enjoyed standing outside with Sally before they went to bed to gaze at the stars and point out constellations, even in the dead of winter. Gary had never believed in curses or bad luck, and he'd considered fairy tales to be stories for children. Sally had loved his fearless attitude and the way he'd made her feel so safe, even though she knew that the world was, and always had been, a dangerous place. What was wicked grew with the ferocity of the bramble; cut it down, and it rose up again with even deeper roots.

Now, on the way home, Sally linked an arm through Jet's. She always softened when in the presence of her aunt Jet, who was the most kindhearted among them. Gillian had voiced a hunch that there must be an irregularity in Jet's DNA, and some unexpected genes had rendered her a huge heart, absent in most of their relations. Gillian should know; she worked in a lab at MIT researching genetics, a subject that had come to obsess her. She was convinced that somewhere in their past there had been an ancestor who had been as kind as their aunt, perhaps the same person from whom Jet had inherited her striking good looks.

Warmer weather was predicted for the rest of the week, and Jet's seven days marked the start of a season that was always a delight in Massachusetts. All through the long winter people waited for a sign for the first surge of spring. The green bark of a lilac. The murmur of a dove in the yard. While there was still a scrim of ice on Leech Lake, people came down with spring fever that made them act as if they were young again; they took risks, they stayed out late, they fell in love unexpectedly. This was the month when teams began to play softball in the high school field and music flooded out from open windows as children practiced scales at pianos that had been ignored all winter long. There was an extra hour of daylight, so glorious and so needed after the many months of darkness.

Jet could hear the hum of the first of the season's bees as they neared the house on Magnolia Street with its black shutters and tilted roof slates and dozens of windows made of old, wavering green glass. She came to a halt when they turned a corner, well aware that people had long believed that whenever bees swarmed outside a house, a resident was sure to die. Hundreds were now circling the porch in a buzzing whirlwind of yellow. There was Franny, out in the chilly dusk without a coat, a broom in her hands, doing her best to bat them away.

"You're going to be stung!" Sally called to her tall, fearsome aunt who had always shone with a beauty all her own. Franny Owens was in her eighties but her hair had a red tone, and although people whispered she had it dyed in a salon in Boston or magicked away the gray with a mixture of blood and potent herbs, all it took to keep the color was a rinse of madder root every once in a while.

Jet set down the dog and went directly to her sister. "We need the bees," Jet said in a no-nonsense voice. She pried the broom from Franny's hands and let it drop to the ground. "Franny, that's enough."

The sisters gazed into one another's eyes. They'd always been able to read each other but now Franny was baffled by what she saw. She glimpsed herself in the future, there in their garden alone, and then, with a quickening breath, she understood.

"No," she said.

This is how it happened, on an ordinary night when Franny had planned to read a book after supper, she had Virginia Woolf's The Waves on her night table, then go early to bed. She had assumed life would remain as it was, with nothing daring to change, but all at once it had become an anguished night of bees, of a mad swarm around them, of her sister already wrested away from her, gazing into the world to come that was written in the constellations spinning above them. There was the Winter Triangle, which would fade away by the end of the month, as it always did at this time of year. Franny understood this was how loss began. She had been here before, but then, like an
We hope you are enjoying the book so far. To continue reading...
The Book of Magic
Alice Hoffman
Copyright © 2021 All Rights Reserved
Also in this series
Also by this author