The First Ladies
Available in:
eBook
Paperback
Audiobook
Hardcover
Book info
Sample
Audiobook
Media
Author updates
Lists
Synopsis
The Instant New York Times Bestseller! 

A novel about the extraordinary partnership between First Lady Eleanor Roosevelt and civil rights activist Mary McLeod Bethune—an unlikely friendship that changed the world, from the New York Times bestselling authors of the Good Morning America Book Club pick The Personal Librarian.

The daughter of formerly enslaved parents, Mary McLeod Bethune refuses to back down as white supremacists attempt to thwart her work. She marches on as an activist and an educator, and as her reputation grows she becomes a celebrity, revered by titans of business and recognized by U.S. Presidents. Eleanor Roosevelt herself is awestruck and eager to make her acquaintance. Initially drawn together because of their shared belief in women's rights and the power of education, Mary and Eleanor become fast friends confiding their secrets, hopes and dreams—and holding each other's hands through tragedy and triumph.
 
When Franklin Delano Roosevelt is elected president, the two women begin to collaborate more closely, particularly as Eleanor moves toward her own agenda separate from FDR, a consequence of the devastating discovery of her husband's secret love affair. Eleanor becomes a controversial First Lady for her outspokenness, particularly on civil rights. And when she receives threats because of her strong ties to Mary, it only fuels the women's desire to fight together for justice and equality.
 
This is the story of two different, yet equally formidable, passionate, and committed women, and the way in which their singular friendship helped form the foundation for the modern civil rights movement.
Release date: June 27, 2023
Publisher: Berkley
Print pages: 400
* BingeBooks earns revenue from qualifying purchases as an Amazon Associate as well as from other retail partners.
Listen to a sample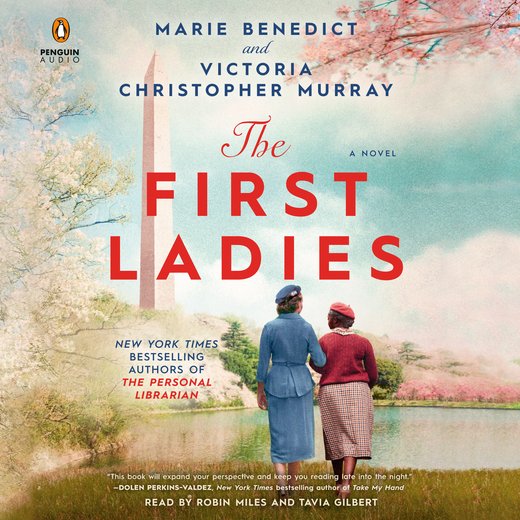 14:32:59
399.64 MB
9780593684269
June 27, 2023
Penguin Random House
The First Ladies
Marie Benedict
CHAPTER 1 MARY
New York, New York
October 14, 1927
Nearly fifty blocks whir past my cab window as I ride through the upper reaches of Manhattan from the Hotel Olga in Harlem. Traveling toward the Upper East Side, I feel as though, somewhere, I've crossed an invisible line. The shades of complexions fade from colored to white. Not that it matters to me. I have never been hindered by the views and prejudices of others, not even the Ku Klux Klan.
My cab stops in front of a limestone town house amidst the expanse of brick facades on East 65th Street. I exit the cab, then pause before I mount the few steps to the front door. The number 47 is on the left of the wrought iron gate, while 49 is on the opposite side. Yet there is only a single entrance.
Odd, I think, and a bit confusing to have one door for two residences. I certainly hope Mrs. Roosevelt gets along with her neighbor.
The door is opened by a young woman wearing a white-collared black uniform. For a moment, she stands still, her eyebrows raised and her blue eyes wide with astonishment.
"I am Mrs. Mary McLeod Bethune, here for the luncheon," I say.
She recovers. "Yes, ma'am." As she gestures for me to enter, her face becomes, once again, the expressionless servant's mask.
Chatter and laughter float in from down the hall. "Ma'am?" she asks, reaching for my coat.
I shrug out of my black fur-collar wrap and pat my hat to make sure it hasn't tilted. The young lady leads me down a hallway darkened by mahogany panels. As we approach the sound of voices, I listen to the medley of tones, searching for the accents and intonations that will give me clues to who these women are and where they're from.
When I step into the drawing room, the gleaming chandeliers, the velvet burgundy drapes framing the large windows, the deep chintz sofas, and a crackling fire offer a warmer welcome than the women inside. Unfazed, I move to the walls covered with bookcases. Glorious leather-bound volumes line the shelves. How much my curious students at Bethune-Cookman College would enjoy and appreciate a library like this.
If I didn't know this was a luncheon for women leaders of national clubs and organizations—some of the most powerful women in America—I'd think I'd stepped into a fashion show. Each woman wears a different variation of the latest styles; there are skirts and sweater sets and drop-waist dresses, and all, of course, are wearing silk stockings. Quite the contrast with my ankle-length navy dress trimmed in velvet.
I peruse the bookshelves, noticing that the conversation dips to a whisper whenever I skirt close to a group. As I draw near women I recognize from my position as president of the National Association of Colored Women's Clubs, I smile and nod, but I only occasionally receive a nod in return. Most often, my acknowledgments are met with steel-cold glances. Funny how the same women who talk with me about the advancement of women in a formal meeting space open to whites and Negroes pretend not to even see me in this social setting. Instead of allowing this to smart, I read the titles as I survey the books: a biography here, a novel there, a historical study in between.
"Ah, Dr. Bethune. What a pleasure."
My smile widens as the officious-looking Mrs. Sara Delano Roosevelt approaches, surprisingly light on her feet for her seventy-something years. "It is good to see you again, Mrs. Roosevelt."
"You as well, Dr. Bethune."
I hesitate, then say, "I hope you'll pardon me for clarifying." I pause, and Mrs. Roosevelt's expression hardens; she's not used to correction. "I prefer to be called Mrs. Bethune. Although I am grateful for the recognition, my doctorate degree is an honorary one. I prefer that honorific be reserved for the men and women who worked hard to earn their doctorates."
"As you wish." Mrs. Roosevelt's voice softens at the benign nature of my clarification. "Please tell me—I understand you've just returned from Europe. How was your trip?"
"It was the most glorious eight weeks."
"Isn't Europe amazing? So full of history." Leaning closer, she whispers, "Did I hear you had an audience with the pope?" The astonishment in her tone matches the amazement I felt standing before Pope Pius XI and receiving his blessing. As we talk about the Vatican, I wonder how news of my travels spread so fast and so wide.
But of course I say nothing about that, and when Mrs. Roosevelt asks the purpose of my trip, I tell her I traveled to Europe with Dr. Wilberforce Williams, the noted public health care expert and writer. "He's a friend from Chicago who's been to Europe several times, and when he arranged a travel group, I knew it was time for me to get an understanding of life across the ocean."
We chat about our experiences in Europe, especially the beautiful gardens. "I love Kew Gardens in London in particular," Mrs. Roosevelt says. "They have the largest botanical collection in the world, you know."
"Ah, yes," I say. "I found it lovely as well, but I preferred the black roses in Switzerland."
"Black roses? Oh my," she says with a bit of surprise. "I don't think I've ever seen such a rarity." A butler approaches and whispers to her. "It seems I am needed for a matter crucial to the luncheon. Will you excuse me?"
I am left alone once again and find myself facing a cluster of three women. I can imagine their thoughts, wondering what on earth I have in common with the society matron, mother to former assistant secretary of the Navy and failed vice presidential candidate Franklin Roosevelt. He'd been considered a promising politician on the rise until polio felled him six years ago. But I am not here because of him.
The women and I catch one another's gazes, and I smile. When I'm rewarded with cold shoulders once again, I resume my perambulation, letting my favorite walking stick lead the way.
I do wonder which of these women is Mrs. Roosevelt's daughter-in-law. Her name was on the invitation, and she is my host as well. I long to meet Mrs. Eleanor Roosevelt, who has become an advocate for the underrepresented and one of the most prominent women in politics, albeit for the Democratic Party. From what I've read, she, alone among the women in this room, shows promise.
CHAPTER 2 ELEANOR
New York, New York
October 14, 1927
Move, I tell myself. Walk across the room and offer your hand in welcome. But as I watch Mary McLeod Bethune stroll around the drawing room alone, I don't break away from the conversation I'm having with the head of the American Association of University Women. The sight of the only colored woman in the room unnerves me, and I wonder about the wisdom of including the renowned educator in this national luncheon of women's club heads. Were my mother-in-law and I naive to invite her?
Dr. Bethune is a sturdy, rather short, smartly dressed colored woman. She moves confidently, seemingly impervious to the women's slights, like that of Mrs. Moreau, a leader of the Daughters of the American Revolution, who stares at her with mouth agape. Oh, how I wish my mother-in-law would return. No matter how easily she can irritate me, this is the sort of situation she would handle with command and grace.
How does Dr. Bethune maintain her poise? Even in the face of this inhospitable crowd, she doesn't cower. Not like I would have.
You look like a granny, the constant refrain of my mother's words to me—an insult conveying the ugliness and joylessness she saw in me as a child—comes back now. Those words haunt me from time to time, returning me momentarily to the darkness of my childhood. My long days were spent alone in the children's attic nursery with only a governess and my brother Hall for company, trotted out at mealtimes for my mother's inspection and inevitable criticism. It didn't matter that I'd been raised in wealthy homes or that I had the elite Dutch ancestry of the Roosevelt and Hall families. I grew up believing that I had to apologize for the unpleasantness of my existence, that somehow, someway, I must find a way to prove my worthiness.
That the hateful insult of "granny" came from the lovely, delicate lips of my beautiful, slender, fair-haired mother, Anna Hall Roosevelt—the leading debutante of her season—made it especially hurtful. I knew I was everything my stunning mother was not. Still, part of me wondered what society would think if they could hear a daughter and wife from two of the most esteemed families in America speak to her child in such a way. Not that I'd ever divulge it; I was better bred, and anyway, I was only eight years old when she spoke those words for the last time. Still, they remain.
Our house steward announces luncheon, snapping me back to the present and jolting me into action. I make my excuses to the woman to whom I've been speaking. I rush after Dr. Bethune, who has started toward the dining room, marching proudly with a walking stick in hand. It is then I feel a firm tug on my arm.
"Mrs. Roosevelt, what were you thinking?" It is Mrs. Moreau, with a gaggle of women in tow. "How can we sit down to lunch with her?"
I flinch. Mrs. Moreau is speaking loudly. It's as if she isn't aware that Dr. Bethune can hear her, or perhaps she just doesn't care.
A woman with a Southern drawl chimes in. "I am astonished that you and your mother-in-law thought it appropriate to include a colored woman."
The six women encircle me. "Ladies," I say, my voice sounding even more high-pitched than usual, "Dr. Bethune is one of the most respected women in her field—in the nation, even—and the head of a national club. Her presence here is perfectly appropriate."
"We know who she is. And she might be respected," that same woman says, her arms now crossed over her chest, "but she's still a Negro, and you cannot possibly expect us to sit down to lunch with her."
Embarrassed and ashamed, but also boiling mad, I cross my arms, too. No more apologizing or explaining. "My mother-in-law and I wanted to bring together women who run clubs across this nation. I expect us to find common ground so that we may bring change and opportunities for women and girls of all kinds."
My eyes take in these supposed leaders. They are a representation of America, old and young, some from the South, others from the North, and I'd assumed their altruism would extend to all people. "Ladies, Dr. Bethune is my guest, and we shall treat her as such, in keeping with our missions to support the women of America."
But my tone and intractability do not make them back away.
"Do you know what's not acceptable?" the woman with the Southern drawl practically yells. "Being labeled a woman who loves nig—"
I gasp before she can finish spewing out her venom.
"Dr. Bethune has as much, if not more of, a right as any of you to be here. And I will not allow you to speak about my guest this way." My heart is racing as I pivot away from them.
Following Dr. Bethune, I wonder if I am partly to blame for the behavior of these women. If I had rushed to her side as soon as she entered, would they have dared? Maybe I am as bad as they are for not greeting her upon arrival, for allowing her difference to make me hesitate. Every time I think I've made progress, think I've become more like my dear, forward-thinking friends Marion Dickerman and Nan Cook—the principal of the progressive Todhunter School for girls we recently acquired and the secretary of the Women's Division of the New York State Democratic Committee, respectively—I realize how much further I have to go.
When I enter the dining room, I see that Dr. Bethune sits by herself at the central table, around which the other tables stem like petals of a flower. It is a chair where she can see and be seen. As the other guests move into the room, many join the crowd forming at the periphery with Mrs. Moreau, who refuses to select a chair. With utter aplomb, Dr. Bethune accepts a bowl of soup from a maid. She dips her silver spoon into it as if all this strangeness is nothing. As if all is proceeding as normal, which perhaps it is for her.
I race to her side, sputtering, "It—it is nice to finally meet you, Dr. Bethune. I am Mrs. Franklin Roosevelt. When my mother-in-law mentioned that you'd accepted our invitation, I was thrilled I'd have the opportunity to meet the woman who serves not only as the president of the National Association of Colored Women's Clubs but also as the president of Bethune-Cookman College."
Dr. Bethune carefully places her spoon down next to her bowl and replies, "It's a pleasure, Mrs. Roosevelt, and please call me Mrs. Bethune. I thought you'd forgotten about me."
Her words, spoken bluntly but without acrimony, cut through me. How could I have allowed her to flounder in the face of this disrespect? What I've done is unforgivable, and my cheeks flush with heat.
"I cannot apologize enough for putting you in this awkward position, Mrs. Bethune. My mother-in-law and I did not anticipate that the ladies would behave in this way. After all, these women have pledged to lift up other women in their work," I say, feeling that I must give her a complete explanation for what she's had to endure.
She smiles and asks, "How did you think this luncheon would go?"
I am silent. What can I say?
"Mrs. Roosevelt," she continues, the smile never leaving her lips, "you need only to have asked me. While many will sit in a meeting or a conference with me, there aren't too many white folks in this country who care to break bread with colored people, no matter their station in life." She gives a rueful chuckle.
"Mrs. Bethune, I'm so sorry for what you may have heard."
"Oh, there is no may. I definitely heard them."
"I don't know what to say. I have never—"
"You may have never, but I have. Women and men like this pass through my life every day." Her voice holds no anger or even frustration.
"It's unacceptable, and I want to apologize."
"You must never apologize for a sin someone else has committed," she says with a shake of her head.
"I appreciate that, but still, I'm terribly sorry. May I join you for lunch?"
"I was hoping you would," she answers with a nod. "I have a feeling we've got lots to talk about." Then she smiles at me with such warmth that I feel at ease for the first time since the luncheon began.
"I agree," I say, lowering myself onto the chair next to her. "I have been following your impressive career for years, and I'm in awe of your accomplishments."
"And I yours." She tilts her head toward the ladies refusing to sit. "In the meantime, those ladies are missing out on some excellent soup."
CHAPTER 3 MARY
New York, New York
October 14, 1927
We sit for a few minutes in silence, both sipping our soups. I'm not usually one to hold back my thoughts. While I don't speak for the sake of speaking, I employ my words to do that to which I am called: Open thy mouth, judge righteously, and plead the cause of the poor and needy, as it says in the book of Proverbs.
But I stay quiet for Mrs. Roosevelt. I know she needs these moments. Confronting racism may be my daily cross to bear, but I suspect the highborn Mrs. Roosevelt has not faced many situations like this. Why would she? The color of her skin has never defined what she can and cannot do.
Imagine, I think, to reach your middle years before you have to address prejudice. I was only a young girl when I discovered
that a happenstance of birth, nothing but skin color, could deem a person a blessing or a burden. It was racism that started me on my life's journey, although I wouldn't have called it racism when I first confronted it as a nine-year-old.
"Now, Mary Jane, I'm just going to drop off this wash," Mama said as we stood before the back door of the main plantation house. She switched the basket of folded clothes onto her other hip. "Then Pearlene and I are gonna sort through what I'm taking back, you hear me?"
"Okay, Mama," I said, shifting from side to side in excitement over entering the Big House.
She wagged her finger at me. "I don't want to have to call you twice the way I did last time."
"You won't have to, Mama," I promised as she gave me one last stern glance before knocking on the back door.
A moment later, Miss Pearlene appeared, dressed in the same black uniform with the overlay white apron that she always wore. Miss Pearlene was as tall as my daddy, and she swallowed Mama up into a hug.
"Come on in here, Patsy." Then she turned to me. "How you doing, Mary Jane?" Before I could answer, she pulled me into a hug, too.
Her arms were as thick as tree trunks, and when she embraced me, I inhaled the scent of the kind of pies she'd baked that morning. Huckleberry. I hoped Miss Pearlene would send a pie home with Mama today.
"Go on up and play with Margaret," Miss Pearlene said. "Just remember, when your Mama calls you—"
"Yes, Miss Pearlene," I interrupted her, already halfway up to Margaret's room. She was the only girl my age whom I knew, and I loved that our names began with the same letter—at least, that's what she told me. But what I adored even more was her playroom filled with toys. Every time I visited, Margaret had something new.
The door to her playroom was wide open, and Margaret sat in the middle surrounded by five or six dolls. She glanced up, smiling. "Mary Jane! I didn't know you were coming with Patsy today," she said, shocking me as she always did when she called Mama by her first name.
Bouncing up, she said, "I'm so glad you're here. Look what Papa brought me from his business trip to England."
I nodded, even though I didn't understand what she meant by "business trip" or "England." Then I froze. In front of me was one of the most beautiful things I'd ever seen.
"Look at my new rocking horse," Margaret announced, lifting her flowered cotton dress just enough to swing one leg over to sit astride the burnished wooden horse with a mane and tail made of silky hair.
"Your daddy got that for you?" I said, in awe.
"Yes, isn't it just grand? I would let you have a ride, but—" Her nose turned up a bit as she glanced at my bare ashen feet, covered with dust from the two-mile walk Mama and I had just taken. "You really must get some shoes, Mary Jane. Being barefoot is so unbecoming, even for children our age."
I froze. Of course I had a pair of shoes, and Margaret knew that. But I had to save them for church.
"You can play with something other than my rocking horse." She waved her hand in dismissal. "Like with my dolls over there."
She pointed to where the dolls were strewn about, but I decided to explore instead. Being in Margaret's room was like being on a treasure hunt.
Lingering in front of the bookshelf, I admired the dozens of volumes that lined the shelves. Except for our family Bible, I'd never held another book. Reaching for the one closest to me, I eased it from the shelf and studied the cover. Letters were printed on the front, although I could make out only a few.
I flipped open the pages. But before I could focus, Margaret hopped off the rocking horse and snatched the book from my hands. "What are you doing?" she shouted.
"I was just—"
"Don't you know you can't read! Only I can read, not you," she yelled, then slid the book back into its place, stomped across the room, and threw herself back on top of her horse. "Never touch my books again!"
She rocked, keeping her eyes straight ahead. In all the years we'd been playing together, Margaret had never spoken to me that way. Her rocking grew faster and harder, almost as if she was trying to gallop away from me.
I backed out of Margaret's room without a goodbye and headed downstairs. When I reached the bottom of the steps, Miss Pearlene said, "I have a surprise for you, Mary Jane." She handed me a pie wrapped in a red-and-white-checkered cloth. "Your favorite."
"Thank you," I whispered, keeping my eyes down so she couldn't see my hurt.
What did Margaret mean? Was she saying that I couldn't read because I had never learned, or was she saying I couldn't read because I was colored? Maybe that was the difference between white people and colored people. Maybe that was why Margaret had more shoes and more dresses and why she lived in the Big House while I lived in a three-room wooden cabin with Mama, Daddy, Grandma Sophie, and sometimes as many as ten of my sixteen brothers and sisters.
As we made our way down the road toward home, Mama asked, "What's wrong, Mary Jane? I didn't even have to call you down from Margaret's room today."
"Nothing, Mama."
She hummed, as if she didn't believe me. "What happened up there in Margaret's room?"
How did she know? "Nothing happened, Mama." I didn't want to fib, but I was still trying to make sense of Margaret's words. One thing I knew for certain: If seeing me with a book made Margaret that angry, then I needed to learn how to read. Within a year I was in school, because Margaret had taught me the importance of education for colored girls like me.
"Mrs. Bethune," Mrs. Roosevelt says, breaking our silence and pulling me out of my reverie about the day that changed my life.
"Mrs. Bethune," she says again. "I am truly taken aback by their behavior."
I study Mrs. Roosevelt. "Have you never come face-to-face with those views before today?"
"No." She shakes her head. "I have never heard anyone say what those women"—she gestures to them—"said today."
"Well, you learned something. And any day a lesson's learned is a good day."
"I suppose, although I am ashamed the lesson came at your expense." After a pause, she says, "Now, may I ask you something, Mrs. Bethune?"
I smile at the somewhat gangly woman with prominent front teeth, who has softened her appearance with a lovely hat decorated in pink silk flowers. "Of course."
"If you knew those women were going to behave this way, then why did you agree to attend this luncheon?"
Her expression is earnest, and in truth, I'm surprised by her frank question. "I was invited. And even though I anticipated their reaction, their racism isn't my problem. Racism belongs to the people who are racists."
I see a flicker of understanding in her blue eyes. More important to me than her actual ability to comprehend is her desire to try. It is refreshing and hopeful. "Let's talk instead about your reason for bringing us together. I'm guessing there is one?" I ask.
For the first time, Mrs. Roosevelt's face brightens. "Of course, I'm eager to get your thoughts on women's clubs and what we can do for our sex. But what I really want to hear about is your school."
Her words do not surprise me. I know she's recently taken over Todhunter, a girls' school with an ambitious curriculum, and teaches there as well. "I'm proud of what we've done at Bethune-Cookman College. We've come a long way from when it was a school for Negro girls. But for all that we've accomplished, there is more work to do."
"What you've done in the last twenty years has been impressive, especially considering how you founded it." She leans forward as if she wants to make sure she's not overheard. "Mrs. Bethune, is it true you started the school with just two dollars?" Her eyes twinkle when she asks, as if we are sharing a grand secret.
I keep my voice low as well. "It was less than that."
"Oh my." She presses her hand against her chest. "Well, that makes what you've done all the more amazing."
I laugh at her expression, a blend of admiration and horror. Then, seriously, I add, "While I've always had to be somewhat concerned about money, my main focus has been on my objectives. That's a lesson I teach my students, particularly the young ladies—to keep their eyes on their goals."
She nods. "So true. And our goals should be to educate girls in the practical matters of the world. To offer them something beyond the usual finishing schools that prepare young women to be wives, mothers, and society mavens. That's what we do at Todhunter: We instruct our girls in the arts and provide them with a solid foundation for college, should they want to pursue careers or higher education."
"Exactly. At our school, we offer an academic curriculum alongside the domestic science courses."
"That is the way to raise up young women." Mrs. Roosevelt beams. "I've discovered how much I love teaching." I smile in understanding.
As we enjoy our chicken and scalloped potatoes, we venture away from serious talk and chat about our families—in particular, my six-year-old grandson and her five children, all in different life stages. Our conversation shifts when she surprises me with her knowledge of Roland Hayes, one of my favorite singers.
"I regret I didn't return to New York soon enough to attend one of the concerts he was holding in the city," I say.
"What a coincidence!" she exclaims. "I'd hoped to attend as well but had a prior engagement. You know what this means, Mrs. Bethune?"
I put down my fork and frown. Have I missed something?
"This means the next time Mr. Hayes tours and it suits our schedules, we must go to his concert together."
She must be joking. I cannot think of a single venue where Roland Hayes might play that would allow both colored and white attendees; he performs at either white-only or colored-only concert halls. But when Eleanor smiles back, I realize she is in earnest—whether out of ignorance or determination, I cannot say. Either way, I am game.
"Well, Mrs. Roosevelt, we must make a date."
We hope you are enjoying the book so far. To continue reading...
The First Ladies
Marie Benedict
Copyright © 2023 All Rights Reserved