Book info
Sample
Audiobook
Media
Author updates
Lists
Synopsis
Sarnac is a scientist and a leading figure in the field of chemical reactions of cells. Plagued by a beautiful and terrifying dream he had when he was a young child, he reflects on his early years in an attempt to understand the dream''s roots. However, he finds that his dreams and the reality he has lived have become so entangled that he is no longer able to distinguish between them.
Release date: May 25, 2017
Publisher: Orion Publishing Group
Print pages: 320
* BingeBooks earns revenue from qualifying purchases as an Amazon Associate as well as from other retail partners.
Listen to a sample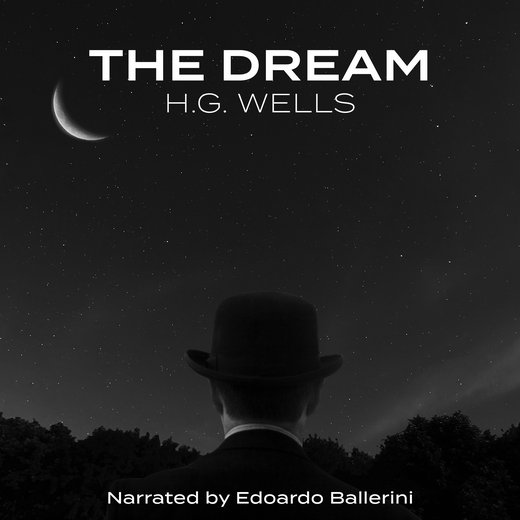 07:49:29
214.93 MB
September 1, 2020
Dreamscape Media
The Dream
H.G. Wells
§ 1

Sarnac had worked almost continuously for the better part of a year upon some very subtle chemical reactions of the nervous cells of the sympathetic system. His first enquiries had led to the opening out of fresh and surprising possibilities, and these again had lured him on to still broader and more fascinating prospects. He worked perhaps too closely; he found his hope and curiosity unimpaired, but there was less delicacy of touch in his manipulation, and he was thinking less quickly and accurately. He needed a holiday. He had come to the end of a chapter in his work and wished to brace himself for a new beginning. Sunray had long hoped to be away with him; she too was at a phase in her work when interruption was possible, and so the two went off together to wander among the lakes and mountains.

Their companionship was at a very delightful stage. Their close relationship and their friendship was of old standing, so that they were quite at their ease with one another, yet they were not too familiar to have lost the keen edge of their interest in each other's proceedings. Sunray was very much in love with Sarnac and glad, and Sarnac was always happy and pleasantly exalted when Sunray was near him. Sunray was the richer-hearted and cleverer lover. They talked of everything in the world but Sarnac's work, because that had to rest and grow fresh again. Of her own work Sunray talked abundantly. She had been making stories and pictures of happiness and sorrow in the past ages of the world, and she was full of curious speculations about the ways in which the ancestral mind has thought and felt.

They played with boats upon the great lake for some days, they sailed and paddled and drew up their canoe among the sweet-scented rushes of the islands and bathed and swam. They went from one guest-house to another upon the water and met many interesting and refreshing people. In one house an old man of ninety-eight was staying: he was amusing his declining years by making statuettes of the greatest beauty and humour; it was wonderful to see the clay take shape in his hands. Moreover, he had a method of cooking the lake fish that was very appetising, and he made a great dish of them so that everyone who was dining in the place could have some. And there was a musician who made Sunray talk about the days gone by, and afterwards he played music with his own hands on a clavier to express the ancient feelings of men. He played one piece that was, he explained, two thousand years old; it was by a man named Chopin, and it was called the Revolutionary Etude. Sunray could not have believed a piano capable of such passionate resentment. After that he played grotesque and angry battle music and crude marching tunes from those half-forgotten times, and then he invented wrathful and passionate music of his own.

Sunray sat under a golden lantern and listened to the musician and watched his nimble hands, but Sarnac was more deeply moved. He had not heard very much music in his life, and this player seemed to open shutters upon deep and dark and violent things that had long been closed to mankind. Sarnac sat, cheek on hand, his elbow on the parapet of the garden wall, looking across the steely blue of the lake at the darkling night sky at the lower end. The sky had been starry, but a monstrous crescent of clouds like a hand that closes was now gathering all the stars into its fist of darkness. Perhaps there would be rain to-morrow. The lanterns hung still, except that ever and again a little shiver of the air set them swaying. Now and then a great white moth would come fluttering out of the night and beat about among the lanterns for a time and pass away. Presently it would return again or another moth like it would come. Sometimes there would be three or four of these transitory phantoms; they seemed to be the only insects abroad that night.

A faint ripple below drew his attention to the light of a boat, a round yellow light like a glowing orange, which came gliding close up to the terrace wall out of the blue of the night. There was the sound of a paddle being shipped and a diminishing drip of water, but the people in the boat sat still and listened until the musician had done altogether. Then they came up the steps to the terrace and asked the master of the guest-house for rooms for the night. They had dined at a place farther up the lake.

Four people came by this boat. Two were brother and sister, dark handsome people of southern origin, and the others were fair women, one blue-eyed and one with hazel eyes, who were clearly very much attached to the brother and sister. They came and talked about the music and then of a climbing expedition they had promised themselves in the great mountains above the lakes. The brother and sister were named Radiant and Starlight, and their work in life, they explained, was to educate animals; it was a business for which they had an almost instinctive skill. The two fair girls, Willow and Firefly, were electricians. During the last few days Sunray had been looking ever and again at the glittering snowfields and desiring them; there was always a magic call for her in snowy mountains. She joined very eagerly in the mountain talk, and it was presently suggested that she and Sarnac should accompany these new acquaintances up to the peaks they had in mind. But before they went on to the mountains, she and Sarnac wanted to visit some ancient remains that had recently been excavated in a valley that came down to the lake from the east. The four new-comers were interested in what she told them about these ruins, and altered their own plans to go with her and Sarnac to see them. Then afterwards all six would go into the mountains.

§ 2

These ruins were rather more than two thousand years old.

There were the remains of a small old town, a railway-station of some importance, and a railway tunnel which came right through the mountains. The tunnel had collapsed, but the excavators had worked along it and found several wrecked trains in it which had evidently been packed with soldiers and refugees. The remains of these people, much disturbed by rats and other vermin, lay about in the trains and upon the railway tracks. The tunnel had apparently been blocked by explosives and these trainloads of people entombed. Afterwards the town itself and all its inhabitants had been destroyed by poison-gas, but what sort of poison-gas it was the Investigators had still to decide. It had had an unusual pickling effect, so that many of the bodies were not so much skeletons as mummies; and there were books, papers, papier mâché objects or the like in a fair state of preservation in many of the houses. Even cheap cotton goods were preserved, though they had lost all their colour. For some time after the great catastrophe this part of the world must have remained practically uninhabited. A Landslide had presently blocked the lower valley and banked back the valley waters so as to submerge the town and cover it with a fine silt and seal up the tunnel very completely. Now the barrier had been cut through and the valley drained again, and all these evidences of one of the characteristic disasters of the last war period in man's history had been brought back to the light once more.

The six holiday-makers found the visit to this place a very vivid experience, almost too vivid for their contentment. On Sarnac's tired mind it made a particularly deep impression. The material collected from the town had been arranged in a long museum gallery of steel and glass. There were many almost complete bodies; one invalid old woman, embalmed by the gas, had been replaced in the bed from which the waters had floated her, and there was a shrivelled little baby put back again in its cradle. The sheets and quilts were bleached and browned, but it was quite easy to see what they had once been like. The people had been taken by surprise, it seemed, while the midday meal was in preparation; the tables must have been set in many of the houses; and now, after a score of centuries beneath mud and weeds and fishes, the antiquaries had disinterred and reassembled these old machine-made cloths and plated implements upon the tables. There were great stores of such pitiful discoloured litter from the vanished life of the past.

The holiday-makers did not go far into the tunnel; the suggestion of things there were too horrible for their mood, and Sarnac stumbled over a rail and cut his hand upon the jagged edge of a broken railway-carriage window. The wound pained him later, and did not heal so quickly as it should have done. It was as if some poison had got into it. It kept him awake in the night.

For the rest of the day the talk was all of the terrible days of the last wars in the world and the dreadfulness of life in that age. It seemed to Firefly and Starlight that existence must have been almost unendurable, a tissue of hate, terror, want and discomfort, from the cradle to the grave. But Radiant argued that people then were perhaps no less happy and no happier than himself; that for everyone in every age there was a normal state, and that any exaltation of hope or sensation above that was happiness and any depression below it misery. It did not matter where the normal came. "They went to great intensities in both directions," he said. There was more darkness in their lives and more pain, but not more unhappiness. Sunray was inclined to agree with him.

But Willow objected to Radiant's psychology. She said that there could be permanently depressed states in an unhealthy body or in a life lived under restraint. There could be generally miserable creatures just as there could be generally happy creatures.

"Of course," interjected Sarnac, "given a standard outside themselves."

"But why did they make such wars?" cried Firefly. "Why did they do such horrible things to one another? They were people like ourselves."

"No better," said Radiant, "and no worse. So far as their natural quality went. It is not a hundred generations ago."

"Their skulls were as big and well-shaped."

"Those poor creatures in the tunnel!" said Sarnac. "Those poor wretches caught in the tunnel! But everyone in that age must have felt caught in a tunnel."

After a time a storm overtook them and interrupted their conversation. They were going up over a low pass to a guest-house at the head of the lake, and it was near the crest of the pass that the storm burst. The lightning was tremendous and a pine-tree was struck not a hundred yards away. They cheered the sight. They were all exhilarated by the elemental clatter and uproar; the rain was like a whip on their bare, strong bodies and the wind came in gusts that held them staggering and laughing, breathlessly unable to move forward. They had doubts and difficulties with the path; for a time they lost touch with the blazes upon the trees and rocks. Followed a steady torrent of rain, through which they splashed and stumbled down the foaming rocky pathway to their resting-place. They arrived wet as from a swim and glowing; but Sarnac, who had come behind the others with Sunray, was tired and cold. The master of this guest-house drew his shutters and made a great fire for them with pine-knots and pine-cones while he prepared a hot meal.

After a while they began to talk of the excavated town again and of the shrivelled bodies lying away there under the electric light of the still glass-walled museum, indifferent for evermore to the sunshine and thunderstorms of life without.

"Did they ever laugh as we do?" asked Willow. "For sheer happiness of living?"

Sarnac said very little. He sat close up to the fire, pitching pine-cones into it and watching them flare and crackle. Presently he got up, confessed himself tired, and went away to his bed.

§ 3

It rained hard all through the night and until nearly midday, and then the weather cleared. In the afternoon the little party pushed on up the valley towards the mountains they designed to climb, but they went at a leisurely pace, giving a day and a half to what was properly only one day's easy walking. The rain had refreshed everything in the upper valley and called out a great multitude of flowers.

The next day was golden and serene.

In the early afternoon they came to a plateau and meadows of asphodel, and there they sat down to eat the provisions they had brought with them. They were only two hours' climb from the mountain-house in which they were to pass the night, and there was no need to press on. Sarnac was lazy; he confessed to a desire for sleep; in the night he had been feverish and disturbed by dreams of men entombed in tunnels and killed by poison-gas. The others were amused that anyone should want to sleep in the daylight, but Sunray said she would watch over him. She found a place for him on the sward, and Sarnac laid down beside her and went to sleep with his cheek against her side as suddenly and trustfully as a child goes to sleep. She sat up—as a child's nurse might do—enjoining silence on the others by gestures.

"After this he will be well again," laughed Radiant, and he and Firefly stole off in one direction, while Willow and Starlight went off in another to climb a rocky headland near at hand, from which they thought they might get a very wide and perhaps a very beautiful view of the lakes below.

For some time Sarnac lay quite still in his sleep and then he began to twitch and stir. Sunray bent down attentively with her warm face close to his. He was quiet again for a time and then he moved and muttered, but she could not distinguish any words. Then he rolled away from her and threw his arms about and said, "I can't stand it. I can't endure it. Nothing can alter it now. You're unclean and spoilt." She took him gently and drew him into a comfortable attitude again, just as a nurse might do. "Dear," he whispered, and in his sleep reached out for her hand…

When the others came back he had just awakened.

He was sitting up with a sleepy expression and Sunray was kneeling beside him with her hand on his shoulder. "Wake up!" she said.

He looked at her as if he did not know her and then with puzzled eyes at Radiant. "Then there is another life!" he said at last.

"Sarnac!" cried Sunray, shaking him. "Don't you know me?"

He passed a hand over his face, "Yes," he said slowly. "Your name is Sunray. I seem to remember. Sunray…Not Hetty—No. Though you are very like Hetty. Queer! And mine—mine is Sarnac.

"Of course! I am Sarnac." He laughed at Willow. "But I thought I was Harry Mortimer Smith," he said. "I did indeed. A moment ago I was Henry Mortimer Smith…Henry Mortimer Smith."

He looked about him. "Mountains," he said, "sunshine, white narcissus. Of course, we walked up here this very morning. Sunray splashed me at a waterfall…I remember it perfectly…And yet I was in bed—shot. I was in bed…A dream?…Then I have had a dream, a whole lifetime, two thousand years ago!"

"What do you mean?" said Sunray.

"A lifetime—childhood, boyhood, manhood. And death. He killed me. Poor rat!—he killed me!"

"A dream?"

"A dream—but a very vivid dream. The realest of dreams. If it was a dream…I can answer all your questions now, Sunray. I have lived through a whole life in that Old world. I know…

"It is as though that life was still the real one and this only a dream…I was in a bed. Five minutes ago I was in bed. I was dying…The doctor said, 'He is going.' And I heard the rustle of my wife coming across the room…"

"Your wife!" cried Sunray.

"Yes—my wife—Milly."

Sunray looked at Willow with raised eyebrows and a helpless expression.

Sarnac stared at her, dreamily puzzled. "Milly," he repeated very faintly. "She was by the window."

For some moments no one spoke.

Radiant stood with his arm on Firefly's shoulder.

"Tell us about it, Sarnac. Was it hard to die?"

"I seemed to sink down and down into quiet—and then I woke up here."

"Tell us now, while it is still so real to you."

"Have we not planned to reach the mountain-house before nightfall?" said Willow, glancing at the sun. "There is a little guest-house here, within five minutes' walk of us," said Firefly.

Radiant sat down beside Sarnac. "Tell us your dream now. If it fades out presently or if it is uninteresting, we can go on; but if it is entertaining, we can hear it out and sleep down here to-night. It is a very pleasant place here, and there is a loveliness about those mauve-coloured crags across the gorge, a faint mistiness in their folds, that I could go on looking at for a week without impatience. Tell us your dream, Sarnac."

He shook his friend. "Wake up, Sarnac!"

Sarnac rubbed his eyes. "It is so queer a story. And there will be so much to explain."

He took thought for a while.

"It will be a long story."

"Naturally, if it is a whole life."

"First let me get some cream and fruit from the guest-house for us all," said Firefly, "and then let Sarnac tell us his dream. Five minutes, Sarnac, and I will be back here."

"I will come with you," said Radiant, hurrying after her.

This that follows is the story Sarnac told.

§ 1

"This dream of mine began," he said, "as all our lives begin, in fragments, in a number of disconnected impressions. I remember myself lying on a sofa, a sofa covered with a curious sort of hard, shiny material with a red and black pattern on it, and I was screaming, but I do not know why I screamed. I discovered my father standing in the doorway of the room looking at me. He looked very dreadful; he was partially undressed in trousers and a flannel shirt and his fair hair was an unbrushed shock; he was shaving and his chin was covered with lather. He was angry because I was screaming. I suppose I stopped screaming, but I am not sure. And I remember kneeling upon the same hard red and black sofa beside my mother and looking out of the window—the sofa used to stand with its back to the windowsill—at the rain falling on the roadway outside. The window-sill smelt faintly of paint; soft bad paint that had blistered in the sun. It was a violent storm of rain and the road was an ill-made road of a yellowish sandy clay. It was covered with muddy water and the storming rainfall made a multitude of flashing bubbles, that drove along before the wind and burst and gave place to others.

"'Look at 'em, dearie,' said my mother. 'Like sojers.'

"I think I was still very young when that happened, but I was not so young that I had not often seen soldiers with their helmets and bayonets marching by."

"That," said Radiant, "was some time before the Great War then, and the Social Collapse."

"Some time before," said Sarnac. He considered. "Twenty-one years before. This house in which I was born was less than two miles from the great military camp of the British at Lowcliff in England, and Lowcliff railway-station was only a few hundred yards away. 'Sojers' were the most conspicuous objects in my world outside my home. They were more brightly coloured than other people. My mother used to wheel me out for air every day in a thing called a perambulator, and whenever there were soldiers to be seen she used to say, 'Oh! PRITTY sojers!'

"'Sojers' must have been one of my earliest words. I used to point my little wool-encased finger—for they wrapped up children tremendously in those days and I wore even gloves—and I would say: 'Sosher.'

"Let me try and describe to you what sort of home this was of mine and what manner of people my father and mother were. Such homes and houses and places have long since vanished from the world, not many relics of them have been kept, and though you have probably learnt most of the facts concerning them, I doubt if you can fully realise the feel and the reality of the things I found about me. The name of the place was Cherry Gardens; it was about two miles from the sea at Sandbourne, one way lay the town of Cliffstone from which steamboats crossed the sea to France, and the other way lay Lowcliff and its rows and rows of ugly red brick barracks and its great drilling-plain, and behind us inland was a sort of plateau covered with raw new roads of loose pebbles—you cannot imagine such roads!—and vegetable gardens and houses new-built or building, and then a line of hills, not very high but steep and green and bare, the Downs. The Downs made a graceful skyline that bounded my world to the north as the sapphire line of the sea bounded it to the south, and they were almost the only purely beautiful things in that world. All the rest was touched and made painful by human confusion. When I was a very little boy I used to wonder what lay behind those Downs, but I never went up them to see until I was seven or eight years old."

"This was before the days of aeroplanes?" asked Radiant.

"They came into the world when I was eleven or twelve. I saw the first that ever crossed the Channel between the mainland of Europe and England. That was considered a very wonderful thing indeed. ("It was a wonderful thing," said Sunray.) I went with a lot of other boys, and we edged through a crowd that stood and stared at the quaint old machine; it was like a big canvas grasshopper with outspread wings; in a field—somewhere beyond Cliffstone. It was being guarded, and the people were kept away from it by stakes and a string.

"I find it hard to describe to you what sort of places Cherry Gardens and Cliffstone were like—even though we have just visited the ruins of Domodossola. Domodossola was a sprawling, aimless town enough, but these sprawled far more and looked with a far emptier aimlessness into the face of God. You see in the thirty or forty years before my birth there had been a period of comparative prosperity and productivity in human affairs. It was not of course in those days the result of any statesmanship or forethought; it just happened,—as now and then in the course of a rain-torrent there comes a pool of level water between the rapids. But the money and credit system was working fairly well; there was much trade and intercourse, no extensive pestilences, exceptionally helpful seasons, and few very widespread wars. As a result of this conspiracy of favourable conditions there was a perceptible rise in the standards of life of the common people, but for the most part it was discounted by a huge increase of population. As our school books say, 'In those days Man was his own Locust.' Later in my life I was to hear furtive whispers of a forbidden topic called Birth Control, but in the days of my childhood the whole population of the world, with very few exceptions, was in a state of complete and carefully protected ignorance about the elementary facts of human life and happiness. The surroundings of my childhood were dominated by an unforeseen and uncontrollable proliferation. Cheap proliferation was my scenery, my drama, my atmosphere."

"But they had teachers and priests and doctors and rulers to tell them better," said Willow.

"Not to tell them better," said Sarnac. "These guides and p. . .
We hope you are enjoying the book so far. To continue reading...
The Dream
H.G. Wells
Copyright © 2021 All Rights Reserved