The Bookshop by the Bay
Available in:
eBook
Paperback
Audiobook
Hardcover
Book info
Sample
Audiobook
Media
Author updates
Lists
Synopsis
"Anyone who's ever wanted to turn the page on their old life or felt the whispered promise of a new dream, and a fresh start will fall in love with Pamela Kelley's charming new novel." —New York Times bestselling author Mary Kay Andrews

TWO LIFELONG FRIENDS.

Jess loves her work as a high-profile lawyer in Charleston. But when her husband cheats, she retreats to her childhood home on Cape Cod with her thirty-year-old daughter, Caitlin, hoping to regroup with her longtime best friend, Alison.

ONE BOOKSHOP BY THE BAY.

Alison's career has taken a hit after twenty years as an editor for the magazine Cape Cod Living. But when she learns her beloved bookstore on the Cape is looking for new ownership, a new dream starts to form.

AND THE SUMMER THAT COULD CHANGE EVERYTHING.

As the two friends reopen the bookstore, they also open themselves up to the magic of second chances.

"A wonderful multi-generational story about mothers, daughters, and friendship set in a quaint seaside town on Cape Cod. If you love talk of bookstores, delicious food and coffee shops, this one is for you!" —Rachel Hanna, author of the South Carolina Sunsets series

A Macmillan Audio production from St. Martin's Press.
Release date: June 6, 2023
Publisher: St. Martin's Publishing Group
Print pages: 336
* BingeBooks earns revenue from qualifying purchases as an Amazon Associate as well as from other retail partners.
Listen to a sample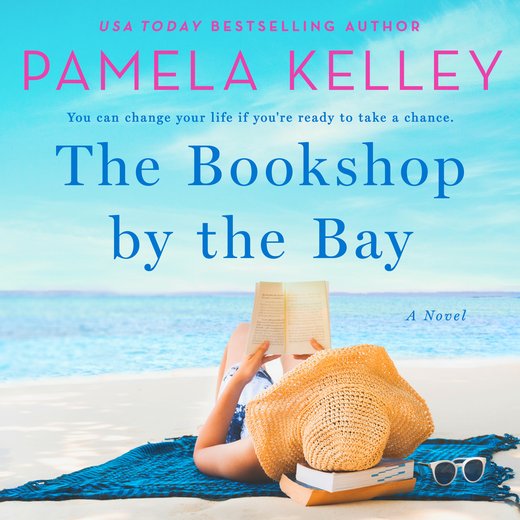 09:45:21
267.97 MB
9781250899194
June 6, 2023
Macmillan Audio
The Bookshop by the Bay
Pamela Kelley
Chapter 1
How do you know when a marriage is truly over?
Jessica Coleman stared out her kitchen window as she sipped her morning coffee and half- listened to her best friend Alison Page tell her about the amazing dinner she'd had the night before at The Impudent Oyster. She and Alison had been best friends since they were children living in Chatham, MA and even though they'd lived a thousand miles apart for many years, they still spoke by phone at least once a week, usually early in the morning.
"We had the Oysters Rockefeller, which had lobster, too and a creamy spinach sauce. You would have loved it."
It was their favorite restaurant in Chatham, the small Cape Cod village where they'd both grown up. Alison never left, while Jessica moved across the country, to Charleston, SC, many years ago, after graduating from law school, and marrying Parker.
"Jess, you still there?" Alison had stopped talking and Jessica hadn't even noticed. She felt the beginnings of a stress headache, brought on thinking about the best time to have an uncomfortable conversation with her husband. Something they'd both been avoiding.
"Sorry, I've been miles away. A lot on my mind. Nothing new, just wondering what to do about Parker."
"No gold stars lately, I take it?"
Jess laughed. "That's an understatement." She'd once joked to Alison that she should put a gold star on the calendar for the rare occasions that she and Parker had sex. By her calculations it was almost a year now. It just wasn't a priority anymore, for either of them. They'd met during her junior year at Charleston College and she'd never really been serious with anyone else. He hadn't either. After getting married and graduating from law school, both took jobs at Parker's father's firm in Charleston. They'd settled in Mt. Pleasant, one of the area's nicest neighborhoods, and three years later, had one daughter, Caitlin, who recently turned thirty.
"I'm sorry. Have you talked to him about it? Do you want to try to save the marriage?"
Jess wasn't sure there was anything left to save. She and Parker had been madly in love, many years ago. They both worked long hours and it seemed like the only thing they had in common anymore was work.
"It's like we're roommates. It's been like that for a few years, we've really sort of drifted apart. And I feel like something has shifted in the past few months. Just a funny feeling that I have."
"You think he might be having an affair?" Alison sounded surprised and Jess didn't blame her. Parker was the least likely person to have an affair. He worked long hours and they worked together. She knew his schedule and didn't see how it was possible. But still, the feeling wouldn't go away.
"I don't know. Maybe not. Maybe we've just both come to realize this isn't working anymore. Something just feels different."
"You need to talk to him."
"I know. I catch him looking at me sometimes, like he wants to have the conversation too, but neither one of us wants to bring it up first. It's just easier to ignore it and keep going on the
way we have, I guess."
"That doesn't sound healthy, Jess. Time goes by too fast. If this isn't working anymore,
either try to fix it, together, or move on. It's not so bad being single. It might be good for you." Alison had been married for ten years and single for over twenty. And she was best friends with her ex. It was like they got along better since they divorced. Jess had asked her a million times if they might get back together, but Alison always insisted that it wasn't like that with them.
"You're right. I know you're right. I think I might finally be ready. I've never really been single as an adult. It's going to be a change."
Suddenly single as a woman in her mid-fifties in Charleston, was an intimidating thought. It was a city full of beautiful, young southern women that never left their house without full hair and makeup and always dressed impeccably. How could she compete with that?
"Why don't you take some time off? Come to Chatham for a month at least. You haven't taken more than a week or two off in years," Alison suggested.
The idea was very tempting. And Alison was right. Jess's mother would be thrilled. At seventy-five, she was an active widow, and the family house in Chatham had plenty of room.
"I'll think about it." She glanced at the time and took her last sip of coffee. "Allie, I have to run. I'll keep you posted."
** *
Parker was already up and out. He'd developed a new habit in recent months of heading to
the gym before work and then showering and dressing there. The law firm was just a few blocks away from the gym. If he had an early morning client meeting, he brought his stuff with him and hit the gym at lunch-time or right after work instead. He'd decided recently that he needed to lose twenty pounds and much to Jessica's annoyance, achieved his goal a month later. He just
immediately stopped over-eating and skipped breakfast and lunch, eating one meal a day. Something Jess could never imagine doing, she never missed a meal. Not that she was overweight, but her weight tended to go up and down by ten or fifteen pounds and dieting was never that easy for her.
The drive into the office wasn't far, less than ten miles, but with rush hour traffic, it usually took almost forty-five minutes. Jess pulled her navy BMW sedan into the office building parking lot at a quarter past eight. Parker's car, a black Range Rover, was already there.
Jess's executive assistant, Miriam, was taking her coat off when Jess walked off the elevator. The office receptionist, a temp, hadn't arrived yet. But the office didn't officially open for another fifteen minutes. Miriam smiled when she saw her.
"I was just about to grab a coffee, would you like one?" Miriam asked. She was an older woman, in her early sixties, and had a motherly quality that Jess appreciated. She was also always two steps ahead of Jess, and great with clients. They'd worked together for years. She knew that Miriam was thinking about retiring soon though and she dreaded having to train someone new.
"That would be great, thanks so much." Jess settled at her desk, fired up her computer and dove into her emails. She had a busy day, a booked solid schedule of client meetings. She saw Parker briefly, to say hello and then didn't see him again until the end of the day, as she was wrapping things up. He poked his head in the door before heading out. His assistant, Linda, was beside him, and as she pulled on her jacket, the front of her shirt lifted up a few inches and Jess saw something that she hadn't noticed before.
There was a familiar swelling across Linda's middle. Parker's assistant was pregnant. Linda was a fairly new assistant. She'd been with the firm for just under a year and was maybe a
year or so older than their daughter. She'd replaced an older woman that had retired, and Linda came highly recommended. So far, Parker had said she'd been doing a great job. Jess couldn't remember any mention of a serious boyfriend though. She guessed by the size of the swelling, that Linda was maybe four or five months along.
She was a slim girl and usually wore dresses or long tops that covered her waist. Jess wondered if Parker knew. They'd have to start thinking about a replacement when she went on maternity leave and also consider the possibility that she might not return. About half the time, they didn't, even when they adamantly said that they would.
"Heading home?" Jess asked with a smile.
"No, actually. We have that Lion's Club thing tonight. I thought I mentioned it to you. They're giving us their yearly check for the food pantry. Linda and I are going. I know you hate those things and thought it might be fun for her."
Jess did hate those dinners and usually tried to get out of them. The organization was a wonderful one, but the evenings dragged on for several hours. Both she and Parker were active volunteers and committee members for their church's food pantry and every year, the Lion's Club and other organizations donated several thousand dollars to help fund pantry operations. She didn't mind at all that Linda was going in her place. It was the last thing she felt like doing after a long day at the office.
But then Linda absentmindedly patted her stomach and Jess caught the look on Parker's face as he watched her. It was fleeting, but for a moment she'd seen it—pure adoration, and then she knew.
And when Parker met her gaze, he knew she knew. The tell-tale sudden flush of red across his cheeks confirmed it.
She just stared at him. "When you get home tonight, we need to talk."
Chapter 2
Caitlin Coleman beat out hundreds of applicants for the job at Middleton's. She knew that because Mary Middleton liked to remind her of it with the unspoken threat that if things didn't work out, she'd be easy to replace. Middleton's was a high-end department store, the Charleston equivalent of Harrod's in London. Some compared it to Nordstrom's because of the famous chain's legendary service, but Mary Middleton scoffed at the comparison. Middleton's was much more expensive than Nordstrom's.
Caitlin had been there for two months and thought things were going reasonably well. Her role was on the floor, in sales. Many of their customers came in for the Middleton experience, which was on the store's upper level, where the most in-demand designer clothes were found, and included complimentary champagne in the dressing rooms.
Caitlin was expected to upsell—to suggest entire outfits when a client brought a single piece into the dressing room. Caitlin had thought that seemed overly pushy at first, but was surprised by how effective it was. These women wanted to know what she thought, and she didn't hesitate to tell them. She thought that they valued her truthful opinion.
"What do you think of this one?" Helen, a woman about Caitlin's mother's age, twirled in front of the three way mirror in a sequined evening gown that cost more than Caitlin's last car. It would be a huge sale and a big commission for Caitlin. But it didn't look as good on Helen as a few other dresses she'd tried.
"That's a lovely dress, but I'm not sure it's as flattering as the other two you just tried. I'd
recommend going with one of those."
Mary Middleton happened to walk into the dressing room area a moment earlier and heard
everything.
"Oh, dear. I really do love this one. That's disappointing to hear." She bit her lower lip and
stared sadly at her reflection in the mirror. "I think maybe I'll just hold off for now. Thanks so much, dear." Helen quickly disappeared into her dressing room.
"We have some other things, you might love," Mary immediately suggested. But Helen stayed silent until she emerged a few minutes later, dressed in a Lilly Pulitzer pink floral print dress.
"Maybe another day. I'm just not in the mood anymore." She scurried off and Mary turned her attention to Caitlin. Mary's expression was icy and Caitlin braced for what she suspected was coming.
"Caitlin, we've been through this before. There's such a thing as being too honest. That dress might not have looked as good as the others, but it still looked fine—and more importantly, that was the dress that she loved. That she wanted. You cost us a huge sale and disappointed an important client. I'm afraid this just isn't working out. I'm sorry."
"I'm sorry. I can do better," Caitlin began. She felt terrible. Mary had only mentioned this as being an issue once before. And Caitlin really thought that she'd been helping by steering Helen to the most flattering dress. That kind of honesty was what Caitlin would have wanted to know, so she'd just assumed their customers would feel the same way.
But Mary Middleton was done. "This isn't the place for you, Caitlin. I wish you all the best. Please leave your badge in the office when you leave today."
** *
Caitlin felt numb when she walked out of Middleton's at a few minutes past five. She'd been so excited to get that job. And Mary had seemed so wonderful when she'd first started working there. She'd told Caitlin how much she loved her look, and that clients would be excited to work with her. And that was why she'd beaten out all the others who were desperate to work there.
Caitlin had always loved fashion. For a brief time, she'd toyed with the idea of modeling. She was certainly tall enough, at five ten and her naturally reddish blonde long hair was her best feature. But, she was too big-boned and if she was being honest, she knew that she wasn't pretty enough. She was Charleston pretty, with small features and big blue eyes, but there was nothing remarkable about her bone structure. She just wasn't that photogenic.
But working in fashion seemed like a great alternative. She'd tried just about everything else over the years, waitressing, bartending, working as a secretary—that was a disaster. Attention to detail—other people's schedules, was not a strength. She'd tried an entry-level job in finance as a mutual fund accountant. Those big companies hired fresh graduates from any major and trained them. But when Caitlin sent a wire with an extra zero and accidentally sent a million dollars instead of one hundred thousand, she was let go, understandably.
She temped for a while after that and worked in customer service at a call center. She finally thought she'd landed the ideal job at Middleton's and now it looked like she would have to sign on with a temp agency again. It was depressing. All her friends had their lives figured out, building careers and most at this point, were married. Caitlin hadn't managed to do that yet, either.
She'd come close a few times, but just didn't feel like any of them were 'the one'. Now that she'd turned thirty though, it seemed like there was more of a sense of urgency among her
unmarried friends. In Charleston and the South in general, women tended to marry early. Though Charleston wasn't quite as bad as some areas. She remembered visiting Nicole, a college friend, in a small Louisiana town the year Caitlin turned twenty-five and felt like an old maid for the first time.
When she went to a house party with Nicole, just about all of her friends asked, "where's your husband?" As if they assumed that she must have one and he was maybe outside or something. It was the most bizarre experience she'd ever had. And Nicole explained that just about everyone there got married by the time they were twenty or twenty-one at the latest. Nicole had married at nineteen and dropped out of college at the end of her sophomore year.
But Caitlin cheered up a bit as she drove to Fleet's Landing, the restaurant where she was meeting Prescott, the man she'd been dating for exactly one year. It was their anniversary and one of their mutual friends had told her that Prescott had mentioned that he had something big to tell her tonight, but he didn't know what the news was. Caitlin didn't want to get her hopes up, but she was pretty sure Prescott was going to propose and she was inclined to accept. He ticked almost all of her boxes. He was tall and blond, handsome but not too good-looking. She'd dated a few guys over the years that were too hot for their own good and knew it. That never ended well.
Prescott had boy-next-door good looks and he was good company. They had a lot of the same interests—they'd met at the country club and both liked tennis and blues music and she liked his friends. She could imagine they'd have a good life if they did marry. And he was from an old Charleston family. Prescott did real estate development, mostly flipping houses which gave him a flexible schedule. The only downside was that he didn't make her heart race. She liked kissing him, sleeping with him even, but his touch didn't make her tingle. But everything
else was there, maybe in time, that would come?
Prescott's Jeep was parked near the front of the restaurant when she arrived. She walked
inside and he was waiting by the reception desk. They were seated right away, at an outside table. Caitlin ordered a glass of chardonnay and Prescott got a local draft IPA. They both ordered the shrimp and grits. The weather was beautiful. Soft breezes lightly blew over them as they watched sailboats go by. They chatted easily and Prescott told her all about the deal he'd closed that day.
"We did even better than we expected. The market right now is nuts. We held off on all showings until the open house yesterday and collected multiple offers. We ended up accepting a cash offer, fifty thousand over asking and they waived the home inspection. We close in three weeks with a profit of almost two hundred thousand."
"That's awesome, Pres." Caitlin was happy for him. She couldn't fathom making that kind of money so easily. And it really did seem to come easily for Prescott. He had a knack for finding undervalued houses that people weren't interested in because they looked like they needed too much work. But it was usually cosmetic stuff and he had a contractor buddy that evaluated all potential flips and let him know what it would take to fix it up. He then painted them in all neutral colors, soft grays and blues, made the kitchens all white with the latest quartz countertops, stainless appliances, and subway tiles—all the latest looks that people wanted.
He told her all about it as they ate, and she never did have a chance to tell him how her day went. She didn't want to spoil the mood either, as he was on such a high from the sale. It could wait. Maybe she'd have something else lined up soon, too, so it wouldn't be too depressing of a conversation.
When they finished, their waitress cleared their plates and asked if they wanted dessert.
Caitlin almost never ordered dessert, so Prescott looked at her in surprise when she asked for the dessert menu and then ordered the vanilla bean creme brûlée.
"Do you want to share?" she asked.
He laughed. "No, I'm good." He ordered a coffee though and sipped it while Caitlin enjoyed every creamy bite of the delicious custard. When she finished, a more serious look crossed his face.
"There's something I wanted to talk to you about," he began.
She smiled. "Happy Anniversary."
A confused look flashed across his face. "Oh, right." He paused and Caitlin suddenly had a
sinking feeling. If he didn't even remember that it was their anniversary, a proposal was unlikely. "What is it?" she asked softly.
He forced a smile. "Here's the thing. I've always wanted to travel. To spend a year abroad,
going everywhere. With this latest deal, it gives me a cushion to do that and not have to worry about anything. The timing is perfect."
"You want to travel? For a year? When?"
"I just booked my first flight today, to Spain. I leave the day after we close."
"Okay." So, what does that mean for us? She didn't ask the question, just looked at him,
waiting for him to continue.
He sighed. "I think you're great, Caitlin. But, I'm not sure I'm ready to settle down, with
anyone. I hope we can still stay friends, though?"
He looked as though he really did mean that. Caitlin nodded and fought back the tears that
threatened to overflow. Intellectually, she knew it was probably for the best. He obviously didn't feel the butterflies either, but still, it stung to lose both her job and her boyfriend the same day.
Especially when she'd actually thought he might propose. A thought occurred to her. Her mind was still spinning as he'd taken her completely by surprise with his news.
"Is there someone else?"
He looked offended by the question. "Are you serious? No. You know me better than that. This just feels like something I need to do."
"Okay." Caitlin shivered as the air felt suddenly colder and she wished she was home, snuggled in her bed and would wake the next morning and this awful day would be just a bad dream. She was glad at least that Prescott had waited until they were done eating and almost ready to leave. He paid the bill and walked her to her car, then hugged her goodbye. She allowed it for just a moment before pulling back.
"Goodbye, Prescott."
We hope you are enjoying the book so far. To continue reading...
The Bookshop by the Bay
Pamela Kelley
Copyright © 2023 All Rights Reserved