Book info
Sample
Audiobook
Media
Author updates
Lists
Synopsis
Brooklyn Wainwright is thrilled to be appearing on the hit TV show This Old Attic as a rare-book expert. Her first subject is a very valuable first-edition copy The Secret Garden. Its owner, Vera, is eager to have Brooklyn recondition it for resale. But a furious man viciously accosts Brooklyn, claiming that Vera found the first edition at his garage sale, and he wants it back - or else. Randolph Rayburn, the handsome host of This Old Attic, is terrified by the man's threats. He confides in Brooklyn that he fears he is being stalked. In the days that follow, Brooklyn visits Vera's flower shop...and discovers her dead. Brooklyn had better find the clever killer soon or more than her chance at prime time may be canceled...permanently.
Release date: June 3, 2014
Publisher: Berkley
Print pages: 336
* BingeBooks earns revenue from qualifying purchases as an Amazon Associate as well as from other retail partners.
Listen to a sample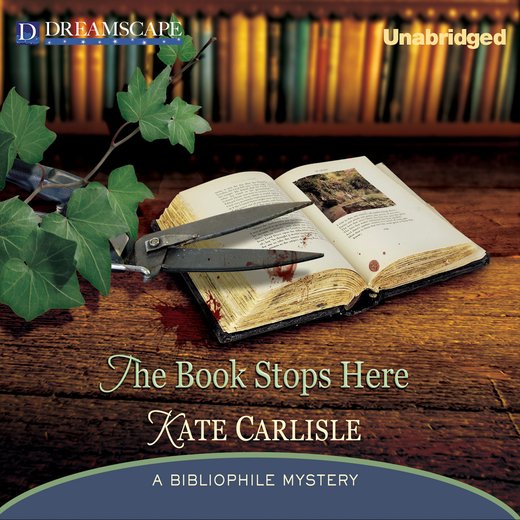 09:57:42
273.61 MB
9781666586732
June 10, 2014
Dreamscape Media
The Book Stops Here
Kate Carlisle
Chapter One
My mother always warned me to be careful what I wished for, but did I listen to her? Of course not. I love my mom, but this was the same woman who swore by espresso enemas to perk up your spirits. The same woman who performed magic spells and exorcisms on a regular basis and astral traveled around the universe with her trusted spirit guide, Ramlar X.
Believe me, I'm very careful about taking advice from my mother.
Besides, the thing I was wishing for was more work. Why would that be a problem?
I'd been in between bookbinding jobs last month and was telling my friend Ian McCullough, chief curator of the Covington Library, that I wished I could find some new and interesting bookbinding work. That's when Ian revealed that he had submitted my name to the television show This Old Attic to be their expert book appraiser. I was beside myself with excitement and immediately contacted the show's producer for an interview. And I got it! I got what I wished for. A job. A great job. With books.
That was a good thing, right?
Of course, I didn't dare tell my mother that I considered her advice a bunch of malarkey. After all, some of those magic spells she'd spun had turned out to be alarmingly effective. I would hate to incur her wrath and wake up wearing a donkey's head—or worse.
"Yo, Brooklyn," Angie, the show's stage manager said. "You look right into this camera and start talking. Got it?"
"Got it," I lied, pressing my hands against my knees to keep them from shaking uncontrollably. "Absolutely."
"Good," the stage manager said. "No dead air. Got it?"
"Dead air. Right. Got it."
She nodded once, then shouted to the studio in general, "Five minutes, everyone!"
I felt my stomach drop, but it didn't matter. I was in show business!
This Old Attic traveled around the country and featured regular people who wanted their precious family treasures and heirlooms appraised by various local experts. The production was taping in San Francisco for three whole weeks, and I was giggly with pleasure to be a part of it.
And terrified, too. But the nerves were sure to pass as soon as I started talking about my favorite topic: books. I hoped so, anyway.
Today was the initial day of taping and my segment was up first. My little staging area was decorated to look like a cozy antiques-strewn hideaway in the corner of a charming, dust-free attic. There were Oriental carpets on the floor. A Tiffany lamp hung from the light grid, which was suspended high above the set. Old-fashioned wooden dressers, curio cabinets, and armoires stood side by side, creating the three walls of my area. I sat in the middle of it all in a comfy blue tufted chair at a round table covered with a cloth of rich burgundy velvet.
Seated across from me was the owner of the book we would be discussing. She was a pretty, middle-aged woman with an impressive bosom and thick black hair styled in the biggest bouffant hairdo I'd ever seen. She wore a clingy zebra-print dress with a shiny black belt that cinched in her waist and emphasized her shapely hourglass figure.
She had excellent posture, though. I'd give her that much. My mother would be impressed.
Between us on the table was a wooden bookstand with her book in place, ready to be appraised.
"Are you Vera?" I whispered. I'd already seen her name on the segment rundown but wanted to be friendly.
She smiled weakly. "Yes. I'm Vera Stoddard."
I smiled at the sound of her high-pitched little-girl voice. "I'm Brooklyn. It's good to—"
"Settle down, people!" Angie shouted, and everyone in the television studio instantly stopped talking. Angie listened to something being said over her headset and then added loudly, "First on camera today is the book expert. It's segment eight-six-nineteen on the rundown, people! Stand by!"
"I'm so nervous," Vera whispered.
"Don't worry. We'll have a good time." I could hear my voice shaking but I smiled cheerfully, hoping she wouldn't notice. It wasn't like me to be this anxious. All I had to do was talk about books, something I was born to do. It was a piece of cake. Unless I thought about the millions of people who would be watching. It didn't help that several zillion watts of lighting were aimed down at me, and the stage makeup I wore, while it made me look glamorous, was beginning to feel like an iron mask.
"So stop thinking about it," I muttered, and plastered a determined smile on my face.
Angie caught my eye and pointed again at the television camera to her right. "Don't forget, this camera here is your friend. This is camera one. When you see the red light go on, it means you're on the screen." She turned and pointed to another camera a few feet behind her on the left. "Camera two will get close-ups of the book and the owner's reactions."
"Got it," I said, nodding firmly. "I'm ready."
"Good." Angie glanced around, then bellowed, "Here we go! Quiet, please! We're live in . . . Five! Four! Three! Two!" She mouthed the word One and waved her finger emphatically at me.
I took a deep breath and tried to smile at the friendly camera. "Hello. I'm Brooklyn Wainwright, a bookbinder specializing in rare-book restoration and conservation. Today I'm talking with Vera, who's brought us a charming first edition of the beloved children's classicThe Secret Garden, written by Frances Hodgson Burnett."
I smiled at the older woman and noticed her lips were trembling badly and her eyes were two big circles of fear. Not a good sign. So instead of engaging her in conversation, I gestured toward the colorful book on the bookstand.
"This version of The Secret Garden was printed as a special limited edition in nineteen eleven."
I touched the book's cover. "The first thing you'll notice about the book is this stunning illustration on the front cover. The iconic picture of a blond girl in her red coat and beret, leaning over to insert a key into the moss-covered door that leads to the secret garden, is famous in its own right. There are some wonderful details, such as this whimsical frame around the picture, painted in various shades of green with thick vines of pink roses."
"I didn't even notice that," Vera muttered in her oddly charming sexy-baby voice.
"It's subtle," I said. "The artist was Maria Kirk, known professionally as M. L. Kirk. She was never as famous as her illustrations were, but she did beautiful work. Isn't this lovely?"
"I think so," Vera said softly.
I picked up the book and stood it near me on the table, keeping the cover turned toward the camera. "What makes this even more outstanding is that this illustration is actually an original painting on canvas."
"It is?"
"Yes," I said. "You can see that it's been signed by the artist here in the lower-left corner."
Vera blinked in surprise and leaned closer. "Oh. And look, there's a robin in the tree."
I grinned at her, happy that she was getting into the spirit of things. The show's director had urged us to keep the owner in the conversation, so I hoped Vera would play along. "Yes, that robin has a role in the story."
"I like birds," she said with a sigh.
Uh-oh. I shot a quick look at her. Was Vera going spacey on me? My smile stayed firmly in place as I spoke to the camera. "Another unusual feature is that the painting has actually been inlaid into the leather cover. You can see how the edges of the leather have been beveled so nicely." For the camera, I ran my fingers along the edge of the beveling and gave silent thanks to my friend Robin, who had insisted that I get a manicure before the show.
"I've never seen anything like that before," Vera said, her spacey moment apparently past.
"It's really quite rare," I agreed. "The bookbinder was clearly an artist, too, in the way he chose a rich forest green leather to blend with the painter's softer green frame. And the intricate floral gilding on the leather is patterned after the vines and roses on the painting." I glanced at Vera. "Do you have any idea what the book might be worth?"
"I don't have a clue," she said, shaking her head. "It cost three dollars at a garage sale last Saturday."
I choked out a laugh. "Wow. I don't think I'm giving too much away if I tell you it's worth a little more than that."
"Oh, good." She pressed her hands to her remarkable chest, obviously relieved by the news. Maybe now she would be able to carry on a normal conversation. Her voice was high yet sultry, but it seemed to suit her personality. I wasn't sure why I thought that. I'd never met her before this moment.
I opened the book and showed the frontispiece illustration to the camera. "There are eight color plates throughout the book, all in excellent condition and each with tissue guards intact."
I angled the book toward Vera. "They're charming illustrations, aren't they?"
She nodded politely. "They're very nice."
Nice? I thought. Was she kidding? They were spectacular. The entire book was fantastic. I couldn't believe it had been allowed to molder away in someone's garage. But I wasn't about to criticize Vera's lackluster response aloud.
I should've been used to that sort of attitude by now. Nobody gushed about books as much as bookbinders did. I would've loved to have mentioned how rare it was that a children's book printed in 1911 was this beautifully preserved. Children were not generally known for their ability to treat books gently.
I sighed inwardly and changed the subject. "Now, obviously not every copy of this book could be printed with original artwork attached to its cover. So let me explain briefly about this particular edition. Back in nineteen eleven, when this book was printed, a publisher would occasionally release two versions of the same book. A regular edition and a limited, more expensive edition. This version is obviously one of the limited-edition copies."
"How limited?" Vera asked, her gaze focusing in on the book.
"Very." I turned to the next page. It was almost blank except for two lines of print in the middle. "This is called the limitation page. It states here that only fifty copies of this numbered edition were printed. And the number six is handwritten on the next line. So this particular book is number six out of fifty copies made. It's beyond rare."
Vera gulped. "And . . . and that's good, right?"
"Yes, that's very good. And, of course, you will have noticed that on the same page we see that it's been authenticated with the date and original signature of the author, Frances Hodgson Burnett."
"I did notice that." She bit her lip, still nervous, though this time I figured it was from excitement, not fear.
Now that she was finally showing some emotion, it was time to bum her out. Earlier at rehearsal, Jane Dorsey, the show's director, had advised us to balance things out by mentioning a few negatives. So I flipped to a page in the middle. "I should point out a few flaws."
Vera's expression darkened. "No, you shouldn't."
I chuckled. "I'm sorry, but the book isn't without its imperfections." I faced the page toward the camera and pointed at some little brown spots. "There's foxing on a number of pages. These patches of brownish discoloration are fairly common in old books."
"Eww." She drew the word out as she leaned in to get a good look. "Are those bugs?"
"No. They're clumps of microscopic spores, but that's not important. Sometimes foxing can be lightened or bleached, but you should always hire a professional bookbinder to do the work."
Turning to the inside front cover, I said, "There's also an additional signature on the endpaper, right here." I made sure the camera could see what I was referring to, and then I took a closer look at it myself. "It doesn't look like a child's handwriting. It was probably a parent signing for the child. I can't quite make out the name, but I assume it's the signature of one of the book's first owners. They used a fountain pen, and it's faded a bit."
"And that's a bad thing?"
"Writing one's name in a book can diminish its value, but that's another topic altogether."
"But—"
"Let's not dwell on the negatives," I hurried to add, "because other than those items and a few faded spots on the leather, it's in excellent condition and—"
"And what?" Vera demanded, interrupting what was about to be my rapturous summary of the book's qualities.
I pursed my lips, thinking quickly. I had been given six minutes to talk about the book, but the director had warned me that as soon as I revealed my appraisal amount, my segment would be over, even if I had minutes to spare.
I wasn't ready to stop talking about the book—big surprise. But Vera was finished listening and it was time to put her out of her misery. More important, I noticed Angie hovering. And Randolph Rayburn, the handsome host of the show, stood next to her, looking ready to pounce into the camera shot and cut me off.
"And for a book of this rarity," I continued hastily, "in such fine condition and with the author's original signature included, it's my expert opinion that an antiquarian book dealer would pay anywhere from twenty to twenty-five thousand dollars for this book."
"Wha—?" Vera's eyes bugged out of their sockets. "Twenty . . . Say that again?"
"Twenty to twenty-five thousand dollars," I repeated, happy I'd finally gotten a reaction out of her. The producers were going to love that look on her face.
I turned the book over again to examine the rubbed spots on the back cover. "Frankly, Vera, it would take only a few hundred dollars to have the book fully restored to its original luster. Once you did that, you could probably add another three to five thousand dollars onto the value."
"Another five thou— Holy mother-of-pearl!" Vera slapped her bountiful chest a few times as if to jump-start her heart. "Oh, my God. Are you serious?"
"Yes."
"But that's freaking—"
Angie must have thought Vera was about to scream out some expletive because she shoved Randolph forward, and he rushed to stand in front of our table.
"Indeed, it is!" he said nonsensically to camera, grinning as he blathered cheerfully about some of the items coming up later in the show. He finished with, "We'll be right back."
"And . . . we're clear!" Angie shouted.
Vera looked shell-shocked. Everyone in the studio started talking again, moving here and there between the sets, carrying on normal conversations.
I had watched the program a bunch of times, so I knew that when they went in to edit the shows, they would plaster across the TV screen a green graphic banner announcing the amount of money I had quoted, accompanied by the sound of a cash register making a sale.Cha-ching!
Angie approached me, but suddenly stopped and cupped her hand over her ear to hear what was being said over the headset. Her arm shot up in the air. "Quiet, people!"
Everyone in the vicinity froze. What awesome power she has, I thought. It was all in the headset. I wanted one.
"Randolph, don't move," she warned, as though she suspected he would disappear if given half a chance. Then she announced to the group in general, "Okay, we're gonna need camera one to remain here. Jane wants to tape a short chat between Randolph and the book expert. For everyone else, we're moving on to the Civil War segment."
Most of the crew stirred themselves into action at the mention of Jane, the director. They pushed the cameras and the heavy microphone boom to the opposite side of the large studio where another cozy antiques-furnished set similar to mine had been designated the war room.
I had met Jane Dorsey earlier that day, during my orientation with the two executive producers, Tom Darby and Walter Williams. Jane was almost six feet tall and very attractive, but stick thin, with white blond hair pulled back in a severe ponytail. Today she wore knee-high black boots over her jeans and a black sweater. A long white scarf was tied around her neck and fluttered in her wake as she walked.
Apparently the long scarf was something she wore every day. Tom explained that they kept the air really cold in the director's booth so the equipment wouldn't overheat, but I figured she also enjoyed the dramatic effect. Not that she needed it. People paid instant attention to her when she walked into a room.
Camera one remained in place, still pointed in my direction, along with its operator and a couple of crew members who assisted with microphones and cables.
Angie looked around anxiously. "Where did Randolph wander off to?"
"I'm here," he said from halfway across the stage floor. "I'm here. I'm here. Don't pay the ransom."
A few of the crew guys chuckled and Angie's lips twisted sarcastically. "Can we get this show on the road?"
I wondered how he had escaped all the way across the room in mere seconds. The guy was speedy, for sure.
"Okay, let's do this," Randolph said, and flashed me a rakish grin. "Hello, beautiful."
"You are so full of it," Angie muttered.
"But you love me, anyway," he said, bumping his shoulder into her arm.
"Yeah, in the worst way," Angie said. She paused to listen to a voice in her ear, then said to us, "They're not quite ready upstairs, but don't anyone go anywhere."
Randolph snorted. "Famous last words. I'll be right over here." And with that, he wandered a few feet away to kibitz with one of the crew.
"You move and I'll kill you," she said.
He grinned and winked at me behind Angie's back. He was the worst kind of flirt, completely adorable and charming. I could tell Angie liked him. What woman wouldn't? Maybe she didn't want to like him, but she couldn't help herself. All of that was probably clear to Randolph, as well. Angie seemed pretty transparent with her feelings.
She was beautiful, with pale skin and a halo of thick, dark curly hair. They would make an adorable couple if hard-as-nails Angie could ever learn to deal with Randolph, the charming jokester.
The stage manager ignored the star as she rested her elbows on my table. "You did a good job, Brooklyn. Once we're finished with the chitchat, you've got at least two hours to kick back before we tape another book segment." She turned to Vera. "You okay, hon?"
Vera blinked a few times. "Oh. I'm . . . I'm a little shaken up, but very happy."
Angie pulled two pieces of paper from the clipboard she carried. "Almost forgot. You both need to sign these releases."
"Another one?" I'd already signed my life away that morning, indemnifying everyone in the universe in case of any possible occurrence of anything, including acts of God. "What are these for?"
"One of our local news stations is here, taping some footage for their nightly segment. It's sort of a Look What's Going On in San Francisco kind of thing."
"So we could be on the news?" Vera said.
"They're taping a bunch of short segments, so it's not a guarantee," Angie said. "But either way, they need your approval, just in case."
"Okay," I said, taking the one-page document from her and scrawling my name on the bottom line. "No problem."
"This is so exciting," Vera gushed, and signed her copy with a flourish. She handed it back to Angie, who slid both pages back onto her clipboard.
A young production assistant jogged across the set and slowed down as she approached the host. With a nervous gulp, she said, "Randolph, you have a flower delivery. They put it in your dressing room."
"Thanks, kiddo," he said, flashing her a million-dollar grin. "Hey, Angie, be back in two minutes."
He strolled away before Angie could protest. Exasperated, she turned to me. "Stand by, will you, Brooklyn?"
"No problem," I said, not minding the wait. I was having too much fun to complain about anything.
Vera flashed me a wide-eyed look. "Can I ask you a few more questions about the book?"
Before I could answer, Angie shook her head. "Sorry to interrupt, kids, but the second Randy returns, I've got to get that damn chat done and then clear this area. They'll start taping the next segment right after that, so maybe you two can set up a meeting later."
"Oh, sure." Vera stood and I got a look at her shoes for the first time. Patent-leather leopard-skin stiletto heels. Wow. They had to be six inches tall and the pattern should've clashed with her zebra-print dress, but somehow it all worked for her.
"Hey, dig those shoes," Angie said.
"Don't you love them?" Vera said, beaming. "They're my Christian Louboutin knockoffs."
Angie nodded. "They're freaking awesome."
Vera turned and bent her knee, lifting her foot behind her. "They've even got the signature red sole. See?"
Angie and I stared at the shiny red bottom.
"They rock," Angie said.
Vera gazed down at her sexy stilettos. "They were the first thing I bought myself after I left my no-good boyfriend."
"Best revenge, sister," Angie said stoutly.
"You know it," Vera said, and giggled.
I handed Vera the business card I'd pulled out of my pocket. "I'll be happy to talk with you about the book anytime you want. Or you can call me whenever you decide what to do."
She looked at the card. "Okay, good. The sooner, the better."
"Anytime," I said.
Looking relieved, she said, "Thanks, Brooklyn."
"And don't forget your book, hon," Angie said, extending The Secret Garden to her.
Vera stared blankly at Angie until she saw the book in her hand. "Oh, wow. I guess I'm still a little discombobulated. Thank you."
Angie pointed out the exit to Vera, and we watched her walk away, a bit wobbly in her sky-high heels.
I sniffed, feeling sentimental. Vera was, after all, a first for me.
"She's adorable." Angie grinned. "And you made her day."
"I loved every minute of it," I said, happy that so far my day was going pretty well, too.
But the same couldn't be said for Randolph. The star of the show crossed the wide stage and headed straight for Angie and me, his face drained of color and his jaw taut. He looked as if he might have just witnessed his own death.
Chapter Two
Ten minutes later, the director was ready to shoot our segment. I'd been watching Randolph carefully as he slowly shook off his mood and returned to his peppy, perky self. He was deeply involved in a conversation with Tom and Walter when Angie grabbed him and dragged him over to my table.
"Sit. Stay," she said, pushing him into the chair across from me.
He looked in much better spirits now than he had a few minutes ago and he took Angie's wrangling with good humor. I wondered if maybe he had a soft spot for her, too. Who could blame him? She looked like a pre-Raphaelite angel with lustrous black curls instead of the usual red.
I was nosy enough to wonder what had caused Randolph's look of despair earlier, but it wasn't the right time to ask. Something about that flower delivery had caused him to turn a deathly shade of white. I'd been itching to eavesdrop on his discussion with the producers, but I wasn't brave or stupid enough to do it. Not with so many witnesses standing around, anyway.
Whatever had upset him, he seemed to have brushed it aside and was in a good mood for our short teaser segment. The camera rolled and the two of us chatted for all of one minute. And then it was over.
"That was easier than I thought it would be," I confessed.
"It's my cheery inquisitiveness," Randolph said blithely. "Admit it: I make you feel both desirable and comfortable."
I couldn't help but laugh. "You really are a rascal."
"Rascal." He wiggled his eyebrows. "I like that."
"You would," Angie muttered.
Poor Angie had my sympathy. Randolph was in his thirties, tall and classically handsome, with dark blond hair worn in a casual, wind-tossed style. His vivid blue eyes were mesmerizing. He had a great smile and perfect teeth, and it didn't hurt that his voice could melt butter. Best of all, he had a charming sense of humor.
Angie yelled, "Civil War's up in ten minutes, people!"
I turned down Randolph's generous offer to buy me a free cup of coffee and headed off to the tiny dressing room I'd been assigned earlier that day. The schedule gave me two hours to research the next book I'd be appraising and I would need every minute to do my job well.
On the way backstage, I wasted a few long seconds worrying about my Secret Garden segment. Had I blathered? Had I laughed too loud? Had I sounded smart? Silly? Had my shoulders slumped? Had I droned on with details nobody else in the world would care about unless they were a devout book lover? Probably yes to that last one, and maybe to all of the above.
I wondered if my on-camera self-consciousness would ever wear off. Did it matter? I would be here for only three weeks and the most important thing was to have fun and give accurate appraisals and make the book owners happy. I thought I had accomplished all of that with Vera.
And with that conclusion, I shoved my angst aside. I didn't expect it to stay where I'd shoved it, but for now, I gave myself permission to ignore it.
As I crossed the massive studio, I glanced around and marveled that despite the large space, it had an air of intimacy. This was probably because of the twenty-five-foot-high wall of curtains that was hung from a curved ceiling beam that ran all the way around the room. The curtains were weighted and anchored to the studio floor, creating a wall between the main staging area and the backstage. The stage manager referred to the curtains as the backdrop.
The main staging area was further divided into six small sets where the different experts sat and appraised their items. Like my cozy space, the others were filled with antique furniture and interesting set pieces that corresponded to their field of interest. For instance, on my set, the cabinets and shelves were filled with old books. Sitting on the dressers were framed illustrations and frayed botanical prints taken from old books.
Since I would be sharing my space with a map expert and a historian who specialized in vintage correspondence and documents, my book illustrations would be switched out with framed drawings of maps or old letters and tattered certificates.
In the Civil War expert's area, an old rifle was displayed in a large glass cabinet. On one of the dressers were two elegant portraits of soldiers from that era. Apparently, the rifle could be replaced by a musket or a bow and arrow or another weapon, depending on which particular war was being discussed.
Another area featured shelves of vintage kitchenware, old toys, and folk sculpture. A child's painted rocking horse filled one corner of the space, and on the top shelf was an intriguing display of covered woven baskets.
We hope you are enjoying the book so far. To continue reading...
The Book Stops Here
Kate Carlisle
Copyright © 2022 All Rights Reserved
Also in this series
Also by this author
Already a member? Sign in!
Unlock full access – join now!
Or
By signing up, you agree to our Terms of Service, Talk Guidelines & Privacy Policy
Have an account? Sign in!