That Time I Got Drunk and Saved a Human
Book info
Sample
Audiobook
Media
Author updates
Lists
Synopsis
When a spirited young woman with a penchant for adventure finds herself locked away in a dragon's tower, she realizes that fate has a peculiar sense of humor when it comes to her romantic prospects in this laugh-out-loud fantasy rom-com, perfect for fans of Legends & Lattes and The Dragon's Bride.

All children are told fairytales. Some are epic adventures with high stakes and exciting twists but others are tales of pitiful princesses trapped in boring towers pining for their Prince Charmings to come and rescue them. But one young woman always hated those stories. Why didn't they get up and rescue themselves? Little did she know that her own fate would take a similarly ironic turn. Because now, here she is. Stuck. In a tower. Turns out, when a dragon holds you hostage, he doesn't just let you get up and leave.

Who knew?

And just when she thinks she sees hope on the horizon, that hope is smashed to bits by—you guessed it—another damn dragon.
Release date: May 23, 2023
Publisher: Orbit
Print pages: 336
* BingeBooks earns revenue from qualifying purchases as an Amazon Associate as well as from other retail partners.
Listen to a sample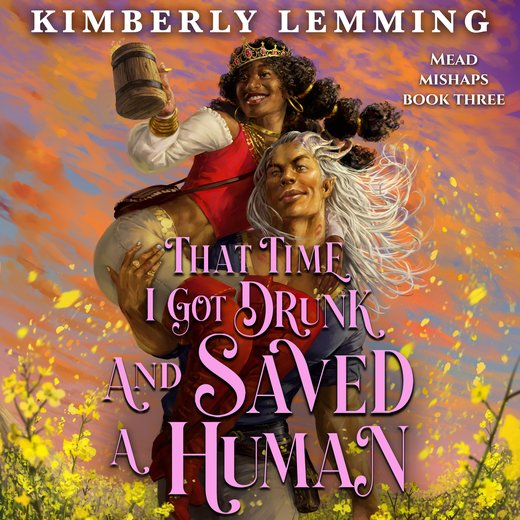 08:57:11
245.92 MB
9781668635667
August 29, 2023
Hachette Audio
That Time I Got Drunk and Saved a Human
Kimberly Lemming
Chapter 1

Dante

"Gods, I am so fucking scared right now." Madam Shadow's voice shook as she spoke, yet she kept her hand outstretched. Behind her, Fallon leaned against the wall with his arms crossed. The shadow dragon watched our brief training session with bored nonchalance. It was a front of course. If his little human so much as yelped, I'd have a brawl on my hands.

He didn't possess the strength my seven centuries had afforded me, but he had an impressive amount of magic in his arsenal. By absorbing the false goddess Myva, Fallon had positioned himself as a formidable threat. Despite his young age.

"You're going to be fine," I reassured her. She would be. I'd been practicing all week. The first few attempts with Usha were a little less than savory but it'd been a long time since I'd had to curb my strength. A dragon's power grew as they aged and the extra strength was something I never had to worry about in Volsog. Demons were so much more durable than humans.

I reached out to take her hand in mine.

"Wait!" Brie called out. She looked in between Madam Shadow and me and held her hands up. "Are we sure he's ready for this? Maybe we could start off with a porcelain doll or something. If he doesn't break that, then we can move on to hands again. It's only been a few days since his last attempt, and that did not end well."

Usha sighed from her spot in the captain's chair. "Agreed. He may not be ready." She rubbed at her shoulder absent-­mindedly, as if it still pained her.

Irritation made my jaw clench. "Enough of your dramatics. I healed you, didn't I? Madam Shadow will be fine."

"You broke my shoulder," she hissed back at me.

"It was an accident." Truly it was. What was meant to be a friendly pat on the shoulder had sent the human flying across the ship's deck. Usha had been left with a fractured shoulder and had aimed a litany of colorful curses in my direction. Fortunately for her, the matter was easily fixed with a basic healing spell. Simple injuries were manageable, yet healing magic was by far not my forte. If the bones had splintered, then she would've been in for a long and painful recovery.

It wasn't until that minor incident that I realized I had never actually touched a human, despite having stayed on the Banshee for over a year. The ship's crew mostly comprised other demons. When I thought back on it, I realized I'd never actually been alone with the two humans on board. Or alone with any human, really. So how was I supposed to know how weak they truly are?

Felix threw his arm around his worried wife. "He's going to need to start with real people again at some point. It won't do Dante any good if he leaves to find a mate only to end up killing the poor thing as soon as he goes in for a kiss."

As much as I hated to admit it, he was right. The likelihood of my fated mate being one of the few demon women left in the world were slim to none. Fallon and Felix had found happiness in their human wives and I longed for that same companionship. Though I suppose Brie would soon be a werewolf. It was only a few days until the full moon and the bite mark on her arm was a constant reminder of what was to come. The circumstances of her bite were less than ideal, but the two seemed to have made their peace with it.

"I don't need to practice on another doll. Madam Shadow will be fine."

The co-­captain's hand shook, but she stood firm. "I told you to call me 'Cin'. The whole Madam thing is weird."

"Right," I sighed. "You humans are an informal lot. Are you ready, Cin?"

She took a deep breath and nodded.

I stared at the outstretched hand, determined. It had taken a few shattered porcelain objects to get right, but I was confident in my ability to curb my strength now. I practiced on Felix the day before and he had deemed my grip safe enough for humans. Though the fact that he refused to let his wife stand in as my practice partner did not escape my notice. Not that it mattered. Cinnamon had proven herself to be a brave human and looked far more durable than Brie.

Slowly, I raised my hand to hers. She sealed her eyes shut and turned her head away. As gently as I could manage, I closed my hand around hers and shook once. When the fragile bones in her fingers didn't crumple under my grip, she peeked one eye open.

"Oh!" Cin gasped. "He did it!"

The room let out a collective sigh of relief. Which was more than a little insulting. I wasn't a monster. I just needed a little practice. Cinnamon patted our joined hands and smiled up at me. I returned her grin before releasing her. "Of course I did. I told you it would be fine."

Usha rolled her eyes. "A lot of confidence coming from a man who broke three of my fingers a few days ago."

My, that one could hold a grudge. "And once again, I'm sorry for the fingers as well."

The captain sighed and got up from her chair. "Doesn't matter. It's over now." She moved to my side and clapped a hand on my back. "Congrats on no longer being a walking threat. Does this mean you'll be flying off soon?"

Cinnamon pursed her lips. "You don't have to fly off right away, do you? We should at least have a send-­off party."

"Rabbit," Fallon sighed. "Not every occasion requires a party."

She shot a glare at her husband and put a hand on her hip. "That is where you're wrong. There's no better way to start a journey than with a festival. He can stick around for one more night. Right, Dante?" she asked, turning back to me.

The sound of Brie's giggling caught my ear. I glanced over to see that Felix had leaned in close and was whispering some nonsense that had the woman slapping his chest. The werewolf grinned and kissed her temple.

Gods, they make me sick.

"No," I said, tearing my eyes away from the disgustingly happy couple. "I'd rather pack my things tonight and head out in the morning. Besides, I'm eager to see how much the world has changed since before Volsog's gates closed." It wasn't a complete lie. I was only a hundred and some odd years old when Myva rose up and banished all non-­humans to a frozen hellscape. There is no telling how different the world looked after 600 years.

Her shoulders sank. "Right, I guess that makes sense. Damn, first Alexis flies off without so much as a farewell and now you."

"Not entirely sure we should mourn the loss of a murderous talking sword," Brie cut in.

Cinnamon shrugged. "I mean, she really only killed people we needed her to."

"So far," Brie replied.

"Don't worry, Cin, I'll be sure to drop by every now and then." I bid everyone farewell and headed into my quarters below deck. Packing wouldn't take long. I had little to my name aboard the Banshee. Any time we went out pirating, I took my share of loot and warped myself back to my castle in Volsog with the power of my Hearthstones. If I left one Hearthstone in the place I had last been, traveling back and forth was always an easy endeavor. So long as no idiot entered my quarters and took the stone from under my bed. Thankfully, no one on the ship was foolish enough to incur the wrath of a dragon.

I threw my sack onto the bed and knelt down to retrieve my stone. The smooth rock felt cool to the touch. Its travel rune was etched in glowing blue letters along the flat side of the rock's face. I turned to toss it into the sack then reared back at the sight of something darting across the sheets.

My back hit the wall and my horn scraped a gash into the woodgrain. A pure white kitten jumped out from behind my pillow. The tiny creature let off a loud yelp before rolling over onto the sheets. I cursed, irritated. That damn cat could be so unsettling. A slow burn set off behind my eyes and I rubbed my temples to ease the pain.

Every other day the little furball would find its way into my things, leaving me with white fur-­covered clothes and a sharp headache. I didn't even know I was allergic to cats. Maybe I wasn't. Maybe it was just that little monster in particular.

Rebekah gave off another yowl before trying to claw my bag. I snatched it away from her and shooed the beady-­eyed thing off my bed. Not that I didn't like cats, most of them never bothered me. There was just something about the way this cat stared directly into your soul that left me unsettled.

I opened the door to my cabin and shouted for Baraku to come get his pet. The orc barreled in from the deck above and thundered to a halt next to my door. He ducked his head low and snatched the kitten from the floor. "Sorry about that, my lord; not sure why she's taken such a shine to you." His hands trembled as he spoke. The motion irritated the beast in his grasp and she let off an angry snarl and then bit his hand. Baraku flinched but didn't let her go.

"You don't need to call me lord. This isn't even my territory." I sighed and rubbed my temples again. Most of the other demons on the ship were used to Fallon's and my presence. At least enough to drop the formalities. Yet, anytime I spoke to Baraku, he'd end up a shivering mess until he found a way to excuse himself. One would think that after a year it would be obvious that we didn't intend to kill and eat everyone on board. "It's fine, just make sure she stays out of my things for another night. I'm leaving in the morning and don't need the extra stress of a headache."

He nodded frantically and shuffled off with his pet. Rebekah's unblinking beady blue eyes poked over his shoulder and watched me as she was carried off.

Such a creepy little thing.

Chapter 2

Cherry

Drowning was getting real old. The familiar rush of panic lit pin needles under my skin. I clawed at the mud of the bank and felt hard grains of soil between my fingers, but I might as well have been grabbing at the sands of time. Searing pain shot through my knee as the creature twisted my leg and pulled me further into the water. I cried out for my sister, as I always did, but the words were torn away in a cloud of bubbles when murky water filled my lungs. Through the haze of thrashing water and pain, I could see Cinnamon dive in after me. She reached out and, for a fraction of a second, hope bloomed in my burning chest. Our fingers brushed, and I kicked harder against the beast in a feeble attempt to grab hold. But, as always, Cin was just out of reach. With another forceful pull, the dog-­like creature shredded any hope of salvation.

Screaming echoed against the stone walls of my tower. I lurched out of my sheets with a start, then promptly fell on my face when the fabric tangled around my legs. Not a great start to the day. Sighing, I kicked myself free and stumbled over to the wall, picked up my stone and gave it another scratch. One more tally to mark the never-­ending monotony of my captivity. Five years' worth of scratch marks stretched across the rounded walls before arching over the large window overlooking the sea.

Menacing-­looking waves crashed against the rocky bank of my captor's island. No matter the season or time of day, the surrounding sea never let up its harsh assault against the shore. Or, at least, that's how it was ever since I attempted to escape by raft four years prior. When I first arrived here, I could have sworn the waves weren't that violent. Then again, I'd been stuck here for years. It was entirely possible that I was simply going mad.

Chilly morning breeze sent chills down my arms as I sat on the windowsill. "Good morning, asshole," I called down to the dragon below. As expected, the scaly blue dickhead didn't respond. Or move, for that matter. Day in and day out, the massive creature remained coiled around the base of the tower. Leaving just enough room at the front door for his little frog-­like minions and me to slip through. For the most part, my captor didn't mind me wandering around the island, but if the tower was empty too long, he'd come running.

It was kinda funny in a way. When I was a little girl, my ma used to read me stories every night. Some were epic adventures with high stakes and exciting twists while others were of princesses trapped in towers guarded by fierce dragons. The pitiful princess would be stuck inside all day pining for her Prince Charming to come and save her. I always hated those princess stories. I couldn't imagine why the lazy thing didn't just get up and leave. Ironic, since I was now stuck in that same situation. Turns out, when a dragon holds you hostage, he doesn't just let you get up and leave.

Who knew?

The sound of pattering feet in the kitchen below alerted me that Amanda, the head frog, had already started on my breakfast. I had no idea if her name was actually Amanda, but it felt rude to keep calling the creature that cooked for me 'frog 1'. If she minded the name, she said nothing. Well, in common tongue anyway. She and the others did a lot of croaking I couldn't understand. They could be calling me every curse in their froggy language for all I knew. It's not like I did much else but insult their lord and pitch fits when my escape attempts fell through.

Freeing my hair from its wrap, I snatched up my comb from the dresser next to the window and began the morning ritual of styling. A few hair supplies, travel rations and a change of clothes was all I had in my satchel the day I was taken by that water monster. It was better than nothing, but – hot damn – the crimes I would commit for a freaking book.

"I'm thinking of bubble pigtails today. What do you think?" I called down to the dragon, knowing I'd never get an answer. Yet hurling insults and one-­sided chats at him was the only conversation I ever got in this place. It had only taken about a week of silence until I had begun talking to myself like a madwoman. Then to the walls, then to the dragon, then I tried imitating the croaks of the frog people I'd seen skittering about. Judging by the angry hisses I had got in return, they did not appreciate my efforts.

The dragon below remained as silent as stone. With any luck, he was finally dead and I could leave. Unless the frog people were forcing food into his mouth, there was no way he'd eaten in the last few weeks. The damn dragon did little else but sit around and sleep. Which, I guess, was better than him trying to eat me. But it still made me wonder why he even cared if I escaped. Thwarting my attempts at leaving his island was the only time I'd ever seen any pep in his step. Well, that and the time he murdered a kraken that got too close.

If I were to try another escape, the crashing waves would still be a problem. It wasn't much, but at least the raft I was building was twice as sturdy as the haphazard ball of twigs I had tried the last time. If I played my cards right, and used up every bit of luck I had, it might just be able to make it out to sea where the sailing would be smoother.

Twisting the first bubble of my hair into a gold hair tie, I reached for another band and contemplated finding a stick to poke that dragon with later. If he didn't move, then I'd try finishing up my new raft.

On clear days like this one, I liked to imagine my home just beyond the horizon. With fall well underway, the trees lining the lanes of my family's farm would be a sea of yellows and reds, lighting up the canopy in a blazing display. My siblings and I would fight over who grew the largest pumpkin before we harvested the seeds into salty treats. Cumin always won. But we tried to beat him every year, anyway. As soon as I found a way back, I'd twist his arm until he told me what witch he paid off every year to make his crop grow so fast.

Glancing around my room full of scratched up stone, I finished my hair with grim determination. I'd try again today whether or not that damn beast was alive. I would not die stranded on this fucking island. There wasn't a cloud in the sky and the weather was perfect for sailing. I closed my eyes and took a deep breath, willing the Fates to grant me favor. "Please let today be the day. I don't care what it takes, just let me leave this place."

Yet when I opened my eyes again, the Fates had looked down on my plea and said 'fuck your feelings'. Angry-­looking gray clouds spilled over the sky, dashing my plans onto the sharp rocks of the cove.

"Are you kidding me?" I screamed. The encroaching storm rolled closer to the island at a threatening pace. Streaks of lightning followed by booming thunder.

"Fuck my life." I swung myself off the window and pulled on my boots. A storm like that would rip my raft to shreds if I didn't get it covered in time. The weather had been completely cloud-­free the past week. In my hubris I'd left the raft outside of my hidden cave to make it easier to work on, only covering it with a pile of banana leaves in case one of the dragon's minions passed by the area.

As I stood up, my life flashed before my eyes as my feet caught on the long fabric of my nightgown, almost sending me headfirst down the stairs. I grabbed the railing and took a deep breath. "Slow," I told myself. "Stairs are evil and out to get you."

Having second thoughts about going outside in a storm in my nightgown, I threw it off and traded it for a simple gray blouse and my favorite green skirt. It was my only skirt, as it was the one I was kidnapped in, but that was beside the point. I sped down the steps and bid Amanda good morning, before rushing out the door.

The dark blue of her cheeks puffed out before an angry croak in my direction. Pausing, I glanced back at the frog-­woman to see her point her spatula at a spread of grilled fish and fruit.

"Amanda, I'm kind of in a hurry."

She slammed the spatula on the counter with a loud slap. Amanda was a menacing little thing that stood three feet tall with a temper just as short. The sharp, dark blue barbs jutting from her elbows promised a venomous sting I had no intention of experiencing. It was anyone's guess if she tasked herself with the job of feeding her master's captive or if she simply had drawn the short end of the stick. But gods help me if I ever decided I wasn't hungry. In my first year here, I had tried staging a hunger protest. I'd proudly declared my refusal to eat to the dragon, hoping he'd have a heart and take me home, rather than see a woman starve.

He didn't.

My grand protest lasted an hour. Then Amanda kicked open the door to the tower brandishing fish skewers like blades. The memory of her cold frog-­hands shoving fish in my mouth will haunt me for the rest of my days.

"Alright, fine!" I hissed. With grace and civility, I crammed handfuls of food into my maw before rushing back out the door. "Thanks for breakfast," I called back, then whispered to myself, "Bossy little dart frog." A wooden spatula flew past my head, nearly severing one of my pigtails.

Note to self: frog-­people have surprisingly good hearing.

Outside, the roar of thunder grew closer as the wind picked up around me. Slowly, I maneuvered around the wall of blue scales before jumping over the frilled tail of my captor. When the dragon didn't rear his head to rush me back into my keep, I tiptoed to the small path heading toward the beach, then took off running. Sand whirled up around me as the storm finally closed in on the island. In the distance, I could just make out my raft under the pile of leaves. The leaves shook violently against the rocks weighing them down.

White blinded my vision as lightning struck a nearby tree. The towering eucalyptus snapped, knocking into a handful of other trees before they came crashing down toward the mess of leaves hiding my raft. Panicked, I ran faster to find that the giant tree had barely missed the raft. "Oh, thank cheese and rice," I sighed.

As the wind howled, a banana leaf slammed into my face, knocking me on my ass. I sputtered and batted away the offending leaf just before another swirl of wind blew away the rest of my raft's cover. The sail I'd fashioned out of old blankets caught against the harsh gusts and blew open. In an instant, the wind lifted the raft and began sliding it out of the bushes toward the water.

"Oh, no you don't!" I screamed, diving onto the raft. My weight did nothing to slow the damn thing down. Ice-­cold water splashed against m. . .
We hope you are enjoying the book so far. To continue reading...
That Time I Got Drunk and Saved a Human
Kimberly Lemming
Copyright © 2023 All Rights Reserved