Shunned: a dark bully romance
Book info
Sample
Audiobook
Media
Author updates
Lists
Synopsis
I should have kept my mouth shut.
I should have let them win.
Now the kings of the school are out for my blood,
... and they're not the only ones.
The fire took everything.
My parents. My best friend. My life.
Now I have a second chance.
I only have to endure one year at this prestigious academy for rich snobs.
One year of being the charity case no one wanted.
One year of taunts and insults and bullying. Then I'm free.
But I didn't count on Trey, Ayaz, and Quinn.
Arrogant, privileged, dangerous.
Drop-dead gorgeous.
They want me gone.
They want me to suffer.
They're determined to make my nightmares real.
Tough luck, bully boys – I won't hide away.
I'm not afraid.
But maybe… I should be.
HP Lovecraft meets Cruel Intentions in book 1 of this dark paranormal reverse harem bully romance. Warning: Not for the faint of heart – this story of three broken bad boys and the girl who stood her ground contains dark themes, crazed cultists, books bound in human skin, high-school drama, swoon-worthy sex, and potential triggers.
Release date: May 21, 2019
Publisher: Bacchanalia House
* BingeBooks earns revenue from qualifying purchases as an Amazon Associate as well as from other retail partners.
Listen to a sample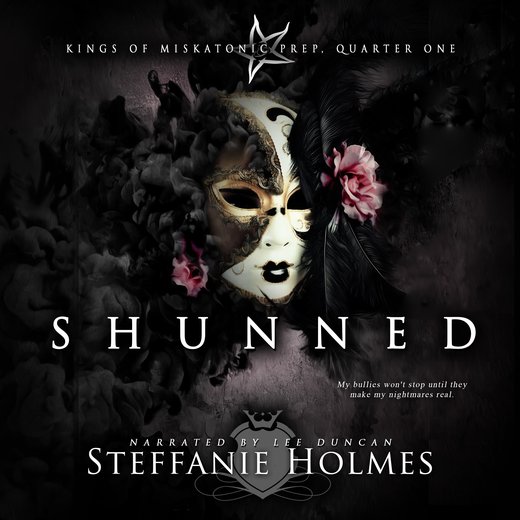 07:32:20
207.07 MB
9781094200224
November 2, 2019
Bacchanalia House
Shunned: a dark bully romance
Steffanie Holmes
CHAPTER ONE
Who the hell builds a school on top of an inaccessible cliff?
Whoever built Derleth Academy, my new school. I answered my own question as the car's wheel skidded over the rough gravel on the way up the steep peninsula. A scream escaped my lips as the car lurched toward the edge of the cliff, one wheel spinning completely free.
Muttering under his breath, the driver for the school slammed the car into reverse and backed us onto the road before slamming on the gas again. We continued our wary climb along the narrow gravel path.
Surely the Academy can't be completely cut-off. The school had to bring up food and supplies. Parents must visit on the weekends. My driver was certainly giving it his all, tearing around the corners like he was on a Formula 1 racetrack and not a goat path hugging the side of a mountain. I gritted my teeth and gripped the back of the seat as rocks rolled from beneath the wheels and clattered over the sheer drop into the raging waters below. One wrong move, and we'd tumble down a two-hundred-foot cliff and be dashed against the cliffs so hard and fast that boats would mistake our remains for rock paintings.
Not the way I ever imagined I'd go.
We passed into thick vegetation, the cliff and ocean on one side giving way to looming trees that blocked out the grey sky. I let out the breath I'd been holding. Branches scraped the sides of the car, and my phone beeped with protest as we moved out of cell range. No contact with the outside world, the school brochure read. At Derleth Academy, we foster a competitive academic program requiring the full attention of our students. Distracting technology or personal items will not be tolerated.
In other words, I couldn't call for help. It was the opening sequence to every horror film, ever.
Not that I had anyone to call. Not anymore.
"Almost there," the driver said, swinging the car around a hairpin corner and launching my stomach into my throat. It was the most words he'd spoken to me the entire trip. "You can see the school through the trees."
I squinted into the forest, trying to make out some kind of building that might pass as a school. But I couldn't see a thing. We rounded another corner and—
Well, that's terrifying.
We rolled between two towering stone pillars obscured by creeping vines, past an ornate sign that read DERLETH ACADEMY. A wide, pristine concrete drive flanked by an avenue of towering trees and wide, manicured lawns led up to an imposing stone building, stretching in all directions with narrow arched windows, spiky towers, and a row of leering gargoyles along the roof.
What is this place? It looked more like Dracula's castle than a prestigious preparatory school.
I couldn't believe the wealthiest people in the country sent their children up that winding road to get educated. Who's the headmistress, Morticia Addams? But according to the brochure, that was exactly what they did. In droves. Derleth Academy had a waiting list a mile long, and you couldn't even pay to get in. You had to be invited.
Somehow, I, Hazel Waite – an overachieving orphan from the wrong side of Philly – ended up on their radar.
I flashed back to the day two weeks ago, when a banging on the door of my dingy apartment dragged me from a deep slumber. A woman with coiffed hair and a designer suit that cost more than a car staggered backward in surprise when I glared at her through the chain wearing only my pajamas and what must have been a terrifying scowl. Well, she wasn't the one being dragged from a pleasant Jason Momoa sex dream during the four-hour reprieve between night shift at the diner and cleaning rooms at a retirement home.
"Are you Hazel Waite?" she asked, her brown eyes wide and curious.
"No. Piss off." I glowered, slamming the door in her face. She was probably from CPS, trying to force me into foster care. Fuck that. I only had seven more months to survive before I turned eighteen. No way was I going to spend it in the hell that had killed Dante.
The woman didn't go away. She sat out on the road in her sports car and waited me out. I had to leave for work or I'd lose my job, and it wasn't easy to find work when you were underage and using an obviously fake ID. As soon as I left the house, she ambushed me.
"I'm not here to hand you over to the authorities," she said hurriedly, shoving a thick envelope into your hands. "I'm a scholarship administrator from Derleth Academy in Arkham, Massachusetts. Your current school put you forward for one of our four senior scholarship positions – a fully funded year at a first-class prep school, where our students go on to attend the top colleges in the world. I know the first quarter has already started, but it's taken me this long to track you down. You've only missed a week so far."
I stared at the envelope in my hands, at the red, black and gold school crest – a crooked five-pointed star inside a shield with some kind of Latin phrase beneath it. This has got to be a joke.
"I know what you're thinking," the woman said. "It's not a joke or a trick. I promise you that it's not. If you come to Derleth, we will assume guardianship duties until you turn eighteen. You'll be housed, clothed, and have all your schoolbooks and other needs met, as well as receiving a first-class education. You're a promising student, Hazel, and I know you've been dealt a cruel lot in life. This could be where you turn everything around. Don't answer me now. Read over the paperwork, and I'll return tomorrow for your decision."
And now, just ten days after I signed my soul over to this school in exchange for paid tuition, room, and board, I stared up at the imposing facade and wondered if I'd made a terrible mistake.
Sure, my life was miserable. I was drowning in grief, and even working two jobs I could barely pull in enough money to survive. College was out of the question, because I couldn't finish high school without going into foster care. But at least all that was familiar territory. That was the world I'd grown up in – the world of pain and struggle and loss. Derleth Academy was the exact opposite. Every element of this building screamed wealth and privilege and you don't belong here.
The driver pulled to a stop on the wide circular drive beside a towering stone fountain. A black woman in a drab grey smock darted out of the shadows of the porch and approached the car. I held my hand out to her. "Hello, I'm Hazel Waite—"
The woman ducked her head, avoiding me. She popped open the trunk, hauled out my heavy suitcase and bookbag, and hurried off to the house with them before I could offer to help.
Weird much? I swiped a dreadlock off my face. My friend Dante's foster sister had done them for me last year, back when things were perfect and the most I had to worry about was whether my mom would ground me for getting dreadlocks.
An awful feeling twisted in my gut. I wished Mom was here, hating my dreads, right now. But she was gone, gone, gone, and so was Dante, and it was just me and this terrifying school and no other options.
Three figures descended the grand stone steps toward me: A woman with translucent skin and a flowing black dress, flanked on either side by two students wearing the Derleth uniform. Fallen leaves skittered away from the woman's hem, and she moved with such poise that she appeared to float over the steps. With her severe features and a gauzy black ribbon pinned in her hair, she looked more like she was attending a funeral. Behind her, the two students – a guy and a girl – glared at me, distrust emanating from their every pore.
The woman stopped on the second-to-last step, peering down her nose at me as if I were a bug that wasn't even worth squashing. "You'll have to do something about that hair. We enforce a strict dress code in my school, Ms. Waite. I'll not have you flouting it on your very first day."
This must be the principal, Hermia West. My Morticia Addams guess wasn't far off. This woman looked like she drank the blood of students to sustain her beauty. The way her grey eyes stabbed right through me sent a cold shiver through my body.
There was nothing in the student handbook about dreadlocks. Although, of course, I'd only skim-read the thing on the bus from Philly. The handbook was boring. And long. "I'm sorry, Ms. West. I didn't know—"
"Ignorance is no excuse. That's 3 demerit points for you. And you're to refer to me as Headmistress."
Beside her, the boy sniggered. I turned my gaze to look at him, and my heart nearly stopped. Wow, he's beautiful. I had no idea boys that hot existed outside of magazines and Hollywood movies. He stood practically the same height as Ms. West, his broad shoulders accentuated by the tailored cut of his red-trimmed blazer. Prefect and merit badges decorated both lapels. Dark brown curls caught the grey light filtering through the clouds, throwing back beautiful shades of russet and silver. His clean-shaven face and high, majestic cheekbones appeared angelic, but his ice-blue eyes were cold and cruel.
The girl moved closer to him, touching his arm and shooting me a possessive glare, like a cat in heat. She had the appearance of a cat, too – slanted green eyes accentuated with heavy makeup, pointed chin, and the lithe body and long legs of a panther. Beautiful but deadly.
"This is Trey Bloomberg and Courtney Haynes," Headmistress West said. "I've appointed them as your student guides. They will show you the dorm, library, and dining hall, go over your schedule and classrooms, and ensure you understand all our rules. You will dine with the student body in two hours' time, and tomorrow you begin classes. I've had a copy of your schedule and the school handbook placed in your room. Memorize them, for failure to comply will result in further demerits. Here's your dorm room key."
In my pocket, my phone gave another defiant chirp. Great. I'd practically worn down the battery looking for a signal on the death road.
Headmistress West descended the last step to drop an ancient-looking metal key into my hand. Her pointy black boots lined up with my scuffed Docs. She loomed over me, her disapproval seeping into my bones. "You have a phone in your pocket." It wasn't a question.
"Yes."
Behind her, the boy smirked. I felt naked, exposed. My legs itched to make a run for the woods. Headmistress West held out her hand, unfurling long fingers topped with red-painted nails, the tips pointed like talons. "Hand it over. We don't allow outside technology on campus."
Instinctively, my hand flew to my pocket. "I won't use it to call or text. It doesn't work here, anyway, so what's the—"
"Ms. Waite, failure to obey a teacher's command is an automatic loss of 10 points. You seem most anxious to find out what punishments await the students at the bottom of the class list."
A lump rose in my throat. My phone contained photographs – snaps of my mom smiling demurely or brushing her hair in the mirror before she went out to work at the strip club. Of Dante and I hanging out around the neighborhood, smoking on the rusted playground beside his house, tagging the concrete wall behind the boxing gym on the corner. Every other one of my possessions had been destroyed in the fire. Those photographs were practically all I had left of them.
Trey and Courtney covered their mouths with their hands, barely disguising their laughter. Courtney leaned over and whispered something to Trey. They both cracked up. Despite myself, my cheeks flushed. Better get used to this.
Headmistress West, of course, ignored them. She wasn't backing down on this phone thing. My fingers closed around it, the comfortable weight of it in my hand reminding me that it was one of the last connections to my old life.
What does it matter? They're gone. Looking at their photos won't bring them back. But this school could be the only chance I have at a real future.
My hand trembling, I dropped my phone into her talons. As soon as it left my hand, I itched to get it back. Headmistress West slipped the phone into a fold of her dress, where it disappeared from sight.
"Follow me." The headmistress swirled on her heel and floated up the stairs. Numb, I fell in step behind her. Trey came up beside me. His arm brushed mine, and a jolt of warmth rocketed through my body. I dared a look up at his face. As we moved into the shadow of the porch, the colors in his hair changed, becoming a deep brown and blood red. A curl flopped over his eye, and I noticed flecks of silver on the edges of those arresting blue irises. My fingers itched to reach up and swipe that curl off his face, to touch his smooth skin, feel his cheek move beneath my fingers, to cut myself on his cheekbones. A familiar longing pooled in my stomach, an ache that I'd never been able to sate before, and now never would.
I'd never seen a boy that perfect.
Trey's fingers brushed me again. My breath froze in my mouth as his hand lingered on my elbow. To anyone looking at us from a distance, it would appear as though he was helping me, steadying me up the steep steps. The touch on my skin was white-hot, lighting up parts of my body that hadn't felt anything since Dante… since before the fire. How can this boy with such cruel eyes have this effect on me?
When he caught me looking, Trey's perfect lips curled back into a sneer. His fingers tightened on my arm, squeezing my skin. Tighter, tighter, until he was cutting off circulation. I yelped in protest.
"You don't belong here," he murmured, his perfect lips forming hateful words. "You should leave now."
He said it so casually, like he was chatting about the weather, and that self-satisfied smirk never left his face. My stomach twisted, the air driving from my lungs as though he'd punched me.
"No thanks," I said brightly, pretending that I misunderstood him. "I'm good."
"We don't want you, and we're used to getting what we want. We're going to eat you alive, new meat." Trey flashed me a smile that was all teeth and violence. The venom in his eyes frightened me. This is not a guy to mess with.
Too bad he seemed to already have it out for me, and I hadn't even got inside the school yet. My plan to keep my head down and stay invisible fizzled before my eyes. Already I could see how the school year was going to play out. We don't want you here. Trey spoke for the entire student body. He was a King in this school. It was written in his smile, dripping from the menace in his words.
I'd pissed him off. Just by existing. Just by setting foot on the hallowed grounds of his kingdom. Well, fuck you, Trey Bloomberg. I could handle a year of insults and loneliness if I got my diploma at the end of it. My life was already hell on earth – if Trey Bloomberg thought he could break me, he'd have to try a lot harder.
I wrenched my arm away from us. "Don't touch me." Behind us, Courtney giggled.
"Yeah, Trey. You should know not to handle garbage. She's a gutter-trash whore who's probably fucked so many guys that your dick wouldn't even touch the sides."
The comment stung. I thought of my sweet mother, all candy smiles and sticky skin as she stripped off her sweat-soaked lace g-string and six-inch heels after her shift and pulled on the cloud-pink pajamas I found for her in a thrift store. A hard lump rose in my throat. I shoved the image aside. Not now.
Wait until you get to your room, until you're alone, then you can break down.
"I guess we're not going to be braiding each other's hair," I muttered to Courtney.
"I wouldn't touch that rat's nest on your head if someone hid a Faberge egg inside," Courtney sneered. "I bet it's got real eggs in it, though. Insect eggs, laid by the gross things crawling around in there."
Instinctively, my hand flew up to my face, to touch the dreadlock that always fell over my eye, to tuck it behind my ear – a gesture that Dante would so often do when he noticed my dreads in my eyes, which was all the time because I liked them unruly. Ever since the fire, I'd been touching my own hair more and more, seeking the comfort of the familiar weight of a hand moving the dreads. But it wasn't the same. It would never be the same.
Courtney wrinkled her face in disgust, while Trey continued to smirk at me. The force of his loathing sank my stomach to my knees. He didn't even know me, but it didn't matter.
At the top of the stairs, the headmistress turned and frowned at me. "Don't dawdle," she snapped. "The school doesn't bite."
"She's wrong," Trey whispered. "Are you ready to find out just how bad we bite?"
The lump of hard, bitterness burned at the back of my throat. They were right. I didn't belong here. I was the poor gutter-trash girl from the wrong side of the tracks, and they were royalty. They were the monarchs. They're going to make my life miserable, and there's nothing I can do.
CHAPTER TWO
I followed Headmistress West beneath a pair of towering wooden doors into an enormous atrium. You could fit my entire Philly apartment building into this one room. Diffused light poured from a stained-glass dome in the roof, projecting prisms of colors across the marble floor. I noticed the red glass in the dome formed the school's star-shaped crest. Hallways snaked off in both directions, and two sweeping staircases led to the second story. Glass French doors at the back of the atrium led into an enclosed courtyard at the center of the academic buildings and dormitories – open now, letting a cool breeze and a few stray fall leaves blow in. Class must've been in session, because apart from a man in academic dress crossing the upper landing and two black women in grey smocks polishing a gilt frame, the space was empty.
Headmistress West's shoes clopped across the marble floor, echoing through the cavernous space. She stopped in front of three enormous electronic boards in gilt frames that hung above the staircase. They flashed a list of names with numbers, some of which flicked up or down a few points. Trey Bloomberg was at the top with 1163 points. Two below him, after someone named Ayaz Demir with 1102 points, was Courtney Haynes, with 1051 points.
"These are the class lists," Headmistress West explained. "Every student is listed in their year, along with their current points total. Points are awarded based on academic excellence, distinction in extracurricular activities, and service to the school. Tardiness, rudeness, and behavior unbecoming of Derleth's reputation will result in a loss of points. Teachers can give or deduct merit points at any time, for any reason. Your ranking will not only determine your place in the final end-of-year list, but throughout the year your ranking will determine rewards you receive, as well as punishments or privileges withheld for falling below certain thresholds. Here, we teach our students that all actions have consequences, and that their hard work offers tangible rewards."
Oooo-kay. At my old school, we also had a class list. I was always the top. Only, students didn't see that list until the end of the year, and it couldn't be affected by how well you played sports or your phone usage or how you styled your hair. Our faculty was too busy worrying about kids bringing knives to school and gangs selling drugs in the cafeteria. At Derleth, I'd get a reminder every day as I walked past the boards exactly where I fell in the hierarchy.
Also, how can Trey have over eleven-hundred points already? It's only three weeks into the quarter, and he doesn't exactly look like a teacher's pet.
Succeeding at Derleth already felt impossible, and I'd only been here twenty minutes. I scanned the list for my name, but before I got halfway down, the headmistress nodded to Trey. Without saying another word to me, she whipped around and hurried away, disappearing into a small door beneath the staircase labeled Faculty Only. I winced as the slamming door shattered the vast and silent space.
A hand grabbed my shoulder. "You're ours now," Trey whispered against my ear, his voice soft, menacing.
I hated the way my body reacted as his touch, to the tickle of his breath against my skin. My pulse quickened. A hot flush dropped through my stomach, scorching me between my legs. I chewed on my lip, forcing myself to remember that this guy hated me just because I existed, that his touch was meant to unnerve me, not excite me. "I told you not to touch me."
Trey whirled me around, pressing my back against the carved balustrade. His gaze swept over my body, his lips curling into a sneer as he took in every inch of me. Cut a girl some slack, man. I'd been traveling for twelve hours, first on a smelly bus from Philly, and then the final three with the school's driver on that wild road. My dreads were plastered to the back of my neck. My rumpled clothes – Dante's old basketball tank and my cuffed red pants – hung off my narrow frame in an unflattering way. My scuffed black Docs looked ridiculous next to his and Courtney's impossibly shiny dress shoes. Judging by the way Courtney sniffed the air and wrinkled her nose, I guessed that I smelled like a truck stop.
I sure do know how to make an excellent first impression.
"You need to understand a few things about your new school, Meat," Trey said, his casual tone making his words even more sinister. Lovely, I've already got a nickname. "Number one – my parents donate the money that pays for your place at this school. If it weren't for them, you'd be back in the gutter where you belong. You owe my family, and you owe me – don't ever forget that. Number two – no one wants you here. The adults might think it's a good idea to pretend to be good samaritans and lift some hopeless alley cat out of the gutter, but we know better. Trash like you is just going to screw up the curve and punish everyone. When standards slip, we all suffer, and since you're at the bottom, you'll suffer more than anyone. Number three, and this is the most important – I am this school. Courtney and I and our friends are the royalty. We're your Kings and your Queens, and you're the slave that licks our boots. You'd better start acting like it – your crackwhore mother should have taught you the best ways to pay reverence to your betters." He grabbed his crotch, his cruel laugh like shattered glass against my already battered defenses.
"And don't think about hiding from us or reporting to the teachers, because we have spies everywhere, don't we, Trey?" Courtney beamed, tossing her golden blonde hair over her shoulder. "We can see your every move, Meat. Hell, we can see into your darkest dreams and innermost thoughts. So be very, very careful."
"If you're trying to scare me with your horror film introduction, you've failed dismally," I retorted, yanking myself from Trey's grasp. "This is a school, not some fucking cult."
"Is that so?" Trey's lips curled back into a twisted smile.
"Yeah, it is so. You don't like me? Fine. I've known you for a couple of minutes and already you're off my Christmas card list. I'm not here to make trouble or get in the way of your fun. I'm not going to tattle to your daddy or wreck your prom. As soon as I have my diploma in my hand, I'm out of your hair. All this 'we own the school' nonsense is a bit over-the-top. It's a little pathetic, actually. Is it what you do to make yourselves feel good? Because personally, I'd just masturbate more. Especially you." I grinned at Courtney. "A few flicks of the bean would make you so much happier."
It turns out, rich bitches like Courtney didn't find masturbation jokes particularly funny. Courtney made a growling noise in the back of her throat. She lunged at me, but Trey held out a lazy arm and shoved her back. "Leave her," he said. "She's not worth losing points over. We'll get her in our own time."
Their eyes blazed at each other, throwing down a battle of wills. Courtney looked like she was going to argue with him, but she lowered her arm and stepped back. Probably practicing for when she's a submissive housewife, I thought, but wisely didn't say. Trey wrung his triumph from her with an easy smile that made my knees wobble. Above our heads, a bell clanged.
We hope you are enjoying the book so far. To continue reading...
Shunned: a dark bully romance
Steffanie Holmes
Copyright © 2022 All Rights Reserved