Book info
Sample
Audiobook
Media
Author updates
Lists
Synopsis
Don't go outside on Devil's Night.
I'm always the good girl. I never stand out. I follow the rules.
At Blackfriars University, there's one whispered rule: Stay inside the night before Halloween. Hide under your blankets and hope the Orpheus Society isn't the monster outside your window.
If they get you, you won't just be humiliated. They'll put you six feet under.
But I've screwed up.
I found bones in a shallow grave. Another good girl, just like me.
Now I'll do whatever it takes to get to the truth.
I'll catch the eye of the cruel aristocrat with a haunted gaze.
I'll tempt the dark priest with forbidden tastes.
I'll be their shameful little secret. Their plaything. Their sacrifice.
Maybe I don't want to be a good girl anymore.
Maybe it's time to break all the rules.
Pretty Girls Make Graves is a dark romantic suspense and part one of the Dark Academia duet. If you enjoy tales of clever heroines, ancient rites, secret societies, cruel princes and wicked priests, dusty libraries and decadent parties, twisted relationships and buried secrets, then prepare to enter the halls of Blackfriars University. You may not return.
Release date: November 10, 2021
Publisher: Bacchanalia House
Print pages: 370
* BingeBooks earns revenue from qualifying purchases as an Amazon Associate as well as from other retail partners.
Listen to a sample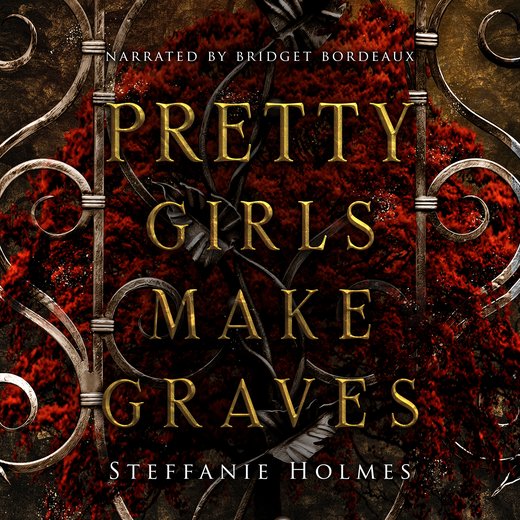 09:18:34
255.71 MB
9781669617815
February 1, 2022
Bacchanalia House
Pretty Girls Make Graves
Steffanie Holmes
CHAPTER ONE
Nothing shatters the magic of my first day at Blackfriars University quite like a naked priest swimming the backstroke in the water fountain.
Until the moment I come face-to-dong with Father Sebastian Pearce, I've been enraptured by this place. Blackfriars is everything my life in Emerald Beach, California was not – I love the gothic arches and ancient, cobbled pathways, the hidden nooks and lichen-covered stone fountains. I love the storybook British names and customs for everything. I love lining up with the other students in our black subfusc robes for the matriculation ceremony, and looking up at the blackened church spires piercing the grey sky.
And turrets. I adore the metric fuckton of turrets (a 'fuckton' is the only thing I can correctly measure using the metric system, but I'm learning) at my new university.
Blackfriars is all my Hogwarts dreams come true.
At least, that's how I felt this morning. But then I tripped on the uneven cobbles and tore my skirt, and then squirmed for two hours on a hard church pew while a dusky-haired priest performed the High Mass. In Latin. My initial enchantment gave way to boredom and a numb ass. I've never attended a High Mass before (or a Low Mass or even a Medium Mass). My sole exposure to the Catholic Church has been watching scenes from my father's horror movies, and they usually end in someone summoning a demon and getting their brains sucked out through their nostrils.
A little nostril-sucking might've livened up this ceremony.
Blackfriars University is very into religion. The campus used to be a Benedictine monastery before King Henry VIII went on a bit of a beheading spree. There's a whole story about the so-called 'Black Monk,' Benet of Blackfriars, who made a last stand against the king before the monastery was closed. Since it reopened as a school, Blackfriars has stubbornly held onto their Catholic heritage despite numerous attempts to convert it to Church of England. As far as I can tell, there's not much difference between the two churches except that a CofE matriculation ceremony would be five minutes long instead of three hours, and in English. And my father never made a movie about it – not demonic enough for his tastes.
Not that I spent my summer memorizing the school's history. Not at all.
Because that would be a dorky thing to do. The sort of thing the old George would do – the George who got straight A's and whose only friends were dead punk rock musicians. The George who ate her school lunches in a bathroom stall and never said two words to anyone in case they landed her with her head down a toilet.
And I'm not that George anymore.
New school, new country, new me.
I can be whoever I want to be. And if the students at Blackfriars – the most insane, over-the-top liberal arts school in the world – can't accept me, then I'll have a blast anyway.
That sounds depressing. I swear it's not. I'm so excited about this year.
All around me, students whisper to each other or stare at their phones as the priest drones on. I try to talk to the girl next to me, but she wrinkles her perfect nose as if I smell bad. I probably do smell bad. I arrived by train from London with only minutes to spare before the ceremony, so I haven't even been able to take my bag to my room before they called us to enter the church. So I stare straight ahead with my suitcase wedged awkwardly on my lap and think about all the classes I'm excited about this semester.
Not semester. Term. I'm learning the lingo.
We're finally dismissed, and I discreetly massage my numb ass as we shuffle outside. The main quad – Martyrs' Quad – fills with students, leaning against the historical fountain and snapping selfies with their friends. How do they have friends already? We only just got here. The porter barks at one group to get off the immaculate green lawn, but they ignore him.
"I don't know who he thinks he is, trying to tell Orpheans what to do," a girl scoffs to her friend as she walks past. They throw the lawn-ruining students an admiring look.
Now I'm curious. Orpheans?
There are ten of them – five guys, five girls – standing around on the grass and completely ignoring the porter as he hops about angrily and jabs his finger at the STAY OFF THE GRASS sign. I've never seen anything like them before, and I come from Emerald Beach, so I have seen a lot.
They look like characters from a story – some twisted gothic tale of crumbling estates and rich widows filled with longing. The girls wear floaty, calf-length dresses and blazers with the sleeves rolled up. The boys' trousers have pleats that could draw blood. Their tailored jackets and wing-tipped shoes drip with a certain kind of wealth and power. In Emerald Beach, if you're wealthy, you shove that wealth in everyone's face. But this lot look like they couldn't care less about fashion. They're pale with flushed cheeks, like they've just come from tending the horses or whipping a recalcitrant servant.
Two of the guys in particular stand out. One leans against the fountain, his arm slung casually around the waist of the prettiest girl. Angular and elegant, he has one of those petulant mouths with a full lower lip that my friend Claws would say is begging to be bitten, and eyes the deep blue of the ocean at midnight. The other, despite his starched shirt and black tie, has a kind of messy, sloppy look, with a mop of golden hair falling over one eye and a smile that might be called cheeky if not for the cruel twist at the edges. He takes a long drag from a cigarette and – with carbon grey eyes trained on the porter – grinds the butt into the grass with his heel.
The girl who called them Orpheans catches me staring, and breaks off into giggles.
I hurry away. The hope that's fluttered in my chest since graduation takes a beating. It's going to be exactly the same as high school. If people like that are the norm, I'm out of my league. Everyone here already knows each other. They met at their fancy boarding schools or yacht races or private clubs or wherever the fuck rich people make friends.
I'm on the outside.
Again.
But you know what? That's fine with me.
I squeeze the handle of my suitcase as I think about my best friend, Claws. I need to channel her attitude. She wouldn't give a fuck if no one liked her – but then, she runs a crime empire so she's probably not the best example.
It took me until senior year to make a single friend, and I left them all to come here. I left my mom, my house, the Brawley theatre – all the places in the city that remind me of Dad. And I deluded myself into believing things would be different. Despite its Catholic leanings, Blackfriars is supposed to be a bohemian, artsy-fartsy college. There's got to be at least a few kids here like me – the lonely, weird outsiders…
Yes, I know you want to hear about the naked priest. I promise I'm getting there. Existential crisis stuff first, okay?
I can't bear another minute in the quad, being the weird American who's laughed at by strangers. I know it's only in my imagination because I'm tired and raw, but it's ruining my new school buzz. So I do something I've never done in my life. I slip away into the shadows, and bunk off the orientation seminar.
Claws will be so proud.
As the students are being herded into the dining hall, I dart along a covered walkway, peering into the open doors of small lecture theatres and classrooms beneath gothic stone arches. Everything is so old and grand and cool. I wonder what kind of ghosts linger in these walls. My bright-red New Rocks make a clomping sound on the cobbles.
I pass under an archway and along a rose-lined walk into St. Benedict's Quad, thinking I'll head toward the college meadow for some fresh air, when I spy a narrow gap in the towering hedge. I step closer. An iron gate hangs open an inch, revealing a secret garden.
A covered walkway of gothic arches frames the hidden courtyard, which bursts with tall herb bushes and scraggly orange trees that obscure my view across to the other side. It's so different from the neat roses and manicured lawns of the rest of Blackfriars. There's something forbidden about it, something wild. Somewhere deeper in the garden, I hear water trickling and splashing.
I can't contain my curiosity. I push the gate open and step through.
The path steps down as I enter the courtyard. I breathe in the fresh, herby air, and feel some of the tension slip from my shoulders as I push through the overgrown—
Oh.
Oh.
My hand flies to my mouth.
A man floats on his back in the central fountain, spinning in lazy circles as the spray from the tip of Orpheus' lyre cascades off his chiseled body. And what a man he is – probably in his early thirties, and built like a Greek god. Everything about him glistens, like his skin is dipped in gold. His smoky black eyes contemplate the heavens, and his strong jaw is relaxed, his lips falling open in silent reverie. A smattering of ink along his abdomen draws my eye down to that lickable V of muscle, and below that, to a package that any god would envy. Heat flares in my cheeks.
He's so perfect it makes my throat hurt.
Beside the pool is a pile of clothes – a black shirt folded neatly on top of what looks like designer jeans and some chunky boots, and a white collar nestled on top.
It doesn't take a true-crime podcaster to figure out this guy is a priest.
A very naked, very hot, priest.
Turn away. Just turn away and run back the way you came and he won't even see you—
Too late. The man lifts his head, and his anthracite eyes widen as they see me. I expect him to flail about for something to cover himself, but he seems to sense it's pointless. I've already got an eyeful of the goods.
Instead, the corner of his mouth quirks up into an amused smile.
"Hello, there," he says.
It's the most anyone has spoken to me all day. His voice is rich and deep and friendly. It crackles at the edges, like a blazing, cozy fire. And that British accent…mmm…
Pity I'm about to be struck by a lightning bolt for having such thoughts about a priest.
I can't speak. My face burns with fifty shades of get-me-the-fuck out of here.
The priest flips over and dog-paddles to the side, resting his hands on the edge. "I don't suppose," his voice is so perfectly British, all clipped and fictive and wonderful, "you'd mind terribly passing me that towel."
I nod, still unable to form words. I pick up the towel from the corner and hold it in front of me like a medieval shield protecting me from the power of his peen. The priest pulls himself out of the water, swinging his legs as he dries his face. Holy father. Droplets roll down the Celtic cross tattoo over his heart, and my throat dries as I imagine licking them off.
Which is insane. That's not a George thought at all. That's something Claws with her three besotted boyfriends would say.
This must be what jet lag does to my brain.
"You came up today? You're supposed to be at the orientation," he says without shame as he rubs the towel in his hair. He has great hair, I notice. It's longer than I'd expect from a priest, down around his shoulders, with a little curl. It's dark like his eyes, and hopelessly disheveled. I'm a sucker for long hair.
And British accents. And sexy tattooed priests swimming in fountains.
I'm going to hell.
"I…I…"
He slides a pair of boxers over his hips. I'm transfixed by the material of his trousers as he pulls them on.
"The pool in the rec center is closed for renovations at the moment," he says, which I think is supposed to be an explanation.
I nod, as if it's totally normal to swim in a fountain instead of, say, going for a run instead. Maybe it is normal in England. I don't know.
"I'm Sebastian Pearce." He buttons his shirt, hiding away that beautiful ink. "I'm one of the dons here at Blackfriars. I believe you've had the pleasure of meeting my colleague, Father Duncan, at matriculation."
I manage to choke out some words. "Was he the old man chanting the lyrics to a Cradle of Filth song?"
He laughs at this, his whole face crumpling with joy. "We do love dead languages around here. And religion. There's a persistent rumor that a student will receive automatic graduation if they can recite the gospels from memory in their original Greek. And you are?"
"An atheist."
"Ah, excellent. I do love a challenge." He cracks his knuckles. "But I was actually asking about your name."
"Oh, it's Georgina. Georgina Fisher. But everyone calls me George."
"George. I love it. A nice British name. Well, George Fisher, if you ever need to talk about this harrowing experience, you know where to find me." He grins as he slides his feet into a pair of immaculately-shined dress shoes. "I mean, I'll be at the church, not usually in this fountain."
I swallow. "Right."
Silence stretches between us. He seems utterly comfortable with it, but I'm desperate to fill it so I don't keep picturing his body. "What do you teach?"
"History of Religion." He fixes the collar around his neck. With his sleeves rolled up to the elbows, I notice the tattoos on his arm depict figures from Greek mythology – Theseus slaying the minotaur, Cassandra witnessing the fall of Troy. He sees me staring at his ink. "Not just Catholicism. All the religions, new and old and everything in between. I'm only picky when it comes to the salvation of my own soul. Are you lost? Would you like me to walk you to the dining hall?"
I shake my head. "Not lost. I…I guess I was feeling a bit overwhelmed."
"It's hard being away from home, especially if your home is across the ocean." He makes it sound as though I've come on some epic quest, like Odysseus making his way over the seas from Troy, instead of drowning my nerves in daiquiris on the ten-hour flight. "I'll tell you what, I'll show you to your room and then you'll have a bit of time to get used to the campus at your own pace."
Sebastian walks me back through the secret garden to St. Benedict's Quad. It's no longer empty of people, and it takes us forever to navigate to the other side because he's stopped every few feet by senior students or fellow dons. Sebastian has a heart-melting smile and friendly words for every one of them.
We finally reach the opposite corner and head through another gothic archway into a quieter quad with another immaculate lawn and an ancient-looking stone well in the center. "This is Cavendish Quad. There are four staircases, and each one has its own scout, who cleans the rooms and looks after the students."
In the far corner of the quad, Sebastian introduces me to a stony-faced woman named Sally, who is my scout. "You're supposed to be at orientation," she snaps at me.
"George's train arrived late. She'll catch up on the details from the other students. You know what those lectures are like – most of it is self-explanatory. Dining hall hours, library usage, instructions for the laundry machines, how not to get recruited by a secret society with designs on taking over the world." Sebastian asks Sally about her new border collie puppy, and the woman's sour expression dissolves into smiles. Sebastian Pearce has that effect on people. I drag my suitcase up the wheelchair ramp, my cheeks flushing with heat. I can feel strands of hair whipping around my face and yup, my pits could knock out an elephant.
He's a priest. It doesn't matter what you look like or smell like because he's not interested in anything except your immortal soul.
"Goodbye, George Fisher." Sebastian's eyes twinkle as he takes my hand in his. My fingers tingle with the warmth of his touch. "I hope Blackfriars is everything you wished for."
Me too.
I stand awkwardly at the foot of the staircase, waiting for the scout to return from her office to give me the key to my room. As I watch Sebastian's perfect ass stroll back across the quad, I'm seized by an overwhelming and uncharacteristic urge to be reckless.
Before I have time to think about what I'm doing, I pull out my phone and navigate to the Blackfriars app, which lists my class schedule. I slide my finger across the screen, deleting 'Gender and Social History of Popular Music' from my schedule. I click another button to enroll in the 'History of Religion.'
Yup. Booked my one-way ticket to eternal damnation.
CHAPTER TWO
So, do you know what's not so excellent about turrets?
No elevators.
If I looked frazzled after my encounter with the naked swimming priest, by the time I huffed my suitcase four floors up the winding medieval staircase to my new room, I'm a disaster.
Sally leads me through a fire door and down a narrow corridor. It's littered with open suitcases, packing crates, clothing racks, and other bric-a-brac from students moving in. Everyone has so much stuff. My suitcase wheel catches on a pastel pink scarf.
"That's Hermès." A girl snatches the scarf from under my wheel. She's the only other person in the hallway. Everyone else is still at the orientation.
"I'm sorry. It was just lying there in the way—"
"Whatever, freak." She slams her door in my face. From the end of the hall, Sally motions for me to hurry up. I pick up my suitcase and hobble after her.
"Here's your room." Sally pushes open the door and shoves a keyring into my hands. It contains a swipecard and a stack of old-fashioned clunky keys. "As you'd know if you attended the orientation, we have formal hall every evening at 7PM, academic gowns required, but if you need to eat quickly you can grab something from the buffet from six. You've got keys to the art studios, but students aren't supposed to be there after hours without signing in, so make sure you sign in—"
I stumble in after her, taking in the room that will be my home for the year. Two walls slope under the eaves of the roof, creating some challenging angles within which some clever person has slotted two beds, two desks, a fireplace, and a bank of closets and bookshelves. Between the beds are a couple of threadbare armchairs beneath the dormer window.
I drop my suitcase and move to the window. I can see across Cavendish Quad and the athletic fields beyond to the edge of the wood that surrounds Blackfriars.
The bed nearest the door has already been claimed. It's covered in a pastel coverlet and a stack of matching pillows made from what looks suspiciously like real silk. Rows of shoes are stacked in the bookshelves, and the closet is stuffed with clothes, with several unopened cases littering the floor. I notice my bed has been shoved right up into the corner beneath the eaves, as far away from my roommate as possible without actually being outside on the roof.
"—gates and porter's lodge will be open from 7AM-10PM every day, and until midnight on weekends. If you need to leave the grounds after hours, use the large key to open the wicket—"
"Wait, what's a wicket?"
But Sally ignores me and keeps running off instructions without a breath. "—laundry facilities are in the basement, down the stairs from the junior common room. You'll need the square key to get in. Welcome to Blackfriars University. Don't make a nuisance of yourself and we'll get along fine."
She glares at me as if that ship has well and truly sailed, then flies out of the room, narrowly avoiding slamming into someone entering.
My visitor flops onto the bed. "Such a yawnfest. Laundry instructions? As if I'm a culchie who scrubs my own clothes."
She has a breathy, thick Irish accent and chestnut hair falling over her shoulders in luscious waves.
"Hello, I'm George." I extend a hand to her. It feels so weird and formal, but that's what everyone had been doing in the quad. "I guess we're roommates."
She stares at my hand like I'm an alien. "George is a boy's name. I ain't rooming with a boy."
"It's short for Georgina." I'm angry she's made me feel defensive of my name. My dad was the one who started calling me George.
"Well, Georgina," she trills in her musical accent as she picks up a fashion magazine and starts flicking through the pages. "I'm Keely O'Sullivan, of the Dublin O'Sullivans, and I'm delira and excira to make your acquaintance. We best lay out how this is going to work. I've taken the liberty of drawing out a line on the rug. This line denotes our respective territories. If I find a single item belonging to you on my side of the room or even touching my things, I will burn it."
"That's—"
"If I'm in the room, you will not speak to me. You will not play music or watch telly without headphones in. You will take your phone calls out in the hallway. If I have friends in the room, which will be often, you are not to address them. I don't want anyone to think we asked to bunk together."
"But I—"
"I'm only here because my skint parents claim they can't afford a single room for me, which is bollocks considering Ma's showing off her brand new nose." Keely set down the magazine and kicked over one of her boxes. I leaped out of the way to avoid being taken down by an avalanche of makeup. "Stick to the rules and we'll get along grand. But know this – I am going to be an Orphean, and if you stand in my way, I will crush your little Yankee heart under my Louboutins, got it?"
That's the second time I've heard that word today. The question is out of my mouth before I have the chance to regret it. "What's an Orphean?"
Keely snorts as she reaches for one of her boxes. "Christ on the cross, they've roomed me with a right culchie."
I also don't know what culchie means, but I'm not about to ask. I sink into my bed, staring at a spot on the wall behind Keely's head, in case looking directly at her is a hanging offense. At the foot of Keely's bed is a stack of rectangular objects covered in brown packing paper. I pretend I'm not watching as she slides a frame from its paper wrapping and holds up a painting above her bed.
I gasp.
I don't mean to, but it's beautiful. It's one of the most arresting pieces of art I've ever seen.
It's a study of the surface of water – ripples reflecting and refracting the light like a prism. I can practically feel the coolness lapping against my legs. The paint is so thick it stands up in stiff peaks and ridges, bringing the piece into three dimensions. The artist has made the water look perfectly translucent, and yet beneath the surface I can see faint, vaguely threatening shapes mutilated by the disturbances on the surface. Objects hidden but in plain sight.
"Did you paint that?" I ask Keely. She shoots me a filthy look, like how dare I suggest she have such talent.
"You mean you don't recognize a Windsor-Forsyth?" She makes a face. "How did you even get into this school?"
Perfect. She has high-fallutin' art tastes. I have a roll of punk posters and two pairs of scuffed New Rock boots. We're going to get along great.
I start unpacking my clothes into the two tiny drawers Keely left for me, wishing I could put on some music to break the uncomfortable silence. Outside, I can hear other students shouting and laughing as they fix up their own rooms. I've just built up the courage to try to make conversation with Keely again when there's a sharp rap on our door.
I jump up, welcoming the distraction and half-hoping it'll be Sebastian Pearce on the other side. But Keely elbows me in the ribs and gets to the door first. She fluffs her hair in the mirror before she pulls the door open.
"William." Keely throws her arms around someone and drags them inside. "It's been a whole week since I saw you. I'm upset with the movers. They broke the frames on two of my paintings. It's atrocious—"
As Keely talks at him, I take the chance to surreptitiously scope out her friend. I'm surprised to see it's one of the guys from the fountain – the one with the pouty mouth and azure gaze. In the dim lighting of our dorm room, his eyes appear smooth, calm – but I know that in the sunlight they take on a dappled quality, like the water in Keely's painting. Those eyes roam the room, darting over Keely's boxes before resting on me for longer than is polite. I shift under his gaze, and I feel this weird urge to look at the floor. Instead, I meet his eyes and try for a friendly smile.
"That's…" Keely waves her hand at me. "I forgot her name. She won't bother us. She's American."
She draws out the word American in a faux-Southern accent, like just the name of my country is an insult.
William smirks. His eyes follow me as I move to my desk and start pulling out my podcast gear. I won my scholarship for Blackfriars based on the success of my podcast (and with a little bit of help from my friend, Gabe), and even though I've been too busy to make a second season, you never know when inspiration might strike.
"…I couldn't bear to leave it with my parents. They're such heathens when it comes to art. Besides, you painted it for me. I wanted to keep my William Windsor-Forsyth close by. Will you help me put it up? Where's the best place for it, do you think?"
I dare another look over my shoulder. Keely's holding up the water painting over her bed. She moves it along the wall so it's beside the window. William flips through one of her textbooks, looking bored. He painted that? I try to see that haughty expression and aristocratic nose in a different light. Somewhere behind those chilly eyes is the soul of an artist.
"I don't do manual labor." William leans out into the hall and snaps his fingers. "Sally, you're required."
Sally pokes her head into the room. A hint of nervousness creeps into her voice. "What do you need, William?"
"Hang this painting," William says.
She looks up at him and tries a feeble smile. "Um…see…I'm really not supposed to let students make permanent holes in the wall. You'll need to fetch the porter and—"
"If Keely wants to hang a painting in the room she pays good money for, then she can hang a painting. You have a toolkit in that little ground floor hovel you call a room, I presume? Run along and fetch it."
Sally fixes him with a withering stare. No more special treatment for him. "That's not my job, you little shit, and I don't appreciate being spoken to like that. You may think you run this school, but you're not on my staircase, so you don't control me. Hang your own damn painting, your highness."
With a toss of her brown hair, she flounces off.
Okay, I officially have mad respect for Sally.
Keely tries to kick William in the arm. "Why did you feck her off like that? Now how will we—"
"I'll do it," I offer.
Keely whirls around to glare at me. "I told you not to talk to us."
I shrug. "Fine. But it's just hammering a nail into the wall. I have the tools in my bag. It's easy."
Dad always carried around a little portable toolbox wherever he went, largely so he could make his production team's life a misery by knocking holes in the sets on a whim. After he died I started to carry it around, too. It's tucked in the bottom of my suitcase. I dump my clothes in a pile on my bed (Keely visibly shudders) and pull out a hammer, nail, and stud finder. I go to climb up on Keely's bed, but she plants a hand on my shoulder and throws me back. "Don't you dare stand on my sheets in those filthy boots."
William snickers. I kick off my New Rocks, my cheeks burning. I'm already regretting my offer to help. I'm wearing a pair of red socks with little cartoon ghost cats on them, but after ten hours on the plane and four on the train from London, they're sweaty and smelly and gross.
I don't want to be gross in front of William Windsor-Forsyth, and I don't know why.
I hold up the painting against the wall. It's so large that I can barely keep it steady with my short arms. "Is here okay?"
"Perfect." Keely peers at her nails.
I lean the painting against the wall and reach for the stud-finder, running it along the wall until it beeps. When I've centered the painting on the stud, I unwrap a package of picture hooks, cursing as they fall through my fingers and scatter over Keely's bed. William shakes with laughter as I bend over to pick up a hook.
"You'd better pick all those up," Keely frowns.
You're welcome.
I hammer in the hook and hang the painting. It looks pretty straight, but I step back to check. A screw jabs into my foot and I jerk away, throwing myself off-balance. I wobble, then fall, and I throw out my hands to the nearest object to save myself from dashing my brains open on the corner of the closet.
The nearest object turns out to be William, who curses as my full weight descends on him, sending us both crashing into the closet. His head bounces off the door with a CRACK and his elbow drives into my chest, knocking the wind out of me. I grasp at him as I struggle for breath. In my mortification, I discover my hand is resting on his crotch.
Wow. This guy could win a competition against the naked priest.
"Get off me. What the fuck?" William scrambles away, staring down at his crotch like it now has leprosy. Heat flares in my cheeks, and for the second time today I beg the earth to open up and swallow me.
"Are you okay?" Keely helps him to his feet, dusting invisible George germs off his blazer. "Americans are so crass, always throwing themselves at our royalty."
"She's practicing for her future job," William says in a bored voice, running his fingers through his hair. His hair is beautiful, too – a russet color with a hint of curl that looks impossibly soft to touch. Before my disastrous fall it had been immaculately parted on the side, but now it's all mussed up, so he looks like he just rolled out of bed. "Bowing and scraping."
My cheeks blaze with heat. Is he implying I should be a servant? Gross.
Keely links arms with William. "Is it time for a drink already? I'm parched."
"Don't you have to finish unpacking?" William's boredom has a hint of panic to it. "I'm supposed to meet Monty and Percy and the others, anyway—"
"I'll come with you. I can do this later." Keely nods to the frames stacked at the end of the bed. "Hang the rest of those while we're gone, there's a good girl."
William's laugh booms from the rafters long after they disappear down the staircase. I toss my hammer onto Keely's nightstand and slump on my bed, wringing my shaking hands.
What the hell just happened?
I desperately want to call Claws. I've been at Blackfriars for four hours and already I want to crawl under my bed and hide for the next three years. I long to hear her reassuring voice and the sound of Eli playing with their cats in the background. I want her to put Gabe on the phone so he can tell me about some obscure new German punk band he's discovered.
But it's mid-morning in Emerald Beach – when Claws is at work. And hers is not the kind of work that welcomes interruptions. What can Claws do from Emerald Beach, anyway? She'll rant and rave and threaten to have William and Keely murdered and I'll tell her not to worry and then I'll hang up and things will still be the same.
I still have to go out there and face this big, weird, scary school and its shitty peers and naked priests on my own.
CHAPTER THREE
Formal Hall is a new kind of hell.
When I read about the Blackfriars tradition of eating a three-course meal every night wearing academic dress with the college fellows sitting at the high table having lively academic discussions, I imagined it would be amazing.
And it's true that when I walk into the dining room I'm instantly transported to Hogwarts. This lofty medieval hall with its long banks of dark oak tables, ornate vaulted ceiling, and heavy gilded portraits adorning the walls perks me up a bit. There's a little magic in the air.
But the similarities stop there. For one thing, I see no floating candles or ghosts moving in the gilded portraits. For another, at Hogwarts even the dorky students had a place at the table, a house where they could sit and feel…if not accepted, then at least tolerated. But as I hover in the doorway, creating a traffic jam while I look for somewhere safe to sit, I realize I'm back in the school cafeteria and all its complex politics all over again. I don't have a table, and even though I know it's not true, it seems like everyone else does.
An elbow catches me in the side, and I stumble into the room. The seats are filling up fast. Just sit down somewhere, keep your chin high, look like you intended to sit there all along. I perch on the end of one of the long tables near the back of the room, hoping people will fill in the spaces around me. What a joke. As the flood of students entering slows to a trickle, there are at least five seats on either side of my table. I'm not just alone – I'm conspicuously alone.
Fine. Whatever. I like being alone, anyway. More elbow room.
But then William and Keely sit down at the table directly behind me with those other students from the quad – the so-called Orpheans? – and some other friends. Their group is loud and lively. I hunch down low in my chair, hoping they won't notice me, but God must've been getting even with me for perving at his clergy, because I hear Keely mention my name.
"She's the freak roommate they stuck me with." Keely proceeds to describe me throwing myself at William to peals of laughter from their friends.
I stare at my plate throughout the meal, trying not to react as globs of food pelt the back of my robe. Keely again. I thought I left that shit behind in high school, but apparently she finds it hilarious to fire her peas at me. At least the food is delicious. Roast beef and potatoes and gravy and minted peas and a weird savory cupcake thing I hear someone call a 'Yorkshire pud.' The drinking age in England is eighteen, so open bottles of wine are passed down the tables, and I'm offered a small glass of sherry with my dessert.
As I punch a hole in the center of my chocolate fondant and watch the gooey center pool out, the Master of Blackfriars rises to speak. He welcomes us with a short quote in Latin and breaks into yet another speech about academic excellence and the illustrious history of the school. I get distracted checking out Sebastian as he chats with the history don sitting next to him until something in the master's speech catches my attention.
"—new students need to be aware that October 30th, the night before Halloween, is Devil's Night. The university gates will be locked at 7PM. Students are to remain in their rooms throughout the night, unless they are off-campus, in which case they're not able to return until sunrise the following day. Staircases will be locked and the junior and senior common rooms, library, pub, and other amenities will be closed. For this night only, the wickets will also be locked and your after-hours keys will not work—"
His ominous words are drowned out by a quiet chant from the table behind me that grows louder and louder until every head in the room is turned to them. I dare to twist my head to the side, straining out of the corner of my eye as William and his friends beat the table with their forks and yell a word that sounds like 'Cake-o-daimon-istee,' which has to be Greek or Latin or Orcish or something.
Beside William, the big guy with carbon-grey eyes and messy blond hair beats his fork on the table with such wild glee he gorges divots in the surface. A waiter hovers behind him with six dessert plates perched precariously in a silver tray, but doesn't dare make a move to finish his duties.
I expect the master to tell them to shut up, or the proctor to break up the group and administer fines for the disturbance. Surely in a school like this, with all its weird rituals, they don't allow interruptions during Formal Hall?
"Cake-o-daimon-istee!"
"Cake-o-daimon-istee!"
Maybe they just really like cake?
It goes on and on until the Master gets flustered and sits down. A cheer goes up from William's table, and then the entire room resumes their conversations as if the weird chanting never happened.
What the fuck was that?
After dessert, students trickle out of the room in groups. I gulp down the last mouthful of chocolate fondant and scramble for the door. The snickers rise from the table behind me, and I know they're laughing at the peas and gravy splattered down the back of my gown.
That settles that. I'm never going to Formal Hall again.
As I hurry across Martyrs' Quad, I type 'Cake-o-daimon-istee' into Google. It corrects to Kakodaimonistai, an ancient Greek word that literally translates into 'worshippers of the evil deamon.' Apparently, it was the name of a supper club in ancient Athens where members met to discuss politics. They chose the name specifically to mock the gods and the customs of Athens.
I know schools like this have elite societies, and the term 'supper club' is so beautifully British that I assume all they do is sit around talking about literature and eating pudding. Which sounds like the perfect Saturday night to me.
But that creepy chanting? And the whole school going into lockdown on Devil's Night, of all nights? What's that about?
I peer up at the looming hulk of Blackfriars cathedral. The bells strike ten o'clock – their tone a melancholy menace dragged up from the throat of the dark and brooding spire. A chill rolls down my spine that has nothing to do with the crisp night air.
What the hell happens on Devil's Night?
We hope you are enjoying the book so far. To continue reading...
Pretty Girls Make Graves
Steffanie Holmes
Copyright © 2023 All Rights Reserved