My Stolen Life
I'm a poor little rich girl with the stolen life. I'm here to tear down three princes, before they destroy me.
Book info
Sample
Audiobook
Media
Author updates
Lists
Synopsis
Psst. I have a secret.
Are you ready?
I'm Mackenzie Malloy, and everyone thinks they know who I am.
Five years ago, I disappeared.
No one has seen me or my family outside the walls of Malloy Manor since.
But now I'm coming to reclaim my throne:
The Ice Queen of Stonehurst Prep is back.
Standing between me and my everything?
Three things can bring me down:
The sweet guy who wants answers from his former friend.
The rock god who wants to f*ck me.
The king who'll crush me before giving up his crown.
They think they can ruin me, wreck it all, but I won't let them.
I'm not the Mackenzie Eli used to know.
Hot boys and rock gods like Gabriel won't win me over.
And just like Noah, I'll kill to keep my crown.
I'm just a poor little rich girl with the stolen life.
I'm here to tear down three princes,
before they destroy me.
From the author of Kings of Miskatonic Prep, the Amazon top-20 internationally bestselling bully romance series, comes this new dark contemporary high school romance.
Release date: July 1, 2020
Publisher: Bacchanalia House
Print pages: 338
* BingeBooks earns revenue from qualifying purchases as an Amazon Associate as well as from other retail partners.
Listen to a sample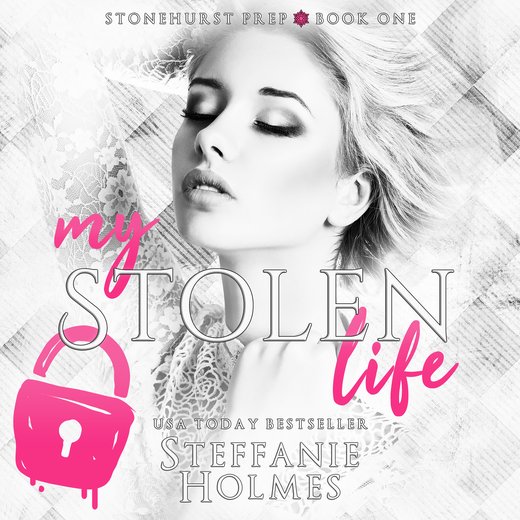 09:02:15
248.24 MB
9781669637028
December 1, 2021
Bacchanalia House
My Stolen Life
Steffanie Holmes
PROLOGUE
MACKENZIE
I roll over in bed and slam against a wall.
Huh? Odd.
My bed isn't pushed against a wall. I must've twisted around in my sleep and hit the headboard. I do thrash around a lot, especially when I have bad dreams, and tonights was particularly gruesome. My mind stretches into the silence, searching for the tendrils of my nightmare. I'm lying in bed and some dark shadow comes and lifts me up, pinning my arms so they hurt. He drags me downstairs to my mother, slumped in her favorite chair. At first, I think she passed out drunk after a night at the club, but then I see the dark pool expanding around her feet, staining the designer rug.
I see the knife handle sticking out of her neck.
I see her glassy eyes rolled toward the ceiling.
I see the window behind her head, and my own reflection in the glass, my face streaked with blood, my eyes dark voids of pain and hatred.
But it's okay now. It was just a dream. It's—
OW.
I hit the headboard again. I reach down to rub my elbow, and my hand grazes a solid wall of satin. On my other side.
What the hell?
I open my eyes into a darkness that is oppressive and complete, the kind of darkness I'd never see inside my princess bedroom with its flimsy purple curtains letting in the glittering skyline of the city. The kind of darkness that folds in on me, pressing me against the hard, un-bedlike surface I lie on.
Now the panic hits.
I throw out my arms, kick with my legs. I hit walls. Walls all around me, lined with satin, dense with an immense weight pressing from all sides. Walls so close I can't sit up or bend my knees. I scream, and my scream bounces back at me, hollow and weak.
I'm in a coffin. I'm in a motherfucking coffin, and I'm still alive.
I scream and scream and scream. The sound fills my head and stabs at my brain. I know all I'm doing is using up my precious oxygen, but I can't make myself stop. In that scream I lose myself, and every memory of who I am dissolves into a puddle of terror.
When I do stop, finally, I gasp and pant, and I taste blood and stale air on my tongue. A cold fear seeps into my bones. Am I dying? My throat crawls with invisible bugs. Is this what it feels like to die?
I hunt around in my pockets, but I'm wearing purple pajamas, and the only thing inside is a bookmark Daddy gave me. I can't see it of course, but I know it has a quote from Julius Caesar on it. Alea iacta est. The die is cast.
Like fuck it is.
I think of Daddy, of everything he taught me – memories too dark to be obliterated by fear. Bile rises in my throat. I swallow, choke it back. Daddy always told me our world is forged in blood. I might be only thirteen, but I know who he is, what he's capable of. I've heard the whispers. I've seen the way people hurry to appease him whenever he enters a room. I've had the lessons from Antony in what to do if I find myself alone with one of Daddy's enemies.
Of course, they never taught me what to do if one of those enemies buries me alive.
I can't give up.
I claw at the satin on the lid. It tears under my fingers, and I pull out puffs of stuffing to reach the wood beneath. I claw at the surface, digging splinters under my nails. Cramps arc along my arm from the awkward angle. I know it's hopeless; I know I'll never be able to scratch my way through the wood. Even if I can, I feel the weight of several feet of dirt above me. I'd be crushed in moments. But I have to try.
I'm my father's daughter, and this is not how I die.
I claw and scratch and tear. I lose track of how much time passes in the tiny space. My ears buzz. My skin weeps with cold sweat.
A noise reaches my ears. A faint shifting. A scuffle. A scrape and thud above my head. Muffled and far away.
Someone piling the dirt in my grave.
Or maybe…
…maybe someone digging it out again.
Fuck, fuck, please.
"Help." My throat is hoarse from screaming. I bang the lid with my fists, not even feeling the splinters piercing my skin. "Help me!"
THUD. Something hits the lid. The coffin groans. My veins burn with fear and hope and terror.
The wood cracks. The lid is flung away. Dirt rains down on me, but I don't care. I suck in lungfuls of fresh, crisp air. A circle of light blinds me. I fling my body up, up into the unknown. Warm arms catch me, hold me close.
"I found you, Claws." Only Antony calls me by that nickname. Of course, it would be my cousin who saves me. Antony drags me over the lip of the grave, my grave, and we fall into crackling leaves and damp grass.
I sob into his shoulder. Antony rolls me over, his fingers pressing all over my body, checking if I'm hurt. He rests my back against cold stone. "I have to take care of this," he says. I watch through tear-filled eyes as he pushes the dirt back into the hole – into what was supposed to be my grave – and brushes dead leaves on top. When he's done, it's impossible to tell the ground's been disturbed at all.
I tremble all over. I can't make myself stop shaking. Antony comes back to me and wraps me in his arms. He staggers to his feet, holding me like I'm weightless. He's only just turned eighteen, but already he's built like a tank.
I let out a terrified sob. Antony glances over his shoulder, and there's panic in his eyes. "You've got to be quiet, Claws," he whispers. "They might be nearby. I'm going to get you out of here."
I can't speak. My voice is gone, left in the coffin with my screams. Antony hoists me up and darts into the shadows. He runs with ease, ducking between rows of crumbling gravestones and beneath bent and gnarled trees. Dimly, I recognize this place – the old Emerald Beach cemetery, on the edge of Beaumont Hills overlooking the bay, where the original families of Emerald Beach buried their dead.
Where someone tried to bury me.
Antony bursts from the trees onto a narrow road. His car is parked in the shadows. He opens the passenger door and settles me inside before diving behind the wheel and gunning the engine.
We tear off down the road. Antony rips around the deadly corners like he's on a racetrack. Steep cliffs and crumbling old mansions pass by in a blur.
"My parents…" I gasp out. "Where are my parents?"
"I'm sorry, Claws. I didn't get to them in time. I only found you."
I wait for this to sink in, for the fact I'm now an orphan to hit me in a rush of grief. But I'm numb. My body won't stop shaking, and I left my brain and my heart buried in the silence of that coffin.
"Who?" I ask, and I fancy I catch a hint of my dad's cold savagery in my voice. "Who did this?"
"I don't know yet, but if I had to guess, it was Brutus. I warned your dad that he was making alliances and building up to a challenge. I think he's just made his move."
I try to digest this information. Brutus – who was once my father's trusted friend, who'd eaten dinner at our house and played Chutes and Ladders with me – killed my parents and buried me alive. But it bounces off the edge of my skull and doesn't stick. The life I had before, my old life, it's gone, and as I twist and grasp for memories, all I grab is stale coffin air.
"What now?" I ask.
Antony tosses his phone into my lap. "Look at the headlines."
I read the news app he's got open, but the words and images blur together. "This… this doesn't make any sense…"
"They think you're dead, Claws," Antony says. "That means you have to stay dead until we're strong enough to move against him. Until then, you have to be a ghost. But don't worry, I'll protect you. I've got a plan. We'll hide you where they'll never think to look."
CHAPTER ONE
MACKENZIE
(FOUR YEARS LATER)
The thrumming bassline that rattles my bones and heats my veins with pure sex cuts off mid-riff, replaced by a tinny rendition of Für Elise blasting through the speakers.
Deedle-deedle-deedle-duh-dum-dum, duh-dum-dum…
The doorbell.
Shit.
I freeze mid-skank, one hand clutching my phone so tight my knuckles burn white, the other still gripping my ass like I'm a backup dancer in a Rhianna video. My eardrums shriek in protest at the piercing volume as the bell rings throughout the house's built-in speakers.
I listen hard. The jingle continues, and now it's accompanied by a loud thumping I can hear even though I'm miles from the front door.
Double shit.
It's been months since someone last approached the house. It's not an easy feat to achieve – you either have to scale the security gate with its iron spikes or clamber over the smooth limestone property wall in a Spider-Man feat of endurance. That is, unless you knew about my secret entrance, and no one does – only Antony.
The last time I had visitors, some drunk school kids managed to climb over the gate standing on each other's shoulders. They dared each other to run up to the door, ring the bell, and kick in the CCTV cameras while the rest hid in the garden and screeched like banshees.
I let them carry on with their games for a bit, but they were freaking out my cat, so I flicked the lights on and off and they ran screaming. One impaled himself on the gate spikes and ended up in the hospital. He gave a tearful interview in the tabloids about how he was attacked by the Malloy ghost.
Attacked by his own stupidity, more like. But I'm not calling in for a correction. It serves my purpose to have people believe I'm a ghost.
BANG BANG BANG.
Kids aren't knocking on my door at 10AM on a Tuesday morning.
No, this is the knock of someone who won't leave until they get answers.
I drop onto the rug of the media room and pull myself to the edge of the cathedral windows overlooking the sprawling front lawn. My all-black cat, Queen Boudica, leaps off her cushion and creeps along beside me, chest flattened on the ground and ears back. She thinks this is a game – we're working together to stalk our prey.
Perhaps there's truth to that.
At the window, I crane my neck to the side until I can see the figure standing on the porch, his dark uniform contrasted between the towering white columns. He looks completely out of place amongst the faux Grecian marble statuary and weird succulents in the garden – those stupid plants are taking over the place even though I never bother to water them.
Even from this distance, his uniform is unmistakable.
A police officer.
Triple shit.
Behind him, I can see the security gate swinging freely. The officer must have forced it somehow. I'll have to get Antony to come and repair it.
My fingers touch the glass as I study the officer – all square jaw and swaggering authority, one hand resting on his holster as he leans in to rap on the door again. In neighborhoods like this – a ritzy street of glittering mansions overlooking Emerald Beach from the top of Harrington Hills – police aren't feared. They keep the riffraff out.
But I'm not your ordinary Valley Girl – I have my reasons for staying hidden.
For now.
I trace the officer's outline on the glass, willing him to turn around and leave. Even though I haven't made a sound, the officer's head snaps up, his eyes landing on mine. I snap my head back from the window, my heart pounding.
It's too late. He's seen me.
"I know you're in there," he shouts. "Answer the door – it's the police."
His voice carries an unspoken threat. Queen Boudica tips her head at me and lifts a paw as if asking what I plan to do next. I debate my options. If I ignore him, he'll come back with reinforcements. But if I go down there, I might be able to bullshit my way out of whatever trouble I'm in. Antony does always say bullshit is my second name.
It's no problem. You can do this. You're Mackenzie Malloy.
I pull a Gucci hoodie over my workout gear and pad through the house. It takes me a good five minutes to navigate through the hallways to the grand staircase that leads down into the foyer. I pass gilded side-tables and weird blown glass art, all covered in layers of dust. Is it too much to hope that the cop will get sick of waiting and leave?
No such luck. I can see his shadow outlined through the frosted glass. He stands on the porch, arms folded, as I crack the door. The chain bites, and I give him the classic Mackenzie Malloy hair toss and withering stare.
"You've broken into private property," I bark at him – it's not a question. It's an accusation.
"Ma'am, I'm here to inform you that you're occupying this house illegally."
I toss my head so my golden blonde hair falls down my back, and I laugh. I laugh until my throat rasps, until the officer is squirming and looking unsure of himself. His fingers slip from his holster.
"This is a joke. Who's your superior?" I hold my phone up so he can see it as I tap the screen. "I'm going to report you for harassment. And for breaking my gate. You'll be paying for the repairs from your salary."
The officer's chin wobbles, and for a moment I think I've got him, but then he steps forward with a new determination. "I don't know what game you're playing, girl. This house has been empty for four years, yet neighbors have reported noises inside. Squatting in private property is illegal, and I'm under orders from the city to remove anyone caught on these premises." He shoots me a triumphant look. "Do you care to explain yourself?"
"Check your case law, officer. If I were a squatter, the owners of the property are required to send me a three-day written notice. But I'm hardly going to send one to myself." I lift my chin and meet his surly gaze with my own. "This is my home. I'm Mackenzie Malloy."
He staggers back, his hand flying to his chest as if I shot a dagger from my eyes that pierced his ribcage. It doesn't surprise me – my father always said my don't-fuck-with-me glare would topple kings. Glaring at people is my superpower.
"Miss Malloy, forgive me. No one has seen you for four years. Where are your parents?" He knows the stories. They all do. The rumors that flew around the world on the wings of the tabloids after my parents disappeared. After I disappeared. Rumors that the Malloy supplement company was involved in dark and nefarious deeds. That some rival had a hit out on us. That we returned as vengeful ghosts to haunt the hills of Emerald Beach.
The tabloids spin a web of lies so thick that even the truth gets trapped there occasionally.
"My parents are sequestered on our private Caribbean island. Mommy's last plastic surgery went wrong, and she vowed she wouldn't appear in public again until someone rebuilt her face. Her new surgeon uses this hormone from a rare species of Amazonian monkey, and it takes a long time to milk enough monkeys to fix the crater in Mommy's forehead." I shrug, the lie rolling easily off my tongue. "I'm looking after the property until they return."
"Your father is no longer the CEO of Malloy International. Doesn't that seem odd to you?"
I quirk an eyebrow at him. "It's illegal for a businessman to take a sabbatical now? Fine, I'll call our lawyers and they can come down here and explain to your supervisor that you broke our gate to harass me about my father's business decisions—"
He holds up his hands, unease flickering in his eyes. "That's not necessary, Ms. Malloy. If you show me some identification, I'll be on my way."
"Fine." I slam the door and march across the hall to where I left my ID in a bowl of glass apples that bore the mark of some fancy-ass Italian designer. My fingers seek the pendant around my neck – the gold locket hidden beneath my hoodie, thank fuck, because no way did I want that cop to see me wearing something so unfashionable. I tug at the heart charm on its thin gold chain, pressing my fingers against the familiar stamped surface and sucking in breaths until my heart stops racing.
This is it.
I knew the moment would come eventually. Luckily, Antony and I are ready.
Fuck, I hope we're ready.
I crack the door again. The cop holds out his hand for my ID, but I toss it at him. He has to stoop and pick it up, giving me ample opportunity to stare down my nose at him.
He frowns at my card, turning it over. "You're only just seventeen, Mackenzie. Why aren't you in school?"
We hope you are enjoying the book so far. To continue reading...
My Stolen Life
Steffanie Holmes
Copyright © 2023 All Rights Reserved