Book info
Sample
Audiobook
Media
Author updates
Lists
Synopsis
"Here is the most telling fact: you wish to possess me.

Here is another fact: I loved you and let you think you could."
When Irene America discovers that her husband, Gil, has been reading her diary, she begins a secret Blue Notebook, stashed securely in a safe-deposit box. There she records the truth about her life and her marriage, while turning her Red Diary-hidden where Gil will find it-into a manipulative farce. Alternating between these two records, complemented by unflinching third-person narration, Shadow Tag is an eerily gripping read.
When the novel opens, Irene is resuming work on her doctoral thesis about George Catlin, the nineteenth-century painter whose Native American subjects often regarded his portraits with suspicious wonder. Gil, who gained notoriety as an artist through his emotionally revealing portraits of his wife-work that is adoring, sensual, and humiliating, even shocking-realizes that his fear of losing Irene may force him to create the defining work of his career.
Meanwhile, Irene and Gil fight to keep up appearances for their three children: fourteen-year-old genius Florian, who escapes his family's unraveling with joints and a stolen bottle of wine; Riel, their only daughter, an eleven-year-old feverishly planning to preserve her family, no matter what disaster strikes; and sweet kindergartener Stoney, who was born, his parents come to realize, at the beginning of the end.
As her home increasingly becomes a place of violence and secrets, and she drifts into alcoholism, Irene moves to end her marriage. But her attachment to Gil is filled with shadowy need and delicious ironies. In brilliantly controlled prose, Shadow Tag fearlessly explores the complex nature of love, the fluid boundaries of identity, and one family's struggle for survival and redemption.
Release date: November 16, 2021
Publisher: Harper Perennial
Print pages: 272
* BingeBooks earns revenue from qualifying purchases as an Amazon Associate as well as from other retail partners.
Listen to a sample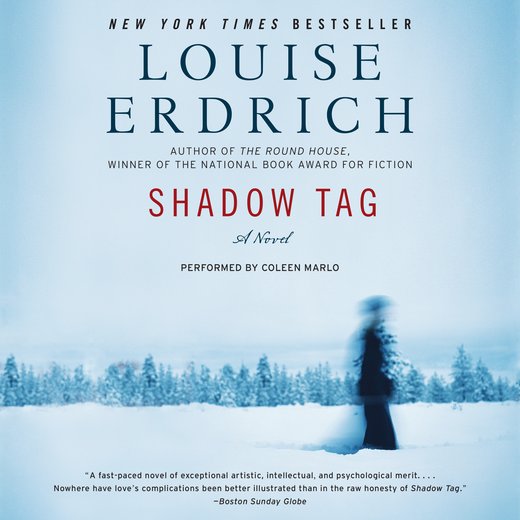 05:45:13
158.03 MB
9780061953637
February 2, 2010
HarperCollins
Shadow Tag
Louise Erdrich
November 2, 2007BLUE NOTEBOOK
I have two diaries now. The first is the hardbound red Daily Reminder of the type I have been writing in since 1994, when we had Florian. You gave me the first book in order to record my beginning year as a mother. It was very sweet of you. I have written in a book like it ever since. They are hidden in the bottom of a drawer in my office, covered with ribbons and wrapping paper. The latest, the one that interests you at present, is kept in the very back of a file cabinet containing old bank statements, checks left over from defunct accounts, the sorts of things we both vow to shred every year but end up stuffing into files. After quite a lot of searching, I expect, you have found my red diary. You have been reading it in order to discover whether I am deceiving you.
The second diary, what you might call my real diary, is the one I am writing in now.
Today I left the house and drove to the branch of the Wells Fargo Bank that is located in uptown Minneapolis beneath the Sons of Norway Hall. I parked in the customer lot and walked in, through two sets of glass doors, down a spiral staircase, to the safe-deposit desk. I tapped a little bell and a woman named Janice appeared. She assisted me in the purchase of a medium-size security box. I paid cash for a year's rental and signed my name, three times for signature verification, on the deposit-box card. I took the key Janice offered. She matched my key to another key and let me into the safe-deposit area. After we slid my box from its place in the wall, she ushered me into one of three private little closets, each containing no more than a desk-height shelf and chair. I closed the door to my private room and removed this blue notebook from the big black leather bag that you gave me for Christmas. Ten or fifteen minutes passed before I could begin. My heart was beating so fast. I couldn't tell if I was experiencing panic, grief, or, possibly, happiness.
* * *
As soon as the sound of Irene's car motor vanished into the general low din of the city, Gil sat up. The towel he used to shade his eyes slipped off his face. He often lay down on his studio couch when he needed to refresh his eyes, and sometimes dozed off. He could sleep there for as long as an hour, but more often he jerked awake after fifteen minutes, refreshed and startled, as though he'd been dipped in a cool underground stream. He sat up patting for his eyeglasses, which he sometimes balanced on his chest. Sure enough, the wire ovals had fallen onto the floor. He retrieved them, hooked them behind his ears. His thick hair started low on his brow and he swept it straight back, smoothed and retied his short, gray ponytail. He stepped up to the painting of his wife and regarded it. His eyes were close-set, cold, curious, and dark. He pressed a knuckle to his chin. His thin cheeks were flecked with yellow paint.
He peered at Irene's likeness, then he frowned and looked away, blinking like a person who can't quite make out some figure in the distance. Suddenly he bent over, and added a few terse strokes. He stood back, wrapped his brush in an oiled cloth, then put the brush and palette into a Ziploc bag. He deposited the bag in a small refrigerator, then left his studio and went downstairs to the kitchen. He took the one can of Coke he allowed himself per day from the refrigerator. Sipping, he descended the rest of the way and entered his wife's basement office. He went at once to the sand-colored metal file cabinet and opened a drawer labeled Old Accts.
* * *
November 1, 2007RED DIARY
What an odd day this is with the house so empty and Gil upstairs endlessly reworking a painting. I expect he is having trouble asking me to sit for him again. Flo and Stoney are okay now after fever. Riel never gets sick, but she is having a difficult time at school this year. Stoney is making a board game for some afterschool project that involves the habits of black bears. Very Minnesota. I think I'm going to lose my mind over what I'm doing.
* * *
He actually thought he could feel the blood drain from his heart when he read those words. I think I'm going to lose my mind over what I'm doing. He put his head down on the cool oak of Irene's desk, but then thought, as he always did when he came across some hidden reference to the other man, what the hell did I expect? I let myself in for this. I looked for this. He tried to discipline his reaction, and forced himself to consider other explanations: she could be referring to her history thesis. Or that old article on Louis Riel. Before the children, she had published several pieces that were considered brilliant; she was a very promising scholar. Her work had included new material that shed light on Riel's mental states. She'd kept working after Florian was born. But after she became pregnant again, she had abandoned her work—except that she'd named their daughter after the depressed Metis patriot, a man to whom his own family was distantly related. Riel was eleven. And now that Stoney was in first grade, Irene was trying to finish her Ph.D. thesis, so that she could start looking for a job. Her subject was now the nineteenth-century painter of Native Americana George Catlin.
Perhaps she was suffering from academic frustration? Losing her mind—over George Catlin's earnest depictions of people who, Catlin absurdly claimed, feared he could take their souls. No. Not with that clumsy brushwork. Gil himself could not bear to look at Catlin's work. The tragic irony of it offended him. And for Irene, a poor excuse.
I think I'm going to lose my mind. Well, good, it proved that something remained of Irene's conscience. She deserved to suffer somehow—secretly, internally, if not publicly—for what she was doing to them all. Careless, careless, reckless! He reared up, slammed his hands down. A few drops were flung from the can of soda, but it did not tip over. He drank it all before he put the diary back exactly the way he'd found it. He thought of dialing Irene's cell phone, but he doubted she would answer it. Irene grew restless in the afternoons and did errands before she picked up the children. She always returned with some loud proof of what she had accomplished—a bag of groceries, a plastic tub, deposit slips. Or she exercised—she was strong and had an offhand self-confidence about her body. She thought she could do anything. She was an excellent swimmer. There was, of course, nothing wrong with that. Plenty of athletic people were emotional wrecks. He shook his head and squeezed his eyes shut.
Irene America was over a decade his junior and had been the subject of his paintings in all of her incarnations—thin and virginal, a girl, then womanly, pregnant, naked, demurely posed or frankly pornographic. He'd named each portrait after her. America 1. America 2. America 3. America 4 had just sold in six figures. If only he'd kept some of the earliest, the best portraits. They were selling for more. The series was becoming famous, or was already famous. Before Irene, he'd painted landscapes, reservation scenes that reminded people of Hopper. He'd been called a Native Edward Hopper—irritating. He hadn't gone to art school, but he'd read, and painted, and painted, and observed. And then he lived in New York for two years, working for galleries, installations for other artists. Every night he'd gone home and spent his evenings at his own work. For a time he'd taught at a small college. But the students had seemed conceited and entitled. He lost patience with them. He'd scrounged together a little money and started painting full-time. The paintings sold. He did not look back. He'd become successful, if not widely known. He was an artist who could support a family with his work—no small feat. But now he was losing confidence and control. His paintings were hiding from him because Irene was hiding something. He could see it in the opacity of her eyes, the insolence of her flesh, the impatient weariness of her body when she let down her guard. She'd ceased to love him. Her gaze was an airless void.
* * *
Gil was still sitting at Irene's desk when the children slammed through the door upstairs, throwing off their coats, stepping out of their boots. He heard their backpacks thud just over his head and then their footsteps fading toward the kitchen. They were quieter, opening the refrigerator, murmuring as they grazed. Irene kept the snack drawer and fridge stuffed with food that could be eaten immediately, while Gil bought dried beans, rice, frozen meat, pasta in huge quantities, and kept his stashes deep in the cupboards and freezer. Now he heard the children rummaging around like squirrels, their paws in the cellophane bags of cookies and chips. He thought of going upstairs and stopping them, but before he made a move they'd pounded up the stairway to their rooms and things were quiet again.
* * *
For years now, he thought, he had been mourning a death without knowing exactly who had died or how it had come about. He had felt the grief in their lovemaking first, but got used to it. She gave him pleasure, but they'd stopped searching each other's faces and the words of arousal they both used seemed perfunctory. Then, over time, making love became something darker, more painful.
It was as if she weren't really there, but watching him from underwater. He had the notion that she'd gone to wrestle with some deep interior drama whose plot he would learn only after it was resolved. He already feared the outcome would not be in his favor. So he tried. But he could get her attention only by force, in bed, and he found their anger—scratching, biting, even striking each other—both torrid and embarrassing. On days he didn't have the strength to woo her with surprise gifts, he used the children to get to her. He'd blow some little crisis out of proportion. But afterward she always slipped through his fingers again.
Once upon a time she had been eager to sit for him. There had been a softly electric quality, a constantly changing force field, between them while he painted. Gil had given his entire attention to her youth first, but after that he devotedly painted the effect of experience on flesh. The imprint of his own mouth on Irene's mouth. Age, time. Snow slipping off a tree limb until it crashed whitely down. Irene's weary softness after giving birth. Her breasts, hot with fever as her milk came in, swollen to a gorgeous size and so sensitive that her milk let down at the lightest touch. She'd nursed in his studio, naked, with pillows to prop the baby, and he'd have two paintings going, one for each side as she changed. That was happiness. After the babies became toddlers, then small children, he painted her body as it drew back into itself and toughened. For a time, he'd abandoned her and painted other subjects. But he'd been working on a mythic level with the portraits—her portrayals immediately evoked problems of exploitation, the indigenous body, the devouring momentum of history. More than that—he'd progressed to a technical level that allowed him an almost limitless authority. Abstract expressionism had been the tyranny of the day, but he'd stuck defiantly with figurative painting and now his control of old master techniques looked almost radical.
Irene's distance aroused in Gil a desolate craving. Her secrets drove him to a manic despondency in which he began to do the best work of his life. No matter what her sin, he believed he saw her with pure eyes. People called him a charming hypocrite, but in his art he wanted only to get at the truth. So how could he blame her body, he thought, painting himself into the picture, himself in the mirror like Velázquez, like Degas creeping up on a prostitute in her bath. If his brush were merely the eyelash of a cat and he had one canvas to work on for the rest of his life, it would be a painting of Irene.
She had loved him intensely. She had looked up to him and trusted him. She had believed that he was the most extraordinary man in the world. Actually, she still said this. Only she said it now in a way he found patronizing.
He stood and pushed the chair back. He stretched, picked up the can, and closed the door carefully as he made his way back up the stairs. It was his night to cook. The man she was seeing didn't cook. He was pretty sure of that. He didn't even know how she could really be seeing the man he suspected, a man who'd been Gil's friend. Germaine lived about a thousand six hundred and fifty-two miles away, on a hillside in Seattle with his wife, Lissa, a vulnerable humanitarian whose good works fortunately took her around the world without him. Germaine Okestaf-Becker had a joint name, yoked by a hyphen, which was all so barfingly PC. Plus he was more Indian than Gil, three-quarters as opposed to one-quarter, and so Germaine had him by a half quantum, which was a big plus as mixed-blood women are generally suckers for darker men and Irene probably was too, though she was careful not to say so. Yet Gil was pretty sure he was more than sexually adequate—in crude terms, well never mind . . . she'd chosen after all to have her children with him. Native women of whatever blood quantum are extremely discriminating about the men they have their children with, not only because of genes and so forth but because of tribal enrollment issues and government treaty-right benefits, which extend even to eventual college preference. Having children was the big thing.
Irene must have loved him very much to have his children when his tribal roots—the wrong fractions of Klamath and Cree and Montana Chippewa—weren't recognized. So of course he had no casino per cap and had to live by his art. He was pretty sure she had married him for his art and then slowly found that his art was no fun to live with. His talent was not him; his talent made him boring, as a person, and he drank too much at night because the concentrations of his day exhausted him. But then, increasingly, so did she—drink too much and exhaust him.
He was drained now, and lonely for Irene. This blue hour between her day and his day made him feel invisible. He poured himself a glass of wine and looked around the kitchen, focused. He took eggs, butter, aged cheddar, milk from the refrigerator. A few weeks ago, Irene had said something about a cheese soufflé. He'd surprise her; she'd love it. He took out his favorite cookbook, held the page open with a transparent weighted page marker especially for cooks, and began to follow the directions with extreme care. He loved cooking, like laundry, because something done perfectly according to instructions could have immediate and positive results.
* * *
Gil surveyed the organized table. Very satisfying. Green plates, yellow napkins. The cheese soufflé. Crusty baguette. A fresh salad of baby spinach, toasted walnuts, pears. A bottle of chilled white.
So, what did everyone do today? asked Gil. Stoney, you first.
Stoney was a shy six-year-old with a bewildered way of shaking the shaggy hair that curled behind his ears. His eyes were lighter than his skin, which would one day make him strikingly attractive. Right now, he was confused, awkward, and one of his bottom front right teeth was missing. ...
We hope you are enjoying the book so far. To continue reading...
Shadow Tag
Louise Erdrich
Copyright © 2022 All Rights Reserved