Book info
Sample
Audiobook
Media
Author updates
Lists
Synopsis
Season of Skulls continues Hugo Award–winning author Charles Stross's
Lovecraftian Laundry Files series.
Welcome to the sunlit uplands of the 21st century! Britain's avuncular Prime
Minister is an ancient eldritch god of unimaginable power. Crime is plummeting as
almost every offense is punishable by death. And everywhere you look, there are
people with strange powers, some of which they can control, and some, not so
much.
Hyperorganized and formidable, Eve Starkey defeated her boss, the louche
magical adept and billionaire Rupert de Montfort Bigge, in a supernatural duel to
the death. At least, she has reason to hope he's dead. But though she's now in
charge of the Bigge Corporation, she's not free of him yet. Through the
fecklessness of her brother Imp, combined with the intricate feudal law of a tiny
Channel Island, it would appear that unbeknownst to her, she was married to
Bigge—and that proving his death and releasing herself from his arcane bindings
will take years and cost millions.
Then an emissary of the Prime Minister arrives with an offer that she absolutely
can't … well, you know.
Release date: May 16, 2023
Publisher: Tom Doherty Associates
Print pages: 384
* BingeBooks earns revenue from qualifying purchases as an Amazon Associate as well as from other retail partners.
Listen to a sample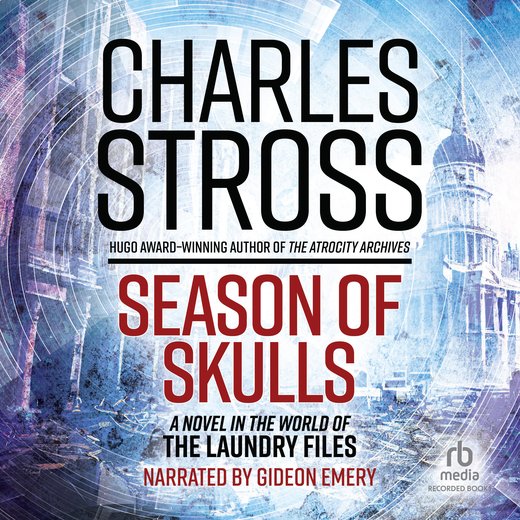 12:36:13
346.18 MB
July 4, 2023
Recorded Books
2023
Season of Skulls
Charles Stross
UNWANTED COMPLICATIONS


It was a bright, cold morning in Hyde Park, and a detachment of Household Cavalry was riding along North Carriage Drive in parade dress, escorting a tumbril of condemned prisoners to Marble Arch.

Imp—Jeremy Starkey, also known as the Impresario—paused beside the Peter Pan statue to watch. A tall, skinny man in his early twenties, with swept-back hair and a narrow, intense face, Imp might have been a grown-up Pan himself: a Peter Pan who'd lost his wings and grown up hard and cynical under the aegis of the New Management. He tugged his scarf with unease, then checked his counterfeit Mickey Mouse watch. He wasn't going to be late to the meeting with his sister and her lawyer if he took an extra ten minutes, he decided. Nevertheless, he drew his disreputable duster tight and hunched his shoulders. A chill wind was blowing, as if practicing to set the cartful of fettered felons swinging once they danced the Tyburn tango. It was 2017, yet some things in Bloody England never changed.

Albeit not quite everything.

Cavalry soldiers in polished silver cuirasses riding huge animals through the park were nothing new. But beside their cuirasses and high-plumed helmets these riders wore polished steel plate that covered them from head to foot, with wireless headsets and grenade launchers, quadrotor observation drones whining overhead. Their faces were blank behind curves of bulletproof mirror glass. Their horselike steeds had sickle-bladed claws on either side of their hooves: their heads bore fanged maws and the front-pointing eyes of predators. Someone was clearly concerned about rescue attempts.

Imp shuddered and looked away from the dour procession. The distant noise of the crowd gathering around Marble Arch to watch the execution hurt his ears. He didn't want to hear the taunts of idiot rubberneckers who couldn't imagine that one day it might be them.

"Not my circus, not my monkeys," Imp muttered under his breath. Not my holiday, not my hanging, he meant. He brought his roll-up to his lips and began to inhale, but the joint had burned out, and besides, it was down to the roach. He walked across to the dog-waste bin and dumped it, then continued on his way.

It wouldn't do to keep Eve and her solicitor waiting, even though he feared the coming meeting almost as much as his own personal execution.

* * *

There's a fine line between love and hate, Eve reflected, as she watched her brother explain his mistake to the solicitor. Will she testify against me if I murder him? Eve asked herself. Is provocation a defense?

Like her brother, Eve was tall and lanky, but there the resemblance ended. She'd carefully curated her image as a blue-eyed ice queen in a designer suit. A penchant for sudden-death downsizings and the warm and friendly disposition of an angry wasp went with the territory. It had been utterly essential while she'd been Rupert's executive assistant. But now she wondered if the weight of armor she wore was worth the cost: even the lawyer seemed leery of her.

The solicitor cleared her throat, glanced at Eve for permission, then addressed Imp. "Let me get this straight, Mr. Starkey. You didn't ask your sister to confirm that she was undergoing a security clearance background check. You did not seek professional advice before initialing every page of the, um, 'nondisclosure agreement,' and the witness statement attached to it. You didn't read pages two through twenty-six. You did not ask for a translation of section thirteen, paragraphs four through six, even though it was written in medieval Norman French. Nor did you read section fourteen, the special license, which was drafted in fourteenth-century Church Latin, or the codicil stating that the contract—most of which you didn't read—was subject to adjudication under the laws of Skaro—an island in the English Channel with its own unique legal code—and that by signing you ceded your right to redress in any other jurisdiction. At no point did the messenger offer you any payment or inducement for your signature. Is that right?"

Imp nodded sheepishly. "I was very stoned. We'd just buried Dad."

Eve's cheek twitched, but her expression remained as coldly impassive as the north face of a glacier.

The solicitor clearly found it a struggle to maintain her facade of professional sympathy. "Well then. To summarize, you signed an affidavit certifying that you were the oldest living male relative of your sister, Evelyn Starkey"—the lawyer sent Eve a tiny nod that might have passed for feminine sympathy—"and signed a binding agreement to marriage by proxy, solemnized under special license as permitted by the Barony of Skaro, where the messenger acted as the representative of the groom, Lord—"

"Baron," Eve corrected automatically, then bit her tongue.

"Baron Rupert de Montfort Bigge, Lord of Skaro." The solicitor sent Eve another coded look. "Is that your understanding, too, Ms. Starkey? Or should that be Mrs. de Montfort Bigge?"

Fuck. A very expensive crunch announced the demise of the Montegrappa Extra Otto Sapphirus Eve held clenched in her fist. She dropped the wrecked fountain pen on her blotter and flexed her aching fingers. The writing instrument, carved by hand from solid lapis lazuli, was one of the most expensive pens on sale anywhere: it had come from Rupert's desk. The body might be repairable but the converter, siphon, and nib were a write-off. Emerald ink bled across the absorbent paper like green-eyed anger.

"I go by Starkey," she said, ruthlessly strangling a scream of rage in its crib. "So, what are my prospects for an annulment?"

The solicitor switched off her voice recorder and restacked the papers. "I'll need to do some research, I'm afraid. Skaroese law is a very esoteric speciality and I can't offer you a professional opinion without further work, but this is my supposition: in general a proxy marriage contracted in a jurisdiction where it is legal—the lex loci celebrationis—is recognized as binding in England and Wales. Assuming this contract is properly drafted—and there would have been no point in obtaining your brother's signature if it was not—an annulment would have to be carried out under that legal system, which means…," she trailed off, side-eying Eve's brother.

Imp looked up, his expression hangdog. Unlike any canine he knew exactly what he'd done wrong.

"Jeremy." Eve pointed at the door. "Scram."

"Aw—" Whatever protest he'd been forming died unvoiced when he looked at her: Eve's expression was deathly. He uncoiled from his visitor's chair and slouched doorward, shoulders hunched. "I'll just be in the staff break room."

Eve waited for the door to shut. "Finally." She congratulated herself for her restraint in not strangling him as she rubbed her forehead, heedless of her foundation. The viciously tight bun she'd put her hair into in anticipation of this confrontation was giving her a headache. "How bad is it? Really?"

"Well." The solicitor slid her folio sideways, out of Eve's direct line of sight. "If your hus—if Baron de Montfort Bigge is dead, and if you can obtain a death certificate, then you're off the hook. Once you obtain a death certificate it's all done and dusted and you can remarry if that's what you want to do."

"Assume he's not dead, just missing. No body, but no proof he's alive either."

"Then you need to either provide proof that he died or run down the clock. You can apply for a declaration of presumed death after seven years in the UK, and Skaroese law probably says the same—I will confirm that later—so, six years and nine months from now. In the meantime, if he's missing, his continued existence is not an impediment to you unless you wish to marry someone else—" The solicitor raised her eyebrow. "Or is it?"

Eve's cheek twitched again. "The law takes no account of magic. Or aliens and time travel, for that matter."

"Magic—" The solicitor was momentarily nonplussed. Eve hoped she wasn't one of the materialist holdouts. The arrival of the New Management (not to mention an elven armored brigade rampaging through the Yorkshire Dales, vampires taking their seats in the House of Lords, and superheroes breaking the sound barrier as they sped to intercept airliners) had sent many people into reality-denying madness. They called the casualties of the Alfär invasion crisis actors and used elaborate conspiracy theories to explain the Prime Minister's penumbral darkling and appetite for human souls. It was all a Russian disinformation scheme, a viral pandemic that induced delirious hallucinations, or a conspiracy of (((cosmopolitans))). "Seriously?"

"Contracts have implications for ritual magic." Eve let her smile slip, allowing her feral desperation to shine through. "If he's not dead then as long as the marriage is legally binding, I'm—" She shook her head. "Let's not go there."

Rupert had imposed a geas on her—an obedience compulsion—as one of the initial conditions of her employment. She'd thought it contemptibly weak at the time, and he'd never tried to use it, so she'd never tried to break it. He ensured her compliance through traditional means—gaslighting and blackmail—and she was completely taken in by his pantomime of sorcerous incompetence. When she finally discovered the proxy marriage certificate after his disappearance, it became clear that he'd known exactly what he was doing with the geas: the bumbling was a malevolent act.

Skaroese law was based on medieval Norman law, but hadn't been updated much since the fourteenth century. The Reformation had passed it by, and it still embodied archaic Catholic assumptions. Skaroese marriage recognized the status of feme covert: a married woman was legally of one flesh with her husband, a mere appendage with no more right to own property or express an opinion in court than his dressing table or his horse. A geas given additional strength by such a marriage contract was only distinguishable from chattel slavery because the rights it granted her husband were nontransferable.

Since discovering the document, Eve had awakened in a bath of cold sweat at least three times a week, stricken by the conviction that her scheme to rid the world of Rupert had failed.

The solicitor continued to lay out the dimensions of her prison. "As the marriage was contracted under Skaroese law, you should apply for an annulment in that jurisdiction." (And I can bill for more hours, Eve mentally added, a trifle unfairly.) "You'll need to obtain a decree of nullity from the diocese, essentially a declaration that the marriage never existed. That'd be the diocese of Skaro, which is the first stop. Have you spoken to your priest?"

"Ah, there might be a problem with that." Skaro had been taken over by the Cult of the Mute Poet a generation ago. The worshippers of Ppilimtec, god of wine and poetry, did not play well with other religions—and Rupert was its bishop. There had been no other church on Skaro for decades. "I might be able to get one, though." If I offer to cover the repair bills, pay for the exorcism and reconsecration, and fund a stipend for the priest and his bodyguards, surely the Catholic Church would assign someone? It wasn't as if she was a believer herself, but her mother had dragged her through baptism and confirmation in her childhood, so no loophole there. As for the bodyguards, Ppilimtec was a jealous deity. Annulment was going to be expensive, but as she had effective control of the Bigge Organization, money was the one thing she was not short of.

"Then that brings me to another question." The solicitor paused apprehensively. She tugged at her jacket, brushed imaginary lint from her lapel, screwed up her courage, and asked, very quickly, "In strictest confidence, Ms. Starkey, have you ever engaged in sexual intercourse with Baron Skaro? Either before or after the proxy marriage?"

Eve shook her head. "No, I never had sex with—" She paused for a double take. "Does telephone sex count?"

"Tele—" The solicitor gave her a blank look. "Could you clarify that?"

No, Eve thought, but her mouth answered regardless. "Rupert would phone me at any hour of the day or night—I was his executive assistant and PA, both hats at the same time—and treat me like a phone-sex worker. The only way to get him to shut up was to tell him a pornographic bedtime story until he finished wanking." She could feel her cheeks glowing. "It was workplace sexual harassment, but I couldn't quit the job—"

Eve felt something cold and moist on the back of her left hand. She glanced down with carefully concealed distaste. The solicitor had laid a hand on her wrist: the woman wore an expression of heartfelt sympathy. "I understand completely," she said. Show me where the bad man touched you. "I'm pretty certain the Catholic Church doesn't count coerced telephone sex as intercourse for purposes of obtaining an annulment." She smiled apologetically.

"In general, the three requirements for a valid marriage in canon law are that the couple married freely and without reservation, that they love and honor each other, and they accept children lovingly from God. None of those apply to you. I see absolutely no way that these papers"—she tapped her folio—"can be construed as anything other than an attempt to bypass the intent if not the letter of the law, so I think it ought to be possible to convince a parish priest to petition the diocese tribunal for an annulment on your behalf. It normally takes eighteen months or so to obtain one, with the right supporting documents. But as I said, I need to research the minutiae of Skaroese law." She rose. "Is that everything you wanted me to cover?"

Eve suppressed a brief impulse to bang her head on the table. Eighteen months. Eighteen months of maximum vulnerability, eighteen months of night terrors, eighteen months of uncertainty and paradox. "It'll have to do," she said tightly. "If there's anything I can do to speed the process up—anything, whatever the cost—be sure to let me know." She stood and led the lawyer to the door of her office. "Day or night," she emphasized, showing her out.

* * *

Rupert de Montfort Bigge, Baron Skaro, had been missing for nearly three months, lost in the dream roads that connected other lands, times, and universes. He'd been trying to retrieve a cursed tome that Eve had procured on his behalf, and creatively mislaid.

If he was still alive, Rupert would be in his late thirties but appear a decade older. He'd chosen his grandparents well: born to a birthright of privilege and wealth, he'd had the freedom to squander everything fate handed him and to write it off as a learning experience.

After schooling at Eton he'd studied Philosophy, Politics, and Economics at Oxford. While at university he'd joined the Oxford Union, a debating society and the usual first step toward a Conservative junior minister's post. He'd also joined other, less savory clubs, and a particularly damning video shot at a boisterous underground dining club had surfaced when his name was put forward for a parliamentary seat. Bestiality was a crime, necrophilia was a crime … bestial necrophilia in white tie and tails fell into a Twilight Zone loophole that Parliament had failed to criminalize, but the candidate selection committee nevertheless felt it best to err on the side of caution. (Questions about his vulnerability to blackmail had been raised.) Rejected by politics Rupert sulkily slouched off to the City, apparently intent on dedicating the rest of his life to the pursuit of drugs, depravity, and wealth beyond the dreams of avarice.

Had Rupert been just another chinless wonder with a penchant for Bolivian nose candy, high finance, and the English vice, his subsequent trajectory would have been undistinguished and short. But somewhere along the way Rupert conceived a plan. The precise details were obscure—he fully confided in no one after the Dead Pig Affair—but this much was clear: Rupert still harbored political ambitions, but not parliamentary ones. His new path to power centered on the secret cult he had joined before he was sent down.

Strange faiths that practiced unspeakable rites were springing up everywhere these days, growing in numbers and spreading like clumps of horrifyingly poisonous toadstools as the power of magic waxed. Rupert ascended rapidly through the priesthood of the Mute Poet, using their sacramental rites to obtain investment guidance from his unholy patron. And he made use of every available edge, from option trades to obsidian sacrificial axes, to bloat his fortunes and selectively evangelize the faith.

The Cult of the Mute Poet presented itself to the public as a somewhat eccentric Christian sect: the Church of Saint David, patron of poets. Its inner circle, however, worshipped Our Lord the Undying King, Saint Ppilimtec the Tongueless, who sits at the right hand of Our Lord the Smoking Mirror. Fifteenth-century conquistadores in the New World had witnessed the rites performed by Nahua priests and been impressed by the results: so they had copied their practices and applied them to their own corrupted saints. When you recited the right phrases and made sacrifice appropriately, things that dwelt in other realms might listen and lend their will to your ends—even if they were not the beings toward which your pleas were directed. And it wasn't as if the Catholic Church wasn't syncretistic by design—it was right there in the name—so what if it required a little human sacrifice to energize the power of prayer?

The Church of the Mute Poet was not the worst of the sanguinary cults that festered beneath the aegis of the Inquisition. Most of the most gruesome offenders were stamped out before the return of magic. In any case, all were overshadowed by the New Management, the government of the Black Pharaoh—N'yar Lat-Hotep—the Crawling Chaos Reborn. But the followers of Ppilimtec the Tongueless survived, alongside certain others. They thrived under Rupert's Machiavellian leadership, building congregations and attracting converts, and with every victim sacrificed and each service of worship conducted, Rupert funneled power to his Lord.

In return he received the benefits accrued by a high priest.

But to what end?

Eve neither knew nor truly cared. She just wanted to be free of his demands. She'd risen to a position of power almost absentmindedly, unaware of the proxy marriage that made her his magically enslaved minion (and, inadvertently, his heir). Discovering that as his wife or his widow she controlled his hedge fund and web of offshore investment vehicles was a pleasant bonus, but in truth, Eve hadn't tried to kill him for the money.

Eve had ambitions of her own. She was bent on revenge against another cult, the Golden Promise Ministries, who had taken the life of her father and the mind of her mother. Unfortunately, cleaning up the mess Rupert had left behind—his followers had been up to their eyeballs in foul schemes—was sucking all the air out of the boardroom and leaving Eve no time for her own plans.

Then, as if that wasn't bad enough, she'd come to the attention of very important people.

* * *

Two weeks into the new year—four weeks after she led her security team to Castle Skaro and interrupted her husband's followers, who had been attempting to sacrifice a family of superpowered children in order to summon Rupert's shade from wherever he'd been banished to—Eve received a visit that she had been both expecting and dreading for some time.

Taking control of Rupert's business empire in his absence was one thing (she'd already deputized for him over a period of years). But his occult empire was another matter entirely. His followers were numerous and murderously devoted to their Lord. He'd sent them instructions via an after-death email delivery service: Eve dared not read her incoming messages without first subjecting them to three layers of filtering, just in case he tried to Renfield her from beyond the grave.

At least she'd cleaned house in the security subsidiary. She'd had to, after a failed assassination attempt. Sergeant Gunderson had proven to be trustworthy, although she hadn't managed to extract any useful intelligence from Eve's would-be killer before he choked himself to death on his own tongue. And Eve's own basement den was safe, although she used Rupert's ostentatious luxury suite upstairs for receiving visitors.

She was reviewing the quarterly figures from the Bigge Organization's defense procurement subsidiary when her earpiece buzzed. "Starkey," she snapped irritably. "I'm on do not disturb for a reason. Is the building is on fire?"

"Ma'am, you have a visitor waiting in reception," said the receptionist who'd interrupted her spreadsheet-minded musing. Something in her tone put Eve on notice that perhaps the building was on fire, figuratively speaking. "She's from the House of Lords and she's asking for you by name."

Eve shuddered: this was absolutely a metaphorical house fire. "I'll be right with you," she said, much more politely, and hung up.
We hope you are enjoying the book so far. To continue reading...
Season of Skulls
Charles Stross
Copyright © 2023 All Rights Reserved
Also in this series
Also by this author