Rosaline Palmer Takes the Cake
Book info
Sample
Audiobook
Media
Author updates
Lists
Synopsis
Fans of Casey McQuiston, Christina Lauren, and Abby Jimenez will love this scrumptious and sweet romantic comedy from the "dizzyingly talented writer" of Boyfriend Material (Entertainment Weekly)

LGBTQ Reads: Most Anticipated Adult LGBTQAP Fiction 2021
We Are Bookish: Spring Releases to Have on Your Radar

Following the recipe is the key to a successful bake. Rosaline Palmer has always lived by those rules—well, except for when she dropped out of college to raise her daughter, Amelie. Now, with a paycheck as useful as greaseproof paper and a house crumbling faster than biscuits in tea, she's teetering on the edge of financial disaster. But where there's a whisk there's a way . . . and Rosaline has just landed a spot on the nation's most beloved baking show.

Winning the prize money would give her daughter the life she deserves—and Rosaline is determined to stick to the instructions. However, more than collapsing trifles stand between Rosaline and sweet, sweet victory.  Suave, well-educated, and parent-approved Alain Pope knows all the right moves to sweep her off her feet, but it's shy electrician Harry Dobson who makes Rosaline question her long-held beliefs—about herself, her family, and her desires.

Rosaline fears falling for Harry is a guaranteed recipe for disaster. Yet as the competition—and the ovens—heat up, Rosaline starts to realize the most delicious bakes come from the heart.
Release date: May 18, 2021
Publisher: Grand Central Publishing
Print pages: 368
* BingeBooks earns revenue from qualifying purchases as an Amazon Associate as well as from other retail partners.
Listen to a sample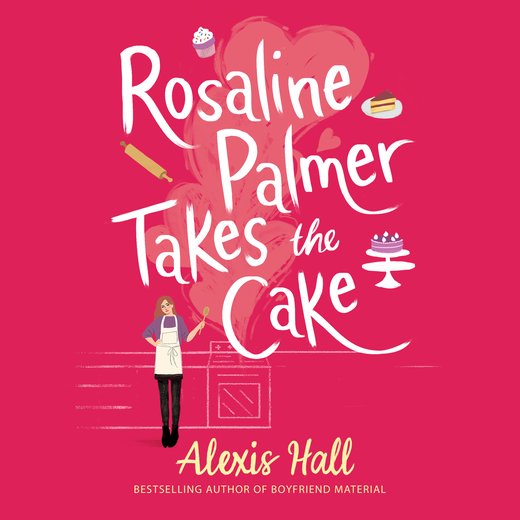 11:23:44
313 MB
9781549135569
May 18, 2021
Hachette Audio
Rosaline Palmer Takes the Cake
Alexis Hall
"Most of the bakers have opted for a traditional sponge mix, consisting of, like, eggs and flour and shit," narrated Lauren helpfully or—from a different and more correct perspective—unhelpfully. "Single MILF Rosaline, however…"

Rosaline looked up from her food processor, whose capacity for raw beetroot she had wildly overestimated. "The BBC are not going to describe me as a single MILF."

"Maybe not, but"—and here Lauren fluttered her eyelashes outrageously—"it's how I think of you."

"And what," asked Rosaline, laughing, "does your wife have to say about that?"

"Allison thinks you're a MILF too."

"You know it's still objectification if you're a lesbian."

"Actually, I think you'll find it's empowering."

"No, it isn't." Rosaline grabbed a wooden spoon and tried to scrape the worst of the purple gunk out of her coarse grater attachment. "And besides, I bet Allison's never used the word 'MILF' in her life."

"Well, nobody's perfect." Scooting her stool closer to the bench, Lauren dipped her finger into the molten chocolate that Rosaline had set aside to cool. "Look, why are you putting beetroot in this otherwise perfectly good cake?"

"It's a beetroot cake. It wouldn't be a beetroot cake without beetroot in it."

"Most of the bakers"—Lauren went back to her narrator voice—"have chosen to make something a human being might want to eat. Kitchen temptress Rosaline, however, has decided to add beetroot for no fucking reason."

This was just Lauren being Lauren. And normally Rosaline was fine with Lauren being Lauren. But right now, it was the last thing she needed. "It's not for no fucking reason. It's for a very good fucking reason, which is I want to stand out and not get sent home immediately because my cake was too ordinary."

"They don't send people home in week one for being ordinary," said Lauren cheerfully. "Ordinary gets you to at least week four."

Rosaline combined her ingredients in a sufficiently jabby way that she was sure she'd knocked the air out of her egg whites. "I don't want to get to week four. I want to win. And I have to win because otherwise I'm spending the rest of my life working shit minimum wage jobs to support my daughter while my parents shake their heads sadly and occasionally make me beg them for money."

"I…understand where you're coming from." This was about as close to gentle as Lauren could get. "But honestly, going on a reality TV show feels like a bit of a Hail Mary."

"I mean, yes," Rosaline admitted. "But I have actually thought this through. Best-case scenario, I win, pay my parents back with the prize money, and get a slightly better job. Worst-case scenario, I get eliminated, and what have I lost?" She stared into the bowl of brownish-purple cake batter that was supposed to be velvety and was definitely not. "Apart from my time. And my pride. And any sense of privacy. And all hope for the future. And what little remains of my family's respect. Fuck me, you're right. This is a terrible idea."

"It's not terrible. It's…" There was a pause while Lauren, who was a professional word-finder and should have been able to do it more quickly, searched for a word. "Bold. And that's good. It's good to be bold."

"The last bold thing I did was decide I was keeping the baby, and while I'm glad I did, as decisions go it's not exactly been without consequences."

"Ah, yes. I believe that's what they call life."

Rosaline glanced at the clock, then at the oven, then at the clock again. "Well, today's consequences are that I had to go directly from taking Amelie to school to an extra shift at work to make up for the time I'm taking off, and I got back late because the bus was late, and now I can't finish my practice cake before we have to go and pick Amelie up again, so I can say goodbye to her before running off to spend a weekend—"

"Gallivanting around a stately home showing off your buns?" asked Lauren.

"You know"—Rosaline made an unmistakable gesture with the nearest utensil—"I'm this close to stabbing you in the eye with a spatula."

"Stabbing me in the eye with a spatula will make it very hard for me to either drive you to the station or spend my free time looking after your daughter."

"Oh, well fished. Of course, your altruism is somewhat marred by the fact Allison is going to be in Glasgow for the week and you blatantly have nothing better to do."

"That," retorted Lauren with great dignity, "is only partially true."

"You're right. I'm sorry. You're a wonderful person and I'm very grateful." With a melancholy schlorp, Rosaline returned the spatula to the batter. "Slightly concerned that you'll kill my child, but grateful."

"Hey, I've never killed her before."

"But it's a whole weekend." A plaintive tone crept into Rosaline's voice. "I've never been away from Amelie for a whole weekend."

Lauren shrugged. "So you should be glad to have a break from each other. Besides, your mum's taking over on Sunday, so how much damage can I do?"

"Knowing you, quite a lot. Although, honestly, not quite as much as my mum."

"Cordelia will do fine." Lauren put a consoling hand on Rosaline's shoulder. "Amelie actually likes her because children are hopeless judges of character. And anyway, terrible parents make incredible grandparents. It's their final way of twisting the knife."

"Thanks. You really know how to make me feel better."

"It's my calling. Now come on, let's go nab the moppet."

*  *  *

Twenty minutes later, Rosaline was standing in an emptying playground, resolutely moppetless. She was briefly clutched by the nebulous certainty that there'd been a terrible disaster—possibly involving sharks, a runaway combine harvester, or the child catcher from Chitty Chitty Bang Bang. But then Miss Wooding, Amelie's teacher, appeared in the entryway and made an unmistakable beckoning motion.

That was never good.

Because it could only mean that your child had done something bad or that something bad had been done to your child.

Steeling herself and feeling far too much like she was about to be given detention, Rosaline hurried over.

"Is everything all right?" she asked, hoping to sound maternally concerned, rather than preemptively guilty.

Miss Wooding, who, as far as Rosaline could tell, was made entirely from marshmallows and pixie dust, gave an insipid smile. "If you wouldn't mind coming with me, I'd just like to have a little word with you about Amelie's behaviour."

Well, at least her daughter wasn't unconscious or on fire. Murmuring her general assent, Rosaline let Miss Wooding lead her into the building, past hip-high coat pegs and colourful finger-painted displays about road safety and recycling.

Amelie's classroom was a pleasant, airy space, decorated with number lines and misspelled poems about summer. Amelie herself was squirming under the watchful eye of a teaching assistant.

"Mrs. Palmer," began Miss Wooding, and Rosaline decided not to correct her, "I've been feeling for a while that we should have a conversation about the kind of language Amelie uses in class."

Oh dear. She and Lauren swore in front of Amelie a lot, but she thought she'd done a pretty good job of explaining that there were some things you could say at home that you couldn't say outside.

"I use good language." Amelie folded her arms, radiating outrage as only a wronged eight-year-old can. "I use 'extemporaneous.' And 'soporific.' And all the other words Auntie Lauren teaches me." She looked momentarily proud. "I'm sesquipedalian."

Miss Wooding glided past this with the ease of a lifelong primary school teacher. "It's true that Amelie has an extensive vocabulary. But she needs to learn that some topics are inappropriate for a classroom."

"Like what?" asked Rosaline warily. There were a lot of ways this could go, most of them wrong.

"Well, in English today we were learning that it can be easier to remember how to spell a word if you know what the different parts of that word mean. So, for example, with the word 'bicycle,' it can help to know that the bi part means 'two' and the cycle part means 'wheel,' so a bicycle has two wheels."

Okay. Way of going wrong identified.

"Like a binary star," offered Amelie, "because there's two stars. Or a biped which has two legs. Or bifocals which have two…focals. Or bicarbonate of soda which um…"

"Yes"—and here Miss Wooding gave Amelie a look of gentle disappointment—"but you didn't say any of that in class, did you?"

"I would've. You told me to be quiet."

Miss Wooding's attention shifted effortlessly back to Rosaline. "The example she gave in class was 'My mummy is bisexual.'"

"Well you are," protested Amelie, gazing imploringly at Rosaline.

"She's right," Rosaline agreed. "I am."

Always one to take agreement as encouragement, Amelie launched into the rest of the speech. "And that means she likes men and women which is two—which is what you were saying. But Auntie Lauren says that some people think that you shouldn't say bisexual because that means there's only two types of people and some people think there are more types of people. And other people think that it is okay because it means same and different and different can mean lots of types of people. Which still means two again. Which is what you were saying."

If Miss Wooding had followed any of this, Rosaline couldn't be sure. Either way, she didn't seem to think it was relevant. "The issue, Mrs. Palmer, is that children shouldn't be talking about sex in class."

"And she wasn't." Rosaline really did not need an argument right now, but long experience had taught her that she was probably about to have one. "She was talking about her family."

Miss Wooding turned the nervous shade of pink that Rosaline found people often turned when her sexuality went from an idea they could support to a reality they had to confront. "I appreciate this is a sensitive topic and one that different people have different beliefs about. Which is why I have to be guided by the policies of our academy trust, and they make it quite clear that learners shouldn't be taught about LGBTQ until year six."

"Oh do they?" asked Rosaline, doing her best to remember that Miss Wooding was probably a very nice person and not just a fuzzy cardigan draped over some regressive social values. "Because Amelie's in year four and she manages to cope with my existence nearly every day."

Having concluded this was going to be one of those long grown-up conversations, Amelie had taken her Panda pencil case out of her bag and was diligently rearranging the contents. "I do," she said. "I'm very good."

Miss Wooding actually wrung her hands. "Yes, but the other children—"

"Are allowed to talk about their families as much as they like."

"Yes, but—"

"Which," Rosaline went on mercilessly, "when you think about it, is the definition of discrimination."

Amelie looked up again. "Discrimination is bad. We learned that in year three."

The d-word made Miss Wooding visibly flinch. "Now Mrs. Palmer—"

"Ms. Palmer."

"I'm sure this is a misunderstanding."

"I'm sure it is." Taking advantage of the fact that Miss Wooding had been temporarily pacified by the spectre of the Equality Act, Rosaline tried to strike a balance between defending her identity and catching her train. "I get that you have a weird professional duty to respect the wishes of people who want their kids to stay homophobic for as long as possible. But hopefully you get why that isn't my problem. And if you ever try to make it Amelie's problem again, I will lodge a formal complaint with the governors."

Miss Wooding de-flinched slightly. "As long as she doesn't—"

"No 'as long as she doesn't.' You're not teaching my daughter to be ashamed of me."

There was a long pause. Then Miss Wooding sighed. "Perhaps it's best that we draw a line under this and say no more about it."

In Rosaline's experience this was what victory over institutional prejudice looked like: nobody actually apologising or admitting they'd done anything wrong, but the institution in question generously offering to pretend that nothing had happened. So—win?

"That's probably wise," she said, hoping she'd at least taught Amelie a valuable lesson about standing up for yourself, or compromise, or…or…something?

*  *  *

"What happened to you?" asked Lauren as they got settled in the car.

Rosaline clicked her seat belt into place and checked over her shoulder to make sure Amelie had done the same. "Don't even."

"I got into trouble," said Amelie, "for saying Mummy is bisexual, which is silly because she is. So then Mummy told Miss Wooding that was discrimination and then Miss Wooding got really upset and then we got to come home."

"Fuck me," muttered Lauren. "What a pile of reprehensible bullshit."

Taking way more care than she usually did now there was a child in the vehicle, she eased the car away from the kerb. And, on the one hand, that was good because they wouldn't crash and kill Amelie. On the other hand: train, running late, argh.

"'Reprehensible' means 'very bad,'" offered Amelie.

"Just to check"—Rosaline twisted round in her seat—"of the words in that sentence, which are you allowed to say in school?"

"Me. What. A. Of. Reprehensible. And pile." Amelie paused a moment. "But not fuck or bullshit because some people think those words are bad. Which is silly because they're only words."

Oh God. This felt like a parenting moment. "Sometimes," said Rosaline slowly, "there are things that seem silly to you that are important to other people. Just like sometimes things that are important to you seem silly to other people. And that's why it's important to think about what you're saying and doing."

Amelie digested this. "Like the way Miss Wooding thinks it's silly to have a bisexual mummy?"

Lauren gave an unhelpful snort of laughter.

"A bit." As so often happened, what had begun as an opportunity to pass on positive values and hard-earned wisdom to her daughter had sharply derailed into not having a fucking clue what she was talking about. "But we've agreed to pay more attention to each other's feelings in future."

There was exactly enough silence to lull Rosaline into a false sense of security.

"Auntie Lauren?" piped up Amelie. "Why did you stop going out with Mummy? Did you think it was silly she's bisexual?"

"No." Lauren kept her eyes firmly on the road. "I'm not the sort of lesbian who thinks bisexuals are letting the side down. I'm more of a vagina half-full kind of homosexual."

"Oh." The advantage of having a sesquipedalian eight-year-old was that Amelie didn't like to admit that she hadn't understood things she probably shouldn't. "So what happened?"

"She dumped me. Because I'd been seeing another girl without telling her."

"Oh," said Amelie again. She seemed to be giving this serious consideration, and Rosaline tried to develop a sudden interest in passing licence plates. "Did you like the other girl better?"

"Not for long, but by then the damage was done. And she wasn't even a natural redhead." She shot a nostalgic look at Rosaline. "What might have been, eh?"

Might have been wasn't something Rosaline liked thinking about too often. Might have been too easily turned into should have been. After all, if she'd stayed with Lauren she wouldn't have rebounded with Tom, wouldn't have decided it was probably fine to skip the condom one "just this once" too many, and would have lived the life she'd always assumed she was meant to. But then she wouldn't have had Amelie and that was unthinkable in a whole different way.

"So"—Amelie fiddled with her seat belt in precisely the way Rosaline kept telling her not to—"would you have been my other mummy now, if Mummy hadn't left you?"

"Not exactly." Lauren really needed to learn when to bail on a conversation. Especially with Amelie.

"If I'd never left Auntie Lauren," Rosaline interrupted, "you'd never have been born."

Once again, Rosaline could practically hear the cogs whirring in her daughter's head. Every parent, she suspected, thought their kid was clever, but she liked to think that Amelie actually was, at least a bit. "Thank you for making Mummy dump you, Auntie Lauren."

There was a little pause, and, glancing over, Rosaline was slightly surprised to realise that Lauren genuinely didn't have a reply. Sincerity had never been her forte.

"Do you have homework for the weekend?" Rosaline asked, turning to look at her daughter.

Amelie shook her head.

"Remember, I know you were doing spelling today. And that you have spelling every week. So, I'm going to ask you again: Do you have any homework for the weekend, and is it spelling?"

Amelie nodded.

"Then learn your words when you get home, before you do anything else. And Auntie Lauren will test you tomorrow, won't you, Auntie Lauren?"

"I will," Lauren agreed, "although my spelling is terrible."

"You write for a living, Loz. How bad can it be?"

Lauren raised an eyebrow. "You see, they've got these fancy new machines now that check your spelling for you. Also I'm a bit offended that you think the most important skill in my job is spelling words right."

They pulled into the station car park and Rosaline concluded that she could still make her train as long as she was very brusque in leaving her only child and only friend and as long as Great Western Railway was staying true to form and running at least six minutes late.

"Well." Lauren turned off the engine. "This is it. Time to go be moderately famous."

Rosaline dragged her bag out of the footwell. "I don't want to be famous. I just want…enough money to pay for some things and enough people to think I'm good at baking that I might be able to get a slightly better job."

"Truly. Yours is a hubris of Homeric proportions."

"I think you're good at baking, Mummy," said Amelie. "What's hubris?"

"It's when you think you're so brilliant," explained Lauren, "that you fuck up horrendously and then the gods punish you."

"I'm sorry." Rosaline scrambled out of the car, feeling like a terrible person. "I love you both, and you're being really encouraging and lovely and stuff, but I've got to run. You"—she pointed at Lauren—"don't start teaching my daughter Catullus. And you"—she glanced at Amelie—"I'm going to miss you, but be good for Grandma Cordelia and don't take advantage of Auntie Lauren because I know what you're like when she's babysitting."

"You shouldn't call it babysitting," Amelie protested, "because I'm not a baby. I'm a child. Then I'll be a tween. Then a teen. Then a grown-up. Then I'll be old. And then I'll be dead."

Lauren laughed. "Hardly seems worth the effort, does it?"

It was not an auspicious note on which to start Lauren's custody of an impressionable young mind. But there wasn't time to address it now. Flinging her bag over her shoulder, and wishing she'd been able to finish that last fucking practice cake, Rosaline plunged into the rush-hour crowds.

*  *  *

The train was not, as it turned out, six minutes late. It wasn't even four minutes late, which meant Rosaline had exactly enough time to watch it pulling out of the station without her. Rationally, she knew that Miss Wooding hadn't intentionally timed her casual biphobia to have the largest and most negative impact possible on Rosaline's life, but fuck if it didn't feel that way. Having trudged all the way back over the footbridge to the information desk, she then spent an unhelpfully long time extracting from a bored station employee the precise combination of trains, short walks, and replacement bus services that would allegedly get her to Patchley House where the show was being filmed.

The first leg—by train to the middle of nowhere—was at least relatively short. The second—by juddering coach to a subtly different middle of nowhere—took rather longer. Then came the third—and theoretically final—stage of the journey, which was on one of those incredibly slow trains that should probably have been retired in the 1970s and stopped at every tiny station in every tiny village between Upper Whereinthehell and Who-Cares-on-the-Wold. Rosaline's original plan had been to use the journey to relax and centre herself or ground herself or do whatever you were supposed to do to get into the right headspace to come across well on reality TV. Instead of, say, the headspace of a stressed-out single mum whose parents—to whom she owed a nontrivial sum of money—would not have been at all surprised to learn she'd failed to get on a train properly.

Then the train stopped.

And didn't start again for forty fucking minutes.

"Uh"—the antiquated speaker system crackled into life—"hello. This is your driver speaking. And this is an announcement for all passengers on the eighteen twenty-three service from Mopley-on-Pond to Tapworth. Owing to a fault, this train will now terminate at Fondle Backwater."

That did not bode well. Bodewise, things were honestly looking pretty rough. And they looked, if anything, rougher, as the train heaved itself alongside the mid-length slab of concrete that passed for Fondle Backwater station. Not sure what else to do, Rosaline grabbed her bag and disembarked. There was only one other passenger disembarking with her. A man, who—in skinny chinos and a blue shirt casually rolled up at the elbows—looked worryingly like he might have had actual style. He also definitely didn't belong here. But, unlike Rosaline, he seemed to be okay with that, surveying the surroundings with an air of composure rather than confusion-trending-towards-panic.

What he could possibly be surveying Rosaline wasn't certain, because the view consisted of sky, fields, and eight sheep, one of whom was regarding her with an expression she chose to read as pity.

"So I'm guessing," remarked the stranger, who'd walked over while Rosaline was busy being judged by livestock, "that Fondle Backwater wasn't your intended destination?"

Now that he was closer, Rosaline was having to contend with the fact that, as well as stylish, he was also disconcertingly good-looking. In that tall, cheekbony slightly haughty English way that would get you the male lead in a BBC costume drama about a rakish aristocrat who has a tumultuous affair with a coal miner's daughter.

And appears shirtless on a horse at least once a season.

Typical. The first time an attractive person of any gender had spoken to her in months and she felt very much like someone who'd spent their day failing to finish a cake, fighting with a primary school teacher, and being dragged all over the southeast by a barely functional railway company. Quick, Rosaline, be charming. "What do you mean? I woke up this morning and I thought, You know what I want? An evening at a train station with a mildly suggestive name."

"Ah, then you should have gone to Much-Tupping-in-the-Weir." He offered an easy smile, brackets forming at the corners of his generous mouth. "It's even milder."

"I hear Lower Bumgrope is nice this time of year."

"Which is ironic, because Upper Bumgrope is an absolute dump."

Rosaline laughed, partly amused, but partly just relieved. Because, in retrospect, bumgrope had been a risky gambit, especially as the second thing you said to someone.

"But seriously," he went on, "as much as I'd love to stay here, exchanging rural innuendos with a delightful stranger, I need to be in Tapworth"—he paused to check an imaginary watch—"about an hour ago."

There was, as far as Rosaline was concerned, only one reason to go to Tapworth. Well, unless you lived there, but then you probably wouldn't get lost a couple of miles down the road. Which meant that she was fraternising with the competition. The well-spoken, well-dressed, well…well competition. "What a coincidence. I also need to be in Tapworth an hour ago."

 "Ah. Contestant or crew?"

"If I was crew," she asked, "wouldn't I know what I was doing?"

"You could be new." Another smile. This one with the faintest edge of wickedness. "Or horrible at your job."

"You got me. I'm a key grip, but I don't know how to grip anything."

He twitched an eyebrow at her. "That must cause a variety of problems."

Oh dear. That hadn't quite come out the way she'd intended. And perhaps it was Lauren's influence, or not having to set an example for an eight-year-old, but Rosaline decided to double down. "Yes," she said sadly, "it makes it very hard to give hand jobs."

There was a moment of silence. She was worried it was a shocked silence.

Then he laughed. "I see we've progressed from innuendo to outuendo. But in any case, it's nice to meet you. I'm Alain. Alain Pope."

He offered her his hand, which Rosaline took with all the suavity of a woman who'd just been talking about wanking. "Rosaline, um, Palmer?"

"Well, Rosaline-um-Palmer"—his very, frankly very, blue eyes gleamed at her through the twilight—"whatever are we going to do?"

"About my…Look, I'm not really a key grip with subpar job skills."

"No, I'd taken that as read. I meant, what are we going to do about the fact that we're trapped at an unfamiliar station when we need to be at a stately home somewhere else."

Oh. That. "When is the next train?"

Alain consulted his phone. "Tomorrow morning." He kept consulting. "And there doesn't appear to be a taxi service, any hotels other than the one we're trying to get to, and the nearest bus is two villages away, goes in the wrong direction, and stopped running an hour ago."

Oh God. They were fucked. "Hot-air balloon?"

"Didn't bring mine with me. You?"

"No, but I do have this"—she dug around in the front of her bag—"tin of travel mints I don't remember buying?"

"Ah, then we're saved. We can use these to…to…"

"Fashion a makeshift boat and sail up the river? Barter for transportation with a passing circus. Construct a distress flare with the aid of a bottle of Diet Coke."

"Do you have a bottle of Diet Coke?" he asked.

"Damn. I left it in the hot-air balloon."

"Don't worry." He tucked his phone away. "Worst comes to absolute worst, I'm sure the production company can send someone for us. Of course then we'd be the people who made them send a rescue team out the day before filming even started, and while they probably wouldn't hold it against us, I'm not entirely inclined to take the chance."

If there was one impulse Rosaline would always understand, it was the impulse to avoid doing things that people in a position of influence might resent and hold over you. In her experience, they usually did. "Yeah." She tried not to audibly wince. "I think if we can get in under our own steam, we probably should."

"At the very least, it'll be an adventure." He smiled his leave-your-mining-village smile. "So what do you say, Rosaline-um-Palmer. Do you want to come on an adventure with me?"

*  *  *

All in all, Rosaline told herself, it could have been a lot worse. The day was fading into a soft English evening, complete with pastel sky and mellow sunlight. It would have been an enjoyable walk if she'd been able to ignore the smell of silage and the fact she was late for the reality TV show that she wasn't exactly staking her whole future on. But was also not not staking her whole future on. And if nothing else, at least she had company—the sort of company that, if she was being honest, she might have appreciated even if she hadn't been dumped at a backwater station by a privatised rail company.

"I do hope," said Alain as they tromped down a country lane that had about a thirty percent chance of leading directly to nowhere, "that you're impressed by my bold and manly decisiveness. Rather than thinking to yourself, Oh no, he's one of those clichés who won't ask for directions."

Rosaline gave a laugh which she hoped communicated "I am mildly amused" rather than "I am trying too hard." "Who are you going to ask? That tree? The sheep?"

"I'm afraid I only took Sheep to GCSE, and the only phrase I can remember is 'Where is the bathroom?'"

"Okay." She had to ask. "What's Sheep for 'Where is the bathroom?'"

He had the grace to look…not to put too fine a point on it…sheepish. "I think it's 'Where is the baaathroom?'"

"You are really lucky I'm secretly into dad jokes."

There was a measuring pause. "Hi, Secretly into Dad Jokes. I'm Alain."

"Okay," Rosaline told him, "I might have put too much emphasis on the into and not enough emphasis on the secretly."

"Don't worry. Jokes aside, I'm not ready to go full dad quite yet."

This time Rosaline's laugh was ever so slightly more forced. She was
We hope you are enjoying the book so far. To continue reading...
Rosaline Palmer Takes the Cake
Alexis Hall
Copyright © 2022 All Rights Reserved