Robert B. Parker's Fallout
Book info
Sample
Audiobook
Media
Author updates
Lists
Synopsis
When two seemingly unconnected mysterious deaths occur on his watch, police chief Jesse Stone must pull out all the stops to unravel the truth and stop a killer from striking again.

The small town of Paradise is devastated when a star high-school baseball player is found dead at the bottom of a bluff just a day after winning the team's biggest game. For Jesse, the loss is doubly difficult—the teen was the nephew of his colleague, Suitcase Simpson, and Jesse had been coaching the young shortstop. As he searches for answers about how the boy died and why, he is stonewalled at every turn, and it seems that someone is determined to keep him from digging further.

Jesse suddenly must divide his attention between two cases after the shocking murder of former Paradise police chief, Charlie Farrell. Before his death, Farrell had been looking into a series of scam calls that preyed upon the elderly. But how do these "ghost calls" connect to his murder? When threats—and gunshots—appear on Jesse's own doorstep, the race to find answers is on. Both old and new enemies come into play, and in the end, Jesse and his team must discover the common factor between the two deaths in order to prevent a third.
Release date: September 6, 2022
Publisher: G.P. Putnam's Sons
Print pages: 368
* BingeBooks earns revenue from qualifying purchases as an Amazon Associate as well as from other retail partners.
Listen to a sample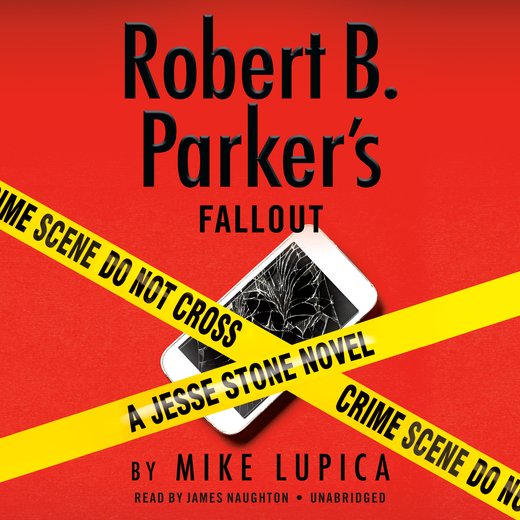 08:09:15
223.98 MB
September 6, 2022
Penguin Random House
Robert B. Parker's Fallout
Mike Lupica
One

Jesse Stone looked out at the baseball game being played at O'Hara Field, a ballgame on an afternoon like this always a beautiful thing, at least to him, his eyes fixed at the moment on the kid playing shortstop.

Jesse felt as if he were looking at himself, back when he was a high school senior, back when he could see a whole lifetime of baseball days like this stretching out in front of him.

This kid was a little taller. Had a little more range. But not more arm. Definitely not more arm.

Nobody ever had more arm than I did.

Jesse felt himself smiling. Because even knowing what he knew about what had happened once he made it as far as Triple-A, the big leagues close enough to touch, knowing how baseball would break his goddamn heart later, he wanted to climb down out of the bleachers and be this kid's age and change places with him in a heartbeat.

Just for one more afternoon.

Have one more game like this.

"What did you think about when it was late in a game like this?" Suitcase Simpson asked.

Suit was on one side of Jesse. Molly Crane was on the other. The kid at short, Jack Carlisle, was Suit's nephew, his sister Laura's boy. About to accept a scholarship to go play college ball at Vanderbilt, unless he changed his mind at the last second. Jesse didn't follow college ball the way he did the majors. But he knew enough to know that Vanderbilt had a big-ass program, and had sent a lot of kids to the big leagues over the years.

"I wanted the ball hit to me," Jesse said.

He heard a snort from Molly.

"So you could be in control. I'm shocked. Shocked, I tell ya."

Without turning, Jesse put a finger to his lips.

"Don't you shush me, Jesse Stone," she said. "You act like we're in church."

"Baseball is better than church," Jesse said.

Molly, the good Catholic girl, stared up at the sky. "Forgive him, Father." She smiled. "And not just for that."

Jesse turned to Suit. "I feel as if I've been sitting next to fans like her at ballgames my whole life."

"You wish," Molly said.

Suit shook his head. "I feel like I've got a bad middle seat on a long plane ride."

The Paradise Pirates were ahead of Marshport, 21. League championship game. Bottom of the ninth. Jesse always wanted to laugh when he heard people calling teams "bitter" rivals in sports. Only people on the outside. They had no idea. All they had to do was watch a game like this. Every single one of these kids on this field, both teams, waiting for the ball to be put in play and so much to start happening at once, was exactly where he wanted to be.

Where I always wanted to be.

Wanting the ball to be hit to me.

He had been working with Jack Carlisle a little bit this spring, at Suit's request. Trying to teach the kid some of the things that Jesse had learned on his own. Not teach him everything he knew. Just some of it. Some of the baseball he still had in him, despite landing on his shoulder that day in Albuquerque, his dreams about making The Show crash-landing right along with him.

His father had always been more interested in being a cop than he was in baseball. Or watching his kid play baseball. Jesse could count on one hand the times the old man had actually shown up for one of his games.

Two outs now. The Marshport center fielder had just struck out swinging.

But the tying run was still at third base.

Go-ahead run at second.

"Move to your right," Jesse said quietly.

As if somehow Jack Carlisle could hear him.

"He pulled one into the hole his last time out."

Still talking to himself. But tricking himself into believing he was talking to the kid at short.

"What?" Suit asked.

"Nothing" was Jesse's reply.

The Marshport batter stepped out of the box, buying himself some time. Maybe about to win the game, and the championship, for his team with a hit, or end his season with an out.

Across the field Jesse saw Nellie Shofner, from the Town Crier, taking notes. She still hadn't moved on to a bigger paper, though she clearly had the talent, and the work ethic. Jesse knew she was working on a feature about Jack Carlisle, one the Crier was going to run as soon as he signed his letter of intent with Vandy.

Nellie saw Jesse looking over at her and waved.

"Oh, look," Molly said. "It's Gidget."

Jesse ignored his deputy chief and leaned forward, the pitcher ready to pitch and the batter ready to hit now.

Hit it to short.

He's not afraid the way I never was.

It happened then, exactly the way Jesse had pictured it, or maybe willed it, the kid with the bat hitting a sharp grounder to Jack's right. Crack of the bat unmistakable on a ball you'd just caught clean.

But the damned ball looking like a base hit, for sure.

Except.

Except Jack Carlisle had moved over, the way Jesse wanted him to. Jesse had seen him do it right before the pitch, the kid reading the ball perfectly as it came off the bat. So the ball was headed into left field. But then wasn't. There was Jack Carlisle half sliding, half diving to his right, backhanding the ball. Knowing in the moment he had no chance at the kid who'd hit the ball, and was flying down the first base line behind him.

You either knew what to do next or you didn't.

Jack knew.

From his knees, he sidearmed the ball to his third baseman. Snap throw, right on the bag, something on it. I could make that throw. The Paradise third baseman, Finn Baker, put the tag on the runner, the runner clearly out. But if the runner heading home crossed the plate before the tag was applied at third, game was tied.

He didn't.

Game over.

Home team had won the title.

After the celebration in the middle of the field, and then the trophy presentation, Jesse stood with Jack Carlisle near second base. Suit was there, too. And Molly. Jesse knew, though, from experience, the kid really didn't want to be with them. He wanted to go be with his teammates. This was part of it, Jesse remembered, that feeling you had in the first few minutes after you won the big game, and you never got those first few minutes back.

"Party tonight," Jack told Jesse. "Over at the Bluff."

Jesse grinned. "Better not be adult beverages involved."

The kid grinned back. A younger version of Suit. Family resemblance impossible not to see. Jesse thought Jack Carlisle looked more like Suit than he did his own mother.

"Can't speak for the boys," Jack said. "But I'm not gonna blow everything by getting drunk and stupid."

Then he ran across the field to where the Paradise Pirates were already posing for pictures.

"There were guys I played with in high school who could have taught a master class in drunk and stupid," Jesse said to Suit and Molly.

"Boy, those were the days, my friend," Molly said.

"We thought they'd never end," Jesse said.

It was right before Jesse felt as if somebody had dropped a bomb on Paradise, Mass.

Two, actually.


Two

Spike was at the Gray Gull, which he had owned for a few years now.

He was Sunny Randall's best friend but had become Jesse's friend, too. Spike also owned Spike's, on Marshall Street in Boston. He had just been spending more time in Paradise lately, primarily because his current boyfriend had a weekend place on the water.

Sunny liked to call Spike a gay superhero. Jesse had asked her one time, just in the interest of proper recordkeeping, what kind of superhero she considered him.

"An inner-directed one," Sunny had said.

"Anything else?" Jesse had said.

"Hunky one," she'd said.

Back when she still considered him as such, sometimes quite enthusiastically.

"I know you want to ask me how she's doing," Spike said to Jesse when he arrived at the Gull.

Both of them knowing who "she" was.

"I'm fighting it," Jesse said. "The way I do my urge to drink."

"How about if I tell you anyway?" Spike said.

"How about I pop into the kitchen and look for possible health code violations?" Jesse said. "Or we could stop talking about Ms. Randall and you could show me to my table."

"Right this way, Chief Stone!" Spike said.

Charlie Farrell, who'd retired as police chief in Paradise long before Jesse had arrived from Los Angeles, was already seated at his favorite corner table, a martini in front of him. White hair, worn long, but he was able to carry off the longish hair, even at his age. Good tan. Bright red V-neck sweater. Charlie was partial to red. Said his late wife used to tell him the color "popped" when he wore it. Red golf shirt underneath it. Charlie didn't look his age, which Jesse knew to be right around eighty. It was his hands that gave him away. They always did. His hands looked older than the town lighthouse. Or the ocean beyond it.

He grinned and put his right hand out to Jesse. Jesse shook it, but lightly, knowing by now Charlie's hands were about as sturdy as leaves.

"Chief," Charlie said.

"Chief," Jesse said.

"I'd get up," Charlie said to Jesse, "but it would take too long."

"We need to get you one of those portable ski lifts you've got at the house to get you upstairs," Jesse said.

"Bite my Irish ass," the old man said.

Charlie and Maisie Farrell had finally gotten tired of the Paradise winters and moved down to Naples, Florida, after he retired. To live happily ever after in the sun. But Maisie Farrell was diagnosed with Alzheimer's two years ago, died last year from complications. Charlie had sold their condominium almost immediately after the funeral and moved back to Paradise. He told Jesse one time that he thought guys his age waiting around to die in Florida seemed like a clichŽ.

He pointed to his martini glass and did what he always did, no matter how many times they met for dinner, and asked if Jesse minded.

"Yeah," Jesse said. "Tonight's the night I decided to let your drinking finally bother me."

"Well, you never know," Charlie Farrell said.

"As long as you drink responsibly," Jesse said.

"I'm eighty years old," Charlie said. "What the hell's the point in that?"

He drank some of his drink and smacked his lips and put his glass down. He never ate the olives. Said they were more decorative than anything else.

"I never asked," Charlie said. "Were you a martini guy in your drinking days?"

"Scotch," Jesse said. "Lots and lots of scotch."

"You still miss it?"

"Only when I'm awake," Jesse said.

Spike brought Jesse an iced tea without Jesse having ordered it.

"On the house," Spike said.

"Too small to be a bribe," Jesse said.

"Gotta start somewhere," Spike said.

Charlie wanted to know how things were going with the red-haired lawyer.

Rita Fiore.

Jesse smiled. He smiled a lot when Charlie was on the other side of the table. Like he was here with his grandfather.

Or maybe a second father.

"You know how they say in sports that the legs go first?" Jesse said. "I'm starting to think they go second."

Charlie Farrell sighed.

"And the thing you're talking about that does go first?" he said. "It just keeps going and going. South."

"So it doesn't keep going like the Energizer Bunny," Jesse said.

"A battery, maybe," Charlie said. "But a dead one."

"I'll bet Miss Emma doesn't say that," Jesse said.

Librarian emeritus in Paradise. In Charlie's demographic.

"Despite her advancing years," Charlie said, "Miss Emma continues to be aspirational, bless her heart."

Jesse laughed. Sometimes he thought the best part of being in Charlie's presence was just listening to the old man talk.

They both made small talk over filets and fully loaded baked potatoes. Jesse wanted to know how Charlie's grandson was doing. Nicholas. In his late twenties, in a wheelchair since his motorcycle spun out of control one night in the rain on the Stiles Island Bridge. Jesse was the first to the scene. The helmet Nicholas was wearing might have saved his life. But couldn't prevent the damage to the lumbar region of his spinal cord.

"He loves working at that candy store," Charlie said. "They got the kid moving up fast in sales."

It was a lot more than a store. It was the hottest new business in Paradise, Mass., the candy company owned by Hillary More. She had moved here with her teenage son the year before, opened More Chocolate, and it had almost immediately become a sensation, and not just in Paradise. Hillary More had bought the old firehouse at the edge of town, refurbished it, extended it, hired only local people to work for her, making an especially big point of hiring people with disabilities like Nicholas Farrell, who now handled talking to nonprofits using More Chocolate for fundraising. The factory where the chocolate was actually manufactured was up in Nashua, New Hampshire, just over the state line, for tax purposes.

Jesse liked her a lot. He couldn't see himself having a romantic relationship with her, as much as she kept trying to put that into play, and not just because he knew she was a single parent with a son at the high school. What he did fantasize about was her running for mayor in the next election, an idea she had already floated herself from time to time.

It was a piece of a larger fantasy for Jesse, one that involved shooting his current boss, Mayor Gary Armistead, out of a cannon.

Jesse noticed Charlie had gotten quiet when it was time for him to order dessert.

"What?" Jesse said.

"What what?" Charlie said.

"Unspoken thoughts have never been one of your specialties," Jesse said. "Right up there with bullshit."

"I promised myself I wouldn't bother you with my niggly problems," Charlie said.

"With you, there's no such thing," Jesse said. "You're family, Chief."

So Charlie told Jesse about the "Grandpa call" he'd gotten the day before. A female voice, young, saying it was Erin. Granddaughter. Nicholas's sister. Traveling in Europe. Telling him that one of the girls she was traveling with in Europe had been arrested with drugs, and that they both needed a lawyer, which is why Grandpa needed to wire money, like right now. Or, better yet, buy some cash cards and read her the numbers over the phone.

"Erin" said she'd call back in the morning.

"What's pissing you off so much about that?" Jesse said. "You're too smart to have gone for it. On top of that, you're a cop."

"What pisses me off," Charlie said, "is thinking about other geezers who do fall for this scam, and lose money they can't afford to lose. Or give the scammers an account number from their bank and get themselves good and cleaned out."

He told Jesse then that Miss Emma had even lost a few thousand dollars to a scammer of her own the year before.

The martini was long gone. Charlie was working on an espresso now. And even though Charlie had gotten sidetracked riffing about the scam call, they both knew they weren't leaving until Charlie got his vanilla ice cream.

"I'd like to have a talk with whatever thief is behind this thing," Charlie said.

"It's the same as looking to get even with telemarketers," Jesse said. "But even if you could somehow stop one of them, it would be like whack-a-mole. There's more of them than there are us."

Jesse turned and waved for their waiter.

"Order some ice cream,"he said. "That always makes you feel better. And let this go."
We hope you are enjoying the book so far. To continue reading...
Robert B. Parker's Fallout
Mike Lupica
Copyright © 2023 All Rights Reserved