Robert B. Parker's Blood Feud
Book info
Sample
Audiobook
Media
Author updates
Lists
Synopsis
Robert B. Parker's iconic and irresistible PI Sunny Randall is back, and the stakes are higher than ever as she races to protect her ex-husband—and his Mafia family—from the vengeful plan of a mysterious rival.
Sunny Randall is "on" again with Richie, the ex-husband she never stopped loving and never seemed to be able to let go, despite her discomfort with his Mafia connections. When Richie is shot and nearly killed, Sunny is dragged into the thick of his family's business as she searches for answers and tries to stave off a mob war. But as the bullets start flying in Boston's mean streets, Sunny finds herself targeted by the deranged mastermind of the plot against the Burke family, whose motive may be far more personal than she could have anticipated...
Release date: November 27, 2018
Publisher: G.P. Putnam's Sons
Print pages: 336
* BingeBooks earns revenue from qualifying purchases as an Amazon Associate as well as from other retail partners.
Listen to a sample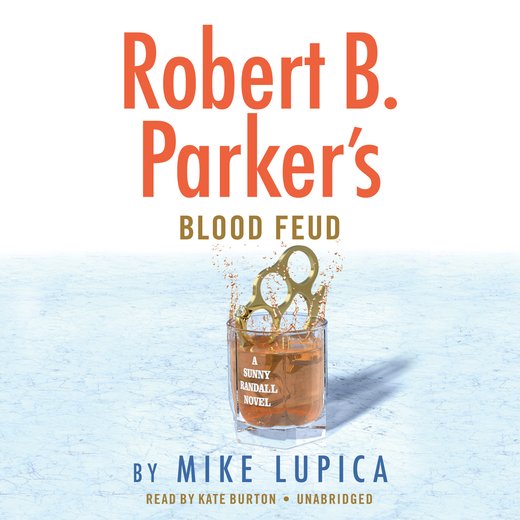 06:58:31
191.6 MB
9780525640202
November 27, 2018
Penguin Random House
2018
Robert B. Parker's Blood Feud
Mike Lupica
One
I said to Spike, "Do I look as if I'm getting older?"
"This is some kind of trap," he said.
"I'm being serious," I said. "The UPS kid ma'amed me the other day."
"I assume you shot him," Spike said.
"No," I said. "But I thought about it."
We were seated at one of the middle tables in the front room at his restaurant, Spike's, formerly known as Spike's Place, on Marshall Street near Quincy Market. It had started out as a sawdust-on-the-floor saloon, before there even was a Quincy Market. It was still a comedy club when Spike and two partners took it over. Then Spike bought out the two partners, reimagined the place as an upscale dining establishment-"Complete with flora and fauna," as he liked to say-and now he was making more money than he ever had in his life.
It was an hour or so before he would open the door for what was usually a robust Sunday brunch crowd. We were both working on Bloody Marys even though it was only ten-thirty in the morning, being free, well past twenty-one, and willing to throw caution to the wind.
Spike took a bite of the celery stalk from his drink. I knew he was doing that only to buy time.
"Would you mind repeating the question?" he said.
"You heard me."
"I believe," he said, "that what you've asked is the age equivalent of asking if I think you look fat in those jeans."
I looked down at my favorite pair of Seven whites. Actually, I had no way of knowing if they were my favorites, since I had four pairs in my closet exactly like them. When any one of them started to feel too tight, I doubled down on yoga and gym time, and cut back on the wine.
"You're saying I'm fat, too?" I said.
"You know I'm not," he said. "And in answer to the original question, you always look younger than springtime to me."
"You're sweet," I said.
"That's what all the girls say. But, sadly, only about half the guys."
Spike was big, bearded, built like a bear that did a lot of gym time, and able to beat up the Back Bay if necessary. He was also gay, and my best friend in the world.
"Only half?" I said.
"I'm the one who's getting old, sweetie," he said. "And probably starting to look fat in my own skinny-ass jeans."
My miniature English bull terrier, Rosie, was lounging on the floor in the puppy bed that Spike kept for her behind the bar, thinking food might be available at any moment, the way it usually was at Spike's. Spike called her Rosie Two. The original Rosie, the love of my life, had passed away the previous spring, far too soon. My father had always said that dogs were one of the few things that God got wrong, that they were the ones who ought to be able to live forever.
I'd asked Spike not to call her Rosie Two, telling him that it affected a girl's self-esteem.
"I love you," he'd say, "and by extension, that means I love your dog. But she's still a goddamn dog."
At which point I would shush him and tell him that now he was just being mean.
There was a sharp rap on the front window. Rosie immediately jumped to attention, growling, her default mechanism for strangers. There was a young couple peering in at us, the guy prettier than the woman he was with. They looked like J and Crew. Spike smiled brilliantly at them, pointed at his watch, shook his head. They moved on, their blondness intact.
"Where were we?" Spike said.
"Discussing my advancing age."
"We're not going to have one of those dreary conversations about your biological clock, are we?" he said. He trained his smile on me now. "It makes you sound so straight."
"Pretty sure I am, last time I checked."
"Well," Spike said, sighing theatrically. "You don't have to make a thing of it."
"You make it sound like we have these conversations all the time," I said.
"More lately now that you and your ex have started up again, or started over again, or whatever the hell it is you two are doing."
My ex-husband was Richie Burke, and had long since turned Kathryn Burke into his second ex-wife. He'd finally admitted to her that he not only had never gotten over me, he likely never would.
At the time Spike said it was shocking, Kathryn being a bad sport about something like that, and racing him to see who could file for divorce first.
Now Richie and I were dating, as much as I thought it was stupid to think of it that way. But "seeing each other" sounded even worse. When we did spend a night together, something we never did more than once a week, we always slept at my new apartment on River Street Place so I didn't have to get a sitter for Rosie. So far there had been hardly any talk about the two of us moving back in together, something I wasn't sure could ever happen again. It wasn't because of Richie. It was because of me.
The one time Richie had asked if I could ever see the two of us married again, I told him I'd rather run my hand through Trump's hair.
"I keep thinking that maybe this time you two crazy kids could live happily ever after," Spike said.
"I'm no good at either one," I said. "Happy. Or ever after."
"I thought you said you were happy with the way things were going?" Spike said.
"Not so much lately."
"Well, shitfuck," he said.
"'Shitfuck'?"
"It's something an old baseball manager used to say," he said.
Spike was obsessed with baseball in general and the Boston Red Sox in particular. He frequently reminded me of the old line that in Boston the Red Sox weren't a matter of life and death, because they were far more serious than that.
"You know baseball bores the hell out of me," I said.
"I can't believe they even allow you to live here," Spike said.
We both sipped our drinks, which were merely perfect. I used to tell friends all the time that they could call off the search for the best Bloody Mary on the planet once they got to Spike's.
"What's bothering you, really?" Spike said. "You only have to look in the mirror to see how beautiful you still are. And having been in the gym with you as often as I have, we both know you're as fit as a Navy SEAL."
"Remember when Richie told me it was officially over with Kathryn? He said it was because he wanted it all. And that 'all' meant me."
"I remember."
"But the problem," I continued, "is that I'm no better at figuring out what that means to me than I was when we were married. Or apart." I sighed. "Shitfuck," I said.
"You sound like the dog that caught the car," Spike said.
I smiled at him. "That's me," I said. "An old dog."
"I give up," he said.
"What you need to do is open up," I said, "and send me and my gorgeous dog politely and firmly on our way."
"You could stay for lunch," Spike said.
"And have Rosie scare off the decent people? Who needs that?"
"What you need," Spike said, "is a case. A private detective without clients is, like, what? Help me out here."
"You without a cute guy in your life?"
"Some of us don't need men to complete us," he said.
We both laughed and stood up. I kissed him on the cheek.
"Go home and paint," he said. "We both know that is something that actually does complete you. Then get up tomorrow and somehow find a way to get yourself a client."
"What if the phone doesn't ring?" I said.
Spike said, "It always has."
It did.
Two
I'd loved the waterfront loft in Fort Point that I'd shared with the original Rosie.
I'd loved the light it gave me to paint in the late afternoon, when I felt as if I usually did my best work. I'd loved that it was completely mine after Richie and I broke up, and even remained mine after some very bad and very dangerous men had done their best to ruin it when I was once protecting a runaway girl. Mine and the original Rosie's, before and after the repairs. Ours.
But once Rosie died, there were simply too many memories for me to endure staying there. There was no place for me to turn without expecting to see her. She was supposed to be in the small bed next to where I painted, or sleeping at the foot of my real bed, or on the couch in the living room, or waiting at the door when Richie would come to get her for a weekend, back when the two of us shared custody of her.
So I'd moved, to a town house at the end of River Street, parallel to Charles, at the foot of Beacon Hill, a couple of blocks from the Public Garden and Boston Common, around the corner from the old Charles Street Meeting House. It was owned by my friend Melanie Joan Hall, an author for whom I'd once served as a bodyguard on a book tour, and then saved from a stalker who happened to be one of her ex-husbands.
Melanie Joan had bought the place not long after all that, falling in love with it the way she so frequently fell in and out of love with men. But now she had remarried again, to a Hollywood producer, and had moved Out There. When I'd mentioned the new Rosie and I were moving, she'd insisted that we make River Street Place our new home. At first she wanted to let me have it rent-free. I insisted that I couldn't do that. We'd finally agreed on a rent that was ridiculously low for the area, she'd put a lot of her stuff into storage, Rosie and I had moved in, with a lot of my stuff, but not all.
There were four floors. The place had been built in the nineteenth century, and legend had it that back then ship sails had been woven in the loft next door. It was all kind of funky and wonderful, built like an old railroad flat, not one of the floors more than twenty feet wide. Living room and kitchen on the first floor, master bedroom on the second, guest room on the third. The fourth floor became my art studio. I still thought of it all as Melanie Joan's house, as if it were a halfway house before I would find something more permanent eventually. But Rosie and I were still doing the best to make it ours. For now we were content, if in an impermanent way, in our twenty-by-fifteen rooms, and it was doing both of us just fine, Rosie more than me. As long as I was around, she didn't care if we lived in a shoe.
In the late afternoon she slept in a bed near the table where I was painting the small stone cottage Richie and I had come upon in the Concord woods last fall, when we had gone hiking up there. It was at the far end of a huge piece of property that belonged to a high school friend of Richie's who had gotten extremely wealthy in the real estate business.
"He's always telling me that there's a Thoreau inside me waiting to bust out," Richie said that day.
I told him that knowing what I knew about my city-boy ex-husband, busting out of a prison would be easier.
Richie's friend had told him about the cottage, which he said had been originally built in the early part of the twentieth century by a writer whose name Richie couldn't remember, and had gone empty for years. But I thought it was perfect, the masonry still beautiful, the place framed by autumn leaves and birch trees, and, beyond that, sky and God.
I had snapped some photographs with my iPhone but hadn't gotten around to finally painting the cottage until a month ago. I was still going slowly with it, still experimenting with which colors I wanted to dominate the background and which ones I wanted to mute, how dark I wanted the gray of the cottage to be setting off the leaves around it, how much contrast I needed between the stones of the cottage and the lone stone wall in front.
For the next few hours, I existed only in that world, trying to imagine what it must have been like to live in those woods nearly a hundred years ago, lost in the satisfied feeling of the work finally coming together, the shapes and color and proportion almost assembling themselves, as if exploring all of their own possibilities.
Over the years I had managed to sell a fair amount of my paintings. But it had never felt like a job to me, or work. It was nothing I would ever say out loud, not to Spike or to Richie or to anyone, but it was about the art in me. It had always been about the joy the feeling of a brush in my hand and then on the paper had always brought to me once I had gone back to working with watercolors.
There was also the sense of clarity and purpose it gave me, a completeness that my real job had never brought to my life, or my marriage.
"Rosie," I said when I finally put down my brush, pleased with the work I had done today, "why can't the whole world be like this?"
Rosie raised her head. Sometimes I thought that whatever I said to her always sounded the same, as if I were asking her if she wanted a treat.
I cleaned my brushes, put them away, took one last look at what I'd accomplished today. And smiled.
"Sunny Randall," I said, "you may be getting older. But this is one goddamn area where you're getting better."
I showered, changed into a T-shirt and new skinny denims, rewarded myself for a good day's work with a generous pour of pinot grigio. Then I inserted one of my favorite jazz CDs into Melanie Joan's player, John Coltrane and Thelonious Monk at Carnegie Hall.
It occurred to me that I hadn't thought about dinner until just now. It was, I decided, a good thing. Spike said another marker for getting older was when you started thinking about what you wanted to have for dinner as soon as you finished lunch.
"Once you're doing that," he said, "the next stop is the home."
We hope you are enjoying the book so far. To continue reading...
Robert B. Parker's Blood Feud
Mike Lupica
Copyright © 2023 All Rights Reserved