Prairie Bride
A loveless marriage of convenience on the Kansas prairie turns out to be far more than she bargained for.
Shout-outs
"I am so in love with this author. She is FANTASTIC!! My favorite author!! The Color of Heaven series is wonderful and now to read an updated version of her first ever historical novel, WOW!! All I can say is you don't know what you are missing if you haven't read any of Julianne MacLean's work!!!"
Debi at Goodreads
Book info
Sample
Audiobook
Media
Author updates
Synopsis
USA Today bestselling author Julianne MacLean delivers a breathtaking and passionate standalone novel featuring a rugged, alpha-male hero of the West...

A loveless marriage of convenience on the Kansas prairie turns out to be far more than she bargained for…

HE'S PART OF THE WEST
Briggs Brigman has been burned once before, and the last thing he needs is a beautiful wife who will spend hours in front of the mirror, primping herself. He knows how hard the prairie can be on a woman, and all he wants is a stalwart bride who won't complain about hauling water from the creek….

SHE'S A CITY GIRL WITH NO IDEA WHAT SHE'S IN FOR…
All Sarah MacFarland wants is to escape her fearful life in Boston and start fresh with a new identity. Answering an advertisement for a mail order bride seems like the perfect solution, until she meets her soon-to-be husband—a ruggedly handsome, strapping farmer who leaves her breathless on their wedding night. But is it possible that two tormented souls can find happiness, when all they know is betrayal, and when trust is the only way out of a tumultuous past that simply won't stay buried?

NOTE: This novel was previously published under the title MAIL ORDER PRAIRIE BRIDE in 2017.
Release date: May 12, 2016
Publisher: Julianne MacLean Publishing Inc.
Print pages: 334
* BingeBooks earns revenue from qualifying purchases as an Amazon Associate as well as from other retail partners.
Listen to a sample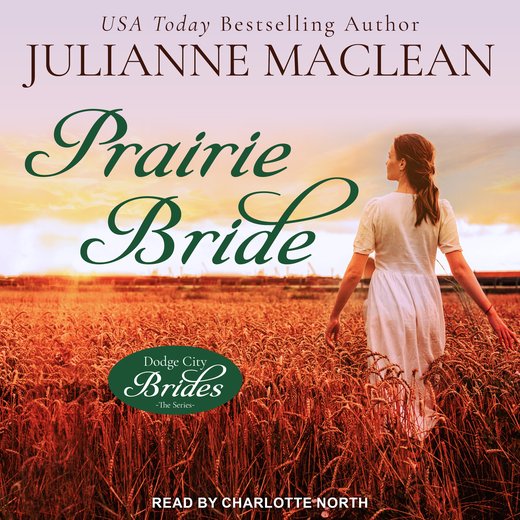 07:19:43
201.3 MB
February 23, 2021
Tantor Audio
2021
Prairie Bride
Julianne MacLean
Chapter 1
Kansas, 1875
Exhausted, knowing she would not sleep for many hours, Sarah MacFarland leaned forward to peer from the train window. The shrill steam whistle blew. Heavy iron wheels chugged and squealed beneath the soles of her feet, faster and faster, mimicking the rhythm of her heart.
Tonight, she would lose her virginity. For the second time.
Sarah sank back in her seat and massaged her pounding temples. She prayed silently that it would all go well, that she had done the right thing, coming out west. Searching for reassurance, she pulled open her draw string purse and withdrew the newspaper advertisement.
Farmer, Arthur Brigman, seeks gentle and peaceful wife for simple life on Kansas prairie. Must agree to daily toil and plain home.
Marriage and a simple life was what she'd always wanted, she reminded herself, as she watched two children chase each other up the aisle, screeching with laughter. A troublesome guilt slithered up Sarah's spine. Never in all her dreams, had she believed she would reach her goal of marriage through deceit. But she had no choice, really.
She folded the wrinkled piece of paper and slid her fingers along the crease. If only she knew what to expect from her future husband. If only she knew what he looked like.
Stuffing the ad back into her purse, accidentally elbowing the sleeping woman beside her, Sarah decided with conviction that a man's looks were of little importance to her now. She had learned her lesson in Boston. This time she would act with common sense. She gazed out the window at the ocean of golden prairie grass. The rippling land seemed to stretch on and on forever, colliding violently with the cloudless sky.
A person could easily disappear in it.
She tilted her head back, closed her weary eyes, and imagined her new husband. Perhaps Arthur would be waiting for her with a black buggy and a handsome black horse. He would touch the brim of his hat when their eyes first met. Surely he would know her the moment he saw her. She envisioned him wearing a new wedding suit—a gray one with a matching fedora—something similar to the one her father used to wear to church on Sundays. She wondered if Arthur was clean shaven. Papa had always worn a wide, bristly mustache with the ends waxed into a curl. And gold spectacles. She smiled as she remembered how he used to smoke a pipe on Saturdays after supper. Perhaps Arthur would do the same.
All of a sudden, that tenacious guilt returned and stabbed at her dreamy thoughts. She had not been completely honest with her future husband. She had kept many things from him. Sarah had come here in search of more than a simple home. She had come in search of safety. Sanctuary.
A baby at the back of the train began to cry. Sarah opened her eyes. She hoped Arthur would never know how far she had plunged from her father's virtuous pedestal. And she hoped her husband would forgive her for deceiving him on their wedding day.
* * *
"I still think you're making a big mistake," George Brigman said, his eyes perusing the dark, damp interior of the sod house.
Arthur "Briggs" Brigman glared with irritation at his brother, who brushed at the top of a wooden box before sitting down. Heaven forbid he should soil his new suit while he handed out his opinions.
Trying to ignore George's advice, Briggs looked around his one room dwelling. Rain from the day before had soaked through the walls to the inside. Mud dripped from the ceiling with a tedious tat-tat-tat. The smell of wet earth yawned from every crevice after the rainstorm the night before, the dampness seeping under his clothing.
What a fine mess for his new wife to come home to.
George stomped his foot on a grasshopper, kneading it into the dirt floor. "You're not over Isabelle yet."
Shrugging into his fringed buckskin coat, Briggs winced at the sound of Isabelle's name. He hoped after today, he wouldn't hear it again.
His gaze searched the dugout for his worn leather gloves. Taking three easy strides, he swept them up from the nail keg by the door and tapped them against his thigh. He wondered if he should have shaved. Too late now, he decided. He'd been working since dawn in the corn field and hadn't realized the time.
"You're not listening to me," George went on. "It's only been three months, and you're hardly set up for marriage."
"I'm set up fine. I have land and I have a house." He spread his arms wide so the fringe on his sleeves dangled. "What more could I need?"
"You call this a house?" George walked to the sod wall and plucked out a long blade of limp, brown grass. "You advertise in a city paper for a wife, and you expect her to live here?"
Briggs clamped his jaw at the insult. He was proud of what he'd accomplished over the past year. He owned this land and all the corn and wheat planted on it. As soon as the harvest machine came, he'd make a handsome profit off his wheat and rye.
"I said I was looking for someone who could handle the prairie. That someone answered, so there's nothing else to talk about. I need help around here. I need a wife. And I'm done sitting alone on my land like the hermit everyone thinks I am, pining away over...." Still uncomfortable speaking her name, he reached up to rub the back of his neck, warm under the blanket of his thick, unruly hair.
"You were never one to care what other people thought," George pointed out, a little too perceptively for Briggs's present mood.
He took a deep breath, searching for patience. He succeeded only in reminding himself of the ever-present smell of dirt and grass. Everything was so darn wet.
"I am over Isabelle," he said. "I was over her the moment she took me for a fool and broke our engagement." He turned his back on his brother. He didn't need this. Not today. They had a long drive ahead of them and he had vows to think about.
"Look at you," George snorted. "You're covered with dust. You look like you just walked off the field. Why don't you at least borrow one of my suits."
Briggs looked down at his faded denims and shabby leather boots. "I did just walk off the field. This is the way I dress, and your suits would never fit me. You know that."
"We could stop off at the clothier—"
Briggs raised an eyebrow, wishing George would stop making suggestions about his wedding attire. Briggs had never intended the ceremony to be anything more than what it was. A legality.
A moment of silence passed while Briggs threw an old gray blanket over the narrow bed and fluffed up the single pillow. Suddenly, his gut wrenched. He was in the habit of living alone. Soon he'd be sleeping here—sharing his bed—with a complete stranger.
"You don't have to marry this girl today," George continued. "You don't even know what she looks like."
"It's not about looks, George. In fact, a pretty face clouds a man's judgement. What I need is a capable woman who's not so concerned with fancy clothes and hats and all that other stuff women like." Briggs flipped his hair out of his face. "She's going to live out here, miles from town, lighting fires with dry cow dung."
George's disapproving gaze swept the room, then he pushed his gold spectacles further up the bridge of his nose. "It's not too late to change your mind. You could get to know her first, maybe court her a little."
"I don't have time to court. I'm thirty years old. Besides, if I felt like courting, I'd court someone here in Kansas, instead of bringing her all the way from....uh..." Briggs drew his eyebrows together, struggling to remember which newspaper advertisement she'd answered.
"Boston!" George finished for him. "You brought her from Boston!"
"Right. Boston." He took one last look around to make sure everything was in order. It was as good as it was going to get. He reached for his well-worn ivory Stetson and placed it on his head. "Now let's get on the road or we'll be late and she'll be standing around at the station wondering if she got off in the wrong town."
Briggs followed George through the narrow door, watching his brother duck so his gray fedora wouldn't graze the low frame. "I'm sure she'll be wondering that, regardless, when she sees this place," George commented.
The two walked into the wind toward the unpainted wagon, aged the color of a thunder cloud. Hoisting himself into the hard seat, Briggs flicked the reins and they lurched ominously into motion. He turned the wagon through the yard toward town with George's horse in tow.
Briggs sighed. Maybe George was right. Maybe he should have waited—at least until the harvest was in. But what was done was done. He'd made an agreement and he wouldn't go back on his word. The girl had insisted on coming right away. She'd traveled across the country and he had promised her a marriage certificate the day she arrived.
Briggs squinted up at the blue sky, removed his hat and swabbed his forehead with a sleeve. Marriage. He'd never imagined it would come about like this. But recalling his first proposal, he decided it was better this way. He'd made a mistake in choosing Isabelle. She was completely wrong for the kind of life he'd always wanted, but he'd been struck blind by her beauty and charm. Isabelle could never have been a farmer's wife. He should have known that from the start.
Perhaps things turned out for the best with Isabelle, he thought, absent-mindedly steering the wagon through a deep rut. There was no denying he'd suffered when she left him. Anger had beaten the drive out of him for days, but it was anger directed at himself for being so foolish. His brain had been in his trousers when he'd proposed.
Not this time, he thought proudly, watching one of the horses swat his long tail at a bee. This time, Briggs had a clear set of newspaper-print requirements, and a pretty face was not among them. This time, the marriage would be built on respect and a mutual desire for companionship—things that would last through the years.
George's voice penetrated Briggs's thoughts. "Did you get her a wedding gift?"
"A wedding gift? Isn't it enough that I paid her fare all the way from Boston?"
George shook his head in that slow way of his. "A woman likes something she can hold onto. A gift that'll mean something in twenty years when she digs it out of the closet. Why don't you give her the necklace?"
"Are you out of your mind?" Briggs exclaimed. "What would I do about the engraving on the back? Draw a line through 'Isabelle' and write in the other one's name?"
"Sarah."
"I know her name."
"It would be nice if you could use it when you meet her."
"I will. I will."
"And I don't want to hear you complaining if she's not the most beautiful woman you've ever seen. You like the pretty ones and that's why you fell so hard for Isabelle when she wasn't—"
Briggs shot his brother a glare. "I hope my wife's got hips as big as a barn and arms stronger than Big Joe MacKaskill's. She'll need 'em if she's going to haul water from the creek 'till I get a well dug."
"And when do you plan on doing that?"
Briggs clicked his tongue at the horses. "When I get around to it." George didn't respond, and Briggs could feel his disapproval like a pesky fly. Being a city person and a lawyer, George could never understand how much work went into farming. Or how rewarding it could be.
"I just hope you're nice to her today."
"I will be," Briggs replied defensively. "And I don't want to hear any more about it." The wagon lurched and swayed over a bump in the road. "Yah!" he called to the cumbersome horses, flicking the reins and realizing that, come sundown, he'd be a married man.
His chest tightened at the thought of meeting this strange woman. He hoped this time, he knew what he was getting into.
* * *
"Next stop, Dodge City!" the conductor called out, whisking his fingers over the back of each seat as he staggered down the aisle.
Knots twisted inside Sarah's slender body. She sat forward to see, for the first time, the place that would become her home. It was real now, no longer a fantasy. She checked to ensure her dark hair was neat and tidy, all her buttons were fastened, then pinched her cheeks to summon some color.
"You look lovely," the woman beside her said. "I'm sure he'll fall in love with you the moment he sees you."
Sarah forced a smile. "How did you know?"
"I saw you reading that ad, and it's not hard to tell how nervous you are. But don't worry. You're a beautiful young woman. He'll be pleased, to be sure."
Sarah watched the dust-covered, wooden buildings pass by the window as the train chugged into Dodge City. Sagging boardwalks sighed with fatigue under the persistent eddy of cowboys and town folk. The wide main street, muddy from a recent rainfall, lay battered with deep hoof-prints and wagon tracks.
The steam train screeched to a tuckered-out halt at the station. Outside the window, a crowd was gathered on the platform, mostly men puffing pockets of cigar smoke out from under their hats. Sarah took one last quick look, swallowed her apprehension, then reached for her valise.
Inching into the aisle, Sarah carried her bag toward the door. When she reached the steps, she squinted into the bright sunlight, then quickly raised a hand to shade her eyes. She searched the unfamiliar faces looking up at her. Where was the man who had promised to meet her? The man who would soon be her husband?
She took an uneasy step down. Just then, a gust of wind blew into her face and sucked her hat off her head, sending it somersaulting across the muddy station yard. "Oh dear!" she cried, as she clumsily reached up to hold her knotted hair in place.
At that moment, she spotted him. He was pursuing her hat. Her spirits suddenly surged with delight. It was him. It had to be. He wore spectacles, a gray suit and a fedora, just as she had pictured him. He looked very much like her father.
The man picked up her hat and wiped it meticulously with a crisp white handkerchief. When he seemed satisfied it was clean, he turned and walked directly toward her. "Sarah MacFarland?" he asked, reaching her and taking her heavy valise.
"Yes, I'm Sarah." She placed her hat back on her head and poked the pin into place.
"Please, come this way." He led her past a small group of men. "Allow me to introduce myself. I'm George Brigman."
Sarah peered at him, confused. Then her stomach dropped. "George? I thought you were...uh. Is Arthur your middle name?"
He stopped and laughed and held out his hand. "You've got it wrong, I'm afraid. I'm George, Arthur's brother. But I wouldn't call him Arthur, if I were you."
"Why not?" Sarah asked, shaking his proffered hand.
"Everyone calls him Briggs. No one's called him Arthur since...." He paused. "Well, I wouldn't try it."
Sarah felt an uncomfortable jolt of apprehension as she let go of George's hand.
"Please, the wagon is this way." George led her around the back of the depot.
As they walked arm in arm, Sarah wondered why Arthur—or Briggs, rather—hadn't come to meet her himself. Perhaps he was shy. That must be it, she told herself while fighting a dozen-and-one fears. That's why he had advertised for a wife instead of courting one.
Well, shy was just fine with her. In fact, she preferred it that way. A nice, quiet, reserved husband. Yes, that would be delightful.
George nodded his head toward a wagon. "There he is."
Sarah stopped to look, but all she saw was a beat-up box on wheels, hitched to two prehistoric-looking horses with hairy hooves. "Where?" she asked, shading her eyes.
Just then, a man stepped out from behind the team.
Sarah's breath caught in her lungs. Her first impression was that he was clearly in need of a bath and a shave. Had he forgotten this was his wedding day? He wore a white cowboy hat, a brown buckskin coat with long, swinging fringe along the sleeves and a necklace fashioned from animal claws. Animal claws? He looked nothing like her father at all.
Fighting the nausea which had suddenly rooted itself in her stomach, she took another tentative step forward. Briggs bent forward to check a hoof on one of the horses.
"I don't think he's seen us yet," George said, sounding apologetic.
In her opinion, Briggs was more concerned with his horse than her arrival. But the extra moment gave her time to rein in her emotions and reconsider this situation. It was wrong of her to judge him based on his appearance. She hadn't met him yet. He could be a very polite fellow.
He dropped the horse's hoof and looked up. Sarah's gaze met his, and a shiver of trepidation skittered through her. He seemed disappointed, as if she were not at all what he had expected.
The sun moved behind a cloud, bathing Briggs in shade as he sauntered slowly toward her. Tall and muscular, he moved with surprising grace. "You're Sarah MacFarland?" he said.
She swallowed nervously, then struggled to keep her voice from quivering. "Yes."
George broke in. "Sarah, this is my brother, Briggs. And Briggs, this is Sarah."
The large farmer swept his steely gaze down her body, then back up again to her oversized, purple hat. "Somehow I can't imagine her hauling water," he said to George. "She's no bigger than a mouse."
"I can haul water," Sarah mentioned uncertainly, but no one seemed to be listening.
George shrugged at Briggs, and Sarah was sure his eyes said, I told you so.
"Throw her bag into the wagon and get in," Briggs said to his brother.
While George climbed into the back, Sarah stood wondering why this man was so displeased with her. She'd tried to appear pleasant. For pity's sake, she'd done everything she could to primp and make herself beautiful for him.
"Let's go." He climbed into the high wagon seat. "The courthouse closes at five." When she hesitated, he frowned down at her. Heat stole into her cheeks and she suspected she'd turned a vivid scarlet. "Are you coming?"
Something inside her wanted to say no and make a mad dash for the hills, but the hills, she thought ridiculously, were quite a distance from here. She stood motionless, letting her eyes wander the flat, windy town.
The sun poked out from behind the cloud, and she had to shield her eyes again to look up at Briggs's large silhouette. This man was less gentlemanly than she would have liked, to be sure, but she was in no position to be fussy. She would rather take her chances here than back in Boston with Garrison, who could be on her heels at this very moment. At least if she married Briggs, it would be legal and she would change her name.
If things didn't work out, at least some time would pass and her trail would become a little less visible. Garrison wouldn't be able to find her.
Of course, she hoped it would work out, that she and Briggs could get to know each other and somehow manage some sort of life together. One day, she might even tell him the truth, after enough time had passed.
Raising her skirts, she scrambled awkwardly into the seat beside him.
"Yah!" he called out, flicking the reins. Without warning, the wagon jerked forward and Sarah's head snapped back. She bounced and jiggled, using all her muscles to avoid toppling into Briggs's lap as he turned the wagon around and headed across the wide street.
He spoke not one word the entire way, and Sarah wondered miserably if she'd just escaped one dreadful situation only to arrive smack dab in the middle of another.
We hope you are enjoying the book so far. To continue reading...
Prairie Bride
Julianne MacLean
Copyright © 2021 All Rights Reserved