Midnight Snacks are Murder
Book info
Sample
Audiobook
Media
Author updates
Lists
Synopsis
When her sleepwalking aunt is accused of committing murder, Poppy McAllister finds out there's no rest for the weary . . . Between trying to get her gluten-free baking business off the ground and helping her aunt remodel her old Victorian into the Butterfly House Bed and Breakfast in Cape May, New Jersey, Poppy is ready to call, "Mayday!" And now Aunt Ginny—who's a handful wide-awake—is sleepwalking on her new sleeping pill prescription and helping herself to neighbors' snacks and knickknacks. Even more alarming, a local humanitarian who worked with troubled teens is found murdered, and the police suspect the "Snack Bandit." Other than a bad case of midnight munchies and some mild knickknack kleptomania, Aunt Ginny is harmless. Someone's trying to frame her. Poppy will need to work tirelessly to uncover the killer and put the case to rest—before Aunt Ginny has to trade in her B & B for a bunk bed behind bars . . . Includes Seven Recipes from Poppy's Kitchen!
Release date: July 31, 2018
Publisher: Kensington Books
Print pages: 384
* BingeBooks earns revenue from qualifying purchases as an Amazon Associate as well as from other retail partners.
Listen to a sample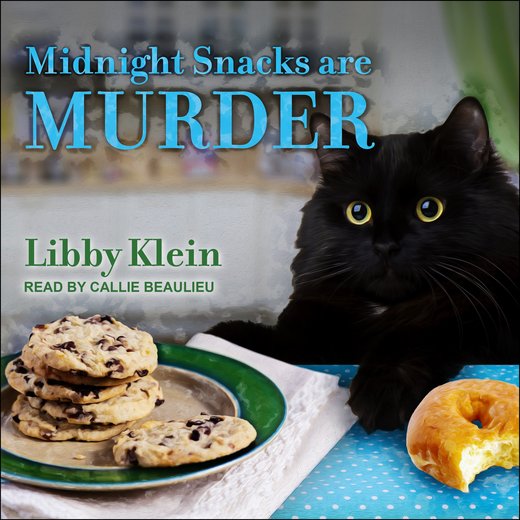 09:35:10
263.31 MB
January 26, 2021
Tantor Audio
2021
Midnight Snacks are Murder
Libby Klein
Mischief and Mayhem were running amuck in South Jersey. Mischief, or as I called her, Aunt Ginny, was on the warpath flanked by her first in command, Mayhem, also known as my black smoke Persian, Figaro the instigator. Today their battleground was the kitchen and the enemy was knee deep in the hoopla installing pearl-gray cabinets and black-and-silver granite countertops.

Aunt Ginny barked out orders like Patton leading the Allied forces through France. "If any one of you puts so much as a single scratch on my Romba cuckoo clock, there will be hell to pay! My first husband, Lovell, brought that home from Germany in 1945. It's survived three wars, a fire, and Hurricane Sandy. I'll be darned if it's going down because of a slipshod kitchen remodel."

I'd been stranded in Cape May with my eighty-ish great aunt ever since I was lured up here to attend my twenty-fifth high school reunion a few weeks ago, and was voted most likely to kill a cheerleader. I'd never wanted to return to the birthplace of my most painful memories, but I'd come to accept that Cape May had a certain charm. One that I'd call "better than a sharp stick in the eye." I'd been away long enough to forget that Aunt Ginny teetered on the edge of crazy. Now it was my job to look after this rickety old rattletrap . . . and the house. With two redheads under the same roof, and one of them having just bought a wakeboard on xtremesports4seniors.com, I think twenty years in the women's prison would have been easier.

We'd been undergoing a major refurbishment to transform the Queen Anne Victorian into a quaint, beachy bed-and-breakfast so I'd have a way to support Aunt Ginny and she could keep her independence. A new roof had been laid, the porch and swing had been repaired, and the entire outside of the house had been freshly painted in Easter-egg shades of butter yellow, baby pink, and lavender. A wooden shingle hung in the front yard proclaiming us the Butterfly House B & B, punctuated with a giant blue-and-black butterfly. I'd gotten the local radio station to run a call-in contest giving away passes to our special Fall Fling Event. The free weekend got me some generosity points, and sent me four sets of guests to be my guinea pigs. There was still a long list of projects to be completed before we officially launched our grand opening, not the least of which was to find ways to keep Aunt Ginny and Figaro from scaring off the clientele.

I ran upstairs with my checklist to the guest bedroom we'd named the Swallowtail Suite and inspected the work. "Smitty!" A little man with a perfectly round bald head like a crystal garden globe, and deep-set cow eyes danced into the room.

"What's up, boss?"

"Smitty, why is this room painted Island Pool? It's supposed to be Buttercream. Island Pool was for the Adonis Blue Suite. It matches the king-size duvet in that room."

Smitty returned a blank expression.

"It's a theme."

Smitty scratched his head.

"We've talked about it at length."

Smitty grunted and pulled a folded checklist out of his paint-smeared overalls. He frowned and looked up into my eyes. "I can fix that." Then he gave me a Benny Hill backhanded salute and a "whoop whoop whoop" from the Three Stooges and shimmied backwards out of the room.

I sighed. Itty Bitty Smitty, as everyone called him, was my general contractor. He was highly recommended by Handyman Haven and I now suspected he either had dirt on the owner or they sent him to me in a self-survival effort to get him off their referral list. He was the only handyman within my budget who was available on short notice. I was starting to see why.

I heard a crash on the first floor and Figaro slinked up the stairs and sat at my feet. "What did you do?" He licked his paw and gave me an innocent look before wiping it on his ear. I ran down the stairs to the kitchen to see workmen cleaning up a stack of broken stone tiles that were left over from laying the new kitchen floor.

"No problem, ma'am. Julio knocked the slate over while backing up to install the new cooler. Everything is a-okay."

The new cooler was a seventy-two-inch, triple-door, brushed-nickel refrigerator and freezer that had cost as much as a small car. I bet you could fit forty-seven turkeys in there. If we ever lost the house we could move into the freezer side and sublet the fridge space to another family. I'd spent a fortune on this bed-and-breakfast gamble, and Aunt Ginny and I had nothing to fall back on if it failed. My mother-in-law had invested just enough into the venture to keep her strings attached so she could yank on me whenever she wanted. I doubted Georgina would approve of our new apricot kitchen or my splurge purchase of a BlueStar Infused Copper range with double ovens. When Georgina makes a big purchase it's a wise investment. When I do it, apparently it's superfluous. Between the bed-and-breakfast baking, and my daily delivery of gluten-free muffins to La Dolce Vita coffee shop, the 1970s avocado-green General Electric model had to be replaced. I was afraid it would explode if I ran it for more than two hours at a time.

I reached into a box I'd brought with me yesterday when I'd officially moved out of the home my late husband and I had shared for more than twenty years in Waterford. It was a painful move, and with it, part of my life—the part with John—was really over. But I had promised him I would live and be happy. I'd had no idea how difficult that promise would be to keep when I made it.

"Come here, baby. Let mama set you up." I pulled out my prized powder-pink Italian espresso machine and lovingly placed it on the new countertop, polishing the chrome. If John could see us now. Thinking of him made my heart grip in my chest. Each passing day got a little better, but sometimes it still hurt enough to take my breath away. I missed him terribly.

Smitty appeared beside me. "Are we on target to have the kitchen painted by Thursday?" I asked him. "I have four sets of guests arriving Friday afternoon for a complimentary practice run. Those initial reviews could have a powerful impact on business going forward, so I need them to be stellar."

"Absolutely. You can count on me, boss."

There was a crash from the dining room, followed by Aunt Ginny's yell, "Smitty!"

Smitty grunted and said, "I can fix that," then ran out to inspect the damage.

Stress like this was why I had Señor Ramone's Tacos and Tater Tots on speed dial in Virginia. I looked around the kitchen. It was coming together. This time tomorrow I'd be up to my elbows in blueberries and almond meal, coconut flour, maple syrup, and Tahitian vanilla beans. I added parchment paper and muffin liners to my growing shopping list for the chef supply warehouse, along with commercial muffin tins, sheet pans, and a twelve-shelf baker's cooling rack.

I was just about to take my espresso machine for her inaugural run in her new digs when Smitty tore in on his cell phone.

"We have an emergency."

"This isn't another out-of-marshmallow-fluff kind of emergency like last week, is it?"

"The BlueStar is on backorder."

I could feel the panic rising. "No no no! It can't be, Smitty."

Aunt Ginny entered the kitchen, her I Love Lucy dyed hair piled up in a beehive on top of her head, and dressed in what looked like pale blue pajamas with a white dragon print on the sleeve. "What's on backorder?"

Smitty turned to her. "The range."

Aunt Ginny whistled and shook her head. "I can't take anymore. I'm strung up tighter than a new fiddle. I'm going to karate to relax."

"Please don't crane-kick Jimmy Kapps today. You already have two strikes."

"He knew what he was getting into when he signed up for the class."

"He's twelve."

"How else is he gonna learn?"

I had a better chance of teaching a badger to ride a bike than winning an argument with Aunt Ginny. "I'll see you for dinner tonight. Which now that I think about it will have to be salads or takeout, since we don't have an oven." I narrowed my eyes at Smitty. "How can I run a bed-and-breakfast if I can't make breakfast, Smitty?"

Smitty covered the mouthpiece to his phone and shrugged. "Cereal?"

"I really don't think we want to make a name for ourselves for being the Cap'n Crunch bed-and-breakfast."

My cell phone vibrated and I saw a text from Giampaolo, the owner of the espresso bar. I'd been ducking him since he laid that sizzling kiss on me. Of course, that didn't stop me from daydreaming about him.

I had three men in my life. Tim, my high school sweetheart. I'd never really gotten over him. Then there was John, who knocked me up in college. His family came from money and mine came from crazy, so naturally a shotgun wedding was in order. And finally, Giampaolo, or Gia for short. The sexy Italian barista befriended me during my captivity when I was maliciously and unfairly under investigation by a vindictive blond police officer. But that's another story. I turned into a pool of melted chocolate whenever Gia was around and I'm pretty sure he could tell.

My head was clogged with murky thoughts of men and moving on, and I had to wade through them to read Gia's text. It said he had something important to discuss with me and could I come over this afternoon to do it in person. Before I could tap out so much as a smiley face, there was another crash by the front door, followed by Aunt Ginny crying out in pain.

My heart lurched and I ran to the foyer with a prayer that she was okay. Figaro galloped past me to be the first on the scene. Aunt Ginny's tiny frame lay on the parquet wood floor in a heap. I ran to her side and yelled to anyone listening, "Call an ambulance!"

"Poppy Blossom, don't you dare call an ambulance or I will flame your heinie." Aunt Ginny groaned and shifted herself upright. "I lost my balance, that's all. I haven't been sleeping, with all this rigmarole in my house. I'm just petered out."

"Falling is not a small thing, Aunt Ginny, especially at your age."

Aunt Ginny scowled and gave me a sideways look.

"Well, it's not. And I think we need to get you checked out to make sure you didn't break anything."

"But Master Kim—"

"Will have to smash boards without you."

I had Smitty scoop her into my Toyota Corolla and belt her in. She made him run back into the house twice before we could leave. Once to get her pocketbook, and the other time to fetch her Pretty in Pink lipstick from the hall bathroom counter.

We started out toward Cape Urgent Care, but Aunt Ginny howled and hollered that only her doctor knew her and was qualified to diagnose her. He'd been her family physician since I was in ponytails, and at her age she should have a say in her medical treatment. For me not to acquiesce to her demands was nothing short of elder abuse. She pitched such a fit that I bypassed Urgent Care and drove straight to Dr. Weingarten's. I was tempted to drop her off at the door and return to collect her at the end of the day, but then she grabbed her chest and said she couldn't breathe, and I immediately repented of my momentary impatience.

The North Cape May office was a converted two-story Victorian Provincial with blue shingles and a sign out front that said CAPE MEDICAL ASSOCIATES. The waiting room was set up in the original front parlor. The odors of cabbage and Bengay permeated the atmosphere. It was currently filled with yellow-flowered sofas and blue-haired old ladies, many of whom didn't actually have appointments. They were here to drink the free coffee and sit in the waiting room playing a few rounds of Where Does It Hurt, or Who Has the Scariest Looking Mole?

I signed Aunt Ginny in at the front desk and filled the nurse in about her episode. She said they would get Aunt Ginny back right away. Not ten minutes later, a young woman in pink scrubs with the phrase Nurses Do It in Harmony embroidered over the front pocket came to fetch the crabby patient.

Aunt Ginny narrowed her eyes and grimaced at the nurse. "Where's Yolanda?"

The girl gave Aunt Ginny a pleasant smile. "Yolanda had her baby. I'm Tracy. I'll be filling in while she's on maternity leave."

Aunt Ginny stood, reluctantly. "When was the baby born?"

"Last Thursday in the middle of the night."

"Darn. I had Sunday morning in the pool."

As Tracy led Aunt Ginny through to the patient rooms, Aunt Ginny cross-examined her. "What kind of nursing degree do you have? What kind of grades did you get? I don't want to be treated by a nurse who got Cs. Why didn't you go all the way to become a doctor?"

I sent up a silent prayer for Nurse Tracy. I sat in the waiting room too upset and distracted to read the much pawed-over issues of People. I didn't know what I would do if I lost Aunt Ginny. We'd gone through a lot together. I'd fully expected her to be honored by Al Roker and the Smucker's jelly people one day. Sass and stubbornness were all that was holding her together, and they don't have a pill for that yet if it fails. She had been good to me my whole life. My mother dumped me on her doorstep when I was a kid. She had raised me, and I repaid her with a hasty exodus the moment the ink was dry on my high school diploma. If I could take it all back for a few more years with her, I would do it in a blink. Now I was responsible for her well-being. I was going to be sure to take better care of her from now on. I wiped a tear off my cheek.

Twenty minutes later, Aunt Ginny sashayed into the waiting room looking like she'd just won first place at the Senior Center Tapioca Cook-off. She waved at friends across the waiting room. "Hammish, how's the bursitis? Carol gets extra points if that rash has spread."

Nurse Tracy handed me Aunt Ginny's discharge papers. "She's suffering from anxiety and sleep deprivation. The doctor is giving her two prescriptions and she needs to relax and avoid stress as much as possible." She pointed to the papers in my hand. "She has one for her nerves and one to help her sleep."

"That's it? She doesn't need a CAT scan or anything?"

Aunt Ginny smiled at Nurse Tracy and jabbed me in the side with her elbow.

Nurse Tracy smiled back. "Nope. If she doesn't improve in a few days the doctor may order some further tests, but for now she's free to go about her regular routine."

I wondered what Nurse Tracy would say if she knew Aunt Ginny's regular routine included rollerblading on the boardwalk and Krav Maga classes. It was unusual for Aunt Ginny to fall victim to so much stress. Usually she was just a carrier.

We made a quick stop at the pharmacy to fill the prescriptions. We arrived home two hours later, loaded down with Aunt Ginny's shampoo, conditioner, ajar of Oil of Olay, a tub of Noxzema, two packs of Halls cough drops, a tube of ChapStick, a box of Turtles candy, Maybelline's entire Dazzling Disco collection of eyeshadow, blush, and lipstick, a pair of flip-flops from the dollar bin, silver glitter nail polish, emery boards, and the drugs. I was considering taking one of her antianxiety pills for my efforts.

I opened the front door and was rolled over by an eerie calm. There were no saws or electric drills. No workmen hollering in Spanish to each other. No nyuck-nyuck-nyucks from Itty Bitty Smitty. Just deafening silence. The temperature had dropped, but it was warmer outside than in the foyer. Figaro was sitting on the third step with his ears flattened against his head, swishing his tail to a menacing beat.

Aunt Ginny was frozen in place. "I don't like this."

I took a step into the house and noticed all the workmen sitting on the couch in a line in the library, hands on knees, looking straight ahead. Smitty was perched on the end wearing a scowl. They looked like little boys caught smoking in the bathroom by the principal.

I approached Smitty, their commander in chief. "What's going on? Why is no one working?"

Smitty rolled his eyes and nudged his head toward something behind me. A pair of icy hands came around to cover my eyes and a shrill voice said, "Guess who?"

I felt my chest tighten and my breath came in short bursts. Please just let me be having a stroke.

Five feet four inches of brunette wickedness packed in a vintage pink Coco Chanel suit stood in front of me.

"Georgina. What a surprise." Much like the way that iceberg was a surprise to the Titanic.

"I came to check on my investment and see how the house was coming along."

Oh, sweet Jesus.

Aunt Ginny took a seat in the wingback chair in front of the fireplace. Figaro jumped up on her lap but kept his eyes on Georgina, as if waiting for her to turn back to her natural state as Queen of the Underworld when the sun set.

Georgina marched in front of the workmen like she was looking at a prison lineup. "And thank God, I found these"—she waved her hand in dismissal at the workers—"men about to install the world's largest refrigerator in that tiny kitchen. I knew there must be some mistake. I mean really, Poppy, why do you need a refrigerator that monstrous? You're not holding retreats at the Ritz-Carlton."

"The refri—" I started, but Georgina cut me off.

"And this little fellow . . ." She pointed a perfectly manicured pink fingernail at Smitty. "What was your name again? Smutty, or something?"

Smitty rolled his eyes and grunted.

"Anyway, I found him right in the thick of it, directing them to hook it up."

"Georgina!" My voice came out brusquer than I had intended, so I tried it again, softer. "Georgina, you didn't have to come all the way up here to check on things. I could have sent you a report."

"Nonsense. You know you've never undertaken a project of this magnitude before. What kind of business partner would I be if I left you to lose all our investment money guided by your lack of experience? It's like I told my dear late Phillip, we're partners. You shouldn't do anything without my valuable oversight."

Yeah, I was pretty sure that was what killed him.

The workmen shifted uncomfortably in their seats. Smitty made the sign of the cross.

"We're not launching a hospital wing; we're opening a bed-and-breakfast. Who do you think oversaw all the house repairs for the past twenty years?"

"Well now, you're just making my point for me."

My cell phone buzzed in my back pocket. Oh, thank God, please be a telemarketer. I reviewed the alert. It was my calendar alarm reminding me about my appointment with Gia. Followed by another alert to put on Spanx.

"So, I see your cell phone isn't lost after all."

"I didn't tell you it was lost."

"No. You just never answer it when I need you."

Only a fool answers the phone when death comes a-calling.

Georgina put her hands on her hips and jutted her chin out. "What? You don't have a smart response for that?"

"Not one I can say out loud."

Georgina narrowed her eyes and squeezed her lips together.

"I have a meeting I have to get to." And a gorgeous Italian to try to control myself around. I turned to the workmen. "Guys, you can get back to work. The refrigerator is fine. Georgina, everything is under control. I'll send you some pictures and flow charts by Friday. Have a safe trip back to Waterford." The workmen hotfooted it out of the library. I snatched up my purse and held it in front of me like a shield.

Georgina trilled an imperious laugh. "Poppy, don't be ridiculous. I'm not going home. I'm here for a few weeks to help you launch the business."

Dear God, what have I done to deserve this?

Smitty grunted. Aunt Ginny took a pill. Figaro hacked up a fur ball. Being holed up in here with Georgina criticizing my every move. If I killed her now, I would be out in time to collect social security.

The smell of freshly roasted espresso beans greeted me in the rear parking lot as I pulled into La Dolce Vita's loading zone at the Washington Street Mall. He was waiting for me. Leaning seductively against the doorjamb, all six foot two of Italian sexy. My face grew warm and I began to tingle. Dressed in a sharp white dress shirt with navy pinstripes tucked into dark slacks, his arms were crossed over his chest beneath a confident smile. One eyebrow cocked when we made visual contact and I felt the heat rise to my face.

"Bella, I miss you. You have been avoiding me." His deep voice poured honey all over me.

"What?" I gushed. "No, I haven't. Don't be silly. Why would anyone want to avoid you? I sure wouldn't." Oh God. Shut up, Poppy, shut up!

He leaned in close and studied my eyes. The intensity of his gaze unnerved me. He smelled so good. A combination of vanilla, cedarwood, and coffee. "Was it the kiss?"

My heart was galloping the Kentucky Derby, but all I could think about were his lips on mine and how I wanted to feel them again. "Wh-what? N-no. Not the kiss."

He reached up and tucked a wild strand of hair behind my ear. "You don't like me?"

I stared into his eyes and my neck and shoulders went loose and giggly. My words came out breathy and uneven. "No . . . I . . . I like you."

He leaned in close to my face and I closed my eyes. I felt his lips graze my forehead. My eyes fluttered open and a moment passed between us where his eyes judged my response to him. He smiled warmly. "Good. I like you too." My knees went gooey. "Come. I will make you a coconut latte and we'll talk of plans."

Oooh. Plans for what? I need to lose at least thirty pounds before I'll allow myself to get naked in the daylight. Wait. What are we talking about?

We went through the back kitchen to the caramel-and-chocolate-colored dining room, where creamy coffee-tone leather bar stools lined up at the walnut espresso bar.

"You've been dropping off the muffins and leaving so quickly I've hardly had any time with you. I thought maybe there was someone else."

"Someone else?" The image of Tim flashed in my mind with a burst of shame.

Gia was watching me closely. His smile never left his face, but there was anxiety behind his eyes that belied some of his confidence. "Is there?"

I took a deep breath. "Well. No. I mean maybe. I'm not sure."

Gia nodded and warmed a pitcher of coconut and almond milk. "Mm-hmm."

"I have sort of reconnected with an old boyfriend."

He nodded but never broke eye contact. "Okay."

"I was supposed to marry him twenty years ago, but my cheating on him and the resulting pregnancy kind of threw a kink into those plans." I paused to let that sink in. I waited for signs of disappointment or disgust to roll over Gia's expression.

Gia cocked his head and a slow smile spread across his face. "Bella, you have a child?" He placed the finished latte in front of me.

"Oh no! No. I-I lost the baby. I couldn't have them after that."

His face paled. He came around the counter and wrapped me in his arms. I tried to be cool and keep it together, but I ended up with tears running down his pinstripes. He pulled me closer and I gave in to his embrace.

"I am so sorry for your loss. I don't know what I would do without my son. Henry is such a big part of my life. I know he isn't the same for you, but he does adore you. If you ever want to spend time with him, you just need to say the word."

My heart swelled in my chest for this beautiful, generous man. If only our timing wasn't so off. I dried my eyes on a paper napkin. "Thank you. I would love that."

Gia's sister Karla came in from the back with her long dark hair tied up in a topknot, and wrapped an apron around h. . .
We hope you are enjoying the book so far. To continue reading...
Midnight Snacks are Murder
Libby Klein
Copyright © 2021 All Rights Reserved
Also in this series
Also by this author