Midnight at Malabar House
Available in:
eBook
Paperback
Audiobook
Hardcover
Book info
Sample
Audiobook
Media
Author updates
Lists
Synopsis
Bombay, 1949. As India celebrates the arrival of a momentous new decade, Inspector Persis Wadia stands vigil in the basement of Malabar House, home to the city's most unwanted unit of police officers. When the phone rings to report the murder of prominent English diplomat Sir James Herriot, the country's most sensational case falls into her lap. As 1950 dawns and India prepares to become the world's largest republic, Persis, accompanied by Scotland Yard criminalist Archie Blackfinch, finds herself investigating a case that is becoming more political by the second. Navigating a society in turmoil, Persis, smart, stubborn and untested in the crucible of male hostility that surrounds her, must find a way to solve the murder.
Release date: August 20, 2020
Publisher: Hodder & Stoughton
Print pages: 336
* BingeBooks earns revenue from qualifying purchases as an Amazon Associate as well as from other retail partners.
Listen to a sample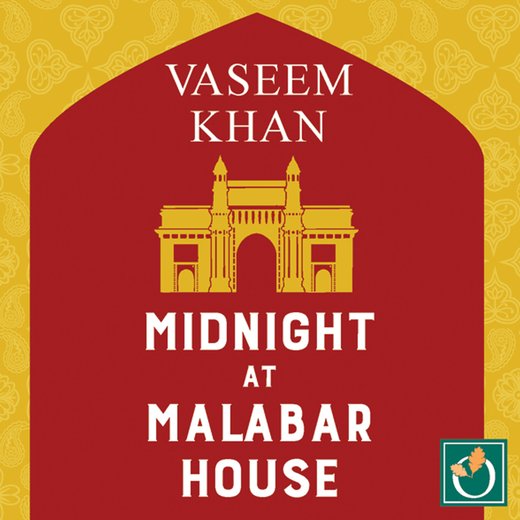 10:42:06
293.94 MB
9781473685482
January 1, 2021
Oakhill Publishing
Midnight at Malabar House
Vaseem Khan
Author's Note:
The Ghosts of Partition

We often think of Partition as a matter of historical importance involving nation states, macro-level politics, and major world figures. But the truth is that Partition had – and continues to have – an enduring effect on individual lives. Millions died, millions more lost their homes, their businesses, the lives that they had known. Studies have estimated that between two to three million people went missing in the state of Punjab during the movement of populations and have never been accounted for.

The chaos of Partition cannot be blamed solely on Mountbatten and British policy. Subcontinental politicians must shoulder their share of the blame. And individuals too. Those ordinary citizens who allowed themselves to be incited into hatred and religious xenophobia, who set aside decades, sometimes centuries of friendship, who took up sword and flame to terrorise their neighbours and compatriots, to murder men, women, and children in a frenzy of bloodlust that even now is difficult to comprehend.

My own father retained hazy memories of being forced from his village in Punjab as a boy. He was one of the fortunate ones. The violence passed him by and he settled in a village in Pakistan, a mirror image of the one that he had left behind. In his twenties, fortune brought him to the UK where he settled in London, where I was born.

My father passed away last year at the age of 82, having spent many more years in Britain than on the subcontinent. He identified as a Brit and a Pakistani but he never forgot the India that he claimed was his birthplace. When I, at the age of 23, found myself travelling to live and work in that country (I stayed for a decade), he was overjoyed. My mother was somewhat less enthused. She had been born in Pakistan and had grown up with the hateful rhetoric that even now pits the two neighbours against one another at regular intervals.

That is the true legacy of Partition. The way it has coloured the perceptions of two peoples who were essentially one, the way it continues to serve as a means by which political interests on both sides of the border can employ hatred and prejudice as a means of deflecting criticism of their regimes.

One can only hope that the wounds of history are healed in the fullness of time. Only then might the ghosts of Partition, the millions of dead and missing, find peace.

Vaseem Khan

London, March 2020


Sign up to Vaseem Khan's newsletter here

Chapter 1

31 December 1949

The call came in the deepest part of the night, the telephone's lusty urgency shattering the basement silence. Persis paused, pen poised above the blank white page of the duty log she had been attempting to complete for the past hour.

There was little to report.

She sat alone in the office, the only sounds the gentle swishing of the ceiling fan and the scurrying of a lone mouse under the jumble of desks and battered metal filing cabinets. Occasionally a muffled bang would drift in from the world above. New Year's Eve fireworks. The entire city was out partying, the streets alive with drunken multitudes, celebrating the end of the most turbulent decade in the nation's history. In spite – or perhaps because – of this she had agreed to stand vigil for the night. Frivolity was alien to her nature and she had often been told that her tastes – in matters of dress and deportment – tended to the staid.

Perhaps this was the effect of growing up without a mother.

Sanaz Wadia née Poonawalla had died when Persis was just seven, taking with her the last vestiges of an already waning belief in a benevolent God. Her father had never remarried, raising her as best as he was able in the margins of his grief. Poor Aunt Nussie had tried her best, but Sam Wadia was a stubborn man.

The thought passed through her mind that the call might well be her father, ringing to assure himself that, an hour into the new year, she was still alive and well.

She plucked up the receiver of the black Stromberg Carlson: 'CID, Malabar House. Inspector Wadia speaking.'

A moment's hesitation, as her caller's incredulity filtered down the line.

It wasn't the first time.

Her appointment, seven months earlier, had occasioned hysteria in publications as far apart as the Calcutta Gazette to the Karnataka Herald. In Bombay, the Indian Chronicle had been particularly scathing: 'The commissioner's experiment in catapulting a woman into the service might well mirror our fledgling republic's forward-thinking ideals, but what he has failed to consider is that in temperament, intelligence and moral fibre, the female of the species is, and always will be, inferior to the male.'

That cutting, framed in glass, now looked up at her from her desk. Each morning it served as a shot across her bows, a trenchant reminder that if it was respect she craved, she faced an uphill task in earning it.

Her caller gathered his composure. 'May I speak with your superior officer?'

She stifled the urge to slam the receiver back into its cradle. 'I'm afraid that tonight I am the ranking officer. Sir.'

The shallowest intake of breath. 'In that case, Miss Wadia, might I ask you to make your way to Laburnum House on Marine Drive. The residence of Sir James Herriot.'

'Inspector.'

'I'm sorry?'

'Inspector Wadia. Not Miss.'

Silence. 'My apologies. Inspector, if you could make haste, it would be most appreciated.'

'May I ask what this is regarding?'

'You may,' said the voice coolly. 'Sir James has been murdered.'

Chapter 10

The tomb of Haji Ali had been built in the 1400s, a whitewashed monument perched on a tiny islet in the middle of Haji Ali Bay in mid-town Bombay, linked to the city proper by a narrow causeway that was traversable only during low tide. When the tide was up the causeway vanished, promoting the illusion that the Sufi saint's tomb was floating on water.

Persis parked her jeep on the coast road, then walked along the causeway towards the tomb and its accompanying mosque, shimmering in the midday sun. Pilgrims jostled along on all sides, glancing at her, some with curiosity, others with open hostility. For centuries women had been banned from the tomb; even now they were permitted only into its marbled precincts and not into the sanctum sanctorum that lay at its heart, the central shrine where the saint was interred. Recent petitions to the Bombay High Court had fallen on deaf ears. As far as the law was concerned women were still persona non grata here, which made it all the more surprising that Eve Gatsby, a woman and a foreigner, had been granted access.

She found the American just outside the tomb, in a blazing white courtyard, examining a succession of pillars embellished with artistic mirror work: blue, green and yellow chips of glass arranged in kaleidoscopic patterns interspersed with Arabic calligraphy spelling out the ninety-nine names of Allah.

In deference to the proscription against revealing clothing, Eve had donned a pair of khaki jodhpurs and long boots, below a white blouson, a headscarf and trendy, bug-eyed sunglasses with yellow frames. She resembled a cross between a fashion model and a jungle explorer.

She was bent behind a tripod and camera set-up.

Persis noted a small, intense-looking Indian standing to one side: Eve's official escort inside the tomb, she presumed. The man, dressed in a white shalwar kameez with a white skullcap, exuded a sense of nervousness, as if, perhaps, he had brought a landmine into the complex and was waiting for it to go off.

'Glad you could make it, Inspector,' said Gatsby in the breezy accent of a native New Yorker. 'To tell the truth I was hoping to meet you while I was out here. India's first female detective. And now a celebrity. In fact, if you don't mind, I'd like to get a few shots of you on camera.'

Persis wasn't sure how to respond. The American oozed self-confidence, as if the very possibility of the world not aligning itself with her wishes was something beyond the bounds of imagination. Gatsby was one of those who hadn't bothered to wait around to be interviewed at Laburnum House.

'I came here to ask you about Sir James Herriot.'

Eve smiled, a dazzling white-toothed affair. She was a beautiful woman, tall and chic, with wisps of dark hair poking out from under her headscarf. Persis could easily imagine her gracing the silver screen; she reminded her of a young Olivia de Havilland – Persis had been a fan of the American actress ever since They Died with Their Boots On.

Gatsby pulled out a pack of Capstans from her jodhpurs and lit one. Her minder uncrossed his arms and glanced around like a startled rabbit. Persis noted that the pair of them, the only two women in the courtyard, were attracting considerable attention.

On the far side of the courtyard, a group of Sufi singers launched into a bout of maniacal prayer. Their singsong voices rose above the courtyard, mingling with the cawing of gulls.

'You know,' remarked Eve, 'this place is one of the best examples of Indo-Islamic architecture on the subcontinent. Haji Ali was a wealthy merchant. Gave up all his possessions one day and decided to travel the world seeking goodness in his fellow man.' She flashed another breezy smile. 'It's a shame about Sir James. What would you like to know?'

'How did you know him?' asked Persis.

'Through my father. Sir James was in the States last year, on a diplomatic mission, and my father entertained him at our New York home. They became friends. He invited us out to Bombay. My father couldn't come but I was keen.'

'Are you here for business or pleasure?'

'A bit of both. I'm a photographer. Well, to be truthful I'm the daughter of a very wealthy man, one who pays for me to indulge my hobbies. But I like to think that I take it seriously. The subcontinent has always held a particular allure for the lens, if you have the eye for it. You don't know who my father is, do you?'

Persis shook her head.

'Truman Gatsby. Noted industrialist and Republican politician. That's his official entry in the Marquis Who's Who. My father made a fortune in New York real estate. And now he wants to run for Congress. We have a saying back home: "When a man is tired of common sense he takes up politics."'

'You sound cynical".'

'Let's just say I've seen a little of the world and not all of it is to my liking.'

'Was Sir James to your liking?'

She froze, then pushed her sunglasses on to her forehead, revealing two dark and pretty eyes. 'If I was a betting woman, Inspector, I'd say that had a certain bite to it.'

Persis pressed forward. 'I am told that you and Sir James were . . . involved.'

'Involved?' echoed Eve. 'What a curious word. I take it you mean we were engaged in some sort of tawdry liaison.'

'Were you?'

She gave a short bark of laughter. 'No. The man was old enough to be my father. He had his charms, I suppose, but I'm not in the habit of falling into bed with any old fool.'

'Are you saying he was no more than a friend?'

'An acquaintance.'

'We have evidence that he was . . . intimate with a woman just before his death. In his study.'

She grimaced. 'It wasn't me. Not for lack of his trying, I'll grant you.'

'He propositioned you?'

'Of course he did. The man was a predator.' She reached out to flick the ash from her cigarette but was stopped by a strangled cry from her minder. The man leaped forward, took off his skullcap, flipped it upside down. She frowned at him, then obliged by flicking the ash into the cloth bowl.

'Why did you attend his party if you disliked him?'

'I didn't dislike him. I just saw him for what he was. Look, James had his uses. He introduced me to a lot of the city's movers and shakers, people I wanted to photograph. It was his idea of foreplay.'

'You don't seem very distraught by his death.'

'As I said, he was just an acquaintance.'

'Do you know who he might have been with that night? In his study?'

'I'm afraid I haven't a clue, Inspector.'

'Do you know of anyone who might have wished him harm?'

She shrugged. 'He was a political animal. As my father is fond of saying, if you swim with the sharks don't be surprised when one of them takes a bite out your ass.'

Persis waited.

Eve sighed. 'I have no idea. You should ask that aide of his, Lal. I don't think he particularly liked his boss.'

Persis dwelt on these words. It was the second time she had heard of a possible animosity between Lal and his employer.

'Is there nothing at all you can tell me?'

'The only thing I can think of is that he recently fell out with his business partner, the Scot.'

Persis perked up. 'Do you mean Robert Campbell?'

'That's the one. Big brute. Rude.'

'Are you suggesting that Sir James and Campbell had a disagreement? Over what?'

'I don't know. It was just gossip at the party. There seemed to be some tension between the pair of them. At least, James looked like he was avoiding the man.'

'Why would he invite Campbell if they'd fallen out?'

'It certainly wasn't to celebrate anything. I've never seen a man so down in the mouth.'

'Campbell was angry?'

'Not at first. But, something happened late on, after the midnight fireworks. He got into some sort of spat with his daughter. Elizabeth.'

'What about?'

'No idea. Then again, they were always at it. Campbell and his daughter, I mean.'

'Why?'

'There was some talk of a beau that Campbell took exception to a while back. Ended badly, apparently. Or rather he ended it for her.'

'Who was this man?'

'I don't know, but I hear he might have been a native. And I thought I was the scandalous one.' She grimaced. 'Rumour has it that Campbell resolved the problem through violence.'

Persis recalled the story Lal had told her about an Indian engineer that Campbell had supposedly had killed. Was there more to it than just rumour?

'Do you remember when this was?'

'About a year ago, I believe. They were up in Faridpur, just outside Delhi.'

Chapter 11

The offices of Merchant, Palonjee and Pettigrew were located on Manekshaw Lane, wedged in between an army and navy store and the premises of an ambiguous commercial enterprise engaged in 'import and export'. The narrow road was choked with cars, tongas, cycle rickshaws and pedestrians. On the pavement a row of typists sat cross-legged on the baking paving slabs, pounding away on typewriters at ferocious speed. They were a common sight around the city, ranked outside government offices, law firms and the municipality's various courts, catering to those in need of swiftly produced legal documentation.

Persis trudged up a narrow flight of stairs to a first-floor reception where a secretary flapped her towards a leather sofa. On the walls were photographs of the firm's trio of lawyers, rubbing shoulders with a roll-call of clients, mainly white men with tailored suits and white-blocked teeth. She suspected that Merchant, Palonjee and Pettigrew was another of those colonial-era enterprises trying desperately to serve two masters: the past and the future. She also suspected that not so long ago the first name on the firm's letterhead might well have been Pettigrew.

The secretary called inside, then led her through to a boardroom overlooking the main road. A conference table ran the length of the room. At one end a portrait of a severe-looking Britisher in a suit gazed out over the table and the four individuals gathered there. The nearest of these was Madan Lal and he rose now to greet her.

'Thank you for coming, Inspector.' Lal waved at the others. 'May I present Inspector Persis Wadia? She is leading the investigation into Sir James's death.'

The obese man in a light grey suit sitting at the head of the table spoke up. 'Rather unusual to have a police presence at the reading of a will. Are you sure this is necessary?'

'Quite necessary, Mr Merchant,' said Lal before Persis could speak.

'Welcome, Inspector,' said the small man to Merchant's left, dressed in a navy-blue suit, a bow tie and eyeglasses. 'My name is Vivek Palonjee. Please, do have a seat.'

Persis moved around the table and sat directly opposite the white man who had observed her arrival with a steady gaze. He was young, sandy-haired and blue-eyed. He wore an Irish linen jacket over a sodden white shirt, his stomach sagging over his belt. There was something vaguely familiar about him . . .

'May I introduce Edmond de Vries?' said Lal. 'He has flown over from the West Indies. He was Sir James's representative there – managing his Caribbean holdings.'

De Vries nodded solemnly and held out his hand. She took it and was immediately repulsed. She wiped the moistness on to her trousers. He noticed this but said nothing.

An itch at the back of her mind. Where had she seen this man before?

The room was unconscionably warm, the ceiling fan whirring above the table fighting a valiant rearguard action against the rising afternoon heat.

Merchant, ladled into a suit that was too small for him, seemed fit to burst from it like a mango squeezed violently from its skin. 'Now that we are all present, I suggest that we commence with our business.' He had a rough, smoker's voice, impassioned by a strange warble, as if a frog had become trapped in his throat. 'For almost two decades the law firm of Merchant, Palonjee and Pettigrew has served distinguished gentlemen – both British and Indian – with dedication, faith and honesty. Indeed, those very words are the motto of our founder and guiding light, Anthony Pettigrew.'

Persis's eyes shifted to the canvas hanging behind Merchant. 'Where is Mr Pettigrew?' she asked.

'Our colleague has temporarily returned to England to attend to certain personal affairs,' supplied Palonjee smoothly. 'We expect his return imminently.'

The lie flapped about the room, then vanished through an open window. Persis wondered if the others had sensed it. If she had to guess, Anthony Pettigrew had discovered that post-independence India was a beast not to his liking. In all probability, he had emulated many of his countrymen and fled the new republic, leaving his partners to continue the fiction of his presence.

'As you are all by now aware,' continued Merchant, scowling at the interruption, 'we were retained by the late Sir James for a variety of legal matters including the administering of his will.' He reached towards the manila folder at his elbow. With great ceremony, he unwrapped the string that encased it, then opened it to reveal a sheaf of stamped papers.

'The will of Sir James was prepared on December 15th, 1948,' he began. 'Its provisions relate to all assets, property and chattel that had accrued to him as on the date of his death. Such assets include the property at No. 38 Palmerston Square in London, England; the cash sums present within three bank accounts held in London; a variety of shareholdings and indentured bonds; a rubber plantation located on the Caribbean island of Trinidad; and its associated commercial enterprise, the West Indian Rubber Corporation, incorporated at Companies House, London.' He paused. 'Allow me to continue in the testator's own words: "I, James Edward Herriot, citizen of the British Empire, being of sound mind and body, declare this to be my last will and testament. I hereby revoke all prior wills and codicils. By this, my will, I bequeath the residue of my estate in its entirety to the Bombay Branch of the Royal Asiatic Society. Such estate shall include my property in London, England, the sum of my cash balances and investments, and the sum of my commercial enterprises in Port of Spain, Trinidad."'

Merchant paused to pluck a handkerchief from his pocket and wipe the sweat from his jowls.

'The value of the estate has now been ascertained. I am afraid the news is not good.' He glanced at Edmond de Vries. 'The fact is that recent financial difficulties mean that Sir James Herriot's estate has been decimated. To put it bluntly, Sir James was all but bankrupt.'

A stunned silence greeted the lawyer's summation.

Lal was the first to speak. 'There has to be some mistake.'

'I assure you, there is no mistake.' Merchant endeavoured to look apologetic and sanguine at the same time, but failed to do either. He ran a fat finger around his collar.

'How did you determine Sir James's financial situation?' persisted Lal.

Persis couldn't help but note that the revelation of Herriot's penury had stunned the mild-mannered aide. Perhaps he was considering the viability of his own position. If there were no estate left to manage, how long could Lal carry on at Laburnum House?

'We spoke to his bookkeeper and contacted his bankers in London,' Merchant replied. 'And we telegrammed Mr de Vries in Port of Spain. He explained the situation to us.'

'What situation?'

All eyes turned to de Vries. He was sweating profusely; a rash of red crawled up his neck.

'Before I answer that question, I'd like to know: how did he die?' He looked at Persis. 'The gory details. The lawyers were very brief in their telegram and one can only glean so much from the dailies.'

She was taken aback by his tone. 'I am sorry for your loss,' she began, but he halted her in her tracks by bursting into a mirthless laugh.

'Don't be. I'm not.'

'I take it you were not on good terms with—' She stopped. Finally, she had it. It was the eyes. They took her back to the portrait she had seen in the murdered man's office, of a younger Sir James Herriot.

'He was your father, wasn't he?'

His face changed. 'Well done, Inspector. It usually takes a few days for people to make the connection. Though we must be careful of bandying around the word father. I was his bastard, you see, and he went to great pains to ensure I was kept hidden away. Wouldn't want to put a dent in the old man's golden aura.'

'You disliked him.'

'I despised him,' he said matter-of-factly. 'And he despised me. It's lucky I was on the other side of the world otherwise I might have been your prime suspect.'

'What was the reason for the animosity?'

'I am the living evidence of my father's predatory habits. Only on this occasion my mother refused to go along with his plans for me, namely, a backstreet doctor, followed by a gentle shove into the night, a fistful of cash tucked into her hatband. She died when I was nine. Tuberculosis. When she understood that she hadn't much time left she visited Herriot. Threatened to create a scandal if he didn't take me in. They reached a compromise. Herriot would pay for my education, but I would not take his name, nor reveal to anyone that I was his son. He hated me, of course. The feeling was mutual.' He glared at the wall behind her. 'He was, quite simply, a vile man. Utterly self-centred, focused only on his own advancement, his own gratification. He packed me off to boarding school, then Cambridge. When I came back he banished me to the West Indies to run his holdings there. At least in name. He gelded me first. In actuality, the place is run by his man, a Jew by the name of Abrams; or was until he stuck a revolver in his mouth and blew his brains out.'

His watery eyes held her gaze. Was he attempting to shock her? She had no time for a contest of wills. He had been hurt, she did not doubt that. She could not imagine what it would have been like to grow up with a father who did not care.

'Why did Abrams kill himself?'

His long fingers played with a water glass. 'What does a man have to do to get a proper drink around here?'

She recognised the tracery of crapulence around his eyes, the filigree of broken veins.

'Do you know what really irks me?' he continued. 'How he managed to pull the wool over everyone's eyes. Sir James Herriot. Master statesman. Our man in the Orient.' He leaned closer, his ruddy face twisted in anger. 'He ruined my life and my mother's. He was a monster and I'm glad he's dead.'

'Why did Abrams kill himself?' she repeated.

'Because he couldn't live with it.'

'Live with what?'

'The collapse of the plantation. Insect infestation. There was nothing anyone could do. Or there would have been had Abrams not been asleep at the wheel. By the time he cottoned on to what was happening, it was too late. And so he took the honourable way out.' He mimicked a gun with his fingers, the act of blowing his brains out.

'Your father knew this?'

'Yes. I telegrammed him when it happened. Three months ago.'

'Why didn't you return to India at that time?'

He gave a hollow laugh. 'Return to India? I was never here in the first place. My father didn't want me anywhere near him. Besides, I had my own commitments.' She continued to stare at him. 'If you must know I have a woman out there. She's just given birth to my child. That's the reason I hung on there. I wanted to come to India with my baby and my black mistress. Introduce my father to his bastard grandchild. Sir James Herriot, peer of the realm, grandfather to a mulatto.' His eyes danced with a maniacal light. And then it all went out of him. 'But he outwitted me again. He went and died on me.'

Chapter 12

The office was quiet. The only one at his desk was Sub-Inspector Haq, painstakingly writing up a progress report on his investigation into an arson attack that had burned down a local jute warehouse. The warehouse had belonged to a politico, a fiery character. The man had jumped up and down in his jackboots demanding the entire city be turned upside down until the perpetrator was apprehended. The case had gradually worked its way around to Malabar House. Haq, for his sins, had been given the investigation and had made slow but steady progress, weathering the eardrum-bursting fury of the politico and a revolving cast of henchmen whose only function appeared to be to turn up at Malabar House a. . .
We hope you are enjoying the book so far. To continue reading...
Midnight at Malabar House
Vaseem Khan
Copyright © 2023 All Rights Reserved