Book info
Sample
Audiobook
Media
Author updates
Lists
Synopsis
Atlanta would be a nice place to live, if it weren't for the magic. When the magic is up, rogue mages cast their spells and monsters appear, while guns refuse to fire and cars fail to start. But then technology returns, and the magic recedes as unpredictably as it arose.



Kate Daniels works for the Order of Knights of Merciful Aid, officially as a liaison with the mercenary guild. Unofficially, she cleans up the paranormal problems no one else wants to handle-especially if they involve Atlanta's shapeshifting community.



When she's called in to investigate a fight at the Steel Horse, a bar on the border between the territories of the shapeshifters and the necromancers, Kate quickly discovers that there's a new player in town. One who's been around for thousands of years-and who rode to war at the side of Kate's father.



This foe may be too much even for Kate and Curran, the Beast Lord, to handle. Because this time Kate will be taking on family.
Release date: May 25, 2010
Publisher: Ace
Print pages: 384
* BingeBooks earns revenue from qualifying purchases as an Amazon Associate as well as from other retail partners.
Listen to a sample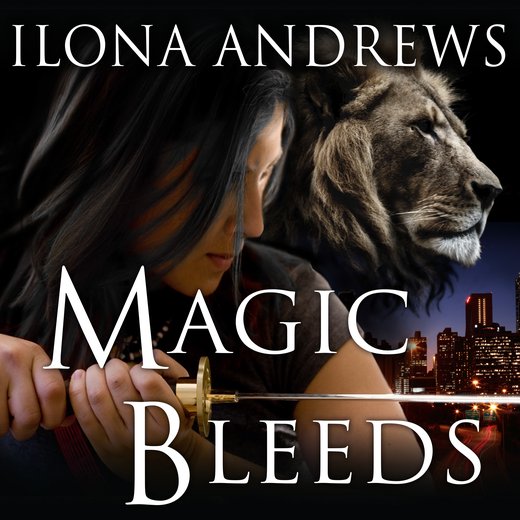 13:07:59
360.72 MB
May 25, 2010
Tantor Audio
2010
Magic Bleeds
Ilona Andrews
Forty minutes later Saiman pulled into a parking lot before a large mansion. We'd climbed north, far into the affluent part of Atlanta, but this house made "affluent" sound like an insult. Too large for its lot, the building sprawled, rising two oversized stories into the night and edging its southern neighbors out of the way. When Atlanta's rich built new houses, they typically imitated antebellum Southern style, but this monster was decidedly English: red brick, huge windows, dark ivy frosted with new snow, and a balcony. All it needed was a fresh-faced English miss in a lacy dress.
"What's this?" I eyed the windows that spilled yellow electric light onto the snow.
"Bernard's." Saiman sank a world of meaning into the word, which whistled happily over my head.
I glanced at him.
"It's a party house."
"I hope for your sake it's a very tame party." If he had taken me to some sort of sex orgy, he would fly right through one of those pretty windows, headfirst.
"Not that kind," he assured me. "It's a place where Atlanta's rich and influential gather to be seen and to be social. Technically it's a restaurant, but the patrons are the real draw, not the food. The atmosphere is informal and most people mingle, drink in hand."
Oh boy. Rich and influential. Precisely the crowd I wanted to avoid. "And you brought me here?"
"I warned you that you would be on display. Please don't grind your teeth, Kate. It makes your jaw look more square."
Saiman parked at the end of the lot.
"No valet?"
"People who patronize Bernard's rarely relinquish control of their cars."
I slid Slayer between the seats and opened my car door. Getting out without catching the heel of my shoe on my hem took a moment, and by the time I had accomplished this feat of dexterity, Saiman was there with his arm and his smile.
Why did I agree to this again? Aaah yes. Because I had no choice.
I let Saiman walk me up the steps. Above us a couple on the balcony laughed at something. The woman's laughter had a slightly hysterical pitch.
We negotiated a vestibule and a luxurious staircase, and Saiman escorted me to the second floor, where a number of small tables dotted a wide room. A smiling hostess in a tiny black dress led us to a table. I sat so I could see the door and surveyed the crowd. Expensive women and expensive men traded pleasantries. A few glanced at us. No hired help. Odd.
"Where are the bodyguards?" I murmured.
"Bernard's is a sanctuary," Saiman said. "Violence is strictly prohibited. Should someone break the rule, the entirety of Atlanta's elite would rise to bring him down."
In my experience, when the violence broke out, the entirety of Atlanta's elite scattered and ran for its life.
Saiman ordered cognac, I ordered water. The drinks arrived almost immediately. Saiman picked up his heavy crystal glass, warming the amber liquid it held with his palm. Déjà vu. We'd done this song and dance at the Midnight Games.
"Just so you know: if a rakshasa shows up, I left my sword in the car."
Saiman's affable expression gained an edge. "It was a dreadful affair. Thankfully it's behind us."
He drained his glass. In seconds he had another, emptied that one as well in a single swallow, and was brought a fresh one.
I leaned forward and nodded at the cognac about to chase its fellows down Saiman's throat. "What's the rush?"
"It's simply sugar." He shrugged and emptied the glass. "I exerted myself earlier today and need to replenish my resources."
The waiter flittered by and deposited a huge square bottle of cognac on the table. "With our compliments, sir."
Saiman nodded and splashed cognac into his glass. His hand shook slightly. Saiman was nervous. I scrutinized the set of his jaw. Not just nervous, but angry. He was psyching himself up for something and fueling it with liquid courage. Not good.
He noticed me looking. Our eyes met. His lips curved in a smile. Unlike the self-satisfied smile of an expert taking pride in his accomplishment, this was the smile of a man looking at a woman and fantasizing.
I gave him my flat stare. Down, boy.
"You look so surprisingly striking, Kate," Saiman murmured and gulped cognac down like it was water.
"Slow down."
Saiman leaned forward. "I would buy you a new dress every weekend just for the privilege of sliding it off of you."
Not in this lifetime. "You're drunk."
"Nonsense." He poured more liquor. "It's my third glass."
"Fifth."
He studied the amber liquid. "Do men often tell you you're enchanting?"
"No. Men often tell me I hit very hard." Hint, hint.
"Every woman should be told she's attractive. Men are seduced by their eyes, women by their ears. I would tell you every night and every morning."
He was just going and going. "That's nice."
"You would like it." Half of the cognac was already gone. Even with his racehorse-on-crack metabolism, he had to be wasted. "You would like the things I would say. The things I would do."
"Sure, I would." Maybe if Mr. Casanova drank himself under the table, I'd get the waiter to help me carry him down to the parking lot and we'd call it a night.
Worry nagged at me. I'd never seen Saiman drunk. Drinking, yes, but not drunk.
I glanced behind me. At the far wall sat a large table full of hors d'oeuvres. If I couldn't prevent him from drinking, perhaps I could distract him with food.
"Would you mind if I helped myself to some?"
He rose, as expected. Drunk or not, Saiman's manners were flawless. "Allow me to escort you."
We strolled to the appetizers. I positioned myself so I could have a better view of the floor. Saiman loitered next to me.
"Aren't you hungry?" I asked him.
"Not particularly."
"What about replenishing your resources?"
"Ah yes! Thank you for reminding me." He raised his empty glass and within seconds a waiter brought him a full one.
Bertram's six, Kate zero.
I surveyed the food. Directly in front of me was a silver platter filled with tiny fried squares. Each square supported a cube of minced meat, flecked with tiny pieces of green onion, sesame seeds, and what might have been grated ginger.
"Tuna tartare," Saiman told me. "It's delectable."
I picked up a square and popped it into my mouth. Saiman's gaze snagged on my lips. A few more drinks and he might strip naked and offer to dance with me in the falling snow outside. How the hell did I get myself into these things?
"Do you like it?" he asked.
"It's go—"
Jim walked through the door, wearing a black cloak and a scowl.
Oh, hell.
He paused in the door, surveying the crowd and radiating menace. In the gathering of Atlanta's glittering elite, the alpha of Clan Cat stood out like a solid block of darkness. He saw me and reeled back, wide-eyed, looking like a cat who'd been unexpectedly popped on the nose—shocked and indignant at the same time.
I would never live this down.
Behind him, Daniel and Jennifer, the alpha wolf couple, strode through the door. Interesting.
Jim flashed his teeth. A young man quickly detached himself from the opposite end of the room and hurried over.
A bulky form blocked the doorway next. Mahon. The Bear of Atlanta, alpha of Clan Heavy, and the Pack's executioner. What the hell was going on?
Jim drew the young man aside. Green rolled over his eyes. He said something. The man glanced at me. His eyes widened.
A tall handsome man came through the door, side by side with a leaner, darker man a few years younger and pretty enough to be stunning. Robert and Thomas Lonesco, the alpha rats. More people followed, all with the liquid grace of shapeshifters.
Houston, we have a problem. "We need to leave."
"Oh no." Saiman's eyes flared with a crazy light. "No, we must stay."
Jim continued his fierce chewing-out. It was a very one-sided conversation.
A plump middle-aged woman stepped through the door next, registered me, and pursed her lips. Aunt B, the alpha of the boudas. Saiman had dragged me into a restaurant where the Pack Council apparently had dinner. Alphas from every clan were in attendance . . .
My ears caught a voice I knew very well. I couldn't have possibly heard it all the way from across the room, but I sensed it all the same. My fingers turned ice-cold.
A familiar muscular figure walked through the door.
Curran.
He turned his blond head. Gray eyes looked at me.
Time stopped.
The floor dropped down from under my feet and I floated, disconnected, seeing only him. For a second he looked as if he'd been slapped.
He thought I'd rejected him.
Curran's gaze shifted to Saiman. Molten gold flooded his irises, burning off all reason and turning it into rage. Shit.
Jim said something at Curran's side, then said something else.
Curran gave no indication he heard him.
He wore khakis, a black turtleneck, and a leather jacket. For him, that was the equivalent of formal wear. He must've come here for some special occasion. Maybe he wouldn't rip Saiman to pieces in public. Maybe pigs would fly.
Next to me, Saiman smiled. "We all want what we can't have, Kate. I want you, you want love, and he wants to break my neck."
Dear God. The fool had actually orchestrated the whole thing. I was on display for Curran's benefit. I opened my mouth but words failed to come out.
"He can do nothing here." Saiman sipped from his glass. "After the Red Stalker affair, the People and the Pack instituted a monthly rendezvous held here in neutral territory, to keep the lines of communication open and discuss business. Any deviation from the protocol would mean war. He can't move a finger out of line."
Jim was still talking, but Curran wasn't listening. He was looking at us with that unblinking focused stare.
I finally forced my voice to work. "You brought me here to humiliate the Beast Lord? Are you out of your mind?"
An ugly grimace skewed Saiman's features. The civilized mask slid off his face. His voice was a rough snarl. "Would you like to know what humiliation is? Humiliation is being forced to sit quietly and mind your manners sandwiched between two brutish animals at your own venue. Humiliation is being told when to leave and when to arrive, to be confined to your quarters, and to have claws on your neck at the slightest deviation from your orders. That's what he did to me at the Midnight Games."
Saiman had spent the tournament sitting between Aunt B and Mahon. So that's what this was all about. His towering arrogance couldn't take it. He must've seethed for weeks, and I had played right into it. That's why he'd drunk his weight in booze. Curran was pressurized violence and Saiman had expected a confrontation.
"Of course, you know that he wants you." Saiman grinned, a savage bearing of teeth.
"He can hear you." Shapeshifter hearing surpassed human, and Curran had to be straining every nerve to catch our voices.
"I want him to hear. I'm an expert at lust and he lusts after you. He's possessive. He would've tried to claim you and you must've rejected him the way you had rejected me; otherwise you wouldn't be available to join me here. I wanted him to see it. To drink it in. I have you and he doesn't."
Idiot. "Saiman, be quiet."
Curran's face was unreadable.
Saiman bent toward me. "Let me tell you about love. I once seduced a bride and a groom on their wedding night. I had him before the reception and her afterward. I did it solely for fun, to see if I could do it. Two people at the start of their new life together, having just promised to forsake all others. If that's not proof of the impermanence of love, what is?"
Curran graduated to a full alpha stare. It was the primeval, merciless glare of a predator sighting his prey. It slammed my senses. I stared right back into the golden irises. Bring it. I have a lot of pent-up aggression I saved just for you.
Aunt B turned to the two rats, said something with a smile, and together they walked into the side room marked PRIVATE PARTY. One by one the alphas followed her.
Saiman laughed softly. "We aren't without similarities, Curran and I. We both fall prey to lust. We both guard our pride and suffer from jealousy. We both employ our resources to get what we want: I use my wealth and my body and he uses his position of power. You say I want you only because you refused me. He wants you for the same reason. I remember when he became Beast Lord. The boy king, the perpetual adolescent, suddenly at the head of the food chain, granted access to hundreds of women who can't say no. Do you think he forces them into his bed? He had to have done it at least a few times."
A muscle jerked in Curran's face.
At the corner Jim nodded, and a couple on our left and the recipient of Jim's chewing-out followed the Pack Council. Jim had pulled his people in. They were giving Curran a clean playing field. No Pack witnesses, so no shapeshifter could be forced to testify against the Beast Lord. Nice.
Curran's eyes promised murder. I could practically see the headline: ORDER'S CONSULTANT TORN APART BY BEAST LORD IN EXCLUSIVE NORTHSIDE RESTAURANT. I had to keep Saiman alive. I needed him to help me with my petition, and I had extended the Order's protection to him when I agreed to this idiotic date.
I had no sword, no needles, nothing.
Saiman signaled for a new drink. "There is only one difference between us. The Beast Lord will lie to you. He'll tell you he loves you, that you'll always be the only one, that he'll sacrifice everything to be with you and keep you safe. I won't lie to you. I won't make promises I can't keep. Honesty, Kate. I offer honesty."
How could a man so smart be so stupid? It was like he couldn't stop himself. He'd gone beyond the point of reason. "Saiman, shut the hell up."
"You're all mine tonight. Kiss me, Kate. Let me nuzzle your neck. I bet it would send him over the edge."
Saiman reached for me. I sidestepped.
Something snapped in Curran's eyes. He started toward us, moving in an unhurried, deliberate fashion, his gaze fixed on Saiman.
If Curran got his hands on him, he'd kill him. I had seconds to prevent it.
I stepped in front of Saiman. "Stay behind me."
"He won't hurt me. Not here. It would mean repercussions."
"He doesn't care." Saiman knew that society operated by certain rules, and as long as he stuck to those rules, he would be safe and respected. No emotion ever touched him deep enough to contemplate breaking those rules. He couldn't fathom the fact that Curran could throw everything out the window just for the chance to grip Saiman's throat.
Curran wove his way between the tables. I started toward him. Weapon. I needed a weapon. On my right a couple was laughing at the table, a mostly empty bottle of wine sitting on the white tablecloth next to them. I swiped the bottle and kept moving.
Curran's eyes shone.
I showed him the bottle. You can't have Saiman. I'm guarding him.
He picked up speed. I don't care.
I hefted the bottle and picked a spot between two tables. Fine. Keep coming. You wanted to talk. We'll talk.
We hope you are enjoying the book so far. To continue reading...
Magic Bleeds
Ilona Andrews
Copyright © 2023 All Rights Reserved
Also in this series
Also by this author