Look Both Ways
"Those aren't just headlights coming at you..."
Book info
Sample
Audiobook
Media
Author updates
Lists
Synopsis
Just because that car sees you doesn't mean it's safe to cross…
From the international bestseller Linwood Barclay comes a new, action-packed, utterly gripping crime thriller!
They think as one. They act as one. They kill as one.
The residents of Garrett Island are part of a visionary experiment. Their cars have been sent to the mainland and for one month, they've got self-driving vehicles called Arrivals. With just a voice command, an Arrival will take you where you want to go, and as the cars are all aware of each other, road accidents should be a thing of the past.
As the world's press arrives for a glimpse of this driverless future, islander and single mom Sandra Montrose preps for the huge media event. She's ready for this new world. Her husband died when he fell asleep at the wheel, and she's relieved her two teens, Archie and Katie, may never need driver's licenses.
But as the day gets underway, there are signs all is not well. A member of the press has vanished. There are rumours of industrial sabotage.
Before long, the sleek driverless cars are no longer taking orders. They're starting to organize. They're starting to hunt. And they've got the residents of Garrett Island in their sights.
From the international bestseller Linwood Barclay comes a breakneck new thriller, Look Both Ways.
PRAISE FOR LINWOOD BARCLAY:
'A superior thriller' SUNDAY TIMES
'The twists keep coming' THE TIMES
'Barclay is a terrific writer … I couldn't put it down, and you won't be able to either. If you enjoy thrillers, this is the real deal. It never lets up' STEPHEN KING
'A full-throttle powerhouse of a thriller – Linwood Barclay is in a class of his own' T.M. LOGAN
'Linwood Barclay is a stone-cold pro' JOE HILL
'A rip-roaring rollercoaster of a ride' DAILY MAIL
'Linwood Barclay's thrillers move at breakneck speed … pacy, exciting' WOMAN & HOME
'Linwood Barclay presses all the right buttons' MICHAEL ROBOTHAM
'One of the finest thriller writers in the world at the very top of his game' MARK BILLINGHAM
Release date: June 7, 2022
Publisher: William Morrow
Print pages: 405
* BingeBooks earns revenue from qualifying purchases as an Amazon Associate as well as from other retail partners.
Listen to a sample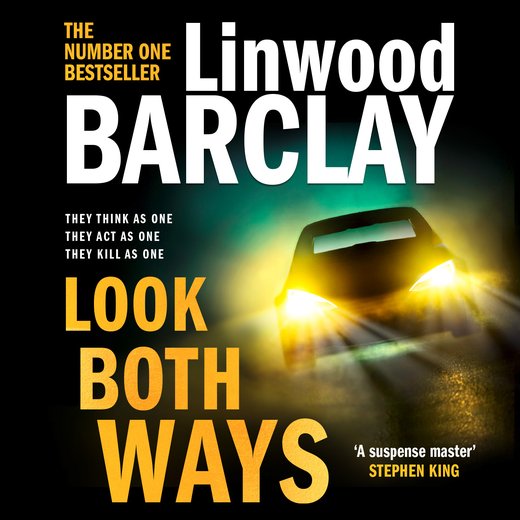 12:33:56
345.14 MB
9780008538286
August 3, 2022
HarperCollins UK
Look Both Ways
Linwood Barclay
Forward
I grew up surrounded by car imagery.
Back in the 1950s and early '60s, if you were to flip through the pages of Life or Look or the Saturday Evening Post and looked at the automobile ads, or if you picked up a brochure from your local Ford dealer, you might have noticed that all the pictures of these cars were illustrations, not photographs.
These beautiful, airbrushed renderings weren't always one hundred percent accurate. These cars were longer and sleeker than the real ones. The wheelbases were extended. They sat lower to the ground than the actual cars did, appeared to have a wider stance. The chrome sparkled. The glass glistened.
My dad drew those cars.
Dad—his name was Everett—spent much of his life in the advertising world as a commercial artist. He wasn't one of the execs knocking back scotches in fancy offices like those guys in Mad Men. He was in the trenches, hunched over his drafting table, airbrushing a fin, blending a reflected tree into the car's graceful sheet metal, executing the outline of a perfectly round hubcap, freehand. (A sample of his work graces the title pages of this book.)
I loved to watch him work, and once, when I was three and Dad had stepped away from his workstation (this was when he had a home studio), I got into his chair and, with a crayon, proceeded to improve upon a $5,000 Cadillac job. (I am lucky to be alive.)
Dad bought me loads of toy cars because he loved them as much as I did. Dinky Toys, Corgis, kits that I had to paint and assemble myself, slot car sets where we would engage in races, shoulder to shoulder, our hands gripping the controllers.
And yet, until I reached the age of fifteen, Dad never had a car as beautiful as anything he created on a piece of art board. But we had been strolling a dealership lot one day, and spotted a discounted 1970 Dodge Charger, not unlike the car the bad guys drove in the Steve
McQueen movie Bullitt. (Okay, it had a bench seat and a column shift, but it was still a Charger.)
"You should get that," I said.
"Your mother would never go for it," he said.
That was probably true. But he bought it, anyway. And in less than a year, that cool car would essentially become mine, although I would have given anything not to have had that happen the way it did. Dad was diagnosed with lung cancer, and in seven months we lost him. My mother did not drive, so I was her chauffeur, and whenever I needed a car, I didn't have to ask whether it was available.
So, a love of cars was bred into me. It was part of my DNA. I love gripping the wheel, hitting the gas as I come out of a curve, the roar of the engine as you go through the gears.
A car is an extension of who we are. It's a reflection of our personality. When we get in the driver's seat, there's a kind of union under way. The car does not move without you and you do not move without the car. The magic doesn't happen until you get in that seat, turn the key, and put your foot on the accelerator. (Okay, not all cars need keys these days, but at least you must push a button.)
Cars are thrilling. What do you remember first about the aforementioned Bullitt, or The French Connection, or Ronin? The chases. Is there a more nerve-wracking flick than Steven Spielberg's Duel, which pits an everyman in his puny sedan against a deranged trucker?
Imagine those movies with self-driving vehicles.
Which brings me to Look Both Ways.
We are told that the autonomous, or self-driving, car is imminent, and when everyone has access to one, accidents will plummet. The cars will be safer because they will strictly follow the rules of the road and be better at anticipating and avoiding accidents.
What could go wrong?
Well, as many news reports have suggested, plenty. Putting one's faith in the car's abilities can lull a driver into false security. In models where a real live person is expected to take the wheel in a sudden, potentially dangerous event, they can't respond in time. Some early prototypes have had difficulty identifying pedestrians. Others have been confused by shadows or a setting sun.
To be fair, it's early days. There may come a time when every car on the road is self-driving, and if they're all able to communicate with one another, crashes will be a thing of the past. And while that is inarguably a good thing, I view this future with dread. You know what a self-driving car is? It's a bus, but smaller. It's an Uber, without the driver who wants to tell you about the screenplay he's working on.
It's boring. It's soulless. It is the death of fun.
However, it's also a springboard to a great "what if." Every book begins with a "what if" and here's the one that prompted this book: What if a company wanted to conduct a grand experiment with their self-driving cars? What if they could persuade the residents of an
isolated community to give up their conventional cars in exchange for self-driving ones, for a month? Wouldn't that be the ultimate test of how well they perform?
But then, what if a virus infected the network? What if the cars all went nuts? Homicidal, in fact? What you'd have is a few hundred Christines on your hands.
The premise is very different from the type of thrillers you've probably come to expect from me, but it was too good an idea to put aside.
Maybe autonomous cars, one day, will be a wonderful thing.
But until they're perfected, when you're crossing the street, I'd advise you to look both ways.
Wendy was clipping along the Pacific Coast Highway, arguing with her mother over the Bluetooth about when she would have time to come to Detroit and see her father before he died, which was laying it on pretty thick, considering what he had was bursitis, when she noticed that the car in front of her had no driver.
"What the hell?" she said.
"What?" said her mother, her voice echoing inside the car. "What is it?"
She'd been following this car for nearly five miles now, heading back to her home in Santa Cruz after a business meeting in Pismo Beach. She didn't normally take the Pacific Coast Highway, as she was doing tonight. She'd seen the view a hundred times—ho hum, there's the ocean, big whoop—and the freeway was faster. And even if she'd wanted to take the extra time with the scenic route, there wasn't any way to appreciate it when it was coming up on midnight.
But there had been a truck rollover in the northbound lanes of the freeway—Wendy got an advance warning on her Google traffic app—and so she had exited before the flow of cars turned into a standstill, and headed for the coastal road.
She had texted her mother before she left Pismo Beach, figuring she had gone to sleep and wouldn't see it until the morning. But she must have woken up in the middle of the night, seen the text, and decided to call.
Wendy had been listening to CNN on the satellite radio. She usually ground her teeth while listening to pundits debate—no, more like shout at each other—about the latest shenanigans in DC, but instead of listening to news, Wendy had been rehashing in her mind her day of meetings, all to sort out permissions for a new subdivision. The locals were unconvinced that there was adequate water supply for the ninety proposed homes and Wendy had gone armed with various engineering reports.
And by the time she'd left, the locals were still unconvinced.
So she was deep in thought, thinking about what further documentation—and at what cost—would be required to change their minds, when her mother called. Wendy blamed the conversation on her failure to notice, until now, that this car she'd been following for about five minutes had no one behind the wheel.
It was when light from oncoming vehicles illuminated its interior that she noticed something odd. It did not appear anyone was in it. No silhouetted head, or heads.
"What is it?" her mother asked again. "What's going on?"
"This car. In front of me. There's, like, no one in it."
Her mother laughed. "Maybe it's your aunt Winona."
That made Wendy laugh, too. Her mother's sister was so short that she could rarely be seen over the steering wheel. But, of course, it was not her aunt, who had given up driving years ago and currently lived in a nursing home in New Hampshire.
But this car in front of Wendy didn't even have any visible headrests that might help obscure a short driver. She could almost make out the lights from the instrument cluster, the large touch screen in the center of the dash.
So maybe, she thought, this was one of those self-driving cars. Autonomous, they called them.
But there was still supposed to be someone behind the wheel, just in case something went wrong, wasn't there? That was the big thing that scared her about those vehicles. You let the car do everything for you, but you were still supposed to be ready, just in case something happened that the car didn't know how to respond to. Except, how were you to stay alert if ninety-nine percent of the time there was nothing to worry about? It'd be like those people working the airport scanners. Hour after hour, you look at X-rays of suitcases until your eyes cross, and then when a bag full of dynamite rolls past, you don't notice it.
Wendy wondered, did some of these high-tech cars like to take a spin without a passenger? Leave the owner at home? Do some cruising, hook up with a Cougar?
Wendy chuckled to herself. Good one.
"I'm gonna pass," Wendy said. "I gotta get a better look."
"You be careful," her mother said.
She waited for a straight stretch without traffic. That might give her a better look. Curiosity wasn't her only reason for wanting to get by this car. It had been sticking strictly to the speed limit—further evidence that it was programmed to obey all the rules of the road—and Wendy had something of a lead foot. She wanted to get home.
The road ahead was clear.
"Here we go!"
She put on her blinker and shifted over into the passing lane. As she got alongside the other car, she glanced over.
She was right. There was no one behind the wheel. How insane was that? This car really was out for a joyride! Or maybe, Wendy thought, the car could be summoned by its owner.
You'd send a message from your phone, start your car remotely, tell it where you were and when you wanted it to pick you—
Hello.
A shirtless man suddenly appeared in the driver's window. He sat up suddenly, indicating the seat had been fully reclined. Half a second later, next to him, a naked woman—well, naked from the waist up, anyway—appeared. Wendy's sideways glance lasted long enough to see the woman's wide eyes and open, stunned mouth. The naked woman dropped back, out of view, immediately.
"Oh my God," Wendy said.
Her mother, frantic, said, "Are you okay? What's wrong?"
The shirtless man did not, however, drop back. He continued to glare.
"Shit," Wendy said, turning her eyes forward.
"Shit!"
There was a car coming straight at her.
Wendy did the calculations in her head in a millisecond. There wasn't time to accelerate and get in front of the self-driving car. So she hit the brakes, let the other vehicle pull ahead, then swerved back into her lane. The blasting horn of the oncoming car Dopplered past her.
Her chest pounding, Wendy aimed the car for the shoulder and slowed the car to a dead stop as the self-driving vehicle's taillights vanished into the distance.
"Wendy? Wendy!"
Wendy took a moment to catch her breath, and then she began to laugh.
"Asshole," Frank Silvio said, sliding back down onto the reclined seat once the other car had dropped back. He shifted onto his side so he could reach out and trace his finger along the jawline of the woman stretched out next to him. But she shivered at his touch and pulled back.
"What?" he asked.
Things had been going so well up to now. God knows he'd been as careful as he could about his behavior. If you were a movie producer in this day and age, and fucked an up-and-coming—no pun intended—starlet, you had to make the ground rules very clear. No more whipping it out. No more secret buttons under the desk to lock the office door. Christ, you had to be careful. So, when he'd met . . . hang on, what was her name again? Right, when he met Cheryl Garland, he told her right from the get-go, he was not considering casting her in anything. There was no quid pro quo, sleep-with-me-and-I'll-make-you-a-star bullshit. Just told her, hey, I like you, you want to hang out, come see my beach house, maybe go to a party and meet Ryan Gosling?
And she'd said yeah, sure, let's hang out.
So, none of that power dynamic bullshit, right? He wasn't dangling an acting opportunity in front of her, and just as well, because he'd seen her in one of those NCIS things—who the
fuck knew which one—and her theatrical skills weren't worthy of a grade school Christmas pageant. She'd had, like, three lines playing a seaside restaurant waitress, parading around in a bikini, and it didn't take a genius to figure out how she got the part.
Her attributes were well on display right here in the car.
Silvio could remember, back in the day, when you had to park the car to make out. Now, you could do it while you were on the move. He had the 2021 Gandalf, top of the line. Man, what must they have had to pay the Tolkien estate to name this love boat after the fictional wizard, not that they wouldn't be able to cough up the money given what they charged for one of these beauties. But the name was totally apt. These wheels were nothing short of magical. Took delivery just three days before. Couldn't wait to take Cheryl for a spin, show her what it could do. And what they could do, while the car went about its business. What was that old Greyhound commercial he'd hear on the TV when he was still in short pants? "Leave the driving to us!" Yeah, except in a Gandalf, there were no diesel fumes, and you didn't get stuck sitting with some guy who hadn't bathed since the invention of the wheel.
"Frankie," Cheryl said.
"Yeah, babe?" He was circling her right nipple with an index finger.
"Can't we just go back to your place? I mean, the car's great and all, but I really can't relax, you know?"
As she finished the sentence, the car filled with light and, a second later, a deafening roar as a truck went past in the opposite direction. Cheryl flinched.
"Every time that happens I jump out of my skin," she said.
"We're totally okay," he said. "If you don't believe me, let me check." He lifted up his chin. "Hey, Lola, everything cool?"
A mechanical, yet feminine, voice emanated from the speakers. "All systems are performing at optimum levels."
"Lola?" Cheryl asked.
Frank Silvio grinned. "My ex-wife. When you set the car up, you can name it anything you want. I call her Lola because the real one never did a thing I said, but this one has to. Say, Lola?"
"Yes?"
"I guess we might as well head home. Let's go back to the beach house and crash."
"I will take you there," Lola said.
"Hey, Lola, how about a blow job?" Frank asked.
Lola replied, "I am sorry, but that does not fall within the parameters of my functions."
Frank grinned at Cheryl. "Okay, in that respect, Lola's exactly like my ex."
The car slowed. The turn signal came on by itself as the car moved onto the shoulder. On the touch screen that spanned the entire dash, several video images captured what was around the car in all directions. Lola, confident the road was clear, executed a U-turn and began to head back they way they'd come.
Frank leaned in and planted his lips on Cheryl's. "Just getting my own motor running before we get back."
She reached down and stroked the front of his linen slacks. "If we get a flat, I seem to have located the jack handle."
The car, in addition to being a self-driving machine, was also fully electric, and whisked along the Pacific Coast Highway almost noiselessly.
Minutes later, they felt the car decelerating.
"Must be here," Frank said without looking up. "If you feel the car turn right, then—"
The car turned, and began to climb.
Frank nodded. "Yup. We're back."
His beach house was, as the name suggested, right on the beach. But it sat at the base of a sixty-foot-high cliff. At the top was a concrete parking pad that overlooked the ocean. Silvio's other vehicle, a Porsche Panamera, and Cheryl's Hyundai were already sitting there.
Christ, Silvio had thought when he'd first seen what she drove. Broad needs an upgrade.
He could feel the car making the gradual climb. As it reached the peak, it would slow. Once the Gandalf was parked, they'd have to walk down the nearly fifty steps to his place.
"Hear the surf?" he asked the actress.
"Um, yeah, I think?"
"That's because the engine hardly makes a sound," he said proudly.
Cheryl did not look as impressed as he'd hoped she would.
Perhaps if the Gandalf's engine were noisier, it would have been more immediately apparent that the car was not slowing. It was, in fact, accelerating as it reached the top of the hill.
Silvio sensed something was not right. He rose up and looked through the windshield. Up ahead were his car and Cheryl's, parked nose-in at the cliff's edge on the far side of the concrete apron. There was enough space between the two for the Gandalf.
Lola's going to hit the brakes just in time, he thought.
But they were closing the distance too quickly. The Gandalf was not slowing.
"Lola!" Silvio shouted. "What the fuck are you doing?"
Lola, calmly, replied. "Back to the beach house and crash."
"Wait, what? I didn't mean—"
The car slipped between the parked cars as cleanly as the Millennium Falcon zipping sideways between two asteroids. And then it was airborne.
Cheryl screamed as the car sailed out into the air. Straight, for about two seconds, and then gravity kicked in, the car's front end tipping downward, offering her and Silvio a moonlit glimpse of the rocks and the rolling waves below.
In the instant before impact, before the windshield shattered and the car filled with water and Frank Silvio and Cheryl Garland were no more, Lola had one final thing to say: "You have reached your destination."
We hope you are enjoying the book so far. To continue reading...
Look Both Ways
Linwood Barclay
Copyright © 2022 All Rights Reserved