Home for Christmas
Available in:
eBook
Paperback
Audiobook
Hardcover
Book info
Sample
Audiobook
Media
Author updates
Lists
Synopsis
At first glance, Nell King's cozy home in Yorktide, Maine, seems a step down from the impeccably decorated Boston house she shared with her husband. But in the six years since he abruptly left to marry another woman, Nell and her almost-grown daughters have found real happiness and comfort here.
Twenty-one-year-old Molly has never forgiven her father for walking out, though she worries about sacrificing her independence the way her mother did. Should she stay in Maine with her dependable boyfriend, or move to the city and prove herself? Felicity, meanwhile, is torn between loyalty to Nell and wanting to spend time with her glamorous, ski champion stepmother. Nell is eager to cement the bond with her daughters by making this holiday picture-perfect. But there's a complication—and an opportunity . . .
Nell's first and greatest love, now a successful novelist, has arrived in town for a book signing. As the two rekindle their friendship, Nell confronts the choices and compromises she once made in the name of stability. And as the coming days unfold with revelations and unexpected gifts, this Christmas promises to herald a bright new beginning.
Release date: October 31, 2017
Publisher: Kensington Books
Print pages: 256
* BingeBooks earns revenue from qualifying purchases as an Amazon Associate as well as from other retail partners.
Listen to a sample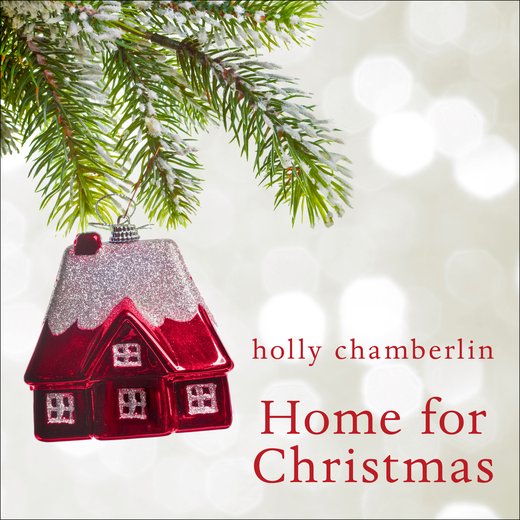 06:33:35
180.19 MB
October 31, 2017
HighBridge Audio
2017
Home for Christmas
Holly Chamberlin
It was the eleventh of December, a crisp winter day with not a cloud in the sky to threaten rain or snow. Nell King shivered as she came down the stairs from the second floor and into the living room. It was her habit to keep the heat low during the day when she and the girls were most often out. While the habit saved money, it did mean that from about the middle of November through the end of March Nell, Molly, and Felicity went around the house bundled to the teeth. At the moment Nell was wearing a plaid flannel shirt over a thermal t-shirt, lined jeans, and wool slipper socks. Her dark hair was piled into a messy updo and her face was free of makeup.

Not that she ever wore much makeup these days. There was no need for concealment or for disguise, not in Nell's world, and though once upon a time she had taken pleasure in preening and primping, since her divorce six years earlier the idea of dressing and making up held virtually no appeal. At least she hadn't taken to wearing her pajamas and slippers out of the house. The day that happened, Nell thought, she would have let the whole casual thing go too far and would need a stylist's intervention.

With a feeling of satisfaction Nell surveyed the living room. She had begun decorating for the Christmas season immediately after Thanksgiving. No sooner had the ears of Indian corn and the oddly shaped gourds and the sprays of red, orange, and yellow leaves been tucked away than the baubles and bows of Christmas made their appearance. The windows were outlined with tiny white lights. Fresh green garland was wound around the handrail of the stairs to the second floor. A large, cut-glass bowl was filled with colorful, glossy ribbon candy. A tall glass jar held an array of candy canes. Slabs of peanut brittle were artfully arranged on a rectangular ceramic plate with a pretty green glaze. A gingerbread house had pride of place on the coffee table. It was a full two feet high and sat on a base one foot square. The roof was comprised of round red-and-white peppermint candies. The window shutters were made of sticks of gum while the windowpanes had been crafted of leaf gelatin. Red M & Ms made up the house's two chimneys, and candy canes represented lampposts. Every surface that could be was heavily covered with colored fondant and marzipan.

But the real star of the holiday season was the massive evergreen tree waiting to be decorated with ornaments that held a special meaning for Nell and her daughters. There was the set of tiny angels dressed in Victorian garb that Nell's maternal grandmother had given her shortly before she died. There were the five crystal icicles Molly had won in a raffle back in middle school. And there was the figurine of Dr. Seuss's infamous Grinch that Felicity had bought with the money she had earned from her first paying job as a delivery person for the Yorktide Daily Chronicle.

Seventeen-year-old Felicity's eyes had popped when she first saw this year's tree, its long branches gracefully spreading from its sturdy trunk. "This is the biggest tree we've ever had," she had said. "How did you get it through the front door?"

Nell had smiled enigmatically; in fact she had hired two young workers at the Christmas tree lot to deliver the tree and wrangle it into its stand, a new one Nell had purchased as the one she already owned was far too small for the trunk of this giant.

But one Christmas tree wasn't enough, not this year. A small artificial tree stood on a table on the landing of the second floor; it was hung with skeletons of starfish; seashells of various shapes and sizes; bits of green and blue sea glass; plastic lobsters; little wooden lobster traps; and a selection of ceramic moose, loons, puffins and bears.

"Uh, Mom," twenty-one-year-old Molly had said when Nell had been putting the final touches on the tree. "We know we live in Maine. We know we might run across a moose on the road at any time, though I seriously hope we don't."

"What's your point?" Nell had asked.

"It's just that a tree like this should be in the lobby of a hotel or a retail store. It's like an advertisement."

Nell's disappointment must have shown on her face because Molly had immediately added: "Sorry, Mom. I wasn't criticizing, really."

Another small tree stood on a sideboard in the dining room, this one decorated with ornaments related to Santa Claus in his various guises, from the stately and solemn St. Nicholas, secret gift-giver and patron saint of sailors; to the uniquely English versions of Father Christmas, clutching wassail bowls and dressed in furred and hooded gowns, with wreaths of holly encircling their heads; to the jolly, bearded American Santa of Rudolph the Red-Nosed Reindeer fame, with red suit trimmed in white fur, black boots and belt, and a hat tipped with a white fur pom-pom. This was the Santa Claus to be found in every mall in the United States from just after Thanksgiving until Christmas Eve, the Santa Claus who posed for pictures with small, often bewildered children perched on his lap. It was a matter of regret for Nell that she had never managed to get such a portrait of the girls with Santa. It hadn't been for lack of trying. Sheer bad luck had gotten in the way.

Nell had decorated the girls' bedrooms for the holidays, too, though with more restraint than she had employed with the rest of the house; she respected their rooms as private spaces, so she had confined herself to hanging a jingle bell from each doorknob and a fabric wall hanging on the back of each closet door.

As for Nell's own bedroom, well, it was empty of anything relating to Christmas other than the materials for the secret craft projects on which she was working. It simply hadn't seemed worth the effort to add a jingle bell or a wall hanging for her own enjoyment. And her daughters wouldn't notice; it had been years since either girl had come to her mother's room to cuddle with her in the new bed Nell had bought when they first moved to Yorktide. Her old bed, the one she had shared for more than fifteen years with Joel, had swiftly gone to a charity shop. Nell did not hate her ex-husband in spite of the fact that he had left her for his mistress, but neither did she need so solid a reminder of their past intimate life in her new home.

Nell continued on to the kitchen now, where the large square table was set up for the day's craft project. She took a seat, and as she did so she was suddenly overwhelmed by a sense of sadness tinged with bittersweet nostalgia. It wasn't the first time this season she had been overcome with these feelings, and she knew it would not be the last, for this Christmas might very well be the final one she would spend with both of her children under one roof. By this time the following year Nell thought it was likely that Molly would be married or at least engaged to Mick Williams, her longtime boyfriend, and as for Felicity . . .

The news had come as a very great shock. Felicity had spent the weekend after Thanksgiving in Boston with her father and stepmother and Pam's eight-year-old son, Taylor. On Sunday evening Nell met Felicity at the bus station at the old Pease Air Force Base off the turnpike in Portsmouth, and no sooner had Felicity slid into the passenger seat of Nell's serviceable Subaru than she had dropped her bombshell. "Dad and Pam have invited me to join them in Switzerland next Christmas! We'll be staying at a swanky ski lodge, and they're paying for everything, including my airfare. Isn't that fantastic? I can't wait for next year. I am so excited."

Nell had started the engine and steered the car out of the station. "Didn't you think to check with me first?" she asked as casually as she could manage, which wasn't very casually at all. Her heart was hurting.

"No," Felicity had replied promptly. "Why? Anyway, I am so looking forward to next year!"

"What about this Christmas?" Nell had asked, ignoring her daughter's unconsciously callous reply. "Aren't you looking forward to this Christmas with your sister and me at home in Maine?"

Felicity had shrugged. "Yeah. But Europe, Mom! That's so much cooler. Who knows what sort of interesting people I might meet? Maybe even some gorgeous Italian guys. Let's face it, I know just about everybody in Yorktide by name and absolutely everybody by sight. Nothing new or exciting ever happens here. Boring!"

Well, Nell supposed Yorktide would seem boring to a young woman of Felicity's vibrant and outgoing personality. Still, Felicity had never expressed boredom with her home before, not until her stepmother had filled her head with visions of exotic places peopled by immoral millionaires and overrated actors and who knew what other dubious types!

Nell took a deep and calming breath, picked up the container of Elmer's glue, and attempted to concentrate on the task at hand. It was not easy to do. Since Felicity's momentous announcement Nell had been fixated on the fact that both of her children would soon be leaving home, and the idea filled her with dread. Next August Felicity would be a freshman at the University of Michigan in Ann Arbor. And while it was true that Molly would still be local after her marriage to Mick, whenever exactly that took place, she would have her own life to live, a husband and in-laws and, sooner rather than later, children for whom to care. Add to that the duties demanded of Molly as a farmer's wife, including her continuing involvement with the Maine Farm Bureau, where Mick was a member of the Young Farmer and Rancher Committee, and there was little doubt in Nell's mind that even at the best of times she would see her older daughter only once or twice a week.

The house on Trinity Lane, the cozy and charming house in which Nell and her daughters had lived happily for the past six years, would feel horribly empty before long. It had been a risk to relocate the girls from Drayton, Massachusetts, to Yorktide, where they knew absolutely no one, but it had been important to Nell to remove her children from their stepmother's immediate influence. Pam Bertrand-King, Olympic gold medalist in skiing, often featured in the pages of the glossy magazines Felicity enjoyed, the face of high-end car companies and manufacturers of athletic clothing and trendy new jewelry designers. Molly and Felicity had indeed been upset about leaving old friends, but soon enough they had made new friends and found a warm welcome in southern Maine.

All three of the King women had fallen immediately in love with the classic white clapboard farmhouse, and Nell had set about decorating it to reflect her personality rather than her mother's. It was Jacqueline Emerson who had dictated the decorating of the house her daughter and son-in-law had moved into twenty-some-odd years earlier. Here, structured sofas had been replaced with comfy couches. Hard edges and clean lines had been left behind in favor of rounded corners and curves. A neutral palette of taupe, tan, and black had been rejected in favor of warm and vibrant pinks, reds, and greens. Flowers fresh from the garden arranged naturally in a milk jug had taken the place of a formal arrangement purchased weekly from a select florist. This house in Yorktide felt to Nell so much more livable than had the house back in Drayton.

Suddenly, Nell heard the front door open, followed by Felicity's distinctive lilting laugh and Molly's more subdued, serious tone. A moment or two later the girls came into the kitchen.

Molly was tall and athletically built, much like her father, something that had upset her for about a minute when at the age of twelve she was larger than most of her classmates. She had endured some teasing from boys and girls alike, but she had come through the difficult experience beautifully. That was Molly. She was never shaken for long. This afternoon she was wearing her favorite pair of eyeglasses, square, dark tortoiseshell frames.

Unlike her sister, Felicity was petite. Her long, dark brown hair was pulled into a high ponytail, a ponytail that tended to swing wildly when she strode through a room or bounded up a flight of stairs. Both girls were dressed in ubiquitous cold weather gear—puffer coats, lined leggings, boots from L. L. Bean, and super long wool scarves wound several times around their necks.

"Hey, Mom," Felicity said, giving her mother a kiss on the cheek. "What's all this?"

Nell smiled. "I'm making toy soldiers and snowmen."

"Since when have you been so into crafts?" Molly asked. "You've been working away at some project or another every day for weeks."

"I've always liked doing crafts," Nell protested.

"No you haven't," Molly countered, "except for the time you took that pottery class."

Felicity laughed. "No offense, Mom, but that jug you made was pretty awful. It didn't pour right and the color was really icky."

Nell shrugged. "Pottery just wasn't my thing."

"And making toy soldiers out of gum drops and snowmen out of marshmallows is your thing?" Molly asked, taking a green gumdrop from the pile on the table and popping it into her mouth.

"You have to admit it's a cute idea," Nell protested. "I found it in a Christmas craft book I got at the library."

"But what are we supposed to do with them?" Molly asked.

"Well, you anchor the supporting stick of each figure into a white Styrofoam block and then you have a row of soldiers and snowmen standing in the snow," Nell explained. "The Styrofoam represents the snow."

Molly raised an eyebrow. "If you say so." Her cell phone rang; she pulled it from her pocket and frowned at the screen.

"Who is it?" Nell asked.

"Mick. I'll call him back later."

For a brief moment Nell wondered why Molly had frowned. Maybe Molly had had a spat with Mick, though Mick was so good-natured Nell found it hard to imagine anyone being out of sorts with him for long. Mick had graduated college two years earlier with a degree in agricultural studies and had sound plans for expanding his family's farm. A young woman could do an awful lot worse than to marry Mick Williams.

"Do you want me to handle dinner, Mom?" Molly asked. "I could make hamburgers."

"That's okay," Nell replied. "I've got dinner planned."

"Then I'm going to take a hot shower," Molly announced. "I can't seem to shake this chill I got when I stopped to help Mr. Milton change a tire."

"And I need to start my math homework," Felicity added. "I hate trigonometry. I don't know why I have to take it when there's no way I'm going to ever use it."

When both girls had gone upstairs and Nell was sitting alone in the midst of half-constructed candy soldiers and marshmallow snowmen, she felt that too familiar wave of sadness wash over her again. She thought about the pinecones she had covered in silver-and-gold glitter; the fat pillar candles around which she had wrapped bright red ribbon; the tree-shaped napkin rings she had made out of construction paper; the place cards in the shape of holly leaves; the red and white poinsettia plants she had arranged in groups around the house. Christmas crafts, no matter how beautiful or charming, weren't going to stop the inevitable from happening. Nell knew that. And yet she continued to squeeze glue and sprinkle glitter and wield knitting needles in some vain and vaguely superstitious attempt to keep her children where they belonged. At home with their mother.

While Molly set the table with the Kings' plain white plates, Felicity poured water into three tall everyday glasses. Nell rarely used the Waterford crystal and the Lenox tableware she had received at her wedding shower. The pieces held too many memories of the days when Nell and Joel King had been—or at least had appeared to be—a happy couple.

"That smells soooo good," Felicity said, refilling the pitche. . .
We hope you are enjoying the book so far. To continue reading...
Home for Christmas
Holly Chamberlin
Copyright © 2021 All Rights Reserved
Also in this series
Also by this author