Everything The Darkness Eats
Book info
Sample
Audiobook
Media
Author updates
Lists
Synopsis
After a recent string of disappearances in a small Connecticut town, a grieving widower with a grim secret is drawn into a dangerous ritual of dark magic by a powerful and mysterious older gentleman named Heart Crowley. Meanwhile, a member of local law enforcement tasked with uncovering the culprit responsible for the bizarre disappearances soon begins to learn of a current of unbridled hatred simmering beneath the guise of the town's idyllic community—a hatred that will eventually burst and forever change the lives of those who once found peace in the quiet town of Henley's Edge. From the Bram Stoker Award®–nominated author of the viral sensation Things Have Gotten Worse Since We Last Spoke, Everything the Darkness Eats is a haunting supernatural thriller from a new and exciting voice in genre fiction.
Release date: June 6, 2023
Publisher: CLASH Books
Print pages: 202
* BingeBooks earns revenue from qualifying purchases as an Amazon Associate as well as from other retail partners.
Listen to a sample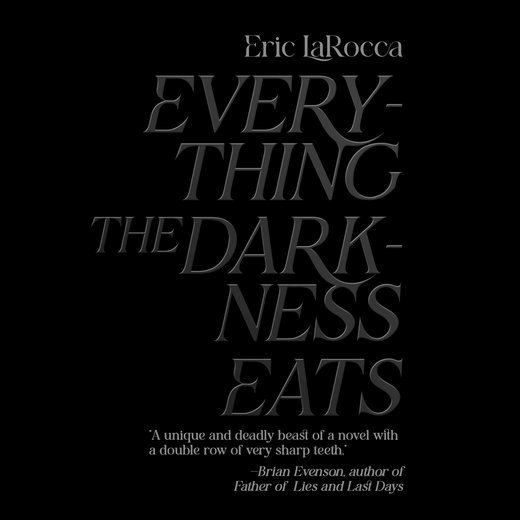 05:28:31
150.4 MB
9781666634372
June 13, 2023
Dreamscape Media
Everything The Darkness Eats
Eric LaRocca
It was late in the afternoon on the third day in April when the Excavation Director—a large man with a pockmarked face named Mr. Pritchard—sent his nine-year-old son to fetch Heart Crowley and tell him they had found something.
Mr. Pritchard told his son that he would most likely find Mr. Crowley taking his afternoon tea, as was his custom, in the small tent they had constructed at the foot of the mountain—not only a place of refuge from the icy wind, but a sanctuary where they could catalog the artifacts they had uncovered.
If you could even call them artifacts, that is.
Nearly two weeks at the dig site and hardly any of the items they had unearthed were unfit to appear in even the most tasteless sideshow attraction.
But finally—a sign.
Mr. Pritchard's son scampered down the path, mountain wind beating hard against him and spiriting him further ahead as if he were being carried by an invisible gloved hand. When he came to the tent, he peered inside and found the room empty—maps strewn across the tables, digging tools left unguarded. As he circled the tent, he came upon a small embankment and stared down into it only to find Mr. Crowley on his knees sifting through a large tray of dirt.
"Mr. Crowley," the boy called, waving his arms in the air. "They found something."
Mr. Crowley was on his feet in a matter of seconds, climbing up the small ridge. As he approached, the boy couldn't help but notice how much older Mr. Crowley seemed to appear despite his age—his mouth constantly pulling downward, the swollen pouches of excess skin beneath each of his eyes. He resembled something not unlike a fresh cadaver that had yet to become smartened by a skilled mortician.
The boy began to lead Mr. Crowley further up the mountain path toward the rim where most of the excavation crew had gathered. As they neared the summit, the young boy turned and noticed Mr. Crowley's pace slowing to a crawl, his eyes seemingly transfixed by the neighboring mountains curtained with low-hanging mist—the primordial landscape screaming at the both of them as a rainstorm shower passed over.
Finally reaching the ridge where the crew was waiting, the young boy watched as Mr. Crowley greeted Mr. Pritchard with a look of uncertainty. Mr. Pritchard merely passed a helmet to Mr. Crowley and motioned for him to venture inside the small crevice they had opened in the nearby patchwork of boulders.
The boy filed inside the small chamber after the others had followed Mr. Crowley and Mr. Pritchard. Flashlights tore bright glowing halos in the darkness,
the walls shimmering wet and viscous looking like the black, oiled skin of some underwater creature.
"Where is it?" Mr. Crowley asked the director, panting like a dog in heat from his recent climb.
His way of asking seemed more akin to a petulant toddler seeking gifts on a holiday than a benefactor who had sunk nearly half of his savings into funding this dig.
Mr. Pritchard answered, aiming his flashlight at a section of the wall in front of them. "Look."
Mr. Crowley's eyes followed the pool of light and arrived at a primitive drawing etched into the rock. Although it might have been rudimentary in construction when compared with the Sistine Chapel, the illustration was gloriously ornate in design. It was an etching of a group of people standing in a circle as if in worship, a bright light at the center of their gathering and a giant shape—a creator—sprawling from the middle of the light. Ancient hieroglyphics and other symbols were scrawled beneath the illustration and resembled the vague outline of a prayer.
Mr. Pritchard's son watched as Mr. Crowley's mouth hung open. He watched him press his trembling hands against the wall, his eyes sparkling wet and shining.
"You found it," Mr. Crowley whispered.
The boy watched as his father flanked Mr. Crowley and wiped the dirt from his brow with a small handkerchief.
"What is it?" Mr. Pritchard asked.
Mr. Crowley inhaled deeply through his nostrils, drawing in thousand-year-old oxygen, and seeming to straighten at a newfound vitality coursing through him.
"It's an invocation."
Mr. Crowley's eyes snapped to Mr. Pritchard and seemed to widen with hideous inten
t. Mr. Pritchard's face furrowed, quizzically studying him when suddenly he seemed incapacitated. Mr. Crowley's stare intensified until Mr. Pritchard dropped to his knees, the poor man's body convulsing as if in the throes of a grand mal seizure.
Some of the other excavation crew members tried to hasten to his rescue, but Mr. Crowley merely raised a hand and commanded them to halt. They obeyed, their eyes dimming and glazing over as if hypnotized.
The boy watched helplessly as Mr. Crowley circled his half-dead prey. Mr. Pritchard's body seized and spasmed like a drowning insect.
Finally, with the flick of his wrist, Mr. Crowley seemed to command Mr. Pritchard to explode—bright scarlet ribbons fountaining from the gaping hole he had opened where the man's head once was. Mr. Pritchard's headless body slumped to the ground like a discarded child's toy, his clothing dyed dark red as more blood pumped from the severed wellspring deep inside him.
Mr. Crowley turned on the other diggers—waving his hand at them and exploding each of their heads as if they were mere balloons. Heads burst like swollen sacks of meat tethered to dynamite, blood splattering the cave walls and dripping like fresh paint. Headless bodies tumbled forward, arms flailing helplessly as if attempting to undo what could never be undone.
When he was finished with the others, Mr. Crowley cornered the boy where the two walls met.
The boy did not cry or plead with him.
Instead, he sank to his knees and merely waited for it to be over—for the dome of his skull to mushroom like a nocturnal plant in twilight's bloom and to be swallowed by thought as red as sunset.
A SCARECROW AFTER A SUMMER STORM
"Every angel is terrifying."

-- Rainer Maria Rilke,

Duino Elegies
If by some inexplicable force of sorcery, Ghost Everling's skin suddenly became as transparent as a sheet of cellophane, the young man wouldn't even consider objecting. He wouldn't seek out a cure, wouldn't consult with physicians or skin specialists to remedy his peculiar ailment. He wouldn't even act surprised or feign terror the way others might.

For Ghost, invisibility had already claimed him long ago.

He conceded there was something uniquely strange that occurred when you lost a loved one. Something that wasn't in the literature he had read in despair or the self-help podcasts he had listened to on his morning walks throughout his neighborhood. Something that had hollowed him out and rendered him as "unusable goods" to any woman or man that would have him.

Although it had only been three years since his wife, Hailey, had passed, Ghost figured he knew all there was to know about invisibility. More specifically, he knew all there was to know about being left behind—the phone calls of condolences from family that became less and less frequent, the friends that had shied away from him as if fearful they might be touched by the same sorrow too. Everyone around him seemed to move on, while Ghost remained trapped in place.

Yes, trapped.

Ghost knew everything there was to know about traps, too.

Some of them don't appear until later in life, as if secreted beneath underbrush like the iron mouthpiece of a hunter's snare.

He couldn't go a day without glancing in the mirror and being reminded of the trap that had demanded his body three years ago—a wraith of guilt wrapped around his neck the way an infant chimpanzee clings to its mother. He could scarcely forget the moment when he first realized it was there—a thin wisp of white smoke curling about his throat, claws of vapor as finely delicate as Chantilly lace plugging his nose and ears.

From there, it only grew.

Although invisible to others, the tiny nymph-like parasite constantly made itself known to Ghost. Whether it was ladling thoughts of despair into his mind or suckling from the roots of sadness it had planted deep inside him, the spirit clung to its gracious host without thanks and the two lived as if they were one—as if they were somehow welded together by some complex, invisible arrangement made of bone and any separation would prove fatal.

Ghost seldom complained when the tiny spirit that owned him would nest inside the scar across his face that never healed—a dark line, rusted brown

with dried blood, as though he had been struck by lightning. He hardly had the energy to object when his little companion would circle his permanently bloodshot right eye, coiling in there and lazing like an earthworm in a bed of dirt.

For Ghost, his body was nothing more than a compost heap—a crude patchwork of abused anatomy that even the most impulsive surrealist wouldn't dare commemorate on canvas. Ghost knew full well he was a monster, a horrible mutation handmade by grief. At least much of the sorrow he carried was invisible to most.

He thanked God for that.

After washing himself and drinking his morning coffee, Ghost swiped his cane from the coat rack and limped out to the garage where his old Chevrolet had remained parked and lifeless for the past three years. He eased himself into the driver's seat and sat there for a moment, swirling the keys in his hands and deliberating whether or not to use them.

Of course, he had had the dreadful thought before—jamming the keys into the ignition and waiting for the garage bay to fill with smoke while he gasped for air. Something in him had whispered that it would be painless, that he would be reunited with his love and all would be forgiven—all would be as it had been before. However, there was a smaller, quieter part of him that had challenged him, that had warned him it would be pointless because, even to God, Ghost was invisible.

If that was the case, where would he go? Ghost certainly never wanted to find out.

After calling the local taxi company and waiting for half an hour, ...
We hope you are enjoying the book so far. To continue reading...
Everything The Darkness Eats
Eric LaRocca
Copyright © 2023 All Rights Reserved