Endure
It will take all the courage everyone can muster to endure the coming storm. Or it will be the end of us all.
Book info
Sample
Audiobook
Media
Author updates
Synopsis
The journey of the starship Pioneer continues in the fourth thrilling installment of the Forgotten Starship series.
The ship is in dire straits, deep behind enemy lines and on the verge of capture. While Tyson fights to prepare a defense, other forces work to ensure his ultimate failure as they seek to claim one of Pioneer's few remaining secrets.
Meanwhile, Keesha and the Marines may have captured the enemy Forge, but they have no idea how to bring it under control. Searching for answers, strange echoes from within the station lead Keesha to make a dangerous decision that could cost her everything.
The fight for survival is coming to a head, and it will take all of the strength Tyson, Keesha, John, Tsi, and the passengers and crew of Pioneer can muster to endure the coming storm.
Otherwise, it won't just mean the end of the colony…
…it will be the end of us all.
Release date: August 24, 2020
Publisher: Independently published
Print pages: 335
* BingeBooks earns revenue from qualifying purchases as an Amazon Associate as well as from other retail partners.
Listen to a sample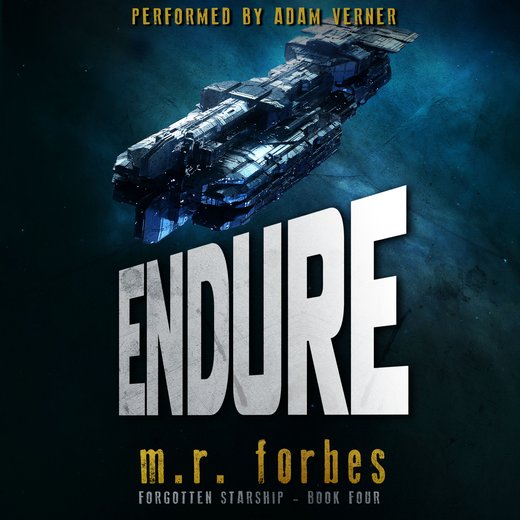 09:34:23
262.95 MB
9781662297816
March 1, 2021
Quirky Algorithms
Endure
M.R. Forbes
1
West
Forge. Control Mind. 04.21.2324. 1530 hours.
Keesha stared into the open basin at the bottom of the Control Mind—eyes wet with tears, heart pounding, jaw clenched, hands balled into fists. She couldn't help but replay it in her mind. Joe ordering her to kick him in the back. Her Axon metal-augmented leg snapping out and striking him. Joe flying forward into the strange Shard Intellect, who had already implanted dozens of tendrils into every opening in his head. A collision, and then both Joe and the Intellect tumbling from the edge of the plat‐ form into the chasm. She had nearly thrown herself over the edge after him, trying to get there to catch sight of him one more time. She almost wished she hadn't seen him, so badly burned he wasn't recognizable as he fell into the black hole at the bottom of the chasm, vanishing from the Control Mind. Vanishing from this life.
And from hers.
She hadn't moved in nearly fifteen minutes, even as she could hear General Washington reporting back to someone named Za Shi Tsi in the background, telling her they had won the fight, that the Forge was theirs and that some of her people were dead.
Joe was more than just one of her people. He was the man she loved. Despite them never having acted on that love, she had clung to the hope they would find themselves together one day, when all of this was over.
Now that hope was gone.
"Queen?" Morales said, having come up to her from the nearest cable across the basin. "Keesha, I..." He trailed off, at a loss for words, probably for the first time in his life. He had been afraid to cross the wires because of the height, but Joseph's death had brought him across the spoke in record time.
Kneeling down beside her, he cupped her shoulders. He was shaking so hard, Keesha could feel the tremors through her armor. She looked up at him. He had his helmet off, his eyes as moist as hers. Joe hadn't been just Sarge to him. They had been best friends for as long as she had known the pair. He was trying so hard to hold it together for her.
"He told me to do it," she said softly. "Ordered me." Even so, she felt guilty for listening to him. How could she kill the man she loved? What kind of monster did that make her?
"And you did it because you respected him," Morales replied. "And loved him, same as me. You gave him what you knew he needed from you, even if it meant losing him. That's real devotion."
Keesha offered a soft smile. "Thanks, Fatcat."
He smiled sadly. "Maybe if I'd stuffed my fear of heights and come across I could have done something. Maybe he'd still—"
"There was nothing you could have done. There was nothing any of us could have done. The only way to stop that Intellect was the way he did it. I know. I was up close and personal."
"That doesn't make it hurt any less."
"Nope."
She stood up and the pair embraced, holding each
other as best they could in their bulky combat armor. In her mind, she saw Joe's death all over again, this time imagining what it must have looked like from the moment he went over the side of the platform to when she'd managed to crawl over there and poke her head over the side. She'd gotten there just in time to see how badly the electricity had ravaged his body before he disappeared entirely into the depths of the chasm. She could only imagine how badly it must have hurt.
"Queen. Fatcat." Washington crossed over to them. "I'm really sorry to interrupt. But we've got one of your men down here. I patched him up the best I could, but we need to get him better medical care."
Keesha froze, ashamed she had forgotten about Niko in her anguish. She pushed through her sadness, backing away from Morales and finding the other Guardian on the platform. He was on his back, his combat armor cut away. Washington had put a metallic square of material over his chest, but she could see the burned skin around the edges. "Zen. No." She looked at Washington. "What can I do?"
"Our ship, Obado, is going to come out of a space fold into orbit around the Forge in about thirty seconds. She has a gate on board. We need to get him back to an active gate and over to the ship for treatment."
"The gate you came through was disabled," Keesha said. "The outgoing gate. Max said there's an incoming gate down below, closer to the slaves."
"We need to get him down there. Between you and me, we can probably move him pretty fast."
"Can you read the Axon symbols? Do you know where to go?"
Washington flashed her a thumbs up instead of responding verbally. "We don't have any time to waste. He's got third-degree burns across his whole chest, and the beam may have gotten through to his heart."
"Damn it," Keesha said, moving over to Niko and kneeling beside him. "I'm so sorry, Nikki. Hang in there, okay? We're going to get you help." She looked up at Washington. "How can we best move him?"
"I'll carry him; you run interference."
"Interference? I thought this place was under our control?"
"It is, but not everyone in here knows that yet. The Inahri guards will keep trying to defend the place until we can make a better introduction. And Max says the soldier Intellects are off the network and out of his reach. He's moving the remaining advanced Intellects to deal with them, but there could be a stray or two wandering around down there."
"Got it," Keesha said. She spied her sword lying on the platform and picked it up, putting it on her back. Then she grabbed her smarty rifle and turned to Morales. "Keep an eye on Max for me, okay? Make sure he doesn't do anything too crazy."
They both glanced over at the Intellect. He was still tethered to the Control Mind, mostly silent save for an occasional fit of laughter. "I think the only thing that hunk of metal understands is crazy," Morales said. "Just get Zen where he needs to go to survive." He looked down at Niko. "We'll be back at the Happy Accident downing brews and heckling Prezz before you know it, bro."
Washington knelt down, getting his huge arms below Niko and lifting him easily into a cradle. "The Composite will stay here with you, just in case anything or anyone shows up to try to take this place back. We'll try to get to the gate without attracting any unwanted attention."
Morales laughed. "You're literally like an eight hundred pound gorilla, and you don't expect to attract attention?"
"In a place like this? Not too much. We'll need to disable the incoming gate anyway. We don't want the Axon getting wind of this and sending a counterforce through. We need to hold this place. I can't even tell you how valu‐ able it is to both the Inahri and Earth."
"Then we'll hold it," Keesha said. "We'll get to the gate and be back up here as soon as possible."
"Just go already," Morales said.
Keesha broke ahead of Washington, only making it two steps before freezing when he didn't move. "General Washington?" she said, looking over her shoulder. "You coming?" She could see his face clearly through the large visor on his oversized helmet. He didn't look happy. "General?"
His eyes shifted, meeting hers. "I just got word from Captain Shri, the commander of Obado. They've arrived in orbit, and are currently maneuvering to reach a synchronicity with our position."
"Great," Keesha replied. She didn't understand why he looked so glum. "So what's the problem?"
"One of our engineering teams installed a fold drive on your starship, Pioneer. They were supposed to arrive at the same time and in the same space relative to Obado." He shook his head. "They didn't."
2
Grant
Pioneer. Bridge. 04.21.2324. 1530 hours.
"Where the hell are we?" Tyson asked, eyes dancing between the primary display and the holotable projection. Both were equally blank. It was as if they had folded from their fixed point in space near the Axon Forge to another universe.
"Captain, I'm trying to get diagnostics from our drive interface," Chief Oslo said over the comm. "To see if we can get some understanding of what might have gone wrong."
"Might have gone wrong?" Tyson replied, annoyed. "Something clearly went wrong, Chief."
"Yes, sir. Hroi and I are working as fast as we can."
Tyson turned to Tsi, fighting against his base desire to lash out at anyone or anything convenient. That wouldn't help fix the problem. "Colonel, do you have any ideas or recommendations?"
Tsi looked as lost as he felt. "All I can say, Captain Tyson, is that we have never suffered a jump failure like this before. I didn't believe such a thing was possible. Even
if our coordinates were slightly off, which they weren't, we shouldn't have gone so far as to be out of comm range. Our embedded Axon comm systems have a maximum range of nearly half a light-year."
"So we're at least half a light-year off course," Tyson said.
"Yes. I suppose even that small bit of information is helpful."
"Novitz, can we pull up any point of reference that might help us determine position? Even the most distant star might give us something."
"Sir, I've already initiated the triangulation process," Novitz replied. "It will take some time to begin making inferences. And there's no guarantee they'll be correct."
"Something is better than nothing," Tyson said. He exhaled sharply, beginning to calm. The outcome was unexpected, but they were still alive, and at least the cores provided enough power to use the fold drive multiple times. Once they determined where they were, all they needed to do was jump back to where they were supposed to be in the first place. "Okay, let's give the systems some time to catch up. Novitz, keep an eye on all of the sensors, I don't want anything sneaking up on us."
"Aye aye, sir," Novitz said.
Tyson returned his attention to Tsi. "Preslan said Iagorth is gone, but I want to be sure. There are moieties and xaxkluth hiding out in parts of Pioneer. I want to send teams out to locate them and judge their activity. If Joseph is dead and Iagorth is truly disconnected, they should be inert. I wouldn't mind a little help with the xaxkluth."
"As you say, Captain Tyson. I will arrange for my Inahri to begin the search. Where should they start?"
"Probably close to the bow, forward of the secondary hangar."
Tsi nodded curtly before speaking Inahri into her Intel‐ lect Skin's cowl. "Jaci and Oni will each take a squad forward. Even so, it will take some time."
"I'd like to put some Guardians on it as well." Tyson shifted to look at Siraj. "Use the master code to get into the seal leading to the barracks. Pick out our most loyal people and get them on the search."
"Sir, they're all infected," Siraj countered. "That's why we locked them in there to begin with."
"I understand. They're also a good indicator of the Hunger's status on my ship. Don't take more than four squads. Few enough the Inahri can handle them if they get out of line like the so called freedom fighters did."
"What are we going to do with them, sir?" Siraj asked.
"For now, they'll stay locked in place and under guard. Damn them for stretching us thinner than we already are."
"Yes, sir."
Tyson let out another sharp exhale, closing his eyes to regroup his thoughts. The Forge was under Inahri control. Or at least, it was under friendly control. He didn't completely understand where the Intellect Tsi referred to as Max had come from, or why it was helping them. But apparently, it had seized the AI controlling the station. Joseph had died in the process. It was a terrible loss, but if he were honest with himself, probably not the worst news. They didn't need him quite as desperately now that they had the Inahri, and the cold truth was that because of Iagorth and the synthetic, his service was always going to be a double-edged sword. There would always be a ques‐ tion which edge would deliver the fatal cut, and to whom. With him gone, that uncertainty went with him.
The cold truth didn't make the warm reality any different. He and Cross had gotten off on uneven foot‐ ing, but he had come to greatly respect the Marine. Joseph was anything but a quitter, a man who would, and had, given his life in the name of seeing the mission done. He was going to miss both the man and the Marine.
And Joseph wasn't alone. Others had died or were injured in the fighting. Despite what Terry Shoppach and his freedom fighters wanted to believe, he wasn't an uncaring monster who wantonly threw lives away. Though he supposed that attitude was common enough among people who didn't know what being a military leader was really like. It wasn't an excuse for outright mutiny, but he did need to treat the civilians among them with a little more compassion. They were frightened and stressed, more so after the damage to the city. He still wanted to repair his relationship with the people of Metro with the hope they would come to trust he was doing what he believed was best for them.
Could he, after he had locked them into a broken city with no explanation and little aid?
So many things had gone wrong from the moment Pioneer left Earth's atmosphere. Before that even, when the falling rubble had hit the comm tower and destroyed some of the communications capabilities.
Was there a way for him to make all of it right?
He opened his eyes again. The Inahri held the Forge. That was a good start. If nothing else, it would keep the Axon's attention fixed on their Dyson sphere Intellect factory while he and his people figured out their next move. Of course, they had to figure out where they were before they could move anywhere.
"Captain Tyson," Tsi said. "With your permission, I'd like to join the others in the hunt for xaxkluth."
"I wouldn't call it a hunt," Tyson replied. "I don't want you to kill them if you can avoid it. Not yet anyway."
"As you say, Captain Tyson. This is your ship; we will respect your wishes. With your permission."
"Of course," Tyson said. "You can stay in touch with me through the comm."
"Honor to you," Tsi said before turning on her heel.
She had only taken a few steps when the entire ship lurched, sudden g-forces pushing everyone off-balance.
"Novitz, report!" Tyson said, planting his feet and grabbing the holotable to steady himself.
"Sir, main thrusters are online and active, building power from two percent and increasing."
"I didn't give the order for us to go anywhere."
"No sir. Nevertheless—"
"Captain," Oslo said, coming over the comm before Tyson could request him. "Why are we accelerating?"
"I don't know, Chief," Tyson replied. "I was just about to ask you that."
"You didn't order it, sir?"
"No. We don't know where the hell we are. Where would I possibly want us to go?"
The thrust was building but the force subsided, success‐fully countered by the anti-inertial systems. They were still adding velocity, but at a very measured pace.
"Could this be Iagorth?" Tyson asked. "What if Preslan was wrong? With Joseph gone, he might have full reign again."
"Sir," Ensign Kaminski said, voice trembling. "The fold drive is calculating a second jump."
"What?" Tyson said. "How can that be possible?"
"I don't know, sir. I'm not touching anything." Kaminski had her hands in her lap as further proof of her innocence. But the screen in front of her was changing, showing a new route calculation. "It's as if the entire system is being hacked."
"Iagorth can't do this," Tsi said. "He would have no experience with the drive to understand how to program it. But I know something that would."
Tyson's jaw clenched. Of course. Damn it, he should have thought of it sooner. "Chief, where's the Axon Control Mind?"
"Captain...you think?" He paused. "Coordinates are set. We're folding again, sir."
"Can you stop it?"
"Negative. It's locked in, which means all of the controls are locked out. Here we go."
There was little sensation of the jump from inside Pioneer. A slight tingle ran down Tyson's spine, and the blackness of their earlier view through the camera feeds outside the ship faded. That view was replaced a moment later by the sight of an Axon Nova, positioned above them and matching their changing velocity.
At first, Tyson thought maybe the fold drive had self- corrected and brought them back to the Forge, and that he was looking at Obado. But then his gaze shifted to the holotable as the sensors began filling in the universe around them, starting with the large Axon craft, continuing with two more of them and then beginning to add a series of planets and moons stretched across the new star system.
"I have a really bad feeling about this," he said.
We hope you are enjoying the book so far. To continue reading...
Copyright © 2021 All Rights Reserved
Also in this series
Also by this author